Jazz Up Your Marriage Pandal With These Décor Tips!
From delicate floral marriage pandals to funky spaces resting on the beach, its time to figure out what type of Pandal suits you the most!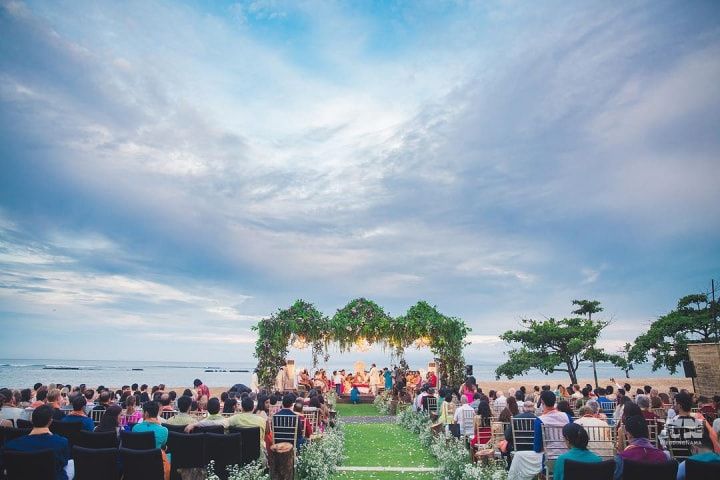 A marriage pandal is a sacred space created for the main wedding ceremony to occur. So, while you may have a specific wedding venue, think of your marriage pandal as a venue within a venue. This section is often cordoned off so that only close family and friends can be a part of the intimate ceremony. The marriage pandal also functions as a visual cue to take off the shoes as this is the space where the Havans and Pheras take place. So, needless to say, this spot is one that is going to important to you. In all likelihood, it's the space you'll remember the most when you think back about your wedding because this is where you're going to spend a fair amount of time. With that in mind, you probably want to make it memorable. The following are a few décor and venue ideas to jazz up the Pandal:
1. Create a seating space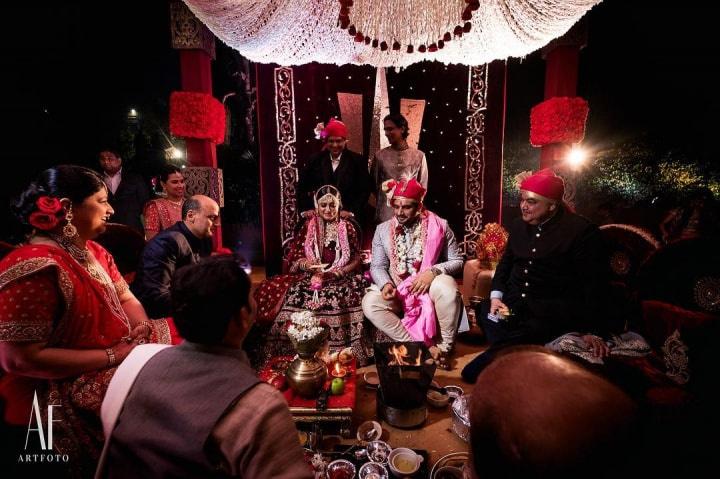 Wedding ceremonies can run quite long. When you're wearing a heavy lehenga and jewellery, the last thing you want to do is sit on the Pandal floor with your legs crossed. They probably fall asleep! So, the best thing you can do for yourself creates a seating space in the area just for yourself and the groom. Ensure the seating is low enough for your posture to be respectful in front of the Havan, but do make sure you have room to let your legs be comfortable.
2. Create a canopy with flowers
Whether your wedding is taking place during the day or night, there's one thing that will never fail to add beauty to any space – flowers. Creating a canopy of flowers can make your marriage pandal feel more special. Marigold flowers are synonymous with Indian weddings and having them dangle above you as you begin your new life can feel really special. Of course, you can choose any flower of your choice!
3. Create a marriage pandal on the beach
Many couples have destination weddings and within India, Goa is one of the most popular spots for one. If you are planning to celebrate your wedding in the land of sun and sea, then why not have a marriage pandal made right on the beach? Most couples would probably book a hotel for this, but you can break the norm and have the ceremony against a backdrop of the rushing sea. As hotels in Goa are quite accustomed to weddings, you can ask the hotel where you're staying to help you with the same. If they decline, you can always ask a wedding planner how to go about creating a funky space like this for your marriage.
4. Create an intimate space within your home
If you are planning to have your wedding ceremony at home, then you can always have your Pandal anywhere within the house you grew up in. Depending on the weather, you can either have space indoors by clearing out a room's contents or have it on your lawn. For such functions, low-key décor like lanterns hanging from trees can look quite charming!
5. Create a floral pandal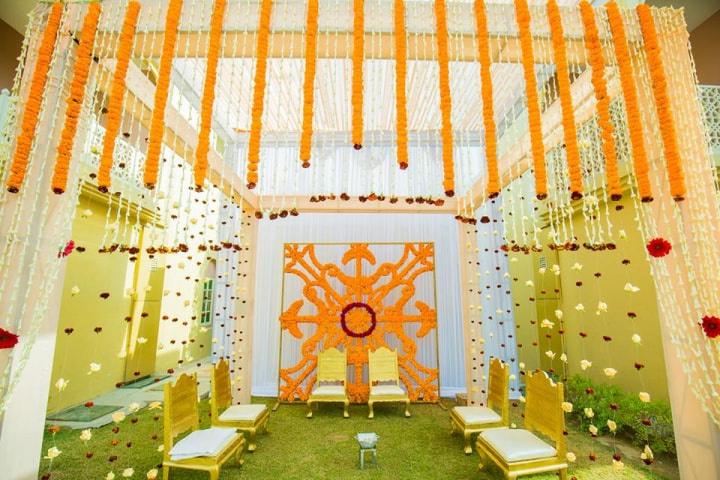 Using hanging flowers and colourful canopies is a great way to create a space that resonates with joy. This style of décor is ideal for day events because it tends to look its best when coupled with pastel colours and light, small flowers. This marriage pandal has it all – the brightness of flowers, a place to sit, and it can be created in any type of venue, be it the beach, your own home, or a stunning farmhouse.
Additional things to keep in mind while designing a great Pandal: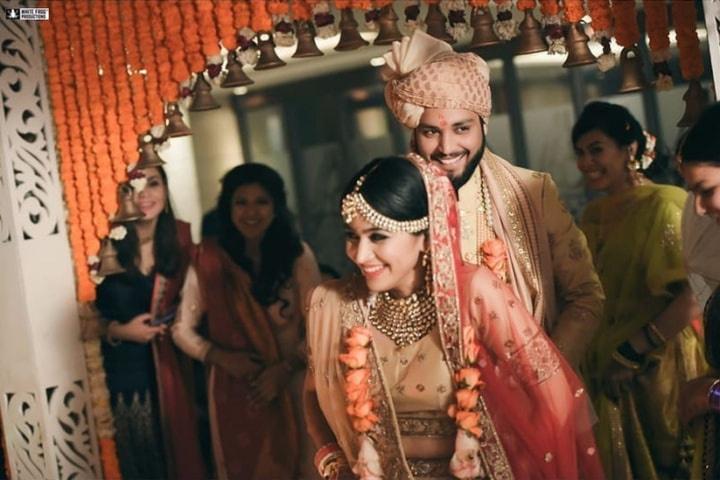 When you're trying to figure out what type of Pandal makes the most sense for you, you need to factor in a few additional things like:
How many people do you want to seat in this space?
Is it likely to rain on your wedding day? If so, open canopies made of flowers might not be the best idea!
What décor theme are you sticking to in the rest of your venue? The Pandal should look like a separate space, but it should not stick out like a sore thumb!
Is your astrologer advising you to sit in a specific direction while getting married? Does the Pandal need to be in a specific directional corner in the venue? These factors may alter the design you had in mind a bit!
It's important to have a space that feels special and sacred to you. So, do spend some time figuring out what design elements speak to you the most when it comes to the Pandal.
Can't make up your mind? Speak to professional wedding planners for great ideas and solutions!