All You Need to Know About the Traditional Maharashtra Dress for Brides and Grooms
Maharashtrians are all about culture and tradition and this is very evident in their weddings also. Here is a lowdown on the traditional Maharashtra dress for the bride and groom.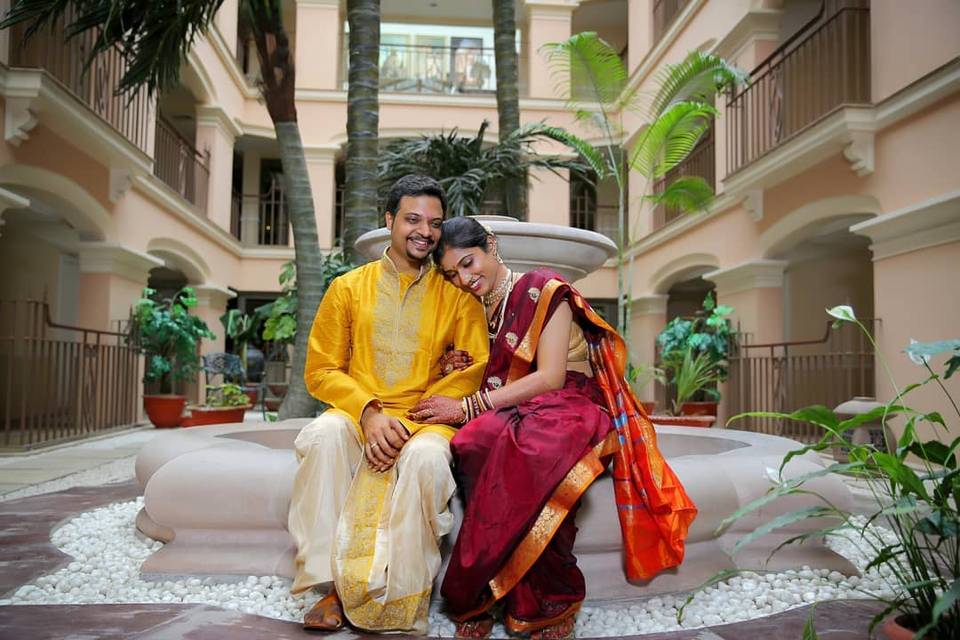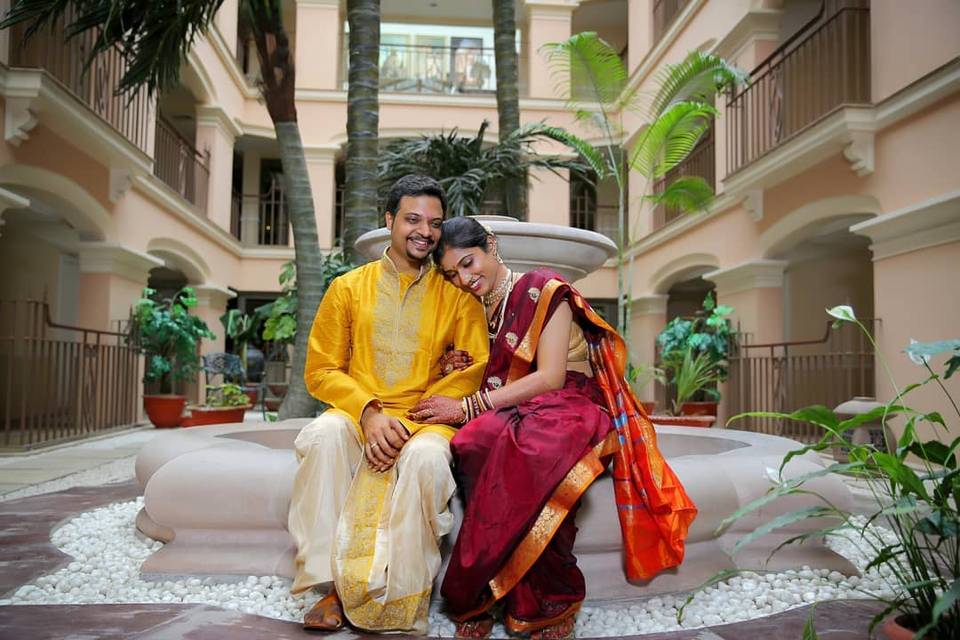 Image Courtesy: Nikhil Khalokar Photography
Traditions, values, customs and rituals are a very significant part of the Maharashtrian culture. Religious beliefs are very deeply grounded in their minds. This is very evident in their weddings also. The rituals are taken very seriously and performed with much religiousness. This is the reason why despite so many changes in the lives of people, brides and grooms still wear the traditional Maharashtra dress when it comes to their wedding.
No major changes have been made to these traditional Maharashtrian attires in a long time. A beautiful yellow or green Paithani saree with a golden border, hair tied in a neat bun, decorated with pearl ornaments and Gajra - this perfectly describes the Maharashtrian bride.
The groom is usually clad in a light-coloured Dhoti-Kurta and the beautiful white and red beaded Mundavalya enhances the look of both the bride and the groom. During the wedding ceremony, the groom has a stole around his neck which has a thin gold border, usually just like the one of his bride's saree. In earlier days, the groom would also wear a Nehru cap along with his Maharashtra dress, but most grooms these days skip it. All in all, these have been the staple attires for Maharashtrian brides and grooms and they look very elegant if one asks us.
The only little variation that has come in these attires over the years is that millennial couples these days have started colour-coordinating their outfits a bit. So, instead of the traditional white or cream-coloured kurta, the grooms wear colours similar to the one his bride is wearing.
Now that we are done with the basics, it's time to go into a little bit more detail about these gorgeous Maharashtra dress codes for the bride and groom. The jewellery, the clothes and every tiny detail will blow your minds. Here we go.
The Paithani charm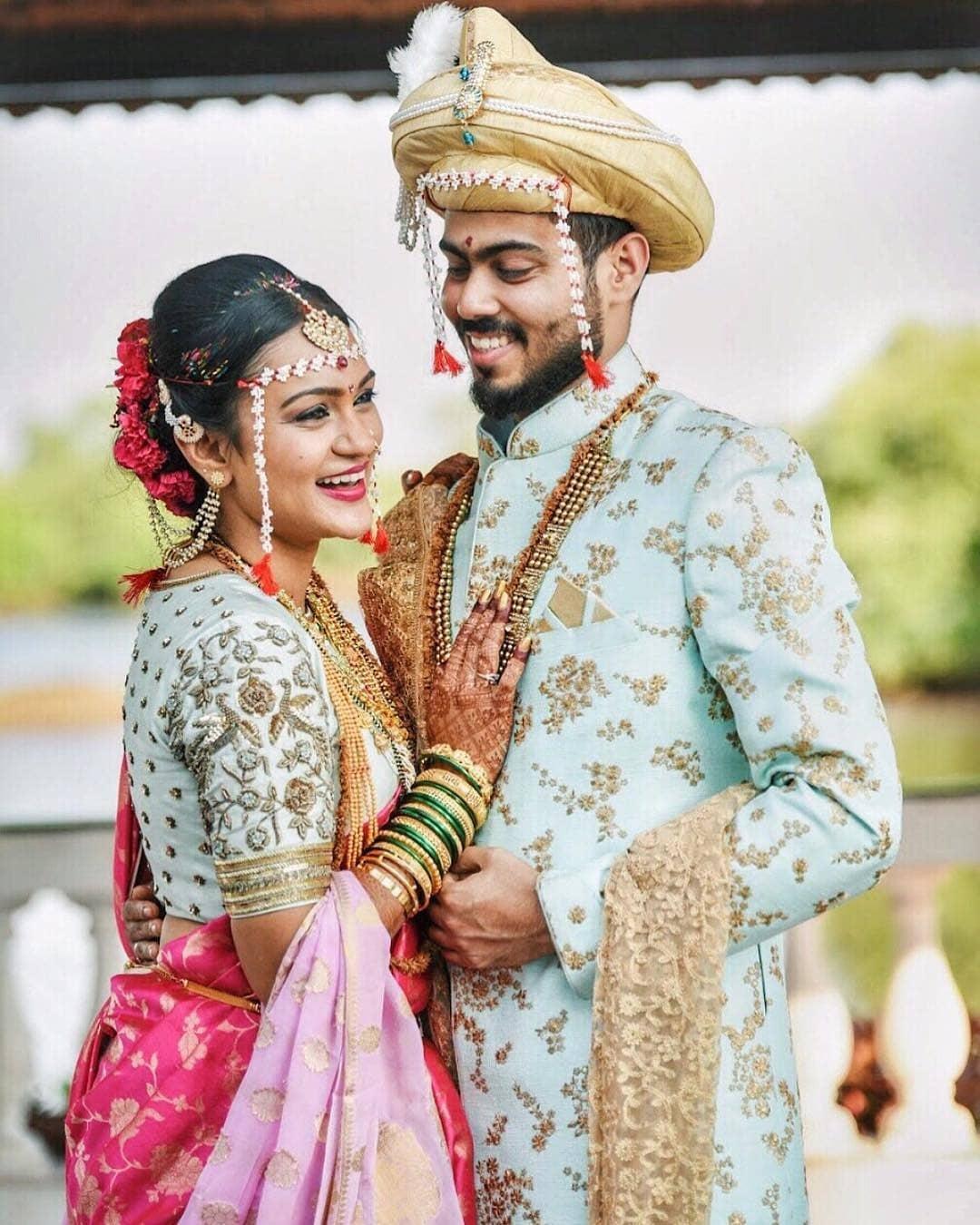 Image Courtesy: Ashlesh Kamat Photography
The traditional outfit for the Maharashtrian bride is called the Paithani saree. It was originated in Paithan district of Maharashtra. The Paithani saree can either be woven in Kanjeevaram silk or even Benarasi silk. The typical choice of colours for the bride are green and yellow with a gold border. But as a matter of fact, brides nowadays have started experimenting a lot with colours. While the style of draping, fabric and design remain more or less the same, the colours keep changing.
Most Paithani sarees have peacock and mango motifs of the Pallu and a square block design on the border. But again, this is not set in stone. Brides love experimenting with various patterns and the Paithani saree is so regal, that every design and motif looks great on it.
Where to find the perfect Paithani saree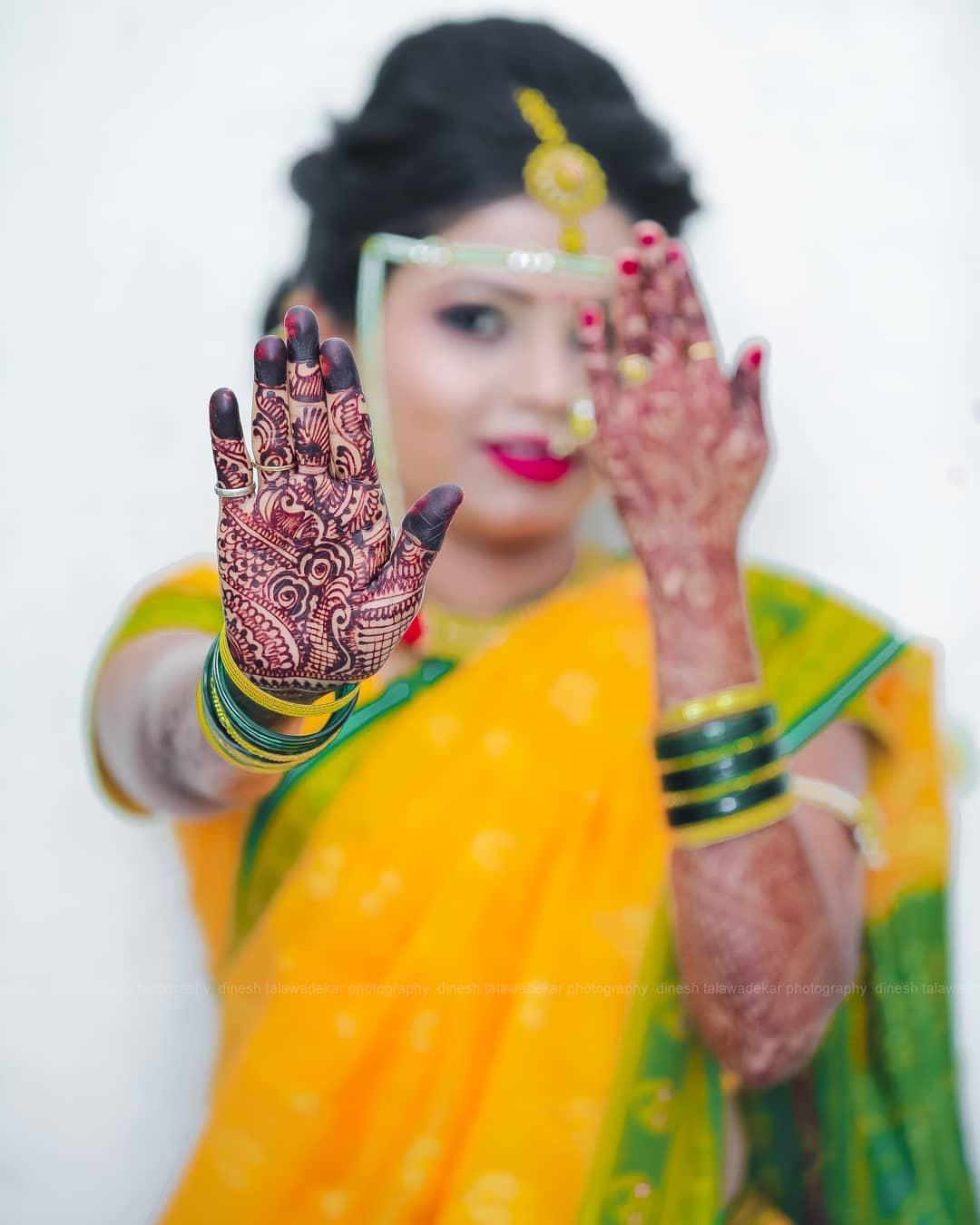 Image Courtesy: Dinesh Talwawdekar Photography
Now that we have told you so much about the traditional Maharashtra dress for brides, we are sure you would want one for yourself too. And especially if you are a soon-to-be Marathi bride, then you must check out these brands and places for sure:
1. Gaurang
Gaurang as a brand is famous for its high-quality clothing. A Paithani saree from his collection will not only be perfect but will be so good that it can easily be passed on from generation to generation as a family heirloom. What else could one ask for, right?
2. Meena Bazaar
If there is one brand that you can blindly trust when it comes to Indian ethnic wear, especially sarees, it is Meena Bazaar. You name the kind of saree you want and rest assured, you will find it here.
3. Bageecha
This Delhi-based label, Bageecha, specialises in all things made of Banarasi silk. You will find some gorgeous sarees, lehengas and even kurtas here. It is a heaven for silk lovers and if you are looking for a subtle yet vibrant Paithani saree, chances are bright that you will find it here.
4. Sailesh Singhania
This Hyderabad-based designer is best known for his traditional silk designs, especially made in Kanjeevaram silk. But what he is also known for are his stunning traditional Paithani sarees. He is known for his finesse and intricate designing, and a Paithani saree from here will be completely perfect.
5. Nalli Silk Sarees
An old and highly trusted name in the arena of silk sarees, Nalli Silks is one store where you will never return empty-handed from. It has its stores in multiple cities across India and is one of the best stores for brides who are looking for that gorgeous silk saree for their big day.
Traditional jewellery for a Maharashtrian bride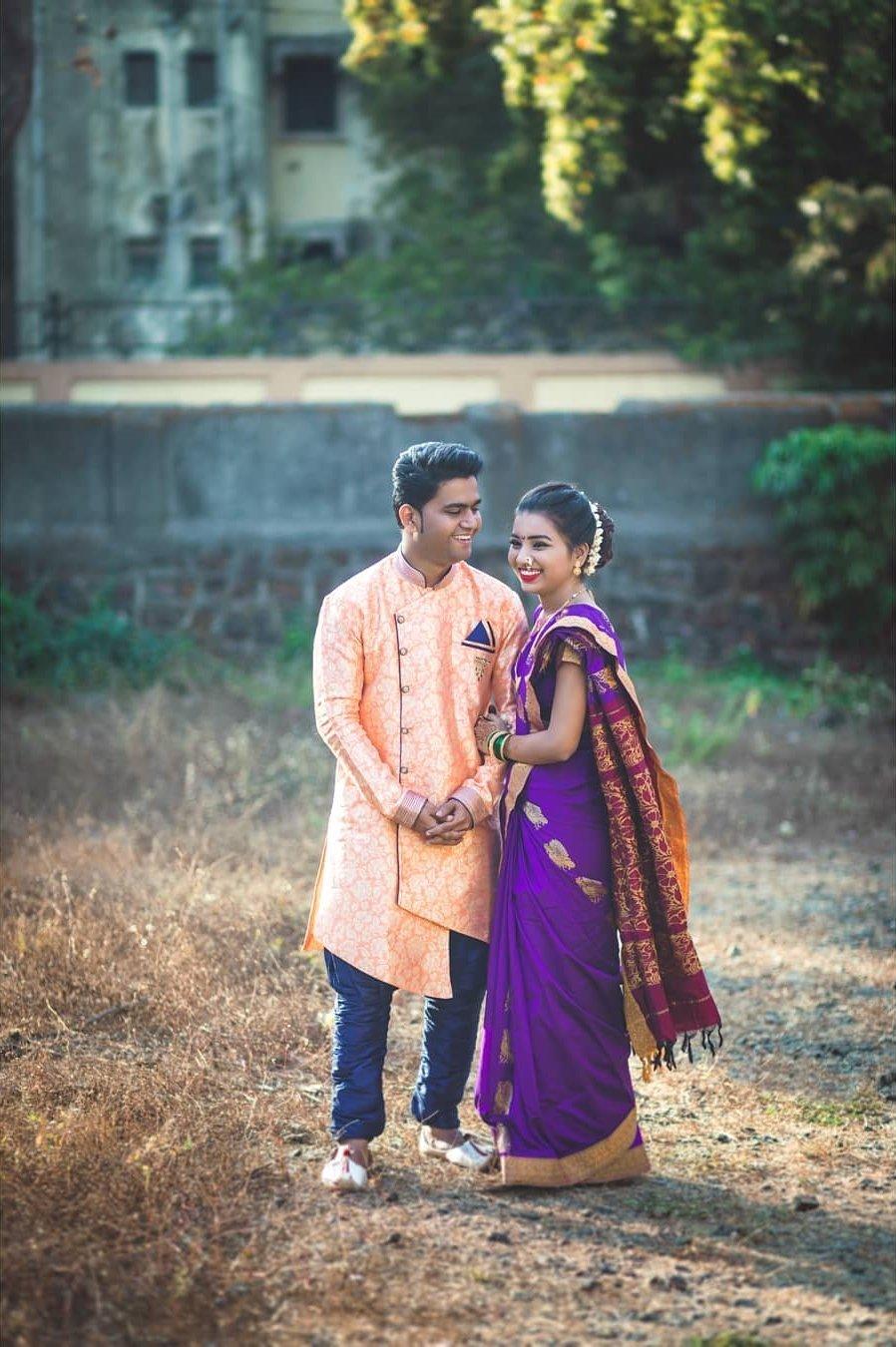 Image Courtesy: Sidhesh Ghah Photography
No Maharashtra dress for a bride is complete without all the jewellery and accessories that go with it. Here we have a list of all the ornaments that make a traditional Maharashtrian bride look as graceful and pretty as she does. Read on:
1. Mundavalya
This is the red and white beaded string like an ornament that both the bride and groom wear across their forehead during their wedding ceremony. Two beaded string also fall from the string on either side on the forehead.
2. Kolhapuri Saaz
While Maharashtrian women wear a Mangalsutra too, this ornament called the Kolhapuri Saaz is an equally important part of their bridal attire. It signifies their marital status. It consists of elements like leaves, beads and petals all carved in gold and set in a thin gold chain.
3. Tanmani
A must for most Maharashtrian brides, the Tanmani is a pearl choker with a Resham string.
4. Vaaki
Vaaki is the gold armlet that Marathi brides wear. While traditionally it is supposed to be worn on both the arms, most modern brides these days opt for just one.
5. Maharashtrian Nath
We are all well aware of the traditional Marathi Nath worn by the brides. Unlike the round nose rings that we all know of, the Marathi Nath is an oblong ornament studded with pearls, beads and precious stones. It is one of the most significant parts of a Maharashtrian women's marital attire.
6. Khopa
A Khopa is an elaborate and gorgeous hair accessory worn by Maharashtrian brides to keep their tidy bun in place.
7. Chooda
Unlike the Chooda worn by Punjabi and Sikh brides which is red in colour, the Maharashtrian Chura consists of green glass bangles. Along with the green bangles which are supposed to be worn in odd numbers, solid gold bangles called Patlya and carved gold Kadas called Tode are also worn with the green glass bangles.
Some tips and tricks for the Maharashtrian bride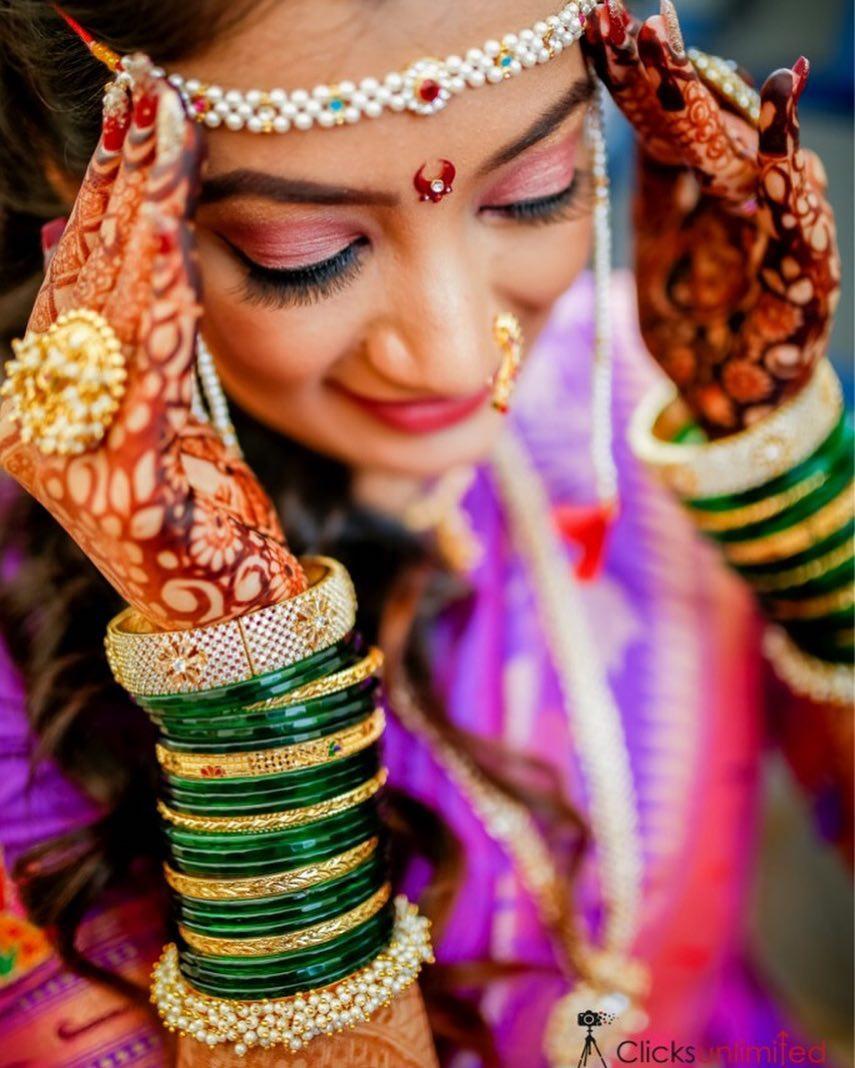 Image Courtesy: Clicks Unlimited Photography
1. Hairstyle: A neat and simple bun called Ambada is the usual hairstyle for a true blue Maharashtrian bride and it looks very regal, without a doubt. So we say you stick with a traditional updo. To give it a touch of your personal style, you can go for some variations like a braided bun or crimped hair bun which will look great with your Maharashtra dress and also add a sense of quirk to your traditional look.
2. Makeup: The makeup totally depends on the kind and colour of your saree. If you are wearing a heavy saree with elaborate jewellery then you should go a little easy on the makeup. You can opt for natural and dewy makeup looks. But, if you have kept your look slightly simple otherwise, then you can go for darker shades and dramatic eye makeup. Always take an expert's opinion on this.
3. Footwear: The traditional footwear that goes with a Maharashtra dress for the bride are Kolhapuri Chappals. But, you must opt for something with a slightly bigger heel if your
And now we can confidently say that you know everything there is to know about a traditional Maharashtra dress for the bride and groom. We hope this helps you attain that perfect Marathi bride looks on your big day.
Got questions? We have answers to all your queries. Just drop them in the comments sections and we will surely get back to you!