List of Lehenga for the Party to Be the Best Dressed on Your D-day
Wedding festivities are the perfect time to get experimental with your outfits. Here are some of the latest lehenga for the party to help you slay this wedding season!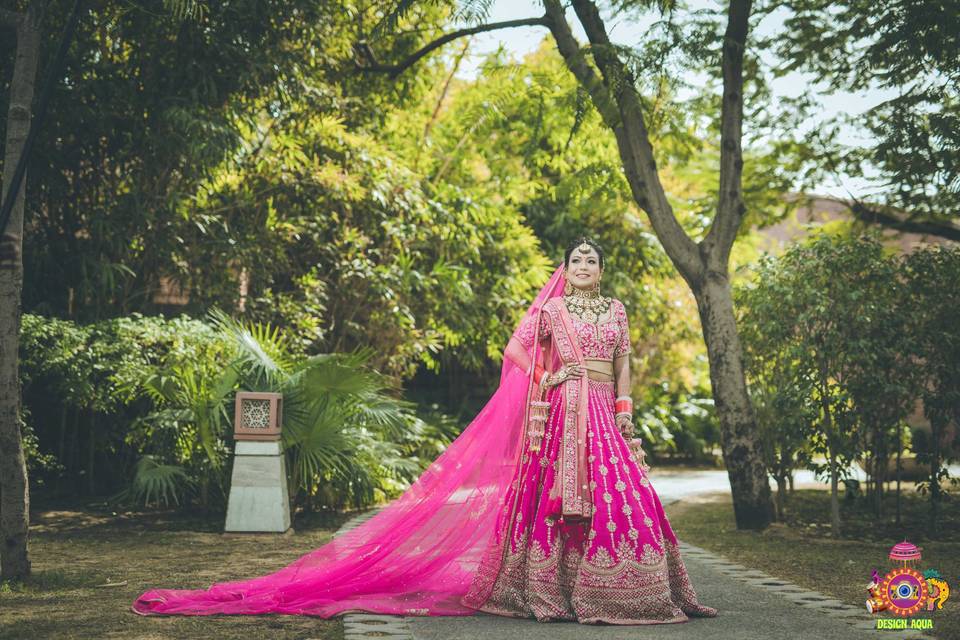 At the brink of the millennial generation, various elements of the traditional Indian wedding have changed. The designers have to create wedding attire that are suitable for all seasons and meet the tastes of the modern Indian bride- that is prioritising comfort over all else.
While traditional colours are still the mainstay in bridal wardrobes, designers are adding their own modern spin to classic outfits like the lehenga with stylish embellishments and sheer material. If you are a bride on the lookout for the perfect wedding outfit or lehenga for the party, here are some of our favourite styles of the season.
Just Golden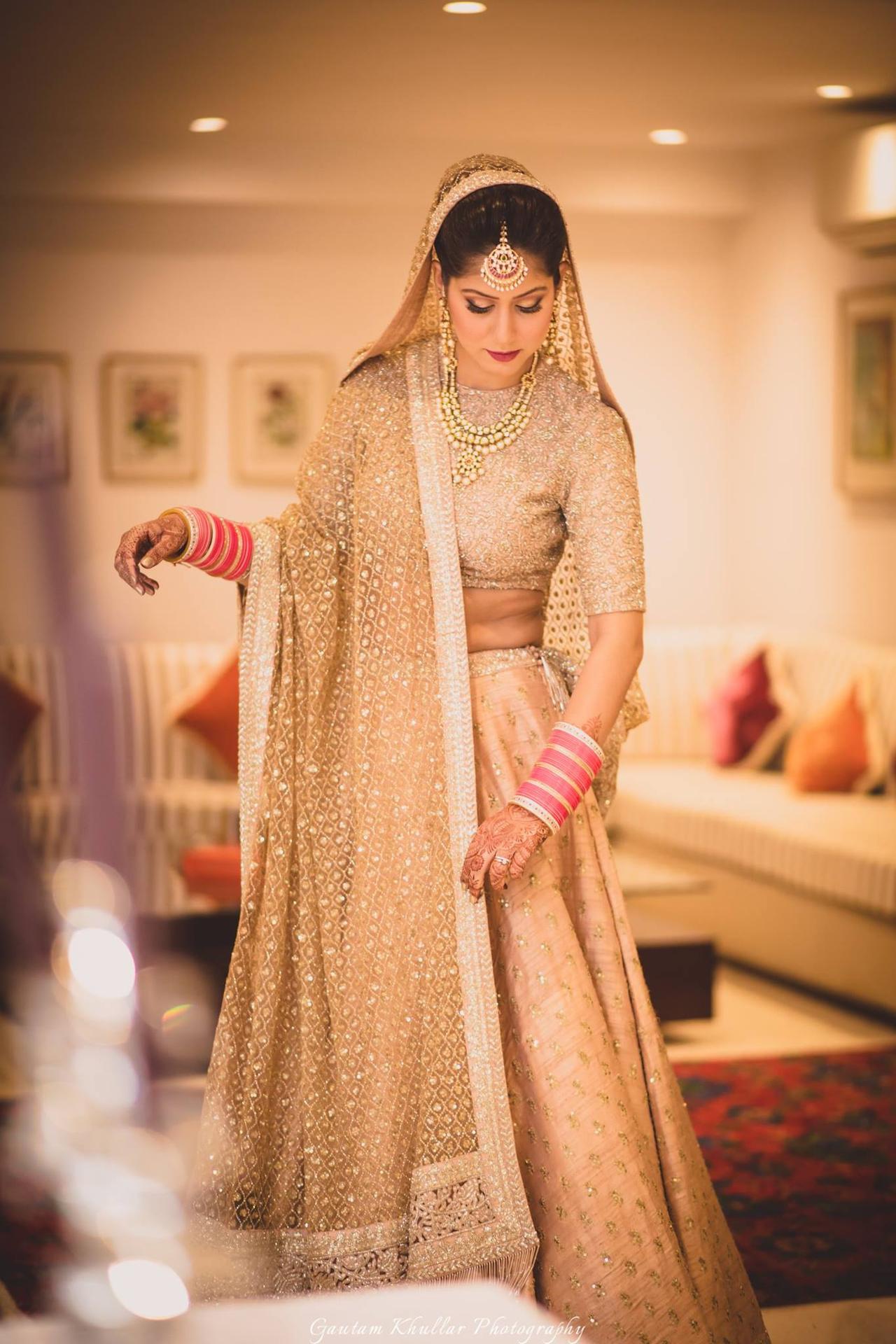 While some brides prefer something modern and chic, others want to stay closer to their roots. No matter what, you can't go wrong with a lehenga in traditional colours like gold or red. This bride is adorned in a gold lehenga that comes with a heavily embroidered blouse and a silk skirt embedded with sequinned motifs. It is paired with a net dupatta that is bordered in gold. This lehenga for the party is enhanced with a statement gold necklace and earrings.
White & Gold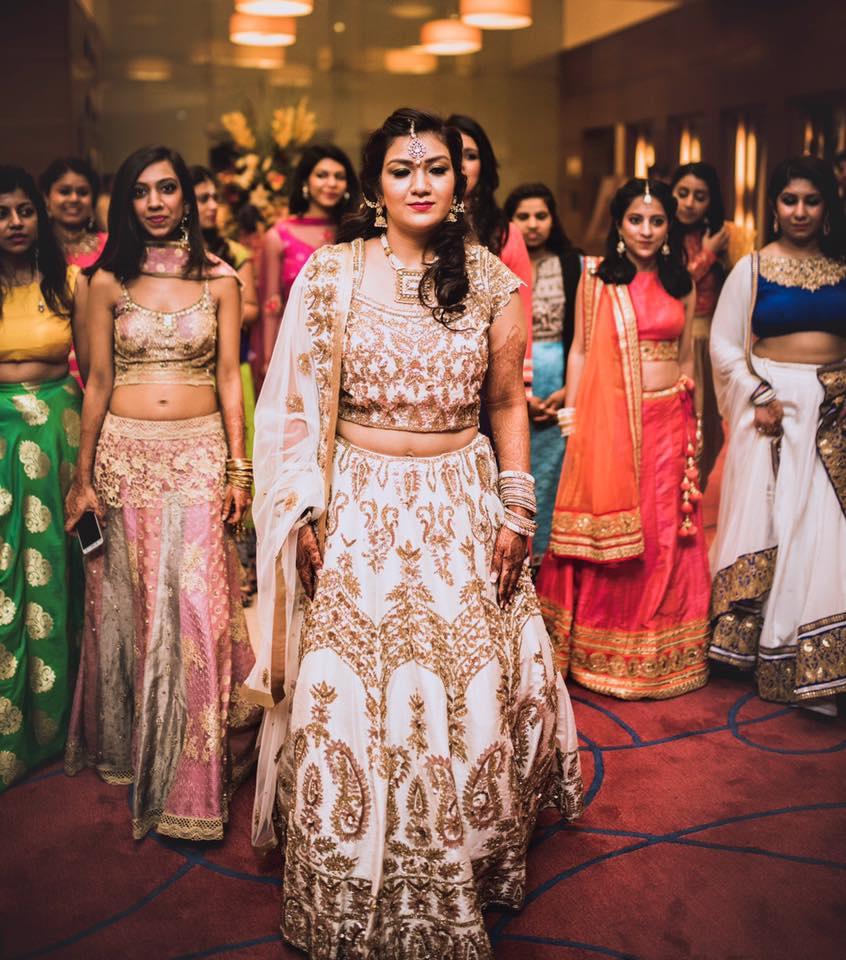 If you want to go the traditional route with your outfit but don't want to pick the same embroidered lehenga, you can experiment with different colours to find the outfit that's perfect for you. This bride is wearing a white lehenga for the party that is laced with geometrical gold patterns across the skirt and blouse.
The intricate thread work in this outfit can give you a minimalist look and is great for a daytime wedding. A pair of statement earrings complete this look.
Royal Blue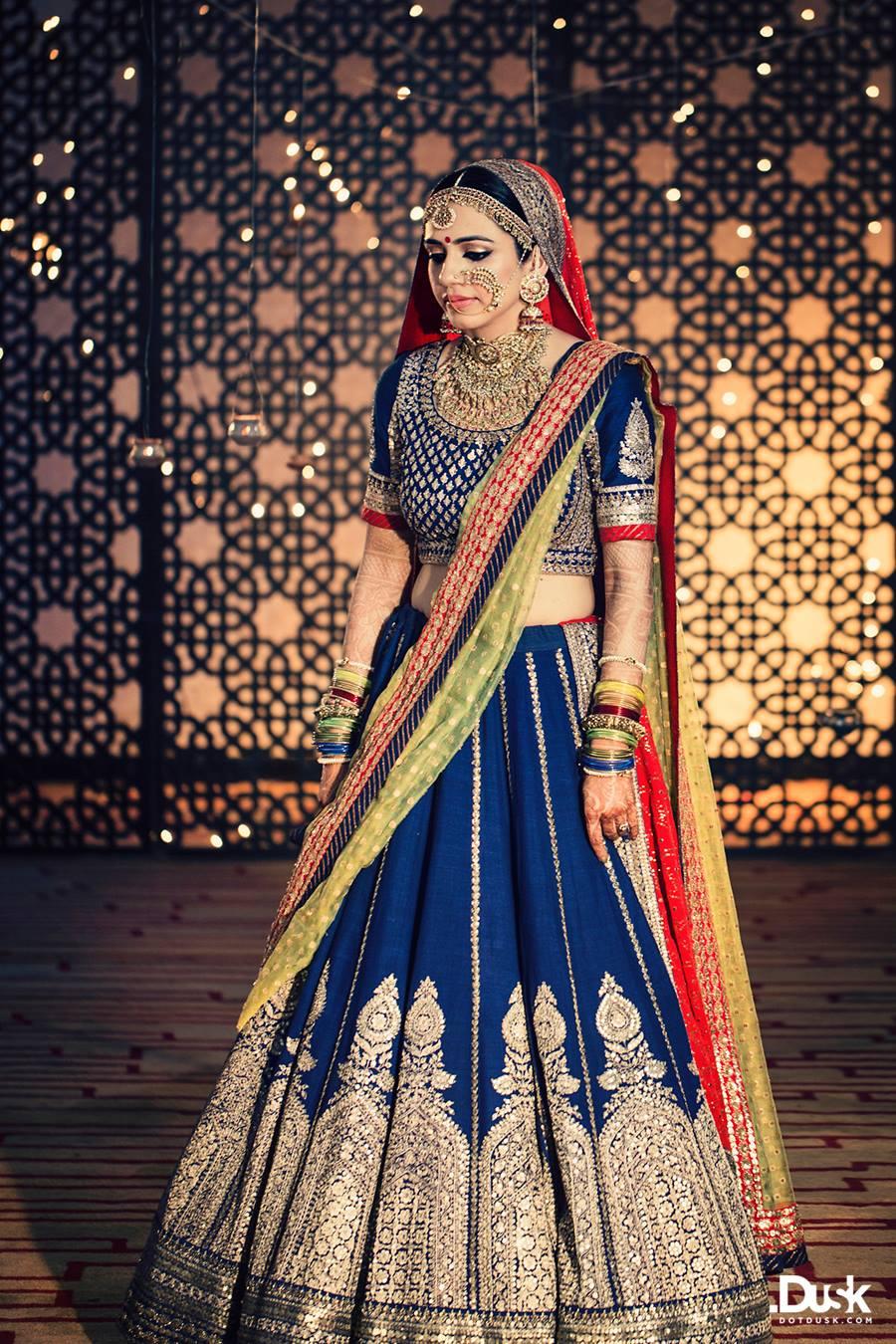 We all love a traditional wedding lehenga but sometimes you want to ditch the conventional colours for a playful colour palette. That's exactly what this bride did with the navy blue lehenga for the party that features a skirt embedded with gold embroidery and provides a striking contrast to the colour of the fabric. It is paired with a matching blouse that has a similar design. Some traditional Temple jewellery adds the finishing touch to this gorgeous outfit.
Lavender Florals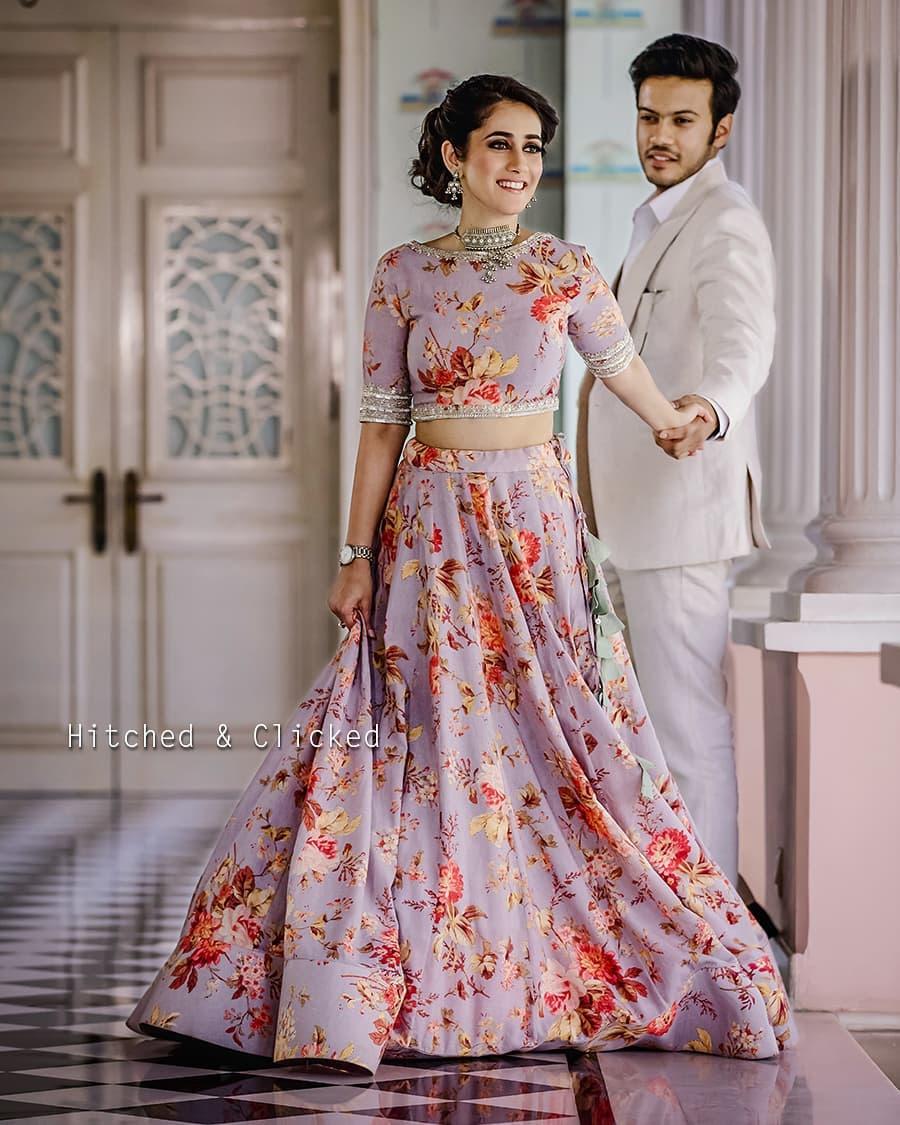 When we think of wedding lehengas the first thing that comes to mind is a red lehenga complete with heavy gold embroidery. However, many brides are prioritising comfort and prefer lehengas that allow for easy movement throughout the day. If you are looking for a lightweight lehenga, check out this outfit. The bride's lehenga comes in a stylish lavender colour and features a bold floral print on the skirt and blouse. A minimal jewellery pairing helps keep all the focus on this modern lehenga for party.
Violet & Gold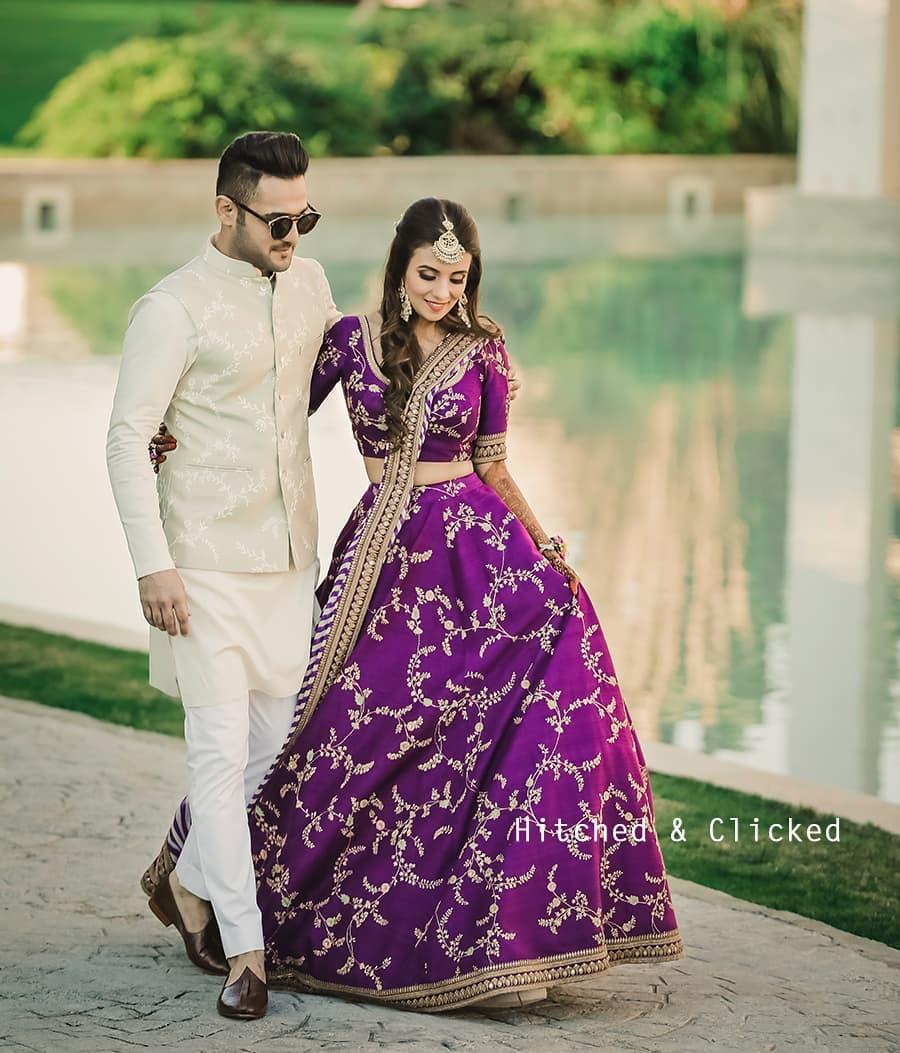 Indian weddings are defined by their vibrant themes, décor and outfits. So make a splash on your big day with a pop of colour like this violet lehenga for party. This outfit is simple and stylish with the added benefit of being lightweight for easy movement. Intricate gold embroidery work is weaved through the skirt and blouse, making this outfit one-of-a-kind. The lehenga is enhanced with a gold dupatta draped across the shoulder. Keep all the focus on this stunning outfit with a simple jewellery pairing.
Rosy Red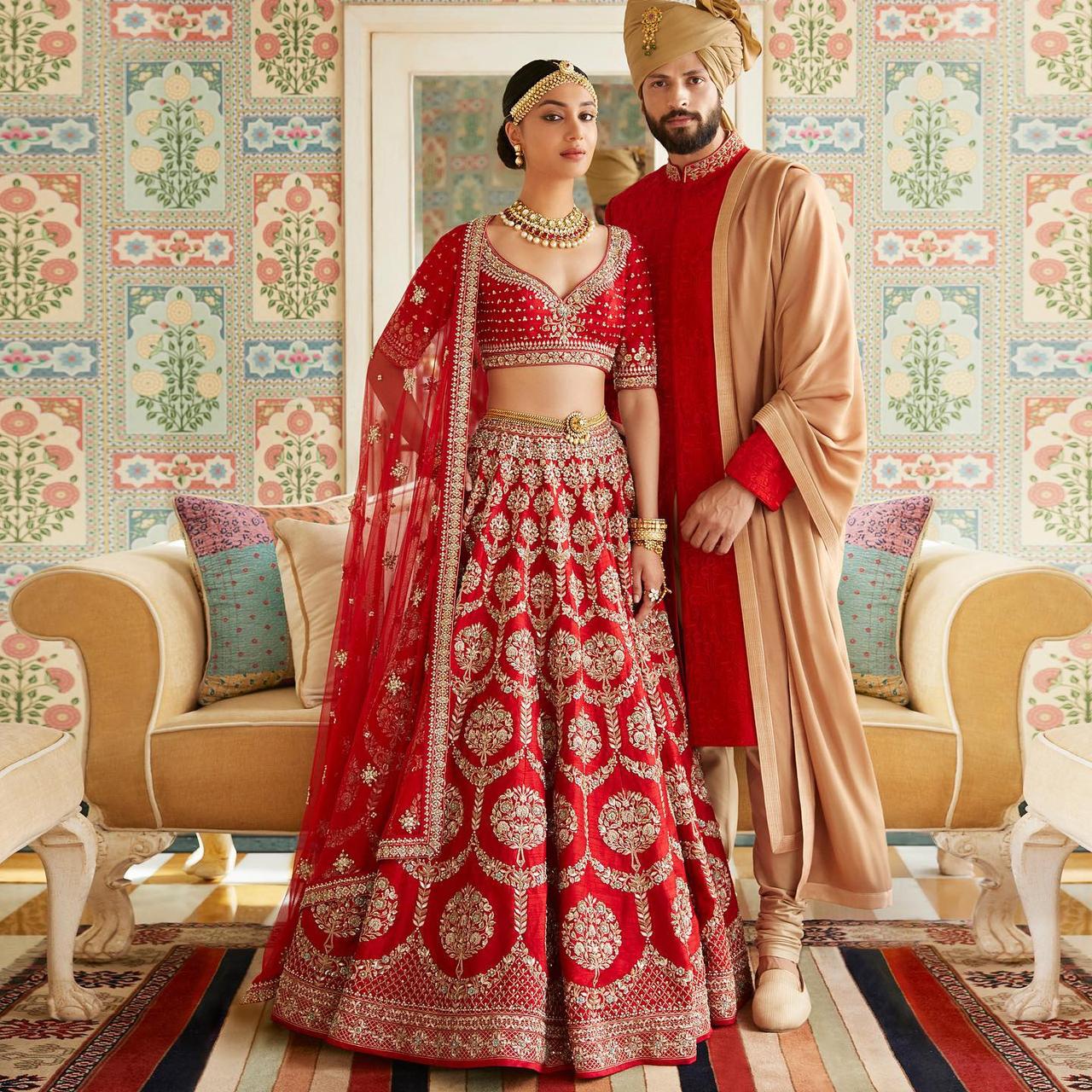 No "lehenga for party" list is complete without a red and gold outfit. While styles may come and go, nothing can match the beauty of a classic red lehenga. This piece is designed by Anita Dongre who incorporated traditional motifs on a modern silhouette. The short crop blouse has a deep V neck providing the perfect canvas to sport a statement necklace.
Yellow Foils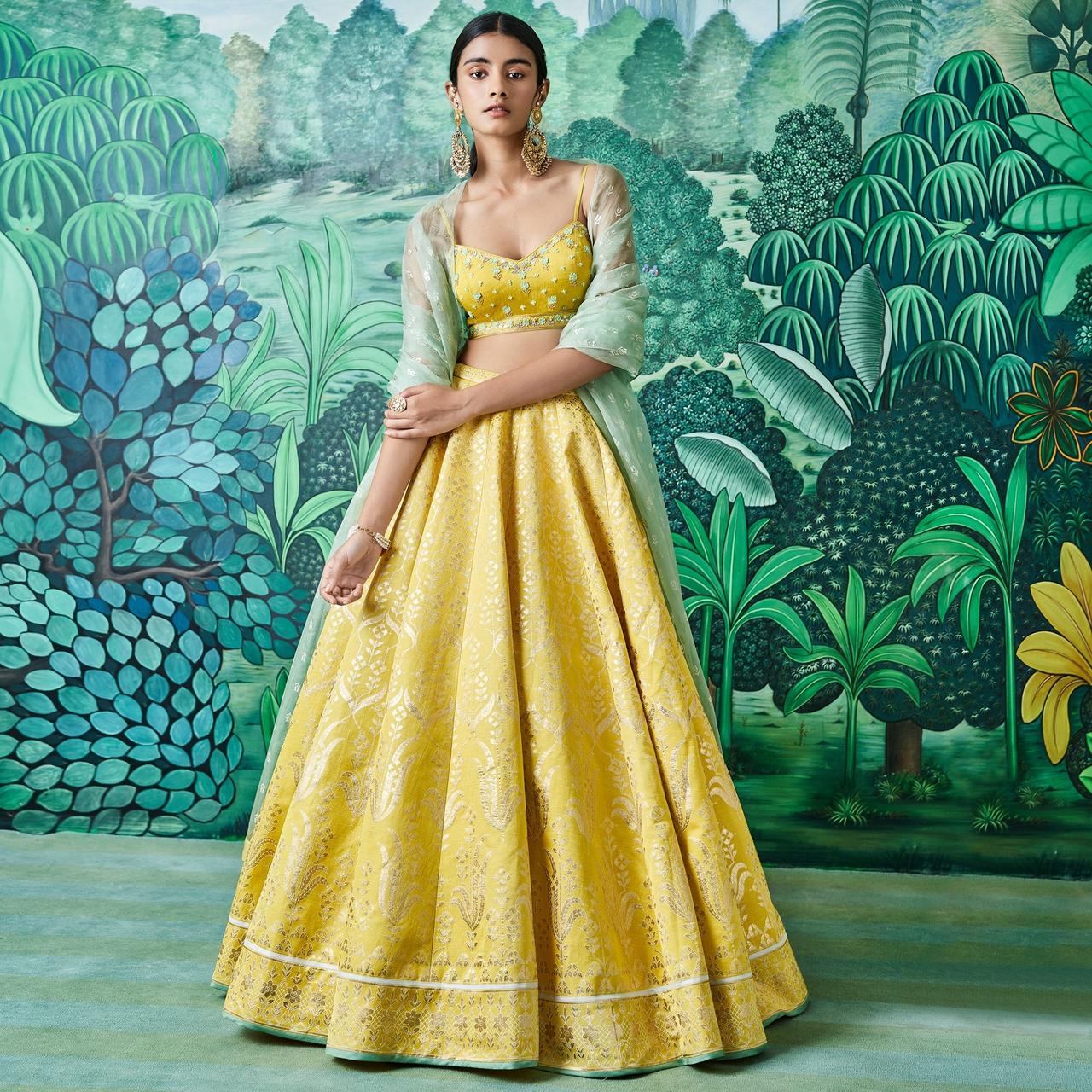 This breezy yellow lehenga is perfect for the humid season and its lightweight can help see you through the wee hours of the wedding festivities. Many modern lehengas come with blouses that can be worn with pretty much any skirt. This lehenga for party features a yellow strap blouse that is embedded with green embroidery to highlight the colour of the dupatta.
It is paired with a yellow skirt that has a silver metallic print across the fabric to give it some sparkle. You can either keep the jewellery minimal or add a traditional touch with some large Jhumkas.
Sky Blue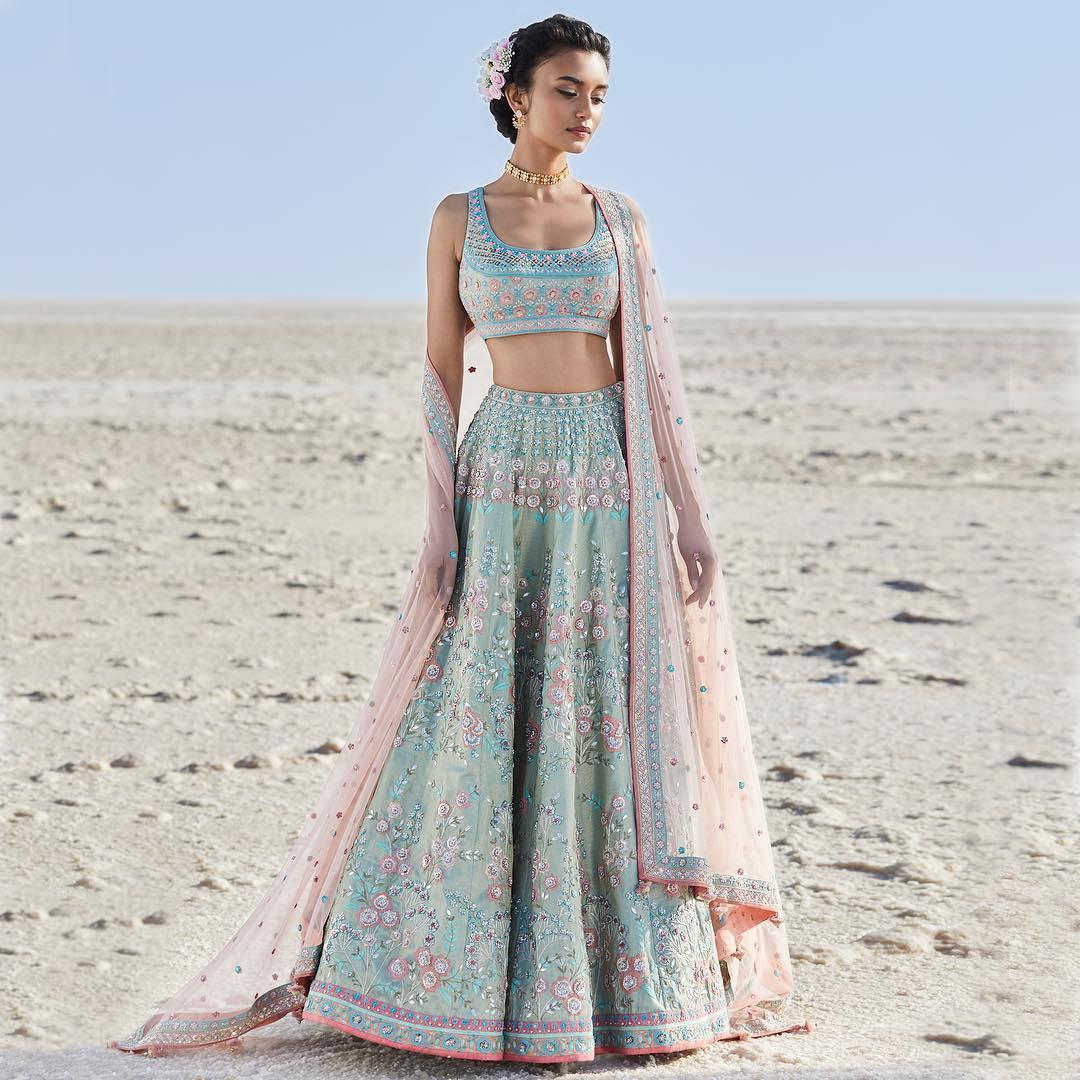 Summer weddings call for fun pastel shades incorporated into various elements of the wedding. Many brides who get married during this season also opt for lehengas in lighter shades. If you are looking for a lehenga in this colour palette, check out this lehenga for a party in a cool-blue.
The sleeveless blouse is intricately embedded with a floral applique print that is imitated on the skirt as well with pink and silver flowers weaved on the blue fabric. A baby pink dupatta is draped across the outfit to accentuate the pink flowers while a simple choker adds the finishing touch to this look.
While the main wedding day calls for traditional attire, the other party celebrations that accompany the wedding festivities like the Sangeet and the Mehndi give you the opportunity to get experimental with your outfits.
These functions are not held back by traditional norms so unique silhouettes and modern motifs take the centre stage. From floral applique to embroidered motifs, there's a lehenga for the party out there for everyone. If you are a bride to be, we hope this list of the latest lehenga for party styles helps you find the perfect outfit.
Looking for that stunning lehenga for the party? Get in touch with our bridal lehenga vendors today!