Edgy Skirt Blouse Combinations Every Millennial Girl Would Dig
What is the most effortless outfit that you can carry to a wedding function and yet look gorgeous and chic? Well, the most millennial choice is pairing a skirt blouse and rock the carefree swag.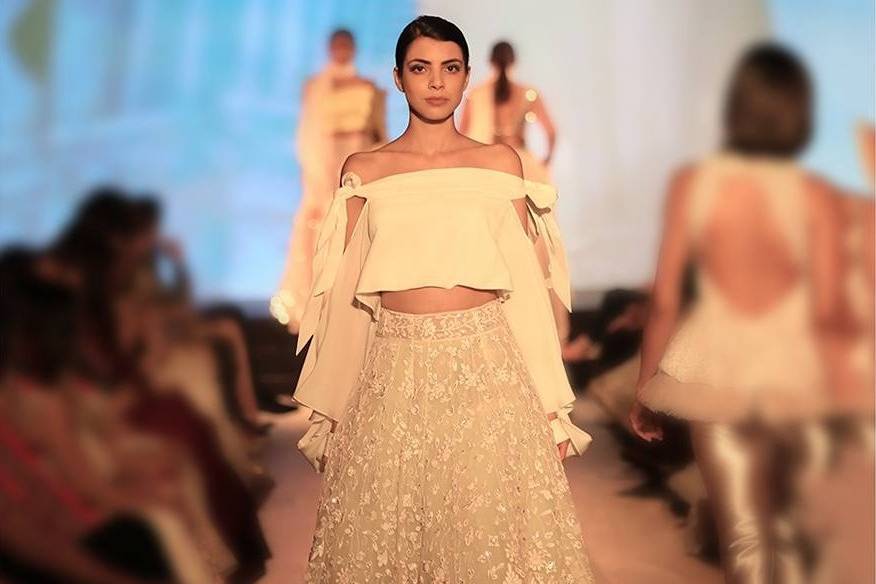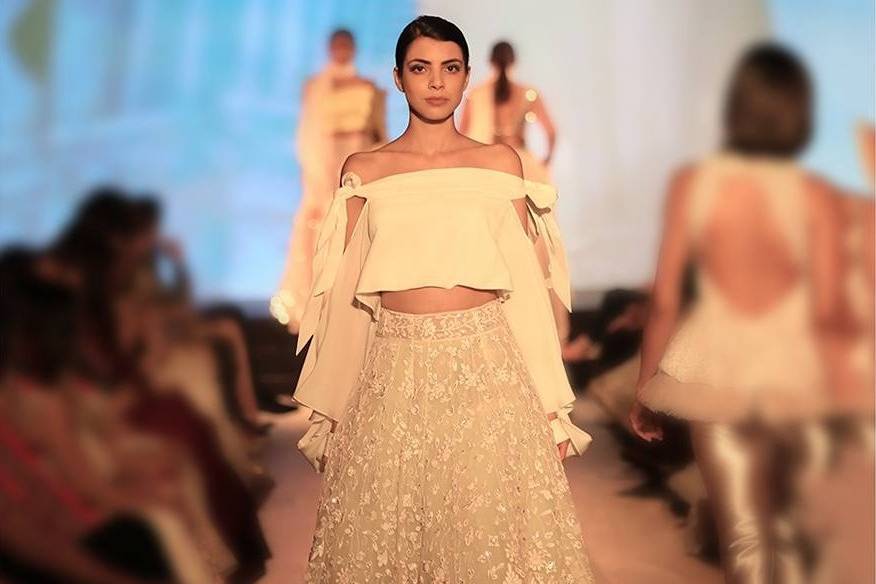 Image Courtesy: Manish Malhotra's Instagram
Indian wedding outfits have a lot of intricate detailing both in terms of style and the work on them. While some of the older generations might think of skirt blouse as the modern version that has lost the charm, the truth is that you can pair a skirt blouse to your BFF's wedding that has the same charm and lustre.
The only reason why the millennial girls consider it as the most effortless choice is that they get to first do away with the dupatta, and secondly, a skirt blouse combination opens up more choices in terms of designs and style. So who wouldn't want to stay carefree and yet enjoy all the attention at their best friend's wedding?
For the bridesmaids that consider the skirt blouse combinations as limiting, we are here to bust your myth with proof. We've put together a list of glamorous and trending skirt blouse ideas that you can copy this wedding season. So, think no further and scroll through this list to choose your pick now.
Panelled Skirt with Floral Sequined Blouse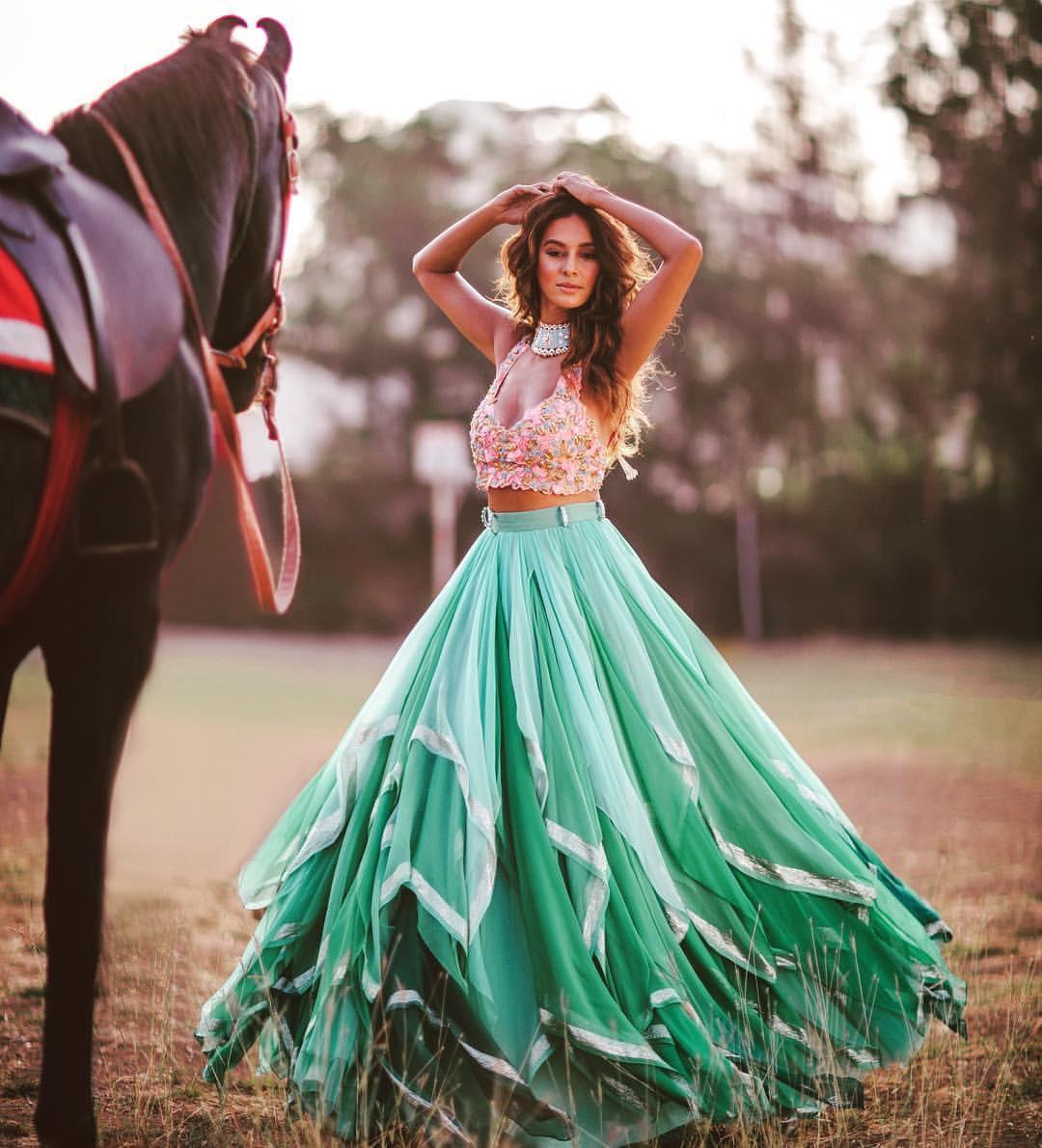 While this may look like a regular skirt blouse combination to you, what makes this different from any other design is firstly its colour combination that is unique and striking, and secondly the sequin and metalwork on the delicate lace top. The panelled tulle skirt makes this combination extremely flattering for our apple body type women.
Styling Tip - Go in for a statement choker that compliments the deep neck of this stunning blouse, and match the curls in your hair with the panels of your skirt that both look stunning when you twirl around like a princess.
One Shoulder Top with a Belted Skirt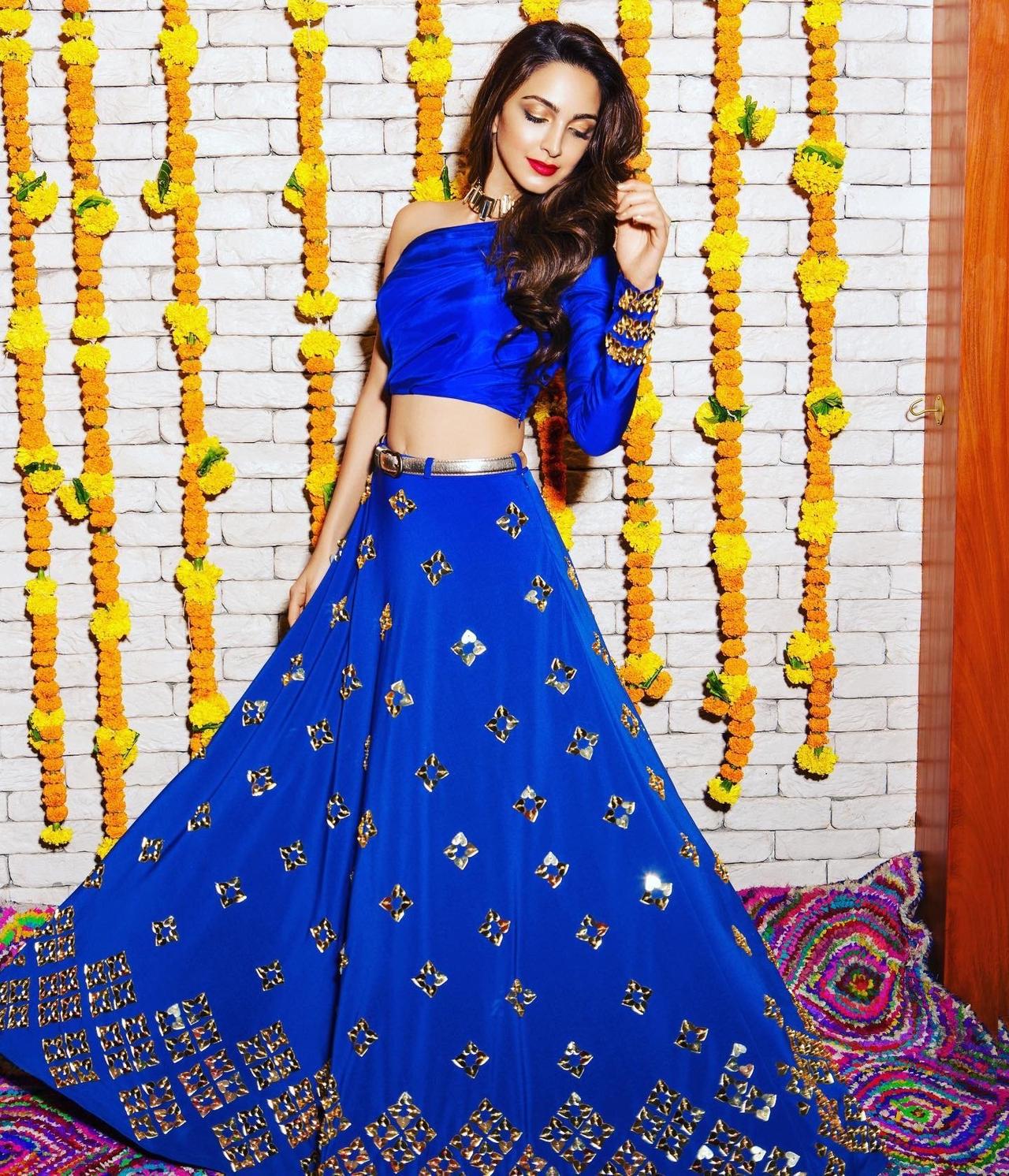 Now while we love any and every monotone outfit this wedding season, what makes this one special is how the bright royal blue has been broken neatly by golden embellishments placed far from each other. While the golden belt on the skirt adds a western touch to this gorgeous outfit, one can't take their eyes off the one-shoulder top with minimal detailing on the sleeve that makes it every bridesmaid with a minimalistic style super happy.
Styling Tip - While there is enough gold on this skirt blouse combination, if you wish to add jewellery then we'd suggest earrings should be your safest bet. Go for an open hair hairstyle to compliment the one should top like a pro.
Fringed Blouses with Fish Cut Ruffled Skirts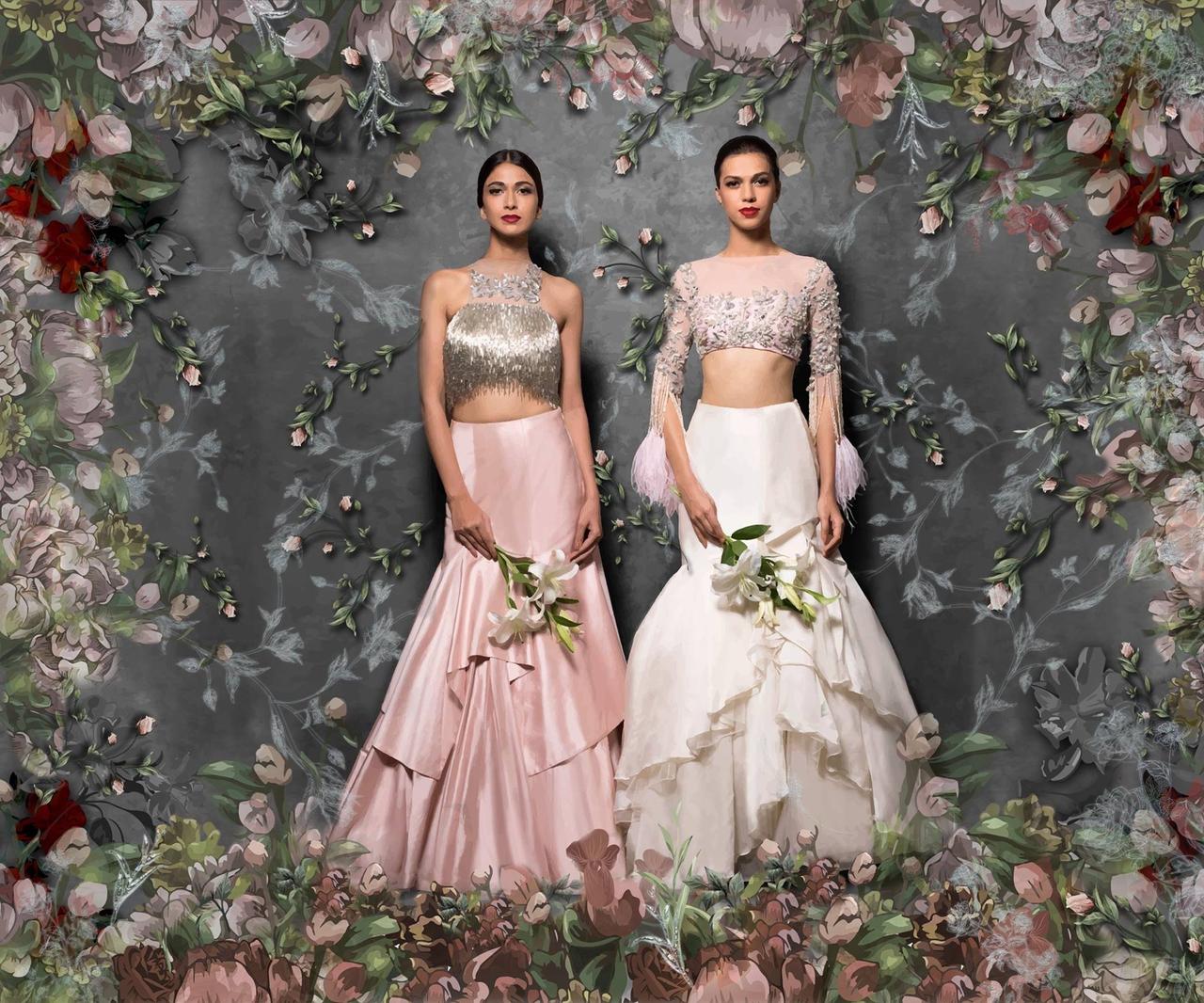 Image Courtesy: Manish Malhotra's Instagram
Now here's something for our pear-shaped women that feel the flared skirts make them look plumper. These gorgeous combinations have chic tulle blouses with fringed designs paired with a plain fish cut skirt that have ruffles around the knee to give it a little drama and flare at the bottom. The blouses also have embellished embroideries that make it the perfect bridesmaid attire that is stunning and unusual.
Styling Tip - Let your blouse get full focus by going in for a neat bun hairstyle or a ponytail, and keep the jewellery minimal as your blouse also adds enough bling to make you shine through the party.
The Summery Midi Skirt Blouse Combination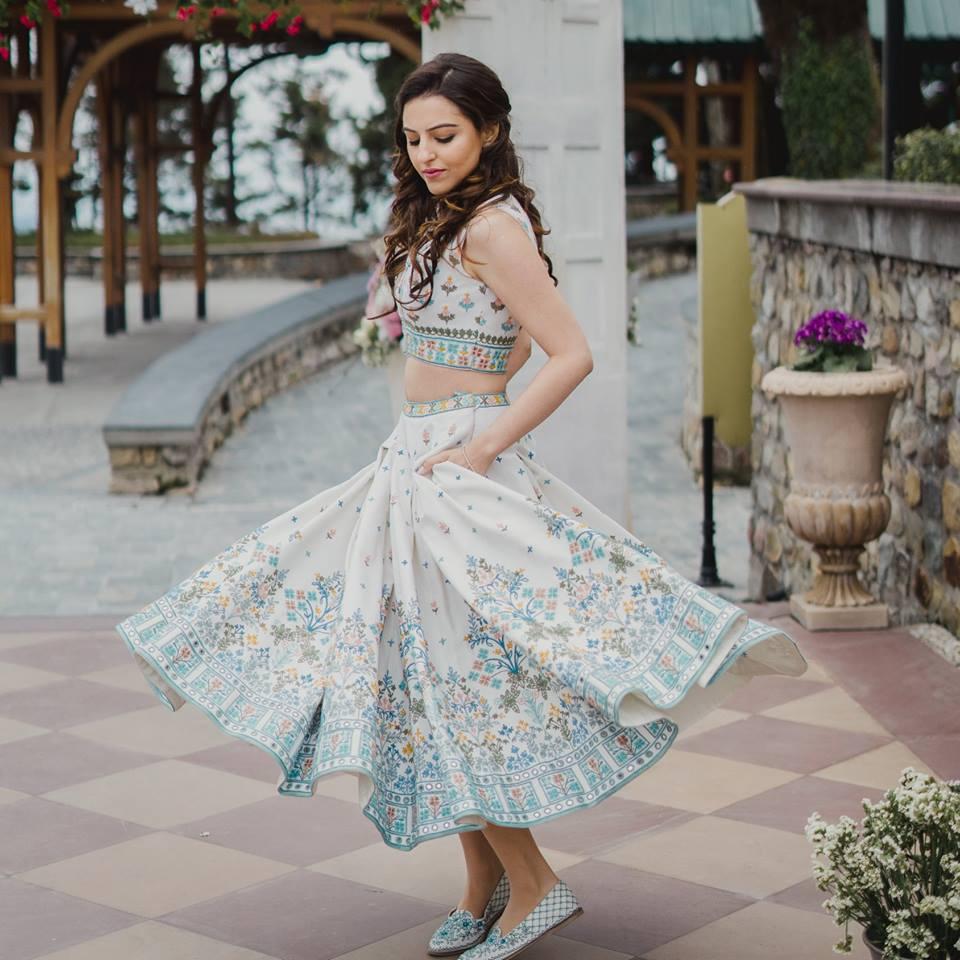 This one is the perfect summer wedding outfit for bridesmaids that will keep you cool while making sure that your outfit is on point too. The motifs on this beautiful skirt blouse combination are inspired by the hues of summer that are not just pleasing to the eye but also very soothing to the soul. This one is for the bridesmaids that love white and are looking for something easy breezy like this one.
Styling Tip - With the vibe that this skirt blouse has, we'd suggest you keep the hair and makeup minimal, and the jewellery simple. A natural look is what will complement this beautiful masterpiece.
A Printed Silk Skirt with a Frilly Ruffled Top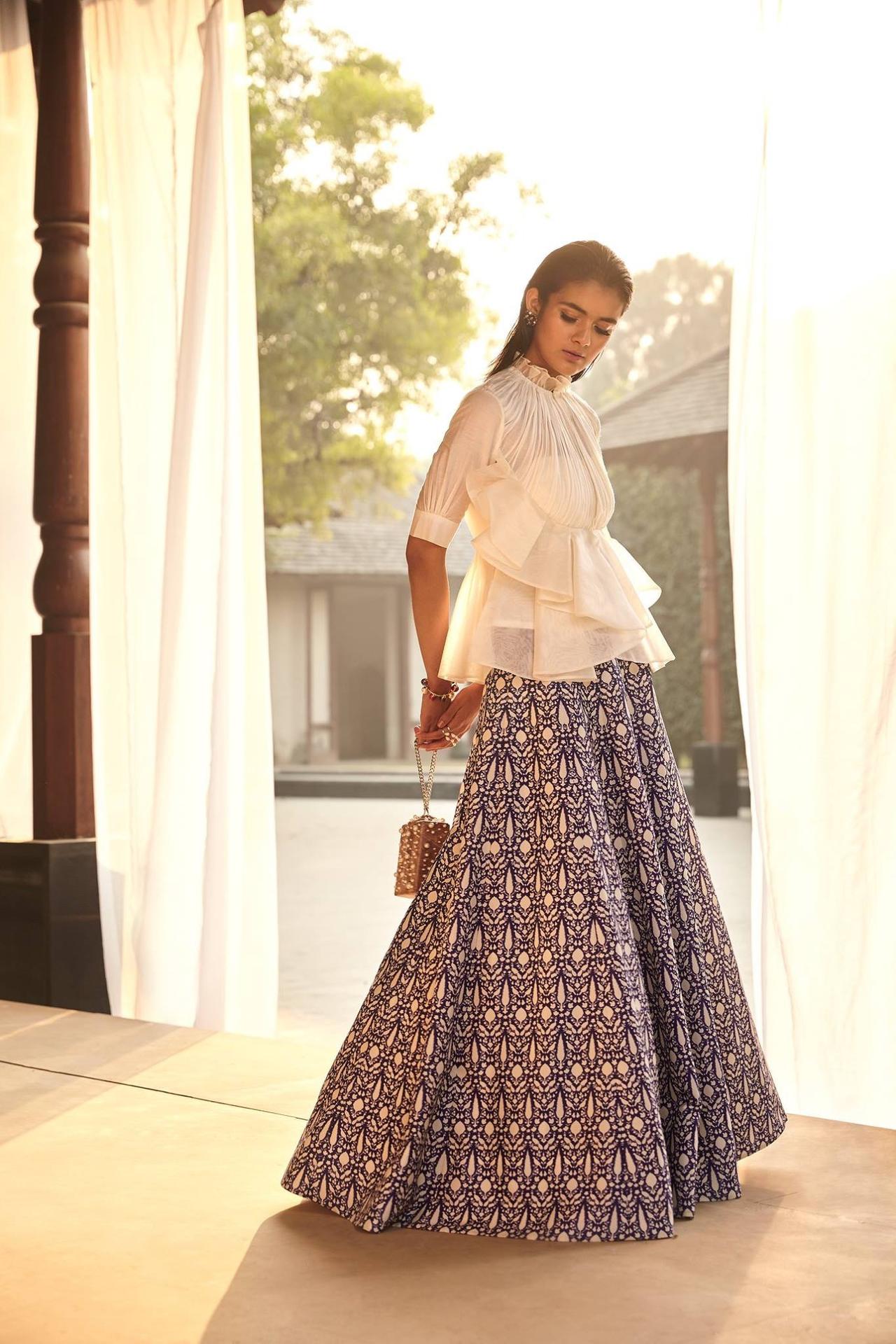 Image Courtesy: Rishi Mehra
If you've had enough of the short blouse patterns and are looking for something different, then here's a shirt blouse that you'd love. The ruffled white shirt with frills around the neck that is tapered on the waist looks seamless when paired with a silk skirt like this one. Apart from giving the entire outfit an easy breezy look, this one also counts as the perfect daytime dress for the smaller functions like Haldi.
Styling Tip - Go for bold studded earrings and a dramatic open hair hairstyle to make it look like the perfect morning look for a wedding. Carry along a trendy clutch to complete the look with style.
Golden Bustier Blouse with Embellished Lehenga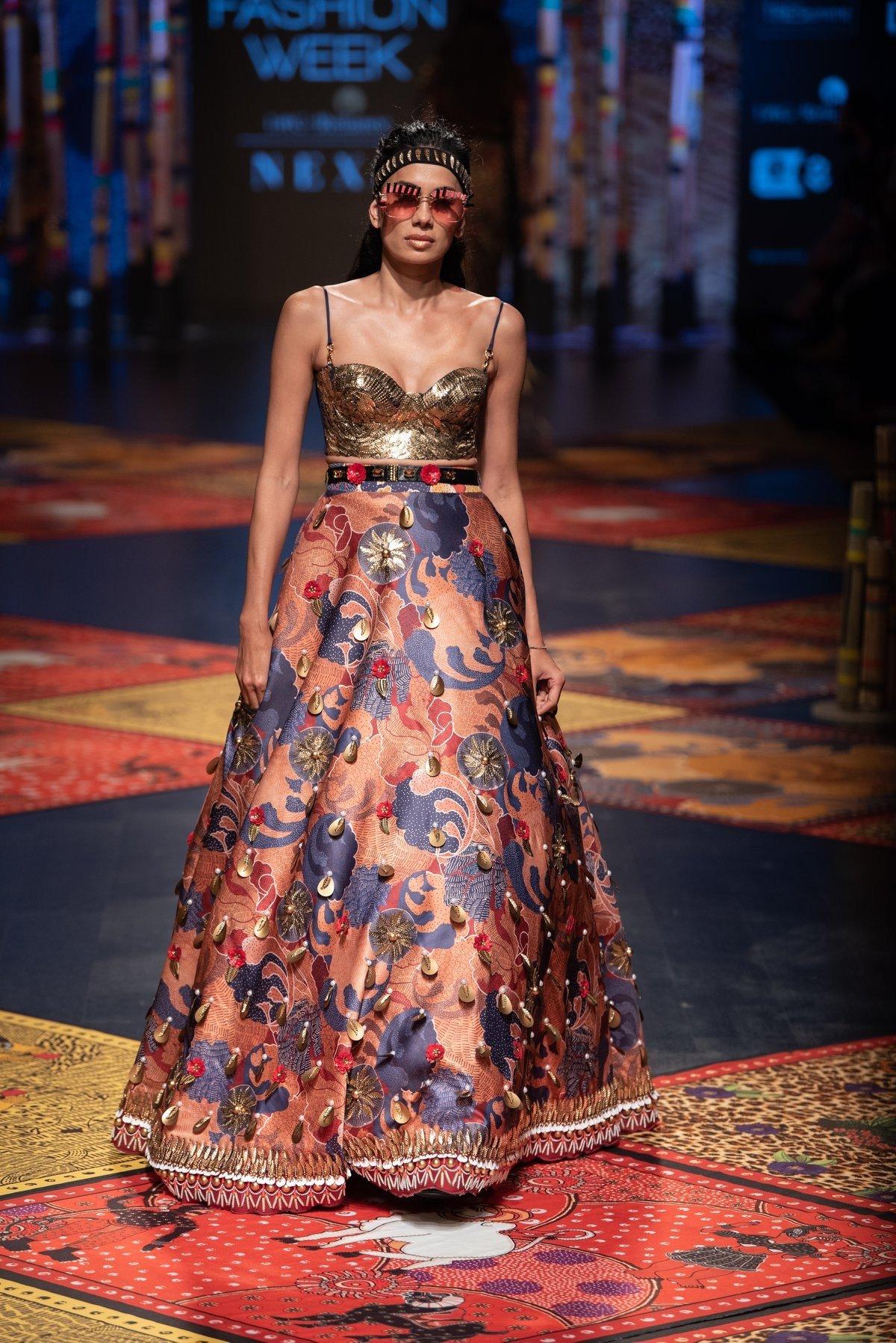 Image Courtesy: Shivan and Narresh
This one is for the millennial bridesmaids that have been scrolling through for something eccentric and out of the box. Well, we think this could be the outfit you're looking for. The olden leaf bustier with an embellished lehenga with pearl deco skein border makes for one of the chic choices of skirt blouse in our list. Apart from being edgy, it's colour combination is absolutely refreshing too. This could be your go-to outfit for your best friend's Sangeet night where all eyes will be on you when you dance on the stage.
Styling Tip - Go by the vibe of the outfit and pair some unusual accessories with this skirt blouse, like a blingy hairband or a chunky bracelet that adds to the drama of it.
Corset Blouse with Dramatic Lehenga Skirt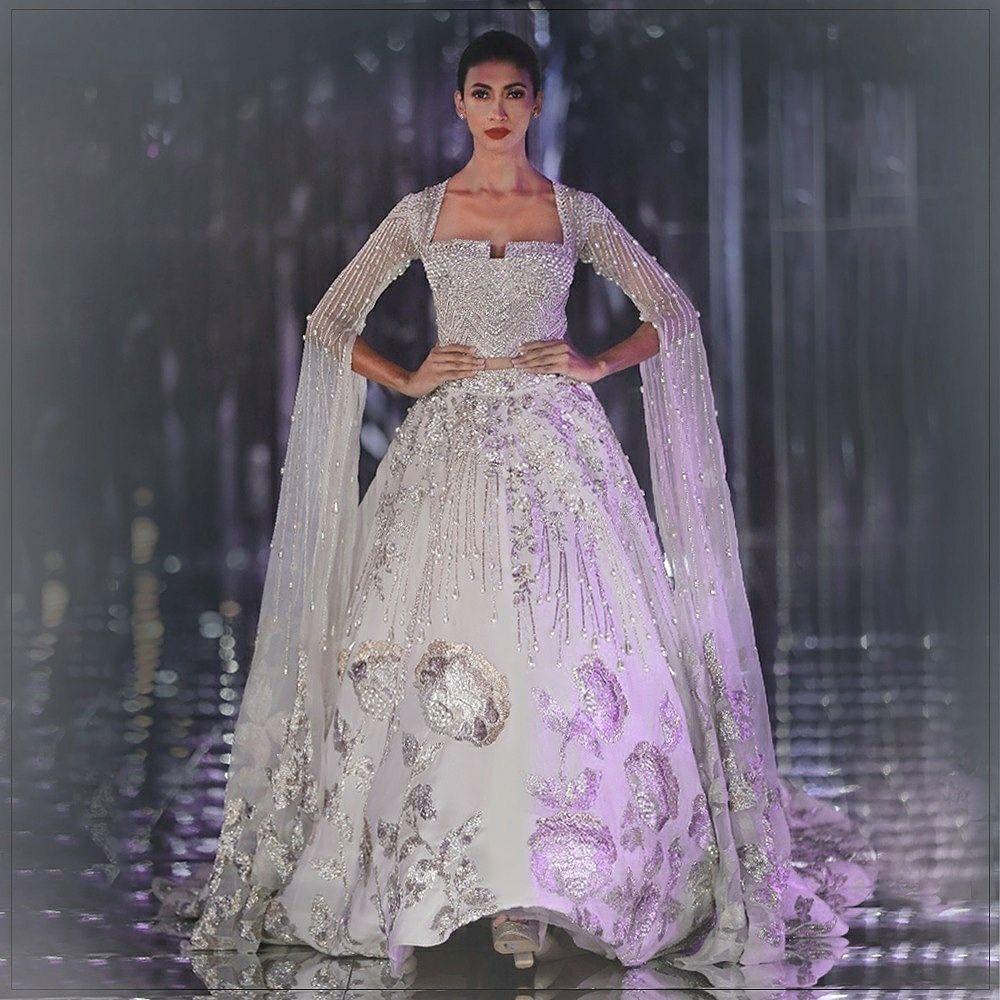 Image Courtesy: Manish Malhotra's Instagram
Now here comes the dreamiest outfit of the list. This one is for the bridesmaids that love the maximalist style of clothing and do not believe in making simpler choices. The skirt blouse combination that is full of bling has a corset blouse with trailing sleeves and a delicate neckline paired with a voluminous floral embroidered skirt. From Sangeet night or Reception party, this can go well in any of the main functions of the wedding.
Styling Tip - With an outfit as bold and blingy as this one make sure everything from your hair and makeup to your jewellery and accessory must be dramatic enough and in sync with this fabulous outfit.
Scallop Bustier with Cape and Lehenga Skirt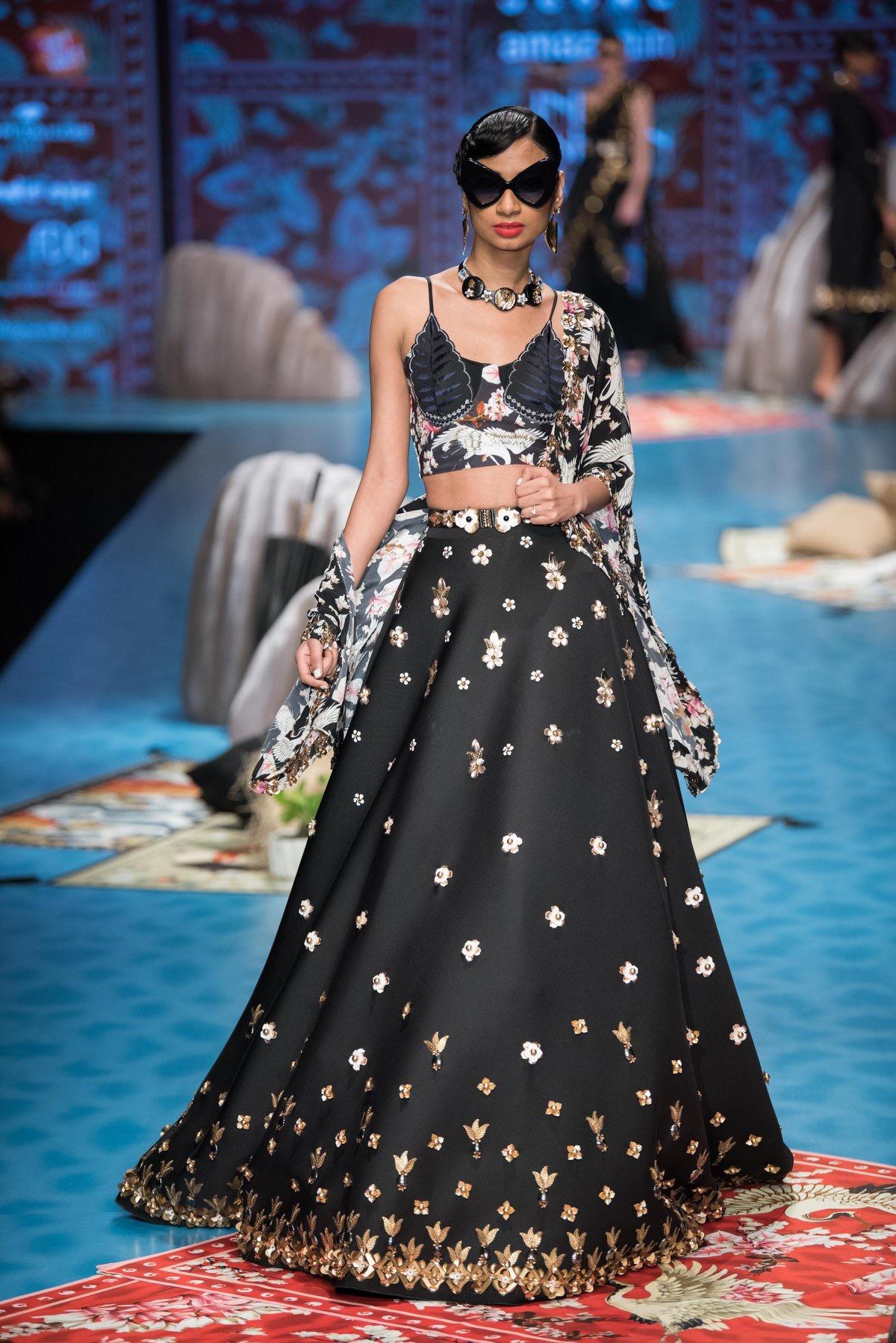 Image Courtesy: Shivan and Narresh
This skirt blouse combination is what you may call as the edgy choice that will stand out in any crowd. The lehenga skirt with mahogany lace and a beautiful floral belt paired with a scallop bustier and a printed cape is what millennials call as the quirky choice. For those of you that can carry this off, we assure you that there is nothing that you'd find even close to the bold choice you've made. If standing out is your motto, then this is the skirt blouse combination for you this wedding season.
Styling Tip - A statement necklace or a pair of chunky earrings is the perfect jewellery choice to accessorize the bear neck. Keep the hairstyle dramatic just like the feel of your outfit.
Fringed Skirt with a Printed Blouse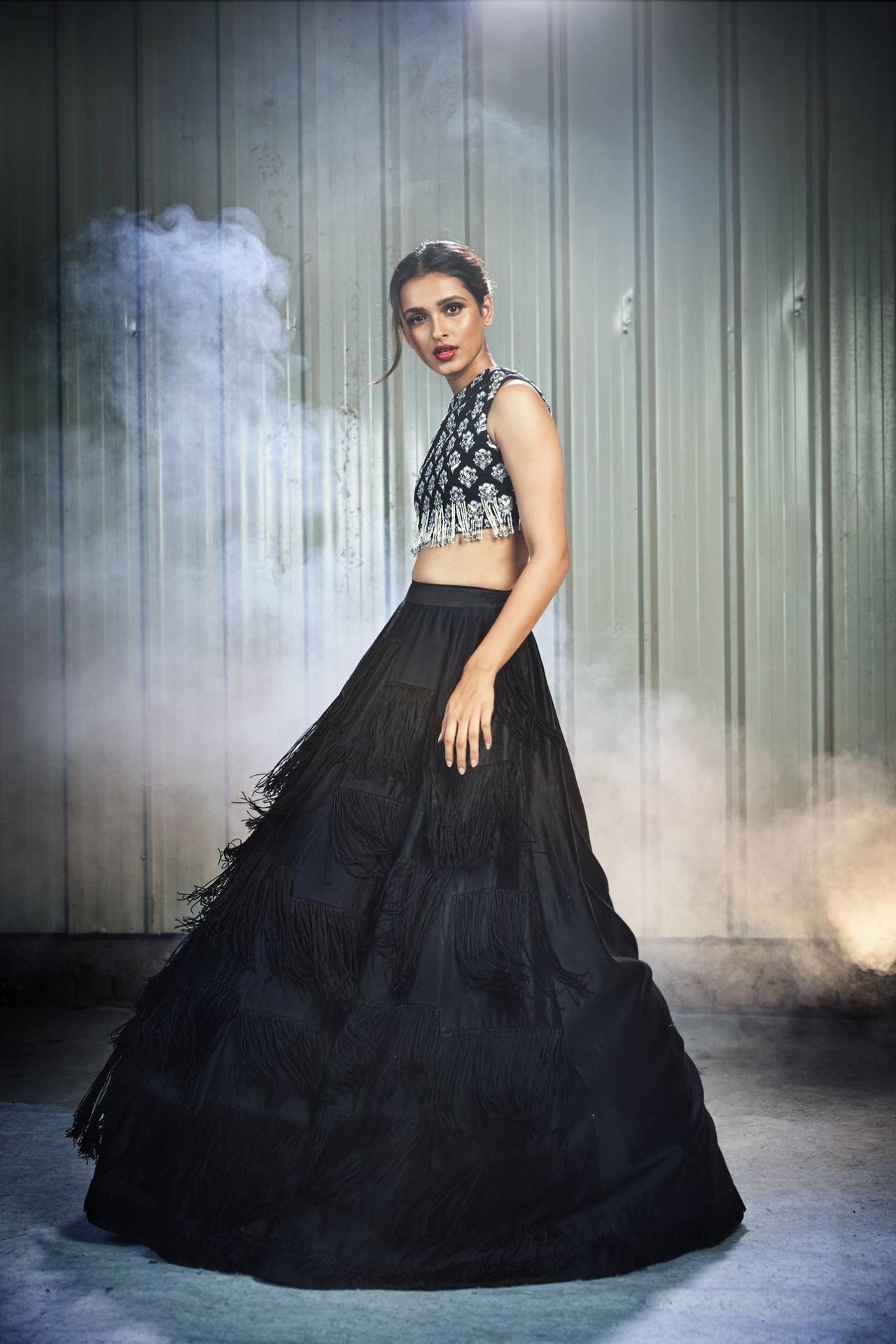 Image Courtesy: Ridhi Mehra
Here's another black outfit on our list that is completely opposite of the previous one. This one is a more subtle choice and also one that works best for those have a minimalistic style of dressing. The plain back skirt with patterned fringes in segments looks absolutely breath-taking when you twirl around. While the printed blouse with piped fringes adds just the right amount of design to this otherwise simple outfit. The sequins on the blouse make sure that it looks appropriate to be paired to any wedding function of your choice.
Styling Tip - A chignon bun and your favourite pair of dangler earrings are enough to complete the look of this subtle skirt blouse combination and still make you look like a star at your BFF's wedding.
Lilac Crop Top and Flared Skirt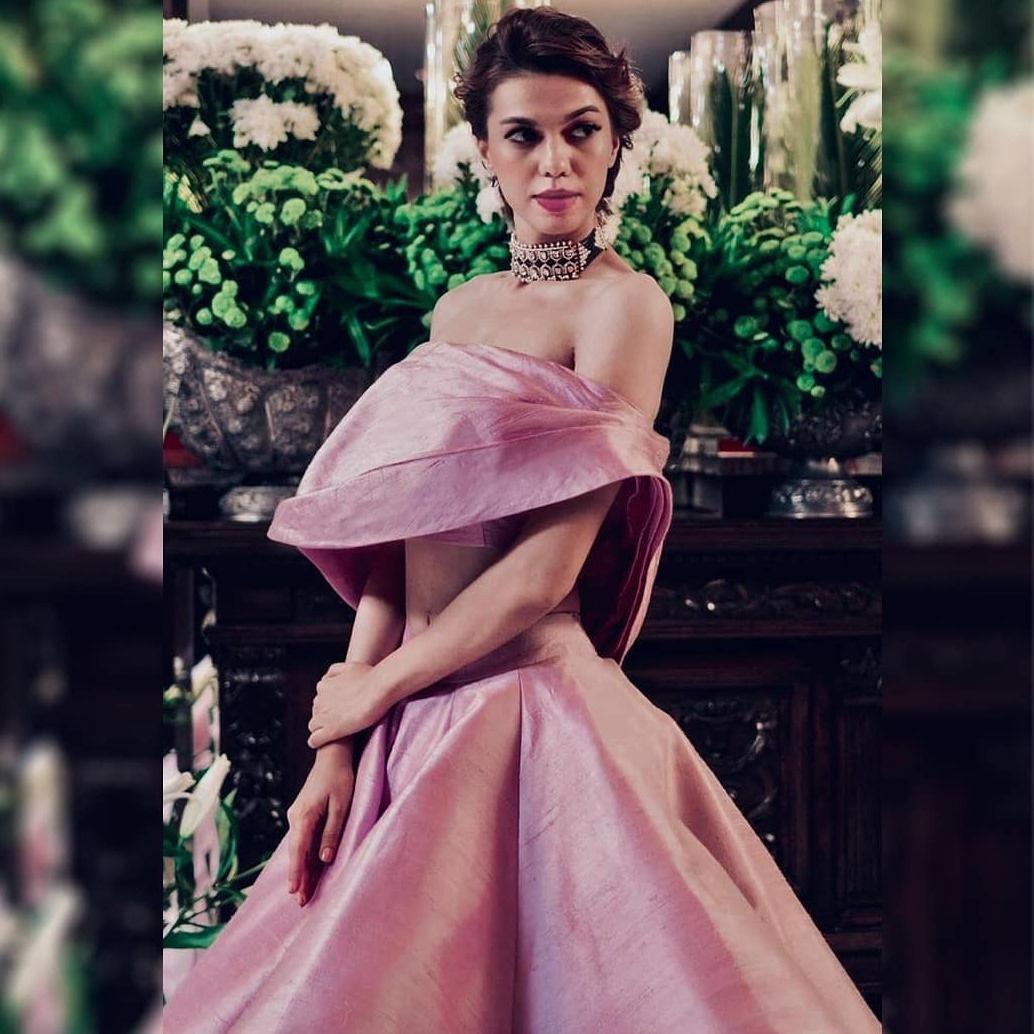 Image Courtesy: Manish Malhotra's Instagram
Last but not the least, this one is our favourite skirt blouse combination of the list only because of how simple it is and yet creates an effect of an intricately designed outfit. The lilac off-shoulder silk crop top with a dramatic puff up paired with a flared silk skirt of the same colour is what makes this outfit dreamier than any combination you've ever seen. With absolutely no embellishments on this one, it still remains one of the finest choices to make for a wedding function or even a Cocktail night.
Styling Tip - Pair with a traditional pearl choker necklace, and go in for a messy bun hairstyle to complete the look and steal all the attention as well as the hearts at your best friend's wedding.
What do you think about these skirt blouse combinations for your best friend's wedding? While we've put together the many shades and styles that you'd love to scroll through, we'd suggest you go for something that you'd be comfortable in. The ace rule of fashion is to be comfortable in what you wear because it is your ease while carrying an outfit that adds the extra oomph to your look.
So do not push the boundaries hard enough to make yourself uncomfortable, because we all know that as a bridesmaid you will have a lot of running around to do. You cannot let your outfit come in the way of your bridesmaid's duties, so choose wisely and style phenomenally to make a mark as the most fashionable bridesmaid ever.
Which of the above skirt blouse combinations can you just not wait to have in your wardrobe? Tell us in comments, what your style mantra is and which of these designs blend in with your taste seamlessly.