Quirky Wedding Invitation Card Using Canva the App
No, you don't really need a graphic artist to create a wedding invitation card for you. Simply download the app Canva on your smartphone and let us teach you how to create an invitation card that matches what you wished for.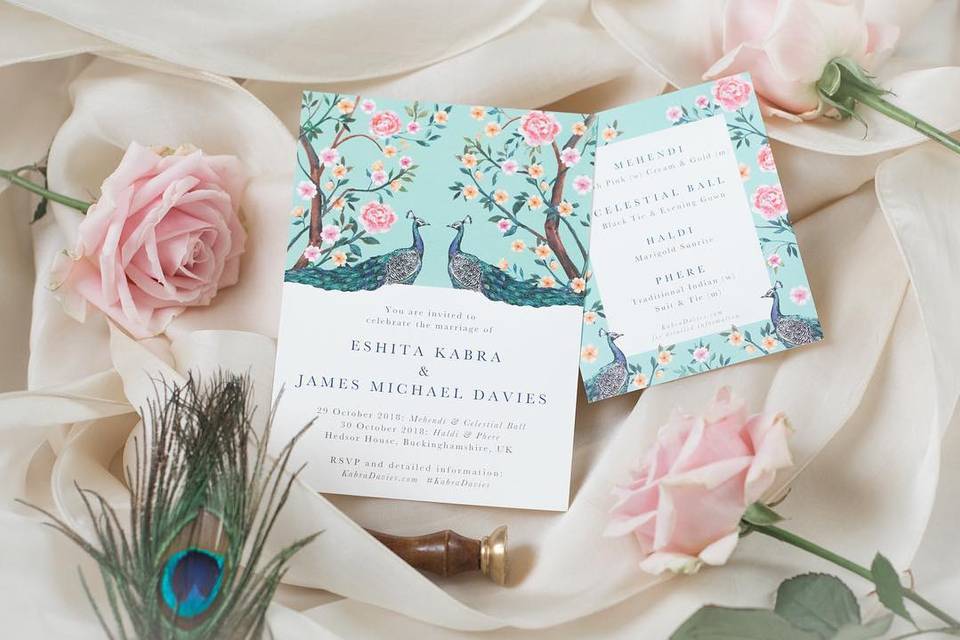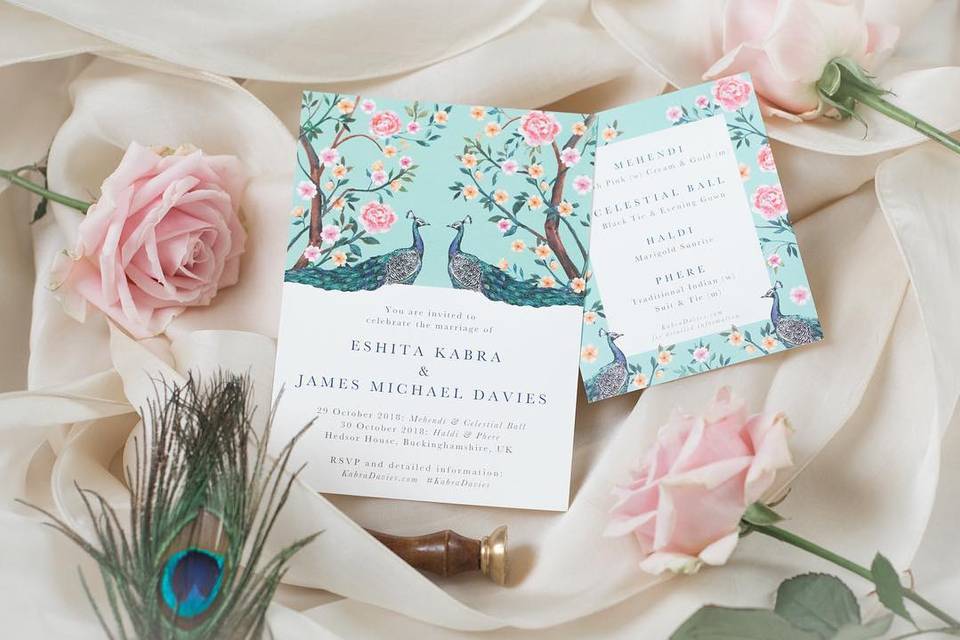 Image Courtesy: Zohaib Ali Photography
Our phones have become smart over the years and our app stores are now brimming with various paid and unpaid applications, catering to all our needs. One such app is Canva app, which specialises in creating beautiful graphic illustrations, letting you adorn a creative hat on even if you are not so much of a creative person in real life.
This app is more than just an illustrator, as it is where you can actually create your own wedding invitation card, without the need for an expert like a graphic designer to help you with it. There is so much that you can do with Canva app that the possibilities of creating graphic illustrations are endless. You think about or visualise an invitation card for your wedding and the numerous features of the app will make it possible for you to design something as close to or exactly the same graphic in no time.
So how does Canva really work? Well, our step by step guide will help you use Canva for your wedding invitation card's creation very easily. Call it, wedding invitation card guide on Canva for non-creative people or newbies.
How To Download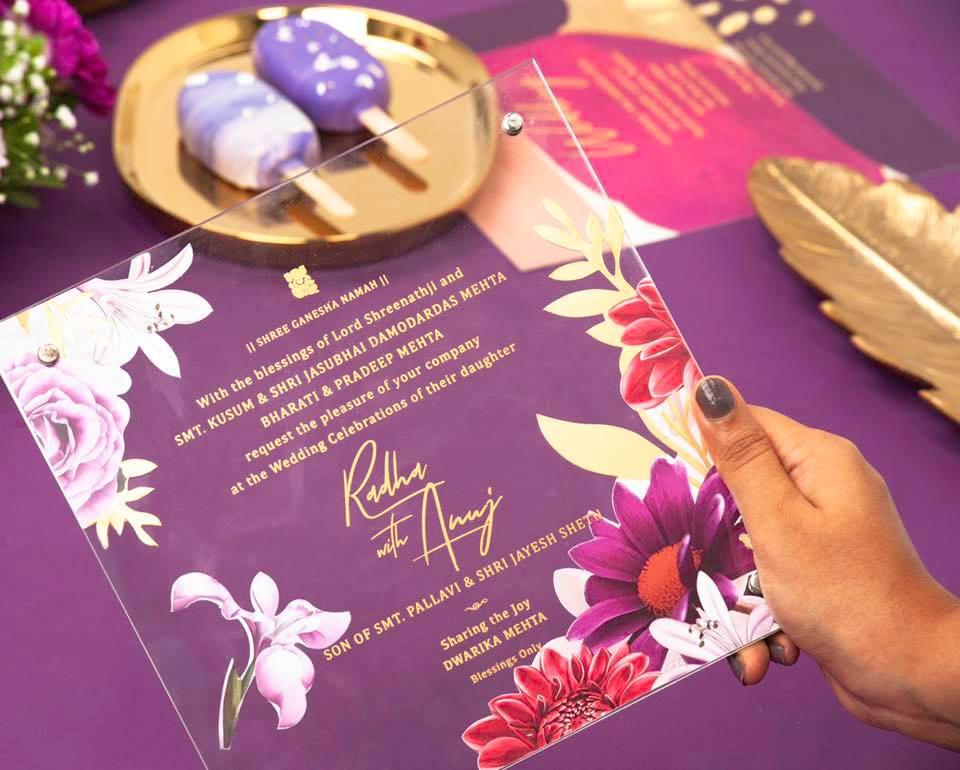 If you are an android smartphone user, visit Google Play Store and type Canva to find the blue-violet hued logo with C that stands for Canva and download the app to your smartphone.
But if you are an iOS user, you can visit the App Store on your iPhone and download the app in the same manner as that on the Google Play Store. Make sure that your smartphone has enough space to let you download the app. Since it is a graphics-centric app, you can expect the file to be manageably heavier than any simpler app.
How To Get Started
Open the app Canva and you will see numerous pre-made template categories that you can edit as per your wish. Look out for the category 'Invitation' which consists of endless templates around wedding invitation card designs that you can choose from.
Begin Designing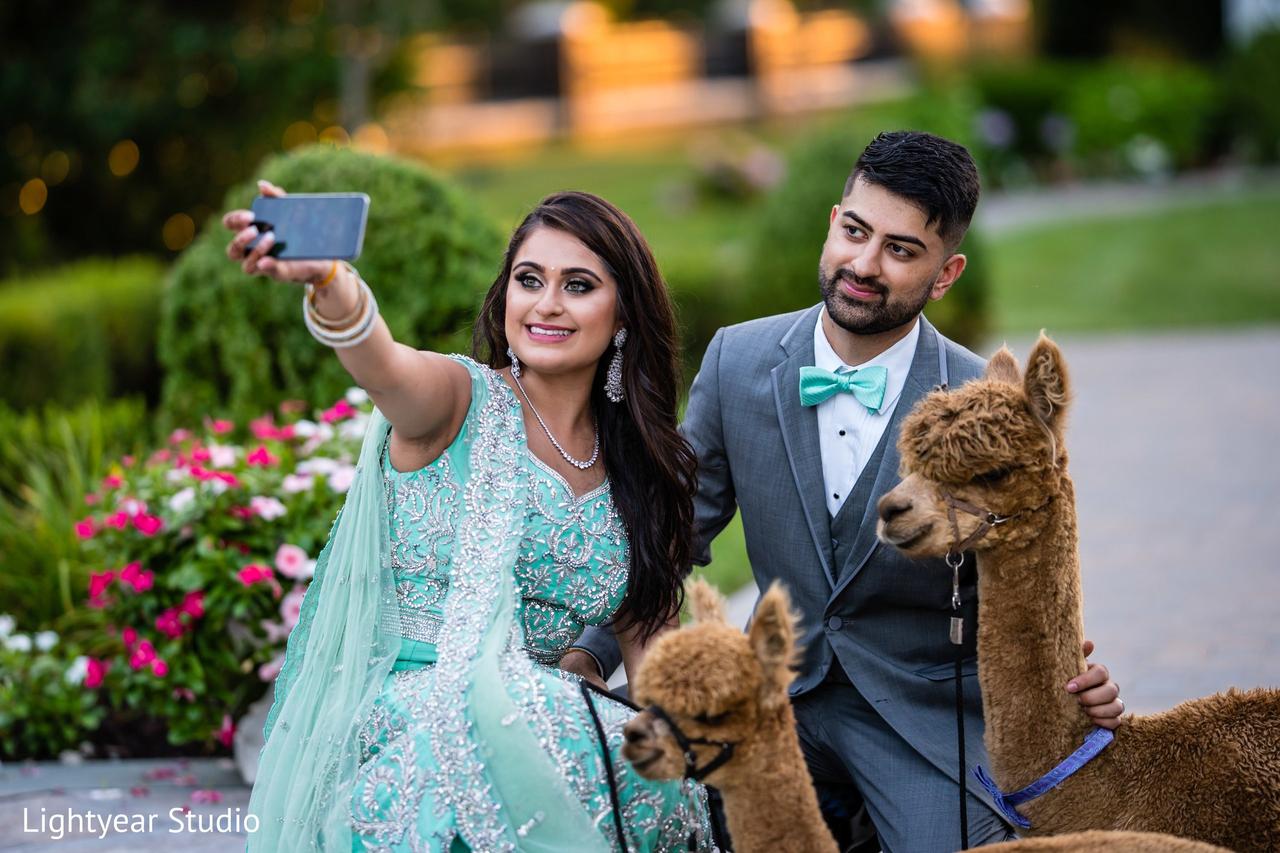 Image Courtesy: Light Year Studio
If you have any particular design in mind that you would want to go ahead with specifically, then opt for an invitation card template in dimensions that you think will be perfect for your custom design. Clear the template of all its elements to achieve a clean slate and then get started on the design.
But if you are clueless about where to begin with, it is always a great idea to surf through the various free templates that are available on the app, under the 'Invitation' category. Find a template that matches your preference best. Remember, that everything is customisable on each of these templates. Hence, don't give up on a template for say its colour palette when you have really loved the placement of all the other elements.
The Gallery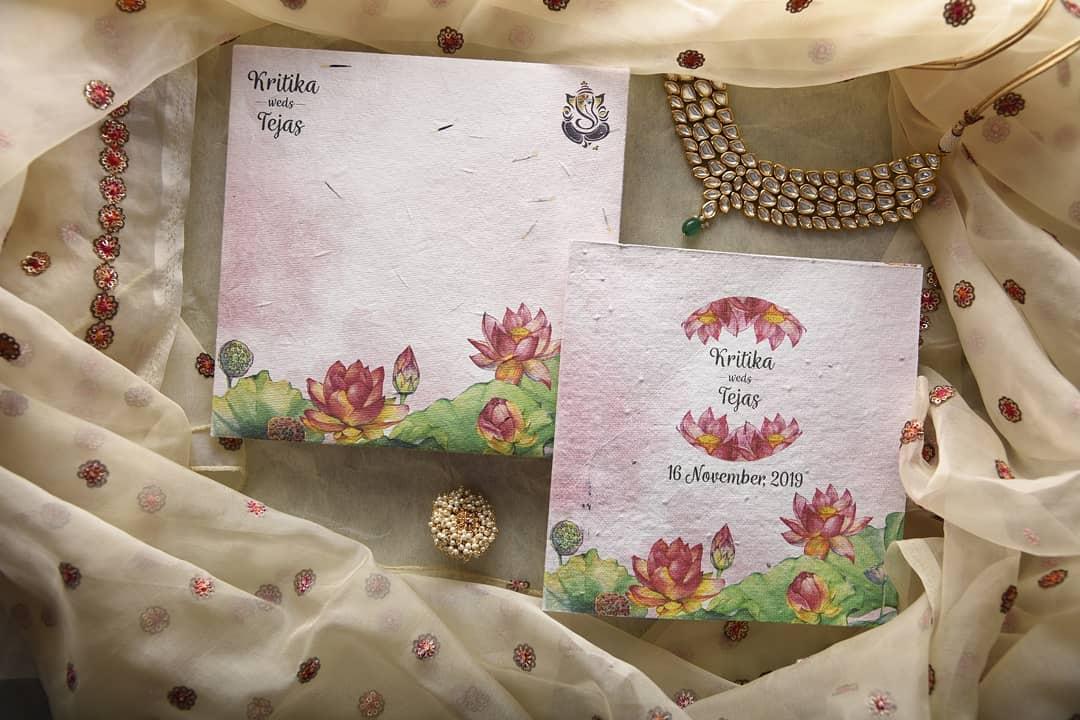 Image Courtesy: Plantables
Once you have finalised on the base of your Canva Invitation card, move forward and decide whether you would like to add a photograph or two to your invitation card or not. If you have a particular logo that you wish to incorporate on your invitation card or a cultural symbol which you would like to include on your wedding invitation, then the process is very easy to add that to your template.
Simply save the png files to your smartphone's image gallery. By doing so, the images will automatically start showing in the gallery on the app, giving you access to add it to the template.
The Background Image
Just like the logo and symbols can be added to any template on Canva app, you can do the same with the background of your wedding invitation card template as well. If you like a particular background image that is available on the internet copyrights free, then download that and add it to the image gallery.
If you are not too sure about what is available on the search engine, then you can surf through an array of images available free or paid (for a nominal fee) in Canva's gallery as well. You can even adjust the opacity and colour gradient of the background image with photo editing tools that are in-built the app.
The Text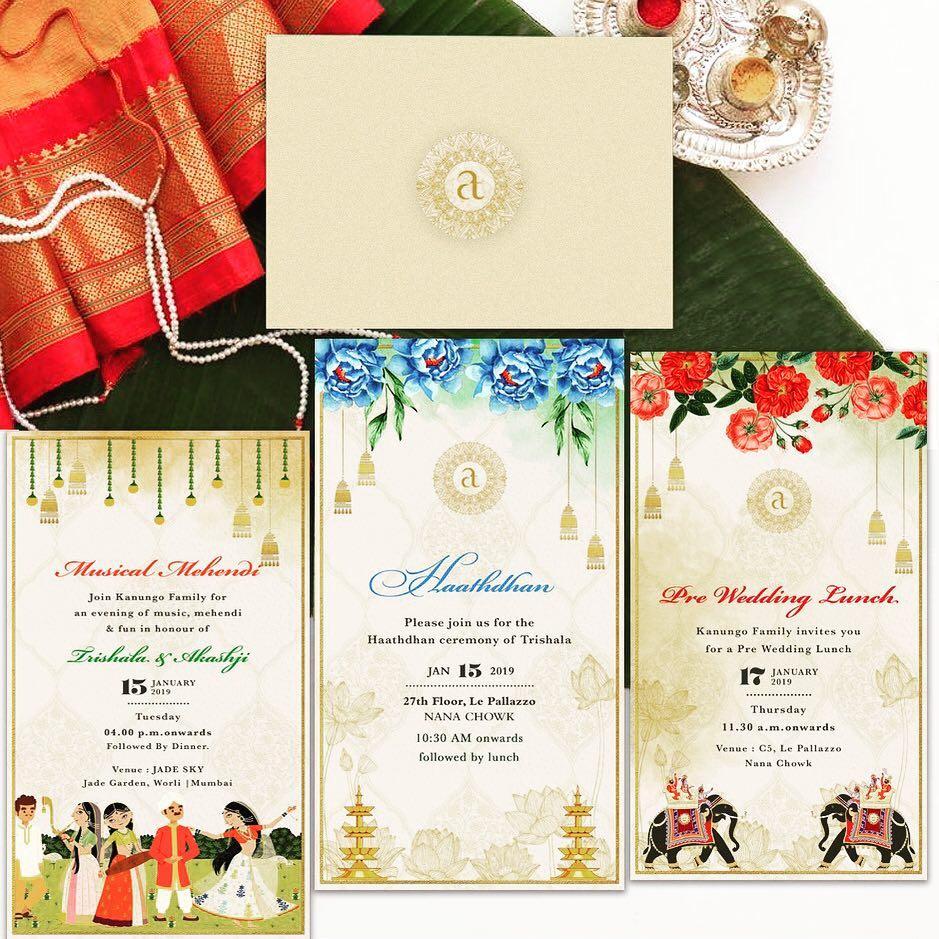 Image Courtesy: Studio Works
Canva app is so detailed and gives so much editing possibilities to the user that you can customise your wedding invitation card to finer details as you would wish for. A variety of text styles, fonts, colours and designs are available in the app that you can experiment with. Each template comes with its own pre-designed style of text which you can use as-is, by replacing the template's text with your own.
Simply double click on the text and write whatever you wish to add to your invitation card. You can customise text, spacing, placement, font type, font style and colour as per your requirements very easily. But if you wish to add extra text to your wedding invitation card template, then simply click on the plus sign that is available on the app and select the option of 'adding text' to your template.
Add Beautifying Elements
Once you are sorted with the placement of text and basic logos and symbols on your wedding invitation card, proceed towards adding extra elements to beautify the template further! Simply surf through Canva's gallery to find different motifs and patterns that can be scaled and placed wherever you wish to place them on the template. Once you are satisfied with the elements, you are all set to follow the last step of creating the invitation card on Canva app.
Save The File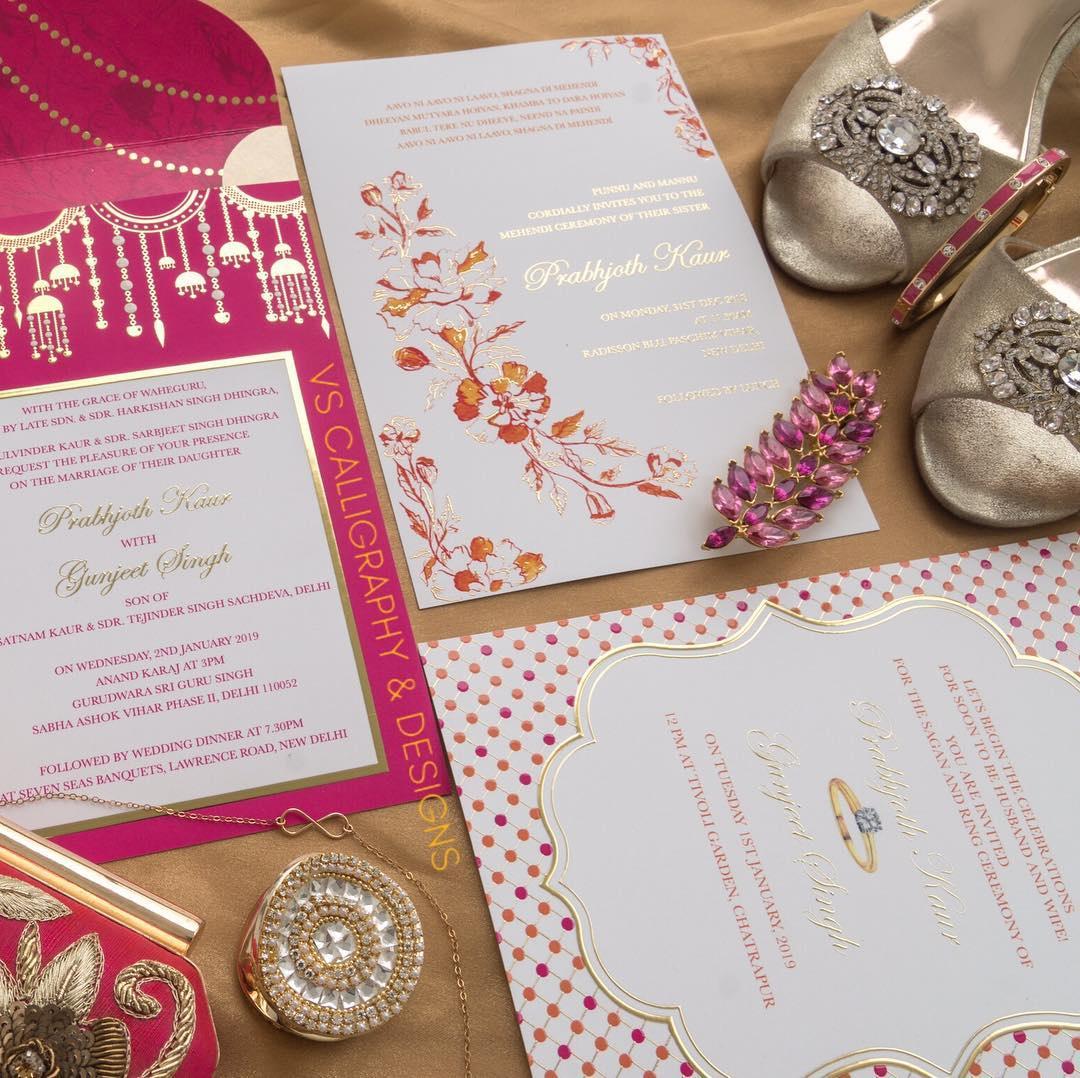 Image Courtesy: Pinterest
Now that you are satisfied with how the invitation card template has turned out to be, you can go ahead and save the template in image style in various ways. From saving it on your phone, mailing it to your email-id, to uploading it on certain image bank sites or forwarding it to someone via messenger, you can pass on the final template via so many modes of digital messaging.
Now that you know how Canva app works to create beautiful invitation card designs, go ahead and create illustrations till you are satisfied with the one you would want to finalise on. The best part about this app is that you can create a couple of designs and ask around your core wedding circle to help you finalise on the one that's just perfect.
What's more? You can even use these designs to send across save-the-date or digital versions of detailed wedding invitation card to your entire guest list via SMS or Whatsapp messages as well. The quality of these designs is such that you can email it across to the invitation printing shop so that they can print out copies of your invitations for physical versions of them in high quality too.
If you still have any queries with regards to the usage of Canva app to create wedding invitation card designs, do comment and let us help you further.