The Elegant Engagement: How to Get Your Indian Engagement Makeup Spot on Perfect! 
We have curated for you a list of five Indian engagement makeup every bride must look at before she ties the knot. Read on and get inspired!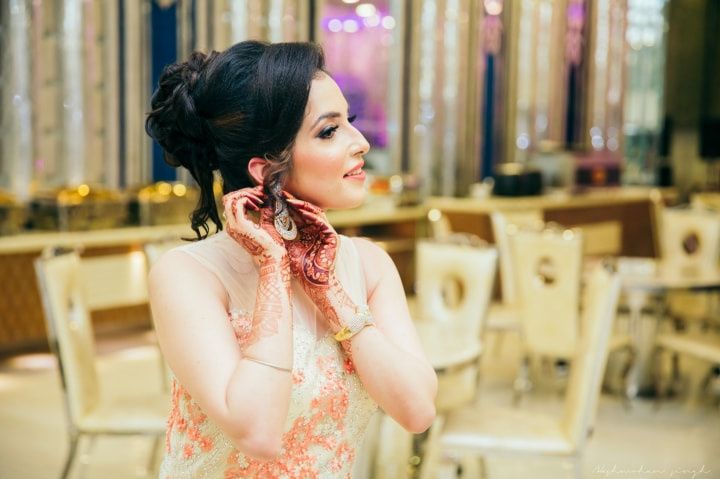 The series of big events all start with the grand engagement, among the array of minute details that need to be chalked, intricate details of the bride's makeup holds an important spot. While there is no traditional outfit dedicated for engagement, one could choose from indo-western gowns to sarees, yet there are some unique Indian elements to just get your engagement makeup on fleek!
With all eyes on the bride, groom and let's not forget the sparkling rings, coordinating your outfit and makeup, incorporating parts of traditional elements just make the look perfect. There are tons of inspiration for Indian engagement makeup from smoky eyes to nude lips, scarlet lips and braided tresses, available on the gram and Pinterest but which should you choose? Browse through our favourite makeup trends for a splash of modernity and tradition to adorn on your special day...
1. Classic and traditional with a Bindi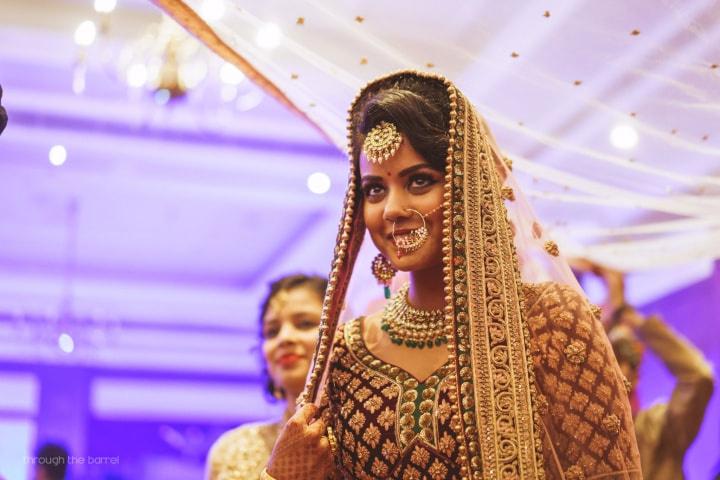 As traditional as something as small as Bindi might be, it is a traditional element that ties the makeup together ever so elegantly. Just look at this bride, gleaming with happiness, as her makeup look champions red from her Bindi all the way to her lips, and all so seamlessly. This traditional dot worn as an accessory is not only a fashion statement but also traditional in its roots. The brides peach outfit, with contrasting diamond and emerald jewellery, is so well complimented by the makeup especially the Bindi!
2. Splash of scarlet to tie it all together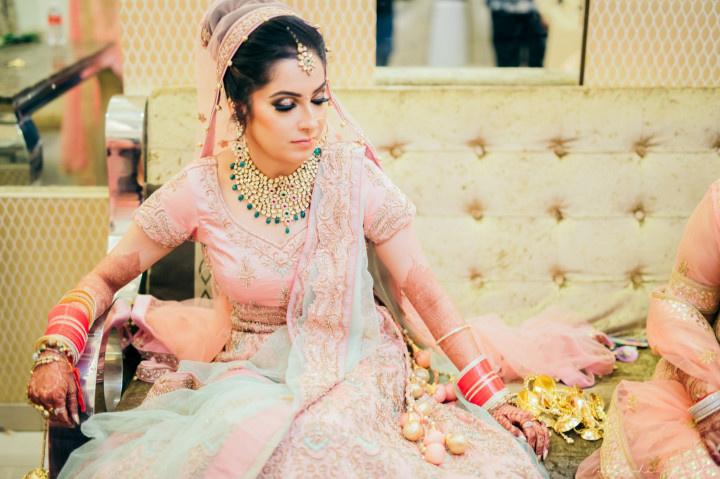 If there is one makeup element, we just cannot resist complimenting is red raging scarlet lips. Red lips with smoky eyes is a gorgeous combination which is quintessentially evergreen and what better way to wear this look than your engagement party. This bride's Indian engagement makeup look ticks all the right boxes with her intricate black gown, hair neatly parted, diamond set and the red lips which brings it all together with a pop of colour. It shows that you can never go wrong with the right shade of red, colour so emblematic of the Indian bride!
3. Bold & beautiful with the smoky eye look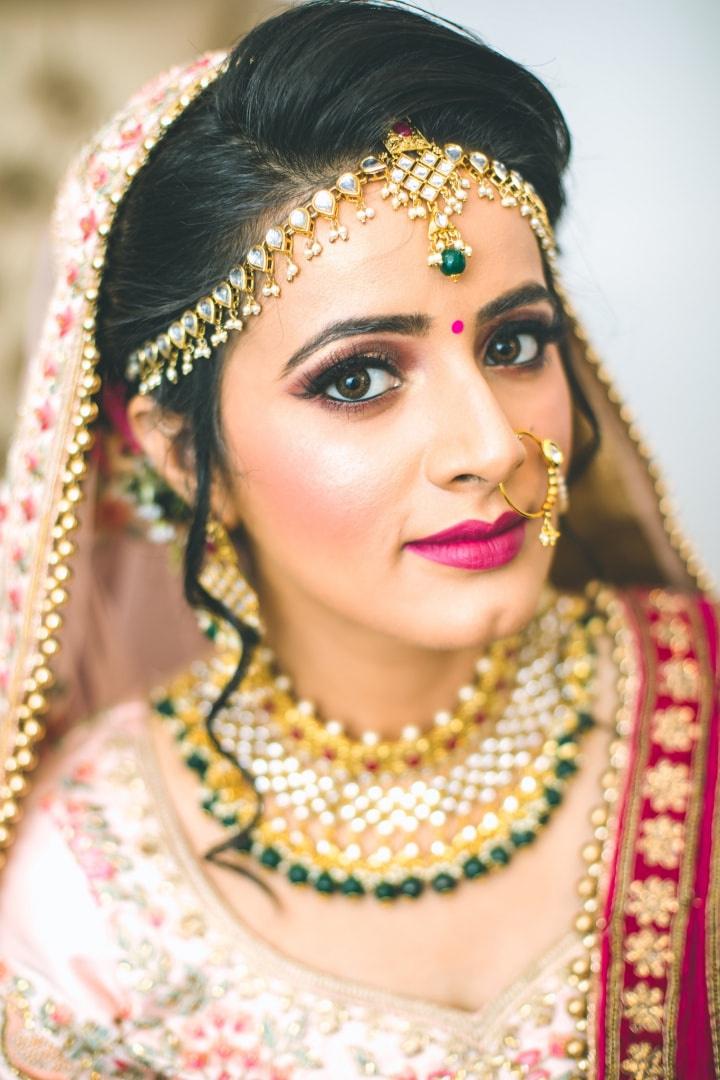 If there is one trend that has constantly been the rage, it has to be the smoky eyes. Time and again interpreted from the traditional black smoky eyes, it is now a classic Indian engagement makeup. With the strokes of even one single colour, one can nail the smoky eye look. Just look at this bride's purple and black smoky eye with glitter which just gives it the right amount of Oomph factor. With a coordinating shade of lipstick, her entire outfit is well complimented. This makeup look makes us move past the traditional smoky eye to embrace something trendier and alluring!
4. Accessorising the tresses!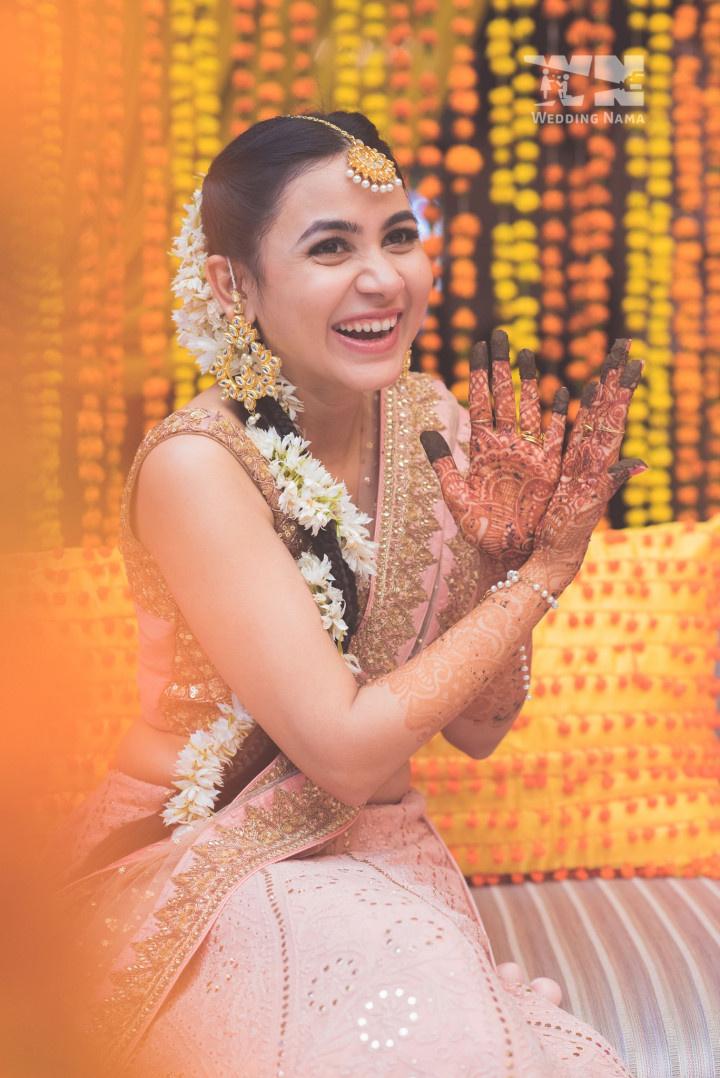 There are so many ways you can get creative with your engagement hairstyle from letting it down in soothing beach waves with traces of flowers flowing along to your hair being neatly pulled into a braid. Each hairstyle is different and specially chosen to highlight the features of your outfit. Unlike the wedding where your hair will be covered by the veil, here you have the full liberty to do as you please. There is even an array of accessories you can choose to decorate your hair from the flowers, to embellished hairbands and maybe even a delicate tiara, after all, it is your special day! Just take inspiration from this bride who chose a delicate and elegant pearl hairband which adds a special touch to her hair and is just the perfect accessory for her white and golden outfit.
5. Bringing it all together!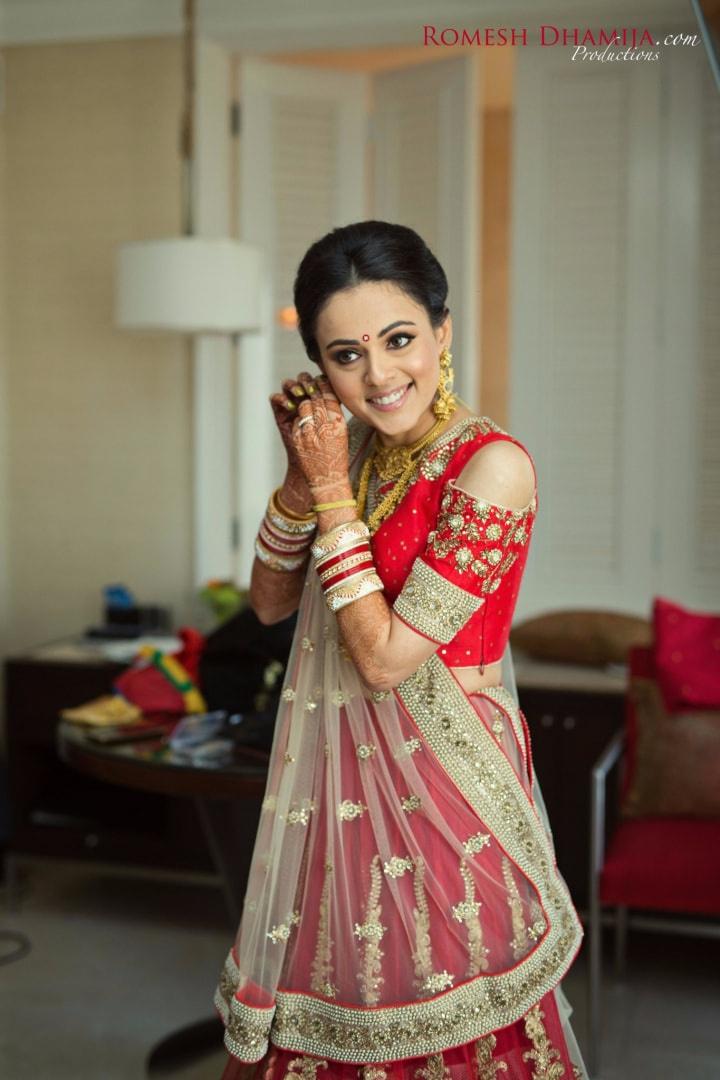 With the liberty to move past the traditional outfit, there is a whole world of inspirations possible for the right look for you. These are just some elements which we spoon over in Indian brides, so now once you pick the right outfit for the engagement, which will set the tone for your wedding saga, you must choose the right artist who will help you pick out the best hair accessories, the right hue for your makeup and the perfect hairstyle to accentuate your features!
The engagement ceremony marks the beginning of the wedding saga. It is the one ceremony which has no general guideline. It's all about your personal style and preference to choose a western or Indian outfit, with that said the Indian engagement makeup becomes more critical because it gives you the opportunity of flashing a bit of tradition here and there. The scarlet lips, bindi, smoky eyes and hair accessories are just some of the options!
From gowns to lehengas, we've seen it all, each bride carries her outfit oh so elegantly with her makeup complimenting her entire look. It's a glimpse of the actual wedding ceremony, seeing the bride in all her glory standing alongside the groom, happy and optimistic about their future! What's not to love about engagements?
Which one from these Indian engagement makeup looks did you like best? Tell us through the comments!