4 Indian Engagement Dresses That Would Look Absolutely Stunning as You Kick off the First of Your Wedding Ceremonies.
Your engagement marks the beginning of a whole new relationship, which is why many families place great importance on this ceremony. To look your best, read about these Indian engagement dresses that you should wear!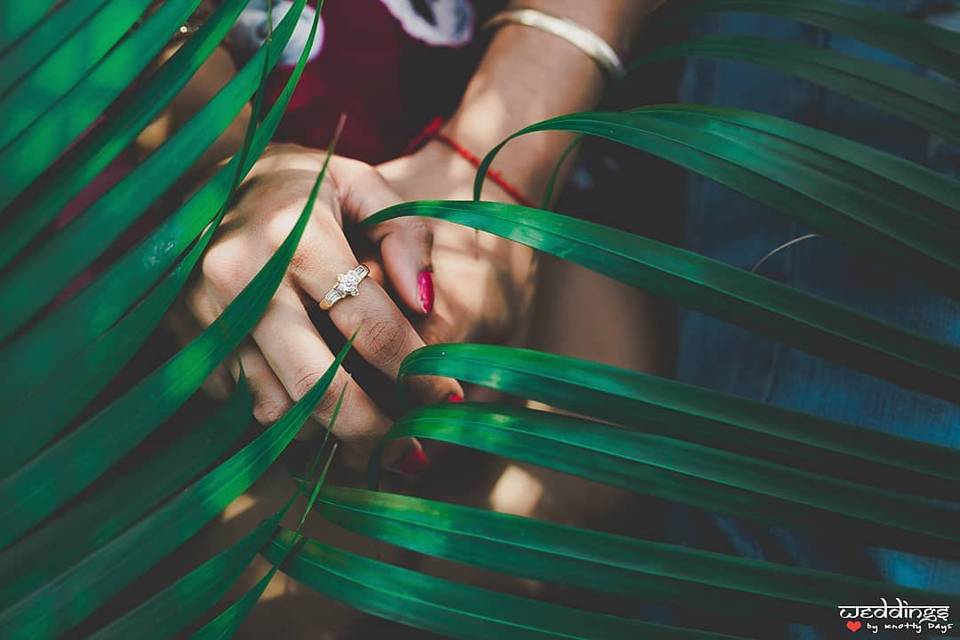 The engagement period is one that is alternatively blissful (you're getting married!) and incredibly stressful (you've got a wedding to plan!). And whether it lasts a month or a year, it is a time like no other. Charged with emotion and filled with all the possibilities of a brand new life, the engagement period is one that should be heralded with joy, pomp and splendour! While many families have their own ways of throwing an engagement party – some go for a traditional Roka ceremony, others want a western style party – there's one thing that remains constant no matter what your cultural background and that's the Indian engagement dresses!
There are many different types of outfits that you can wear on your engagement party, from elegant sarees, lovely Anarkalis to lehengas. We've curated a list of Indian engagement dresses for you to browse through so that you can make up your mind about what you want to wear!
1. A crop top lehenga!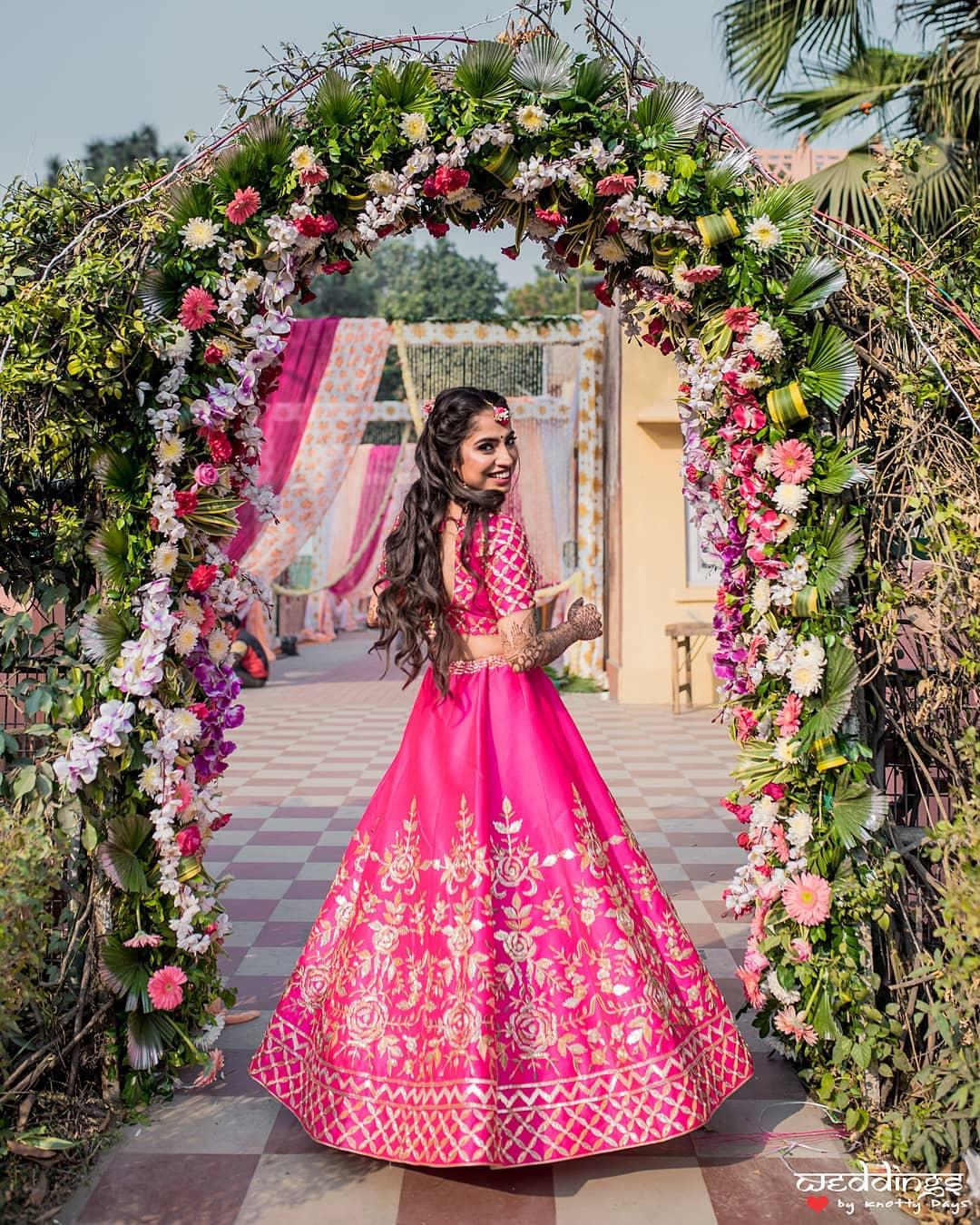 The crop top and lehenga combo is an Indo-western garment that is an ideal choice for Indian engagement dresses! With a funky crop top paired with a traditional looking lehenga skirt, there's no way you can go wrong with this garment as it hits all the right notes – the traditional ones for the family and the funky ones that are ideal for a light event like the engagement.
In order to really make this outfit work, pick a western blouse like a printed crop top or a halter and pair it with the lehenga skirt. Ensure that the skirt is not too heavily embroidered as it may lead to a bit of a visual clash!
2. A light, day time Anarkali with Chikankari work!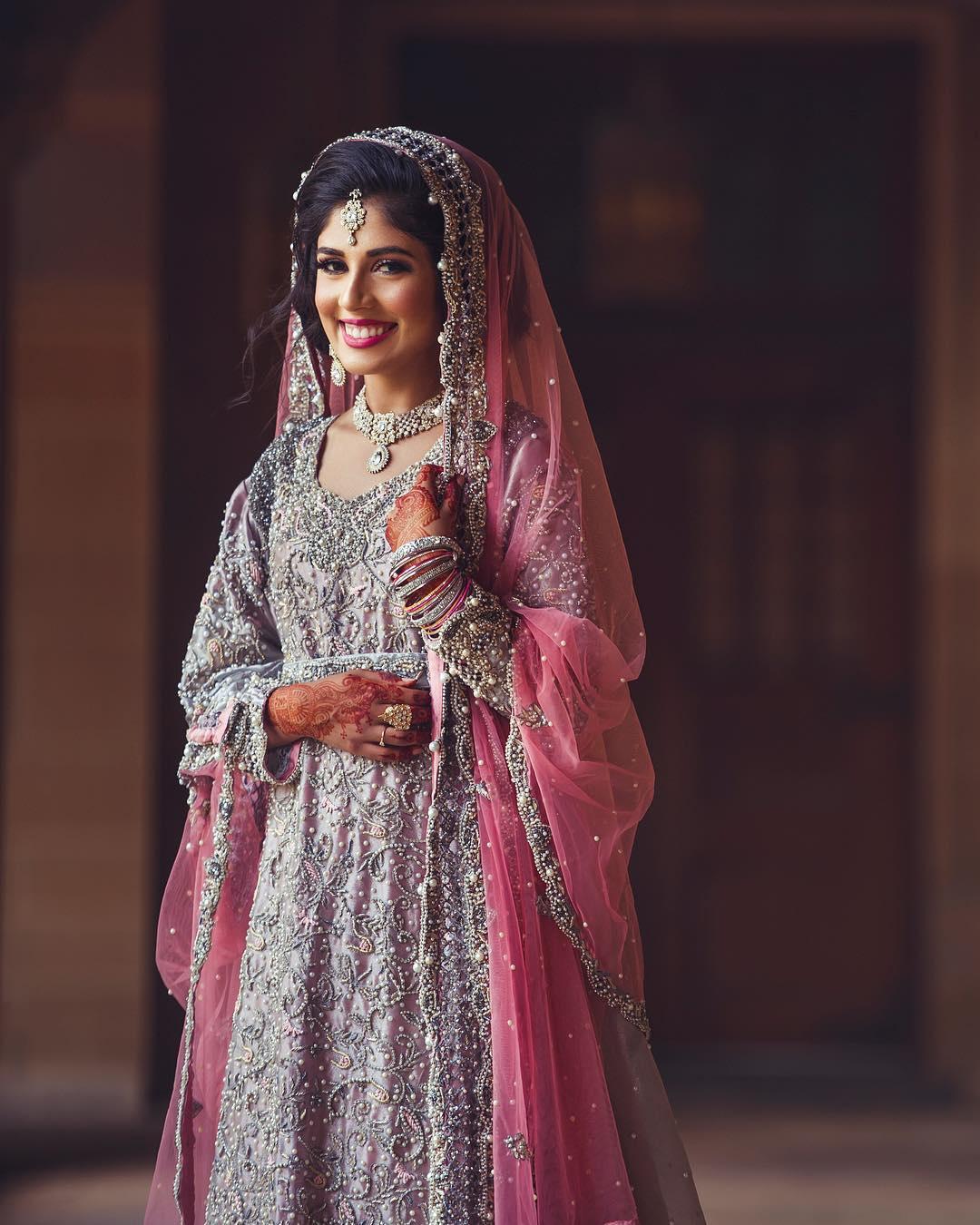 A light Anarkali design can be one of the best Indian engagement dresses when the function is during the day. Pick a pastel blue or pink fabric with white Chikankari embroidery all over. This will give the ensemble the dressy look that is appropriate for an engagement party, without coming across as an OTT garment that belongs in the Baraat!
The one shown above has a lilac fabric along with pearl detailing which compliments the Chikankari work. The pink dupatta crusted at the border with pearls and embroidery adds a gorgeous touch to the look. Whether you're the one getting married or a guest, no one will be able to stop themselves from admiring your look.
3. A heavy Anarkali appropriate for night events!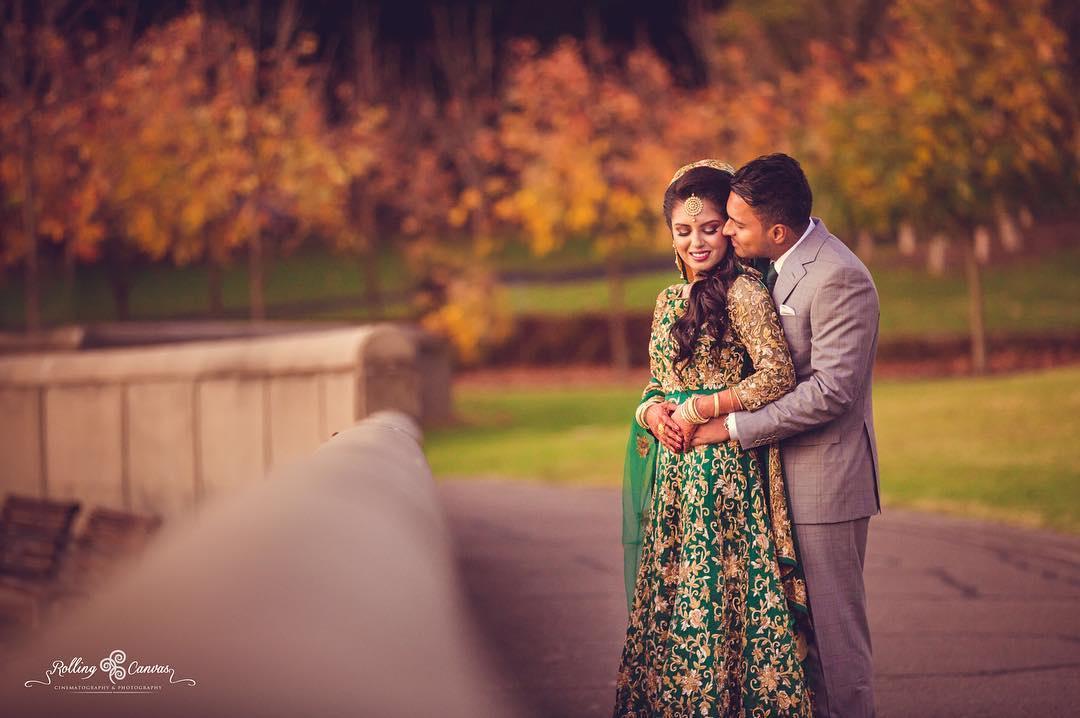 If your engagement party is happening at night, you can't get away with wearing a pastel Anarkali that's appropriate for the day. You need a heavier Indian engagement dresses with Zari or Zardosi work on it. This emerald green outfit is a great example of that and will look absolutely resplendent in dim lighting. The embroidery on the blouse is so heavy that one can, at a glance, mistake it for a gold top. It peters down as it reaches the bottom of the Anarkali skirt, which is where you can really see the emerald green in all its glory.
Pair this garment with an emerald Kundan necklace for a very cohesive look. You should leave your hair open so that its texture and colour can offer a break from the visual dominance of the gold.
4. A suit with an embroidered jacket!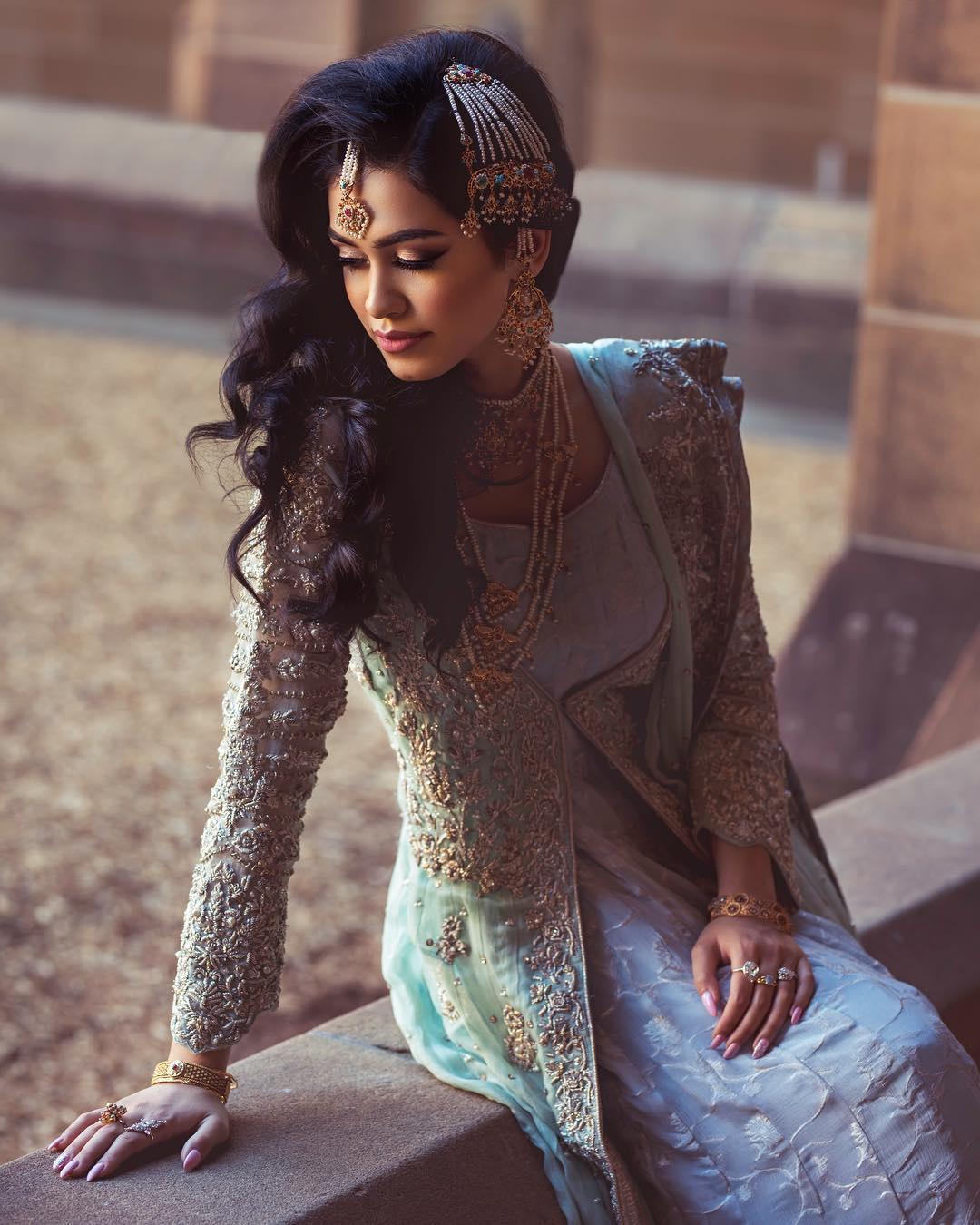 Pairing a comparatively lighter suit with a heavy embroidered jacket can be a great look that sets you apart from all the other guests at your function. Since it is quite unusual, we can bet that your guests will be talking about your outfit for days to come! This is what makes this one of the best Indian engagement dresses.
We love how this bride has paired pearl jewellery set with her outfit as most of the embroidery on it is in white and the two match perfectly. The hair swept to one side and anchored with a Passa – what a great styling idea! Finally, don't miss her pastel pink nails which go perfectly with her outfit. If you thought you could get away with skipping that manicure before your engagement party, think again! Your guests, like us, have beady hawk-eyes that take in every little detail of your ensemble!
When picking out your Indian engagement dresses, do take your venue into account as it's always better to exude a similar vibe. For instance, if your party is happening at a beach, then pick Indian engagement dresses that are light, flirty, and easy to carry! Pay special attention to your night makeup, as sometimes, the makeup we apply in our homes ends up looking odd outside due to differences in lighting! You don't want the perfect outfit paired with a deathly-white face, do you?
Get in touch with the top makeup artists in the country to ace any look you want!