How to take dramatic photos? Here are some of the most dreamy ideas to help you decode the deeper nuances of clicking dramatic pictures. When it comes to clicking the wedding couple, that factor of drama is the most essential of them all.
You may choose from a variety of ideas like the floral shower on the bride, making the groom pamper his lady, get the couple dancing, talk to them or just crack a joke among many others. No matter what you choose, the end result is going to be dreamy.
Are you all set to prove the world how to take dramatic photos? Take this as a micro-course on creating perfect situations to capture those marvellous dramatic pictures. Brace yourself to apply each of these ideas practically and don't forget to decide your responses when you will be flooded with praises. Get, set, going!
1. That floral shower
The floral shower on the couple or the bride is one of the most appealing ways to evoke drama. When looking for answers to how to take dramatic photos, catching the couple off guard is the best choice you have as a person behind the camera. The answer is wedding candids!
Get an unexpected flower shower on the couple and capture them be all surprised and romantic at the same time. I am pretty sure the surprise is going to evoke laughter and will be followed by a floral fight between them.
You must be ready to capture all that follows. Expect them to fight playfully, throwing petals at each other, running after each other (maybe). What goes like an unsaid rule is that you must be careful about choosing the right time. Imagine the partner taking coffee on his or her way and flowers start falling, umm nope, don't even think of being so careless.
You can always experiment and customise things for better pictures. Choose a contrasting colour of the flowers or one that complements the dress of the couple. You can look for such detailings that work for the better composition of the photographs. Yes, be prepared with that homework.
2. Pampering the bride 101
One great idea of capturing a dramatic moment is actually turning things dramatic. Just imagine what all happens in a rom-com or cheesy romantic films or a typical Karan Johar romance and then start applying all of that on your guinea pigs, sorry, I mean the couple.
Ask the groom to unexpectedly give that bouquet of flowers or get him to shower rose petals like in this picture. The dramatic expressions that will effortlessly reflect on the bride's face and then on the groom's face by seeing her happy are going to be priceless.
Once you learn to take inspirations from general life around you, the question of how to take dramatic photos will be something you can deliver a lecture on. Just observe.
See what adorable things your parents do for each other and maybe ask the partner to do it and secretly get that camera ready. Just learn to make it smooth and adorable and then nobody can stop you from taking that million-dollar dramatic picture.
Still thinking about how to take dramatic photos? Read on then.
3. Get that Dhol playing
Ah! This is hands down the most dramatic answers to your question of how to take dramatic photos. Don't you agree? Get those dholwalas straight to the gathering and let the crowd go mad.
This is something which works best in a private gathering, say a Haldi function or a Mehndi or just the night before marriage. Gather everyone and let everyone be on the top of their energy levels. What can be more dramatic than those Govinda expressions and that foot storming Bhangra?
The couple is definitely going to look adorable, exchanging those dramatic expressions every time they hear a high energy Punjabi song's beat. Give special commands to the dholwalas to get them together every now and then with those full-powered boliyan so that after a point they literally go mad dancing with each other.
Then what? You are going to need extra camera films, trust me on this. This is going to be a fun way. Just take my little warning, be careful of uncles and aunties squishing your feet under their Punjabi energy.
4. Crack a personal joke
If you follow this idea of tackling with the question of how to take dramatic photos, you must prepare yourself for constantly hearing the couple fighting over who betrayed whom.
Now, this is a part of your homework to sneak into the family or find letters if you are Dulhe ka Bhai or Dulhan ki Behen. Try to ask families of the couple and get a collection of inside jokes or life experiences prepared for them.
Shoot all that you could gather, one after the other at the couple (obviously on camera) and you will have all the possibilities of catching them off guard and that too at their dramatic best! If this is not exactly how to take dramatic pictures, then what is?
All I would suggest is to keep it as private as possible to get desired reactions, involve as fewer people as you can for this secret mission, understood? I would rather imagine you replying, "Aye, Captain!"
5. Get them in their regular comfort zone
Now, this is the story of every couple. Whenever you leave them alone or put them in exciting and playful situations, they open up. Getting them comfortable and accepted is what is the key to capturing dramatic pictures.
There is no theoretic answer to how to take dramatic pictures nor a magic potion made for the same. The partners you are trying to capture are not puppets, just remember that.
You will need your patience with such a specific demand. You will have to take it as a challenge and create moments which escalate to a point that it becomes dramatic, it becomes happy, full of life and totally romantic.
It looks real, adorable and totally unique only if it really is all of these in the first place. You can totally add outer elements, but the vibe and the chemistry that every couple shares, their story, everything has to be unique. Only then it will be your collective success that you are aiming for.
6. Recreate that dramatic proposal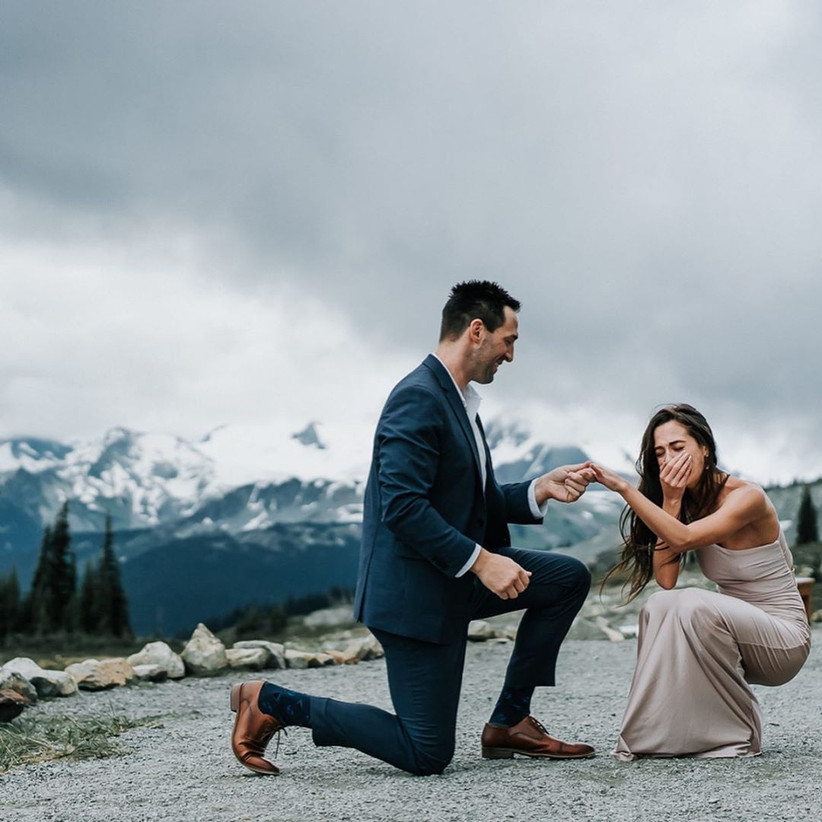 Image Courtesy: Oh So Perfect Proposal
Oh my God! The thought of the first proposal is definitely worth those goosebumps. However, this is one of the most effective ideas for arranged marriage couples. This is not something they go through, unlike the couples choosing love marriages.
Re-creating that iconic moment, in your own style, for your own unique story is something worth a million emotions. Don't you think? Oh! I am already swooning with this thought, better pinch me and remind me that it isn't my wedding proposal.
Get all that setup done, ask one of the partners to plan it in the most unique and unexpected way possible and woosh! Magic will happen right in front of your camera. This is one of the rare and very effective answers to how to take dramatic photos of grooms.
Men are slightly difficult to open up in those dramatic giggles and stuff. Seeing a woman go down on her knees, my goodness, that will be something iconic in itself. All I want to say is, just make it as memorable for them as you can. Every wedding story deserves it.
With all these fantastic ideas to help you understand how to take dramatic photos, you are finally sorted to get the star couple out of their wedding consciousness. Use a combination of these fantastic ideas to get the couple in their comfort zone and trust me, they will be at their candid best.
All you have to do is look for those candid shots which shoot the dramatic meter off the roof. Just be a careful photographer looking for moments of love. Remember the mantra, the more candid they get, the more dramatic the pictures are!
I hope all your questions about how to take dramatic photos are satisfactorily answered.
Pro tip: Do not try to escalate the process too soon. Do not make it look artificial as if it is done for the camera. Just get them into the candid heart to heart conversations, if needed, appoint a person to engage them in conversations.
Meanwhile, the person grabs their attention and gets them comfortable, you can click pictures making everything as smooth as butter, for yourself and for them. Happy shooting!
We would love to read your weird experiences with couples, in the comments below!