8 Hairstyle on Sharara Ideas Which Work Wonders With Your Look
Wearing a Sharara for your wedding? Perfect! Here are some fantastic ideas that will help you select your hairstyle on Sharara.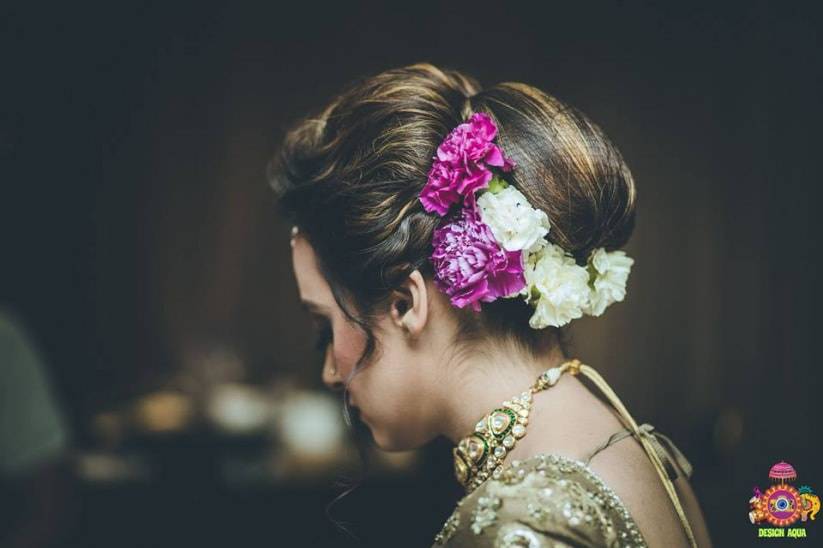 The hairstyle for your wedding is a very important element as well as an accessory. Depending upon the bridal attire you decide to wear, you need to choose the right hairstyle which, in turn, accentuates your entire look. For a bridal attire like Sharara, you have so many styles to choose from. From buns to braids, you can wear almost every kind of hairstyle on Sharara that you can think of. However, it's easier said than done.
The more options you have, the more difficult it gets to choose one of them. But the good part of the story is that we're here to help you pick your hairstyle on Sharara.
How to choose the right hairstyle on Sharara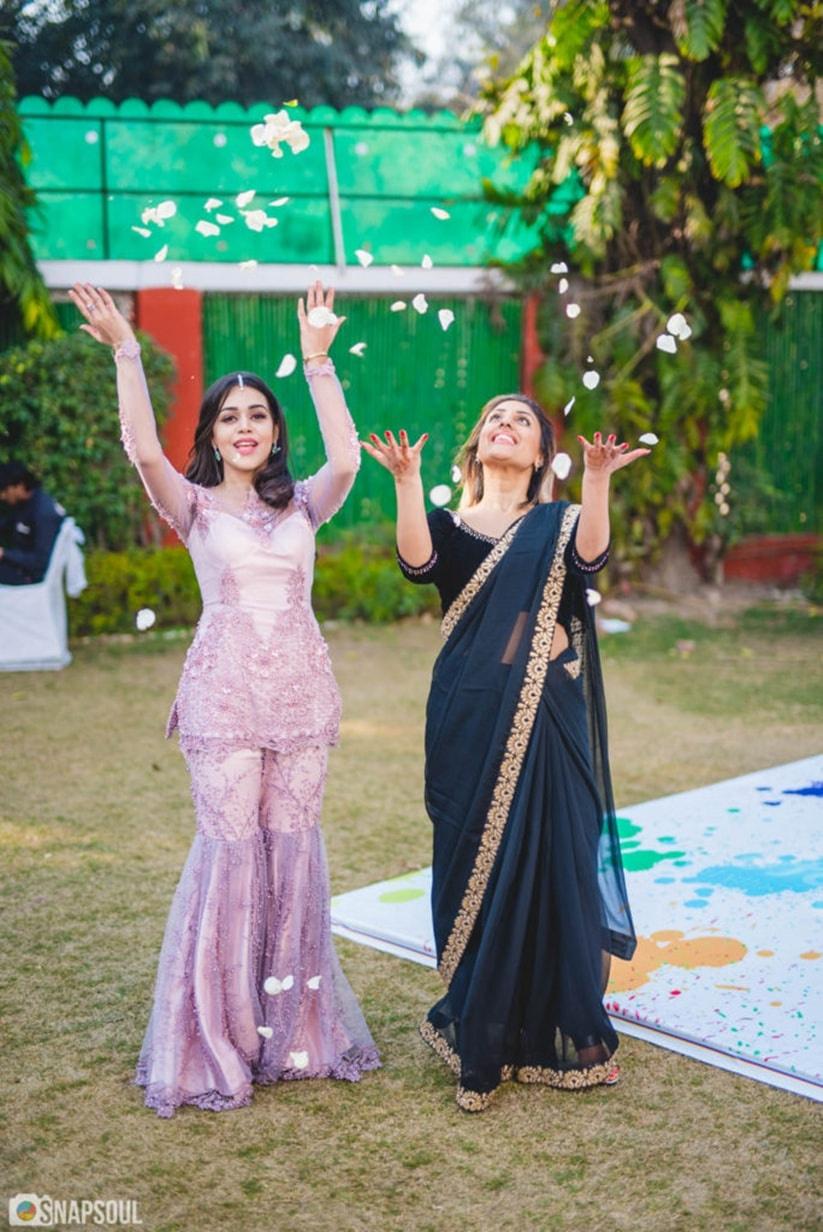 To choose the right hairstyle on Sharara, there are certain things you need to keep in mind. To get the best look out of a hairstyle you must know the accurate shape of your face so that the right parts of your face get enhanced and the outfit, on the whole, gets accentuated. You can decide upon the shape of your face according to the length of your forehead, jawline and cheekbones.
After deciding whether your face is oval-shaped, square-shaped or round-shaped, another important thing to be kept in mind is the location of the wedding ceremony and the setup. If it's a traditional setup, you can opt for a beautiful, conventional hairstyle on Sharara. For a chic or modern setup, you have to select hairstyles that are modish in style. With respect to that, we have a list of the perfect hairstyles on Sharara that will amp up your bridal look.
Traditional hairstyles on Sharara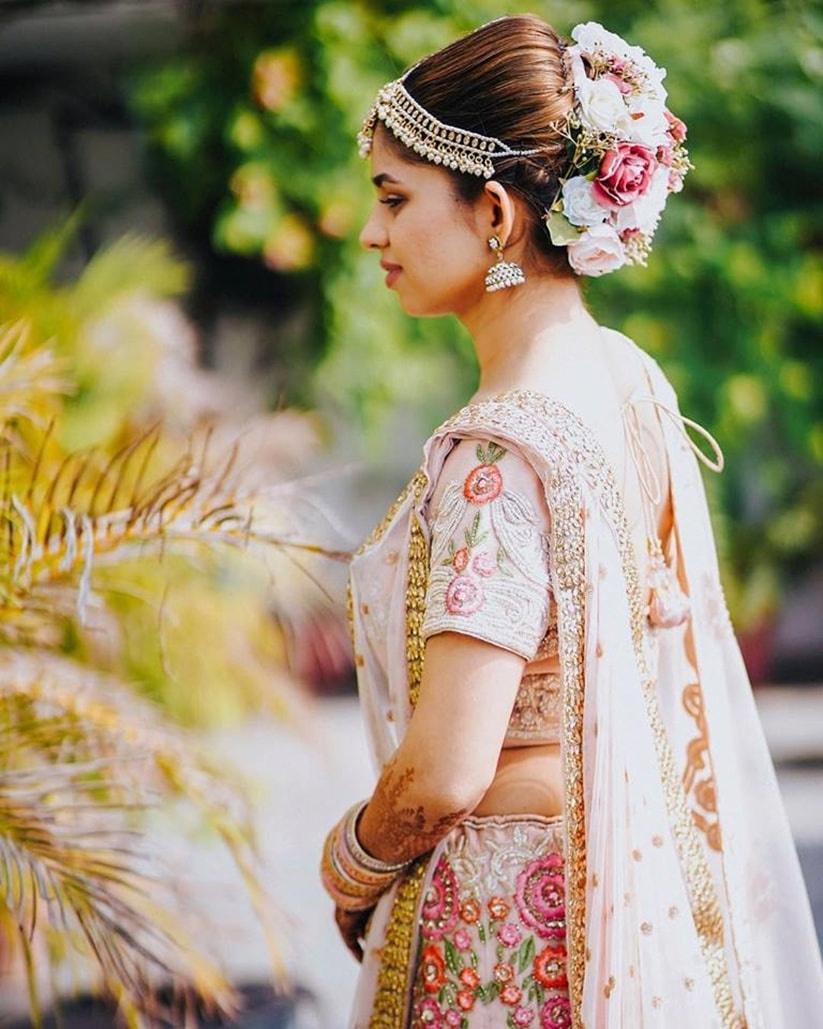 1. Side-partition bun
A side-partition bun hairstyle is as classic as it can get. This kind of hairstyle works best with collared blouses or Kurti on Sharara. The side-partition adds an elegant touch to your face which is further emphasized by a neat bun at the back. You can add a single-layered Matha Patti with this hairstyle for that added hint of grace.
2. High puff with curls towards the end
Talking about a bridal hairstyle on Sharara and not mentioning the high puff is impossible. Puff hairstyles have their own standings in the world of bridal hairstyles. What adds further to this beautiful style are curls. This hairstyle works best mostly with a round neck or deep neck blouses. The best accessory to pair this hairstyle with would be a simple, minimal Maang Tikka. Further, you can add heavy necklaces and earrings to compensate for simplicity.
3. Braided Bun
We love braids, don't we? To give a neat as well classy look to that braid, all you have to do is turn that braid into a bun. It looks gorgeous and makes the hair easy to manage. Bun hairstyles usually work best with collared or heavily embellished blouses and put your beauty in the spotlight. The addition of a Passa can give a gorgeous look to this hairstyle on Sharara. It adds a royal look to the attire.
4. French braid
French braids can manage to look traditional as well as modish. This hairstyle can work with all sorts of blouses and Kurti. Ditch the conventional gold or silver jewellery and go for flower embellishments with hairstyle on sharara. The flowers add to the traditionality of the look and nothing can beat the beauty personified by this accessory.
Chic hairstyles on Sharara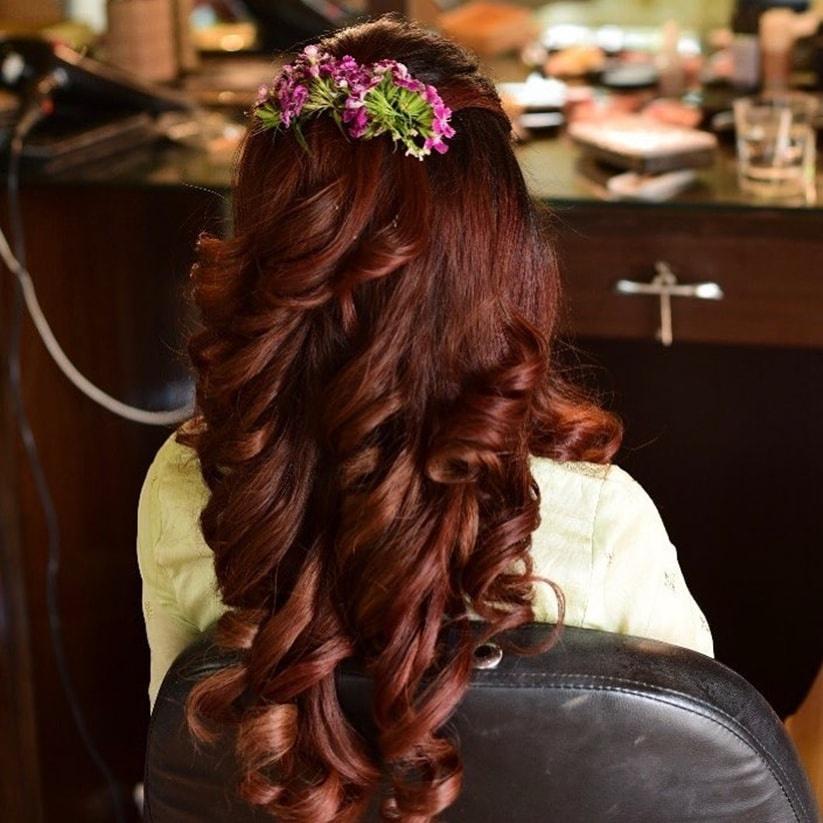 1. Side part, loose hair
Although it is beautiful to wear a hairstyle on Sharara that look like accessories on your big day, it is equally striking to let it loose and leave it simple. It mainly depends on how you manage to look your best on an overall level. Parting your hair on the side and pairing it with a Passa and heavy neckpieces gives a wholesome look to your attire. This kind of hairstyle can be worn on both straight as well as wavy hair.
2. Backcombed open hair
We've seen this hairstyle being worn widely in the 90s and they have made a comeback with the Kardashians almost getting a copyright on it. This hairstyle is the chicest thing to wear on your Sharara. Although it will be better if you don't add any accessory on the hair and instead wear heavy tops as earrings since your ears will be totally visible. Let your makeup also do wonders as your sculpted look will be highlighted with this hairstyle.
3. Crown twirls on the sides of the forehead
Ever since this style has made its presence in the bridal world, it has managed to stick around no matter what. We see a lot of brides sporting this as one of the hairstyles on Sharara and other bridal outfits. Adding twirls from each side of the forehead and pinning them towards the back of your head not only adds the beauty of a messy as well as a neat hair look but also leaves an open door for whatever else you want to add to that hairstyle. You can braid, make a bun, move your hair to one side and what not. Adding a multi-layered Matha Patti would be just spectacular.
4. Middle-parted hair with a high sleek ponytail
If you're looking for a neat look on your Sharara, this is the best hairstyle to opt for. It's simple to achieve and gives a very chic look to your attire. This hairstyle on Sharara that can be paired with Maang Tikka, however, even if you leave the hairstyle unadorned it will look equally modish and gorgeous. This style would work best with a straight hair but if done the right way it will make wavy hair look dazzling too.
These are just a few ideas you can try for your hairstyles on Sharara. Get yourself a good hairstylist and you're halfway there already!
Do not forget to give us your feedback in the comments section below.