6 Gujarati Menu Must-haves You Need For An Authentic Gujju Wedding
Can't imagine a good Gujarati marriage ceremony without a sumptuous Gujarati menu? Here is a fascinating range of traditional food items you're bound to sample there.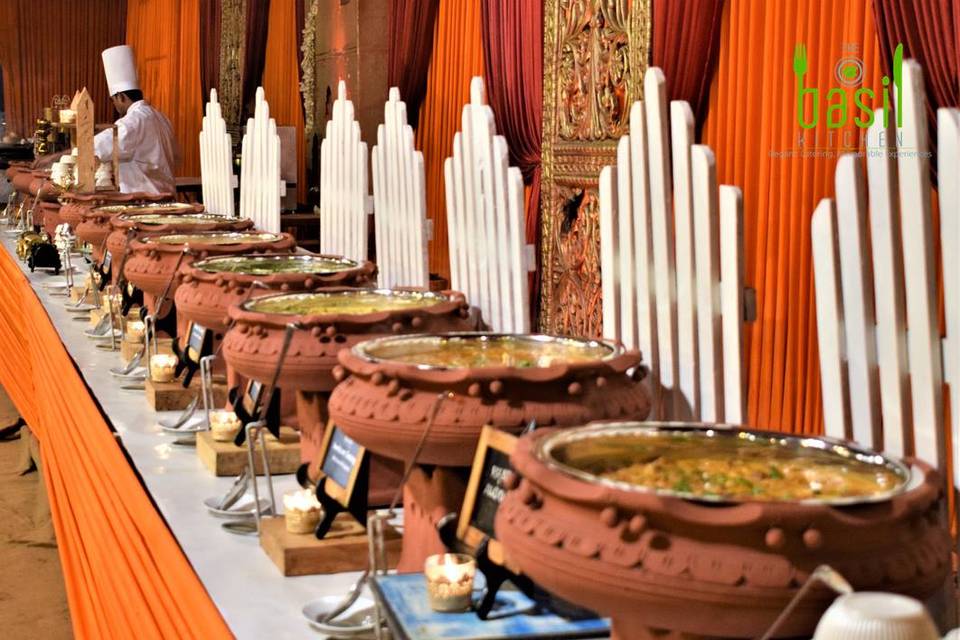 A Gujarati wedding celebration is definitely one among the most traditional and most colourful weddings with innumerable attractions associated with it. Lip-smacking cultural food items are the star of every Gujarati menu for a wedding apart from the vibrant clothing and décor. I understand how all of us get worried during wedding ceremonies as none of us wishes to leave out any traditional feature of the authentic wedding.
Here is a grand list of what all comfort food dishes make up the perfectly authentic Gujarati menu and also make it so traditional. With Undhiyu, Dhokla, Khandvi, Aam Ras, Puri, Kadhi, Jalebi and what not, you are absolutely ready to plan the wedding banquet for a perfect Gujju wedding. Take all the traditional dresses and Dandiyas out and hire a traditional Gujarati cook to spill the magic on the wedding plates!
1. The Classic Undhiyu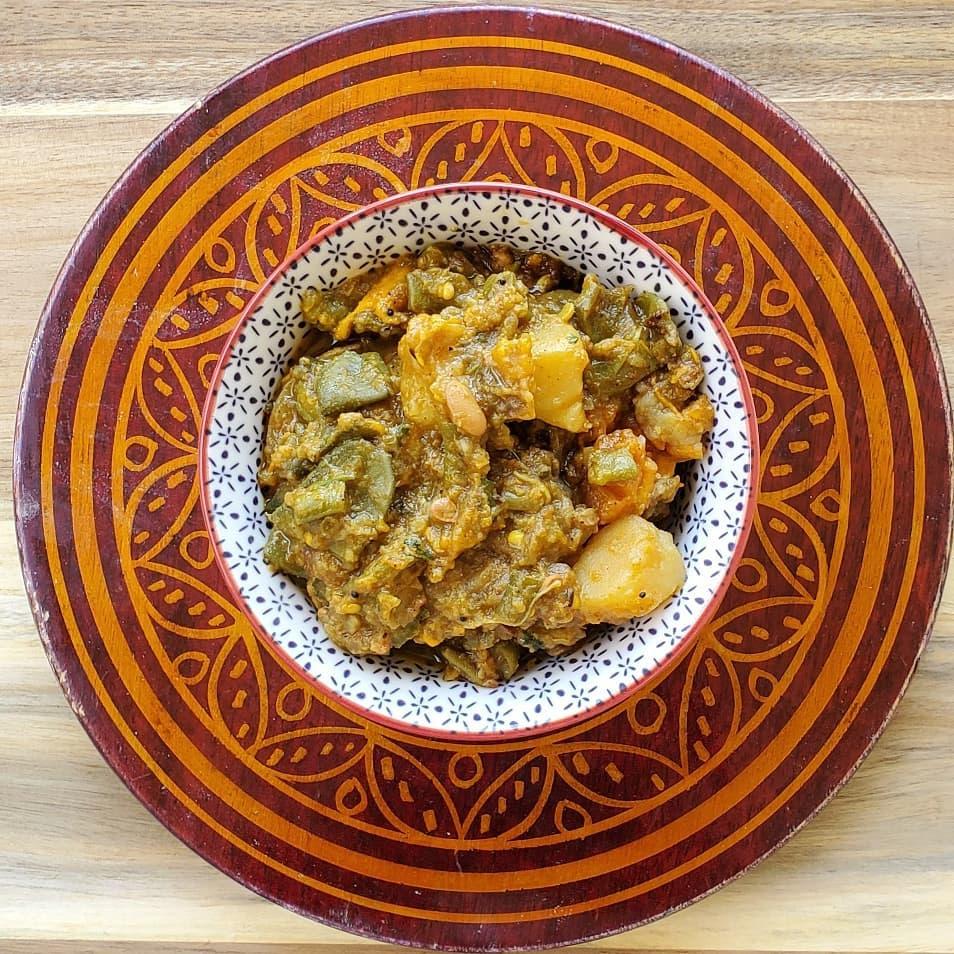 Image courtesy: A Warrior in The Kitchen
Even if the traditional Undhiyu is put on a Gujarati menu for wedding only in winters, a quick hot-pot style is slowly making its way as well. The traditional one keeps all the vegetables raw, unmashed and intact, while the new version (in the picture) is more of the hot-pot version made with every ingredient cooked together.
The dish is made up of brinjals, potatoes, yams, bananas, peas and much more. The fantastic dish is served hot with delicious puris. You may even keep Aam Ras to accompany the Gujarati dish. This is one of the favourite main course recipes during any and every Gujarati menu for a celebration. You may take help from the elders in the house to get everything just perfect! Ah! I can smell it already.
2. Besan ki Kadhi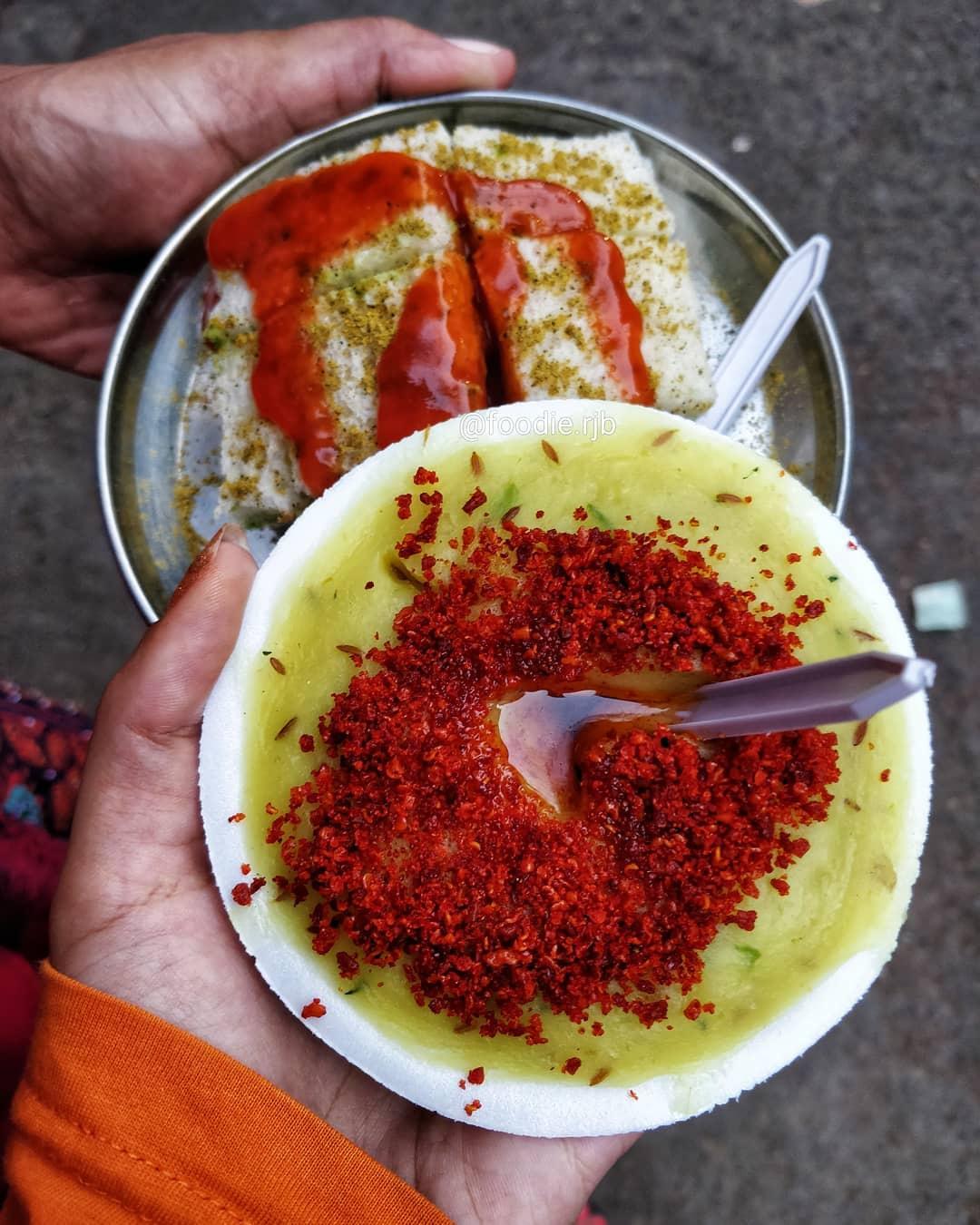 Image courtesy: Foodie.RJB
Kadhi is hands down one of the most popular dishes of the famous Gujarati cuisine and is definitely a top recipe available at frankly every Gujarati menu for a marriage. It is a little runny dish compared to other ones, possibly because of being among the few main-course dishes listed here. It is more on the tangy side and is loaded with spices like red chilly and Hing.
The best part is that for every Gujarati menu, this delicacy is served with white rice, topped with (truckloads of) red chilli. This lovely dish made out of gram-flour is loaded with fresh Pakodas as well, however, the overall dish is much thinner when compared to the thick (and very heavy) Punjabi Kadhi. So are you ready to taste the distinct flavour of Gujarat at the next Gujju wedding?
3. The Rolled Yellow Khandvi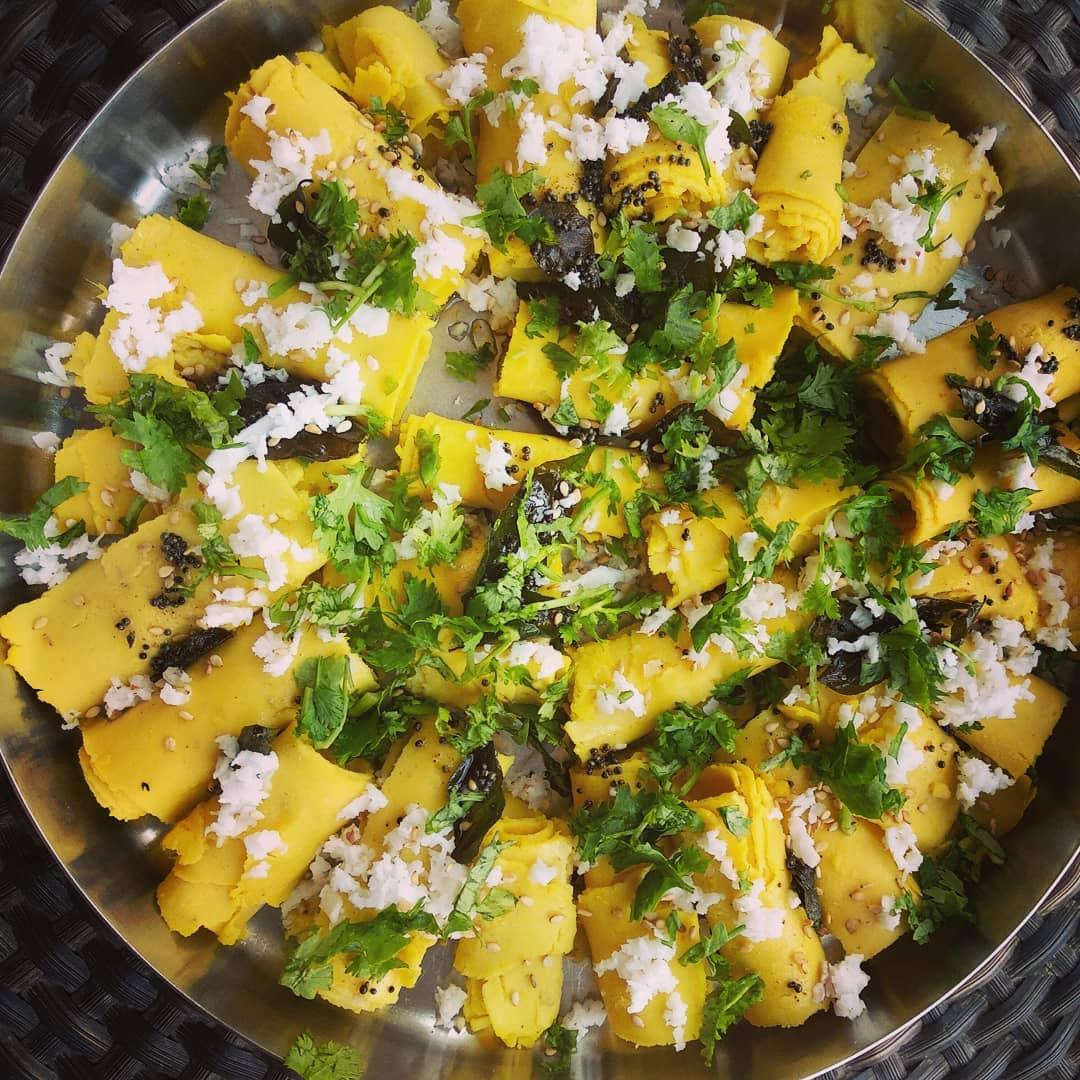 Image courtesy: The No Bounds Kitchen
Khandvi (also written as Khandvi) is one of the few Gujarati menu dishes which is as popular in several other States, as in Gujarat itself. The delicious (and little slimy) tiny rolls made up of a little wet gram flour batter absolutely melts in your mouth. It also makes this one of the representative dishes on any Gujarati menu for a celebration.
The desi spring rolls (much to kids' dismay) are stuffed with a nice balanced mix of coconut, rai and lots of spices and even dry fruits sometimes. It is a fabulous and unique mix of spicy, sour and even sweet. The outer covering is sweet, the inner is both sweet and a little Teekha while the entire thing has a citrusy taste to it.
4. Aam Ras and Puri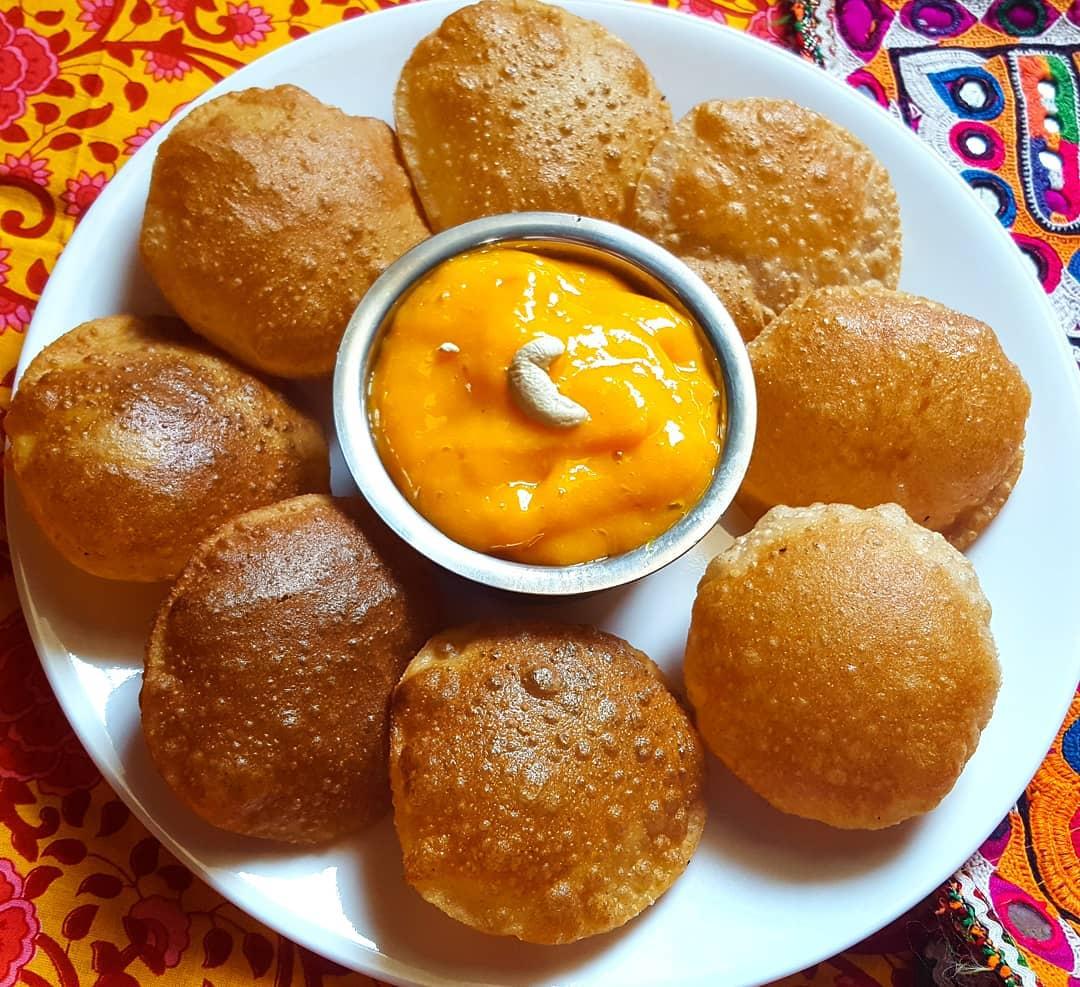 Image courtesy: Somasahee
Aam ras as we all know is the puree of sweet mango pulp (basically heaven) which is a must inclusion for every Gujarati menu during summers. During seasons with no mango, the hot round puris are served with the rich dessert, much like pudding, called kheer. It is definitely among the star traditional Gujarati dishes.
Rotis with mangoes is normally a dish found in a majority of households in India, so the combo sort of rocks. It is one of the representative dishes in a Gujarati menu and surely a personal favourite for binge eating. The duo of cold aam ras or kheer with steaming hot puris is pure bliss served in a plate.
5. Jalebi and Gathiya with Papaya and Cabbage Sambharo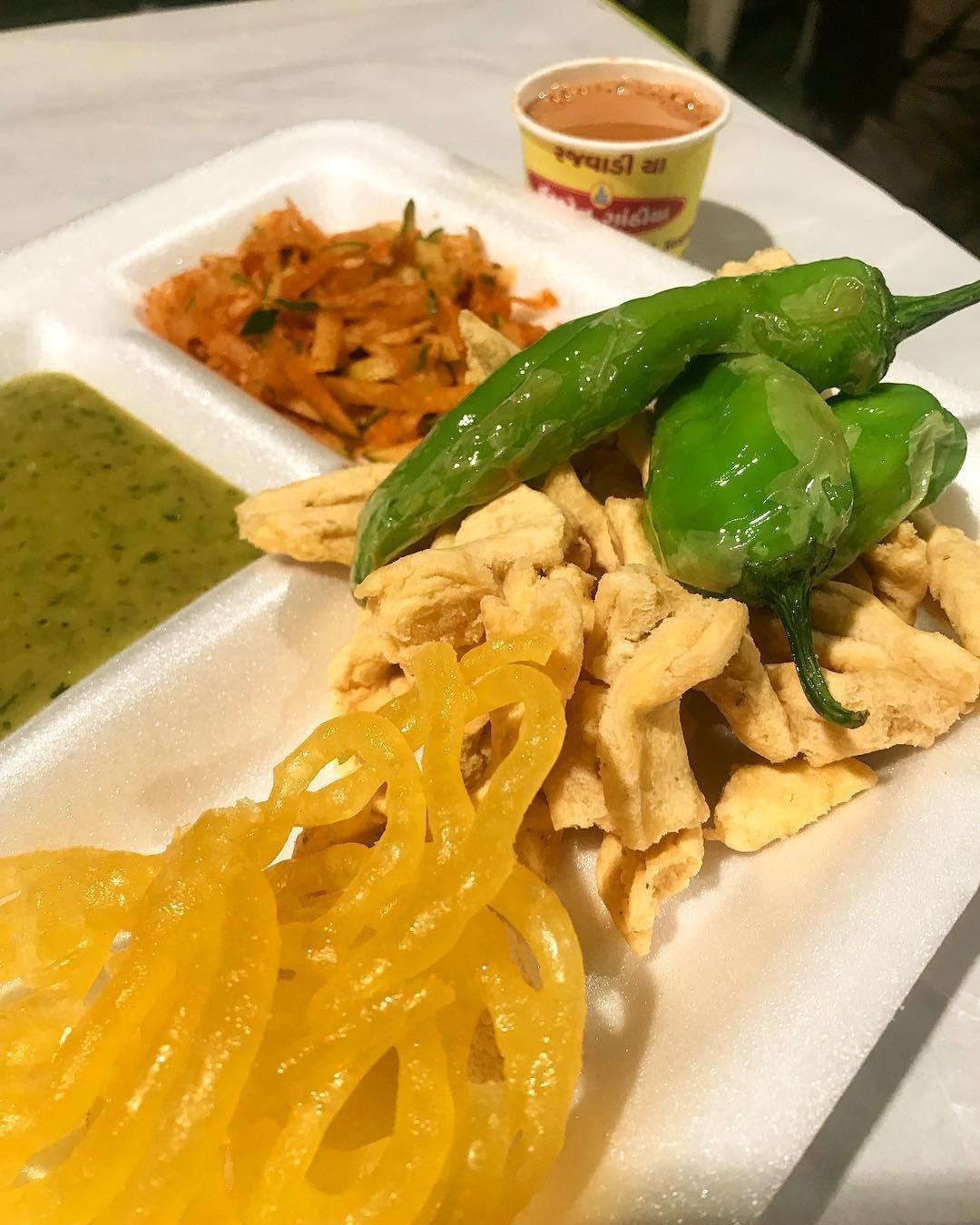 Image courtesy: She Who Loves Jalebi
Honestly, who doesn't love jalebi? These staple add-ons for Indian and fusion wedding desserts are a staple food for all sugar maniacs craving for the Chaashni (sugar syrup) dipped maida spirals. Have you ever craved for something salty after having a lot of sugar? So this ultimate combo of Jalebi and Gathiya take care of it beforehand.
This fab duo of jalebis, crisp gram-flour Gathiya is dashed with green chutney and the authentic papaya/cabbage Sambharo to make it a perfect Gujarati trio. The last bit is made of a mix of grated raw papaya, cabbage, rai and some spices which intensify the taste of the tea-snack. The trio will add a distinct taste to your plate from a Gujarati menu, excited much?
6. The Fluffy Dhokla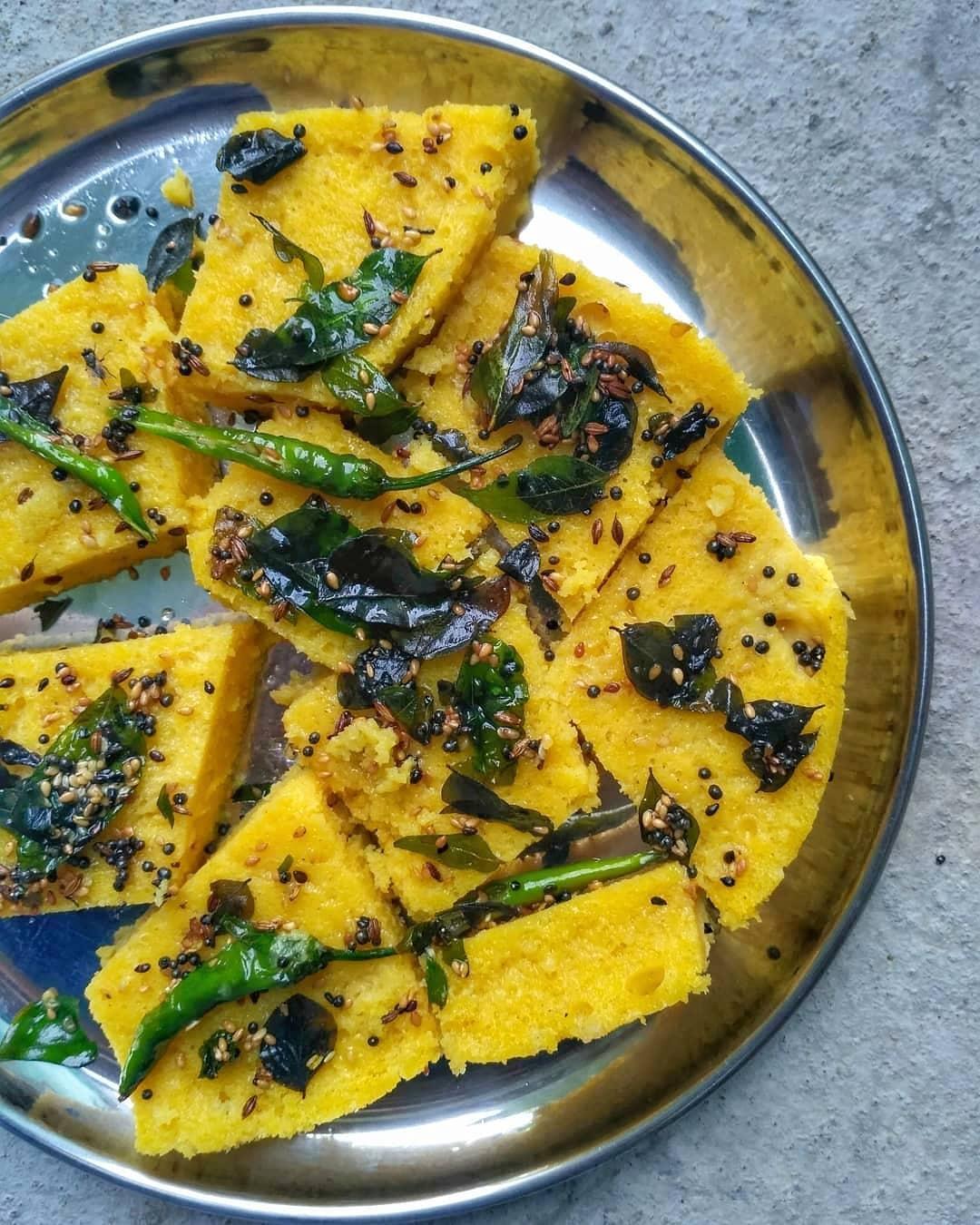 Image courtesy: Sathpathy Official
Dhoklas are something which has become the first light snack preference of even the North-Indians alike. Pretty much no gathering is complete without the light and fluffy dhoklas adorning the plates of all the guests. The fantastic Gujarati dish is a hit for every Gujarati marriage. The dreamy dish is majorly a mix of Chana dal and rice and is available in both its fermented and non-fermented instant variants.
The sweet and salty taste of the spongey khaman dhoklas is given a dash of spice with lemon soaked green chillies served with it. The entire dish is topped with some Rai and the entire presentation makes it look absolutely delicious. Without khaman dhoklas, your plate from a Gujarati menu is practically incomplete.
Got you! I can already see your watering mouth. With sweet and spicy dhoklas, a well-balanced combo of jalebi and Gathiya, delicious Undhiyu, coconut filled Khandvi, delicious Besan ki Kadhi with rice or the heavenly seasonal Aam Ras with puri, here is everything that every traditional Gujarati marriage has for the lovely guests. The warmth of the comforting Gujju food in a Gujarati menu for a wedding is unparalleled with any other wedding food.
With the expectations of guests and the dream list of couples shooting high, considering the trend of a big fat Indian wedding, such comfort food with such down to earth marriage setting is rare to be found. Now that you know what all to keep at the food stalls at your traditional Gujarati marriage, you have got the passkey to all Gujju heart locks, Thoda sweet, Thoda salty!
Don't forget to tell us your favourite comfort food from the Gujarati menu for a wedding in the comments below.