Chaniya Choli Images With Price That You've to Check Out RN!
Hola, brides! We care about your bridal looks just as much as you do, and that's why we have listed 9 Chaniya choli images with price. So happy shopping!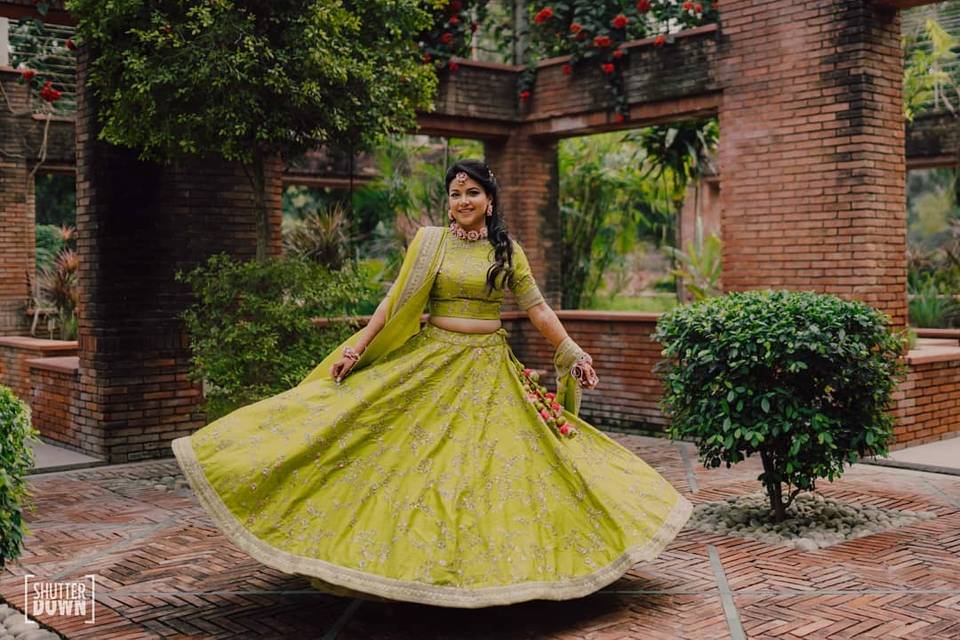 No matter what new fashion trends, styles, and designs come in, the Chaniya Choli is never going out of style. The beauty, flare, and the femininity of this outfit are spellbinding. The biggest advantage is the ability to move freely without having to take care of always fixing the outfit. (So you can dance your heart out without worrying about the Chaniya Choli weighing you down!)
From the most minimal looks to the elaborately ornate ensemble, there are pretty of Chaniya choli images with price for all sorts of brides out there. Whatever your style and preference might be, we are sure that you will find something that pleases your eye as well as complement your personality.
A Vibrant Outfit For A Vibrant Bride-To-Be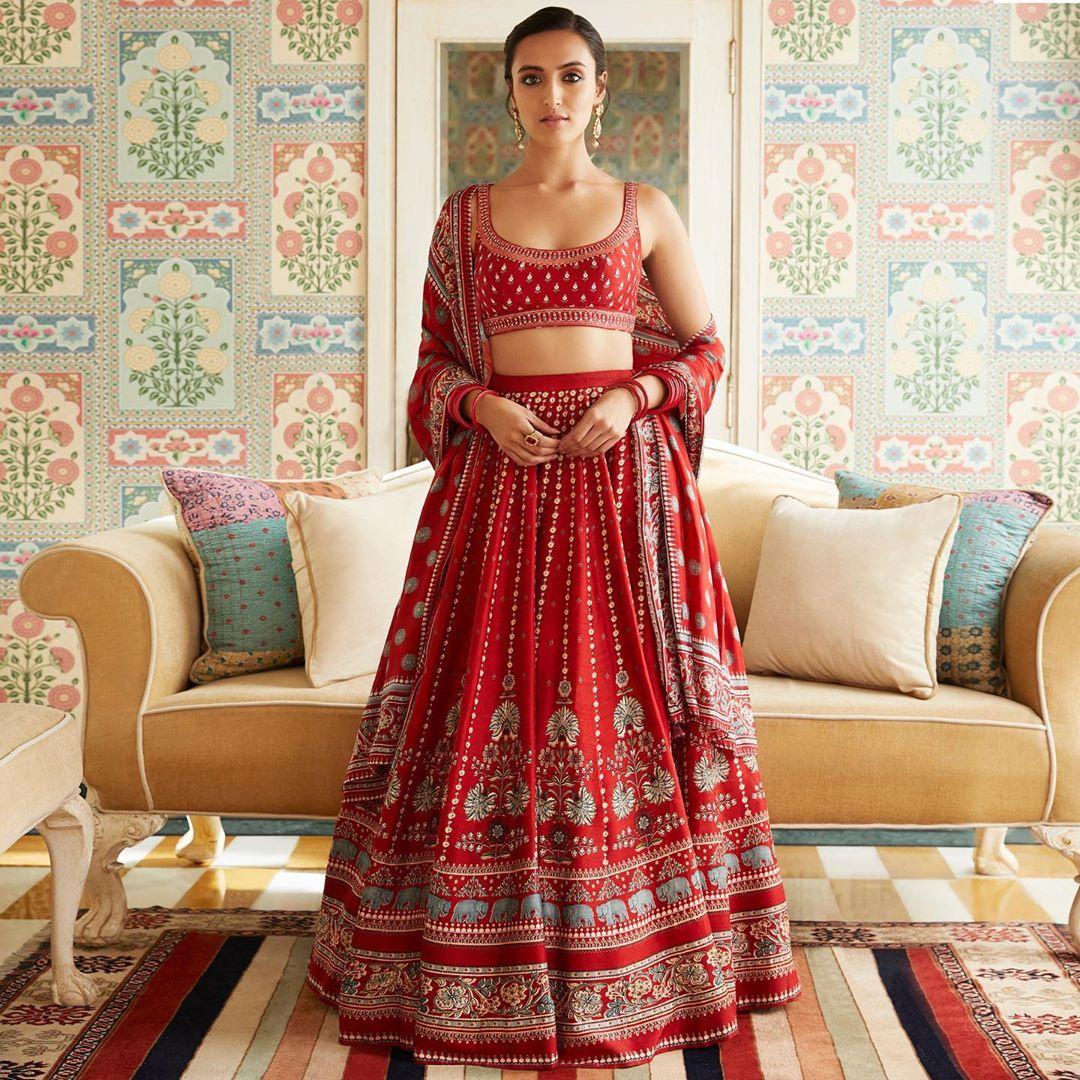 The red colour has always managed to find its way into a bride-to-be's main wedding outfits or her trousseau. The colour symbolises passionate love and is often associated with strength and desire.
So it is only fair that you at least have one vibrant and stunning red outfit as a part of your wedding wardrobe. And this red beauty from our list of Chaniya Choli images with price makes for a great pick. The beautifully printed Chaniya Choli with pretty (and tiny) elephant motifs will ensure that all eyes are on you.
And all thanks to the deep round neck design of the choli, you can style that stunning necklace and earrings without taking away from the beauty of the outfit.
You can make this Anita Dongre outfit yours for ₹75,000 only. So if red is your colour and print is your style, get shopping already!
Get Your Glam On With This Mustard Yellow Chaniya Choli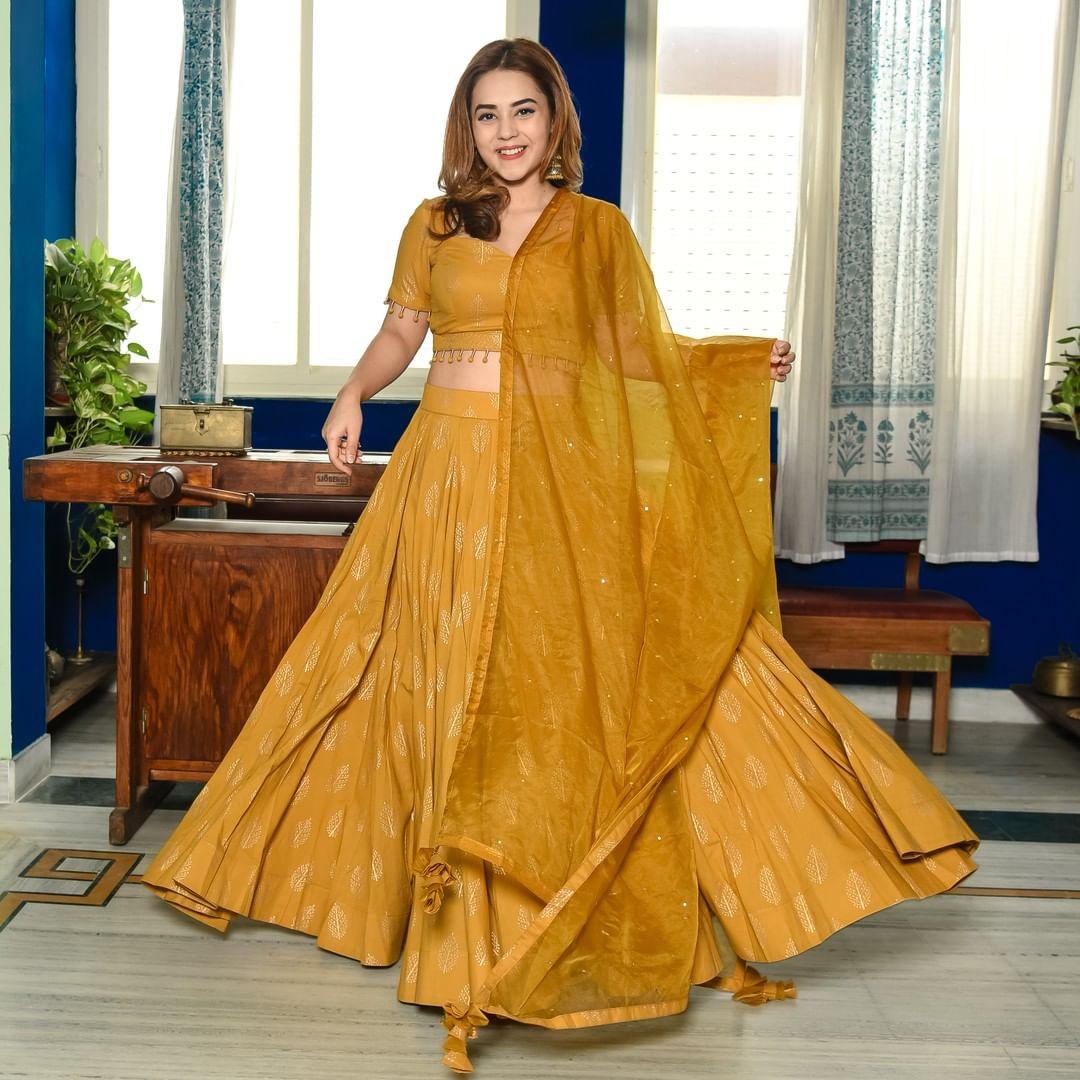 Image Courtesy: Bunaai
Have you finalised the outfits for all the other wedding ceremonies but are still looking for beautiful Chaniya choli images with price that won't burn a hole in your pocket for your Haldi ceremony? Then look no further for this mustard yellow outfit is the perfect fit for you. This Chaniya Choli is elegant, sophisticated, and totally in fashion. And did you notice those flower bud style borders on the dupatta and the tassel detailing on the choli? Aren't they super cute?
For footwear, you can choose a stunning pair of Juttis with Ghungroos with this outfit. And as for the jewellery, go for some statement earrings and an ornate Maang Tikka or Matha Patti.
Get your hands on this simple yet stylish Chaniya Choli from Bunaai for as low as ₹8,000.
Slay In Style: A Fushia Pink Outfit For The Ceremony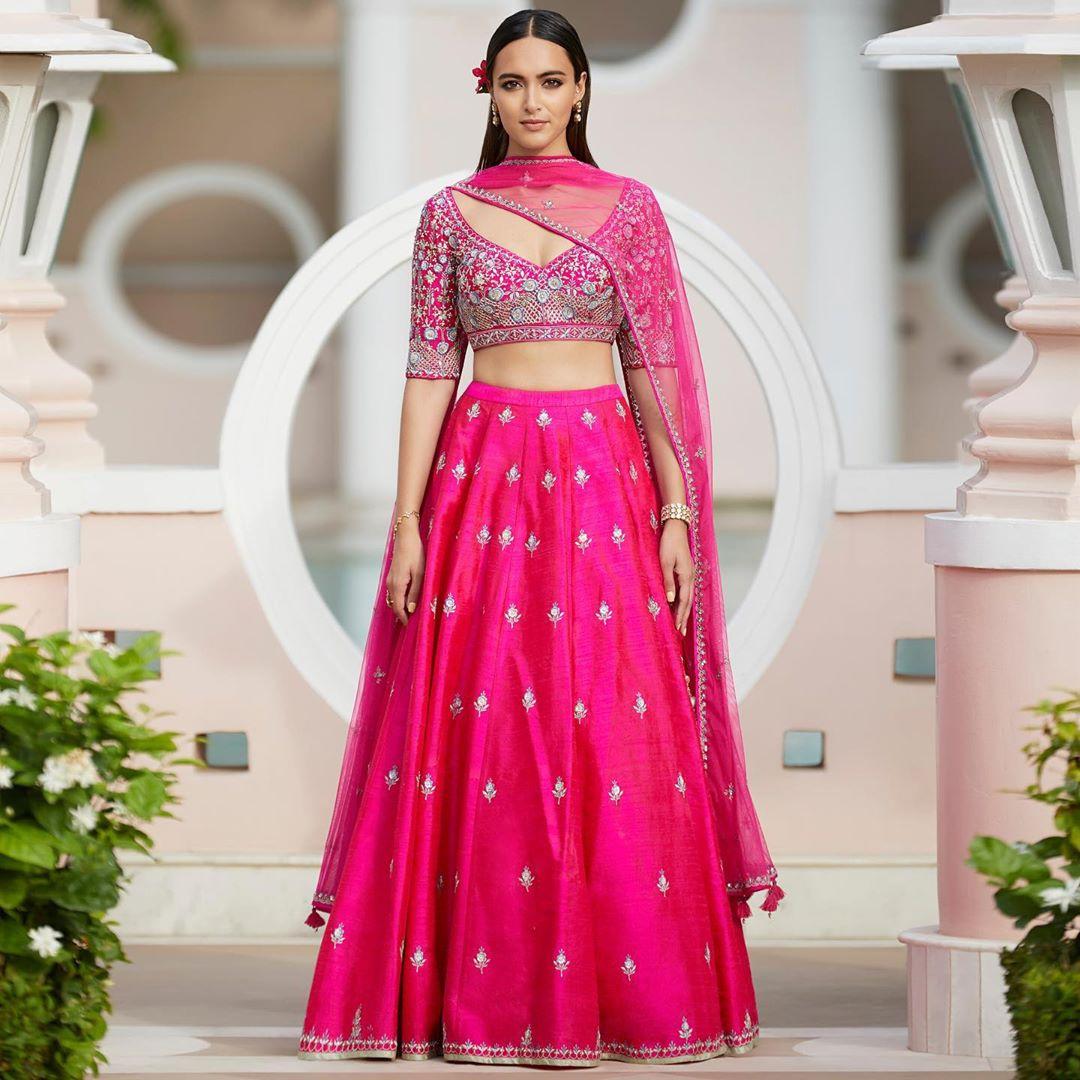 If you are someone who felt the "Salmon Pink, Old Rose Pink, Carnation Pink, Hot Pink, Magenta Pink" dialogue from Pyaar Ka Punchnama 2 on a spiritual level, then this Fushia Pink Chaniya Choli makes for an ideal choice. With a heavily embroidered deep v-neck blouse and a rather minimalistic skirt and dupatta, this Anita Dongre outfit will go perfectly with your diamond jewellery set. Oh, and don't shy away from adorning your hands with a beautiful Haath Phool. It will only add oomph to the overall look.
And if you are confused about the hairstyle that will work well with this pretty outfit from our list of Chaniya Choli images with price, then how about a braid or a bun hairdo with flower detailing? You can even try the trendy slicked-back hairdo. It will make your look a little more dramatic.
Find out the price of this Chaniya Choli on request.
Show Your Love For Mirror Work With This Gorgeous Chaniya Choli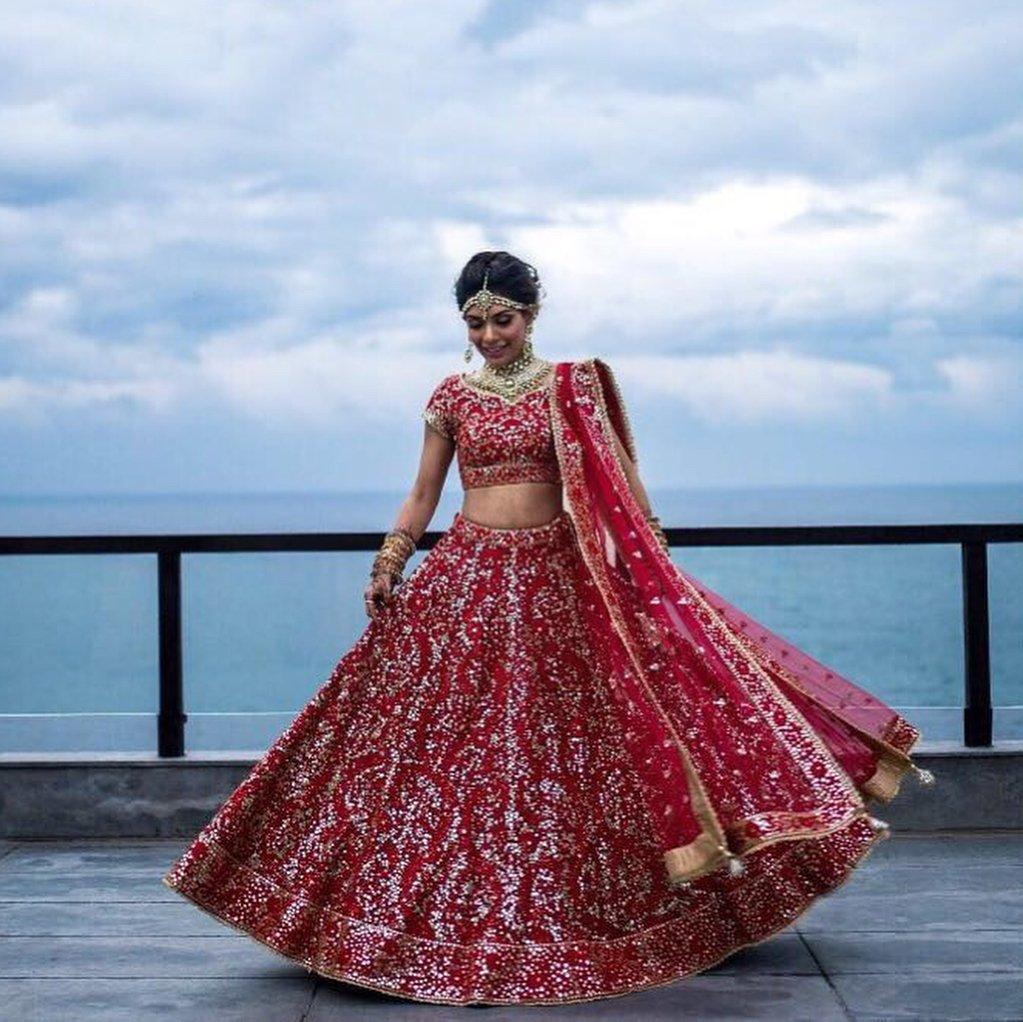 Image Courtesy: Tamanna Punjabi Kapoor
Mirror work can make anything look ten times prettier, and that is a fact. So now imagine how gorgeous this red bridal outfit from our list of chaniya choli images with price would make you look all thanks to the elaborate mirror work on all the pieces?
This stunning piece from Tamanna Punjabi Kapoor's breathtaking collection is priced at around ₹2,75,000.
And you can style Chaniya Choli images with price like this one with heavy and intricate gold jewellery, Matha Patti, and pretty Kangans to ace the desired bridal look. It will go perfectly with the golden border of the dupatta and the piping of the blouse and skirt of this beautiful outfit.
A Fun And Colourful Outfit For A Bubbly Bride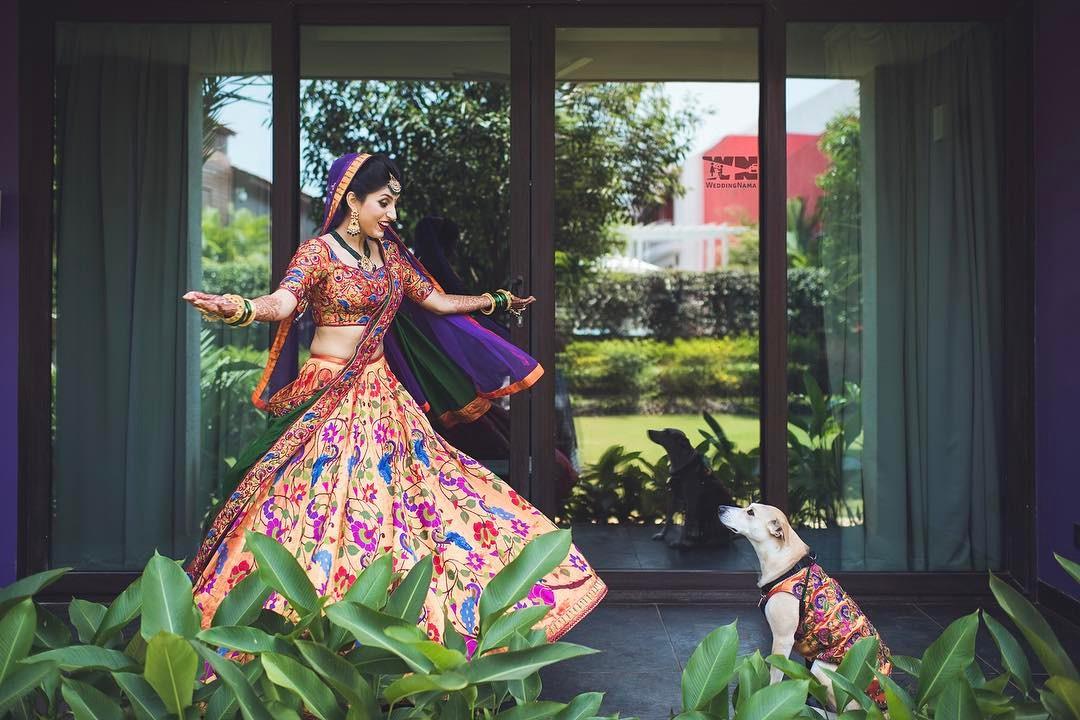 For a bride-to-be who is all about living a fun and colourful life, someone who is known for her bubbly personality, this vibrant outfit from our collection of Chaniya Choli images with price should be the go-to choice. With a range of beautiful colours picked carefully and brought together to create perfect harmony, this colourful Chaniya Choli with floral vine design in threadwork all over it is like a breath of fresh air from all the run-off-the-mill styles and designs.
So if you are already in love with this alluring Chaniya Choli, then get in touch with Sakina Shakeer for the price details. You can ask to get some customisation done and make this beauty a little more your style if needed.
Get Ready To Bedazzle Everyone With This Dazzling Chaniya Choli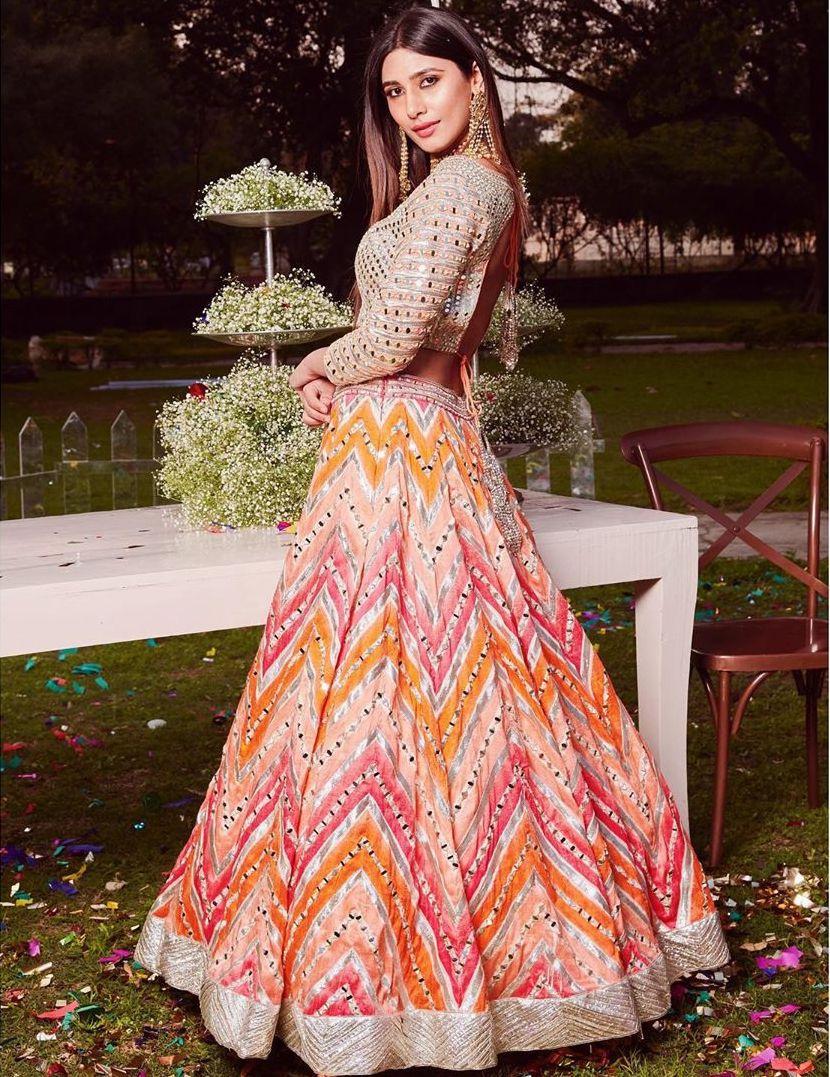 Image Courtesy: Abhinav Mishra
We have already gone on and on about the sheer beauty and grace of mirror work and how it can give you and your outfit an extra edge. And this dazzling Chaniya Choli is an amazing outfit option if you are planning to bedazzle everyone at the ceremony with your style.
Chaniya Choli images with price such as this one are not overtly embroidered which works well, especially if you are all about being fashionable but love minimalism. The choli covered in elaborate mirror work goes perfectly with the rather subtler skirt and thus creates a beautiful balance. Wear this outfit for your Mehndi or even your Haldi ceremony, and trust us nobody will be able to take their eyes off of you.
Chaniya Choli images with price like this one look exceptional when paired with pretty Polki jewellery or something will pearl detailing.
Priced somewhere around ₹2,01,600 this Abhinav Mishra multicoloured Chaniya Choli is an absolute head-turner!
Say Yes To Funky Tones And Catchy Prints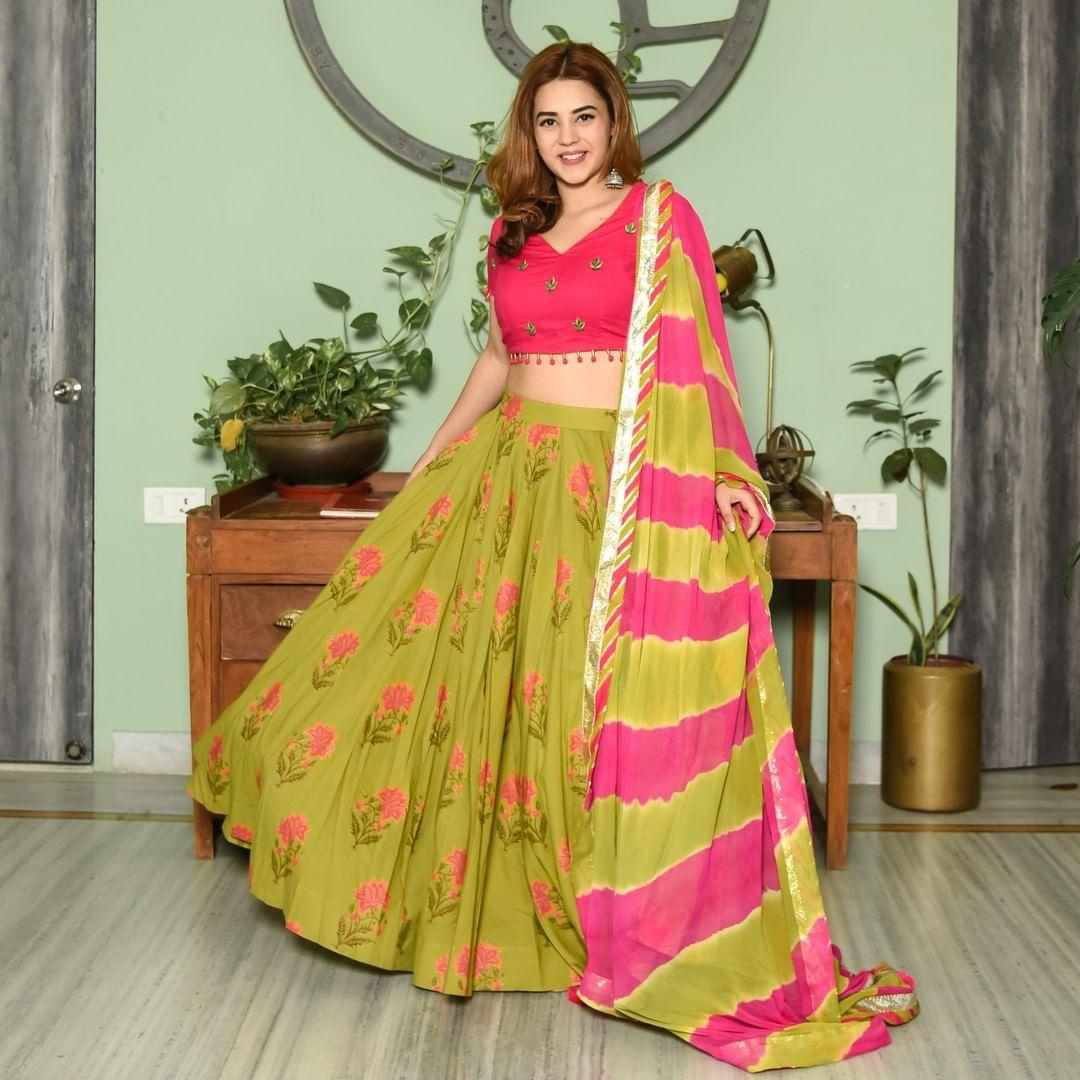 Image Courtesy: Bunaai
With funky tones and catchy prints taking the fashion industry by storm, it is only fair that you add something similar to your wardrobe too. Make this beautiful pink and green Chaniya Choli the outfit that you flaunt at your Mehndi ceremony.
The colour combination and the prints are perfect for the occasion. And the best part about Chaniya Choli images with price like this pretty one is that because there is no heavy threadwork or embellishments, you can go all out with the jewellery and other accessories. Oh, if you are planning to ditch the regular gold and diamond jewellery for the fresh floral one, then this perfectly with it.
Are you also crushing over the outfit as hard as we are? Then add this Bunaai Chaniya Choli to your wardrobe for ₹9,999 only.
The Magic Of A Zig Zag Pattern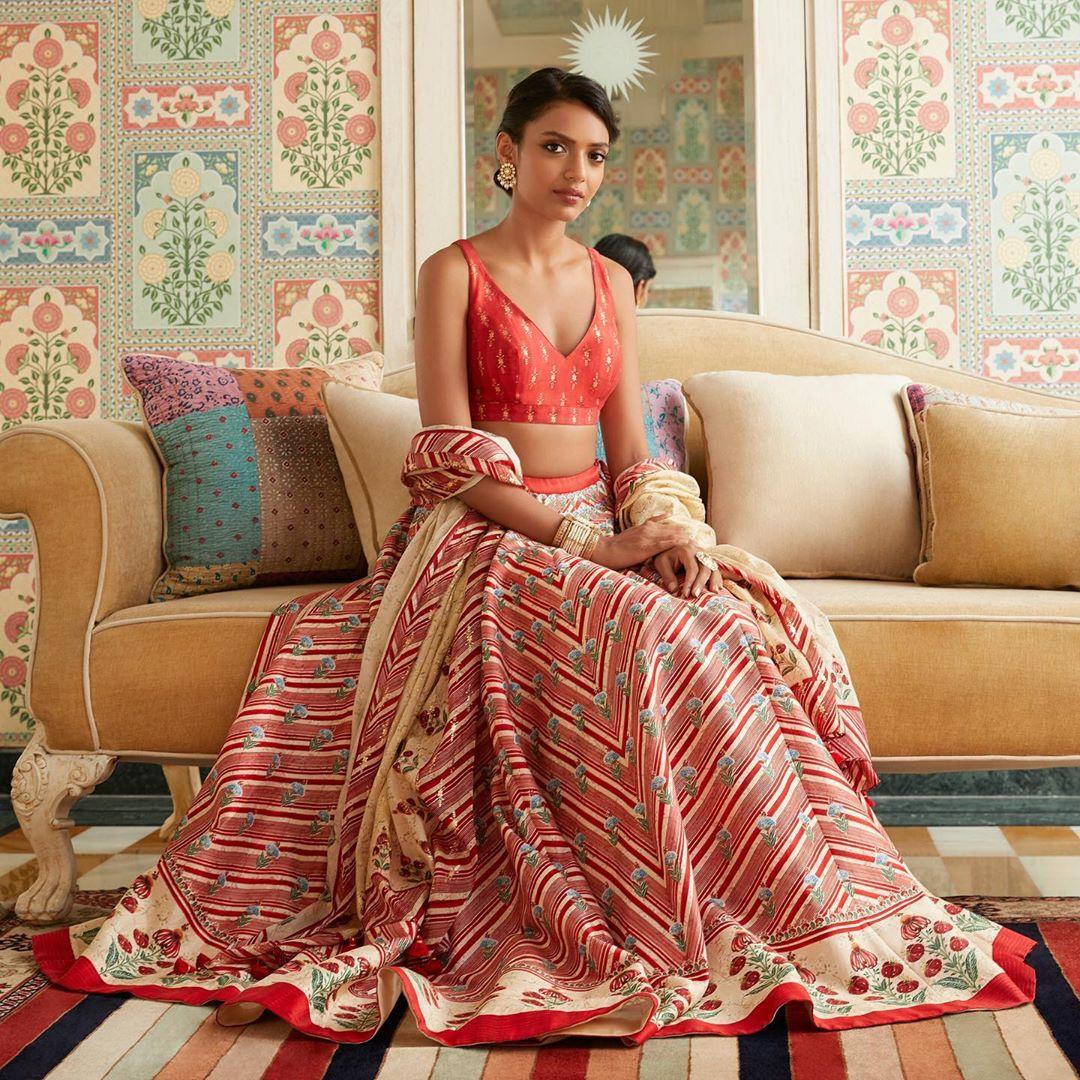 Some styles immediately catch the eyes not only because of how beautiful they look but also because of how unconventional they seem. The point to note here is that not every bride can think about flaunting styles that challenge the status quo. If all this resonates with you, then we have just the Chaniya Choli that will make you feel right at home.
Chaniya Choli images with price such as this pretty piece by Anita Dongre is the perfect combination of the bridal red colour intermixed with off-white and pale blue. The zig-zag pattern and tiny floral motifs add to the stunning beauty of this contemporary outfit.
Priced at ₹45,000, this Chaniya Choli will look stunning when paired with some statement jewellery pieces.
Style It Right: A Red Monochrome Chaniya Choli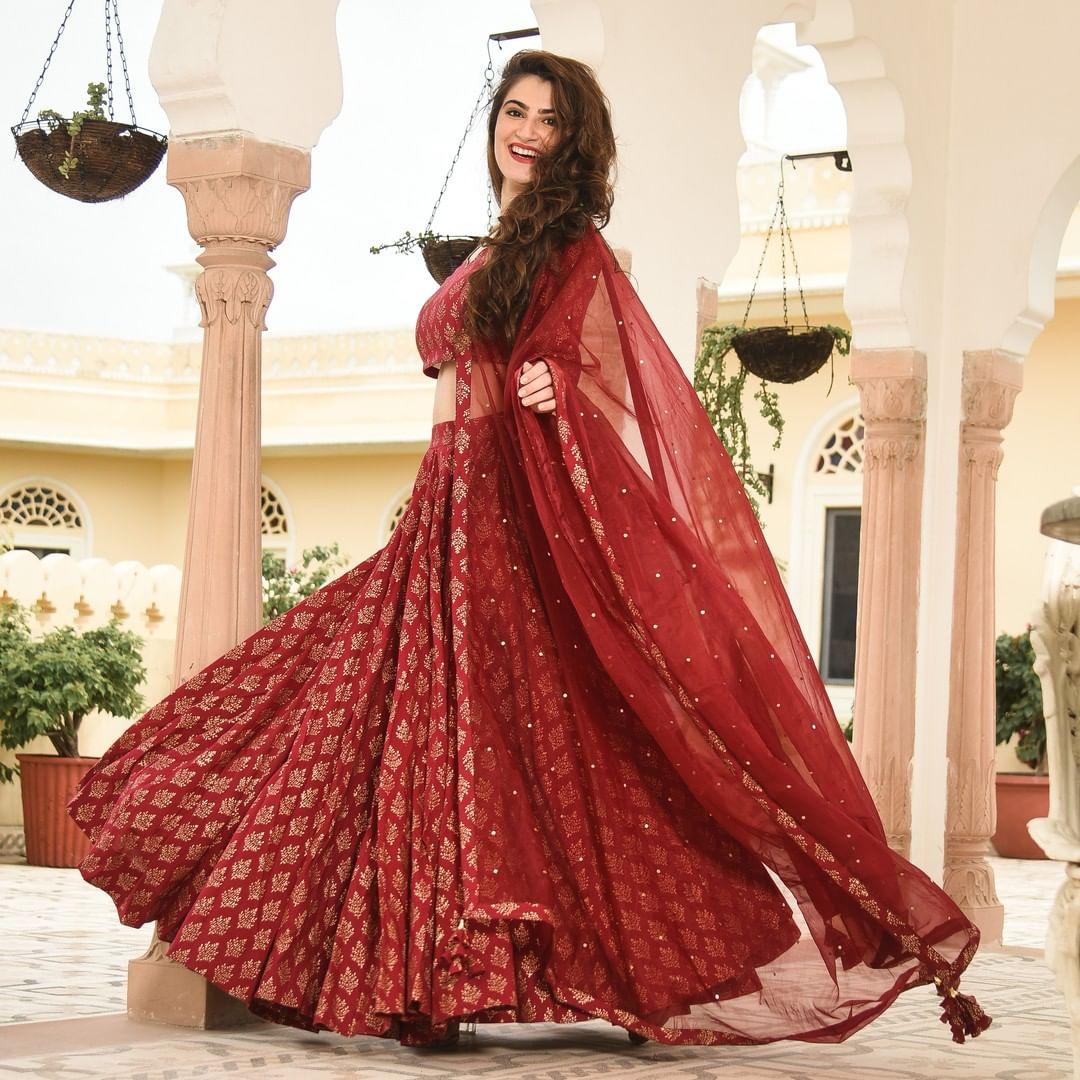 Image Courtesy: Bunaai
If you want to look like a million bucks without going over-the-top, then Chaniya Choli images with price such as this one from Bunaai is what you should be gushing over. This outfit works perfectly for the bride who is all about the stick with the traditional and the conventional colours and styles.
The block print on the blouse, skirt, and even the border of the dupatta adds a sense of uniformity and flow to this red monochrome Chaniya Choli. And since red is a popular colour option for the brides-to-be, this outfit is a must-have.
So get ready to make this outfit yours for ₹8,000 only.
You can choose to go all out with intricate jewellery and eye-catching makeup to complete your look.
Selecting an outfit for the wedding ceremonies is not a cakewalk. There are so many amazing options by exceptional designers out there that sometimes the most perfect outfits get lost amidst all that noise.
That is where we come in to ensure that you have got the best of it all compiled in a single list that can get you going. So check out our carefully curated list of Chaniya Choli images with price and keep that worry of picking the best outfit at bay.
Oh, and don't forget to twirl around in your favourite one from our top selected Chaniya Choli images with price, we are sure you would want to post those boomerangs later! (Gotta worry about your Instagram game too.)
Of all the Chaniya Choli images with price that we listed just for you, tell us which one are you planning to flaunt at the wedding ceremonies.