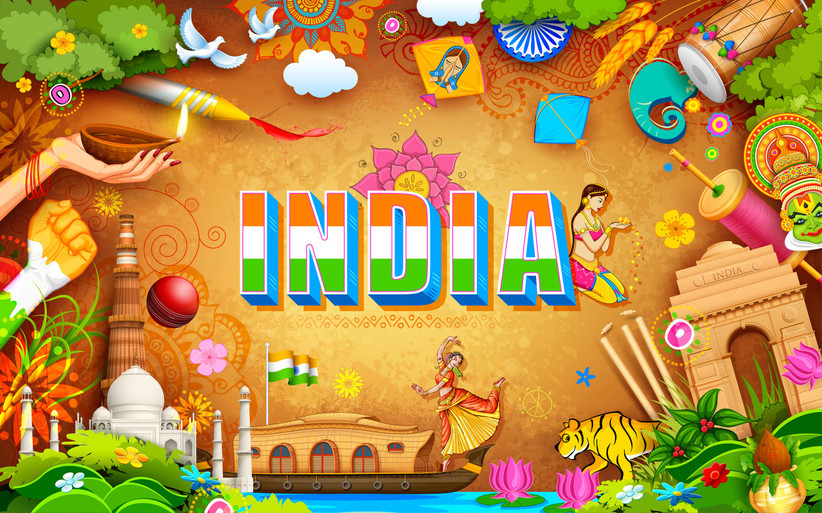 Image Credits: Shutterstock
WeddingWire India Community is a platform where you can divvy up the boat of creative wedding ideas and attain valuable solutions. The satisfaction of attaining the finest bits and pieces on your wedding day is as good as gold. From pinning the most amazing outfit to picking the perfect makeup artist in your city, the never-ending wedding checklist demands to be capped with new-fangled trends.
Are you looking for an inventive decorator in your town? Planning to shop from famous wedding shopping hubs? Confused about where to buy wedding jewellery in the city? Wish to pick a particular city for planning a destination wedding? Fret not, we have got the best-suited platform where you can not only share your ideas but can also gain city-specific information without a hitch. Yes, you heard us right! WeddingWire India Community not only offers information on a wide scale but also makes it easier for the couples to discuss minute details for planning dreamy weddings.
Ever centred on the expression of 'through thick and thin'? That's how the experts at WeddingWire India Community are going to help you. There are 17 categories in the community but the most edifying category with a variety of regions is 'Groups by City.' This extensive category on the community forum covers all the regions around India and offers a bag full of wedding-related ideas!
Planning a whimsical wedding is a dream of every couple. Why not make your #ShaadiKiTaiyaari a memorable one? Get ready to explore the 'groups by city' category comprising an enormous list of regions while you make way for delightful wedding functions.
What are you waiting for? Scroll up!
Andaman and Nicobar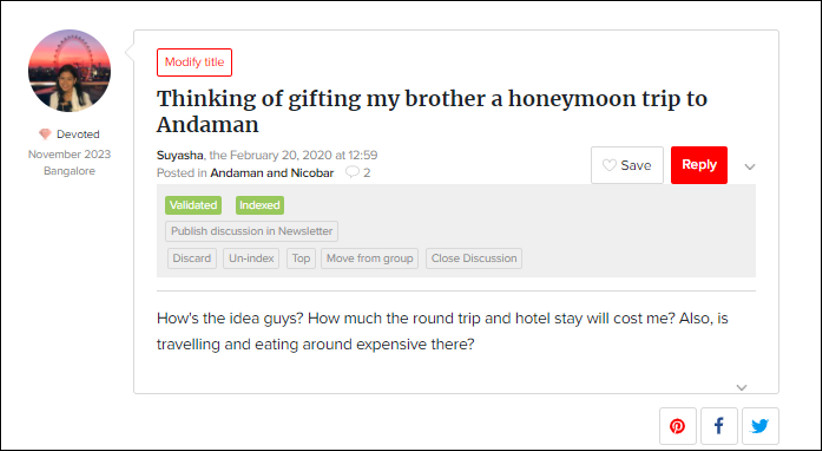 Everyone loves to touch base of wanderlust and when it's with the love of your life, the value of the location lightens up. Andaman and Nicobar is a perfect location for exploring mother earth and reminiscing the time with the love of your life. If you are looking for ideas on how to plan a destination wedding in Andaman & Nicobar Islands or plan a romantic getaway of your dreams and explore the corners of beautiful nature, shoot a post under this region and our community experts will help you with valuable and exciting information and solutions.

Andhra Pradesh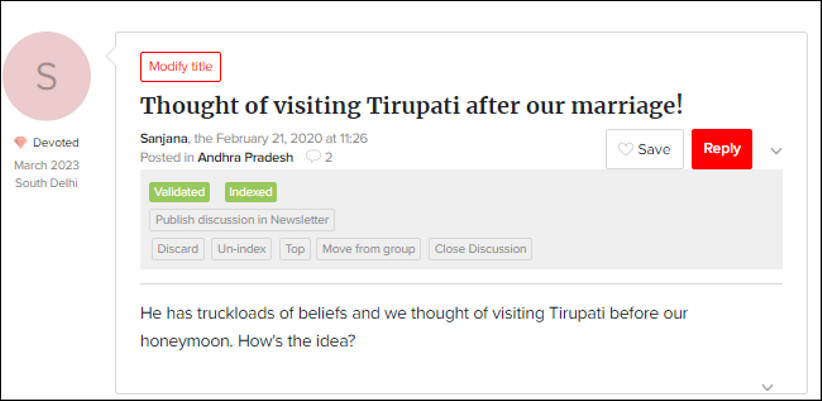 The rich culture of Andhra Pradesh is well reflected in its wedding ceremonies. If you are on a lookout and wish to gain more information about the traditions and ceremonies of the state, then feel free to drop your questions in this region.
Arunachal Pradesh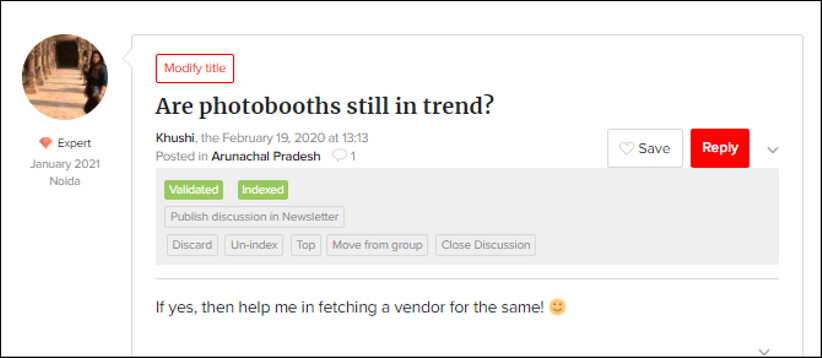 From planning a vacation with bae to picking the most unique outfit for your D-day, Arunachal Pradesh is best suited for notable plans and ideas. The blend of nature and culture defines the beauty of this state. If you need some detailed information on the wedding customs of Arunachal Pradesh then managers at WeddingWire India community are here to offer a wide variety of resourceful information. Post under this region and tick on all your wedding dreams with glee!
Assam
If you are on a shopping spree and looking for a beautiful Assamese dress (mekhela chador) or planning to top up the traditional outfit with classy accessories, this region is the best fit for elevating your D-day outfit goals with #Panache. Post under Assam and beautify up your wedding look with the traditional masterpieces of North India's culture. Excited much? Get ready to roll your wedding functions while you make cherishable moments with your friends and family members.
Bihar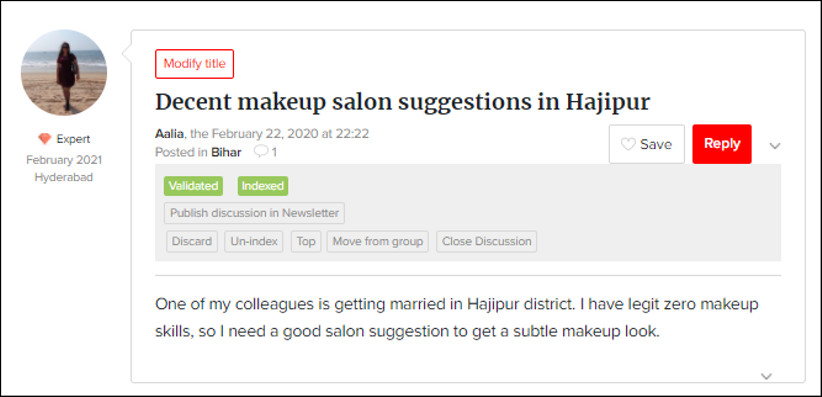 Patna market in Bihar is renowned for wedding shopping. The market is not only visited by locals but also by tourists. If you wish to add a pinch of uniqueness in your wedding functions and are looking for something out of the box, then this region is best suited for you to probe on varieties. From beautiful wedding dresses to jewellery, this location is equipped with a taste of ethical trends.
Chandigarh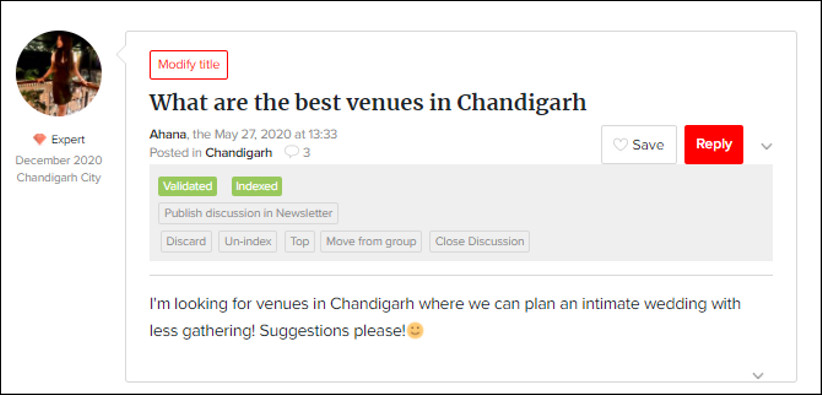 The vibe and spirit of Chandigarh are definitely unparalleled. If you are planning a Punjabi wedding and wish to opt for a destination that takes you to the heart of the state? Come find all you need to know about the city at WeddingWire India's community. If you are on a wedding shopping spree or wedding gift hunt, hop to the sector 17 markets in Chandigarh, and avail top-notched varieties of products. From opulent resorts to luxurious farms, this location is best for planning a wedding ceremony. If you want to gain information related to the budget of the venue or shops in the city, then post under the region and make your weddings a cherishable one.
Chhattisgarh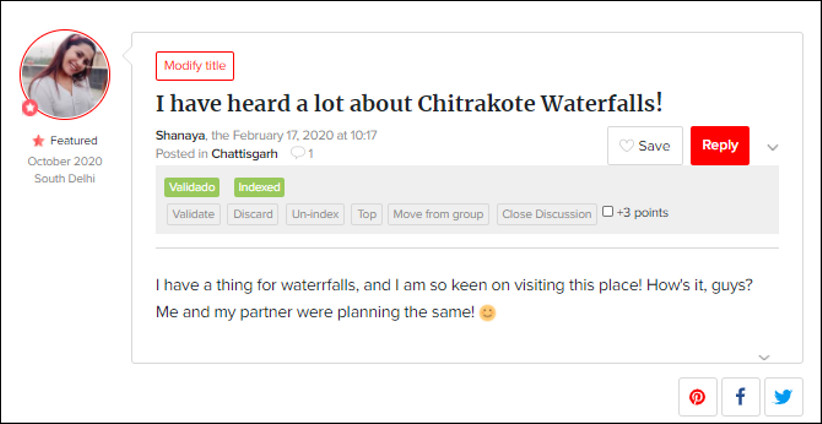 Lunatic much for waterfalls? This beautiful region comprises mind-boggling locations where you can not only enjoy the aura of nature but make truckloads of romantic moments with your beloved. Besides, Chhattisgarh includes a wide range of sarees for women and dhotis for men. Wish to upgrade your wedding wardrobe with new-fangled designs? Post your questions and doubts under the city and go on a carefree shopping spree.
Dadra and Nagar Haveli State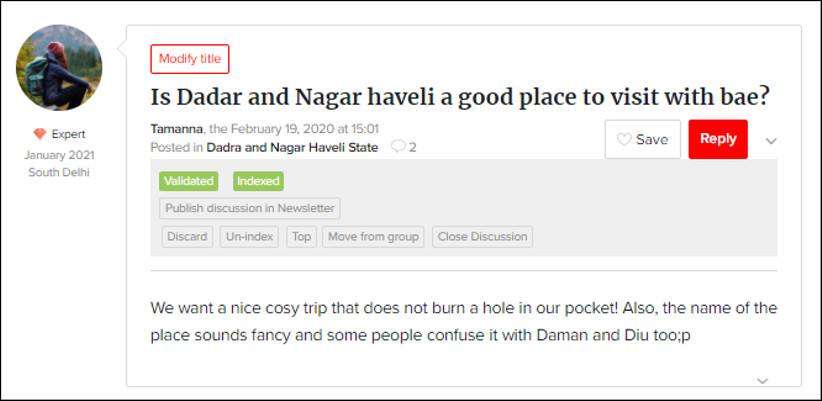 Planning a getaway with in-laws? Wish to send your parents on a soothing vacation? This city is perfectly suited to level up the happiness of your elders. From tranquillising lakes to newsy museums, Dadra and Nagar Haveli State is famous for its lush greenery and caricature. The WeddingWire India community also gives you a chance to bond with other couples who might know this region or might have explored it recently. You can ask questions, or share your experiences about this region With other couples.
Daman and Diu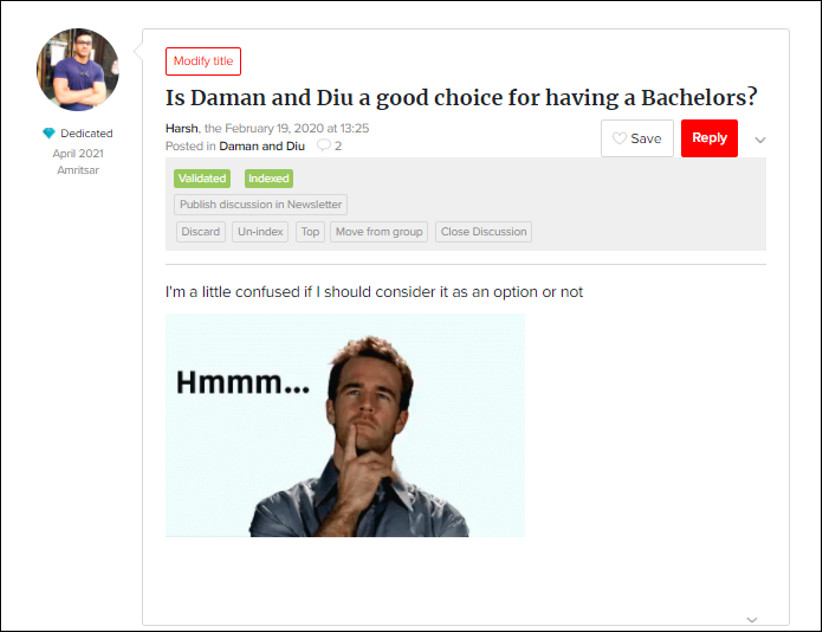 Time spent with friends is time cherished forever. Looking for a lovely location for your bachelor/bachelorette party? If yes, then Daman and Diu can come to your rescue! This spot is famous for beaches, shopping, and serene beauty and can also be a perfect pick for a destination wedding. Want to gain some exclusive information about this beautiful place? Post under the region and sway all your doubts away.
Delhi NCR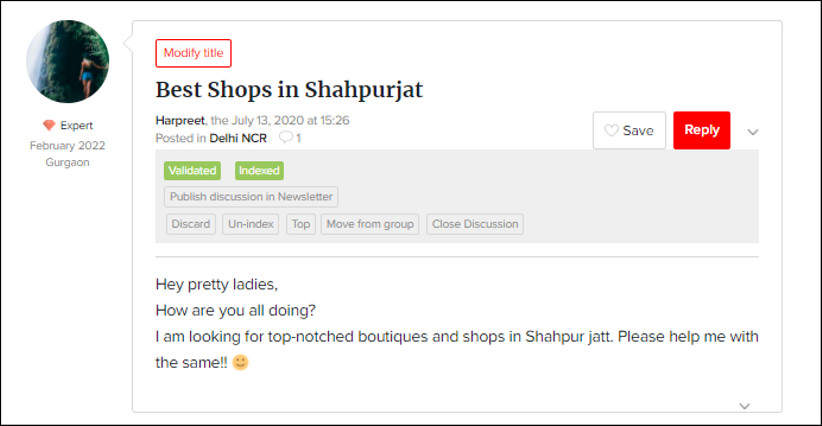 A spot for famous shopping hubs, enticing food, traditions and culture, Delhi NCR is the heart of Big Fat Indian weddings. From excellent venues to superior wedding vendors, this city is full of gleam and glam. Plan the ultimate 'posh' band-baaja-baarat for your wedding dreams in Delhi NCR. If you wish to know about a specific location in Delhi, then shoot a post and allow the WeddingWire India community experts to answer all your queries.
Goa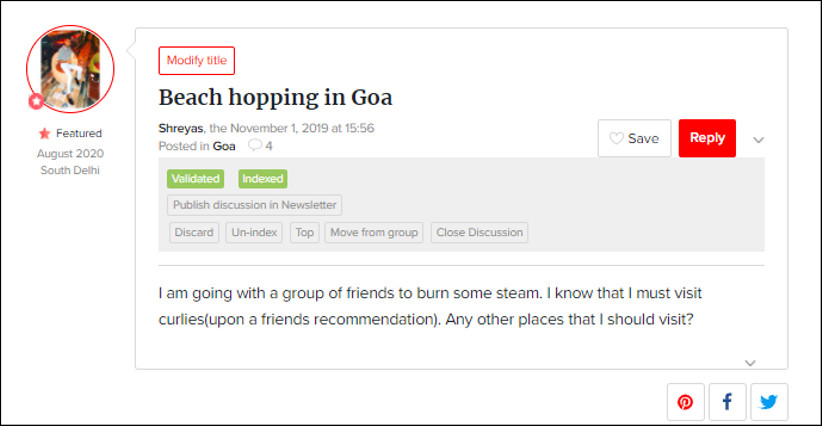 How about planning a beach wedding and grabbing the most cherishable time of your lives? From awesome resorts to architectural spots, this location is full of liveliness. If you want to level up beachy wedding vibes then experts and other active members at WeddingWire India Community will help you with superlative suggestions and thoughts.
Gujarat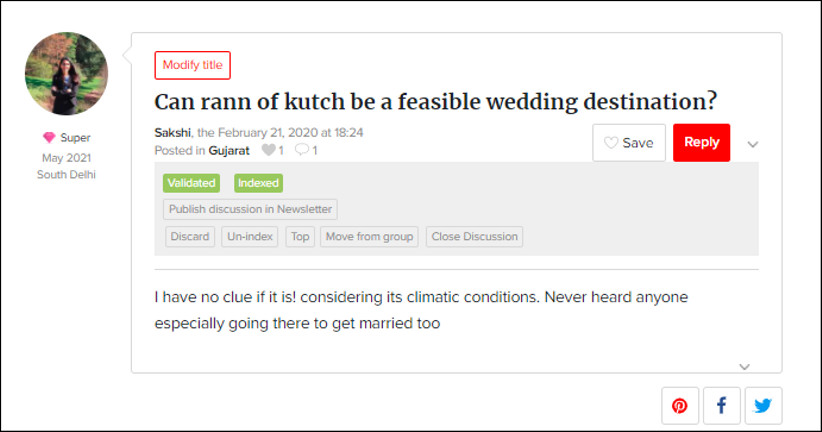 When it comes to Gujarati weddings, the colour palletes of the wedding is afloat with the rich colours of India's culture and heritage. . From Chaniya Cholis to Panetar sarees, Gujarat is famous for its traditional wear. The pre-wedding functions top the level of excitement and fun. Dig into some cultural information while you interact with users under this region on WeddingWire India's community page.
Haryana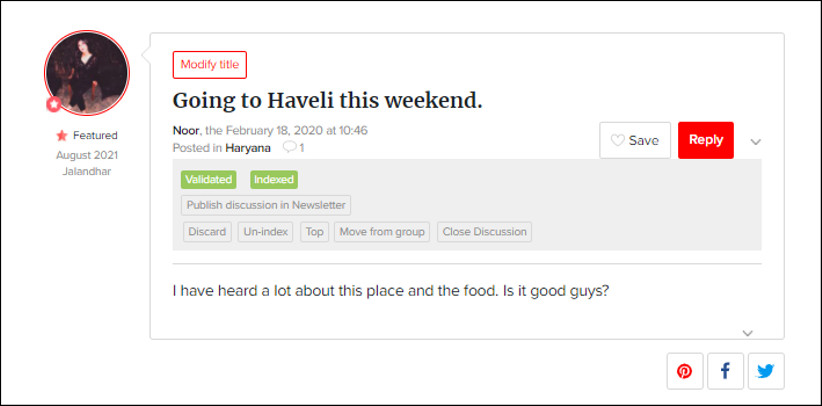 Looking for a graceful makeup artist/salon in Haryana? WeddingWire India community is there to help you with a list of amazing makeup artists/salons near your location. Remove all the worries while WeddingWire India's community team makes your Shaadi ki Taiyari easier!
Himachal Pradesh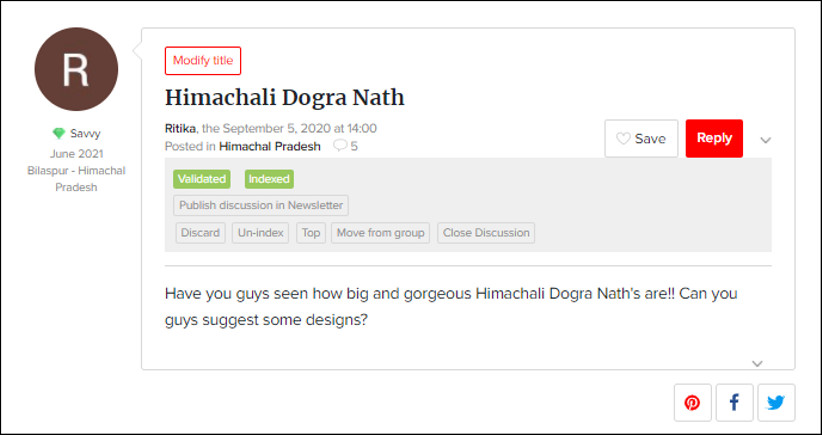 Himachal Pradesh is all about the uniqueness of fashion and wonderful traditions. Once you post under this region, a flow of suggestions and trendy designs will come straight your way! You could avail a bunch of nature-specific information to level up the wandering game. Enticed much? Post and float in the boat of ease!
Jammu and Kashmir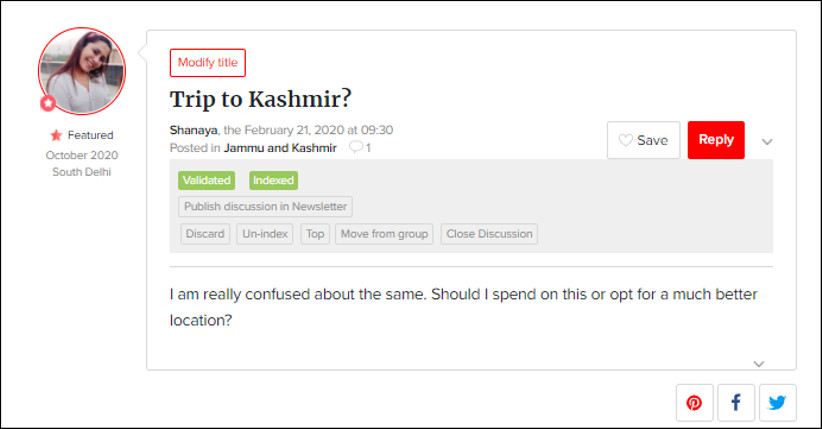 Planning a winter wedding and looking for a cover-up on your D-day outfit? Jammu and Kashmir are famous for Pashmina shawls and exceptional designs. You could buy the most priceless pashmina shawls as wedding gifts for the most special women in your life - or you could also have tons of honeymoon in Kashmir related questions/experiences to share. Post all your queries under this region and attain a list of famous shops, and locations to shop for your D-day and top travelling tips.
Jharkhand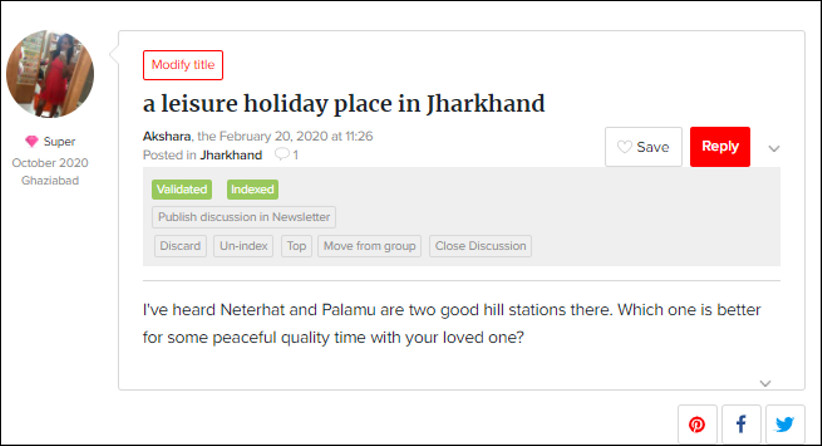 Looking for a top-notch cafe in Jharkhand to take your bae on a date? Take it easy and head to WeddingWire India Community. Interact with couples and gain some major information about your queries. This creates an aura of positive interactions and you get to find the most amazing solution!
Kerala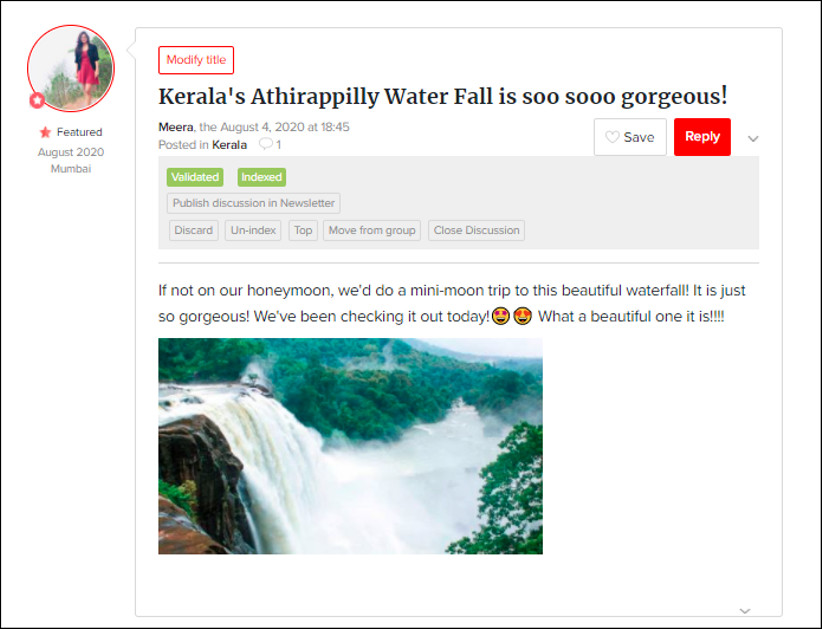 When it comes to Kerala, traditional wedding dresses, the choice becomes a bit perplexing on what to buy and whatnot. When it comes to Kerala wedding outfits, it is more than white and gold. From block print sarees to shirts with mundu, there is a traditional favourite for brides, bridesmaids, and mother of the bride and groom living in any part of India. Kerala is also called 'God's own country' for very valid reasons. A romantic trip in any part of Kerala - be it the backwaters or the hills, becomes a memory of a lifetime. At the WeddingWire India community, you can ask away all the questions you have in mind.
Karnataka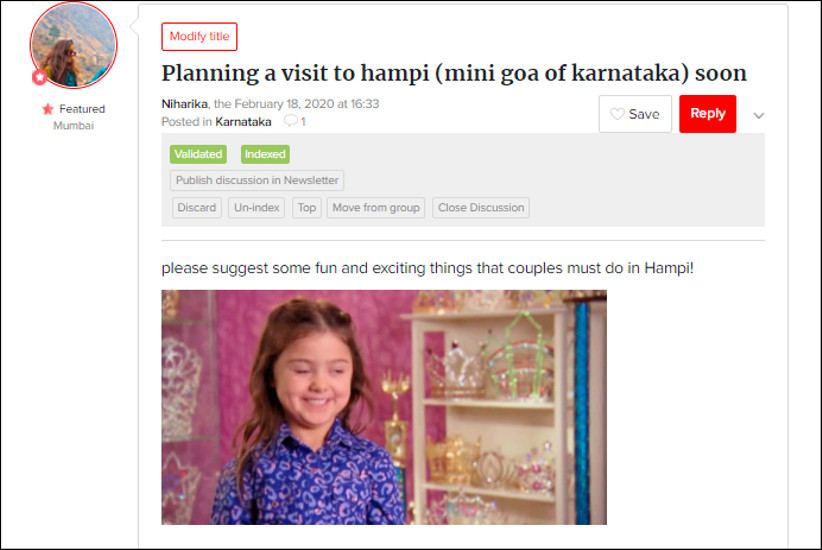 From a perfect videographer to a versatile makeup artist, everything should be on point to make the wedding functions, a beautiful and a remarkable event. Explore this city group and ask questions about the culture of Karnataka, while community experts give you a list of innovative ideas!
Ladakh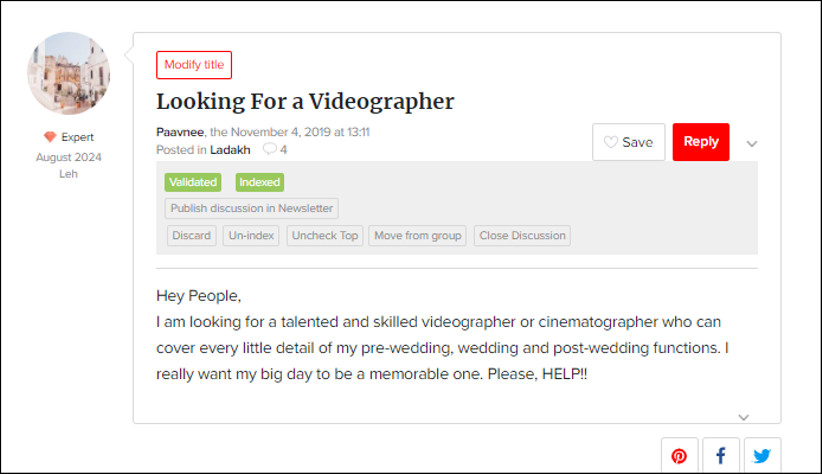 When we talk about nature, this place hits differently. Are we right or are we right? The best thing about Ladakh is when you get to wander with your partner and feel the shades of nature with all the positivity and zeal. Wish to have some merry time with bae before or after you get married? WeddingWire India Community has covered you with a bunch of ideas on how you can explore this city. What do you need to do? Strike a conversation!!
Lakshadweep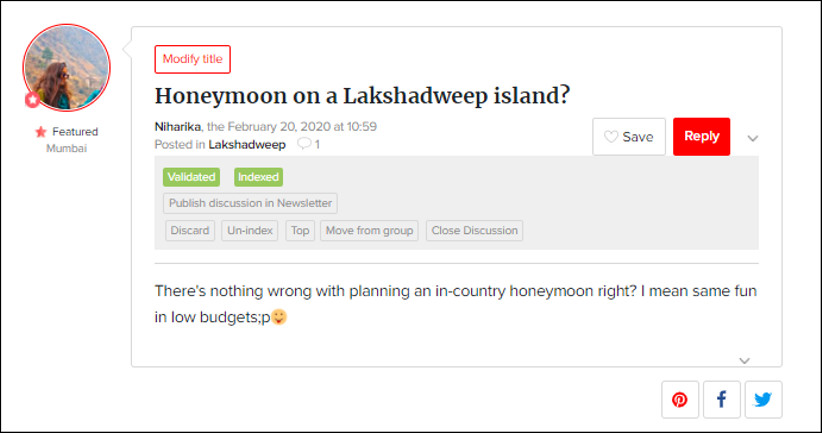 Are you the couple who wants to top the exquisiteness of destination weddings? Or are you planning a memorable intimate wedding? If yes, then Lakshadweep helps in topping your wedding wishes with happiness. Discussing on beachside venues, resorts, photographers, becomes easy once you interact with experts and couples.
Madhya Pradesh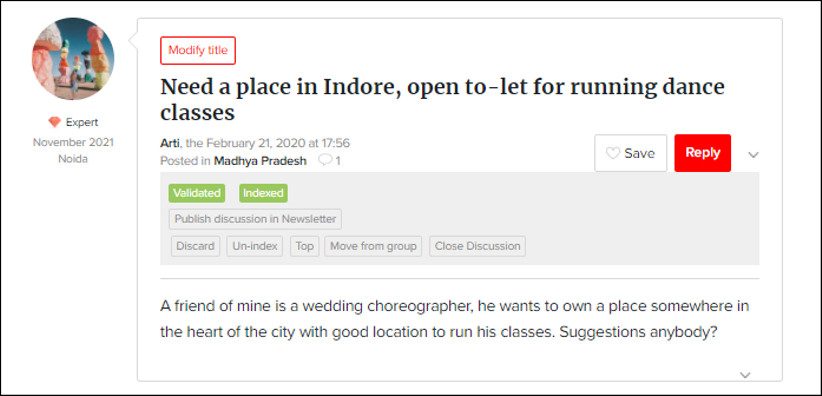 When it comes to intricate embroideries and structures, Madhya Pradesh rules the wedding tab. Hey bride-to-be, Make your D-day breaking news by opting the most beautiful ghagra while you flaunt your prettiness to the fullest. To all the grooms-to-be, looking for latest safa designs, head to this city-specific group and post all your questions.
Maharashtra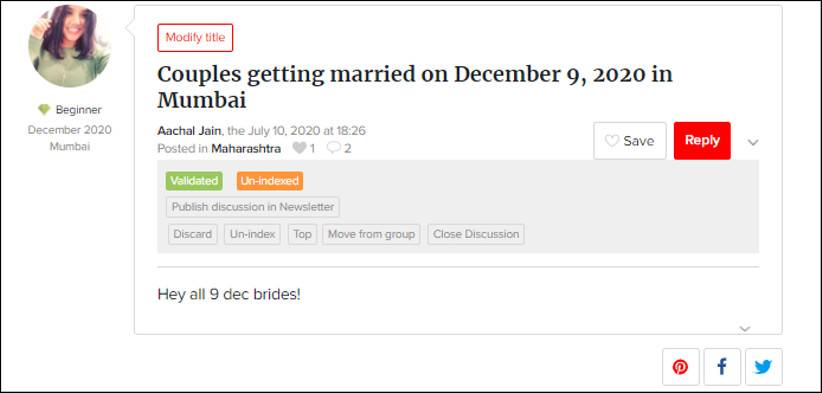 A Marathi wedding is a perfect example of simplicity. From wedding invitations to decor, everything is precise and culturally priceless. If you want to explore more knowledge on how wedding planning is executed with minute details, shoot a query under this region and interact with couples who are planning to have a Maharashtrian wedding. Sounds exciting right?
Manipur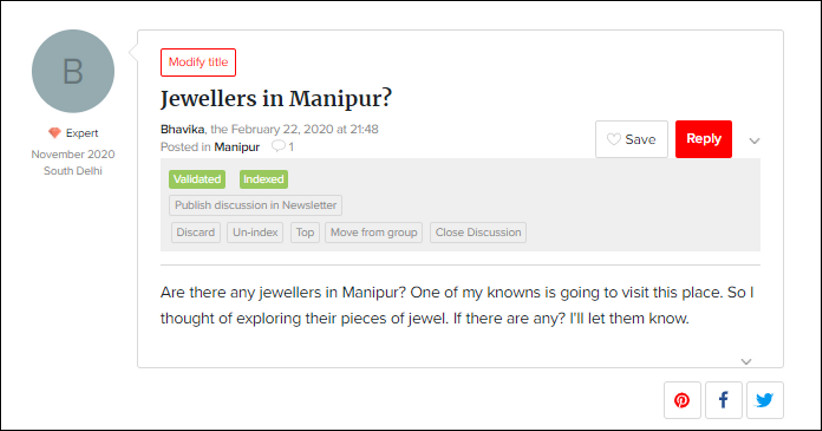 Looking for a top photographer/makeup artist/event planner for pre-wedding, wedding, and post-wedding functions in Manipur? Why not raise your query on WeddingWire India community? From small details to the wide range of questions, this region from 'Groups by City' is all you need to make your wedding planning smooth and secure.
Mizoram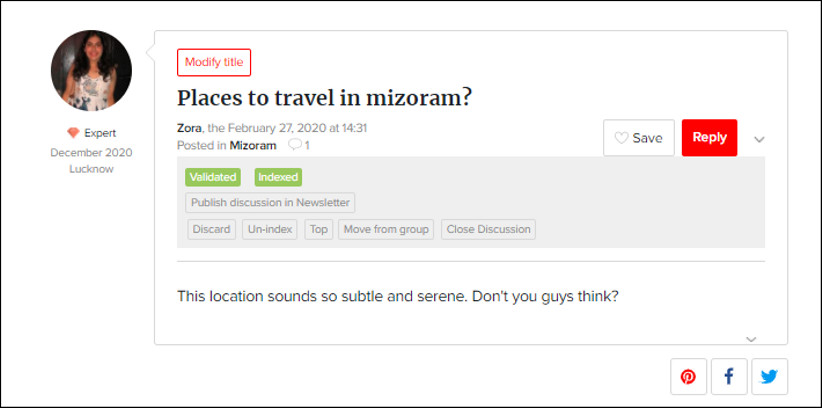 Wish to find the best silver jewellery shop in Mizoram? Start a conversation and the experts at WeddingWire India community and other variable users will help you in finding the best shopping hubs. You can also level up your trend game, by gaining information on the latest white dress designs!
Meghalaya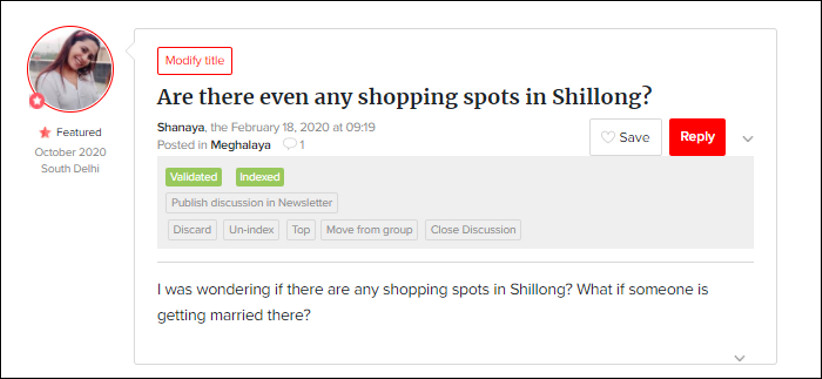 How about getting a beautiful pre-wedding shoot done in Shillong? Sounds dreamy right? Why not make this dream come true? Turn up to the community forum and grab all the details on the perfect time for availing a mesmerising pre-wedding shoot. The managers at the community will help you in providing a full-fledged list of the photographers and other vendors who travel outstations!
Nagaland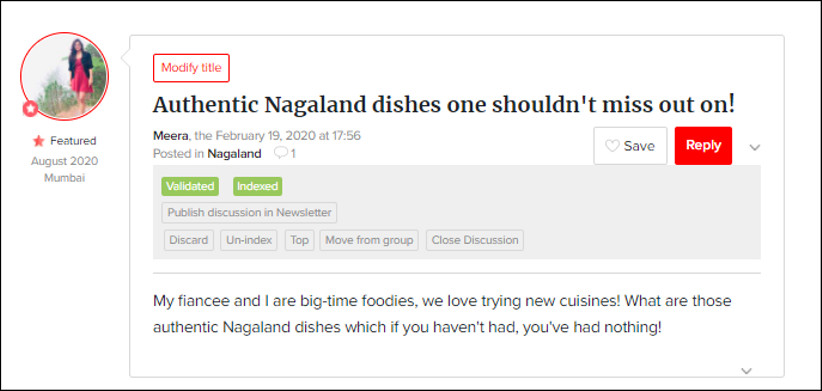 Wedding planners play a major role in commencing a wedding ceremony with perfect supervision and ensure to add a dash of glam with trending decor and wedding themes. Hop on the platform of WeddingWire India community and avail a list of first-class vendors to everything you wish to acquire.
Odisha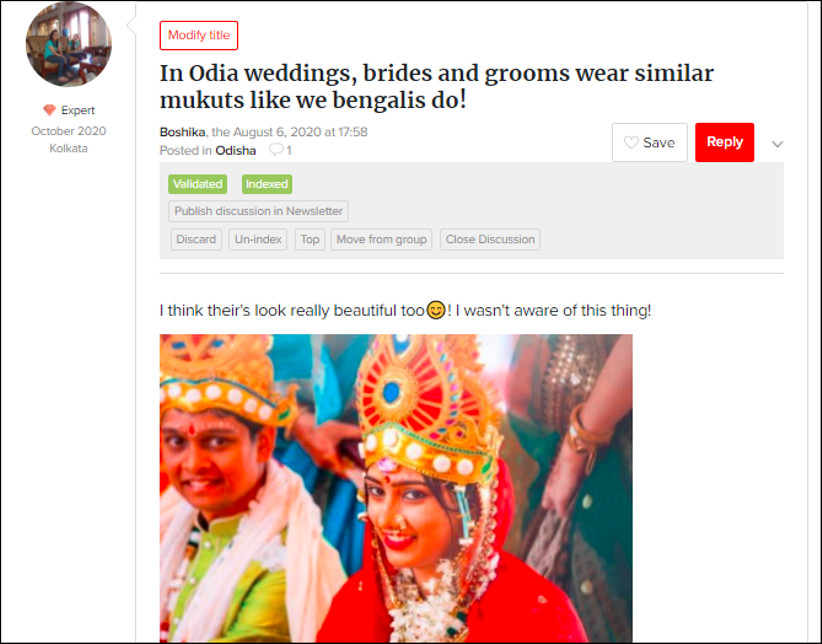 Looking for the top wedding vendors in Odisha? The experts at WeddingWire India community have got you covered with a list of amazing vendors which can be picked according to your needs and choices.
Puducherry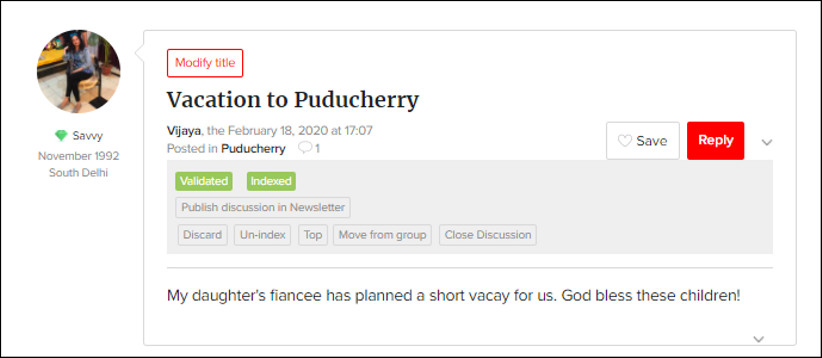 A perfect amalgamation of South India's beach life and the culture of France, Puducherry has attractive resorts and captivating hotels that can make your wedding functions unforgettable events. From finalising the budget to picking the most suitable venue, planning a wedding requires full-fledged exploration. The community takes care of everything you wish to make your day a blissful one!
Punjab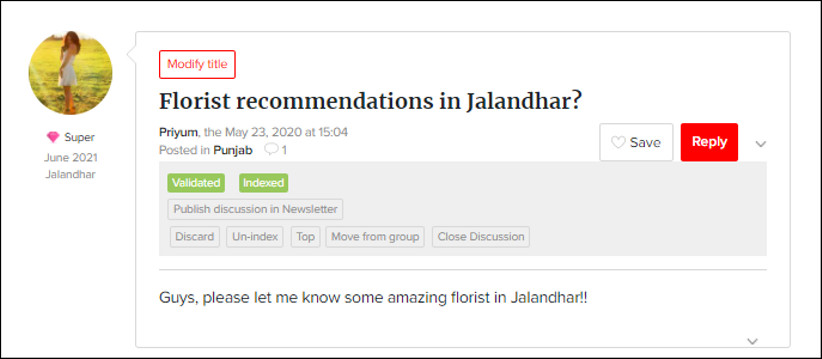 When it comes to wedding food, 'Sarso Da Saag' and 'Makki Ki Roti' tops the Punjabi cuisine. Therefore, pitching on a perfect caterer for that buttery taste becomes essential. Opt a caterer who can make your wedding function a successful one. The community experts help in finding apt vendors for your wedding. If you want to grab 'Diamond Da Challa' for your better half, then the community forum is going to be there with you in fetching the most precious ring.
Rajasthan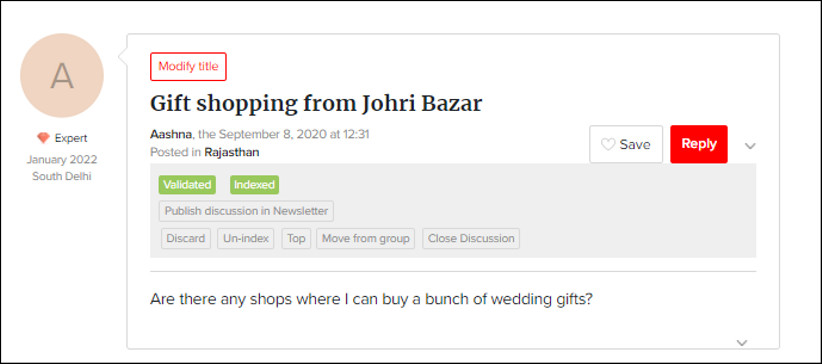 From a royal palace to a regal hotel, Rajasthan is known for destination weddings. Want to avail a perfect wedding venue or plan a breathtaking pre-wedding shoot with Rajasthan's historical forts as the backdrop? Start a conversation under this city group and get the most amazing ideas. What's better than starting the new beginnings of your life under the beauty of a sunset? Sounds dreamy right?
Sikkim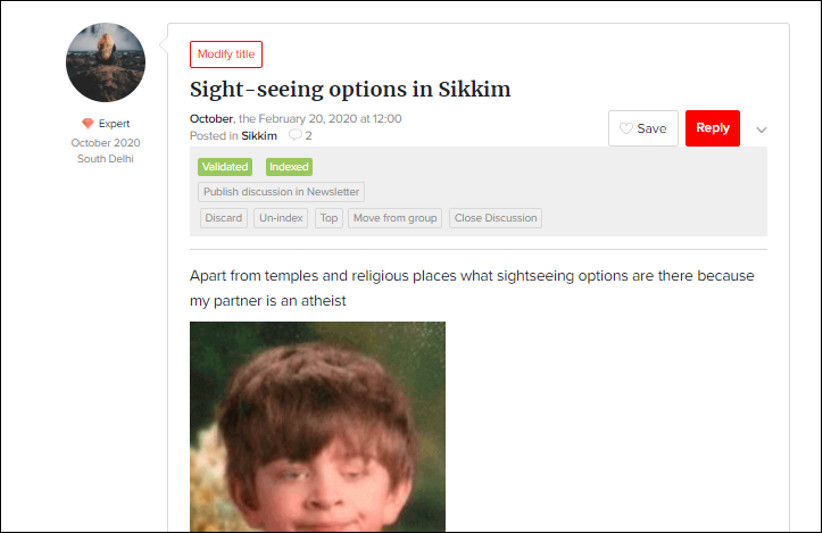 Finding a perfect designer boutique is imperative to flaunt your D-day look with eminence. If you are on a lookout for a designer boutique in Sikkim, you know what to do! And that's not all! Sikkim is a dream travel destination and backdrops like the Guru Dongmar Lake can make your couple shoot ethereal and how! Post a discussion and find out about top locations/restaurants and more..
Tamil Nadu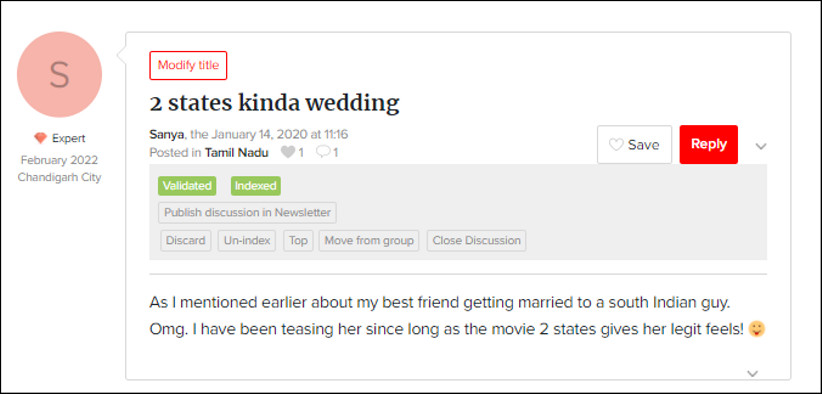 Whenever we think of a South Indian wedding, temple jewellery, kanjivaram sarees, and dhotis are top of mind. Grab a chance of posting under the group of Tamil Nadu and the couples on WeddingWire community will help you to attain all the information you need on Tamil Nadu's most iconic shopping streets and more.
Telangana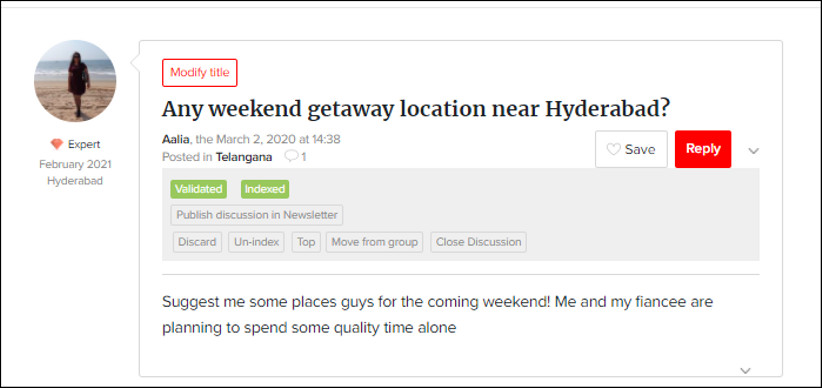 Wedding decor elevates the look of wedding functions and to make it a memorable one, an immaculate decorator can do wonders! From grabbing the most inventive florist to resourceful decorator near your location, WeddingWire India community makes sure to provide the best for your precious day.
Tripura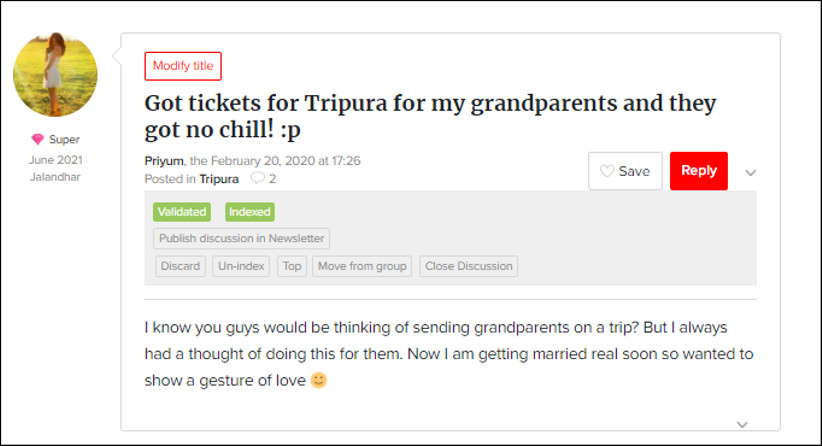 Seeking blessings from almighty is as important as commencing all the wedding rituals with devotion. Planning a trip to Tripura after your wedding? Want to get the best budget and locations to explore? WeddingWire India experts are here to cover you up with a bag full of solutions and opinions!
Uttar Pradesh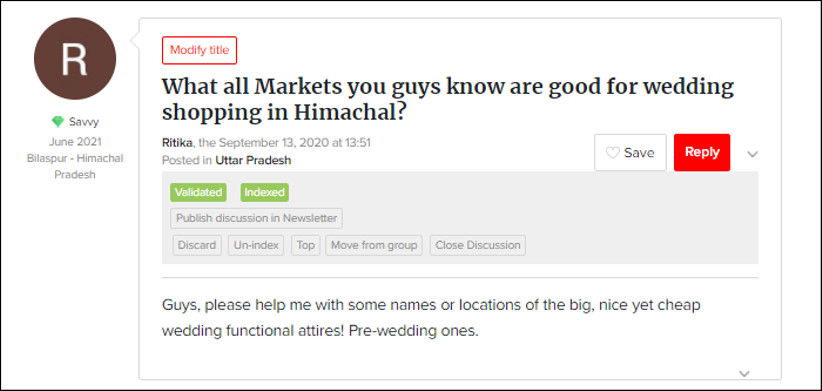 From selecting an appropriate banquet hall to deciding the best mehndi artist in town, a tenured wedding planning is all we need to commence the functions without any hassle. Have any questions on how to decide on the blueprint of wedding planning in Uttar Pradesh? Dont perry, the members of the WeddingWire India community will make your way an easy-breezy one.
Uttarakhand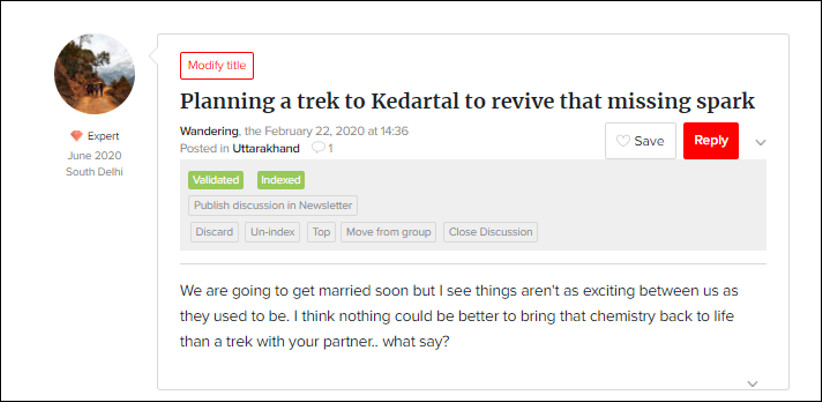 Uttarakhand has some of the most scenic hill stations in India. You can plan a beautiful wedding ceremony in the hills or simply go away with the love of your life to experience the best of nature. If you are looking for top vendors in Uttarakhand for your one-of-a-kind destination wedding, ask a question in this city group and easy out on your fancy wedding planning.
West Bengal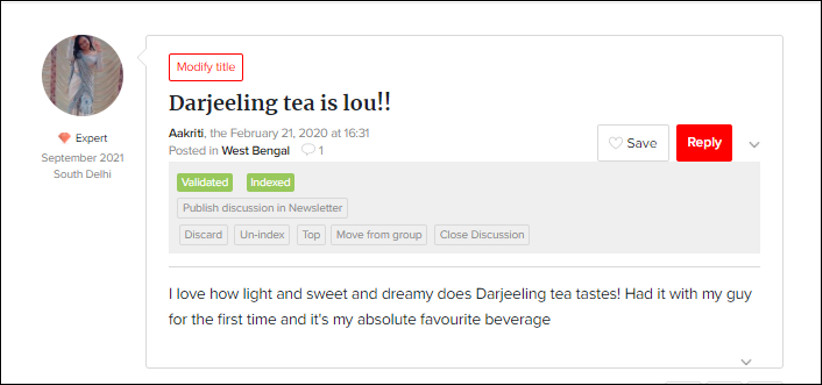 Is your wedding planning search still on? What all things have you zeroed on? The WeddingWire India community ensures a smooth and safe experience by offering truckloads of solutions. From fetching a perfect 'topor mukut' to 'gachh kouto', West Bengal city group is full of traditional information.
Planning your precious day should always be filled with felicity and WeddingWire India Community is here to make your wedding planning journey a priceless one.
How many of you are excited to be a part of this interactive community? Comment below and let us know!