4 Wedding Lancha Styles That Are Perfect For The Wedding Season!
If you're looking for an outfit that has its own visual identity, then pick a wedding Lancha during this wedding season! Not sure what this garment looks like? Keep reading to find out!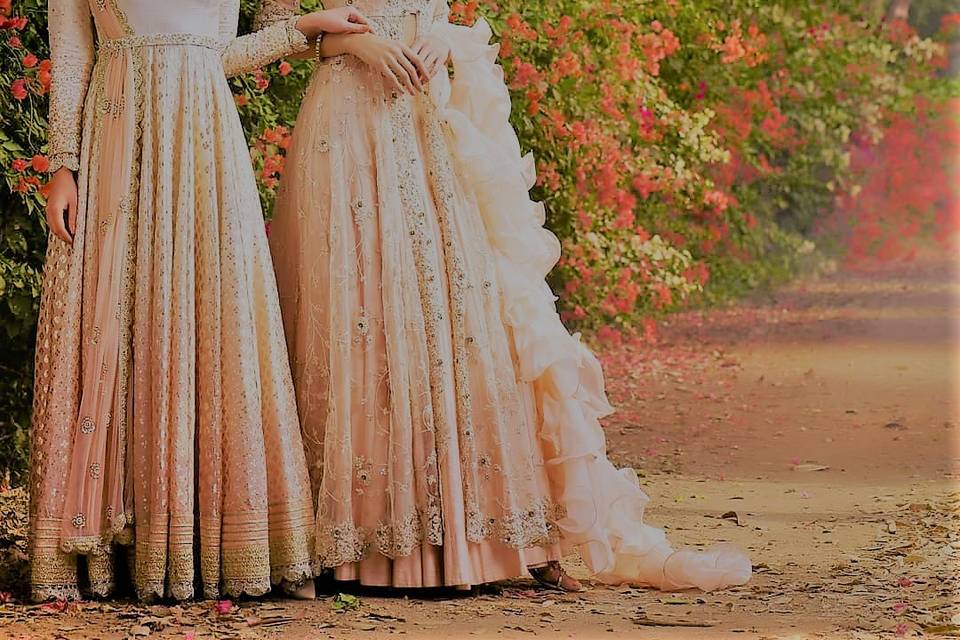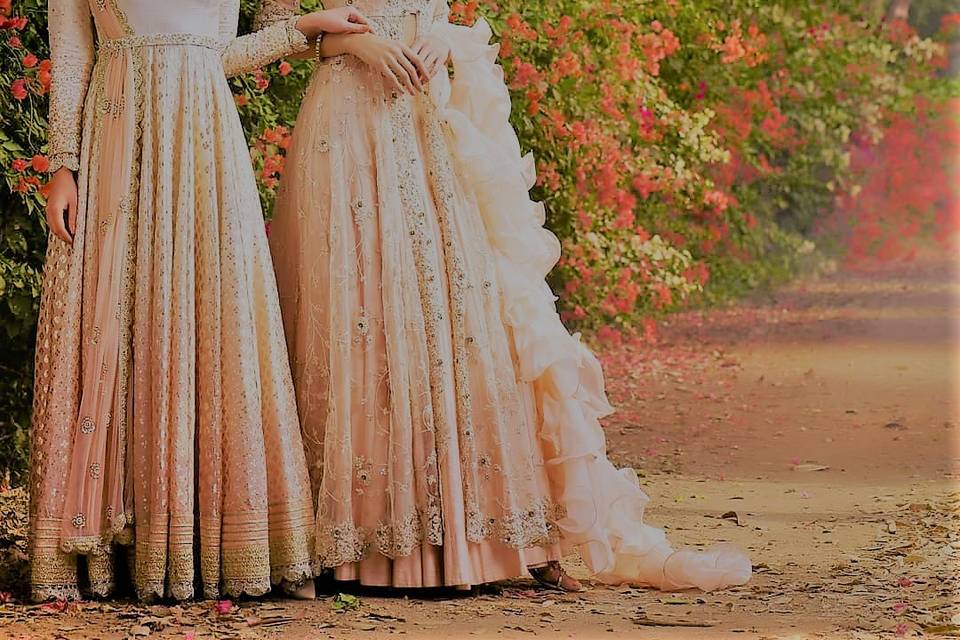 Image Courtesy: LBB
A wedding Lancha is a unique garment that draws its inspiration from the classic lehenga choli, but is vastly different from its archetype! While the lehenga choli generally has a crop top that bares the midriff, a lancha has a longer kurti that can sometimes be as long as the hemline of the garment! Often, due to this, a wedding Lancha can be mistaken for an Anarkali suit from afar, until the viewer realises that there is a skirt under the Kurti, and not churidar pants!
This garment has a very unique look and is ideal for a bride's heavy trousseau. Guests can also wear this outfit to the wedding if they are looking for something that's heavy but not too dressy at the same time. From a regional point of view, this ensemble owes its roots to Punjab and was often a custom-made garment that helped women express their styles perfectly. Now, with readymade Lanchas available, everyone can sport this trend and look amazing.
If you're on the fence about wearing a wedding Lancha, then let us look at a few great examples of Lanchas to give you some inspiration!
1. Mint green and gold Lancha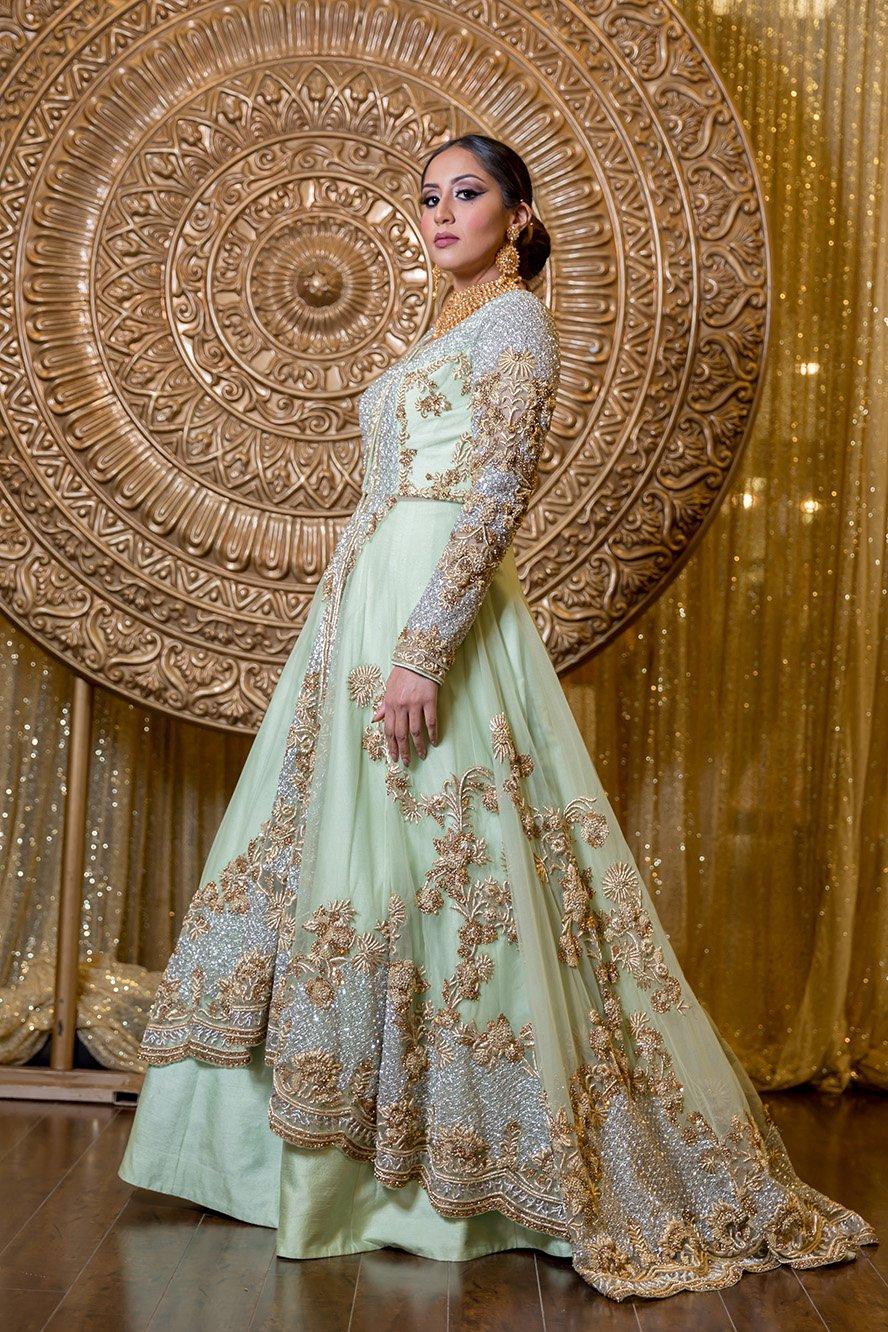 Image Courtesy: Bombay Couture
With a long Kurti that's heavily embroidered in gold, this is an outfit that has regal vibes. The skirt under this Kurti is a plainer one, keeping all the attention on the outer garment. This strikes the perfect balance between a dressy outfit that can also be subtle, as an equally embroidered skirt would have been a bit much. The long sleeves are also filled with embroidery work, making it look heavier.
Wear this wedding Lancha to a friend's Sangeet and keep a log of how many compliments you get!
How to style this?
As the bodice of the garment is quite heavy, you mustn't leave your hair open as it may cover the same. Tie it up in a classic bun hairstyle and wear dangling earrings!
2. Purple and nude pink Lancha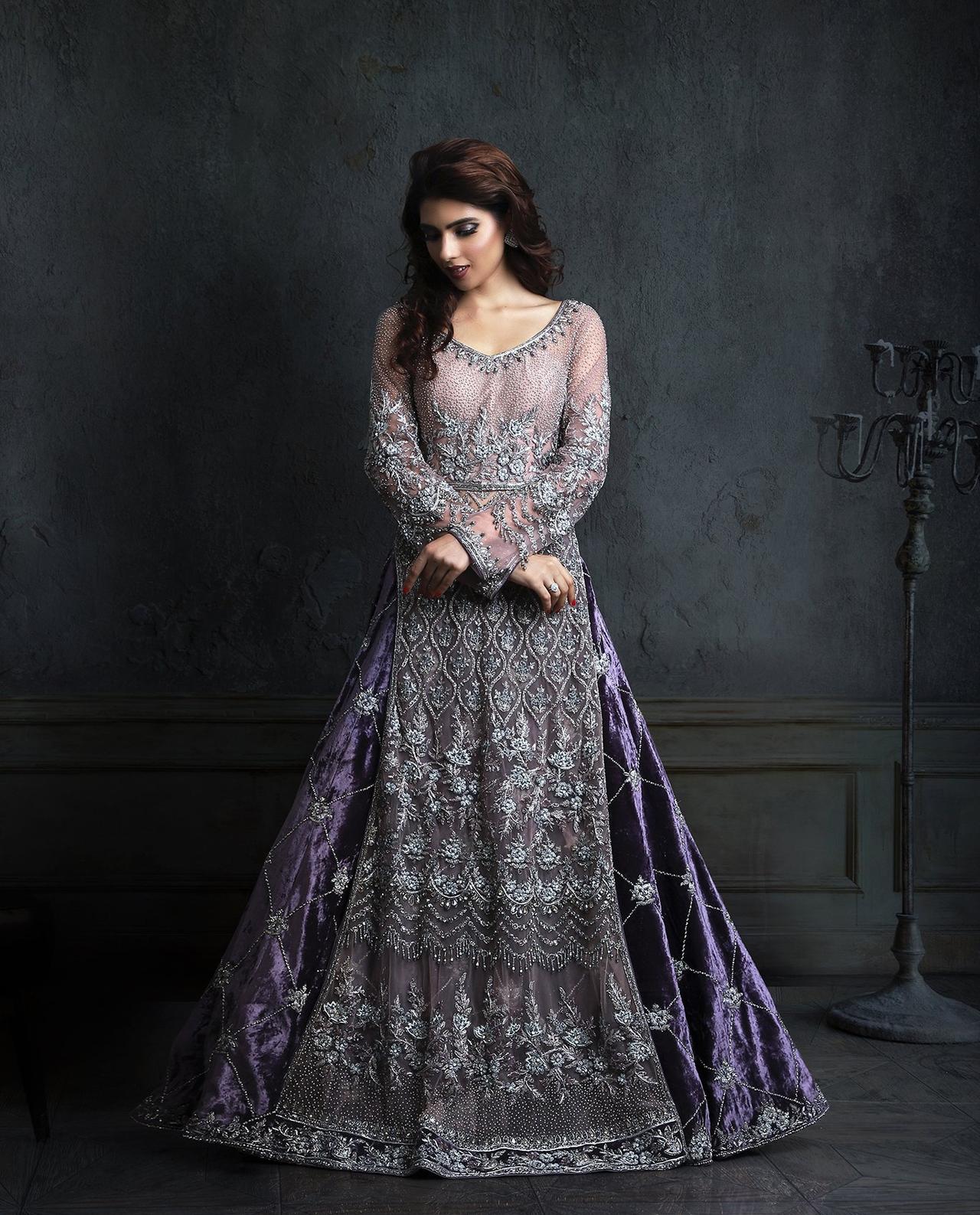 Image Courtesy: Jiya by Veer Design Studio
With a deep purple velvet skirt, this wedding Lancha is an extravagantly designed outfit. The bodice has a nude pink colour across the bust, which is covered by the silver embroidery as the eye moves lower. The silver overtakes the pink and the lower part of the Kurti has a great background. This matches really well with the silver tones on the velvet skirt, tying in the whole piece as one uniform outfit.
This outfit is another perfect one for a Sangeet or a Mehndi Ceremony, and you'll certainly look amazing in it.
How to style this?
Since a large part of the garment is taken over by the silver tones of the sequins and stones, you should pair a diamond necklace set with this outfit.
3. Peach and gold wedding Lancha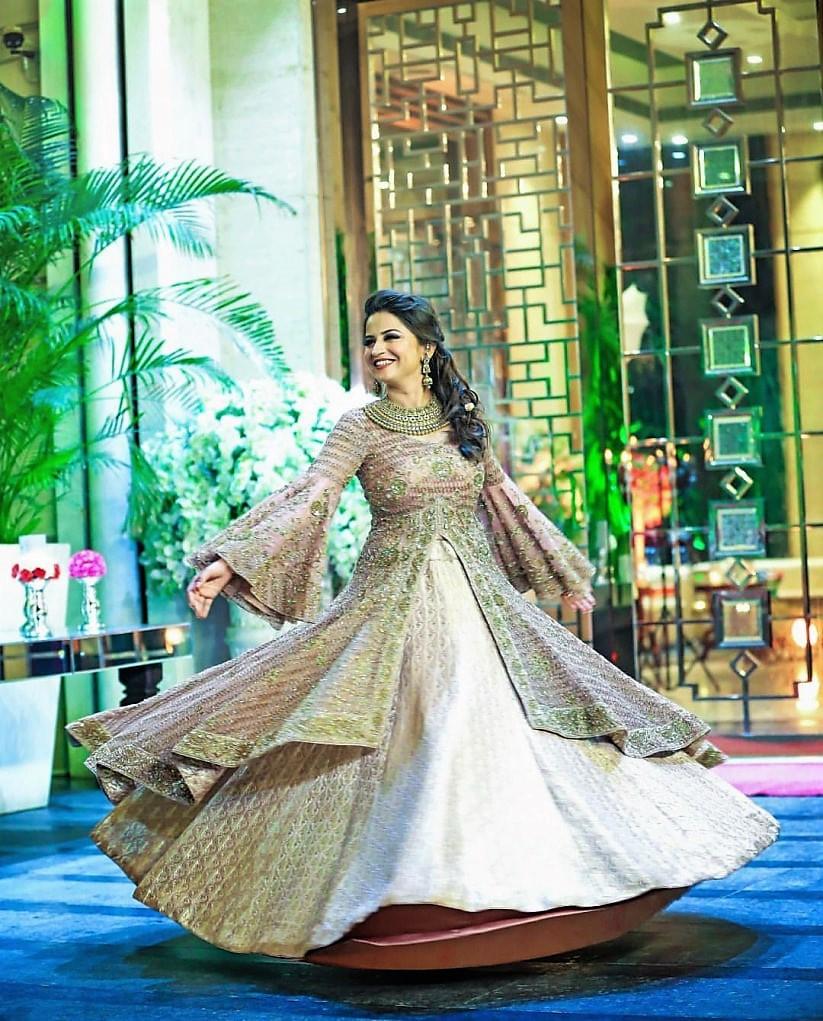 This wedding Lancha is the perfect example of an outfit that's fit for the bride. With a long Kurti that reaches halfway down the lehenga's skirt, this outfit has a lot of gold embroidery work on it, making it a great option for one's bridal collection. The bell sleeves on this Kurti add a remarkable silhouette to the garment, making it not only pretty to look at but also a modernised version of the attire. The high waist skirt also has a lot of texture with gold patterns criss-crossing throughout. We bet that if you were wearing this outfit, you'd be twirling too!
How to style this?
Pair this wedding Lancha with jewellery pieces that have stunning Kundan designs to bring out the gold embroidery in the garment. You can stay away from bangles when wearing this as they won't really show with these sleeves. However, if you feel that your hands are too bare, then wear a giant Kundan ring!
4. Red and gold heavy bridal Lacha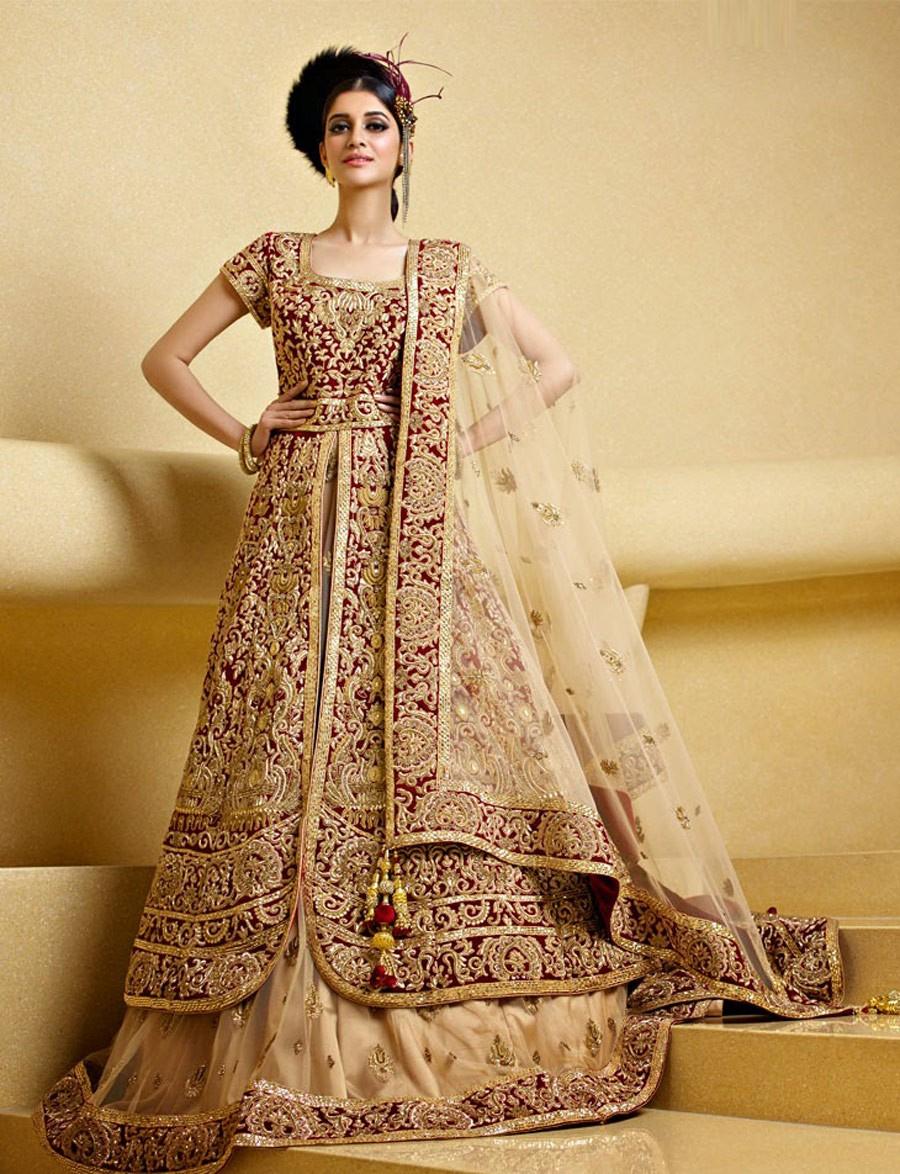 This red and gold design is ideal for the bride to wear on her wedding day. A wedding Lancha is a perfect dress for brides who do not want to limit themselves to typical options like a lehenga or saree, and instead want a garment that looks different from both. The heavy Kurti has a maroon base with lots of embroidery work on it. It extends almost till one's shins, which is where one finally sees the skirt of the garment – a gold one with red borders that match the Kurti. The sheer dupatta brings a great visual break from the Kurti and is light enough for the bride to drape over her head.
How to style this?
Wear your finest bridal jewellery pieces with this look and remind everyone who the star of the night is!
With this garment in your wedding collection, nothing can stop you from looking like the loveliest woman in the room. The long Kurti will accentuate all your movements while the skirt will bring a feminine flair to your look! Start hunting down this garment today!
Check out our designer boutiques that offer the best ethnic wear for weddings!