4 Kundan Designs That Will Transform You From a Princess to a Queen!
Kundan designs are one of the oldest styles of jewellery to come out of India, dating all the way back to the Mughal dynasty! Include them in your bridal trousseau for a stunning, regal look!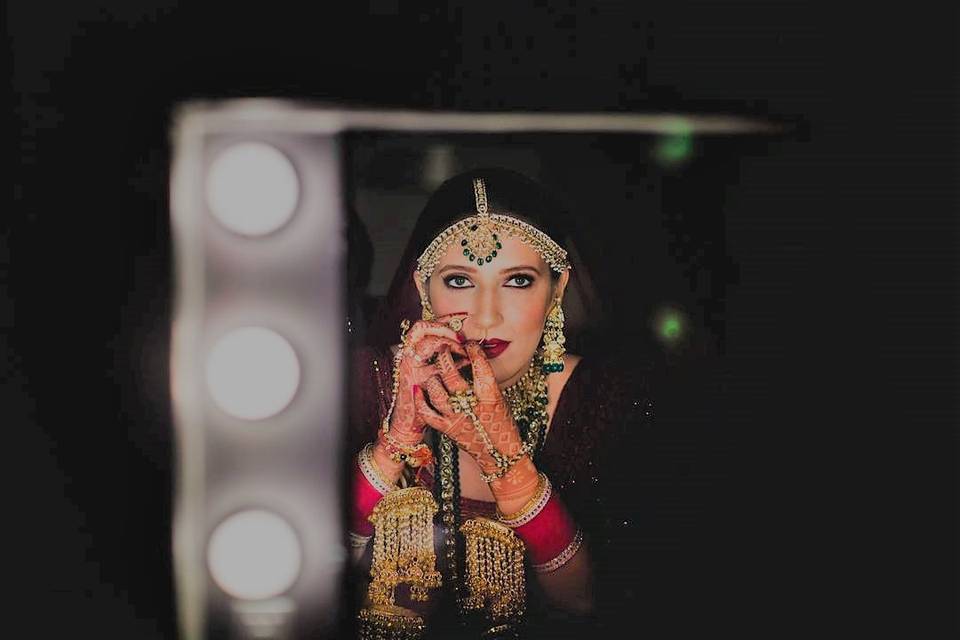 Kundan designs are popular jewellery styles seen on many brides during the wedding season. Often worn as a part of a set, these designs add a lot of character to the bride's ensemble, making it look absolutely stunning. Kundan designs are often hard to miss with their trademark gold hues and tons of precious stones. From necklaces to nose rings, this jewellery style has adorned many a bride and will certainly continue to do so for a long time!
1. What are kundan designs?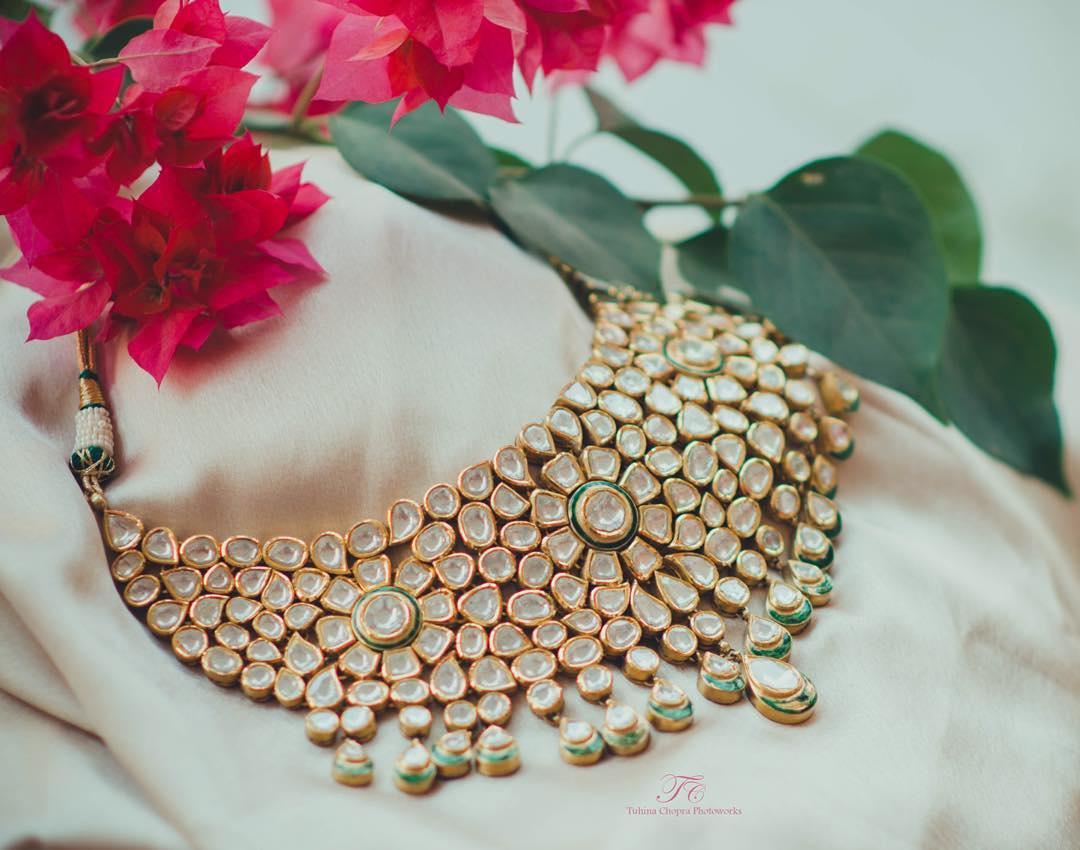 When the name of a jewellery style translates to highly refined gold, you know that you can expect gorgeous designs that are apt for weddings. Initially worn by the royal members of the Mughal families, this jewellery soon tricked down to the masses and is still a hot favourite amongst brides. Due to their connection with the Mughal rule, this style is more popular in North Indian states than south Indian ones.
The gold metal base of the jewellery has raised foils onto which different jewels are placed. This can include anything from uncut diamonds to rubies and emeralds, and you'll certainly find all these variants and more when you look for Kundan designs.
Now that you know what this style of jewellery refers to, let's take a look at a few gorgeous examples for you to drool over!
2. This exquisite bridal set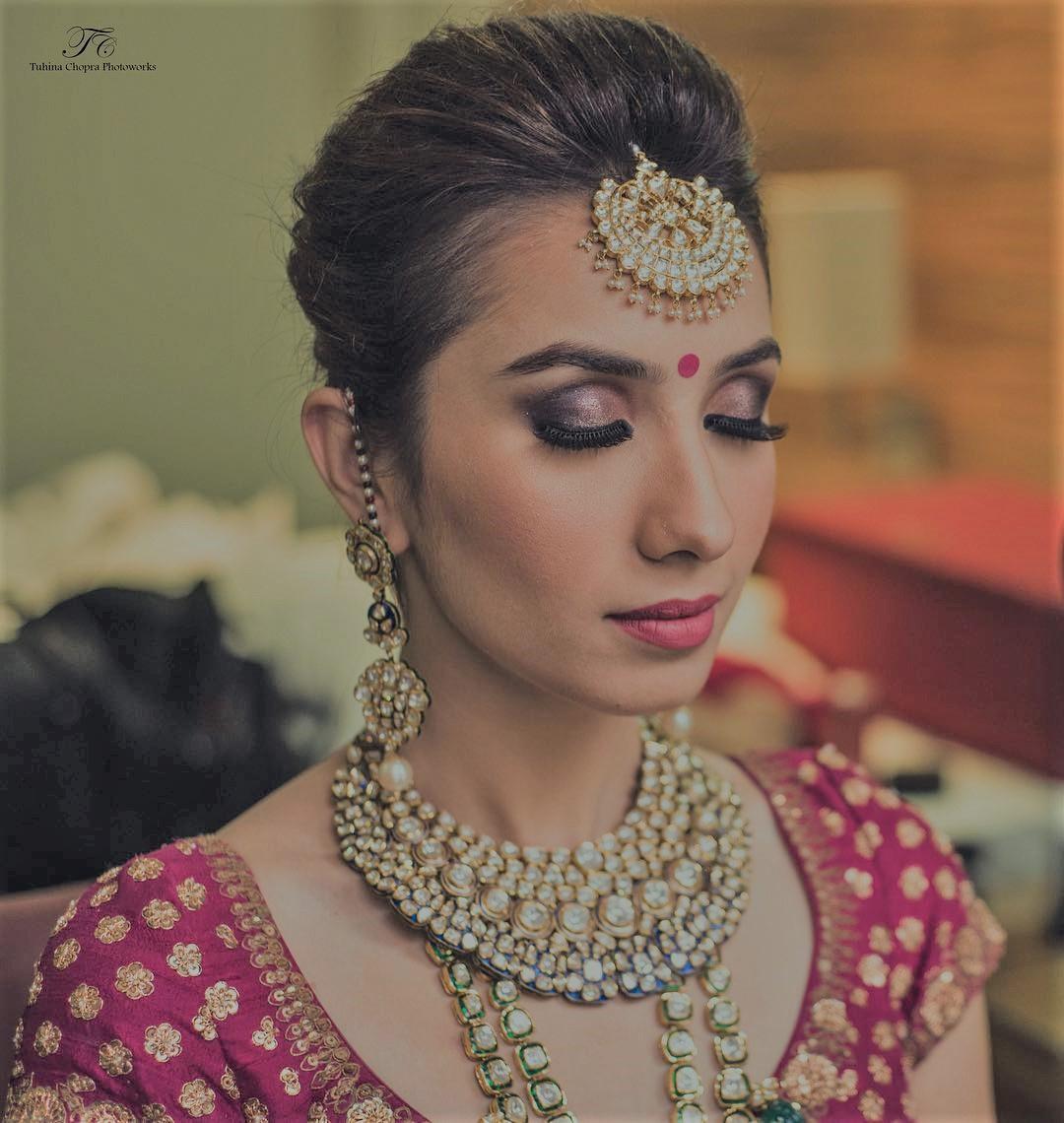 With a matching tikka, necklace, nose ring and earrings, these Kundan designs are to die for! The crescent moon shaped tikka brings to mind the design aesthetics of Hyderabadi jewellery while the rest of the accessories also match up to that royal vibe. Embellished with sapphires and emeralds, along with a few pearls here and there, this is a set that every bride needs to wear during the wedding day! The set also has lovely Polki diamonds, which are most commonly seen in Kundan designs.
3. This intricate nose ring with pearls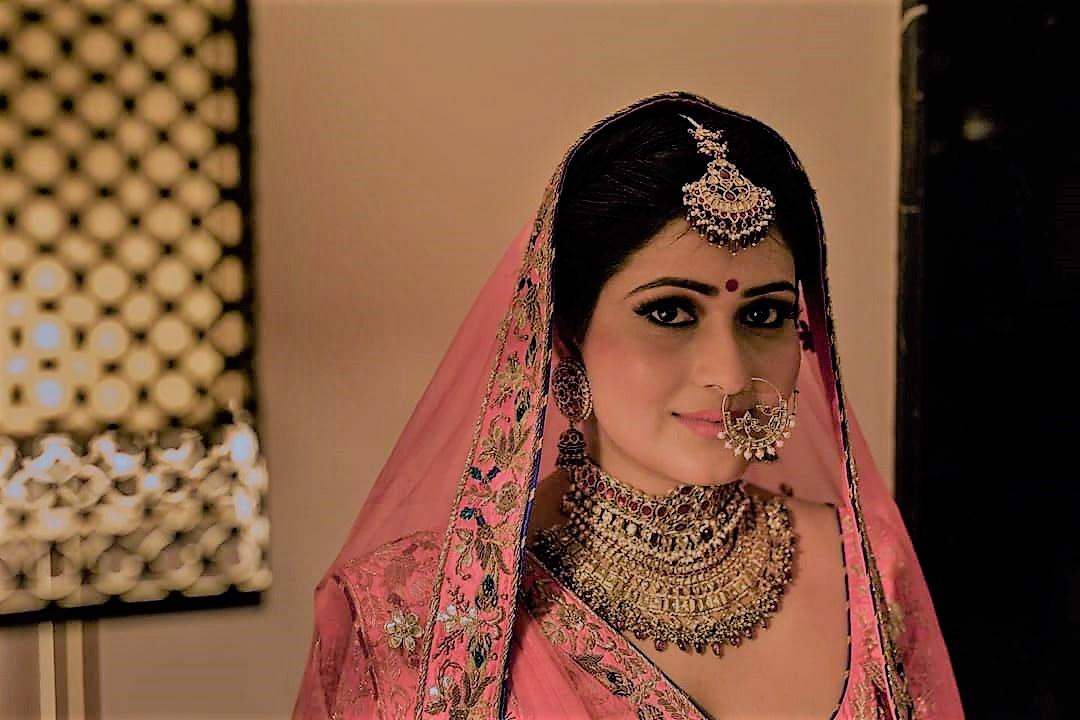 Here, we see an example of Kundan designs that don't include Polki diamonds, something that's a bit of a rarity! The gold in the nose ring has been used to create a floral shape inside the ring itself, while the rest of the hoop also has intricate designs. At the end of the hoop, we see a series of tiny pearls balanced on tinier gold frames, which is to be expected when it comes to Kundan designs.
The nose ring also has small rubies set in the floral element, along with a chain that hooks into the hair. This is essential when it comes to heavy nose rings because it holds them up!
4. This set with a gorgeous Matha Patti!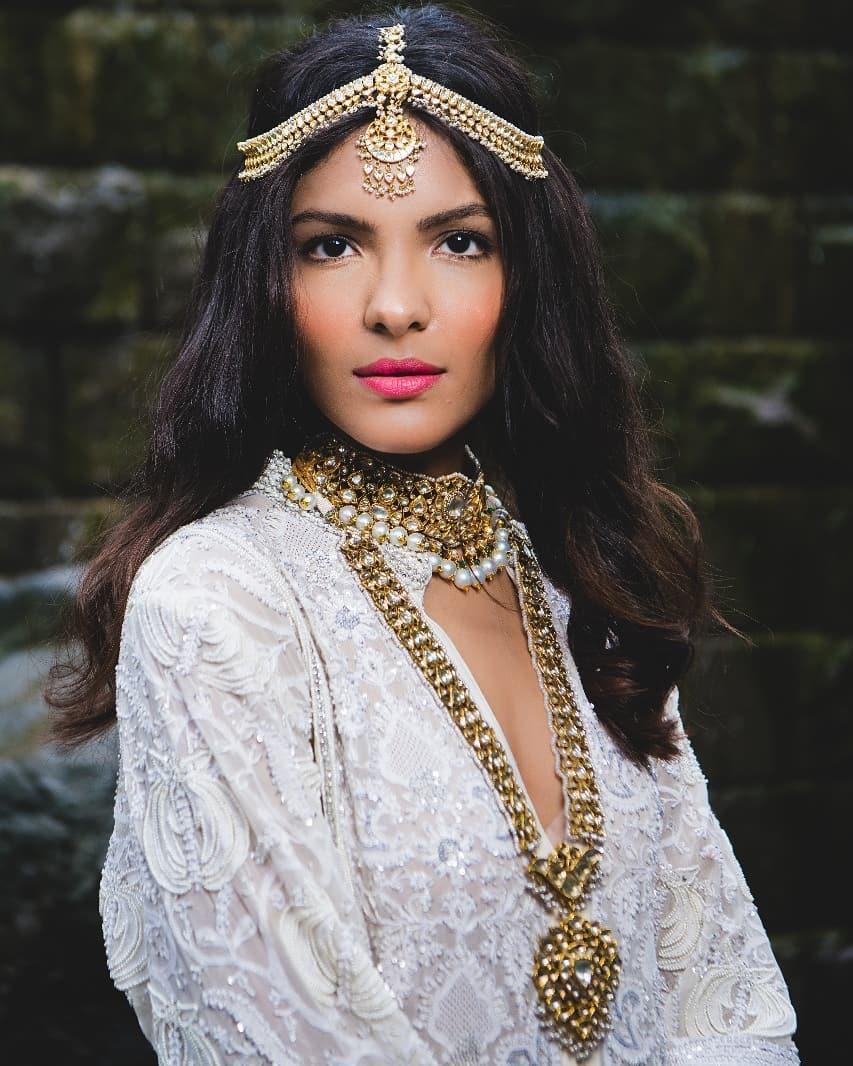 This set has an extremely stately vibe thanks to that long necklace with Kundan designs. The longer necklace is paired with a much shorter, choker style piece, and this is a set that's ideal for brides because they love to layer different jewellery pieces on their wedding day. There are both, uncut diamonds and large pearls on this piece, making it one that is worthy of any princess.
The heavy Matha Patti design looks exquisite, and though it may just give you a headache, you're going to look great when you wear it. Make sure that your dupatta only covers your bun because it would be a crime to cover up this Matha Patti!
5. This jhumki set with emeralds and sapphires!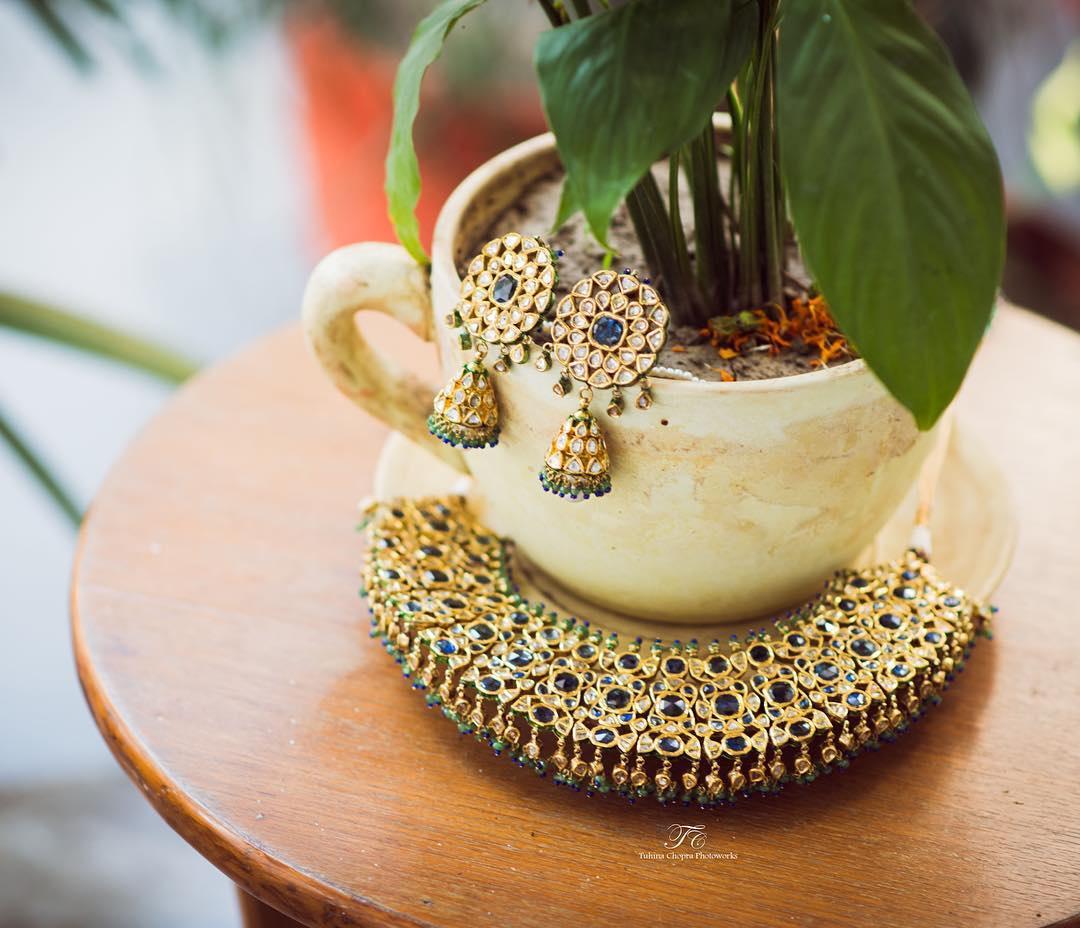 If you are planning to wear a beige lehenga (or a gold one) and want to bring a bit of colour into the look without taking away the subtleness of the ensemble, then these Kundan designs with emeralds and sapphires are perfect for you. The earrings have been fashioned into a pair of gold jhumka with a large circular base that has tiny Ghungroos dangling from it. The centre of the base has stunning blue sapphires on it, and this blue colour is repeated in the Ghungroos as well, along with a touch of green.
The choker style necklace, however, is the hero of this set. Large uncut diamonds alternating with glittering sapphires, this is a beauty! The necklace also has tiny Ghungroos that have touches of blue and green stones. Find Kangan designs that look similar and you'll have the perfect set in your bridal trousseau!
When you're out shopping for jewellery, make sure that you look for these designs because they will make you look so amazing! If you're going for a very regal vibe, nothing beats the look of Kundan. With their sparkling uncut diamonds, Meena work, and high-quality gold, these designs are the perfect ones for an Indian bride to wear. Include light and heavy variants of the same in your trousseau so that you can enjoy wearing them at different events!
Want more jewellery options? Get in touch with our jewellery vendor!