Creative Wedding Invitations Background Ideas for Your Big Day
If you are someone who is tired of the same old boring wedding invitations, this article on some creative wedding invitations background is for you. Read on.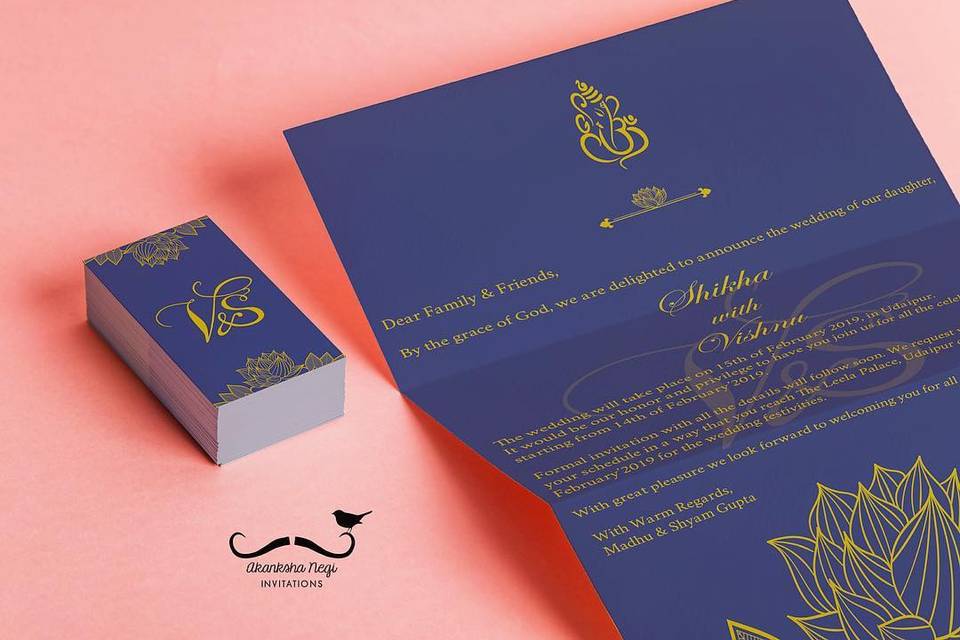 For your wedding, if you want to create the most spectacular setting that you have ever dreamt of, you should put in your efforts in even the smallest of details that you can think of to make the wedding a memorable affair. The first thing that lays down the foundation of wedding celebrations is the wedding invitation card.
A lot of people spend tons of money on their weddings but do not put in the efforts to send out beautiful invitation cards and instead end up sending the same old designs that fail to create an impression on the guests. However, if you don't want to make any compromises, you should send your guests invitation cards that set the right tone and prepare them with the theme of the wedding incorporated right from the word go.
We have created a list of 5 creative wedding invitation background that you can take inspiration from. You can seek help from professional designers in your region or take things in your hand and create designs through online designing tools or various designing software.
This light yellow wedding invitations background with floral design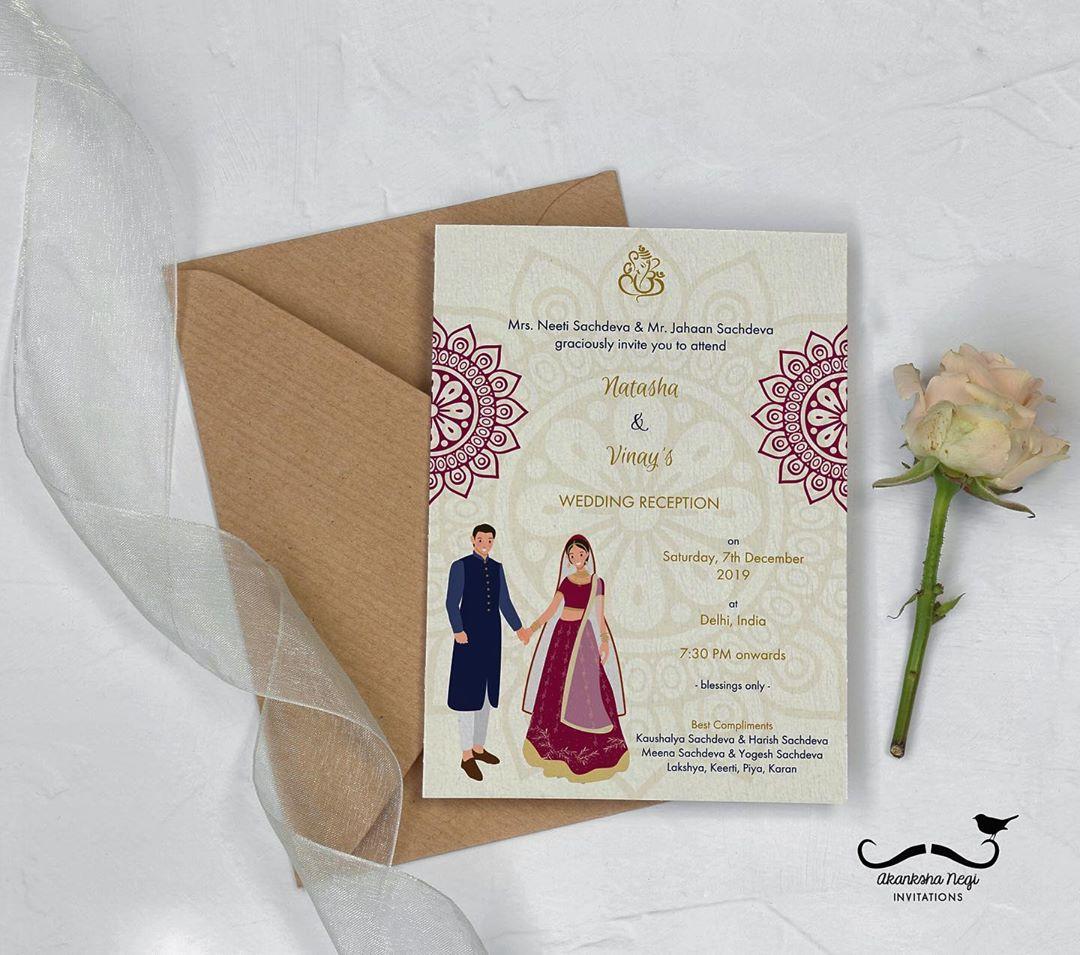 We start this list of wedding invitation background with this beautiful invitation card design that looks subtle and understated. The design in the above photograph is a perfect blend of tradition and modern designs.
You can go for such a design if you want to go for something that is creative and unique while still being a safe choice to go for so that it will be liked by all sorts of people. The additions like the adorable caricatures of the bride and groom and the fonts used greatly impact the overall aesthetic appeal of this wedding invitation background.
This blush pink wedding invitation background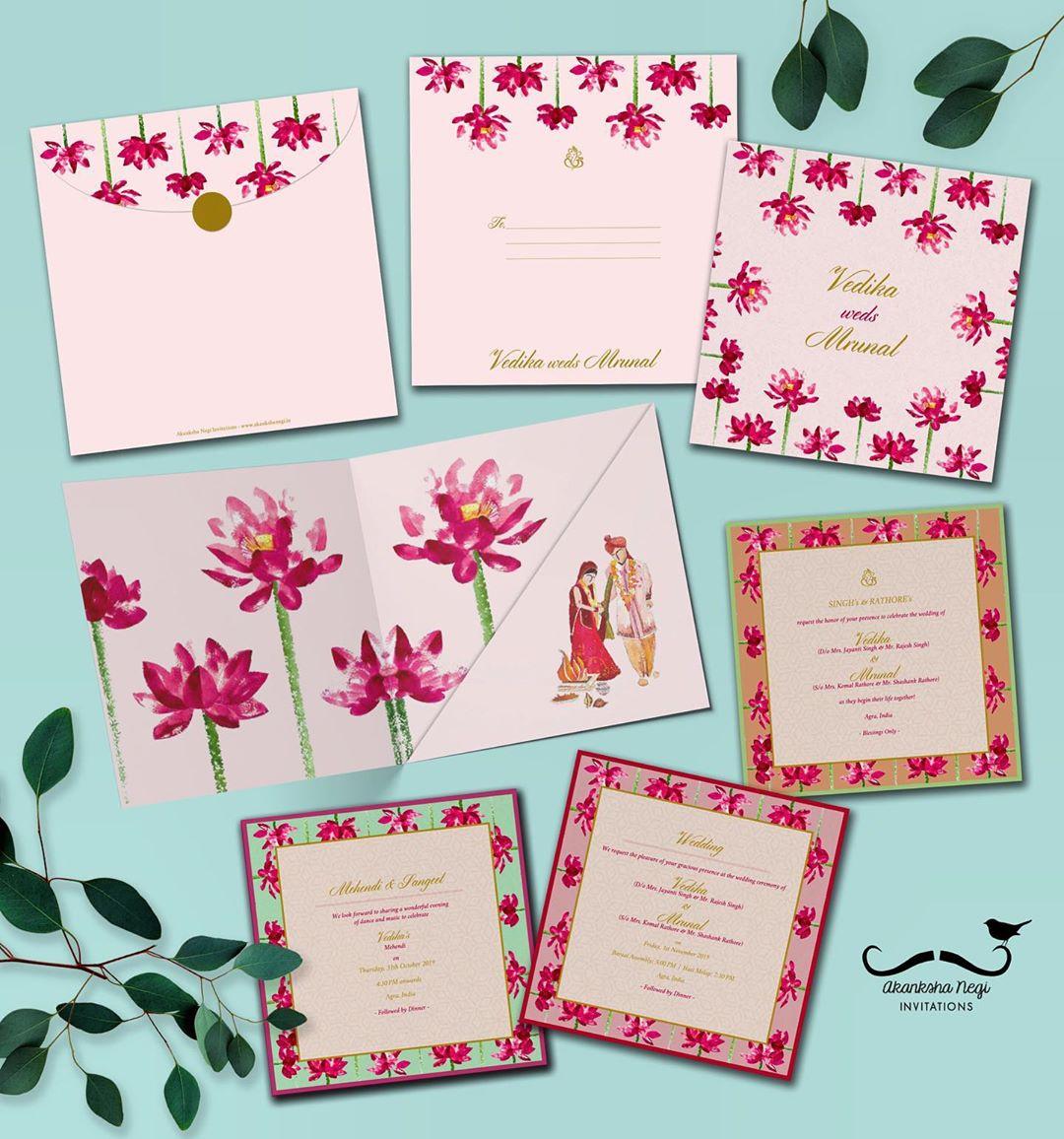 If pink is going to be the predominantly heavily used colour for your wedding décor and is symbolic of the theme of the wedding, this wedding invitation background can be a great source of inspiration for you.
This blush pink wedding invitation card looks so elegant and beautiful. The floral design throughout the pages and on the thick borders add a unique element of beauty to the design and separates it from the usual basic invitation card layouts.
If you want to embrace the beauty of the pink colour and floral designs, such invitation cards can be perfect for your wedding.
This turquoise blue wedding invitations background with geometric shapes and white flowers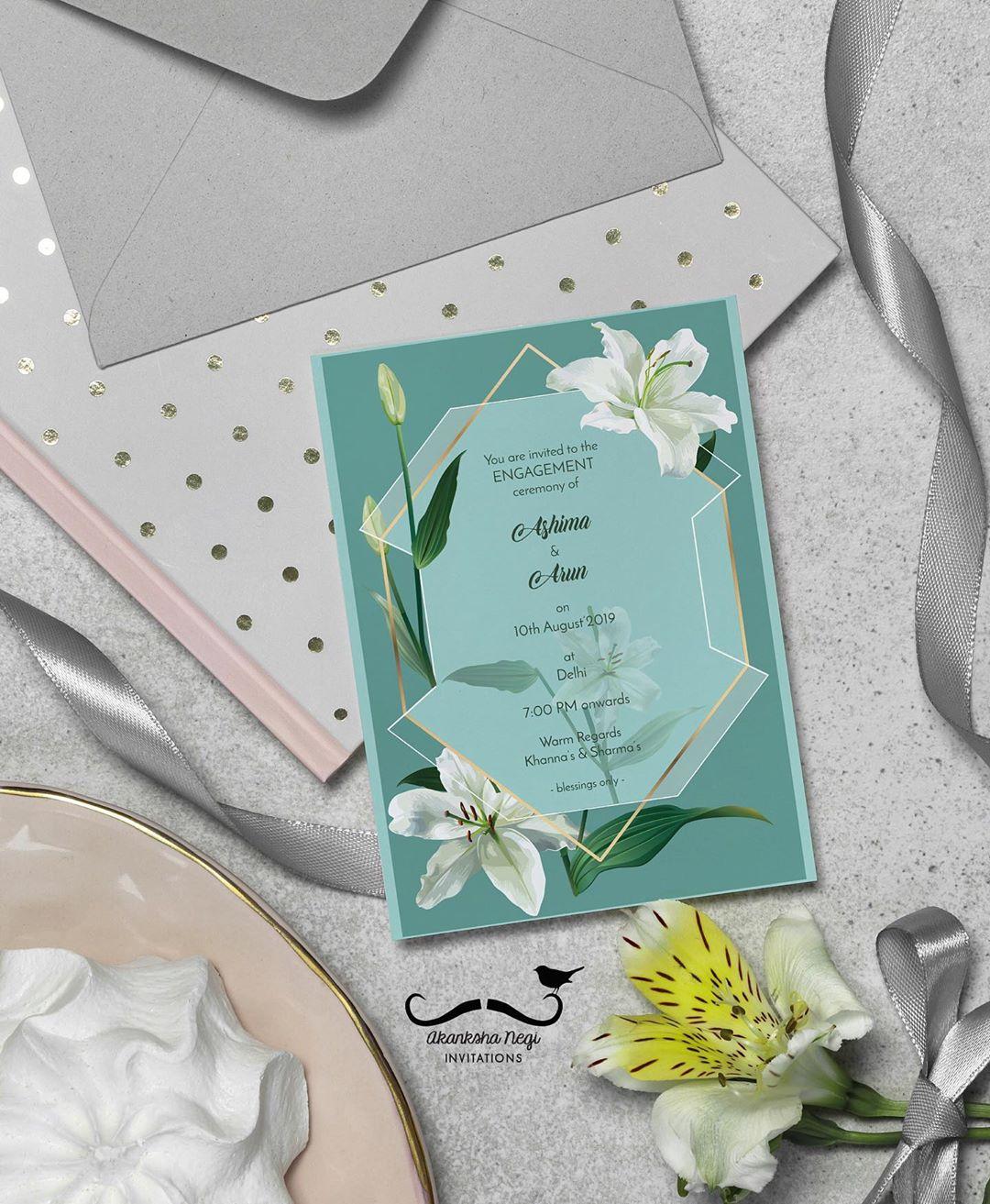 Next, on this list of creative wedding invitation background ideas, we have this one of a kind wedding invitation design in a stunning turquoise blue shade that looks like the perfect design for a coastal beach wedding.
The strikingly bright colour used makes a solid statement and transports the guests into a relaxed setting. Geometric patterns and the beautifully designed life-like white flowers add another layer of beauty and elevate the overall design of this wedding invite.
We strongly suggest such a wedding invitation background if you want to send an invite that has a lasting impression on your guests.
This subtle white and pink floral wedding invitation background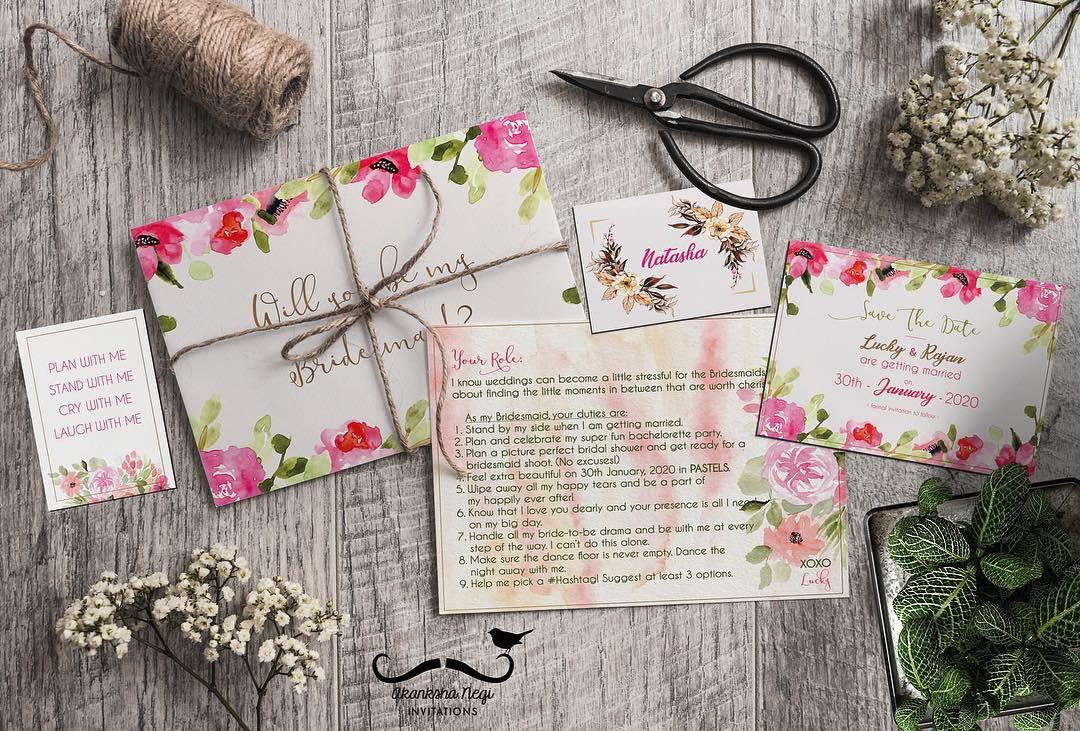 Here we have another bespoke wedding invitation background that you can take inspiration from for your wedding. The simple and clean white background is adorned with colourful floral designs that feel straight out of an oil painting, giving this wedding invitation a distinct artistic edge that is what makes this so special.
Also, the fonts used are very different from what we usually see on wedding invitations and take the beauty of the design to the next level.
These colourful wedding invitations background inspired by Mughal architecture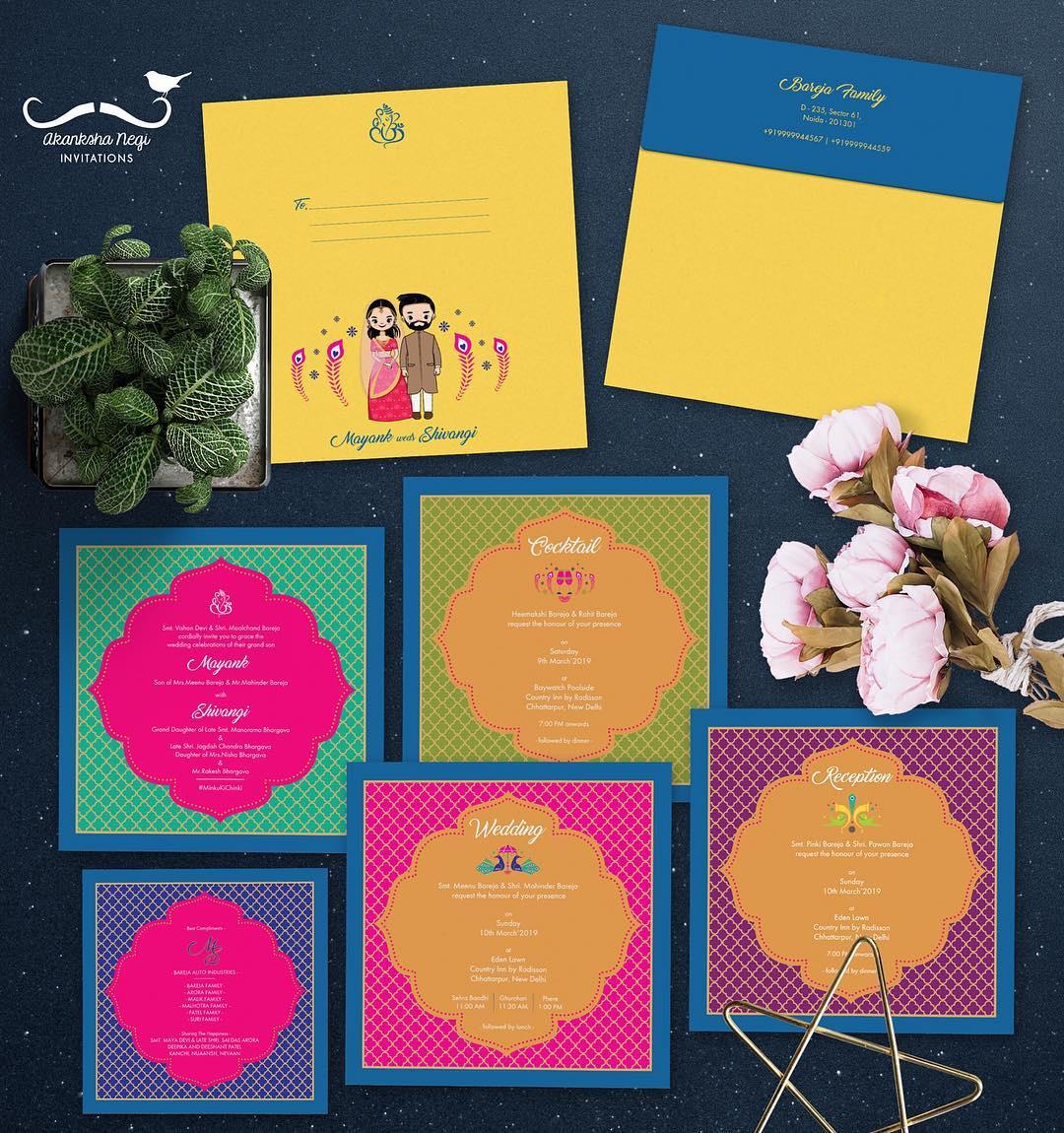 To conclude this list of creative wedding invitation background design ideas we have this extraordinarily creative wedding invitation card that uses traditional design elements from Indian culture and gives it a unique creative spin that makes the design look so spectacular.
The fine patterns are reminiscent of the design of the windows on monuments from the bygone Mughal era. The bright colours used to bring a vibrancy to the design that makes it look so quirky and unique.
If you are planning to have a big fat royal wedding in a palatial setting, we highly suggest such wedding invitation background.
We suggest you get your creative juices flowing and come up with the most creative wedding invitation background designs that set the right foundation for your wedding.
It doesn't take too much money or a lot of effort for coming up with some quirky invitation cards that are more personalised to your tastes. We hope you get plenty of design ideas and we hope that this article on wedding invitation background ideas helps you in planning your perfect wedding.
Get in touch with these vendors near you that design wedding invitations.