Bollywood is a great inspiration for our Indian weddings. Be it the themes that we follow, the wedding backdrops that we choose, the photo-shoot we get done or the clothes that we wear. We take cues from our films and their influence on our wedding makes it nothing but more fun and enjoyable.
When it comes to choosing a theme for wedding invitation e-cards, couples love thinking out of the box as the digital medium is one that allows them to. Every couple wants their invite to be different than others, while some love for it to be outlandish in the sense that it evokes a strong reaction from friends and family. Well, for the couples that love these quirks we have just the right thing in mind. If you're a Bollywood buff or wish for Bollywood-inspired creativity for your wedding, we know the perfect theme of wedding invitation e-cards that you will absolutely love. Have you guessed it already or do we need to elaborate? Yes, we are suggesting Bollywood movie posters as the theme of your wedding invitation e-cards. Isn't it a superb idea?
While most romantic Hindi film posters would look great when replicated on your wedding invitation e-cards, there are some that top our lists almost immediately. Let's look at some of these famous Hindi film posters.
1. Dilwale Dulhaniya Le Jayenge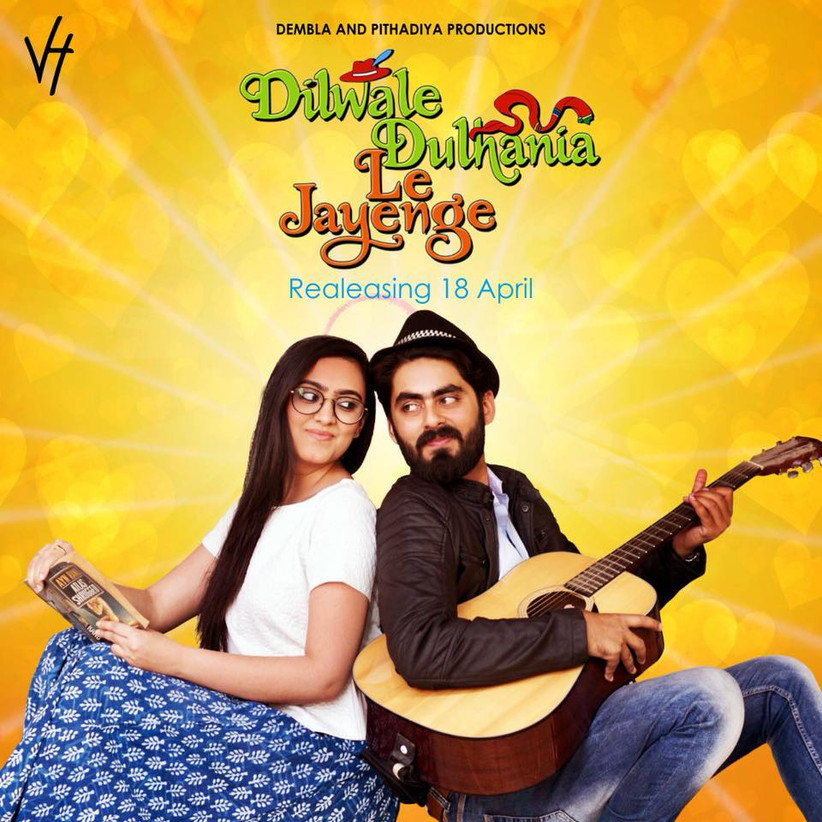 Image Courtesy: Girish Alawa Photography
Do you remember this movie? Well, we'd be shocked if you said no. Dilwale Dulhaniya Le Jayenge has been instrumental in shaping the idea of romance for most of us and it goes without saying that this is one movie that has been loved and appreciated universally. Being one of the most loved romantic Hindi films, this one surely makes for one hell of a poster for wedding invitation e-cards.
Therefore all the couples out there who are as romantic or believe that their journey has been as filmy as Raj and Simran's can without a doubt choose this as the theme for their wedding invitation e-cards.
Pro-tip: Recreate the 'Mehndi Saja Ke Rakhna' moment, as one of the Mehndi song performances to complete the circle.
2. Rab Ne Bana Di Jodi
We know you must be wondering that this isn't a love saga like Dilwale Dulhnaiya Le Jayenge, then why is it in this list. Well, this is instead a movie about an unconventional couple who eventually fall in love amidst a series of drama that takes place after their marriage. The poster of this Bollywood movie is a pose of its hook step that got really famous. It is a perfect pause moment for couples to crack.
While the dancer couples may find it easy enough, the others that are non-dancers may have the challenge to face. For the couples that want to make the decision going by the storyline, this Bollywood poster suits a couple that considers their journey as unconventional as Surinder's and Taani's or their relationship as hilarious as Raj's with his Taani partner.
Pro-tip: Get in the groove with either 'Chance Pe Dance' or the title track as your wedding couple dance performance. It will ensure that people connect the dots between the invite and the dance as well.
3. Jaane Tu Ya Jaane Na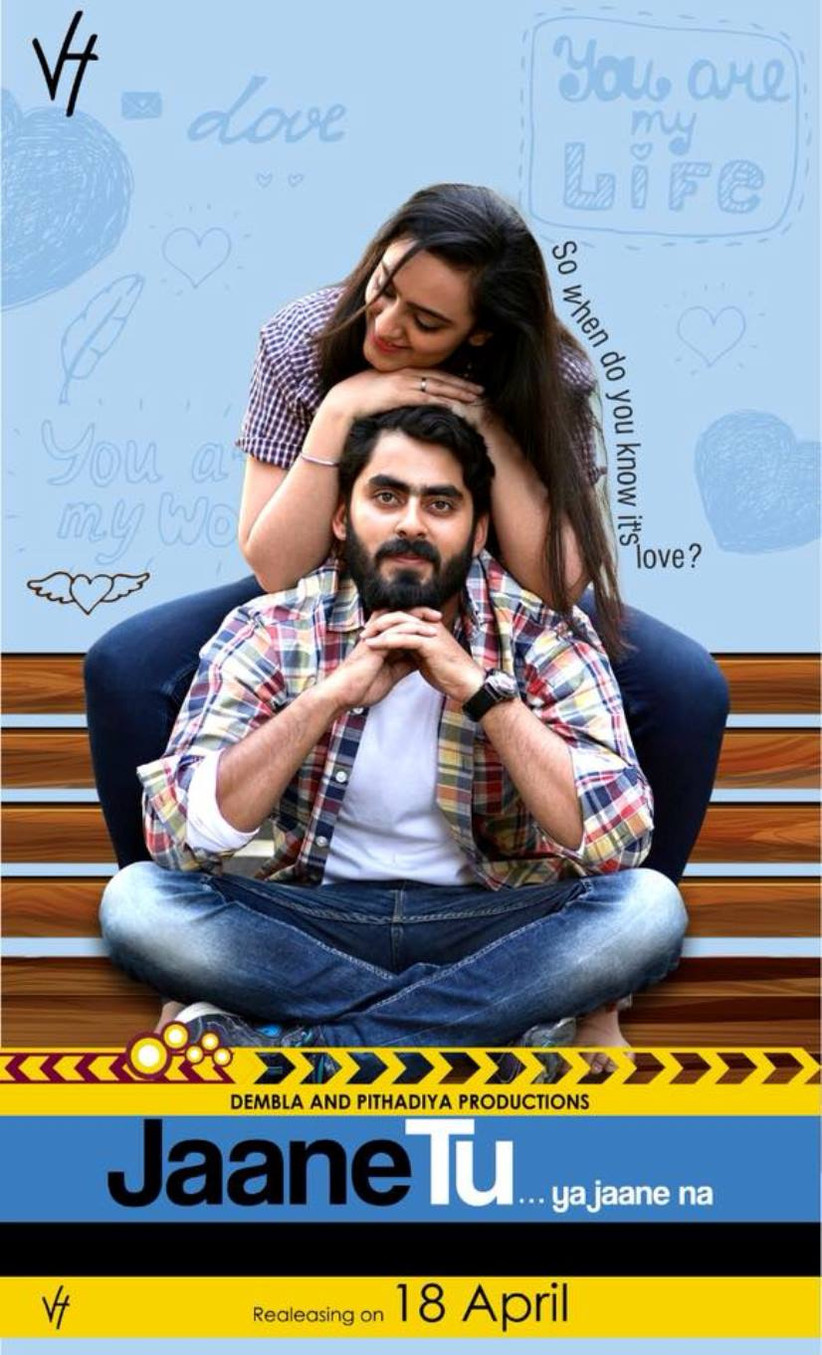 Image Courtesy: Girish Alawa Photography
Long-time best friends that eventually realise they've been in love all along is a story that we've seen a million times. What's different about Jaane Tu Ya Jaane Na is the kind of friendship that Aditi and Jai shared. Their story had more of a bromance than romance, as Aditi was more like a buddy than a bestie. Is your story somewhat similar to theirs?
Are you marrying your long-time buddy or your bro? If yes, then the super cute posters of this film are meant just for you. Even otherwise if you are a couple that wants their wedding invitation e-card's theme to have a casual friendly vibe and a chilling mood, then this Bollywood poster is perfect for you.
Pro tip: Add your friends into the pre-wedding shoot for a friendzone feel.
4. Ek Main Aur Ek Tu
Don't be surprised to see this movie in our top list of Bollywood posters as this one's a favourite purely on the basis of how cool its posters are. Also, let's not forget the title is very appropriate in itself suggesting it to be a great idea for a wedding invitation e-cards. The use of giant glasses or frames while shooting for wedding album has become a thing in the last few years. So why not do something different with it.
The Ek Main Aur Ek Tu poster is perfect for the couples that want to go for fun and chill wedding invitation e-cards instead of the over romantic, over the top choices that they do not relate with.
5. Tanu Weds Manu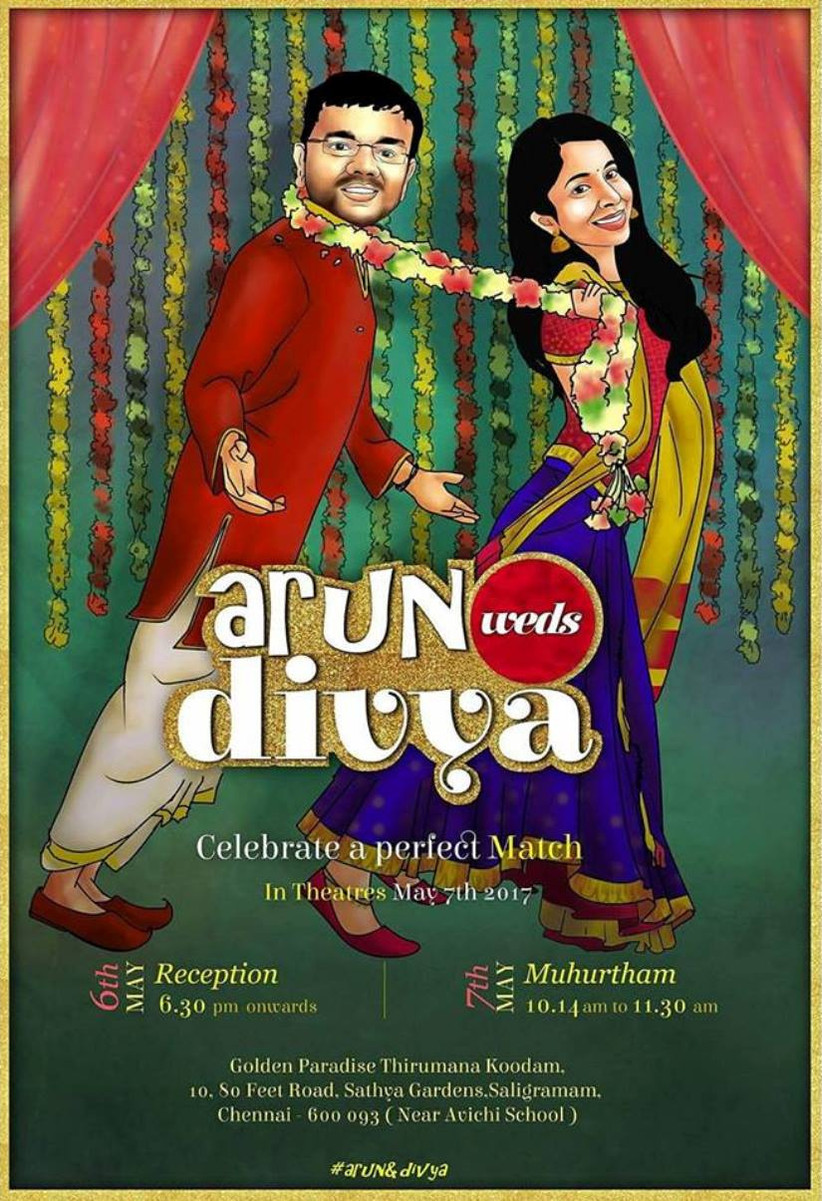 Image Courtesy: Culture Curry
Tanu Weds Manu is a hilarious depiction of the typical Seedha guy fallen madly in love with a Tedhi girl and the drama that follows. This is a story that many may relate to, but the reason why this Bollywood poster is perfect to replicate for your wedding invitation e-cards is not its story. It is the poster that resonates with people the most as it portrays the bride pulling the groom suggesting that it eventually it is the bride that is going to run the show and the groom will just have to follow.
The idea of this poster is not just candid, but also one that most grooms relate to. While brides wouldn't want to agree outright, but eventually won't mind the attention as it is their wedding invitation e-card and also in her head, she knows that the concept does hold true.
Pro-tip: Pay homage to the bride, possibly with songs like 'You Rock My World'.
6. Yeh Jawani Hai Deewani
Apart from this movie being a super hit romantic comedy of the current times; it is also one that has extremely vibrant and super fun posters. The vibe of the film is very holiday-like and party-like and so are the posters.
This one is for the couples that want to give out the party vibe from their wedding invitation e-cards while inviting friends and family to come to have a blast. As we all know it is the invitation that sets out the mood, and for couples going with this as their choice, you are already on the right track.
Pro-tip: Add notes of your fun tale together within the wedding card matter too.
7. 2 States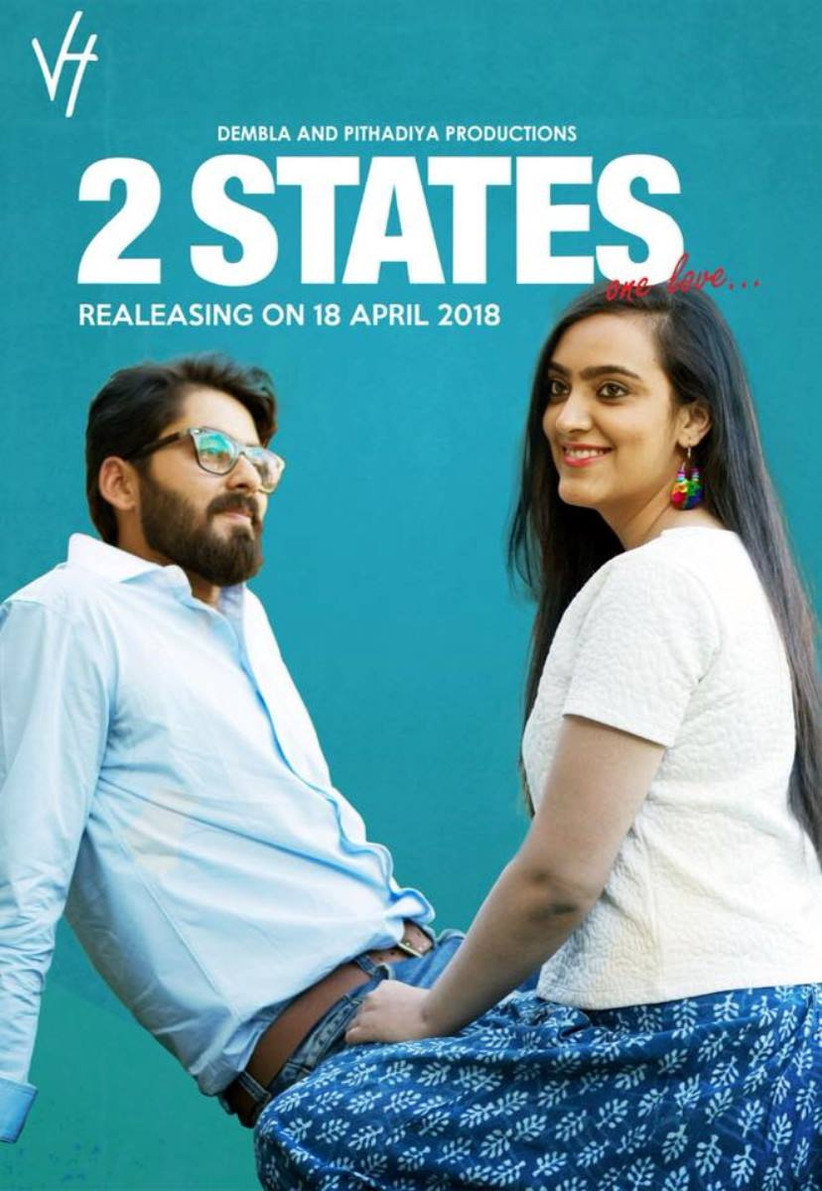 Image Courtesy: Girish Alawa Photography
This one's an all-time favourite of many, but what's so amazing about this movie is how it portrays the difference between castes as the villain for two people in love. When it comes to choosing this as a theme for wedding invitation e-cards, it is apt for a couple having an inter-caste marriage or those that belong to two different states.
However, another reason why this movie was a super hit was for its college romance shown between a geeky guy and a pretty girl. So if you're a couple that relates to this aspect of the movie, go ahead and choose this as the theme for your wedding invitation e-cards. We are sure your friends and family are going to love it.
Pro-tip: If yours is, indeed, a 'Two States' story, add notes of that as part of your wedding card wording.
While the list could go on and on, the best way to eventually narrow down on a Bollywood movie poster that you'd like to replicate for your wedding invitation e-cards is by figuring out what you want it to say. Whether you want your invite to take a dig at your love story, or suggest how you feel about finally making this decision, or just want it to be a fun idea that you think will translate well. Bollywood movie posters have way too many elements in it that make them as eye-catching as they are. So remember all you Bollywood buffs replicate each and every element that makes the poster unique and memorable to get your wedding invitation e-cards bang on right.
Are you and your partner Bollywood buffs too? Comment below and let us know if you like any of these ideas for your wedding invitation e-cards.