Celebrate Your Love Story With These Wedding Card Quotes & Draft That Perfect Wedding Invite
Wedding card quotes range from adorable to auspicious, inspired to inspiring. Each holds a special meaning and adds to the warmth and love enclosed within the invite. If you are still wondering what's the best quote, here's some inspiration for you.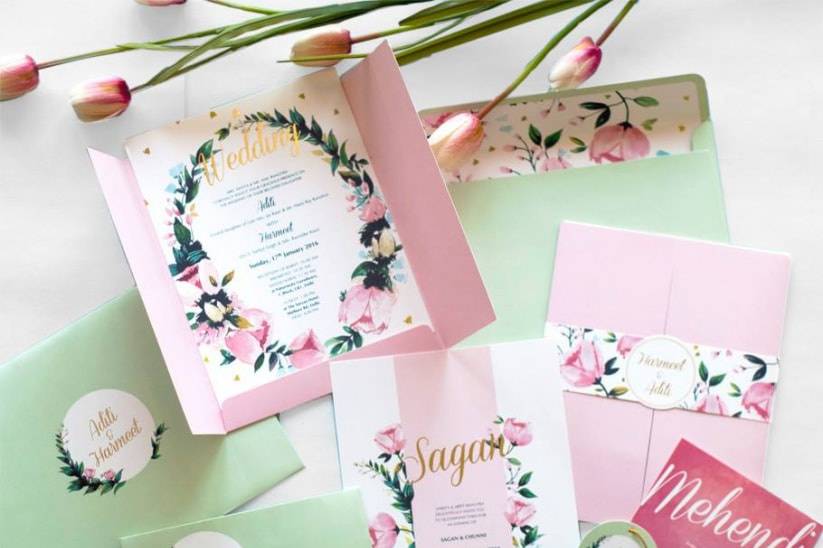 Looking for the perfect wedding card quotes that tell your love story? While the perfect design is one thing, it's the content within that really adds to the meaning of a wedding card. Wedding invitation quotes can range from auspicious couplets, love song lyrics, your favourite poetry or something sweet and original penned down by you. There are really no rules or restrictions here.
If you are planning a single leaflet wedding card, a short wedding quote is all you need but if you are planning on a multi-leaflet wedding card, you can get more creative and have a relevant and unique quote for each.
But, how do you find great wedding card quotes from the multitude of wedding card quotes that are out there? Well, there are inspirations galore that will help you nail your wedding card matter with bare minimum effort! Here are some broad categories of wedding card quotes you can jump into to find wedding card quotes that are just apt for you, your wedding card and the overall feels of your wedding festivities:
1. Wedding Card Quotes From Your Favourite Books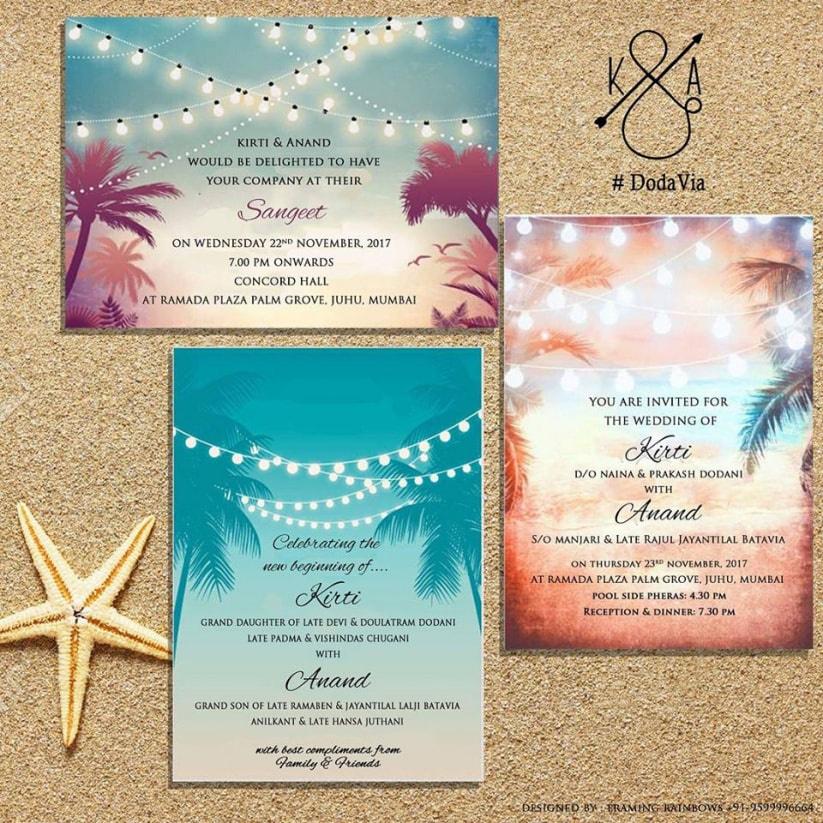 Some wedding card quotes can be picked up from your favourite books. If you and your partner share some favourite books and authors, it becomes easier for you to find great and meaningful wedding quotes. You can always bank on classics and popular books too to give you some interesting quotes that portray your love story. Some of my favourites quotes from different authors are:
"You don't love someone because they're perfect, you love them in spite of the fact that they're not." - Jodi Picoult's My Sister's Keeper
"Whatever our souls are made of, his and mine are the same." - Emily Bronte's Wuthering Heights
"You are my heart, my life, my one and only thought." - Arthur Conan Doyle's The White Company
"Grow old along with me! The best is yet to be." - Robert Browning's Rabbi Ben Ezra
"If you live to be a hundred, I want to live to be a hundred minus one day, so I never have to live without you." - A.A. Milne's Winnie The Pooh
"You are the finest, loveliest, tenderest, and most beautiful person I have ever known—and even that is an understatement." — F. Scott Fitzgerald
"We loved with a love that was more than perfect." — Edgar Allan Poe
"When I saw you I fell in love, and you smiled because you knew." — William Shakespeare
"I see you everywhere, in the stars, in the river; to me, you're everything that exists; the reality of everything." — Virginia Woolf
"And I'd choose you; in a hundred lifetimes, in a hundred worlds, in any version of reality, I'd find you and I'd choose you." — Kiersten White
"I have for the first time found what I can truly love—I have found you." — Charlotte Bronte
Remember tonight…for it is the beginning of always." — Dante Alighieri
"Love is the longing for the half of ourselves we have lost." — Milan Kundera
"It was one of those fine little love stories that can make you smile in your sleep at night." — Hunter S. Thompson
2. Movie Inspirations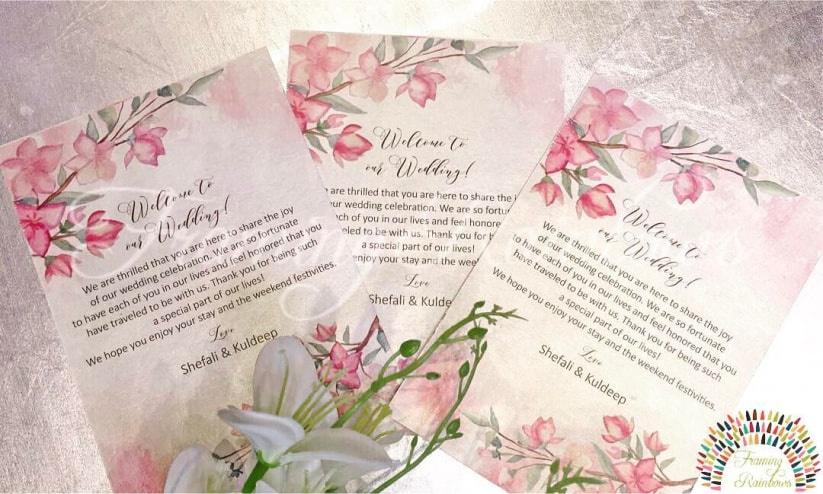 Just like some books, some movies touch our hearts too. Wedding card quotes from movies are mushy, romantic and absolutely perfect for those who like to wear their hearts on their sleeves. Be it a shared favourite flick, or a quote picked up from some classic romantic movie- it all works perfectly. Here are few wedding card quotes that are simple but so heart-warming, and you can surely draw inspiration from them:
"When I look at you, I can feel it. I look at you, and I'm home." - Finding Nemo
"The greatest thing you'll ever learn is just to love, and be loved in return." - Moulin Rouge
"Life is not the amount of breaths you take, it's the moments that take your breath away." - Hitch
"I vow to fiercely love you in all your forms, now and forever. I promise to never forget that this is a once in a lifetime love." - The Vow
"It's like in that moment the whole universe existed just to bring us together." - Serendipity
3. Biblical/Holy quotes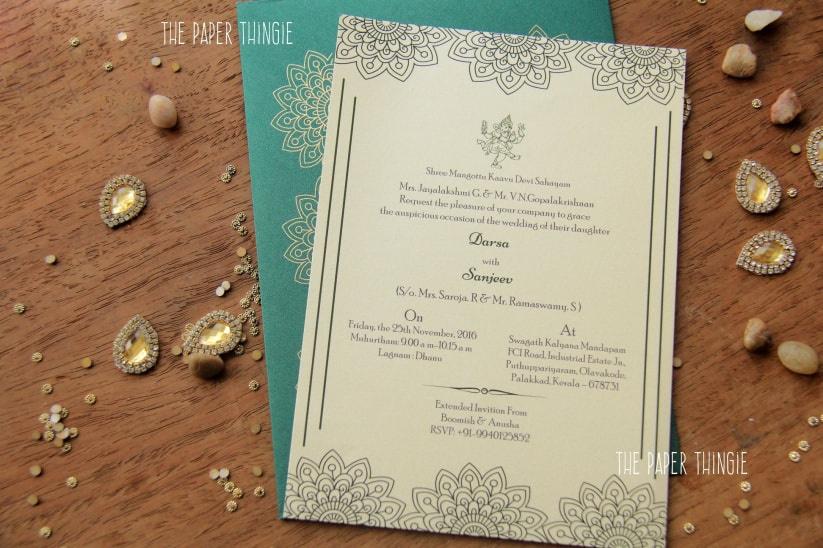 A marriage is incomplete without the blessings of elders and the Holy power. No matter what religion you follow or even if you don't follow any, Biblical and Holy wedding card quotes are a beautiful way to show how grateful and thankful you are to the love and joy coming your way. A wedding card is a formal invite and an auspicious quote blesses the invitation, inviting all things good from there on. Some of the beautiful biblical quotes that you can incorporate in your wedding card can be:
"I have found the one whom my soul loves." - Song of Solomon 3:44
"And over all these virtues put on love, which binds them all together in perfect unity." - Colossians 3:14
"Love is patient, love is kind. It does not envy, it does not boast, it is not proud. It does not dishonor others, it is not self-seeking, it is not easily angered, it keeps no record of wrongs." - 1 Corinthians 13:4-5
"Owe no one anything, except to love each other, for the one who loves another has fulfilled the law." - Romans 13:8
"Above all, love each other deeply, because love covers over a multitude of sins." - 1 Peter 4:8
4. Original quotes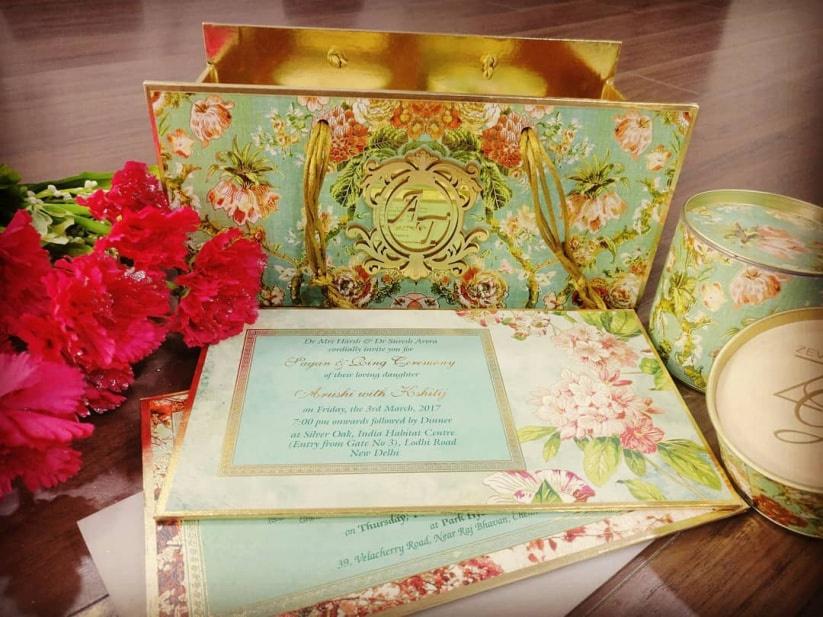 Coming up with an original quote may seem like a daunting task, much like writing your own wedding vows. The problem is not what to say but how to say it and especially when there is so much to express. Relax, take a deep breath and just let your emotions run wild. At first write everything that comes to mind, words that hold meaning, emotions that you are feeling and slowly start stringing these together. And remember, sometimes 'I love you' is the most original quote. Original wedding card quotes are by far the most special ones and the ones that you will echo through your marriage for a lifetime. Even an expression of your love without any fancy words would be the most heartfelt words you can ever use.
5. Funny quotes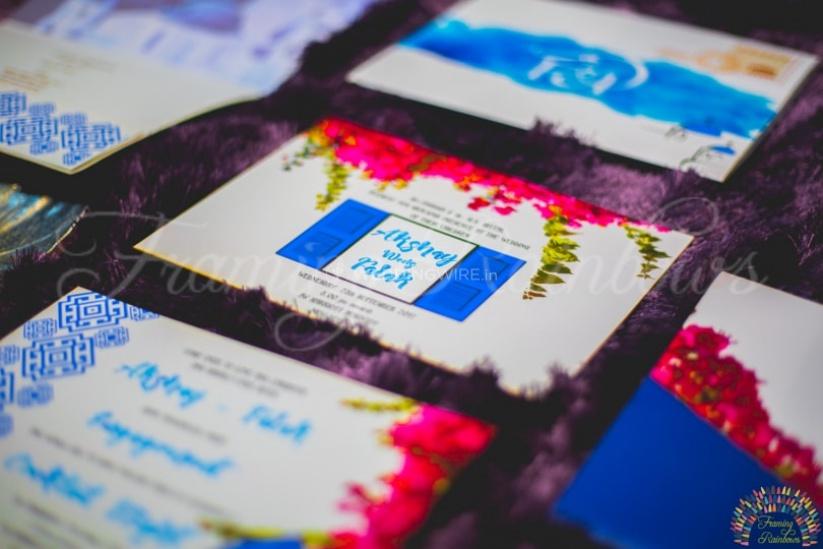 'Come for the Drinks; Stay for the Vows'. A funny wedding quote like that is sure to get your wedding party in splits and excited for the D-Day. Funny quotes are great for invites for close friends and family; especially for Save-the-Date or Whatsapp Wedding invites. Light, funny and cute wedding card quotes are easy to find or can even be original. Spread tickles along with happiness by using some of the quotes like:
"To keep your marriage brimming, with love in the wedding cup, whenever you're wrong, admit it; whenever you're right, shut up." - Ogden Nash
"It's so great to find that one special person you want to annoy for the rest of your life." – Rita Rudner
"By all means marry. If you get a good wife you'll become happy. If you get a bad one you'll become a philosopher." – Socrates
"Being in a long marriage is a little bit like that nice cup of coffee every morning – I might have it every day, but I still enjoy it." – Stephen Gaines
"The longest sentence you can form with two words is: I Do." – H. L. Mencken
Here are some points to remember when choosing your wedding card quotes: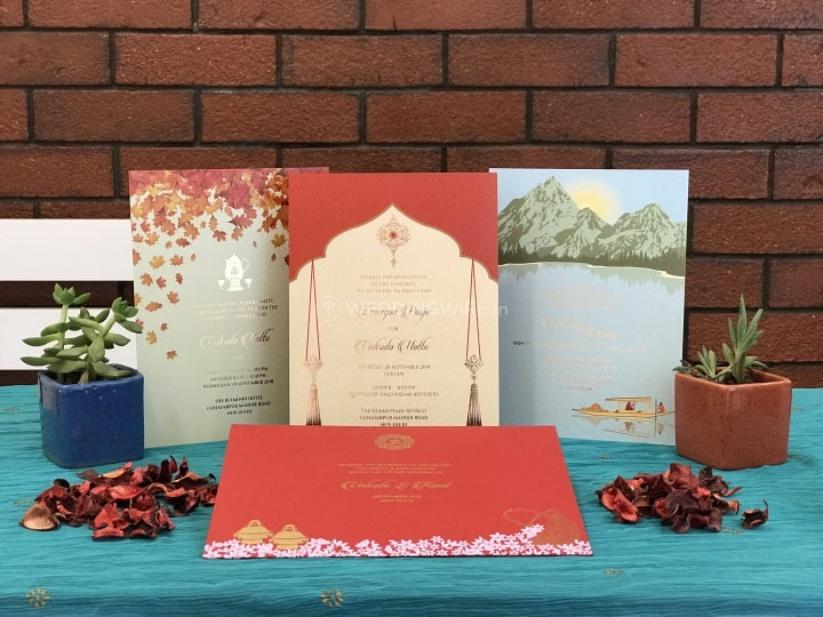 The design of the card must compliment the wedding card quotes
The number of card leaflets determines how many quotes you need
Keep funny wedding card quotes for close friends and family
Think of the favourites you and your partner share- books, movies, characters, poetry etc.
Use easy to read fonts for the quotes
Make sure the wedding card quotes don't cramp up the space for the other necessary information on the card.
Wedding card quotes are hard to pick, but a little deep diving into your own love story will inspire you to find or write the perfect one. These words may resonate with your love and in the beautiful memories which you would forge to be cherished for years to come.
So what kind of wedding card quotes will you be including? Will, you go the traditional auspicious way or get creative with original wedding invitation card quotes? Or will you make your wedding guests laugh with funny wedding card quotes?