3 Expert Wedding Card Format Hacks for Your Son/Daughter's Big Day That You Can Use to Make It Big for Them
Easy, peasy and pretty - that's what you get with these wedding card format ideas for your son or daughter. We guarantee that these beautiful ideas are built with relevance to the changing times as well as traditional aesthetics.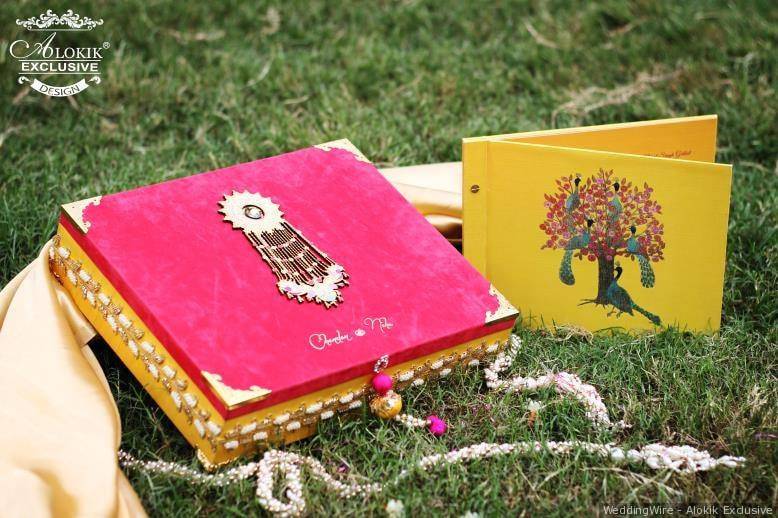 Your child's wedding day is one of the most important days of your life. There is nothing about the event that they would want to compromise. Framing a wedding card is the first step towards the wedding ceremony and so, requires proper care and a selective eye. The wedding card represents you and the kind of wedding party you will throw for your child. Keeping all of these points in mind, we have prepared a list of wedding card format ideas for your daughter or son.
These will be crisp and particular while delivering volumes about how you feel about a celebration of this magnitude and importance in the family. If the invitations are specially personalised separately for the groom and bride and you are the father of the bride, then the pride along with heartbrokenness for having to let go off your princess so she can start a new journey all by herself for her loving happily ever after is put together in these formats and are very hearty. In the case of being the father of the groom, you can express your happiness and gratitude for getting the opportunity to make someone a part of your family through your beloved son.
These wedding card formats will portray your emotions rightly. Scroll and find an inspiration that speaks to you.
Basic Wedding Card Format Details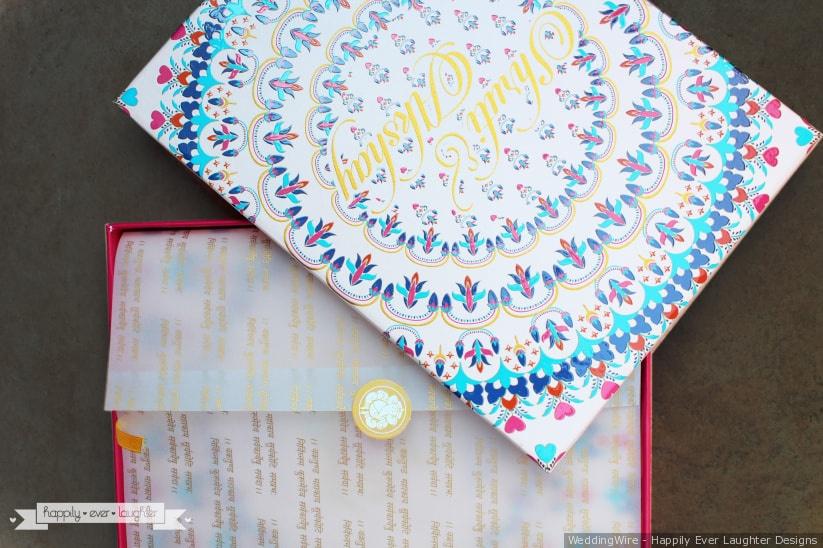 Regardless of whose wedding card you're preparing, certain basic details will remain constant. These make up the wedding card format you should ideally include across the board:
Opening lines (optional): This line mostly invokes God's blessings and grace to be showered on the big day and your gratefulness
Name of the hosts (parents): It will be parents always being the elders of the families
Call for Invitation: Asking for the presence of the guests to bless the ceremonies and add to the honour
Venue Details: The location is a must, you might want to omit the landmark for aesthetic reasons but the rest is a must
Details about the parties that will follow the wedding ceremony: This is sometimes mentioned separately to your near and dear ones who will attend a party afterwards that might not be meant for your acquaintances
A sweet wedding quote or saying that your daughter/son always loved: This is optional and only goes well with informal invitations
A personal ode to your daughter/son who is tying the knot in order to make it more personalised: This should give it a classic concluding line
1. Call for Invitation ideas and examples: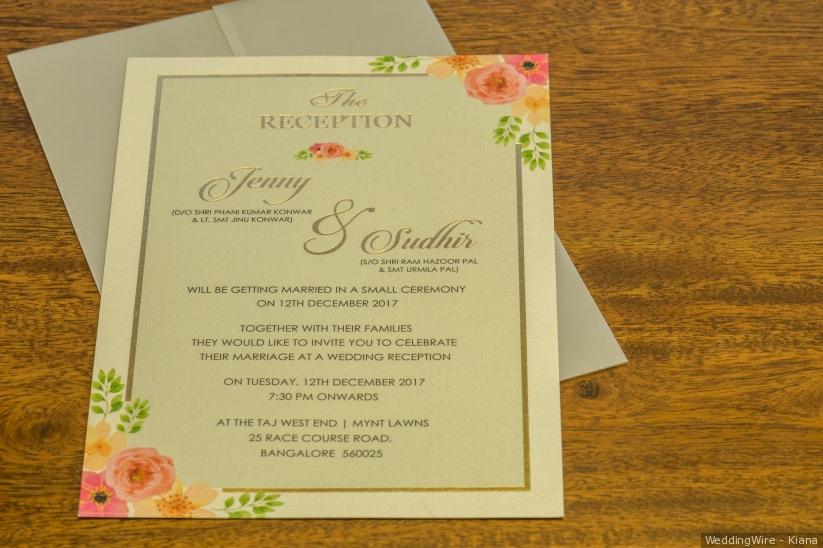 Request someone's presence or inviting them is an important part of the wedding card as it marks the request of the honour of the presence of your guests. Your wedding card wording should keep this call humble and appealing. The words should carry a sense of maturity and guardianship.
Here are some examples:
"Request you to grace the auspicious occasion"
"Request the honour of your presence"
"Please join us to celebrate the union.."
2. Opening lines: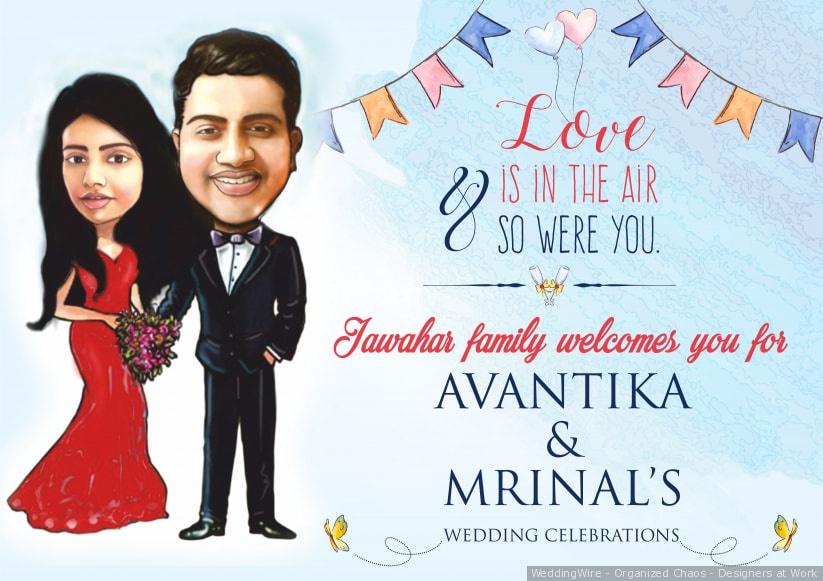 The opening lines set the tone of the card. Although it is optional to mention these lines and you can directly start off with the names of the hosts, but it is more impactful and aesthetically appealing if you add these. Listed below are different kinds of opening lines you can add to your wedding card format.
A. Religious quotes
These are one of the most used wordings for a wedding card. Starting off with religious wordings mark an auspicious beginning of the event
Examples:
Hindu Wedding- Mangalam Bhagwan Vishnu, Mangalam Garuda Dhwaja,
Mangalam Pundarikaksha Mangalaya Tano Hari
Muslim Wedding - " In the name of Allah, the most Gracious, the ever merciful"
Christian Wedding: "Oh, give thanks to the Lord, for He is good; for his steadfast love endures forever"
B. Inspirational quotes on love & marriage
This is a step away from the conventional wedding format. Adding quotes of this sort celebrates the love and joyousness of the wedding between the couple and associated families.
Examples:
'Love is composed of a single soul inhabiting two bodies'
'Two souls with but a single thought, two hearts that beat as one'
'Once in a while, right in the middle of an ordinary life, love gives us a fairy tale'
C. Quotes on daughter or son
Portraying the love for your child through beautiful quotes is one of the sweetest and beautiful things to do with the wedding card.
Examples:
For daughter: "I know a girl, she puts the colour inside of my world"
For son: " I have a son, who is my heart. A wonderful young man, daring and loving and strong and kind"
3. Changing trends, with changing times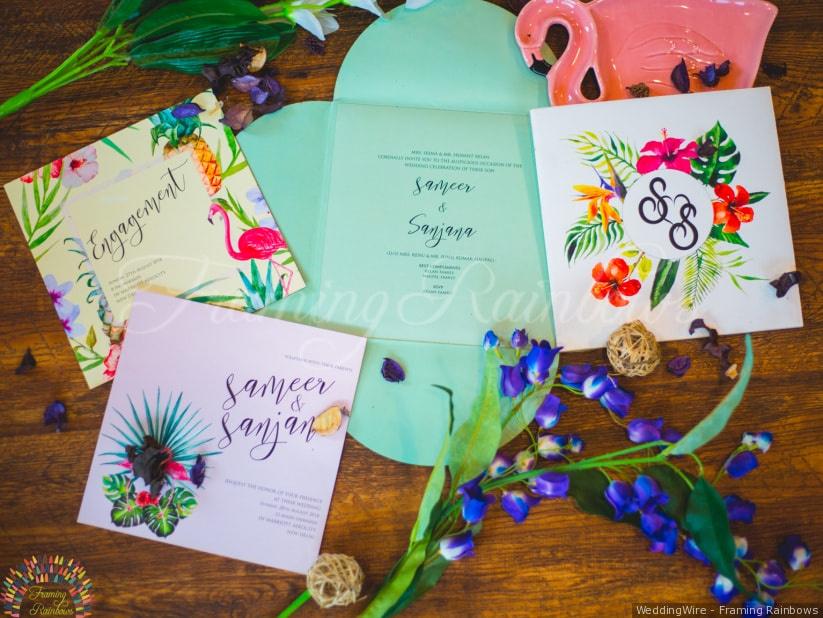 With changing times, you need to break away from the conventions and spice up your wedding card format. Some of the possible changes and additions can be:
Add a picture of your son/daughter from their childhood to show the long way you have come together.
Add a photograph of the couple with a 'save the date' picture ( if any )
Add keepsakes like small pendants or silver coins for close family members and general things like dry fruit Potli or sweets for the distant ones.
Some Extra Additions to Nail Your Wedding Invitation by Following the Basic Wedding Card Format
1. It is important to keep in mind that your invite is not missing any important details. Name, details, venue, landmarks, RSVP are some of the main things every invite must have in order for your guests to know of all the whereabouts of your function
2. You can also come up with a group (a digital one ) if at all there are any last minute changes you would like to notify your wedding guests about
These are some of the ideas to spice up your basic wedding card format. Try these out and help to build the perfect D-Day for your children. We hope you are satisfied with the details that we divvied up for you.
Give us your ideas in the comments section below.