WeddingWire India Presents the #VoiceofVendors Series
WeddingWire India presents #VoiceofVendors, a series of insightful conversations with wedding experts on the positive impact of Offline-to-Online on wedding business models.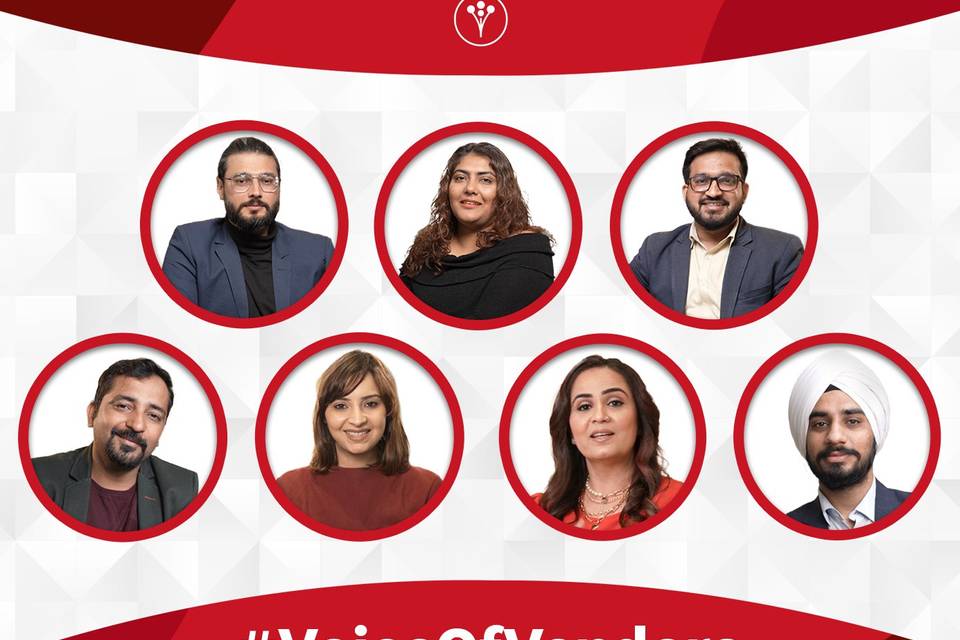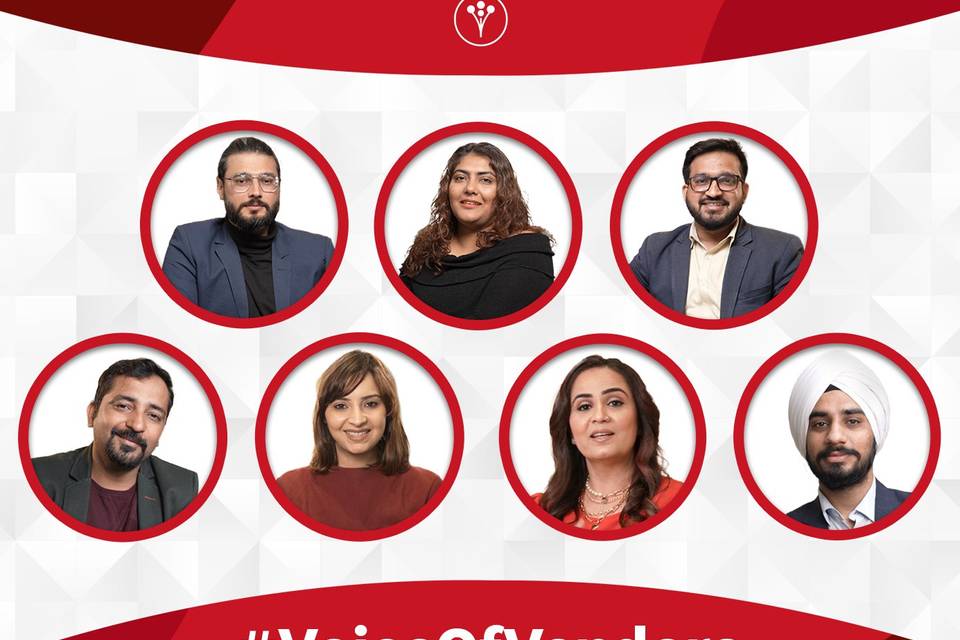 There has been a lot of talk about 2020 being the year when 'Digital' became the new normal. The world of Digital has opened new revenue doors for entrepreneurs. Pivoting businesses with efficient digital channels for better communication with prospective clients has become a need of the hour. However, for many entrepreneurs, the journey of growing their business with digital support began more than 4 years ago with the assistance of WeddingWire India's website and app.
Inspired by their strategic pivot and empire building stories, WeddingWire India introduces a series of candid videos - #VoiceofVendors. Join our conversations with successful leaders in the wedding business as we take you through the most significant evolutions in the wedding industry, the importance of 'digital exposure', the impact of Social Media in growing your business and how WeddingWire India helps spread awareness about your business amidst couples who are planning weddings all over India.
Founders of Parinaya Sutra & Haider Ali from Tivoli Royal Court
In conversations with Dheera Lekhi & Khurram Khan, Founders of Parinaya Sutra - The Wedding Planners, and Haider Ali, General Manager at the Tivoli Royal Court, Okhla we gain insights on the recent shift seen in the Wedding Planning process from 'Offline to Online'.
A wedding planning company based out of Delhi, Parinaya Sutra offers the end to end of wedding planning to couples right from budget planning for the wedding events, venue and guest management during the events, catering services at the wedding parties, wedding venue decoration to coordinating with photographers, makeup artists and performing artists at the wedding. Their presence on WeddingWire India app and website gives them visibility amidst young couples who have just started their wedding planning journey, but don't have enough time to plan the intricate details of the wedding. "Digital space allows us to do an entire show around virtually. We were looking at different kinds of ways to expand our business. During our research, WeddingWire India stuck out because of the kind of business plans and review they had. We have been on the platform for almost 4 years and it lessens the overall time we were spending earlier on queries. The website helps us with Direct Business generation. They have also provided us client details in a very streamlined format," the founders share.
A 4 star property at Okhla, New Delhi, Tivoli Royal Court is another exemplary luxury indoor wedding venue by the Tivoli Group. Ali talks about the role of WeddingWire India and the online space in driving business. He says, "Before this phase, people had to visit individual properties. Nowadays, there are virtual tours available of wedding venues. It's easy to categorise venues as per your budget and location preferences. We have been on WeddingWire India's app for 3 years and the brand has made it very easy for us to reach our customers and vice versa. I came to know about our competitors as well through the portal and be aware of the services they offer. This is the best way to increase your leads."
Makeup Artist, Supriti Batra & Kunwar Pal Singh Khanna from Dilli Events Wale
Insightful discussions with acclaimed bridal makeup artist Supriti Batra and Kunwar Pal Singh Khanna, Wedding Team Head at Dilli Events Wale, unraveled the role of online platforms for weddings like WeddingWire India in providing national as well as international exposure to wedding vendors.
Supriti Batra is an award winning makeup artist based in Gurgaon. Drawing our attention to the positives of showcasing her work on an online platform, she shares, "The bride's are all so well aware because they are searching on all these online platforms. There have also been brides from Canada, Australia, Singapore who have been looking for good bridal makeup artists and they have booked me online without even meeting me. This exposure is a great advantage for vendors like us. I joined the WWI platform somewhere around August 2018. I received really good quality leads from the platform and the brides' were really happy to find me from WWI website and app because they had a certain look in mind and all of my work is showcased on the WWI website/app."
Dilli Events Waale is an event management company based out of New Delhi that specialises in wedding decor, guest management, logistics planning, wedding entertainment and other wedding vendor management. Khanna highlights the key takeaways from their association with WeddingWire India and how the platform has helped them mark a niche in the industry. "I have been associated with WeddingWire India since 2017. Thanks to the WWI team, we are working with almost all 5 star properties in Delhi like Taj group, Marriott group etc. This platform gives us exposure to couples who are planning their wedding from all around the country and abroad as well. Since it's all about virtual recee now, this platform is a good place to be! Initially, we had to go to the client's house or arrange face to face meetings with print outs of our work/portfolio. We are very easily approachable online now," he shares.
Rajvir Saini from The Glam Wedding & Bridal Makeup Artist, Deepika Khanna
Exclusive interactions with Rajvir Saini, Director of The Glam Wedding and Bridal makeup artist & Founder of BlinkD by Deepika, Deepika Ahuja, help us unravel the key advantages that wedding businesses have been enjoying because of their association with wedding technology platforms like WeddingWire India.
The Glam Wedding is a wedding photography company based in Gurgaon, Haryana. Rajvir Saini is the Director & Photographer of The Glam Wedding. Backed with the experience of covering weddings since 7 years, The Glam Wedding has done noteworthy wedding coverages like the wedding of TV celebrities Deepika Kakkar and Kamya Punjabi. Speaking on the role of wedding technology platforms, Saini shares, "It's been 4 years since we have been associated with WeddingWire India. The team helped us build our portfolio on the website. Digital has eventually become the new future and it will grow more and more in time. We cover almost 10-15 weddings in Hyderabad in every season. We don't really do a lot of face to face meetings, all the information required like the location of the wedding, theme of the wedding etc is shared with us online. This online shift helps us to acquire leads and wedding coverage possibilities across India. I am shooting in Goa, Mumbai, Hyderabad although my business is based out of Delhi NCR. Couples are not limited to choosing local wedding vendors anymore. Being present on Social media and wedding technology platforms' like WeddingWire India can really help wedding vendors to grow their business."
Deepika Ahuja is a well known Bridal makeup artist based out of Delhi NCR and the Founder of BlinkD by Deepika Ahuja. She stepped into the wedding makeup industry from makeup services for advertisements and commercials 3 years ago with the assistance of WeddingWire India. She shares, "I started my journey as a bridal makeup artist with WeddingWire India. It has been an amazing experience. Our portfolio is updated online on the WeddingWire India website/app and the budget and date availability is also updated online. Brides have become experimental about their looks and they definitely want to go through the reviews of a makeup artist before they choose a service for the wedding. This has been really helpful to grow my business."
Wedding businesses continue to grow and spread their wings beyond geographical limitations with the WeddingWire India. Inspite of the ongoing pandemic, online visibility has helped wedding businesses reach many couples who were planning their wedding from the comfort of their couch with the WWI app. If you have a wedding business and wish to grow with us, send us your query at info@weddingwire.in