Never Seen Before Photos From Kamya Punjabi's Wedding
With pomp and show, and several celebrations of relationships and Instagram worthy moments, Kamya Punjabi's wedding with Shalabh Dang was one for the true blood punjabi books.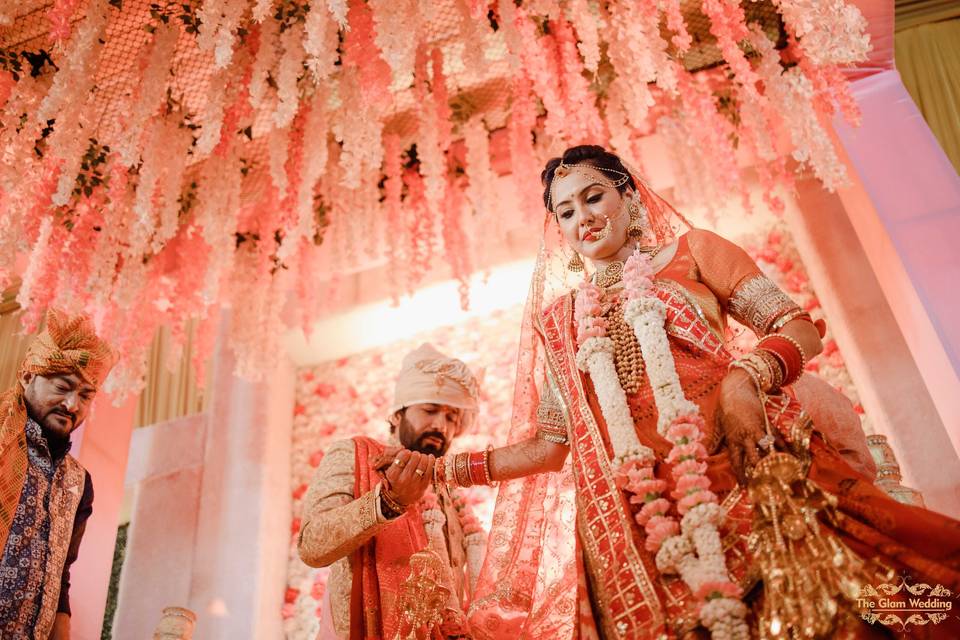 Recently married couple, Famous TV Actress Kamya Punjabi and healthcare professional Shalabh Dang's journey together is the kind of story they write books about. As documented in interviews earlier, the actor met Shalabh when she visited him to seek some professional therapy. Little did she know that she was knocking on love's door. The duo set perfect standards of true love stories and demonstrated that love knows no barriers. Scroll ahead to read all about their intimate wedding celebrations.
The Wedding Card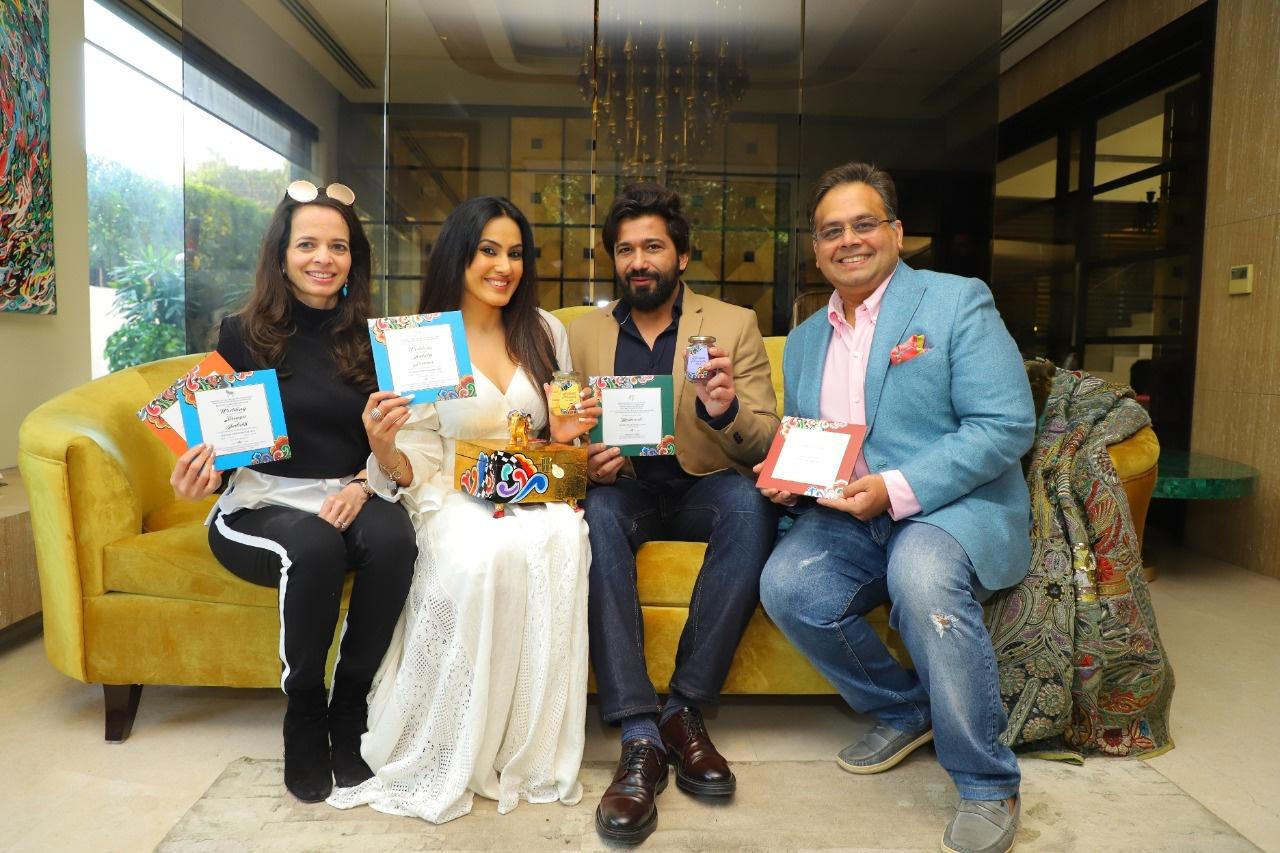 Photo Courtesy - Izhaar Core Designs
The actor's Instagram page depicts her eagerness to never skimp out of celebrating moments of love and milestones in their relationship. One such milestone was the designing of their wedding cards. Speaking of the inspiration for their wedding card design, Ruchita Bansal, Creative Director and Founder, Izhaar, says "As we all know, Kamya is a well known television star and she is famous as an exotic Indian beauty who is a powerhouse performer. Every detail of the card is curated specifically. We chose to customise the card from our 'Funky Feet' collection for her wedding. Kamya was very specific about what she wanted and what her wedding card should look like. She is deeply connected to her Indian roots and specially asked for the element of 'Desi' to be associated with her card. Drawing inspiration from her personality, we created something which represents and celebrates Indian designs. If you take a close look, the card's design is a true reflection of her persona. It is vibrant, exotic and high on the glamour quotient. The intrinsic detailing of the card is what makes it special. Every element of the design is chosen very carefully taking her personal style into consideration. The majestic elephant adorning the lid of the box adds the definition of luxury. The little shoes as legs of the box depicts how she is associated with the glamour world, while an elephant wearing an earring showcases the pomp of the celebration. The gold embossed, hand painted motifs represent her Desi vibes. If you look closely this card is what Kamya Punjabi is all about. – Glamour & Entertainment."
A Light-hearted Mehndi Ceremony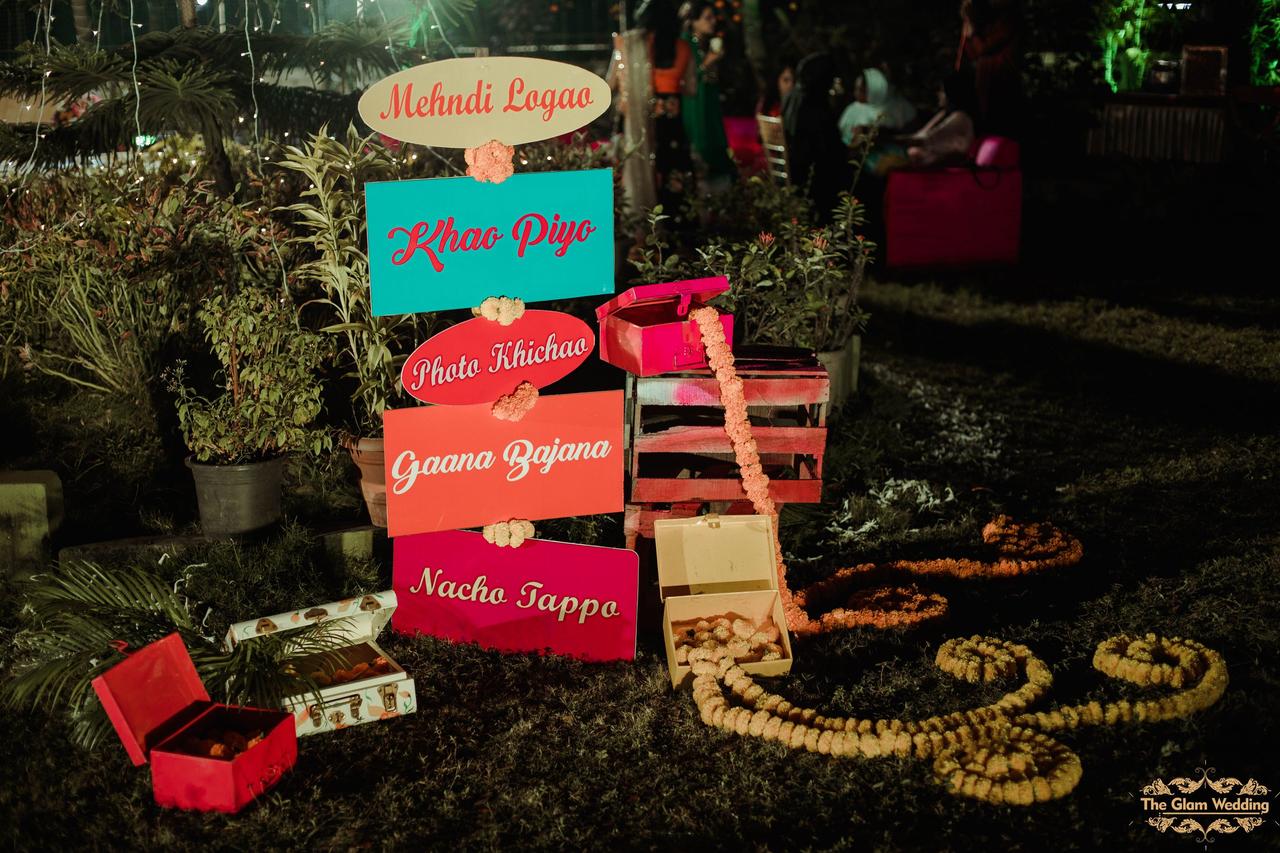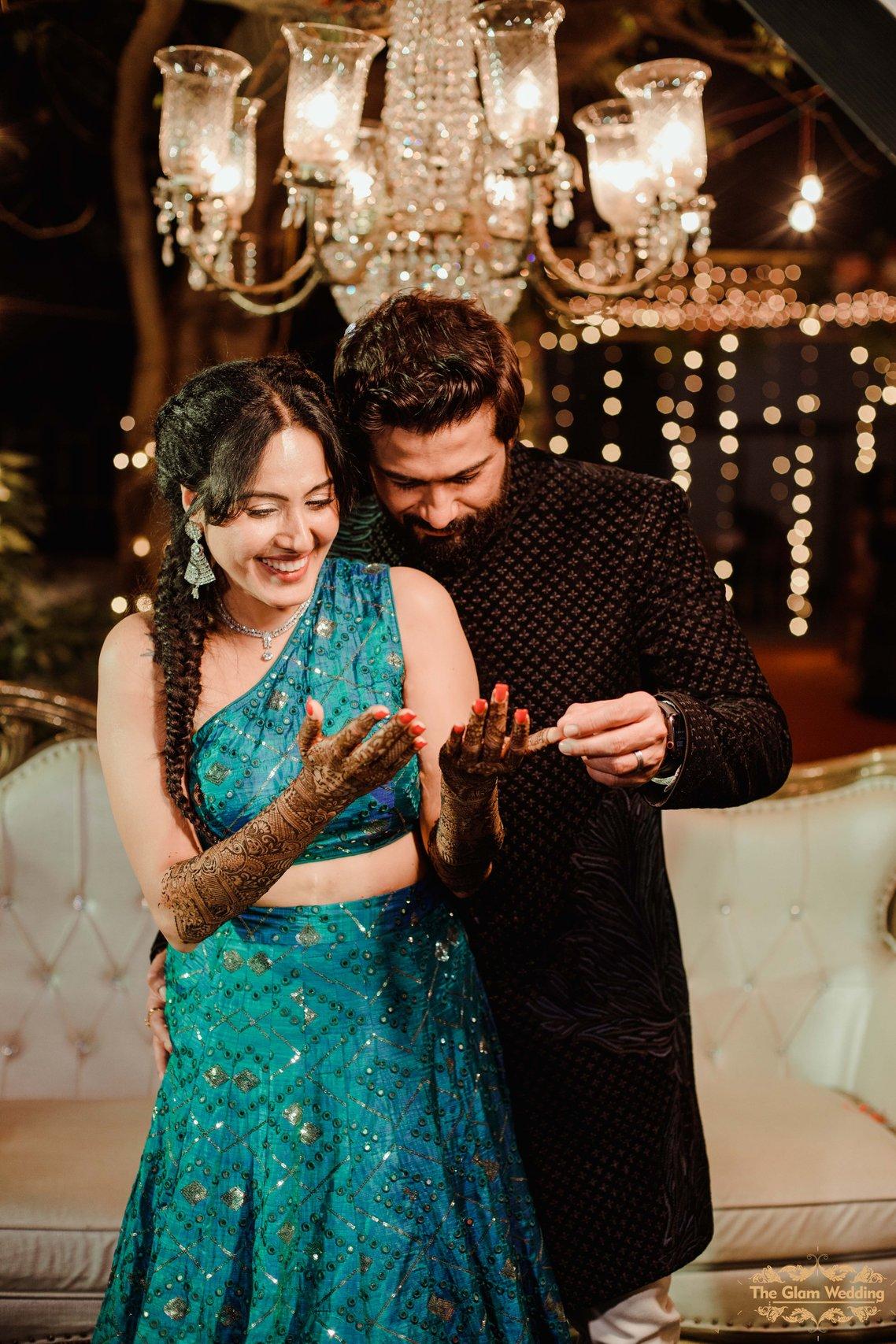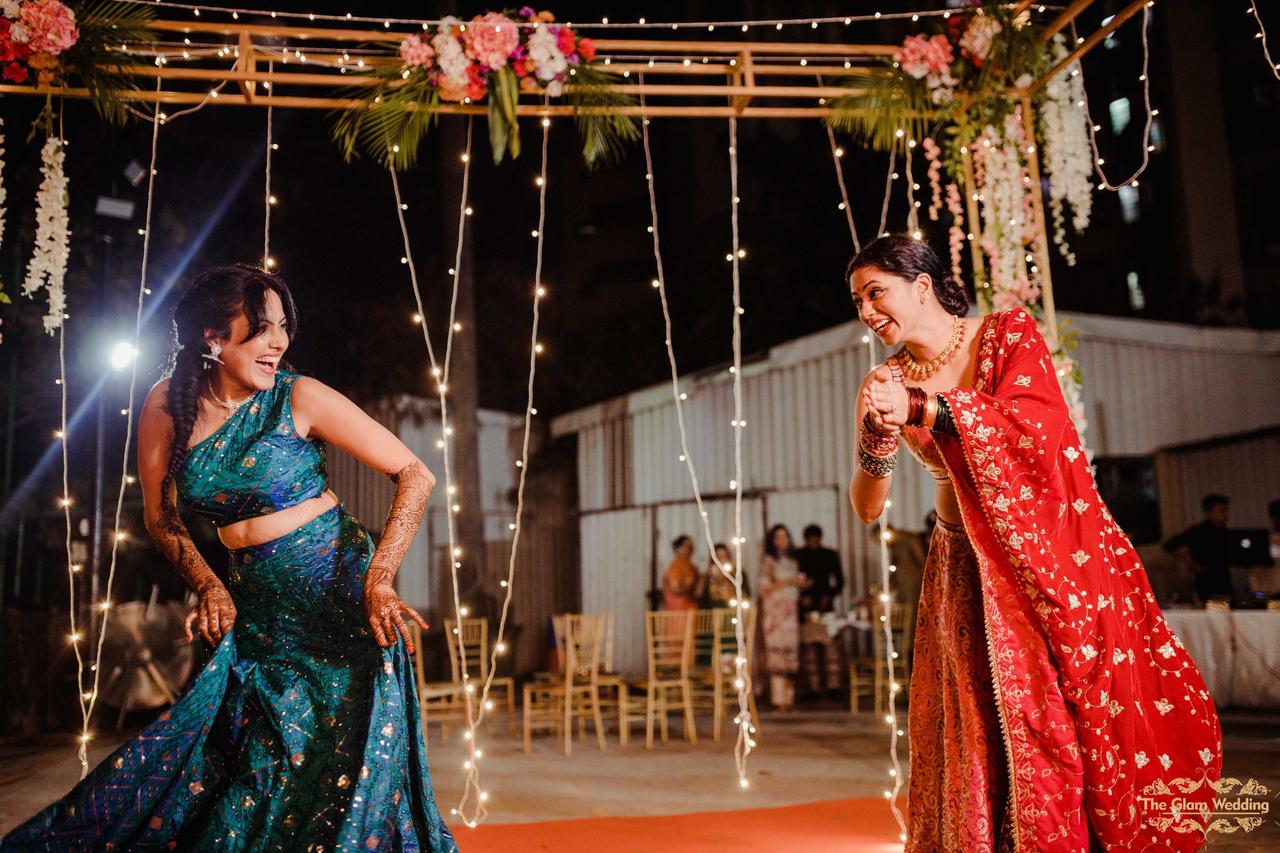 TV fame, Kamya Punjabi's mehndi ceremony marked an exciting beginning to her wedding celebrations. Kamya and Shalabh chose to keep the ceremonies an intimate affair and carried out the celebrations in attendance of their closest family and friends only. The bride to be, wore a graceful peacock green lehenga and danced around in full fervour. The vibe of the entire event was fun and light-hearted. Popular TV Actress, Kavita Kaushik was seen shaking a leg with the bride.
An Auspicious Haldi Ceremony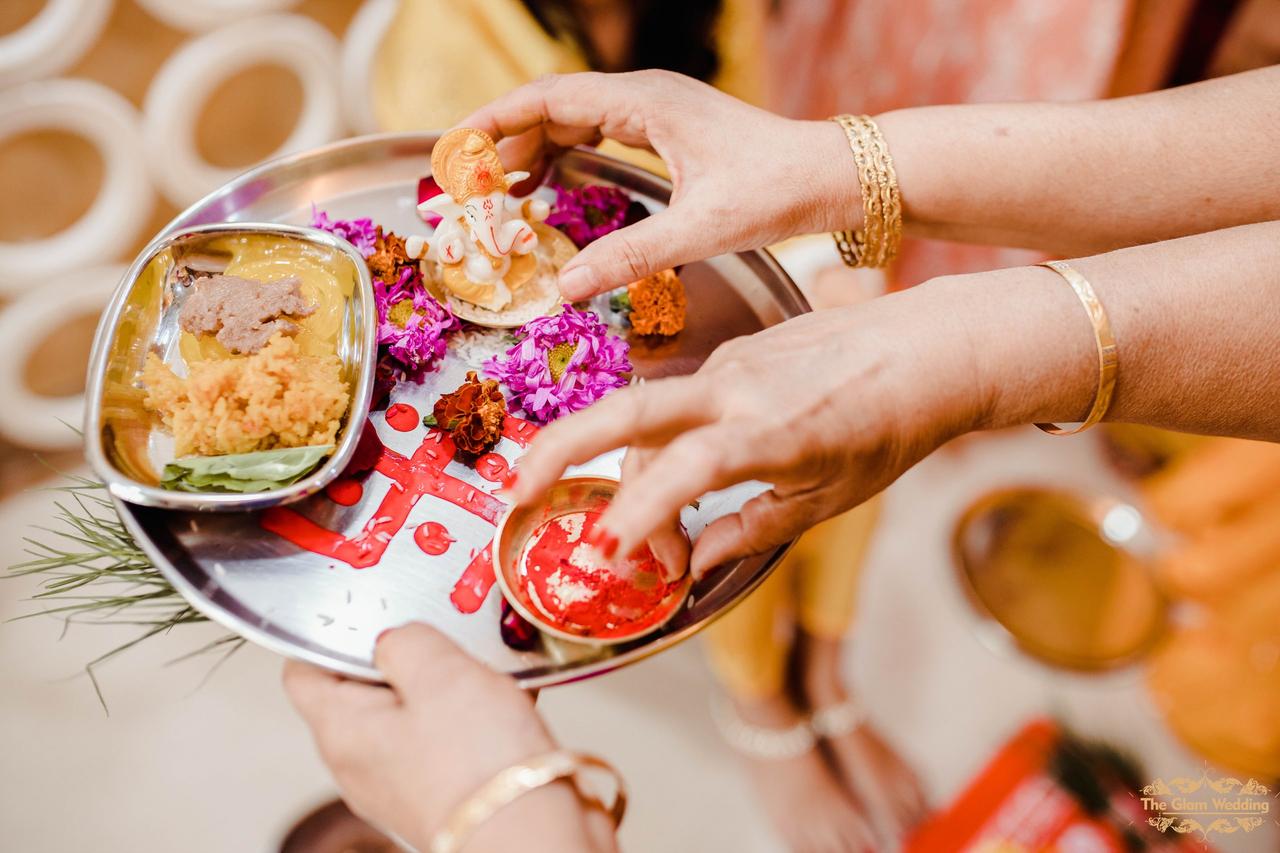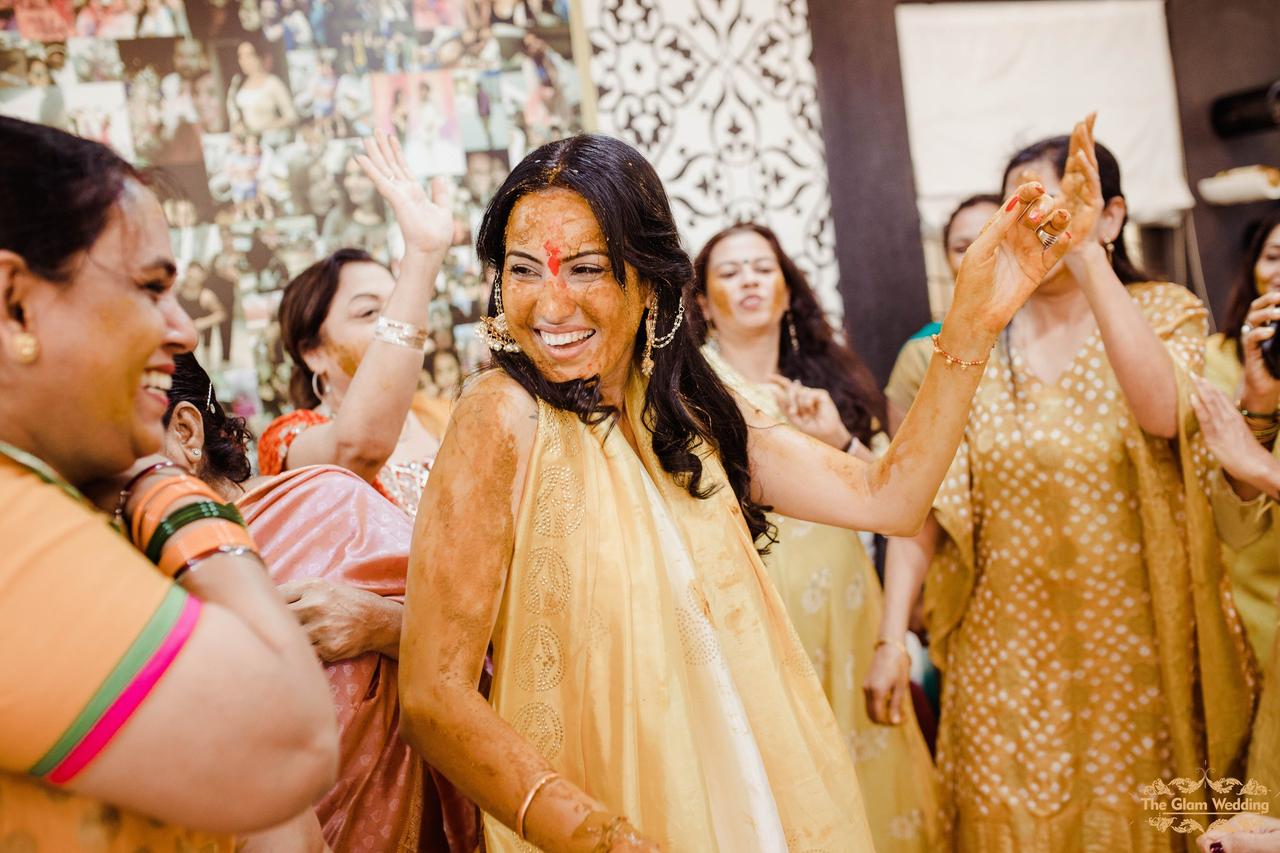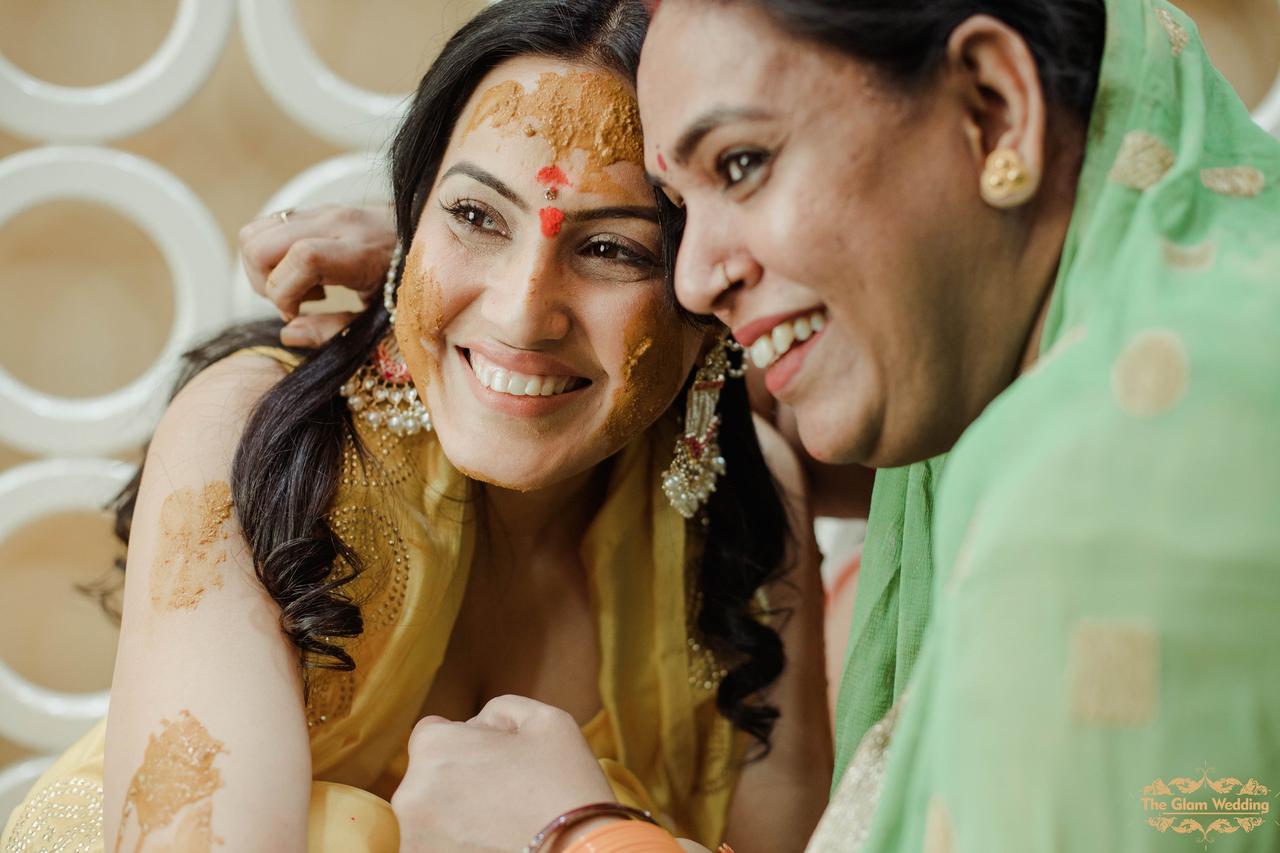 To keep it as intimate and personalised as possible, the actor gathered her closest family together to celebrate the auspicious haldi ceremony on the day of her wedding. Her Haldi ceremony images are pure captures of moments of love and laughter in the presence of people close to her heart. She wore a lemon yellow suit paired with jewelsiya earrings.
An Intimate Wedding Soiree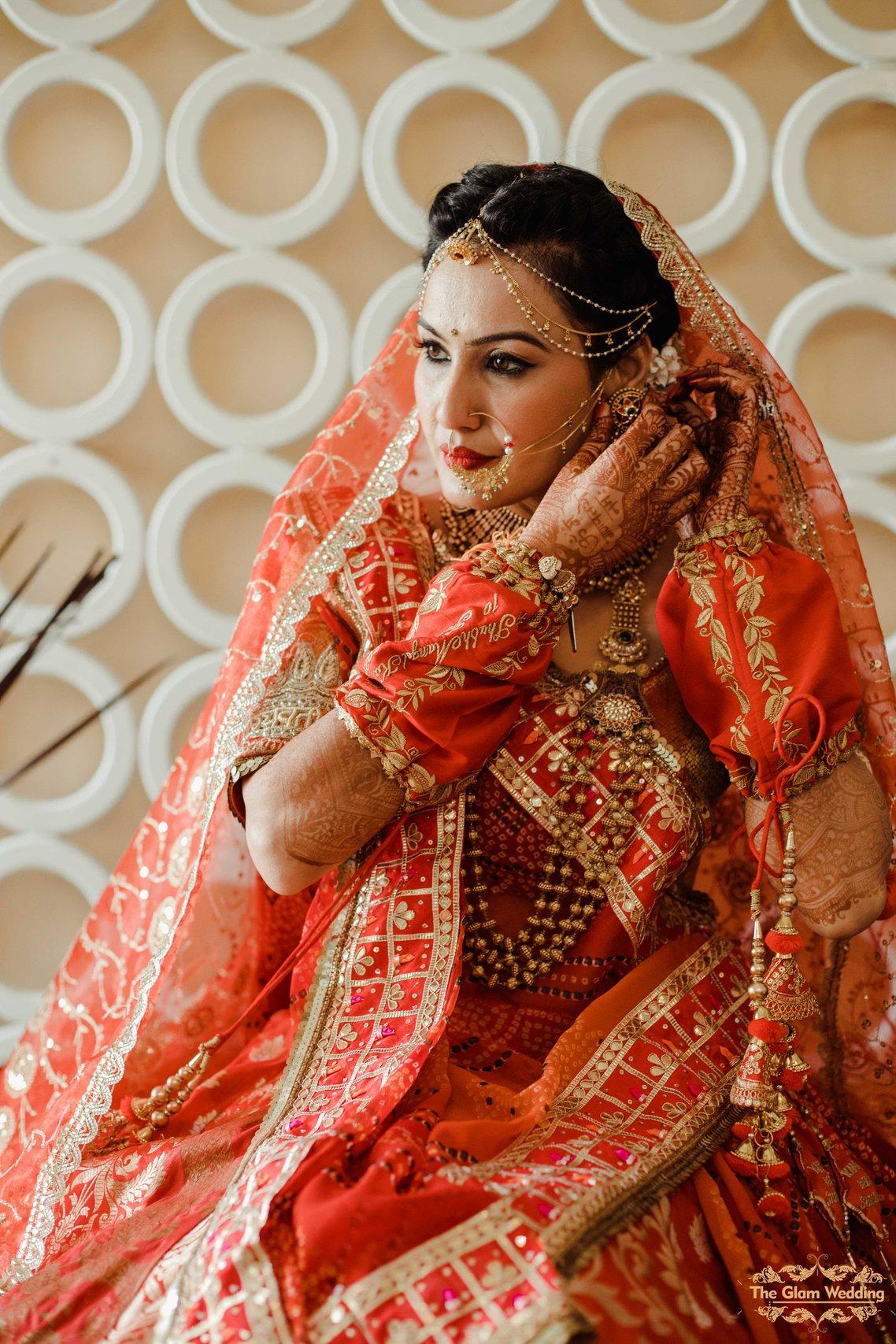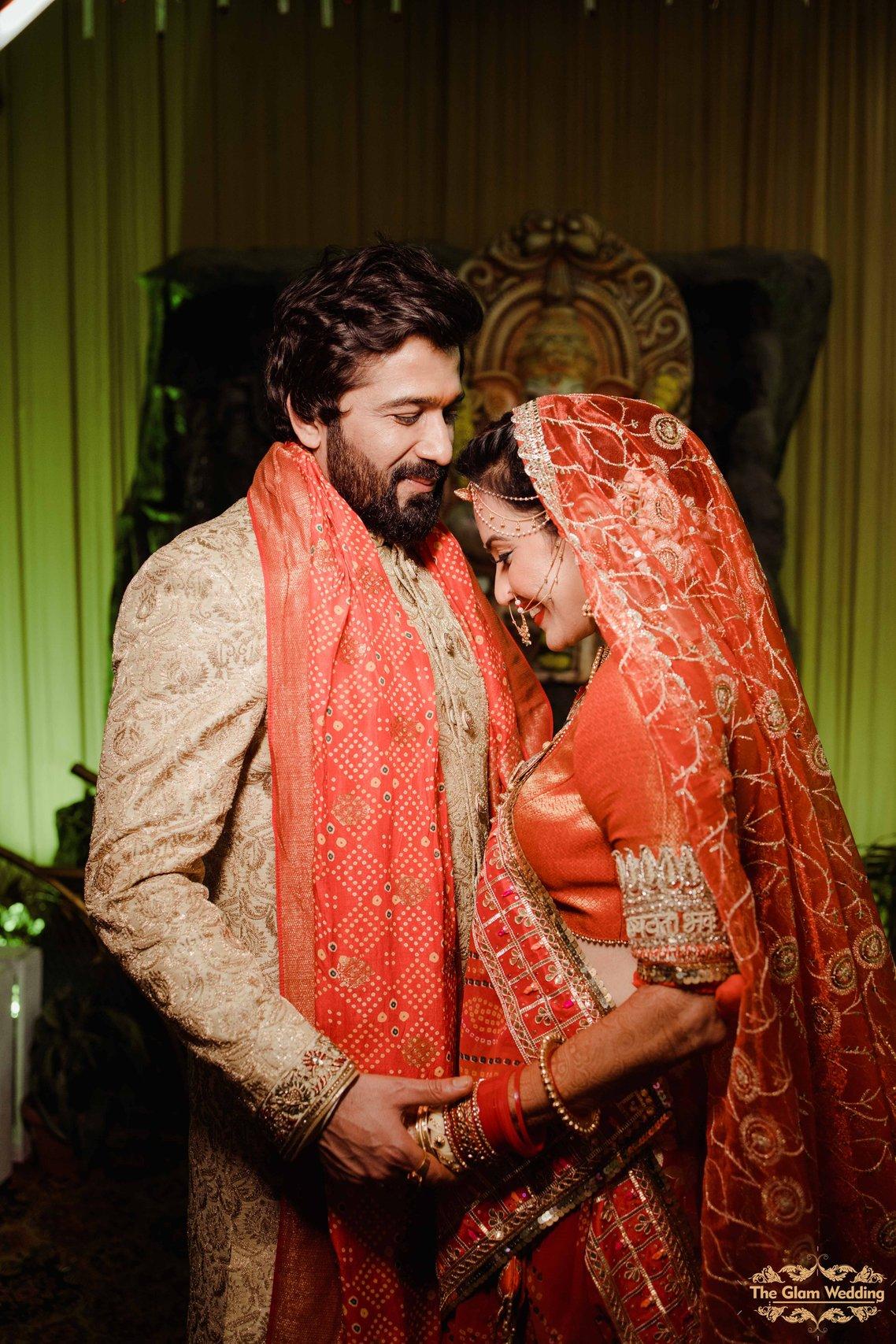 Bringing in major vibes of "grand" to an otherwise intimate wedding ceremony, the couple planned an authentic punjabi wedding in a gurudwara amidst the presence of their closest family. While most of Kamya's wedding party looks had the essence of a contemporary bride, her wedding lehenga was a traditional dream weaved in red and gold. She was a vision in a red lehenga adorned with gold jewellery from OM Jewellers.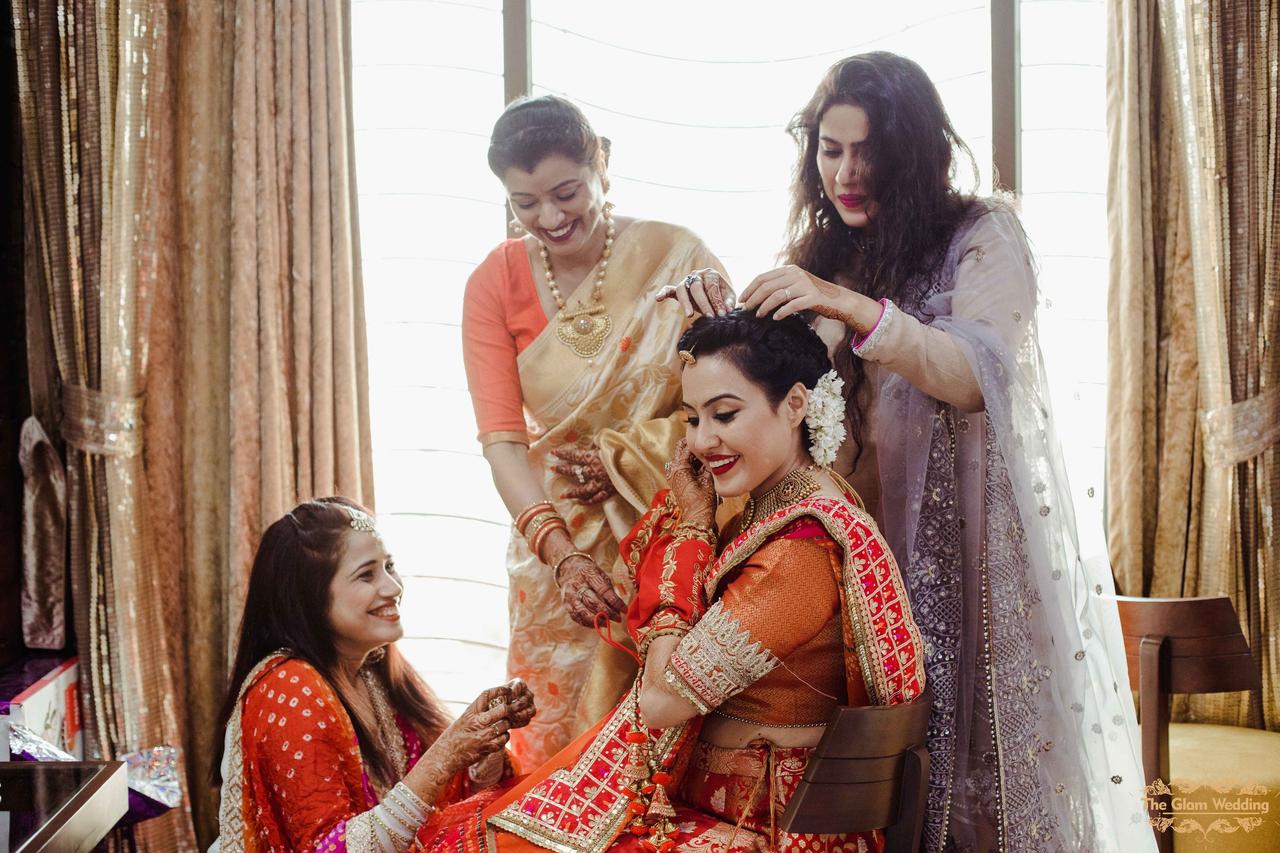 While elements of joy and togetherness were some of the most memorable takeaways from Kamya and Shalabh's wedding ceremonies, a balanced touch of Indian traditions added the touch of regal to their story.
Kamya Punjabi set major wedding goals for brides who want an intimate yet grand wedding story, are you taking notes?