10 Contemporary Cape Style Dress Ideas for the Modern Bahu
We are a super fan of cape style dresses and we bet you would be one too after you check these amazing options.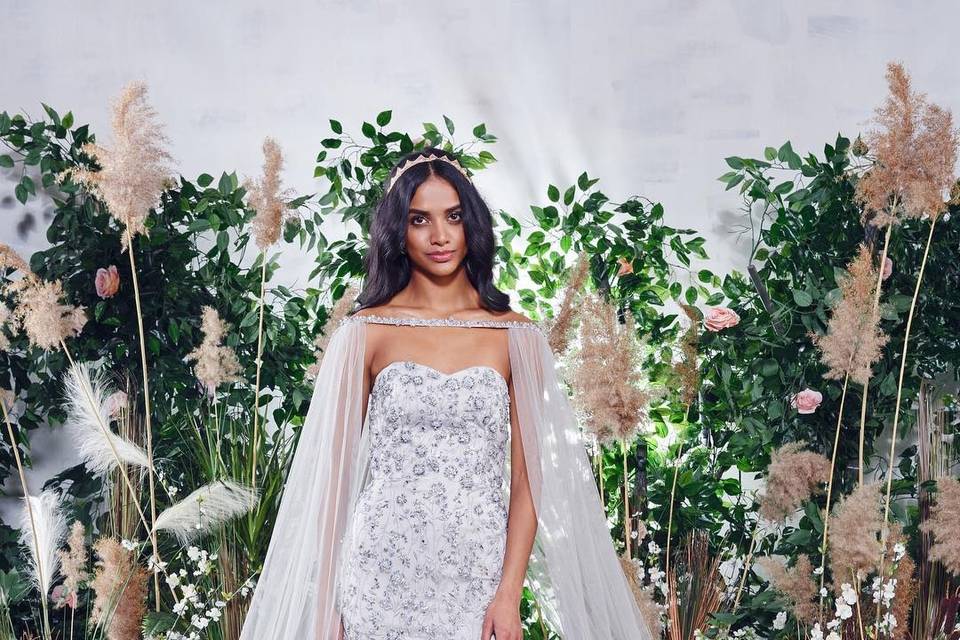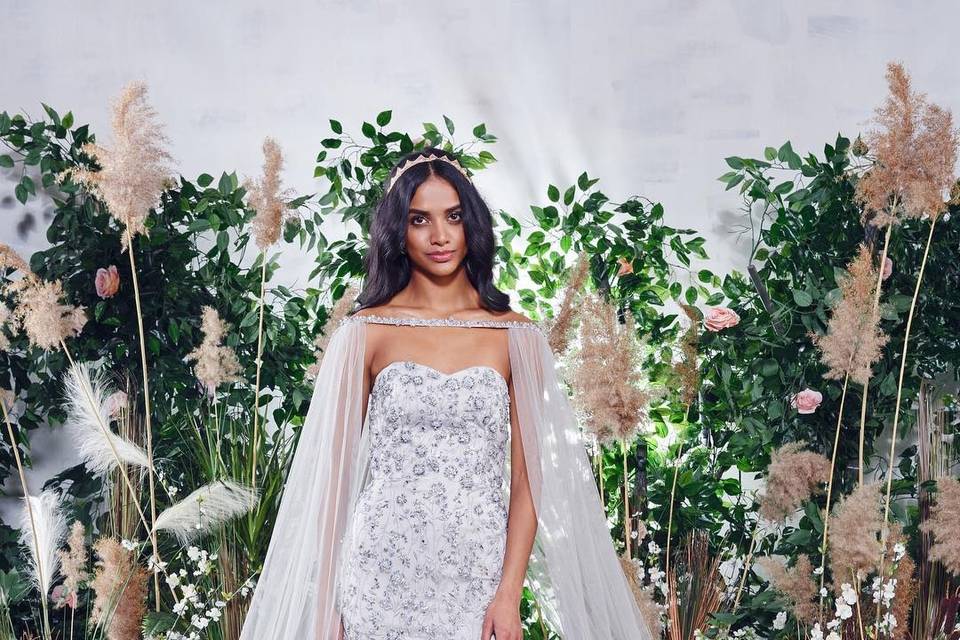 Image Courtesy: Manik Jassal
A cape style dress is the latest trend to hit the runways, and we're pretty excited about it! With its interesting silhouette and tons of scope for personalisation, its no secret why brides are loving this new ensemble. From bridal lehengas with cape sleeves to Indo-western attire with caps draped over them, there's no dearth of the number of ways you can wear a cape dress.
Scroll down to check out 10 cape style dresses that will fit in perfectly with the vibe of a Sangeet ceremony!
Black Ballroom Gown With a Net Cape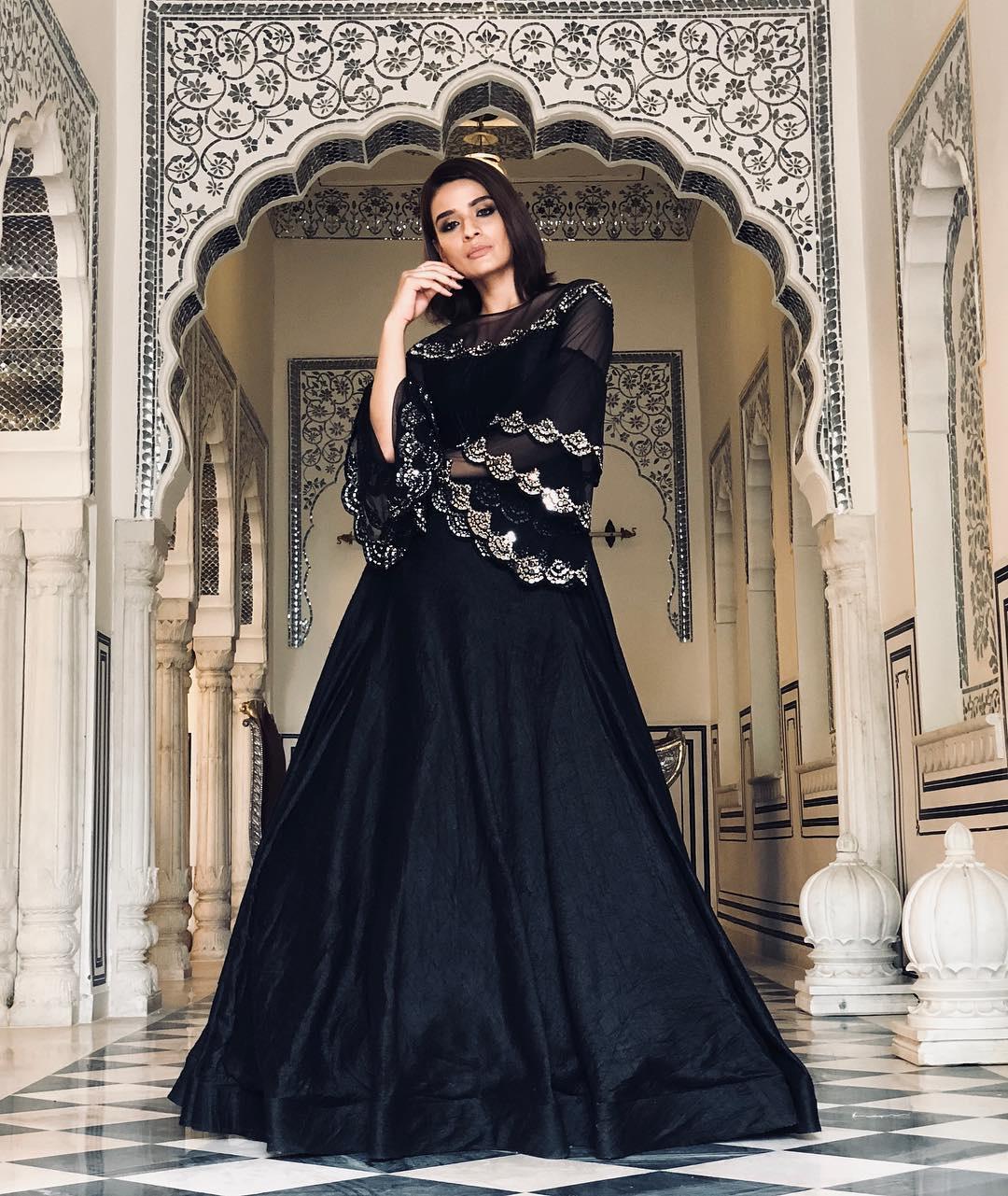 Image Courtesy: Abhinav Mishra
The one thing you need to keep in mind while finding a dress for your Sangeet is that a flared skirt is always better if you're planning to dance. This black gown with a big skirt and a net cape is gorgeous. The best part about this look is the layered cape that gives the impression of bell sleeves!
Pair it with: A pair of diamond danglers and bracelet to dazzle everyone with this look.
Indo-Western Lehenga With Contemporary Cape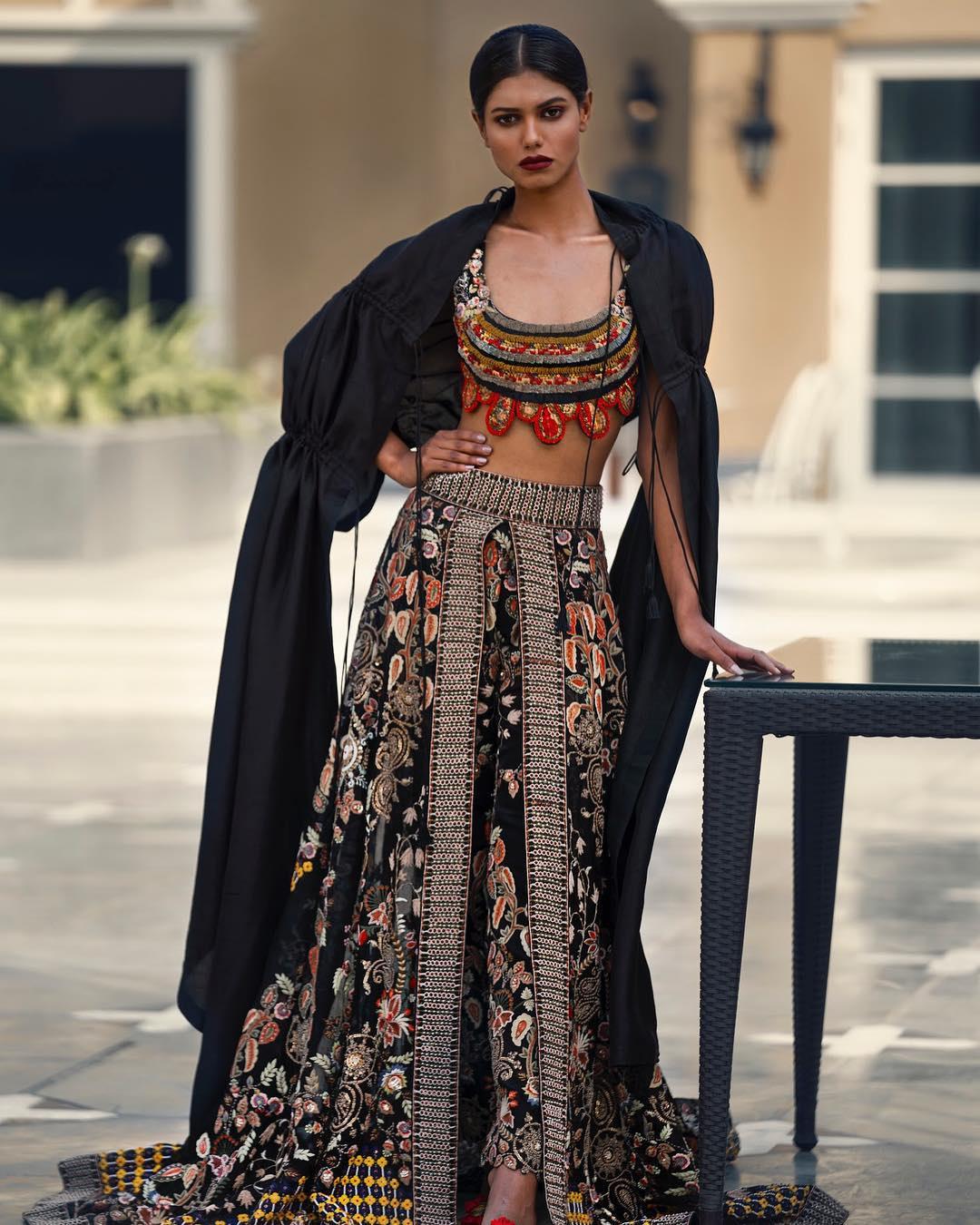 Image Courtesy: Anamika Khanna
An Indo-western outfit like this is one of the most comfortable dresses ever. The trousers underneath the open skirt, multicoloured blouse and a black contemporary cape make this one of the best cape dress options with a lehenga in this list.
Pair it with: a sleek ponytail that will show off your cheekbones and a pair of stud earrings to make this look the perfect Sangeet ensemble!
Ivory Cape Style Dress in Tissue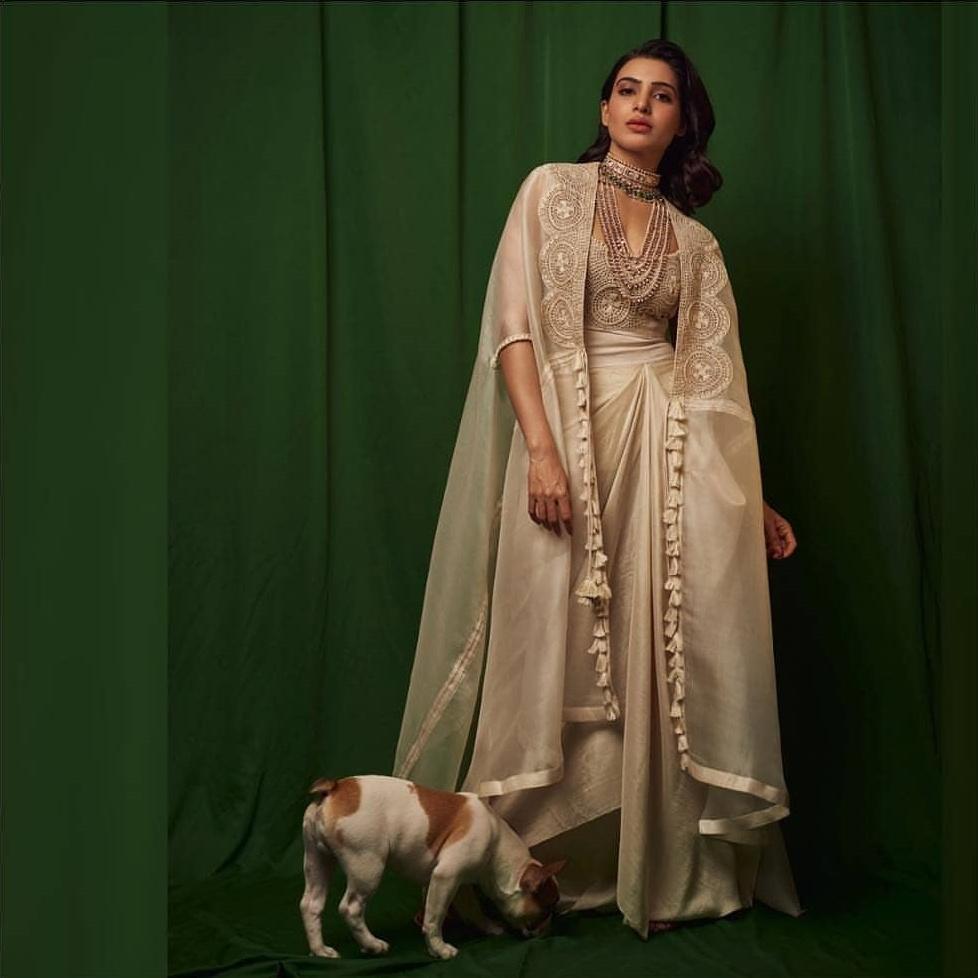 Image Courtesy: Anamika Khanna
If you ever wish you were born in the '60s, your Sangeet ceremony is the chance to look like a 60's diva. This ivory cape style dress with an asymmetrical skirt and embellished blouse in tissue fabric will look brilliant on you!
Pair it with: layered necklace in Kundan or Polki with a matching choker necklace and earrings to complete your 60's look.
Bright Grey Saree With a Matching Cape Blouse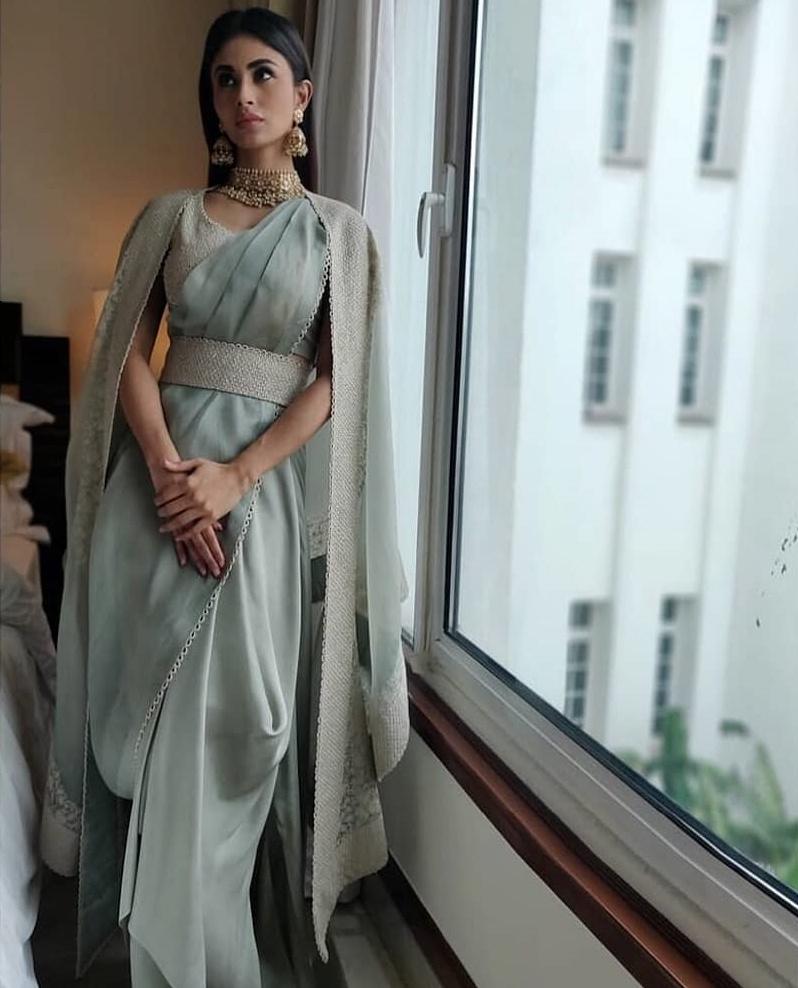 Image Courtesy: Anamika Khanna
A saree may not have a lot of flare but it certainly has all the drama that is required for a Sangeet ceremony. This vibrant grey saree with a shoulder cape and the matching belt is going to make heads turn.
Pair it with: a Jadau choker set with Jhumkas with a sleek bun hairstyle to make yourself feel 100% ready to dance at the Sangeet!
Printed Saree With an Off-shoulder Cape Blouse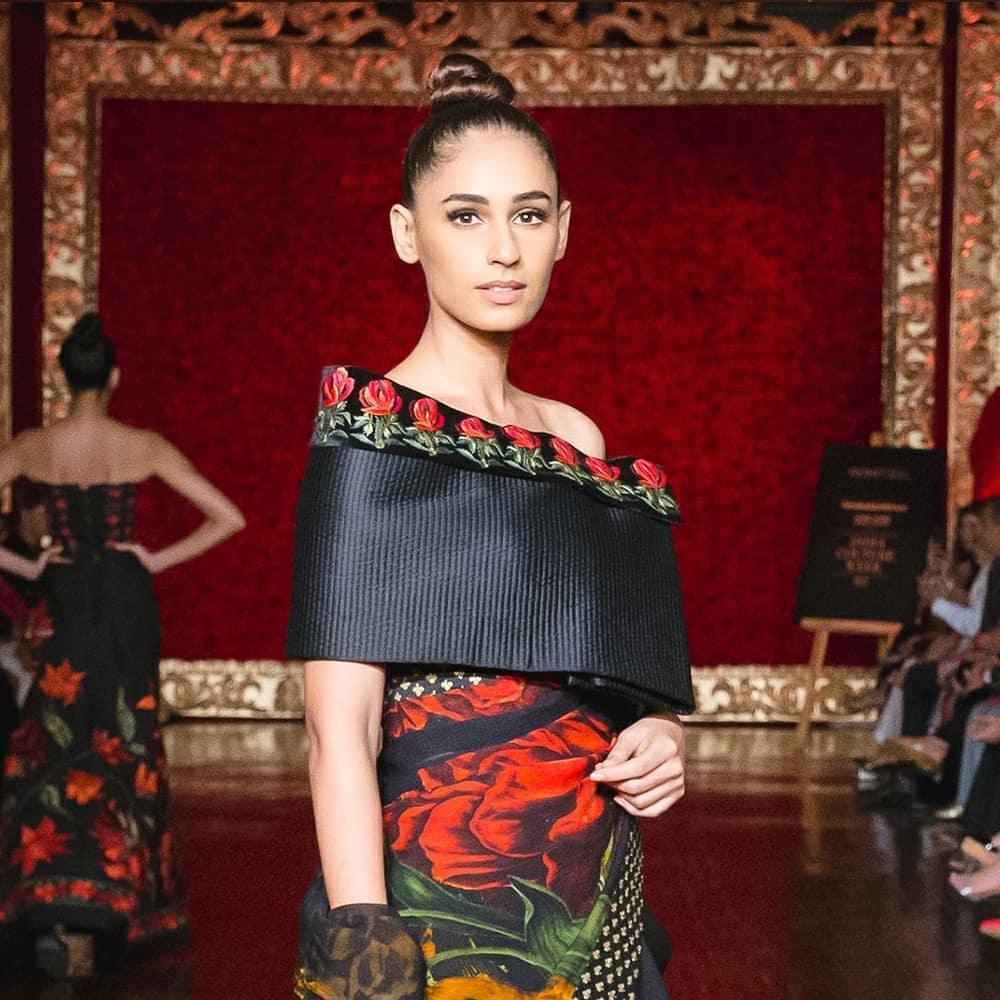 More than a cape style dress inspiration, this image is for a cape style blouse inspiration as you can pair it with a saree and even a lehenga skirt. The off-shoulder cape is a hit amongst brides for their wedding, especially the Sangeet!
Pair it with: a high top bun hairstyle with drop earrings and a nice watch is to rock this cape blouse!
Black and Gold Saree With a Cape Jacket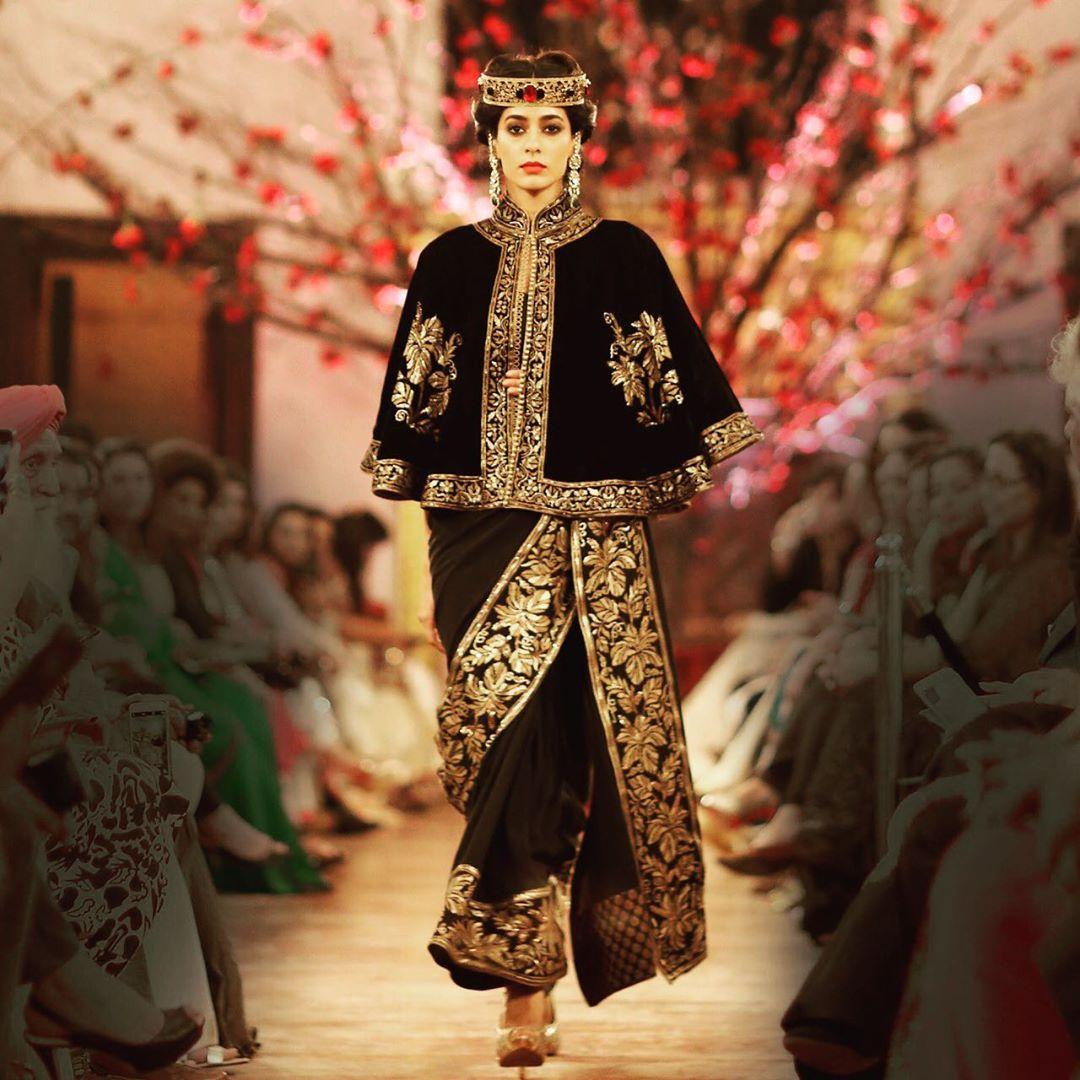 Sarees will never go out of style and the last one was a good example. Another saree option with a cape style jacket is this black and gold number that can only be described as royal!
Pair it with: gold earrings and a clutch to complete your regal Sangeet look!
Cream Saree With Golden Foil Work With a Matching Cape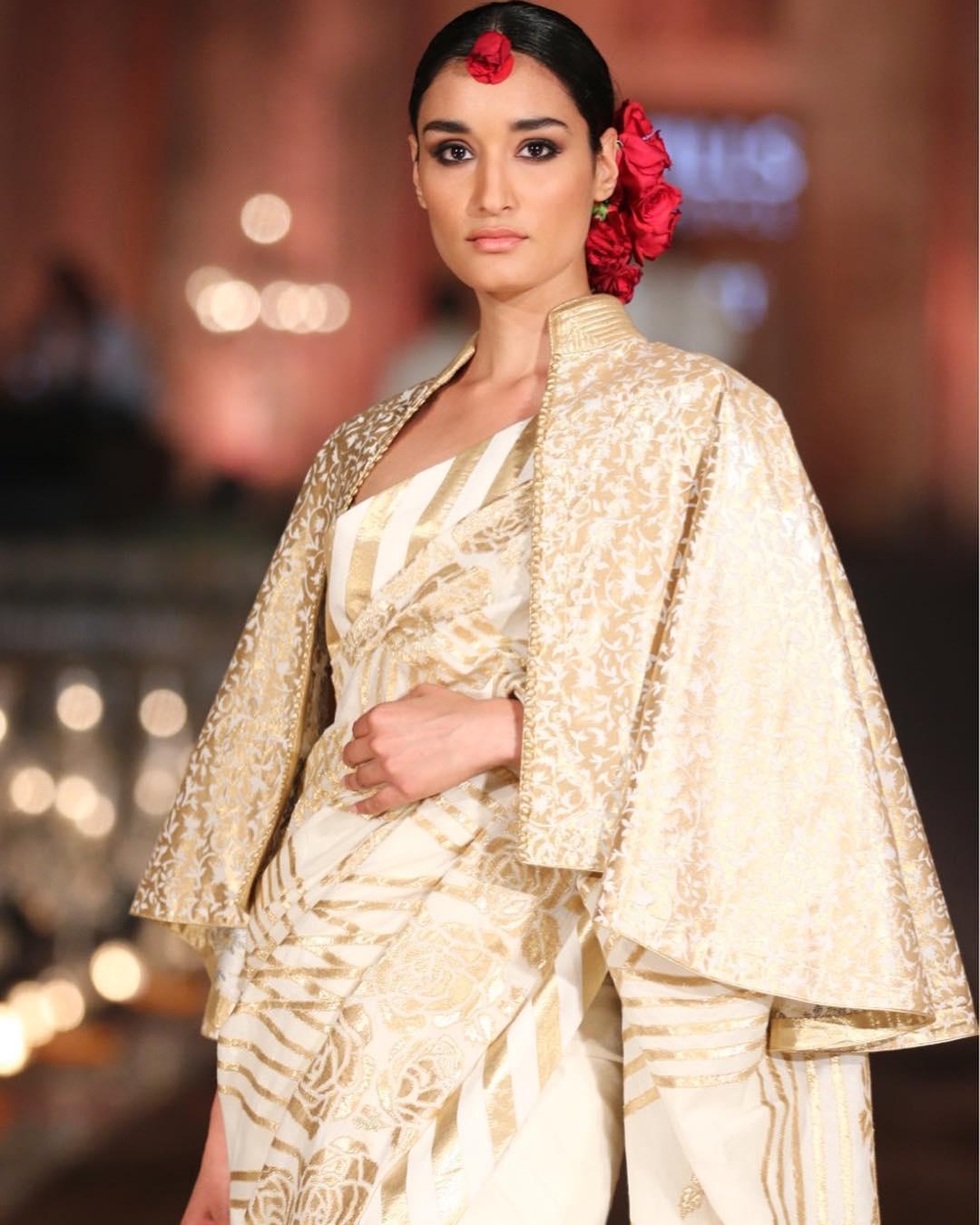 This last cape style dress including a saree is this cream saree with gold foil embroidery and we think it's one of a kind! The matching cape will take your look to another level.
Pair it with: roses for a pop of colour or keep it simple with a choker and matching gold earrings.
White A-line Gown With a Zigzag Pattern and Cape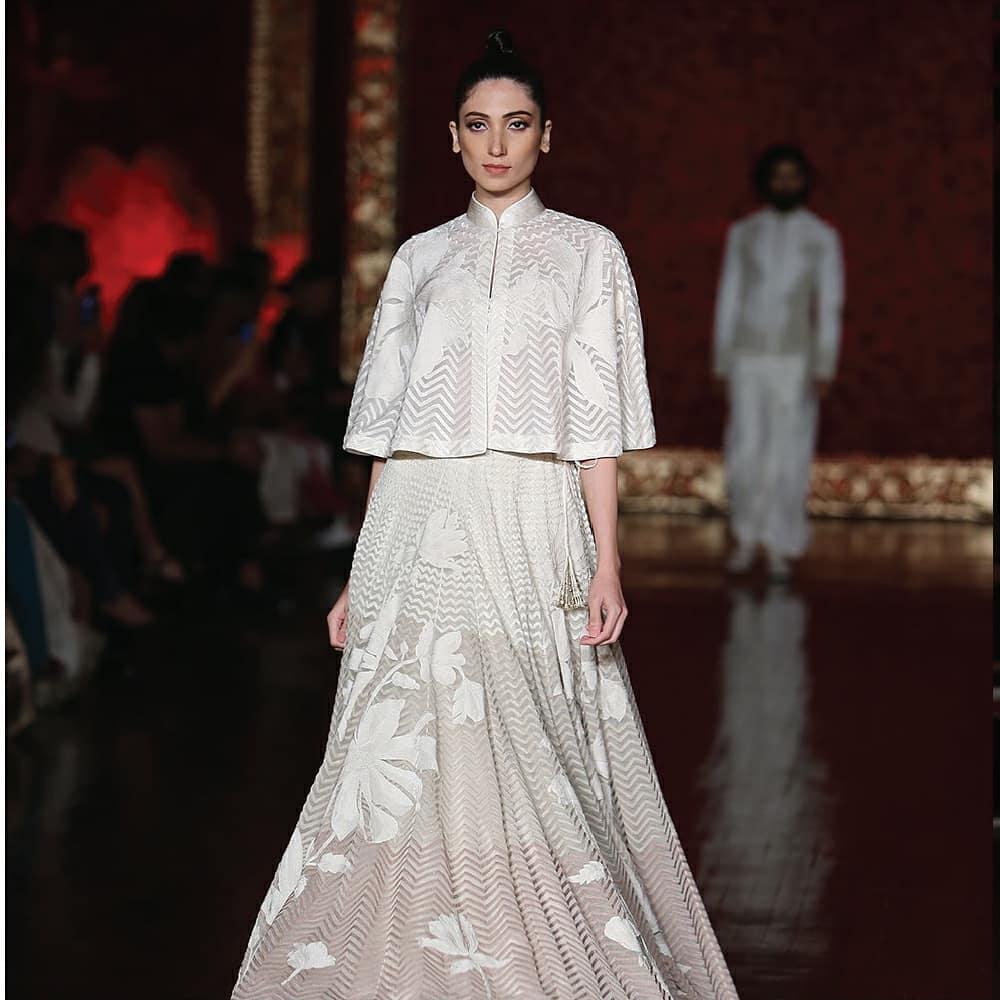 If you want to check out something other than a cape saree, you should take a look at this cape style dress in white. If your style icon is Sonam Kapoor, an outfit like this can help you emulate her Reception look!
Pair it with: a watch, bracelet and drop earrings to look drop-dead gorgeous in this dress!
Off-shoulder Nude Lehenga With a Net Cape!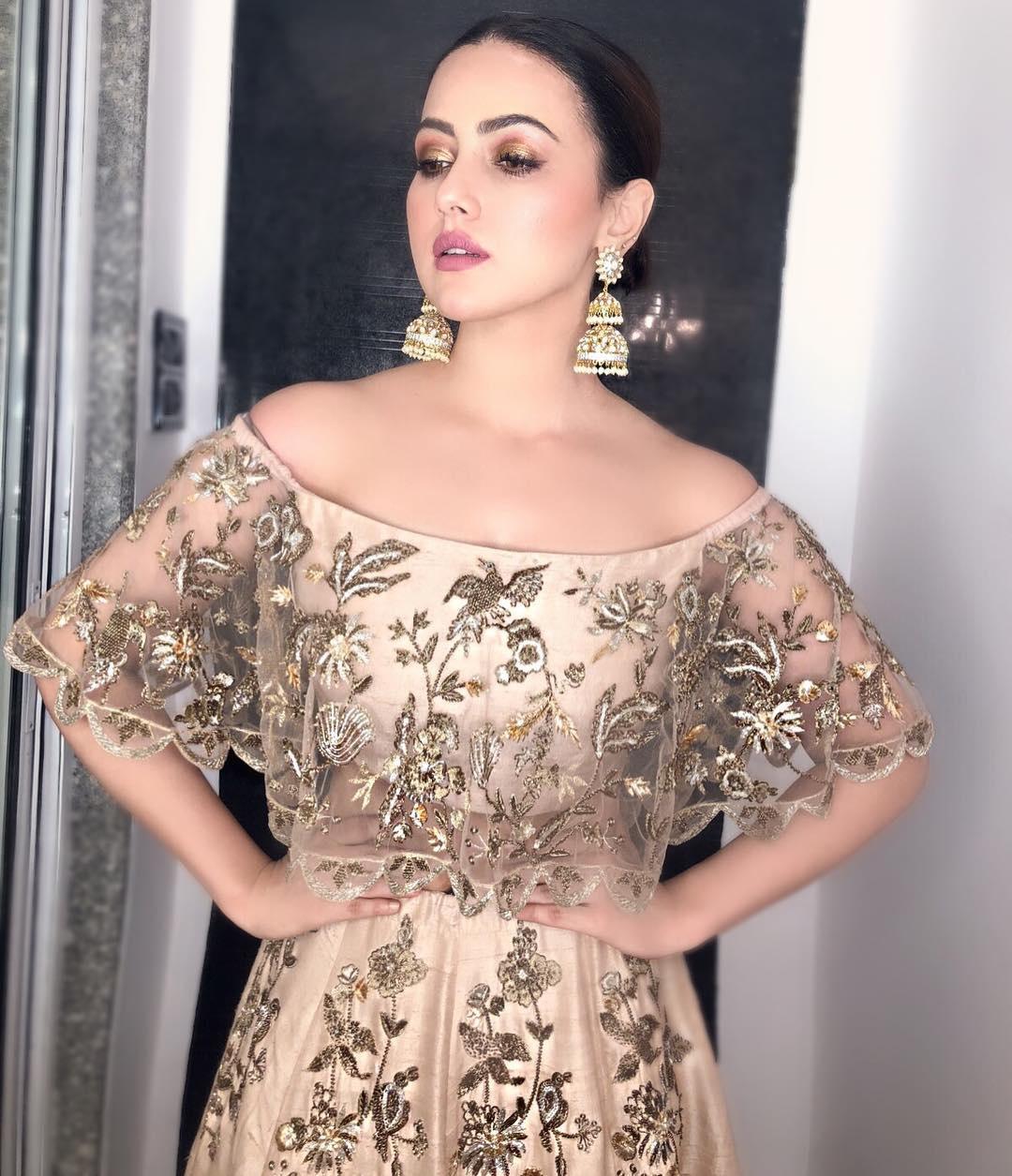 Image Courtesy: Sana Khan
The next two are the classic lehengas with a cape style blouse. Instead of a dupatta, this dress has a net cape dangling from the blouse.
Pair it with: Jadau earrings and a soft hairstyle to be ready to set the stage on fire!
White Lehenga With Mirror Work and Cape Dupatta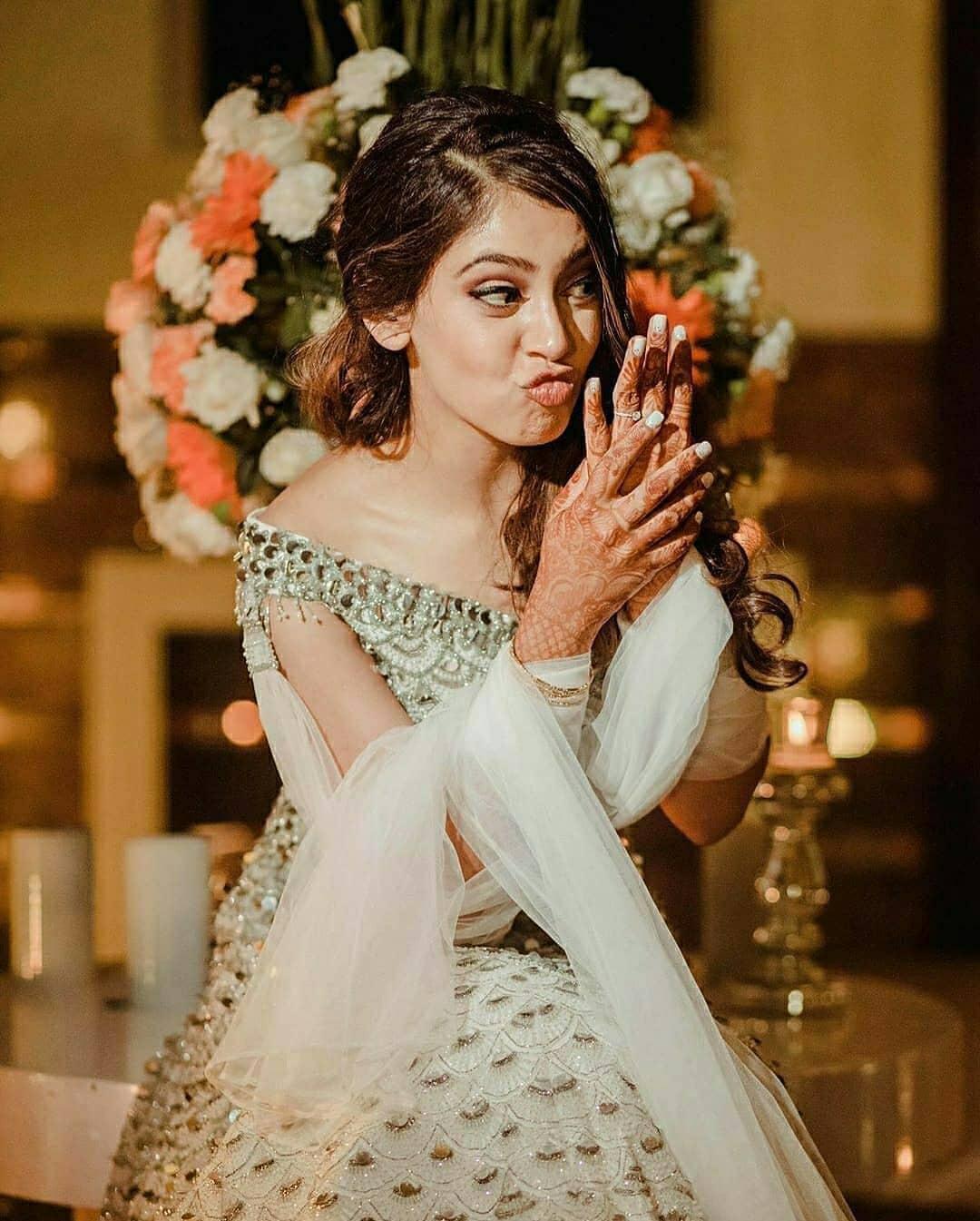 Image Courtesy: The Glam Wedding Official
Last but not least, this cape style dress is as close to a lehenga as it can get. Instead of the regular dupatta, this dress has net capes attached to the sleeves. This is one of the most playful dresses in this list. Think of how fun dancing will be when you are flapping these sleeves around!
Pair it with: a diamond choker necklace with rubies or emerald stones for a pop of colour to take this look to another level!
We hope you like these cape style dress images! While some are classic and fun, others are unconventional and crazy (in a good way), and we bet all will help you make a statement on your Sangeet. Which one did you like? Leave a comment below and tell us about your favourite dress in this list!
Check out these stores near you that offer trendy bridal attire.