Romantic Love Quotes for Him to Win His Heart All Over Again
Want to put up a candid picture but don't know what to caption it? Well, we'd say captions are passé, why don't you come up with some romantic love quotes for him to do the trick!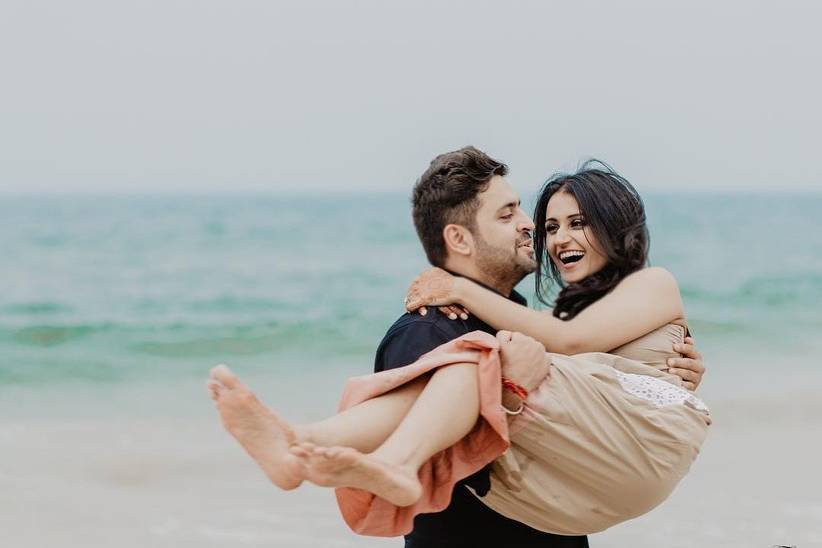 Posting candid photos are the current fad that everyone seems to follow. But what we are really bored of are the captions that go with it. While the candid pictures have a thousand stories to tell, why are most people stuck up with below-average captions? In today's digital day and age, if social media is a medium for expressing yourself, then why not do it better. This holds true especially for our brides and grooms that have gazillion candid pictures to post but happen to miss out on the perfect quotes that go with it. Well, don't panic if you do not know much about romantic quotes because we are here to help you figure the entire social media game out.
Let's face it; women are more expressive as compared to men. But when it comes to digital media statistics, it is men that have a stronger social media game with the perfect pictures that have the perfect quotes. Well, all you brides out there, this is the time to beat your grooms and come up with the most romantic love quotes for him to describe some of the most special moments of your wedding.
Your romantic love quotes for him should not necessarily be one that sounds perfect, it should rather be one that expresses the exact emotion that you felt at the time the picture was clicked. Most often we take our close ones for granted and hold back on expressing so many things that we've wanted to. With social media now you have a platform to say all that you have felt, all that 6you have ever wanted to, and all that you will never be able to say to him in person.
To make this a little simpler, we've put together a list of romantic love quotes for him for you to start thinking along the lines of, with some of our favourite candid moments of real weddings that go well with these romantic love quotes for him.
In the Middle of a Happy Conversation
"It is not what you say that moves my heart, but what you choose to not say and express through your eyes, that makes me fall in love with you over and over again. Cheers to a lifetime of understanding each other's words and silences!"
One of the most original candid moments photographed at weddings are the ones when the bride and groom are unaware of what is happening around them and are engaging in their own small conversation with each other. It is not what they are talking about what matters, but their emotions and expressions at the time that speak a thousand words. One of the most beautifully articulated romantic love quotes for him that the brides can take inspiration from are-
The 'Seal the Deal' Kiss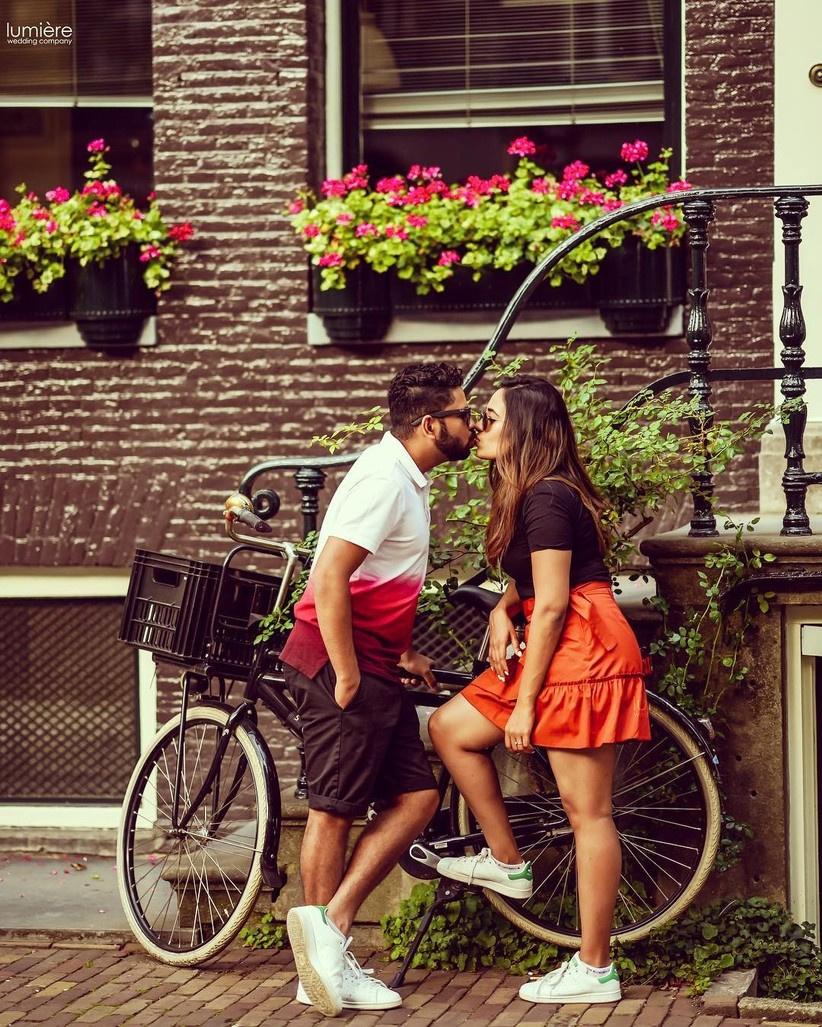 "Finding the one that I love and have him love me back is a wonderful feeling. But what I've found in you is a true soul mate and there is no better feeling than that. You understand me like no one else does, you love me like no one else will, and I know you'll be there for me even if no one else is."
This one is our favourite candid shot from the pre-wedding shoots and is also one that makes its way to almost every album. While we see it as the 'seal the deal' kiss when the bride and groom accept each other to be their partner for life, it is sure to mean a lot more to the bride and groom in that moment. If you are a bride that is planning to put up your kiss moment from the album, make sure your romantic love quotes for him do justice to that beautiful picture that you choose.
Goofing Around Together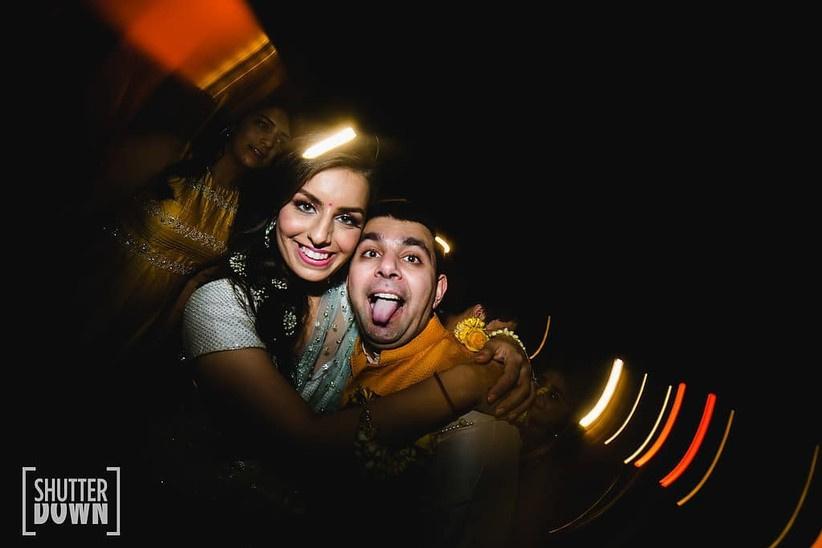 "In this crazy life, and through these crazy times, it's you that makes me want to live freely, it's you that makes me want to love unconditionally, and it's you that makes me want to laugh uncontrollably. You're the yin to my yang and you're every song that I want to sing along because you're everything that I ever want."
Love can be inspiring, it can be motivating, but sometimes it can also be is silly and lame. The true candid clicks are the ones that capture the real you and the actual madness that follows when you two are together. So brides, if you have a picture where you and your husband are in your natural habitat, goofing around being silly then that is a picture that the internet is craving. Put it out there for the world to see that there are many definitions of a perfect couple that can co-exist. Also for the romantic love quotes for him to go with the picture, don't worry we've got you covered.
The Surprise Kiss from the Back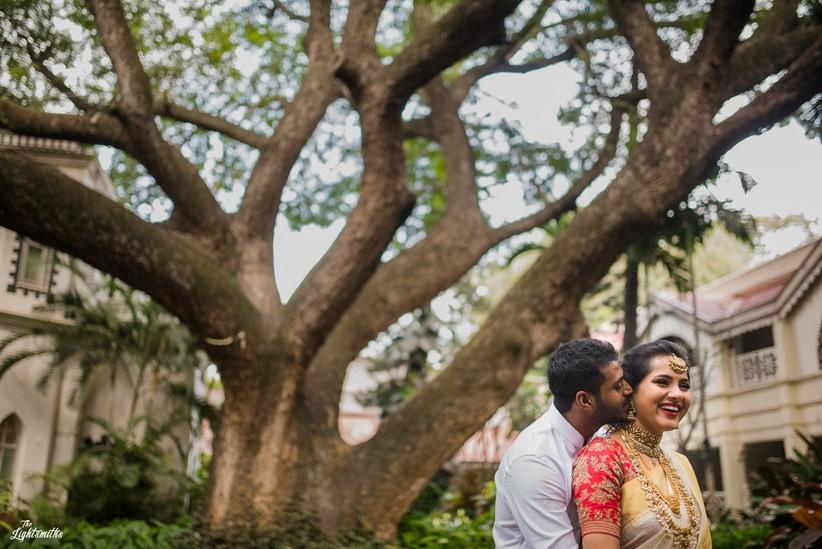 "Right in the middle of an ordinary life, love gives you surprises that makes it all worthwhile. Finding you has been my greatest gift and everything that comes along with it has been overwhelming. Thanks for making me believe in love stories and giving me my happy ending."
Life, as we all know, is full of surprises, but it is still feels more special when it comes from your special someone. Be it an unexpected letter, a romantic gift or just a surprise kiss from behind, it is these unexpected surprises that make everything worthwhile in the end. One of our favourite candid pictures of a wedding album, this one surely deserves the most romantic love quotes for him. If you can't figure what to write, think about how you felt at the time and it will be a cakewalk to pen down romantic love quotes for him on this one.
Waiting for You at the Altar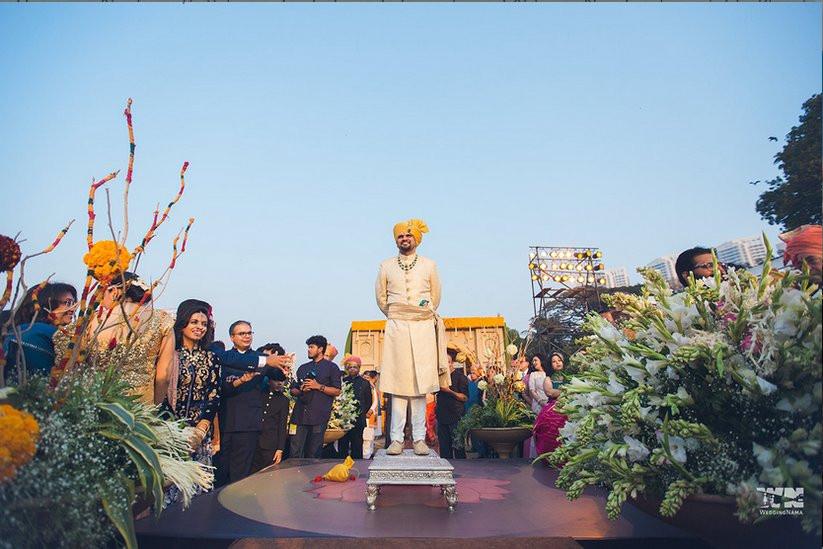 "The greatest memory that I have from our wedding is the smile you wore on your face while waiting for me at the altar. If I had to do this all over again, I wouldn't change a single thing because when I look back, it is that look on your face that I would do this over and over again for."
It is a very unique kind of rush that this image is said to give every bride. No matter how many times they've seen this candid shot of their man waiting for them at the altar, it is never enough for them to not feel the rush and get used to it. That's why we feel that this post deserves to go on social media and be framed for posterity. Looking for romantic love quotes for him for this one can be quite a task, but we are already ready with one that fits in perfectly.
The Hug of Love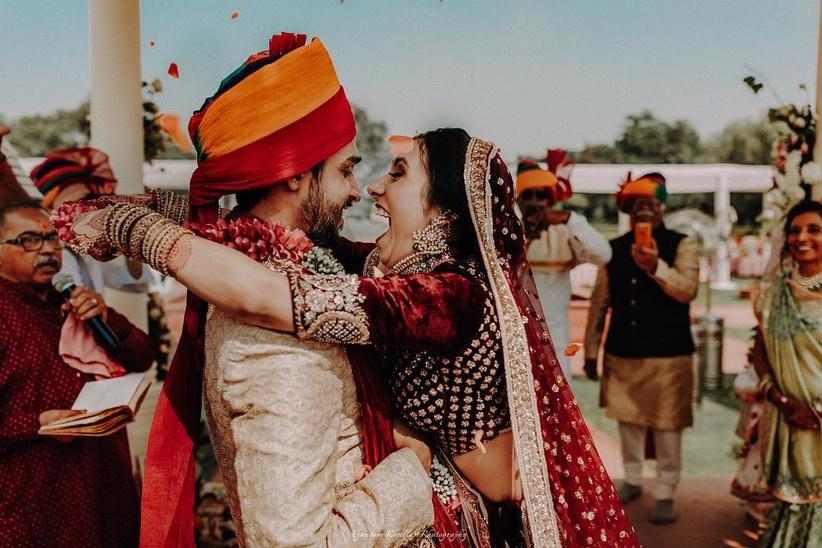 "Hugs might be an expression of love for some people, but for me here in this picture it is about claiming all rights on you from now on till eternity. Baby I called dibs on you!"
Don't you think that hugs are the most underrated expression of love? That's why they also make for the best candid pictures from a wedding. They express emotions like no other picture can. But there is something about a candid caught in the moment hug that says a lot about the relationship you share with your partner.
They also make for the right choice to be uploaded on social media, but have you thought of romantic love quotes for him to go with it? If not, then write something that comes to your mind organically because that will be what will connect with your partner the most. Take a hint from one that we've articulated on your behalf.
We know you that you have many more candids that you're dying to upload, but we hope you've know that it is your heartfelt romantic love quotes for him that is going to mean the world to him and not the picture. So think no further, get the drill and start articulating your love for your husband with the sweetest and most romantic love quotes for him. The pictures might fade away from your memories a few years later but what will not fade away are your words. After all, being married calls for some guilt-free public display of affection.
Share with us some of the most romantic love quotes for him that you have penned down after this article.