This Couple Hosted an Intimate Palatial Wedding in Jaipur
New Yorkers Jayshree & Sandeep hosted their intimate palatial wedding in Jaipur. Here are all the details for your inspo.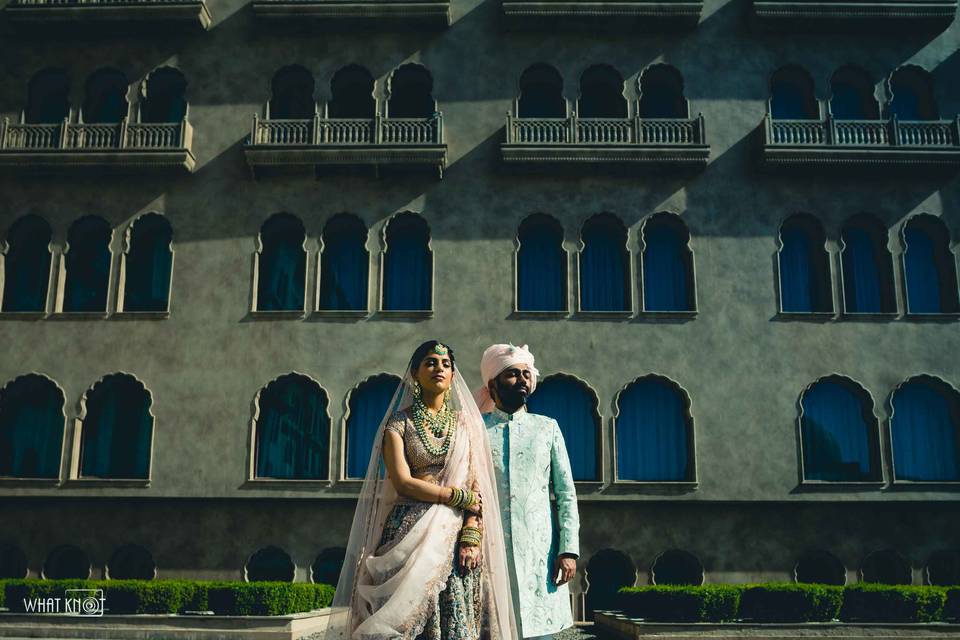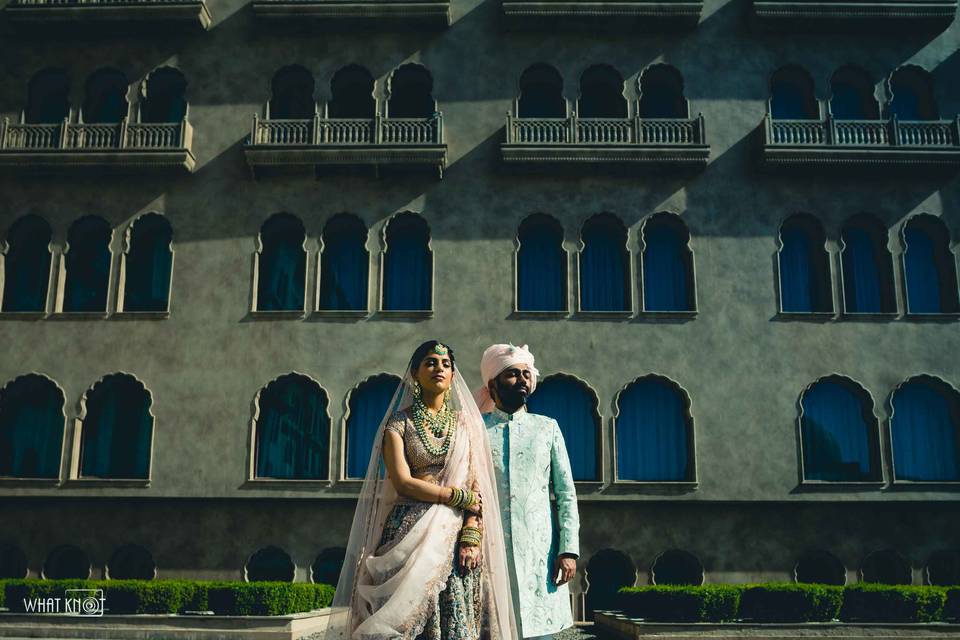 Intimate weddings are a class apart. The warmth of a close-knit affair is unmatched to any other and there is no doubt in that. One such beautiful story is of Jayshree & Sandeep who celebrated their intimate wedding earlier this year in March. It was one gorgeous celebration and our hearts fluttered hearing their story.
Read on to know more about their beautiful palatial wedding.
Jayshree Met Sandeep @ Work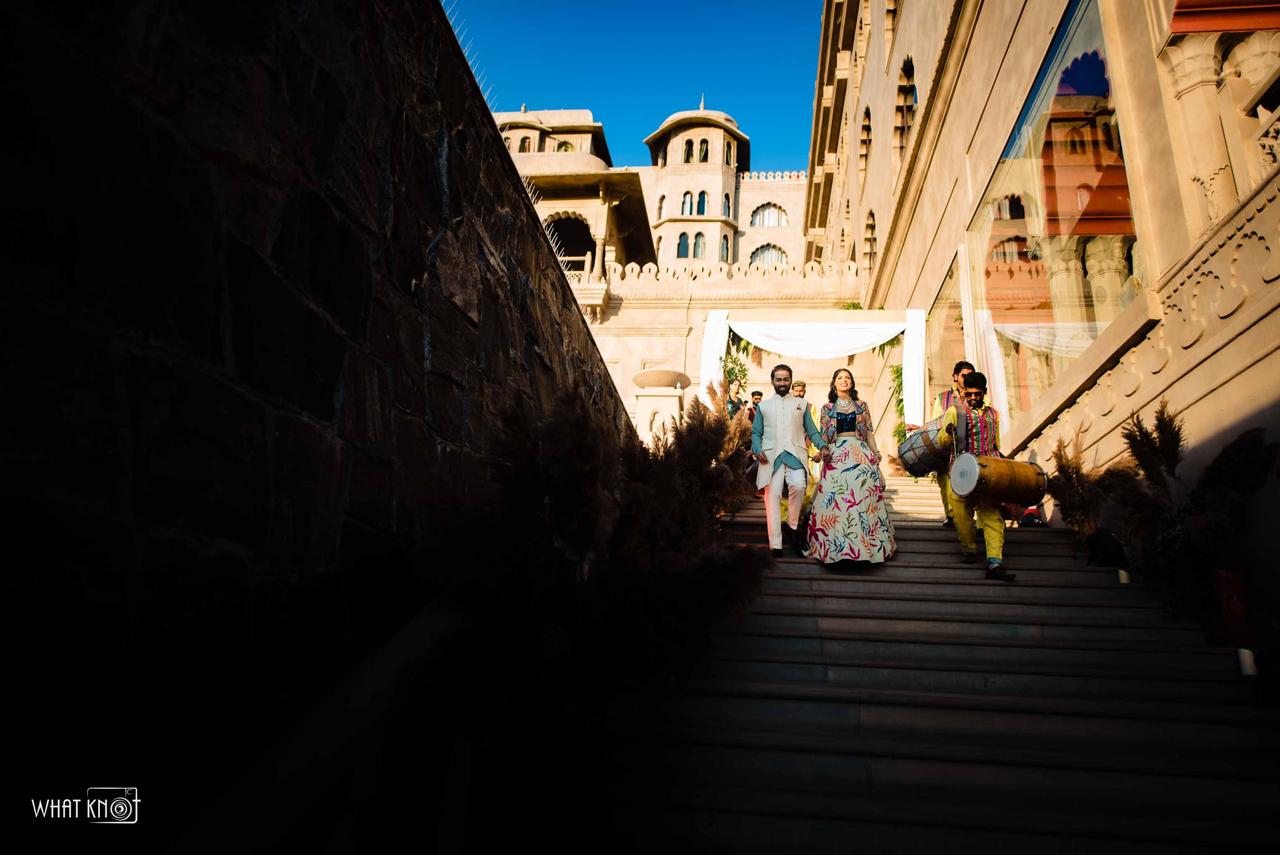 Jayshree says, "Sandeep and I met when we were both working for Shutterstock, Inc. (our office was in the Empire State Building!) When I started working at Shutterstock, Sandeep, who was then the Vice President of Engineering and managing the IT helpdesk team. During my first week, I was having issues with my laptop. Sandeep was standing at our tech bar overseeing the individual who was working there. I started to spell out my name as I typically do – J – A – Y [PAUSE] and when I paused, the tech bar helper moved to start typing my last name and I had to stop and correct him that no, I was still on my first name. I heard someone laughing and saw Sandeep standing nearby out of the corner of my eye and he came over and said 'Indian people problems.' I immediately thought it was corny, but chuckled because it was a common problem I faced when spelling out my name! We ended up talking to each other when we would run into the cafeteria and eventually became friends and that friendship led to dating. No one at work knew we were dating until Sandeep left the company a year later!"
The Palatial Wedding @ Fairmont Jaipur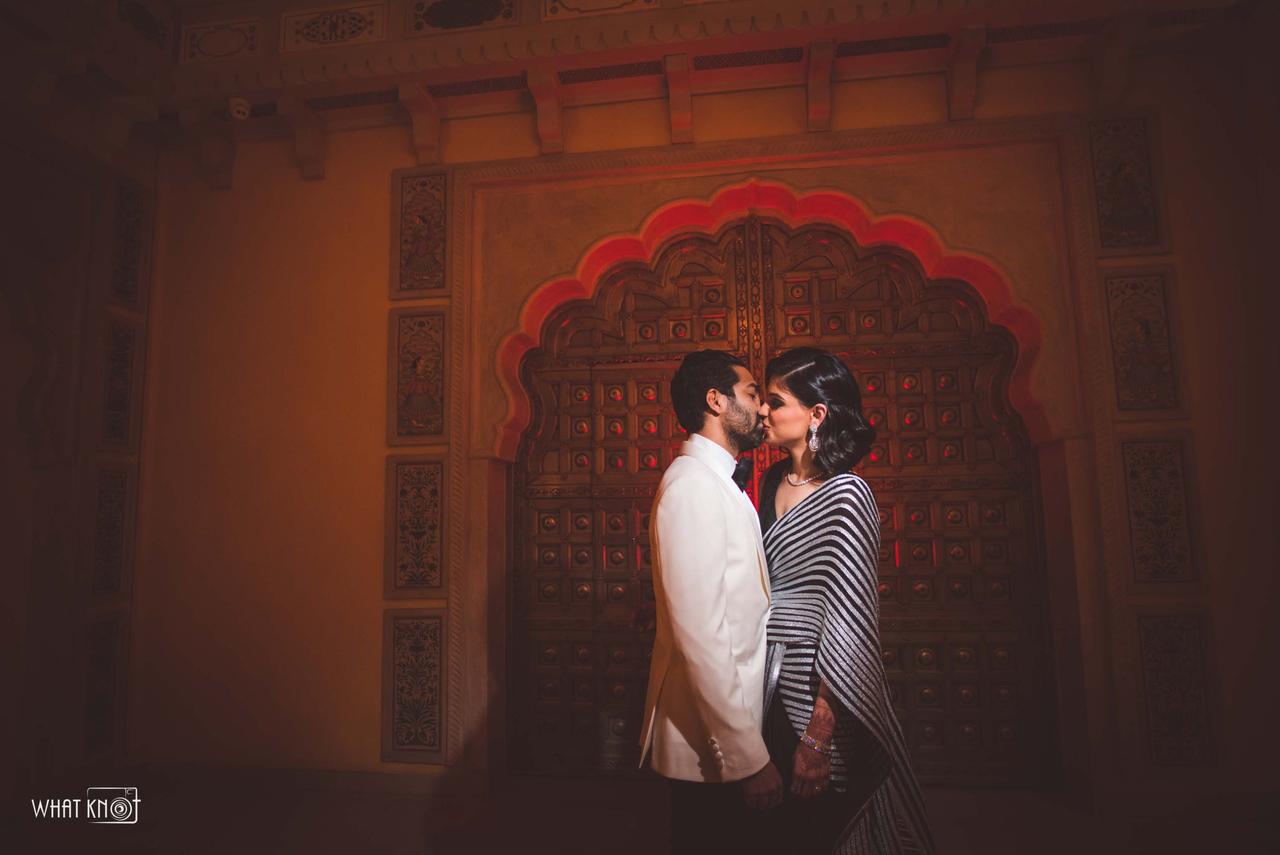 Jayshree says, "Our wedding was held on March 8, 2020, at the Fairmont Jaipur. When I thought about getting married, I always wanted a small intimate wedding - to either get married in a vineyard in France or rent out one of my favourite restaurants in NYC. When Sandeep and I started talking about where to get married, he really wanted to get married in India so his family could easily attend (they are mainly based in Pune). So I figured if I was going to get married in India, I would love to make it feel very royal and ethnic and a palace type venue in Jaipur seemed perfect."
The Perfectly Timed Wedding
Jayshree says, "In hindsight – our wedding could not have happened at a better time as it related to COVID. It definitely impacted the wedding."
She adds, "We were due to have 200 guests and we ended up with around 150 – so yes, COVID impacted our RSVPs. 95% of our guests were travelling from outside of India. So, we had a bunch of guests cancel their travel (some whose work told them they were not able to go on the trip because of having to quarantine when they got back, some who had travelled to Asia in the winter and therefore had their visa cancelled and some who were elderly and did not feel comfortable travelling). But, once the wedding started, we were using hand sanitizer that was around the hotel and filling out forms and no other parts of the celebration were impacted! We had the most amazing time celebrating and felt that we were in a bubble of our friends and family. We ended up having more issues after the wedding ended than before because COVID had become a very real thing in those 3 days (from a distant thing happening in one part of the world to a global pandemic)! Trump announced the travel ban for Europe and most of our guests from America were travelling through Europe – so they had to cancel their travel plans and rebook flights, which was really difficult for them. Some of my family members' flights got cancelled and rebooked, including my parents. India cancelled all visas so there was a lot of uncertainty about what it meant to be in India on a visa. And one guest, coming from Qatar, got stuck in India for months."
The Wedding Theme & Other Stories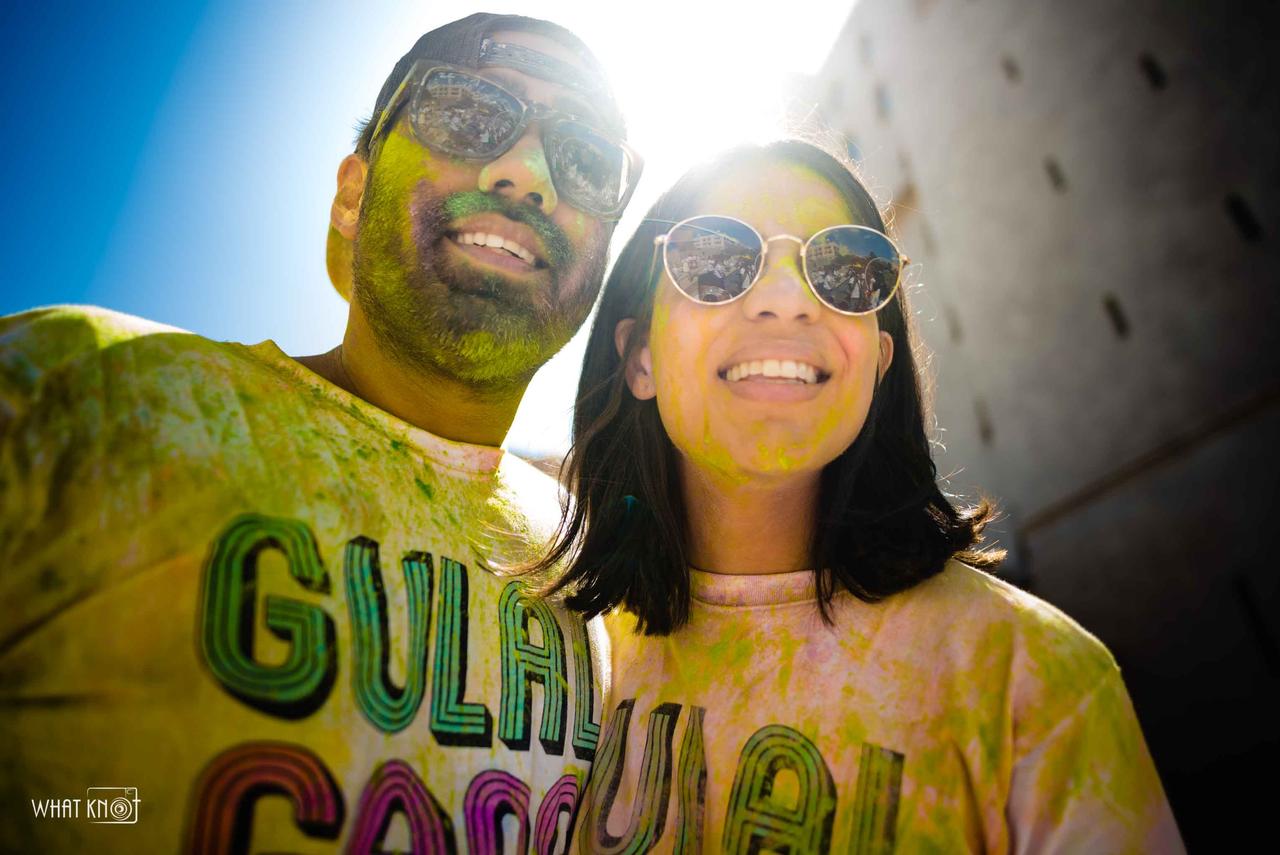 Weddings these days are often planned around a theme and Jayshree and Sandeep's wedding brought out the beauty and richness of Indian culture in a mesmerising way. Jayshree says, "We didn't want any specific 'themes' for our wedding. We wanted Indian culture coming through, but also respecting and bringing forth our home – New York City."
Every person who has been a part of a wedding planning process will agree that it is a tedious task. To add to the difficulties Jayshree had to finish planning a wedding from the US when the uncertainty of pandemic spreading had already started and on that note, Jayshree says, "I had a love/hate relationship with planning my wedding! There are so many decisions that you have to make and I just wanted someone else to do it all for me but also wanted it to be very much about Sandeep and I and what we wanted and not what "society" expected of us. At the beginning of the process, Sandeep and I wrote out the five most important "end goals" for our wedding and continually coming back to those goals when planning really helped ground us. The way people work between the US and India is also really different and Sandeep and I had to get used to that in planning and appreciated our vendors who worked well with international clients."
What They Wore
Talking about their wedding outfits, Jayshree says, "We really cared about not having our clothing be too formal or over-the-top because we wanted to be able to have fun and dance! For the Mehendi/Sangeet, my family has shopped at Mahima Mahajan - when I saw it on Instagram, I knew that it was perfect for what I wanted for a sangeet outfit – blingy but not over-the-top, colourful and fun but also elegant. I also had Mahima make a jacket to wear over to give it an "alternate" look and if it would be a cooler Jaipur night. Sandeep found his outfit at Aza in Bombay – he loved that it had a modern but chic look. He also had Mahima create a pocket square from the fabric of my jacket."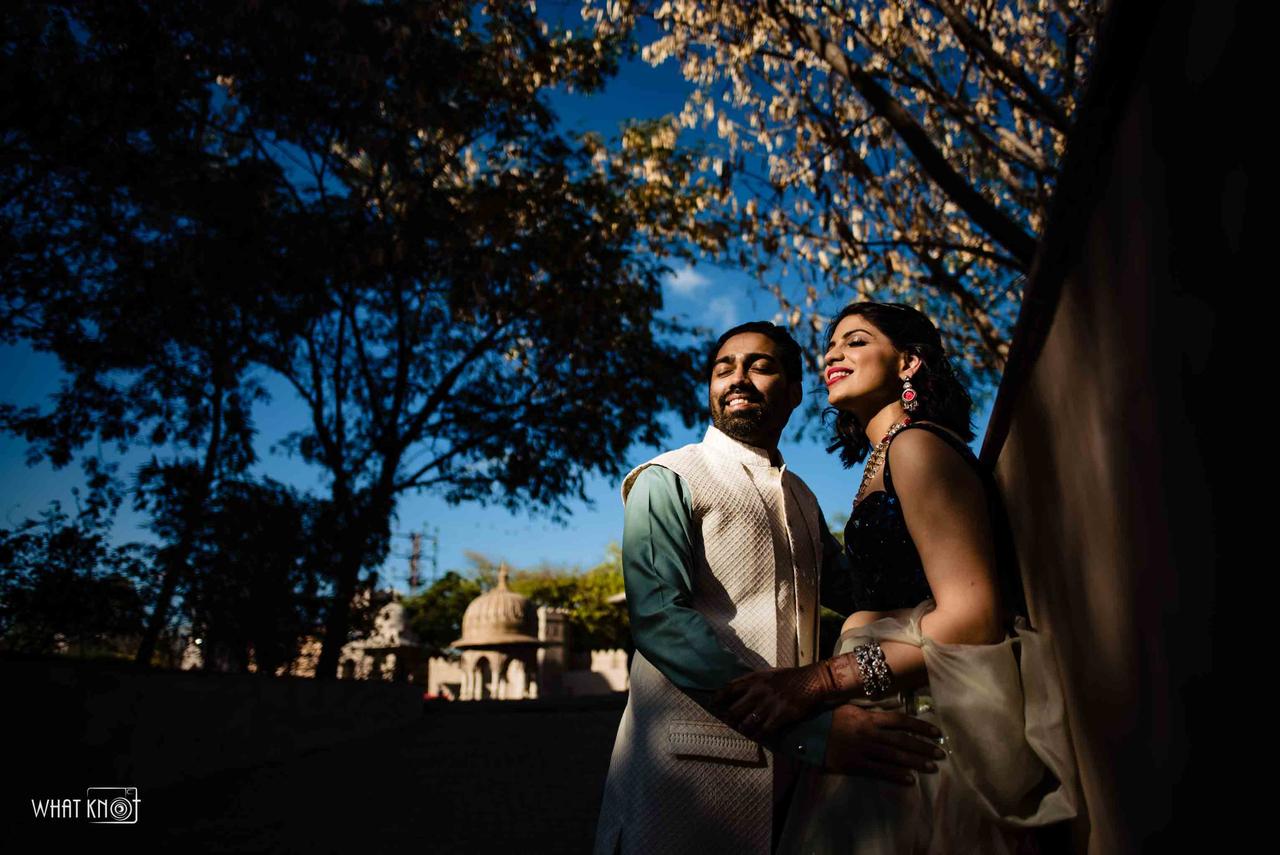 She continues, "With respect to my wedding outfit, I wore a Jade lehenga and Sandeep wore a Mahima Mahajan sherwani. Sandeep actually ended up picking his wedding outfit first. When I went to Jade, they had a skirt that I fell in love with – the border had an arched doorway look that seemed very Jaipur to me and the colours were beautiful. I knew it was the one the moment I saw it."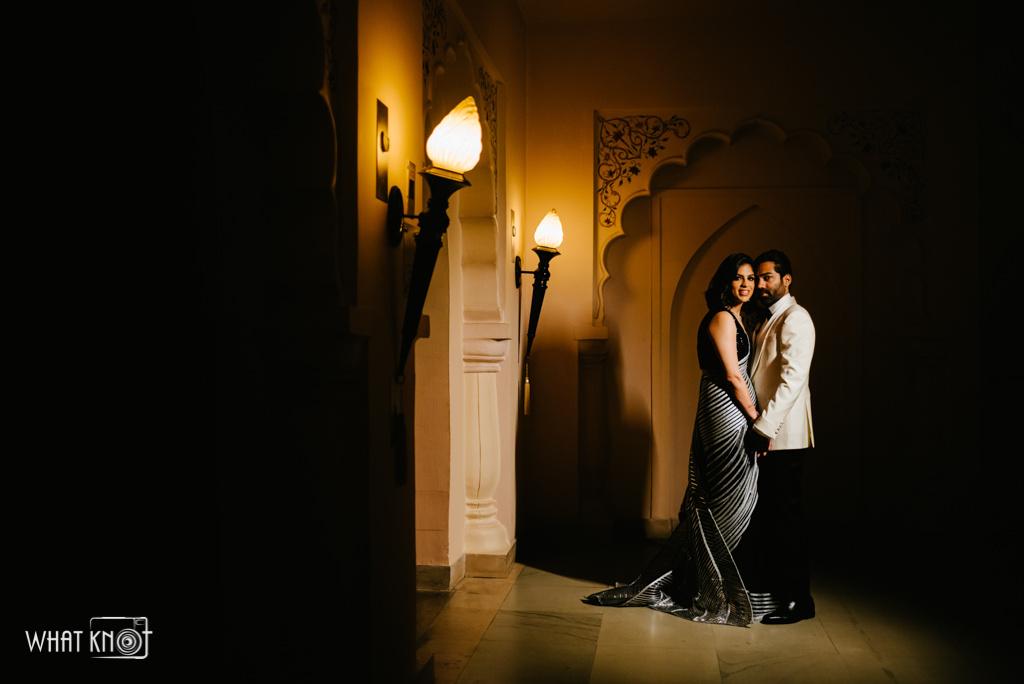 She finally adds, "For the reception – we knew we wanted it to be a black-tie look. I wanted something edgy and different and Sandeep knew from the beginning he wanted to wear a white tuxedo. The first outfit I tried on for the reception was a black and silver Amit Aggarwal sari and I loved it. After trying on many more outfits for the reception, I came back to the sari because it really felt edgy and very modern. I felt very connected to New York City wearing it. And it looked great next to Sandeep's white tuxedo."
The Terrace Pheras & Their Gulal Gang Party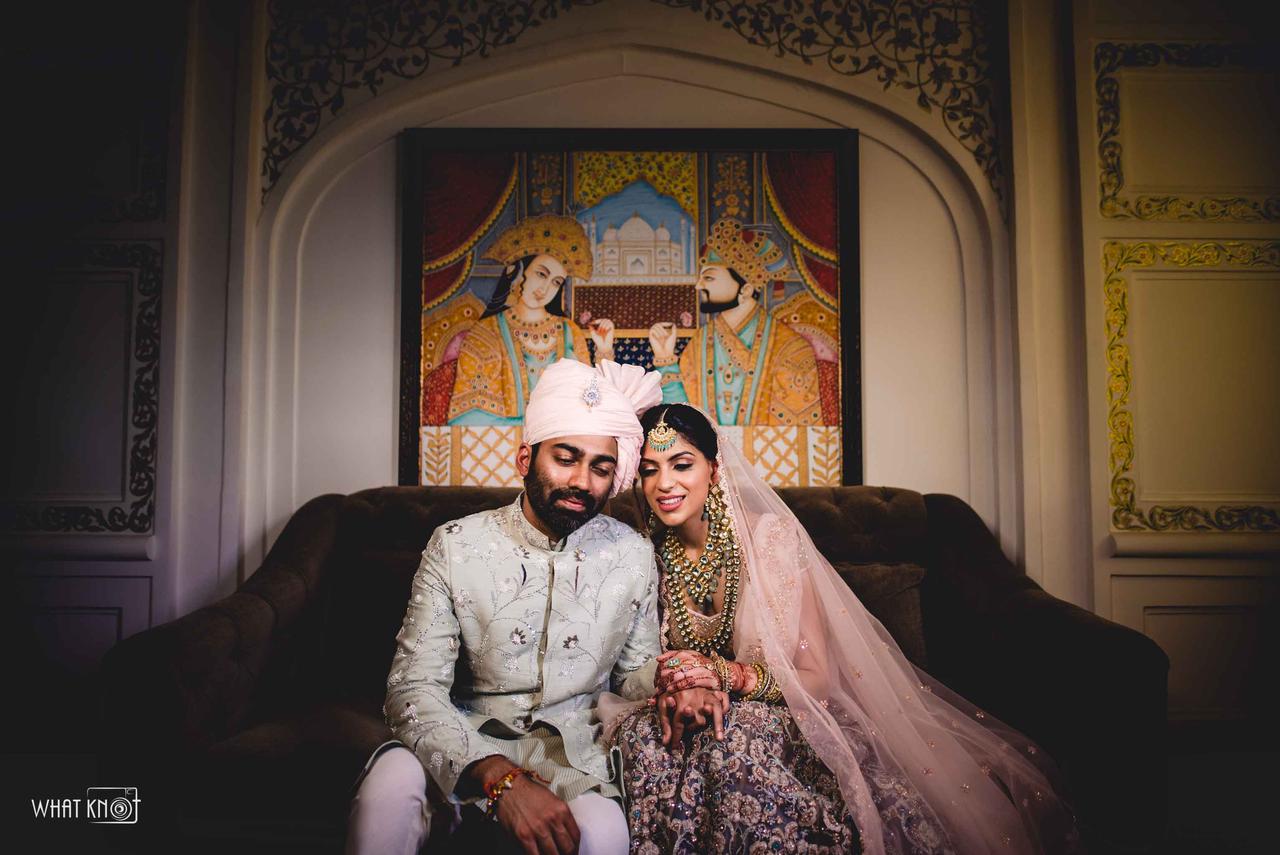 They took their pheras on the terrace with a breathtaking backdrop and colours filling the frame. Jayshree talks about the inspiration behind this and says, "This wasn't actually our first choice for pheras at the venue. But, we trusted DreamzKrraft in their vision on how the mandap would be set up against the backdrop of the terrace and Jaipur. We also liked the terrace because our pheras were sunset pheras followed by dinner and the terrace was 'formal' enough to transition from pheras to dinner without having to move into a ballroom or the like. For décor, I wanted warm blush colours which didn't distract from the venue but created a warm and inviting ambience against the sunset. I wanted the venue to be filled with flowers, candles and fairy lights, which gave the terrace a romantic soft mood throughout the night."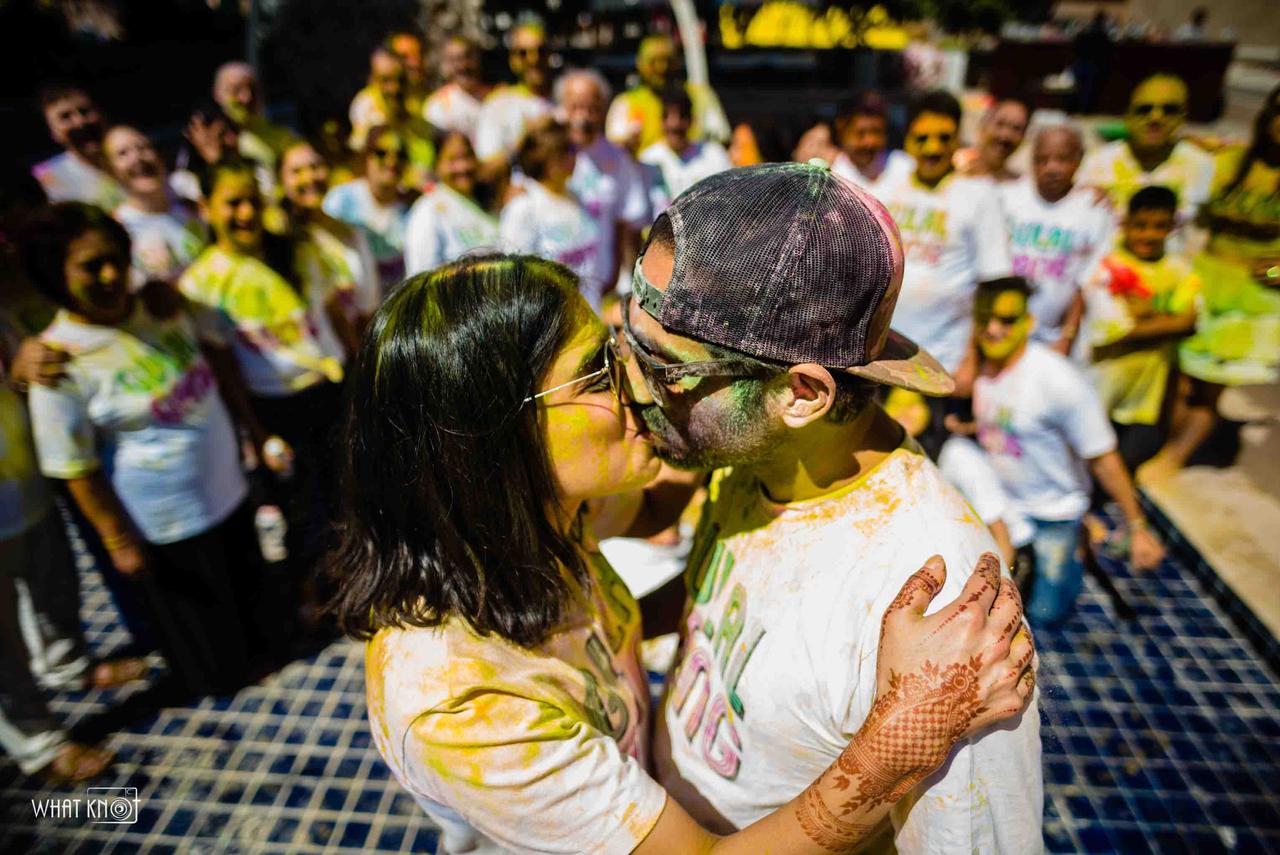 We noticed Gulal Gang customised T-shirts on their Haldi photographs and to answer our curiosity behind these customised tee-shirts, "The Gulal Gang shirts were for a Holi party we had. The last day of our functions was March 9th, the first day of Holi, so we knew we wanted to do a Holi party because so many of our guests were not Indian, and we knew everyone would have a blast playing Holi. We thought it would be a good idea to have shirts made for everyone so they didn't have to worry about their clothes spoiling. We didn't want the t-shirt to only be our hashtag and when we were looking up ideas for the Holi party, we came across a 'gulaal gang' shirt and loved the idea so we had the shirts custom made with Gulal Gang in the front and our hashtag at the back. The Holi party was a hit and everyone had an amazing time."
Many millennial brides are absolutely in love with the idea of intimate weddings, Jayshree too planned her intimate wedding and speaking about her experience she says, "One of our most important goals for the wedding was that we would not be meeting someone at our wedding for the first time. With this in mind, we created a very small guest list and invited only our closest family and friends (all of our extended family did not even make our invite list). We are so happy that we had a small wedding. Our favourite part of the wedding is that we got to spend time with and speak to all of our guests. We knew each guest intimately and it helped create a relaxed, carefree and intimate vibe for the three days. It was so amazing to know that every one that came to the wedding was there because they truly cared about us and wanted to celebrate us as we started this next journey, especially knowing we asked most of them to travel over 10 hours to attend a wedding. It was also really important to us that our friends and family got to know each other and bond, and we were able to see that happening and see our friends and family get to know each other."
She adds, "Yes! 100% I think it depends on what the couple wants out of their wedding. Our main focus was that we wanted to have fun and wanted all of our guests to have fun! We planned every detail with our guests in mind – whether it was our college night after party where we gave our DJ a playlist of our favourite songs from college, having a family member's favourite dessert on the menu or a speciality cocktail for someone's favourite drink, planning the timing of our events around our guests' ability to go sightseeing since it was most of their first time in India, etc., organizing tours for our guests around Jaipur, etc. We also were very particular about what we did not want from décor and themes and did a lot of work on the décor themes and event specifics. I would say intimate weddings make you focus more on the small details that you are able to make special for the bride and groom and their guests."
She finally adds, "Be a team and figure out in advance what you do and do not care about. The things you do not care about delegate to your planners or someone in your family that does care about it. Be respectful of each other and each other's wishes. Have fun and remember that at the end of the day the purpose of it all is to stand up in front of all of your friends and family and commit to a lifelong partnership."
If you are planning your big day, don't forget to get in touch with the amazing professionals on board to help you plan it in the best way.
The Dream Team
Wedding Planners: DreamzKrraft
Collateral Designer: The Murphy Studio
Photographers: WhatKnot
Makeup Artist & Hair Stylist: Tanvi Chembukar & Deepa
DJ: DJ Naved
And other local vendors from Jaipur.