The Ace Choices in Silky Saree for the Modish Brides
Is your saree shopping getting tiring? Let us help you pick a silky saree that can be worn multiple times at different occasions without getting bored of it.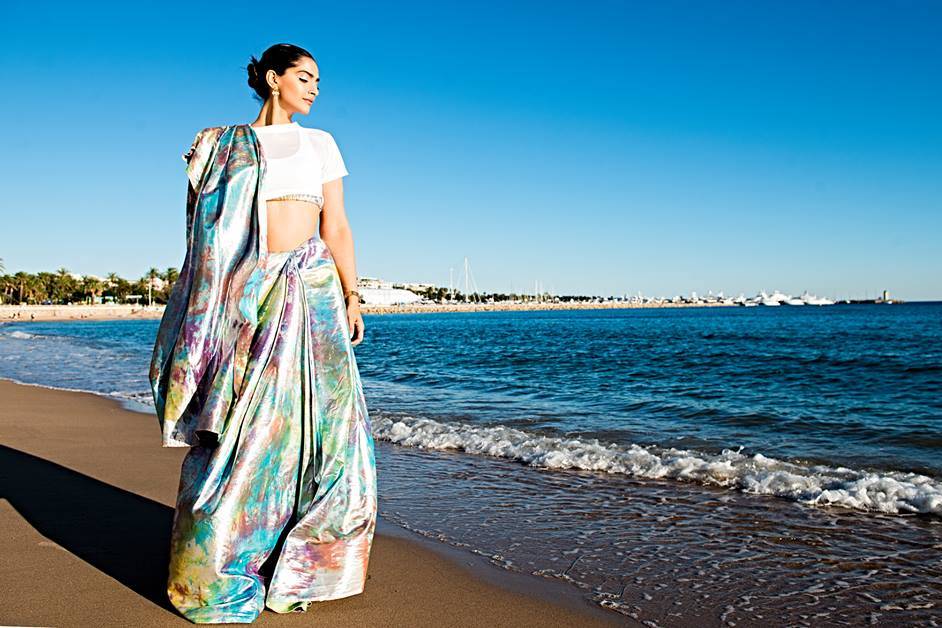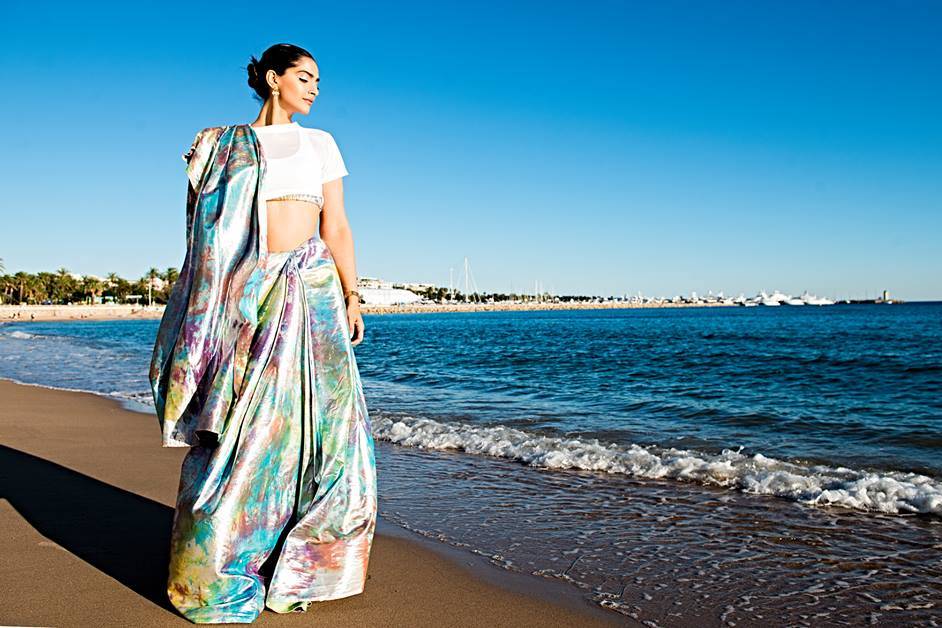 Image Courtesy: NorBlack NorWhite
While every bride has her own list of haves and have-nots for her trousseau, one thing that all of them like to have in it is a silky saree. With the changing times and the era of millennials taking over, newlywed brides are no longer wearing sarees to impress their in-laws. The trend has now changed to owning a few classic sarees that they can wear to some of the important occasions after their wedding.
While we love silk and we love sarees too, there are certain kinds of silky sarees that we know make the cut for a bridal trousseau and are the ones that every bride must take along with her?
So which are these silky sarees that are a must for the millennial brides? Well, we have made the decision much easier for you by putting together a list of our favourites that you just cannot do without. So go ahead, scroll through, till you find your perfect match of silky saree to wear on an important occasion after marriage.
Also, with the festivals around the corner, even if you're not getting married anytime soon, these silky sarees can help you get through a few pre-Diwali bashes for sure.
Basic Mashru Silk Saree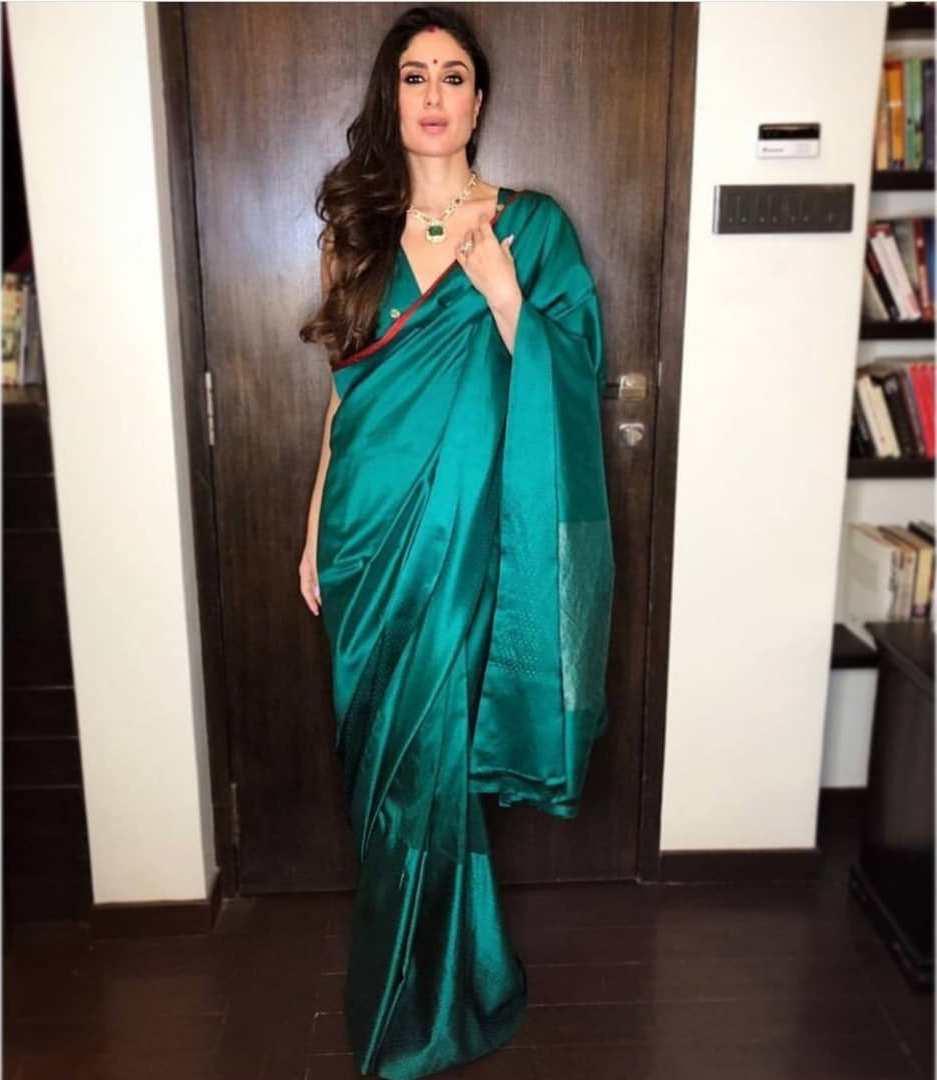 Image Courtesy: Raw Mango
With millennial brides-to-be being our main focus, we are aware that we need to explain what Mashru silk really is before going forward describing this beautiful teal green saree. Well, Mashru silk is a dynamic fabric that is made with a few kinds of cotton and majorly silk yarns. What makes Mashru silk a rage amongst younger women is the shine and lustre that this fabric has. So for all the working new brides that wish to wear something formal and yet not very blingy on their first day to work after their wedding, this silky saree is the perfect fit for you.
Pro Tip- Just because you're married does not mean you overdo the jewellery to prove it to people. Go with a pair of stunning earrings and let your Mangalsutra or sindoor, whatever you are comfortable with, do the talking.
Rich Muga Silk Saree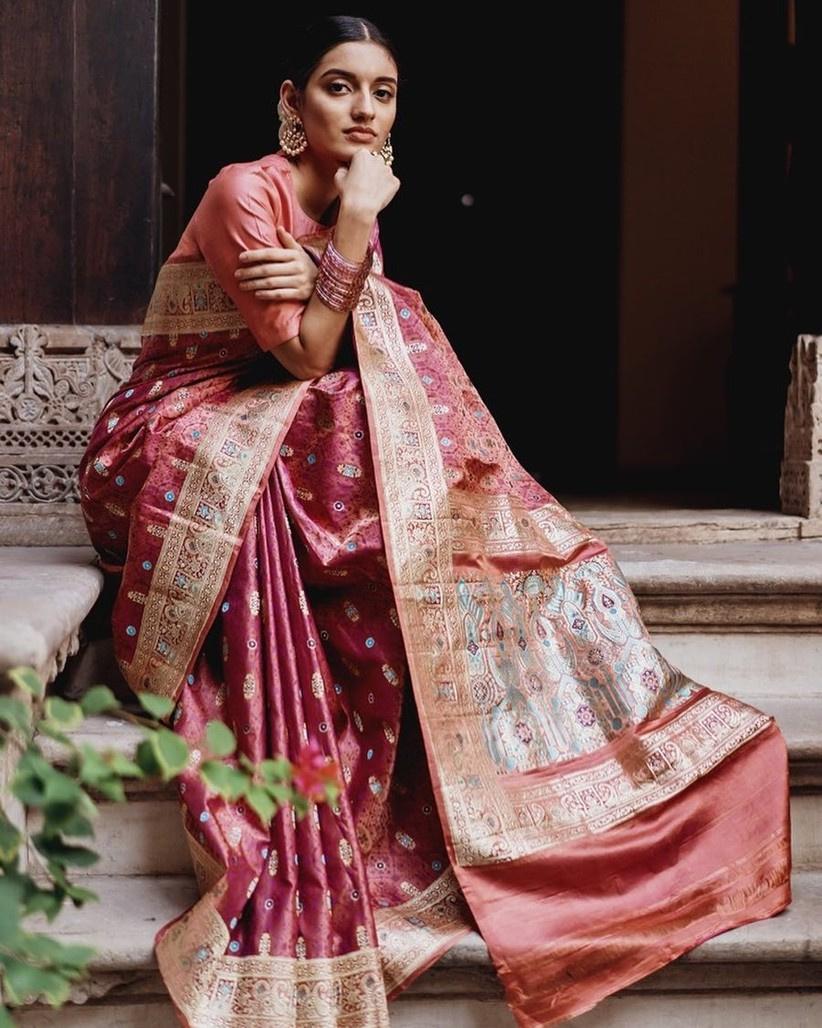 Image Courtesy: Mimamsaa by Ankita Singh
For all the women that love the shade of onion pink in Indian outfits, this silky saree is for you. Muga silk is a variety of wild silk fabric from Assam or the eastern states that has a natural yellowish golden tint with a glossy and shimmering texture that makes it look heavier than any other silk saree in your wardrobe. This one seems like a perfect fit for pujas or festivals right after your wedding as it looks rich in fabric and traditional in its designing.
Pro Tip- Pujas and festivals are all about the traditional look, so go in for a slick chignon bun and put on your traditional Jhumkas to ace the 'nayi bahu' look in front of all the relatives.
Traditional Kanchipuram Silk Saree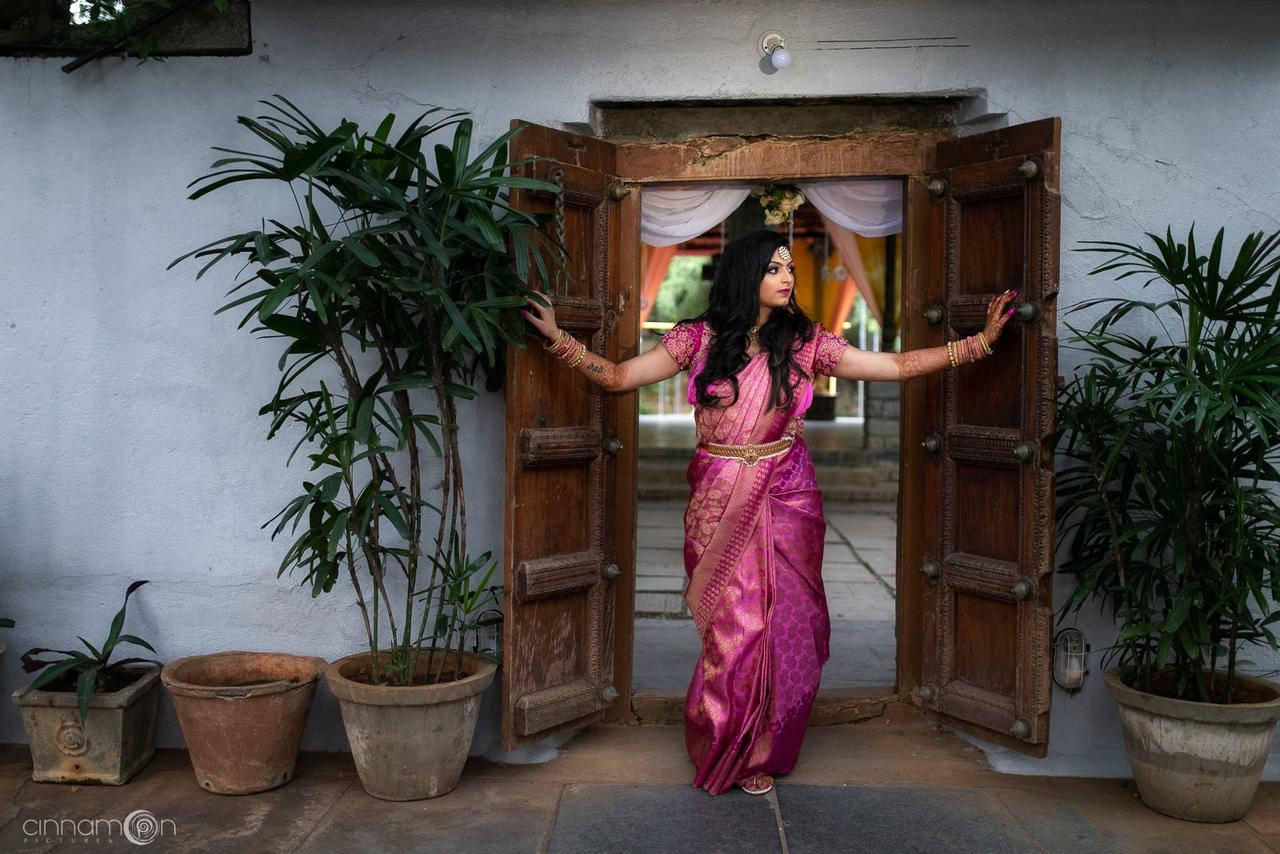 When we talk about silk sarees, Kanchipuram is usually the first to cross our mind because it is the type of handloom saree that brides from down south wear on their wedding day. It is made from pure mulberry silk with the body and the border woven separately and then interlocked together to make it look as rich and traditional as it does. So it goes without saying that the millennial brides can keep this genuine Kanchipuram silk saree woven with heavy silk and gold cloth for their big day to look nothing less than a millennial dream.
Pro Tip- While the traditional Kanchipuram always looks subtle; it is your job to choose the perfect jewellery to look bride-like. We'd suggest complete temple jewellery set with a necklace, earrings, Kamarbandh and a Maang Tikka to complete the look.
Subtle Embroidered Silk Saree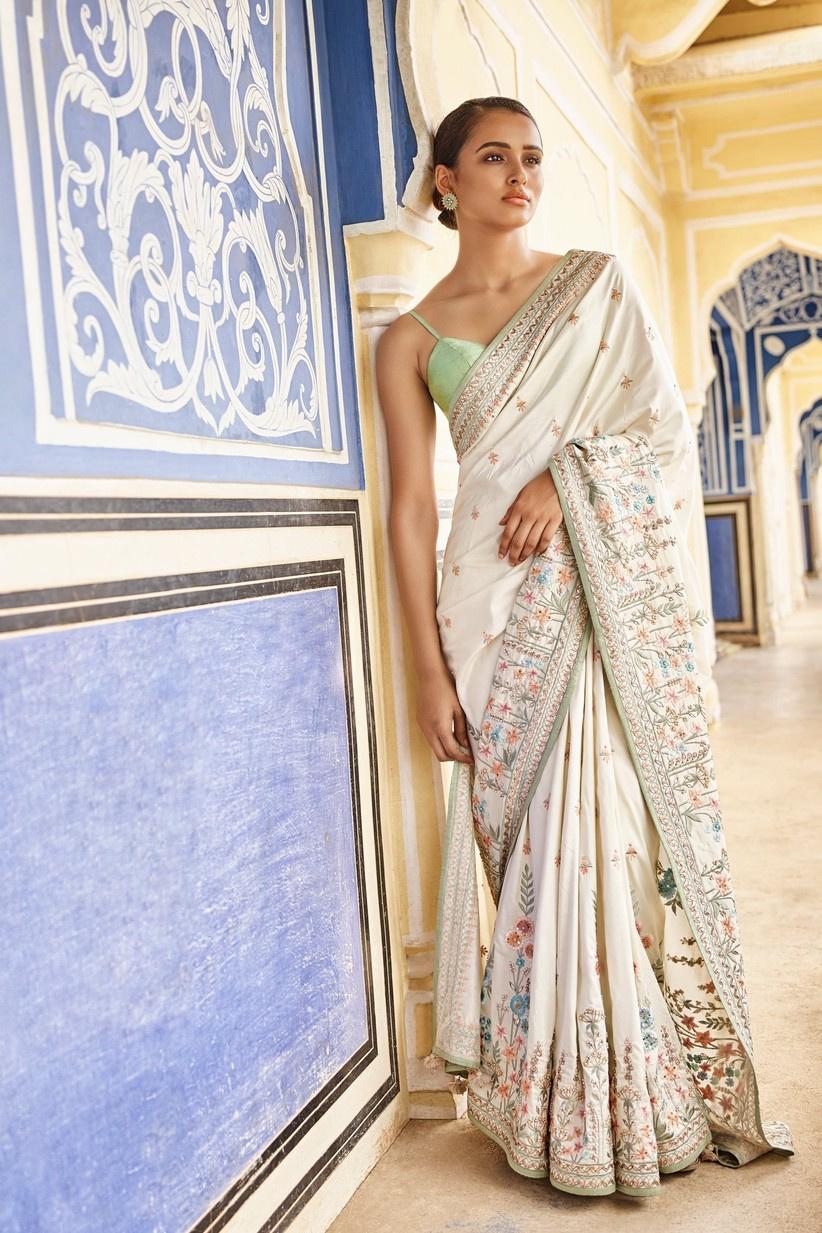 If classy is how you describe your fashion choices, then this silky saree is all that you need in your trousseau for occasions and functions after your wedding. The off-white silky saree with multi-hued delicate embroidery is the perfect addition to any millennia's wardrobe that prefers subtle outfits. For those of you wondering where you can drape this beautiful saree, we'd suggest that to functions and parties where you need to be formally dressed but not overly dressed.
Pro Tip- Make it as millennial as you can with a spaghetti bustier blouse and wear it to friend wedding functions or day-time kitties to flaunt your subtle yet classy choice. Keep the hair and jewellery minimal and according to the occasion making sure that it doesn't overpower your beautifully embroidered silky saree.
Exquisite Patola Silk Saree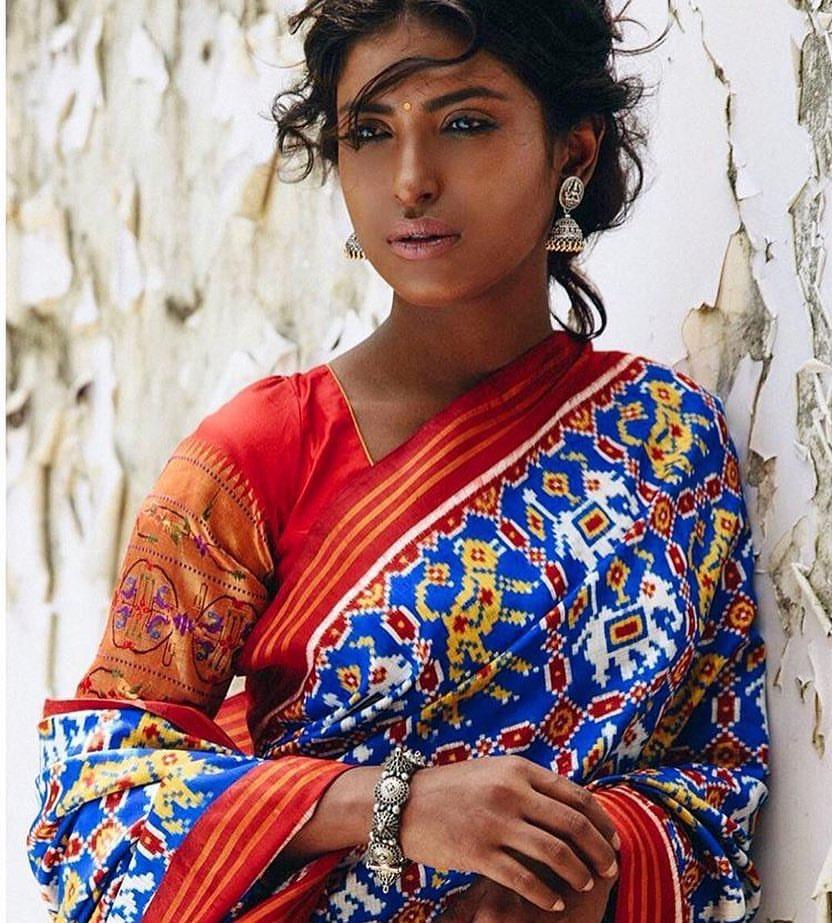 Image Courtesy: Gaurang Shah
Patola sarees as very few millennials might know is double ikat woven saree that is not just expensive but was also said to be worn by only the royal aristocratic families in the past. Nowadays, a patola saree in your wardrobe only means a rich taste for the brides that choose exquisite colours and patterns like this blue and red saree with animal and abstract motifs. Pair it with your favourite red silk blouse with golden borders to compliment the beautiful silky patola saree on a special day.
Pro Tip- While the evergreen patola silk saree is enough in itself to create an impact wherever you go, make sure you go with statement gold or silver jewellery in your ears to compliment the look. Keep the hair and makeup simple and not very millennial as the charm of the saree is timeless and so should be your get up.
Bright Self Weaved Saree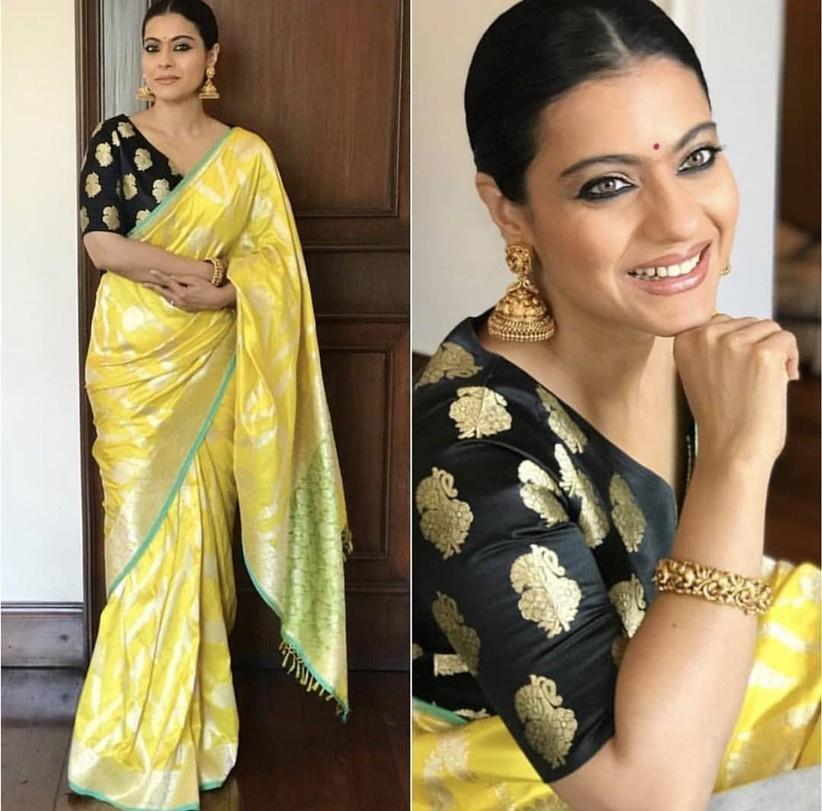 Image Courtesy: Mogra Weaves
Were you waiting for a bright coloured saree that melts your heart and makes you want to buy it immediately for your trousseau? Well, don't worry we have that silky saree on our list just for you. This bright yellow silk saree with self-weave and a contrasting blue border is just a millennial bride needs for a lunch date with her girls or even a lunch party with the in-laws. Pair it with a contrasting coloured blouse like a black Banarasi blouse to make this combination even more endearing and quirky.
Pro Tip- Just like you see in the picture, a middle parting bun with Temple Jhumkas and a Temple Kada is just how we imagine you carrying this silky saree like a pro. So, let the highlight of you look to be the saree and blouse combination and rest everything is minimal and subtle.
Elegant Habotai Silk Saree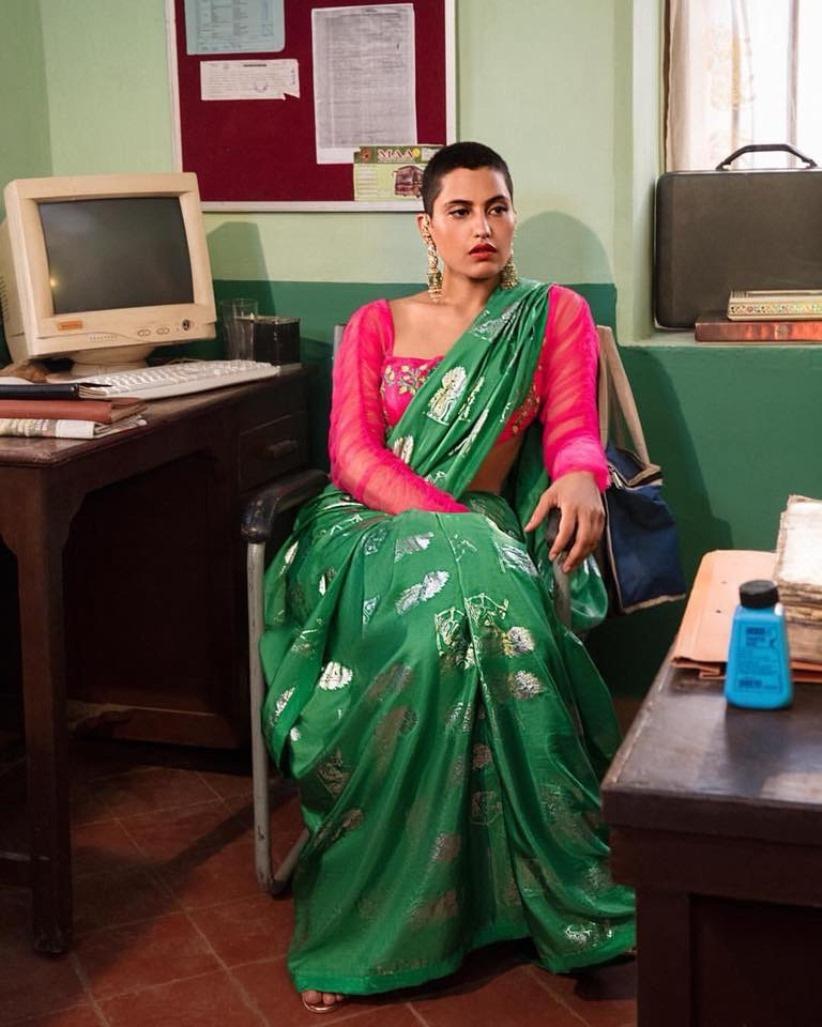 Image Courtesy: House of Masaba by Masaba Gupta
While the name may sound very unique to you, the Habotai silk is one of the most basic plain weaves of silk fabric that is traditionally woven in Japan. This neem green Habotai silk saree is for the modern women that like a flowy fabric with a little touch of gold or silver that makes it look trendy and yet very formal. This is that silky saree in your wardrobe that can be dressed up or down depending on where you wish to wear it.
Pro Tip- The Resham and Zardosi embroidered pink blouse with ruched net sleeves make for the perfect contrast that every millennial bride is looking for with her silky saree. All you have to do is put on the combination and pair it with a matching long dangler earring and you're good to go to any function big or small.
We have put together all the options that we think will be loved by the millennial brides as a part of their trousseau shopping. So do not worry you are surely not missing out on any of the best styles or designs of silky saree. Go ahead and pick the one you think suits your style and your wardrobe the best.
Which of the above options of silky saree do you like the most? Tell us in comments if you'd buy any of these for your trousseau.