Stunning Ideas to Use All Shades of Pink on Your Wedding
Looking for ideas to host a pink themed wedding? Well, we've put together the most unique ideas that use all the shades of pink seamlessly just for you!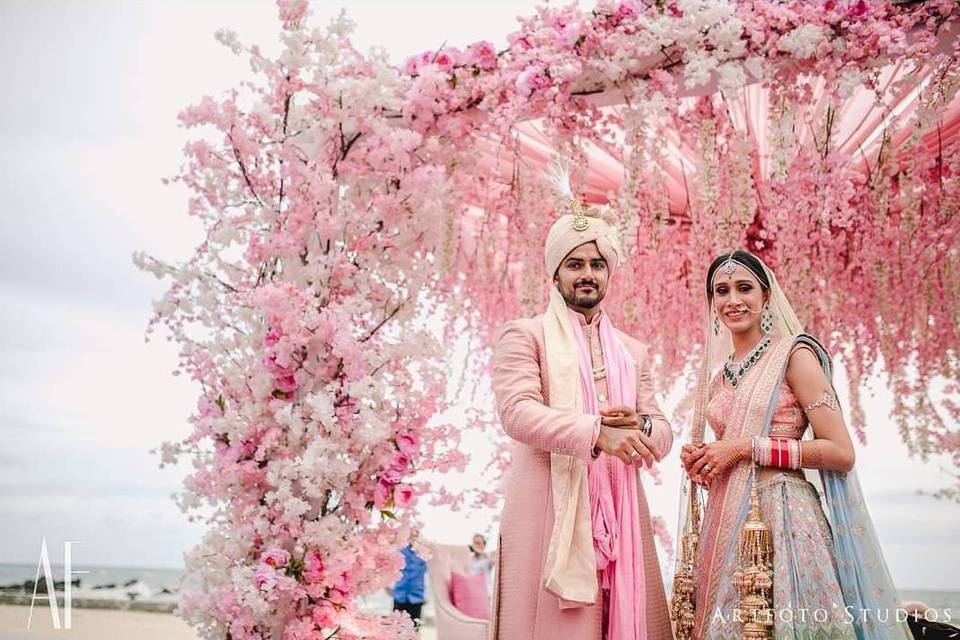 Hosting a wedding is a much bigger job than it sounds? With gazillion things to look after, the chances of making mistakes are much more while hosting a wedding than any other function or party. Which is why setting up a theme always works to make sure all your efforts are in sync with each other. Therefore, this one is for those that love the shades of pink at a wedding and wish to seamlessly incorporate it in their own.
Reds, pinks, and peaches are a common combination when it comes to wedding decor, but the important question is how to use these shades to make it look one of a kind and create an ambience like never before.
Well, here are some of our top favourite ideas to use the shades of pink when hosting a wedding.
The Pink Wedding Marquee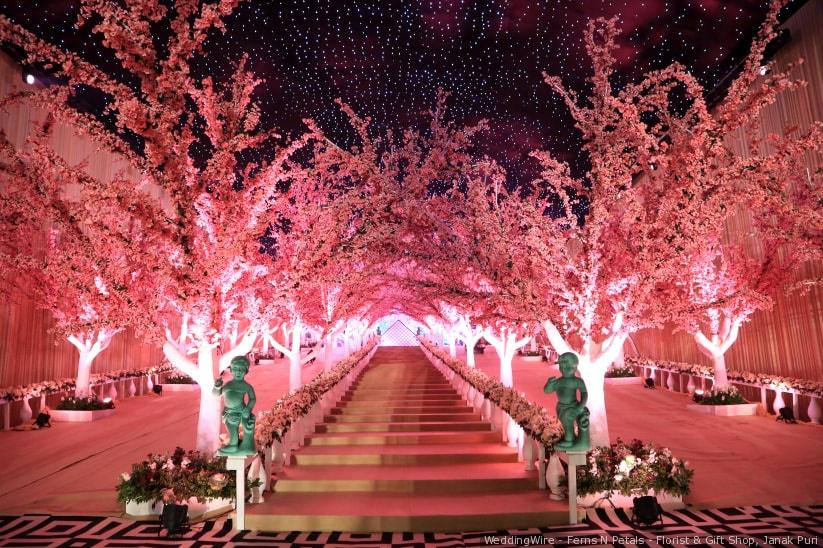 Image Courtesy: Ferns N Petals
The bar set for wedding décors is being raised every passing year and people are leaving no stones unturned to make sure theirs is the best. Wedding pandals are becoming increasingly common; however, incorporating ideas like the pink trees blossoming on the entrance does it give it unusual but extremely warm energy. While using the shades of pink, one very important criterion is to understand what matches the vibe. For example, extremely bright pink trees might end up looking cheap at the entrance, whereas the light pink and blush shades are a perfect colour combination for wedding pandals to be one of a kind.
The Floral Mandap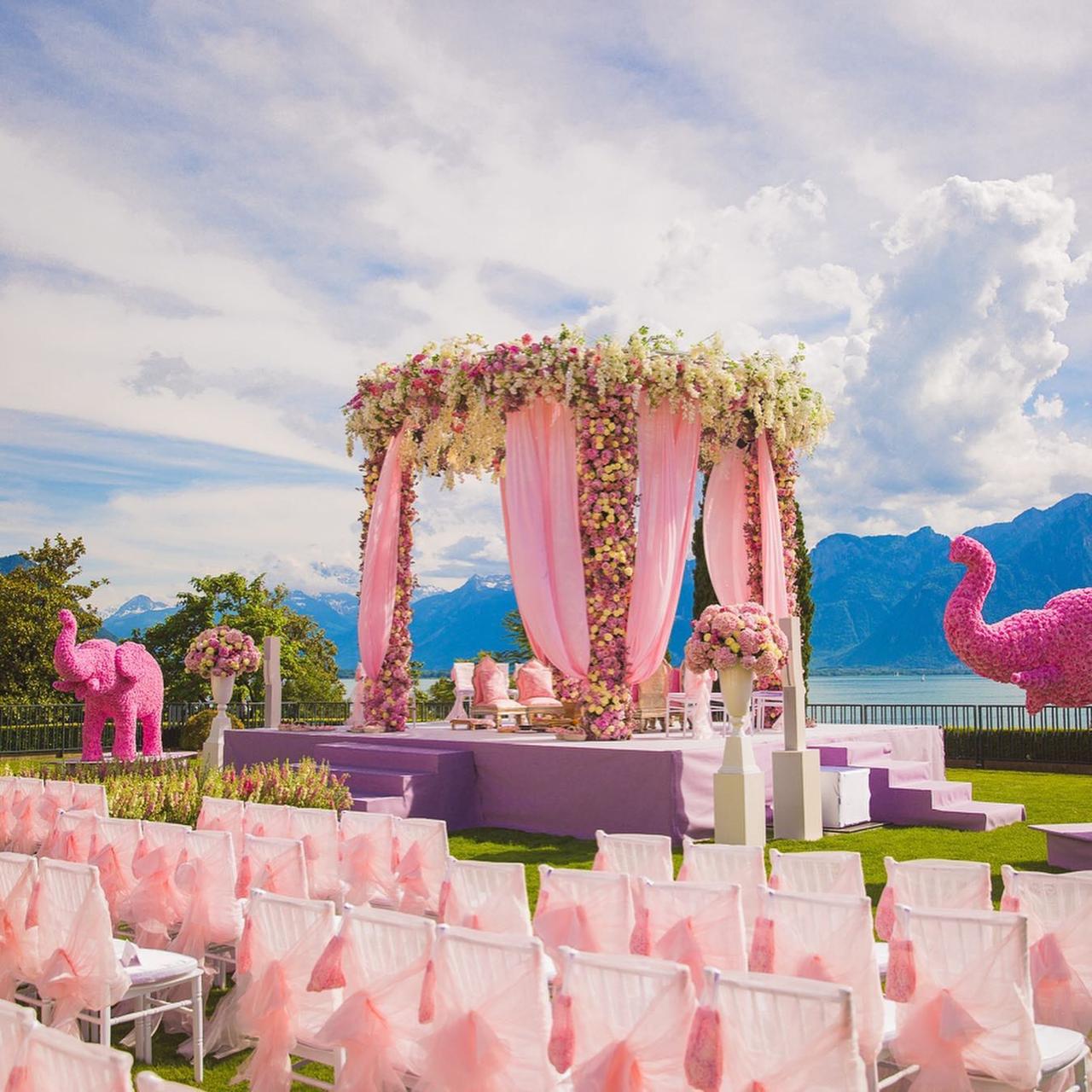 An open-air mandap can use unique ideas to incorporate the shades of pink. However, our favourite of the lot is the one that uses pink drapes around the mandap and compliments it with floral arrangements on the roof and the pillars in all shades of pink. As a whole, the pink mandap does not look overdone and rather gives a very subtle yet elaborate look to the venue. The pink drape tied around the chairs adds to the ambience and gives the venue a soothing look.
Fabric Tassels for Décor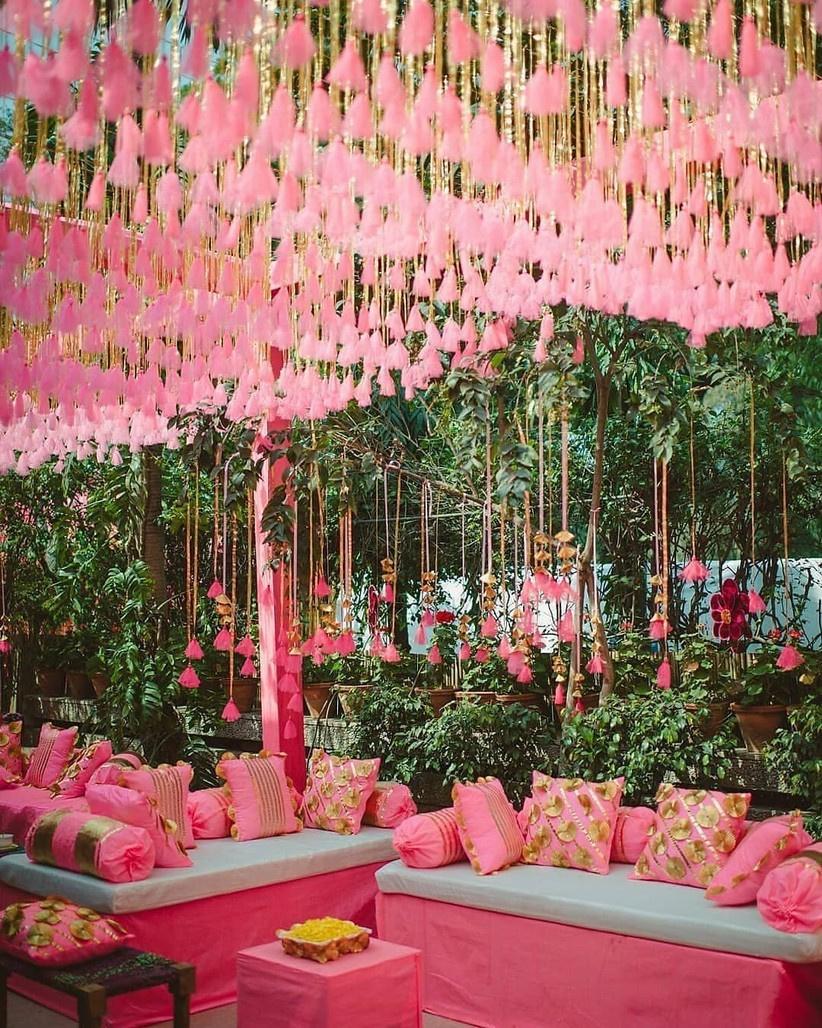 The use of fabric for décor while hosting a wedding is extremely common but how you do it is what can change the game. Just like these fabric tassels hung to create a chandelier-like look and the matching pillowcases and centre tables all together make the venue look beautiful while incorporating the shades of pink in more than one way and yet not overdoing it at the same time.
The Lighting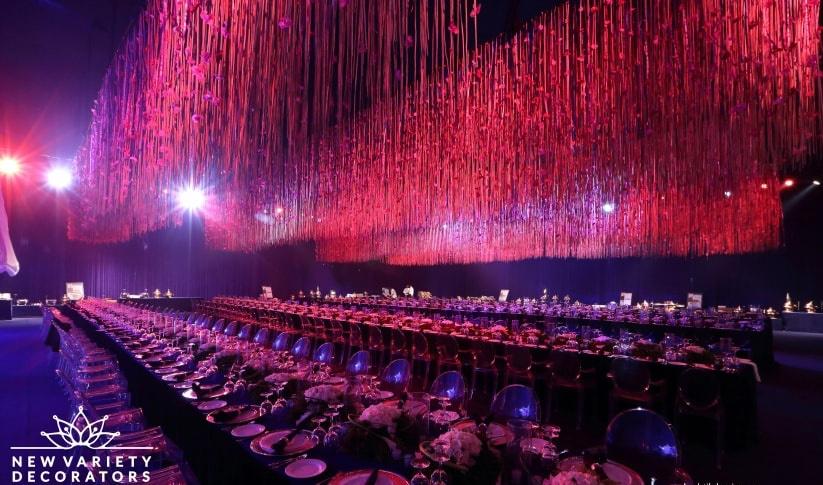 While hosting a function indoors there are other unique ideas that can also be used incorporated to follow the theme and colour combination of your choice. For those of you that have a particular theme in mind but do not understand how to use shades of pink along with the theme to not make it seem odd, well we have a perfect idea. The lighting and its colour in an indoor setup can work wonders and can add to the ambience in a lot of ways. So focus on the detailing of the banquet according to your theme and add the pink lighting to give it the feel that you wanted.
Art Installation with Roses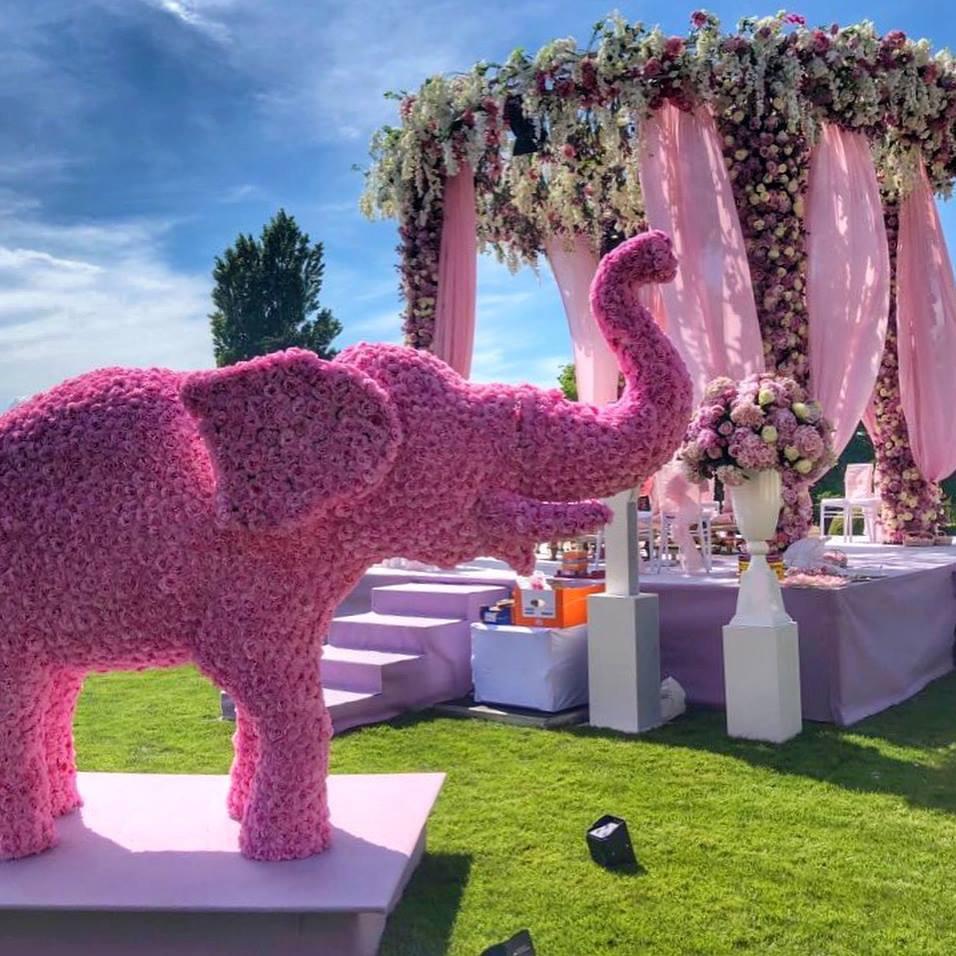 Another quirky idea to incorporate shades of pink to your wedding décor is to use roses for an art installation like this beautiful pink elephant around the mandap. The elephant does not just signify the traditional element of a wedding but also adds the charm to its décor. For those of you that wish to replace the elephants can even think about peacocks or anything else for a similar installation.
Add Theme to the Outfits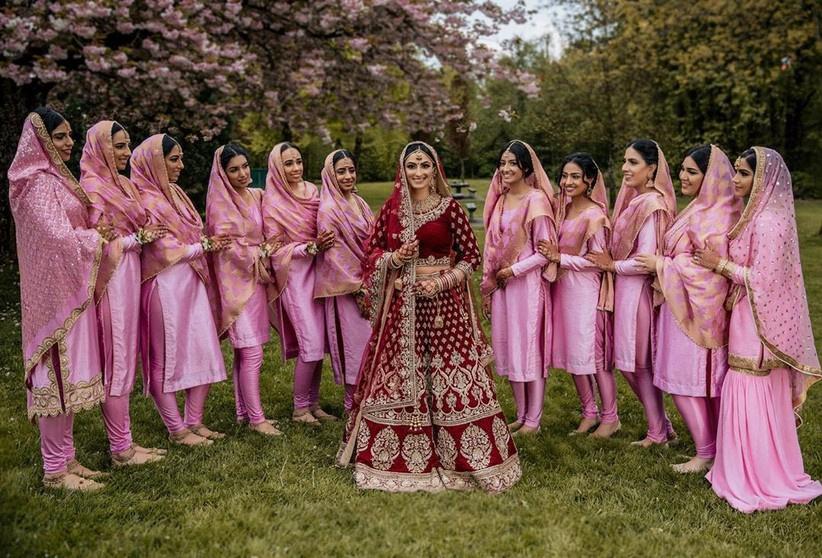 Image Courtesy: Dreambox Creations
Last but not least on our list is the wedding outfits. For those of you hosting a wedding using all shades of pink, let your family and friends, bridesmaids or groomsmen dress in pink to add to the theme and décor. While some people may find wearing similar clothes odd, there is nothing odd in them wearing similar shades so that the theme of the wedding comes across rather strongly as a whole. So, inform your near and dear ones well before time and ask them to dress as per the theme.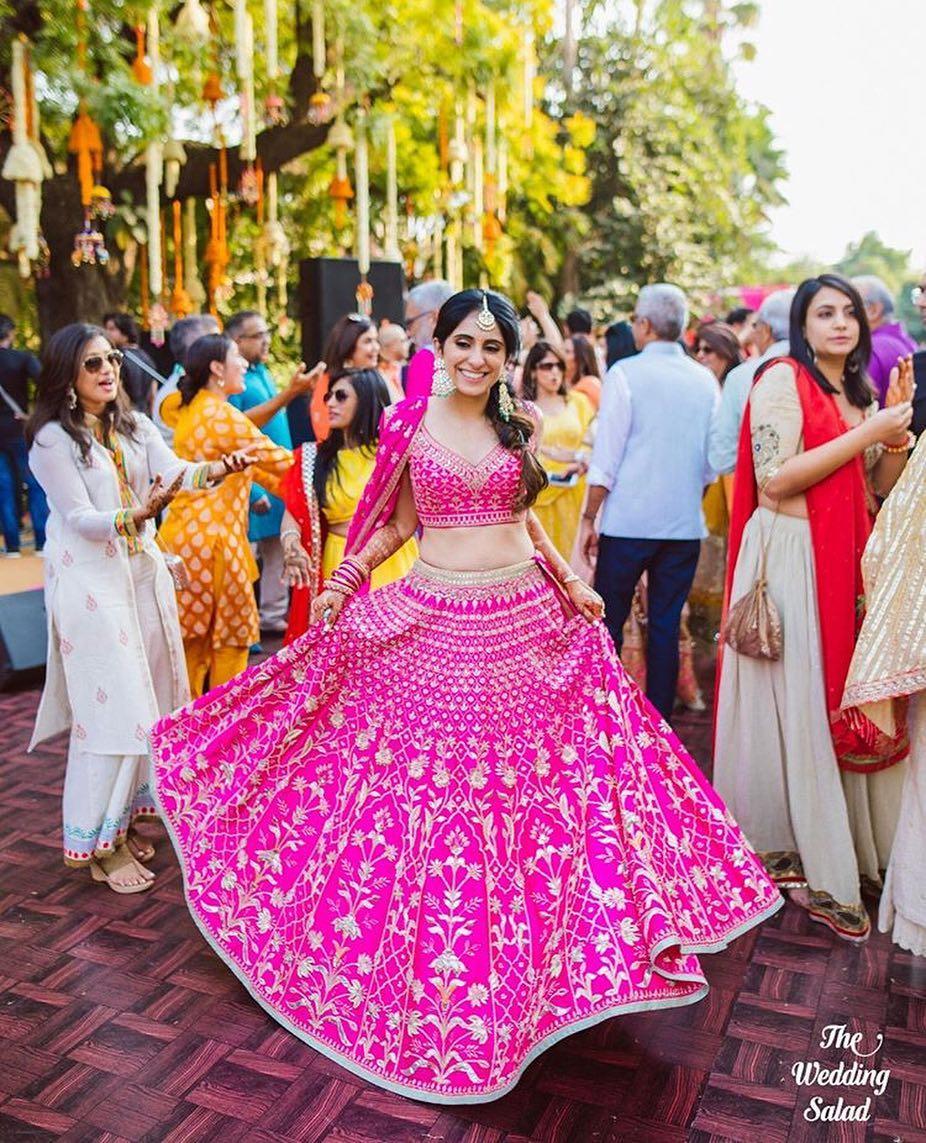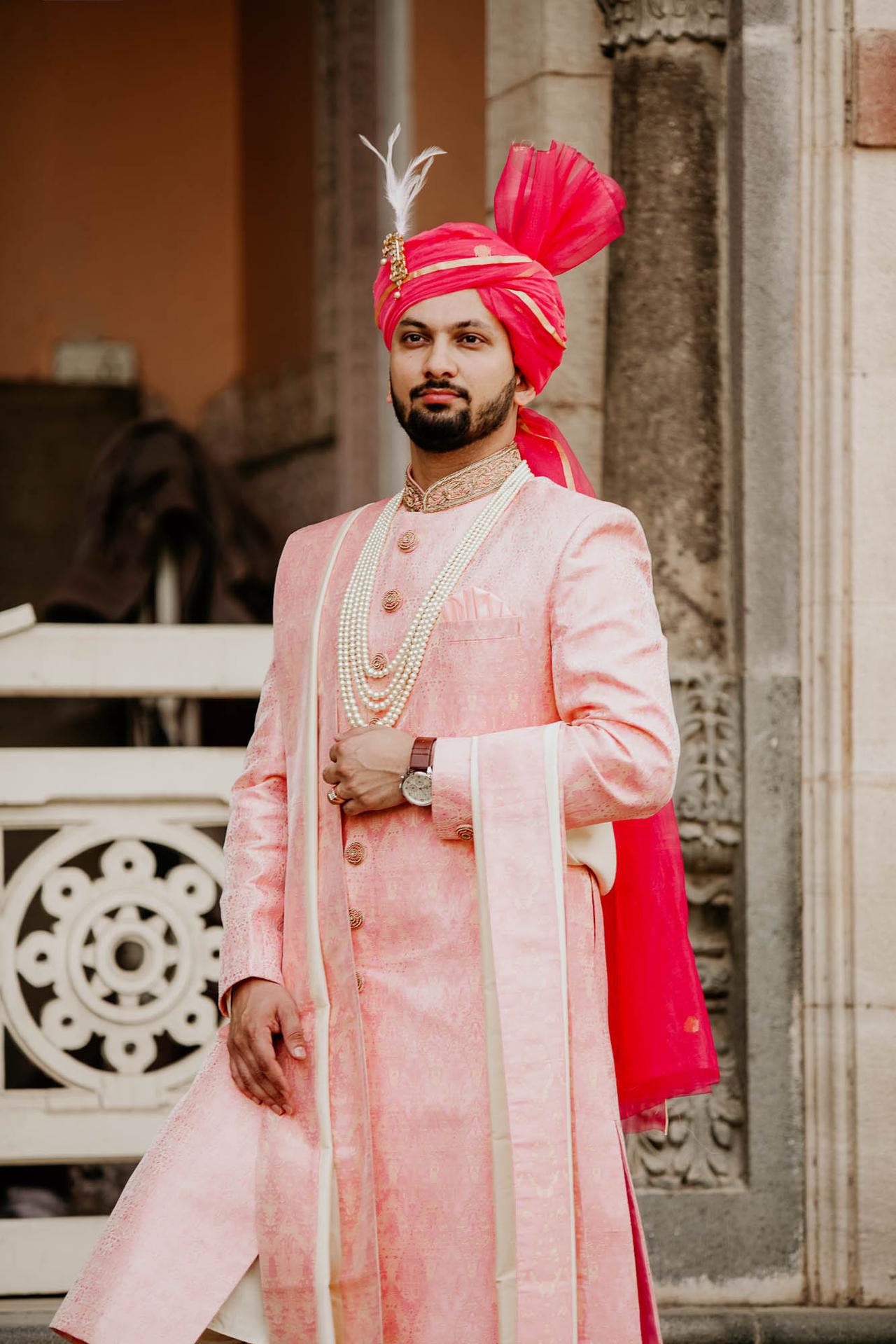 The bride and groom can coordinate their outfits or simply choose pastels for the D-day look and the pink lehenga and the pink sherwani for a day wedding is everything surreal and nice. Grooms, in fact, have taken it up by a notch by flaunting the pink silhouettes for their big day!
While using all shades of pink while hosting a wedding isn't that difficult, what's important is for it all to look seamless and in sync. All the above ideas are ones that are impossible to go wrong if you're hosting a pink themed wedding. So think no further and get to planning which of these would you incorporate for your wedding and how.
Tell us in comments if you love these ideas of using shades of pink for your wedding décor.