Designer Wear on Your Fingertips Now as the Sabyasachi Online Store Is Wreaking Havoc in the Wedding Shopping
Getting married? You know that you can never go wrong with Sabyasachi for your outfits! So, click through to these Sabyasachi online stores and fuel your binge shopping spree for the A-list designer.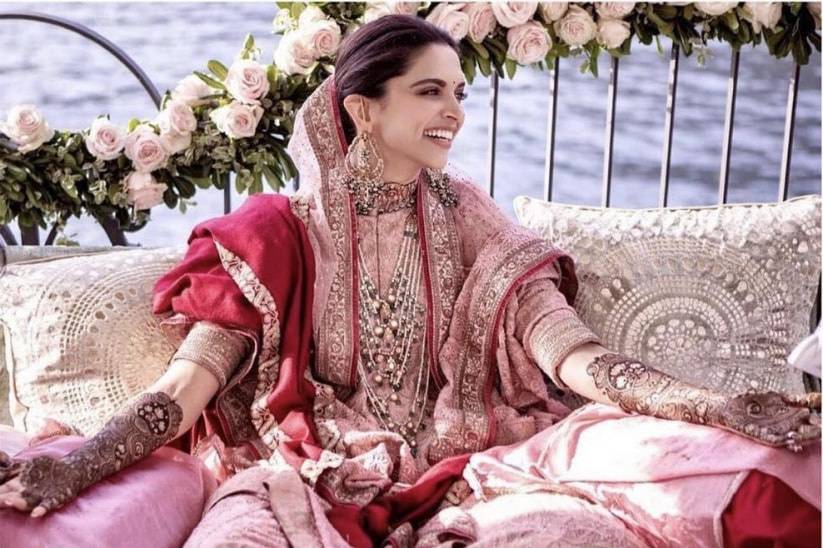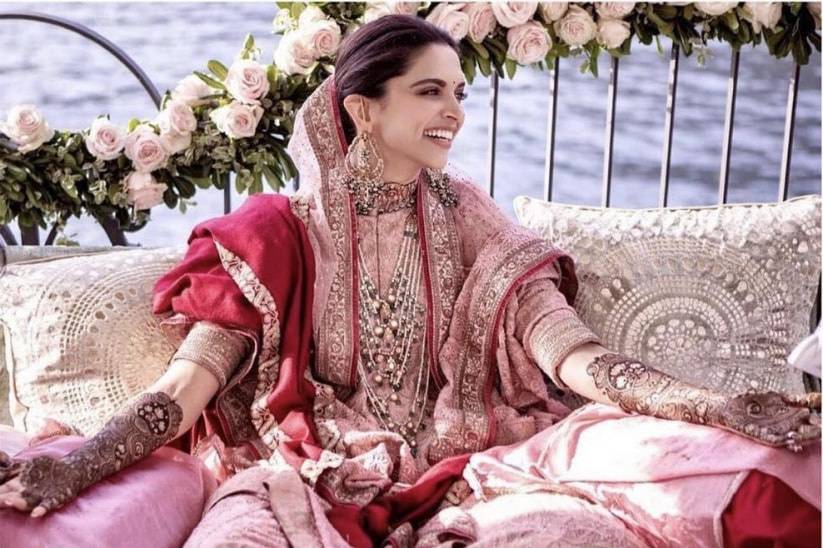 Image courtesy: Sabyasachi on Facebook
Neha's little niece thinks a saree is called Sabyasachi. That's because her soon-to-be-wed Maasi keeps exclaiming, "I'm going to wear Sabyasachi" to all her friends and relatives! That's the level of love, trust and acclaim the brand has created in the people's hearts! It's a big blessing that the designer's label isn't limited to just Sabyasachi sarees. From clutches and gowns to salwar kameez and lehenga…You can cover a major part of your bridal shopping to amp up the big day from home, via Sabyasachi online stores.
More than being an upscale brand meant for the wedding attires in the country that stretches far and beyond the national borders, Sabyasachi is a name that evokes an emotion of royalty and serenity infused perfectly and the designs are an amalgamation of these emotions along with perfection and precision of the work that makes every bride look like a dream come true as she walks down the aisle, followed by numerous gasps of "wow" from her people.
Click away to the following websites for some of the label's finest offerings that have been extended to the availability of being one click away with Sabyasachi online stores:
1. Carma Online Shop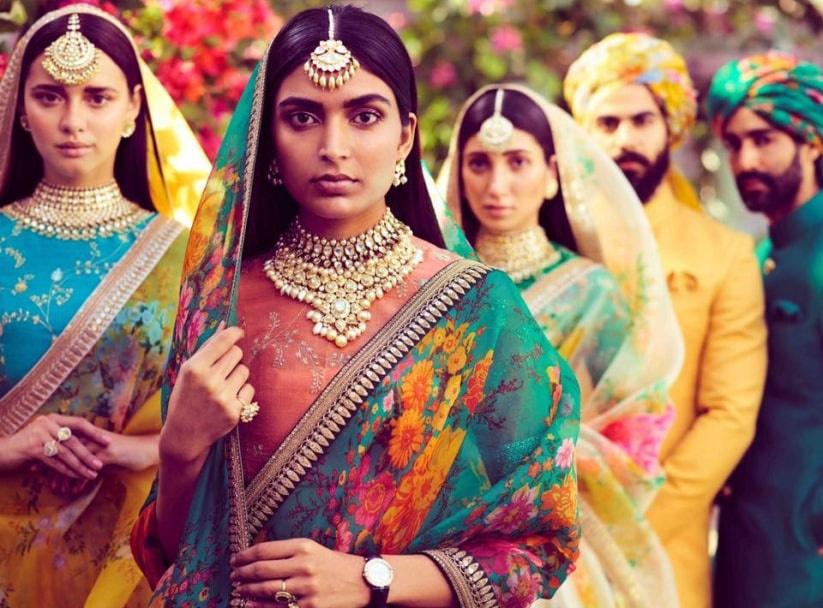 Image courtesy: Sabyasachi on Facebook
If you're looking for variety, the Carma store should definitely be the first website you visit. From the trademark embroidered Sabyasachi lehengas to exquisite sarees, kurtas and sherwanis, there's plenty here to excite different sensibilities and personal styles. You could go fusion as well and pick up an Anarkali or Kalidar outfit or an evening gown for your evening events.
There's also a pretty good collection in menswear, including designer kurta sets and sherwanis. So, if you feel like helping your hubby choose something stylish enough to match your look, you now know which Sabyasachi online store to visit!
Carma online also has a delightful line of accessories, including different styles in bags and clutches (prices vary from ₹17,000 to ₹55,000) and an assortment of belts (priced at about ₹10,000) What's more, you can pay with easy EMIs, with zero processing fee schemes available on all major credit cards! The store offers free delivery on orders placed from anywhere in India. If you're located outside of the country, you can still avail free delivery on all orders priced at ₹15,000 or more.
Costs:
Bridal lehenga: ₹2 lakh to ₹3 lakh
Bridal saree: ₹50,000 to ₹3 lakh
Anarkali, Kalidar, Gowns: ₹2 lakh to ₹3.5 lakh
Kurta sets and Sherwanis: ₹40,000 to ₹1.5 lakh
2. Pia ka Ghar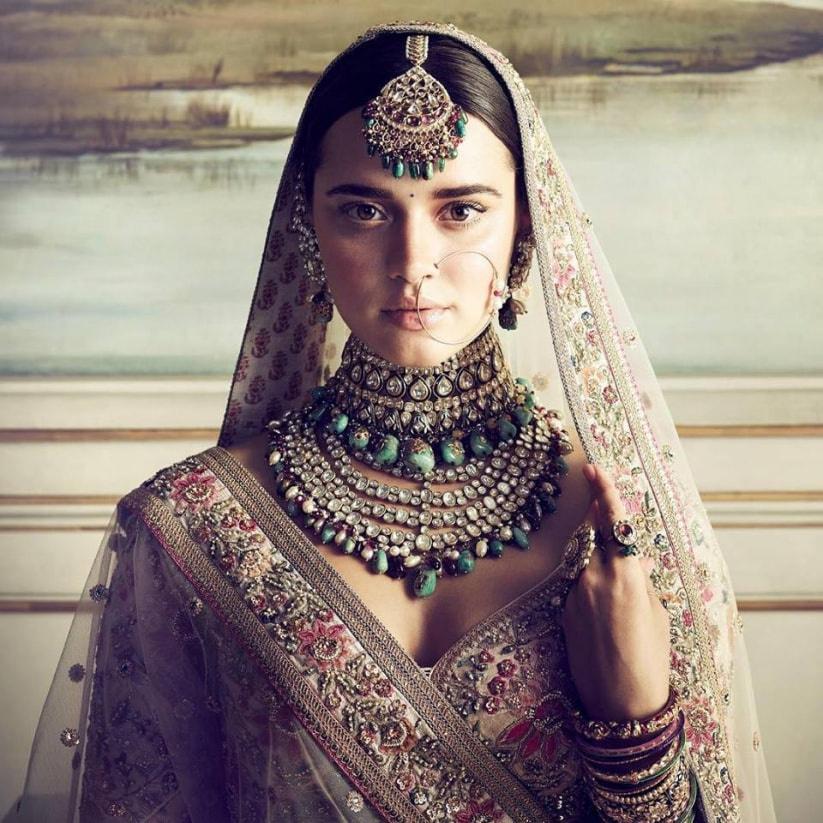 Image courtesy: Sabyasachi on Facebook
Perhaps the most comprehensive collection of Sabyasachi designs on the internet! This US-based store carries a wide range in lehengas, sarees, printed suits, kurtas, sherwanis and clutches.
One of the big bonuses of going with this Sabyasachi online store is the vast range of supplementary services that a customer can avail. These include expert advice on personal styling and selecting matching jewellery for your choice of outfit. Pia ka Ghar ships to locations all over the world. The average time of delivery for your orders is about 6-8 weeks, but the store promises assistance if you're in need of designer creations on short notice. This store has made the designs more within the reach for the international brides who will now get to flaunt the Sabyasachi ensemble even abroad with the Sabyasachi online store being one click away and authentic to the T.
You may also invest in heritage jewellery by Sabyasachi to go along with your bridal outfit.
Costs:
Bridal lehenga: ₹1 lakh to ₹6 lakh
Bridal saree: ₹50,000 to ₹3.5 lakh
Anarkali, Kalidar, Gowns: ₹2 lakh to ₹3.5 lakh
3. Flyrobe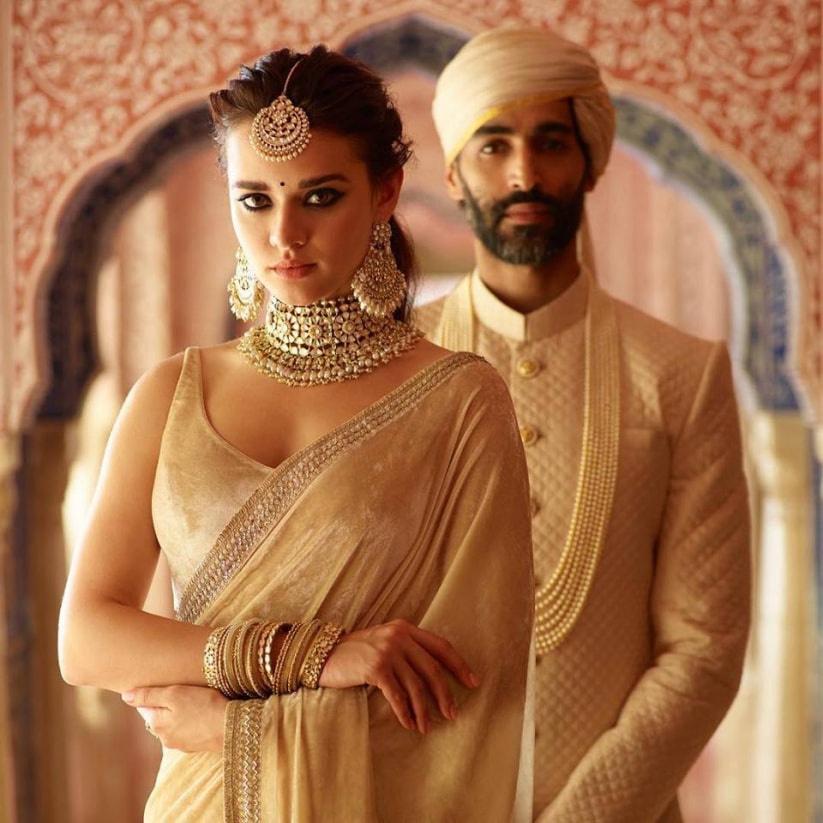 Image courtesy: Sabyasachi on Facebook
Here's a Sabyasachi online store for those who are more traditionally inclined!
While Flyrobe is renowned as a bridal rental service, few know that they also sell some designer creations, particularly Sabyasachi. Most of the designs available bear the trademark hues, embroidery and embellishments associated with the classical Indian bridal look.
It's also your go-to shopping site in case of wardrobe emergencies, short notice invitations and events not really big or important enough to warrant investing in designer wear. The store offers dresses on rent, with a 4-day rental period and easy EMI payment facility for major credit cards. Another one of Sabyasachi online stores that offer deliveries to virtually every location in India, you can get free delivery too, for purchases above ₹500.
Costs:
Bridal lehenga: On request
Bridal saree: On request
Things to remember when buying Sabyasachi online: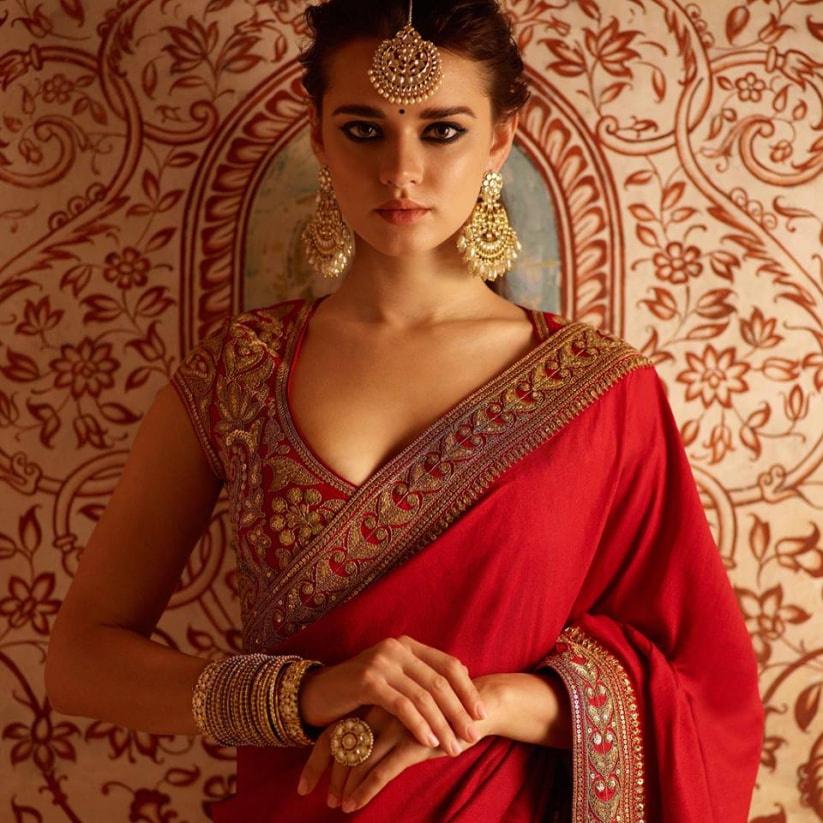 Image courtesy: Sabyasachi on Facebook
Taking care of your bridal shopping from the comfort of your home is definitely an attractive option. It would be a blast—you and your gang sipping tea while fawning and fighting over stunning clothing and accessories, fantasising about your final looks! But there are certain things you must remember when looking to shop from a Sabyasachi online store.
Sabyasachi online stores carry only a limited range in terms of heavy, detailed and high embellishment dresses you might want for your wedding. Planning on wearing the kind of dresses you're used to watching in Bollywood movies, fashion magazines or maybe the designer's recent bridal collection? You'd better be quick to reserve the few relevant options available on these websites before another would-be bride beats you to it! There are a thousand websites for buying bridal clothes and they might claim to be selling or renting out an original Sabyasachi piece, but it is for you to confirm this certification and not settle for anything that is not the original. There are many ways to do it, the simplest of them being the price factor.
Further, be mindful of the expected delivery dates for your orders. Also, it's always best to order early. The last delivery date should leave you with at least a week (preferably more) to make other arrangements should your order fall short of meeting your expectations.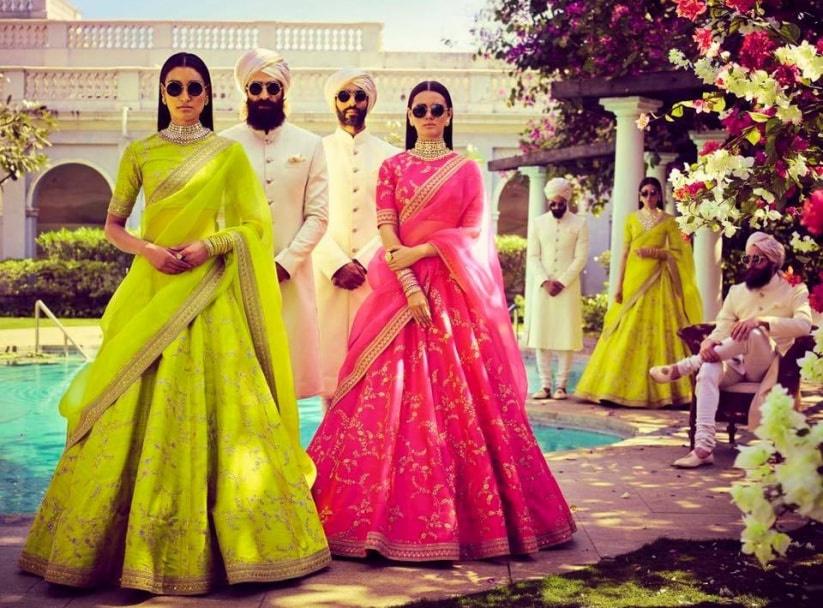 Image courtesy: Sabyasachi on Facebook
Now that you've gotten an idea which Sabyasachi online stores are best suited to meeting your specific needs and budget, we'd suggest you rush on and start shopping right away. The supplies online are almost always short of the demand!
And don't forget to share your wardrobe plan and stories with us in the comments section.