Here Are Resorts Around Bangalore for the Perfect Domestic Honeymoon
Celebrated your BIG day with a bang? It's time to head to a relaxing honeymoon that is not too heavy on your pocket. These resorts around Bangalore are drop-dead gorgeous!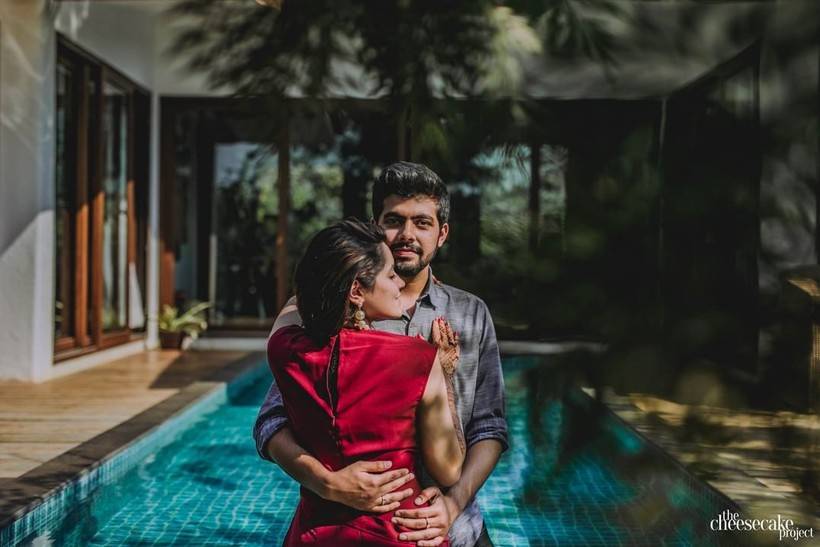 While there are thousands of attractive destinations around the world, we often forget about the beautiful properties in our own country that are perfect for a relaxing honeymoon stay. For couples that are not looking to travel too much and spend a few days at a serene property and replenish their energies, here's the perfect list of resorts around Bangalore for you.
The cities in the south of India are famous for its beaches and greenery, and therefore its resorts are famous for its view and location. So here are some of our top picks of resorts around Bangalore that are worth spending your honeymoon at.
Therefore all you millennial couples that have fantasised about a budget honeymoon to south India; these are some of your best options.
The Xanadu, Coonoor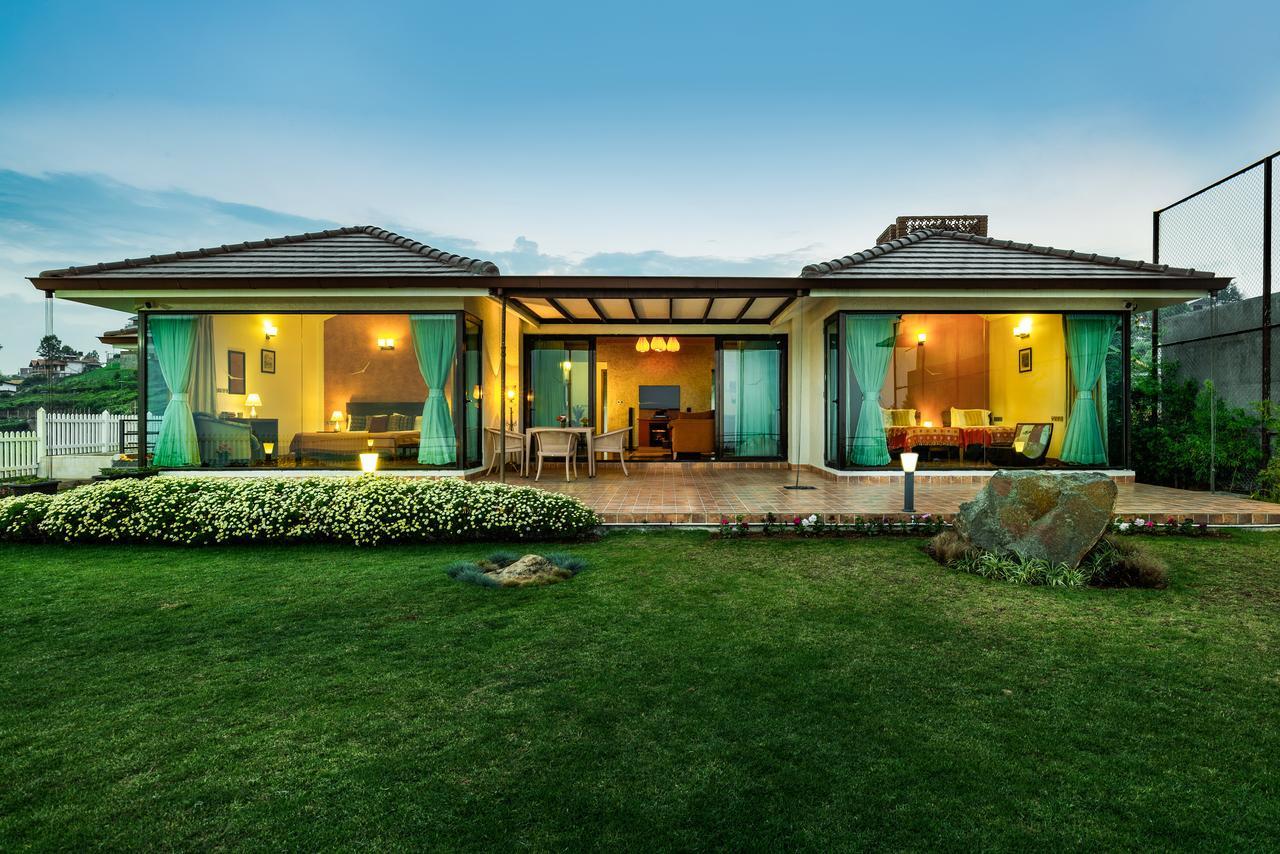 Image Courtesy: The Xanadu Official Website
On the top of our list is this fully serviced luxury villa for our honeymooners that like peace and privacy. Being one of the best properties in Coonoor, you get the luxury of a 24x7 special service that is truly a boon for the lazy couples that do not wish to leave their villas even to eat. This beautiful property is for nature-lovers and is commonly called as the honeymooners' paradise across other resorts around Bangalore.
The Tamara, Coorg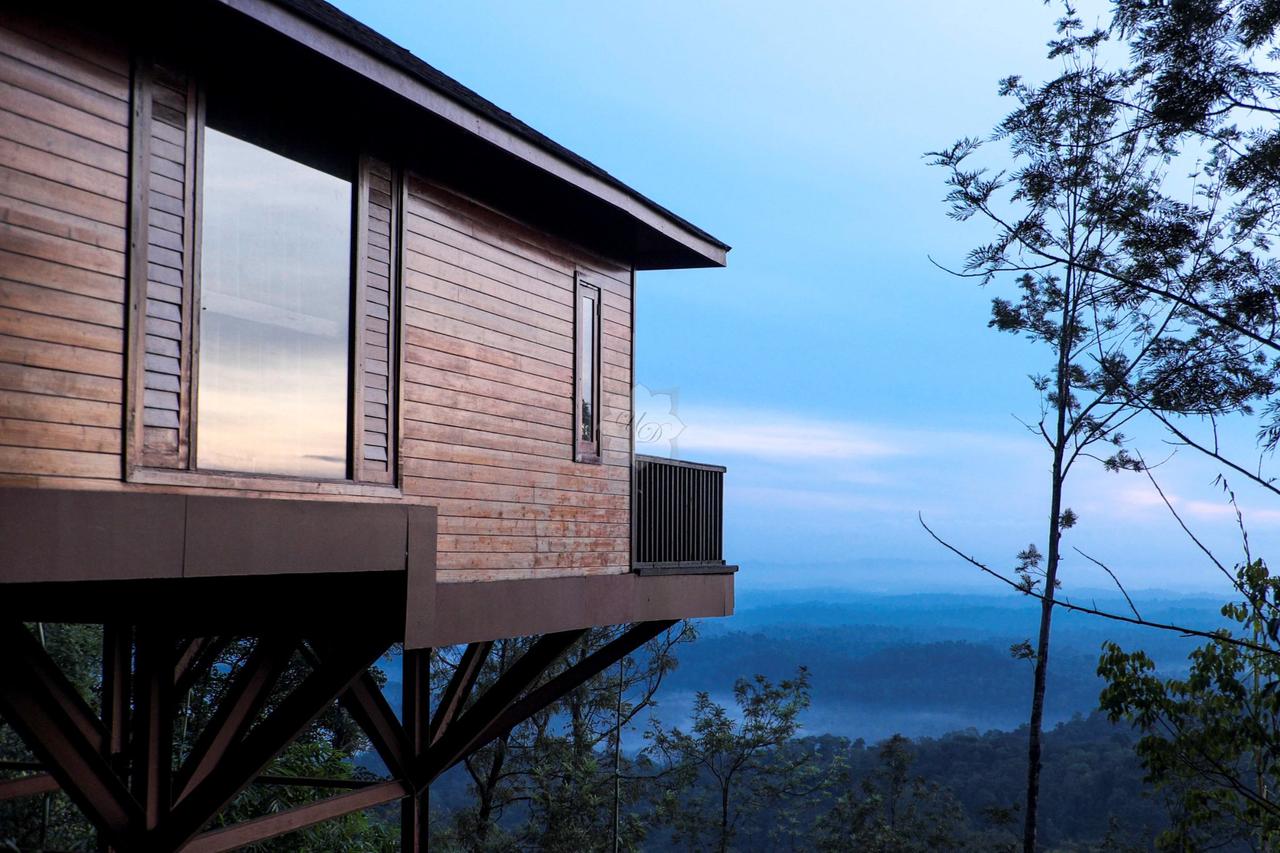 A beautiful property nestled in the heart of the hills, the Tamara in Coorg is the perfect honeymoon place for couples that are looking to rediscover the joy of being surrounded by nature. Their luxury cottages have a private sundeck for the honeymooners to unwind while spending some quality time with each other. With the cottages being spacious and architecturally inspired by nature, honeymooners that wish to disconnect for a bit will also be thankful for the low network and weak signals in the area.
Evolve Back, Coorg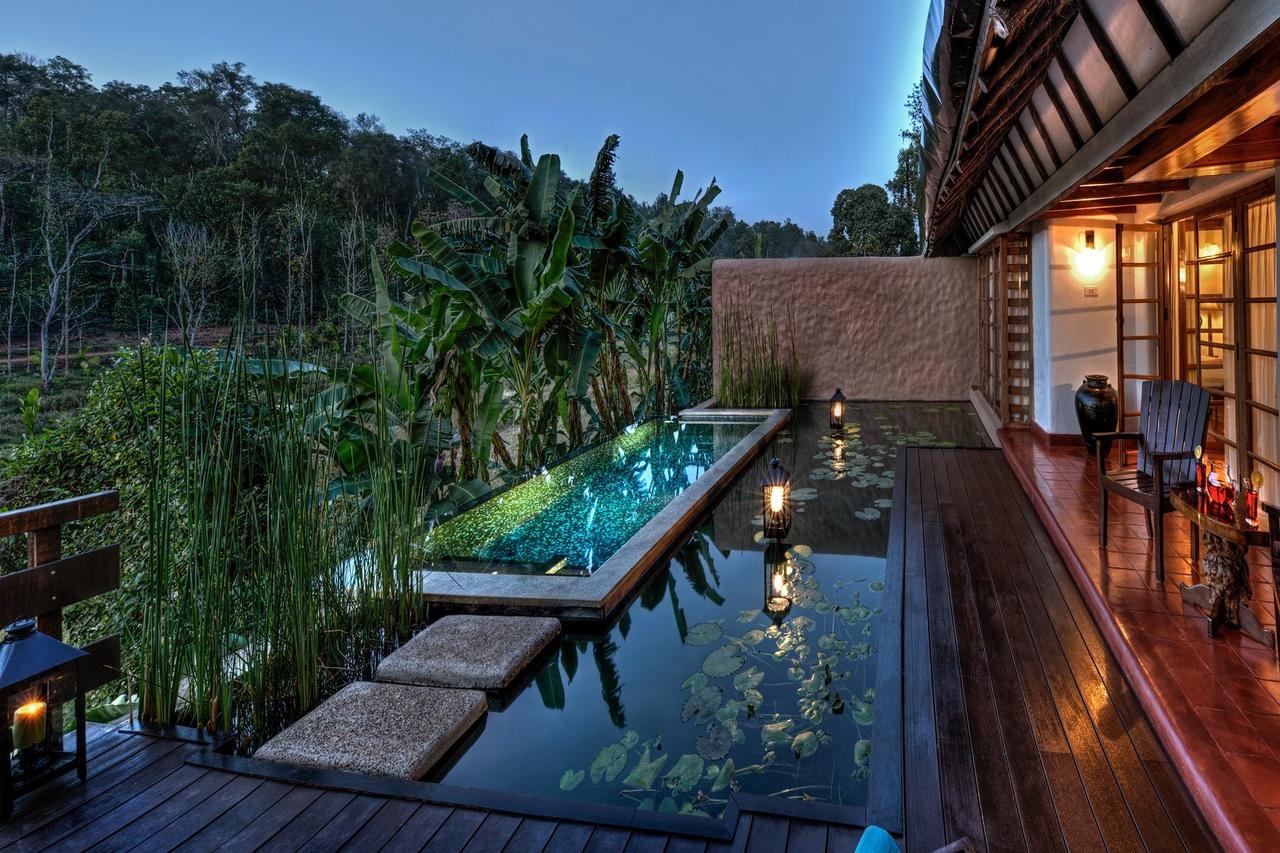 Image Courtesy: Evolve Back Official Website
While it seems like Coorg is our favourite place to looks for resorts around Bangalore, the fact is that we couldn't resist putting this one on the list because of how beautiful it is. A villa with a private swimming pool is what we'll suggest to our honeymooners that want their budget honeymoon to still be extravagant and special. The Ayurvedic herbal baths and oil massages by experts at Evolve Back will not just release all the wedding stress but also make sure that you go back from your honeymoon refreshed and relaxed.
Savoy, Ooty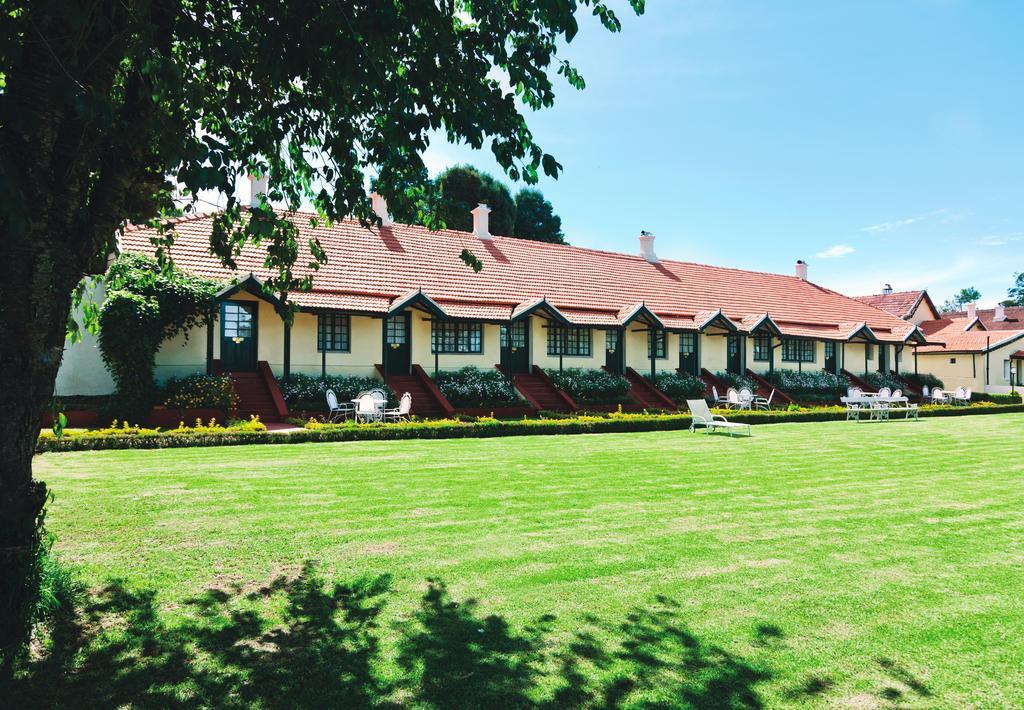 Image Courtesy: Savoy, Ooty Official Website
Known to be a landmark in the misty hills of Ooty, Savoy is the perfect budget honeymoon for the couples that are not looking for anything extravagant. The reason why Savoy makes to our top list of resorts around Bangalore is that it walks through the Nilgiri estates and allows its guests to relive the charm of the golden age surrounding themselves with the fragrance of pine and eucalyptus trees. The signature rooms with antique fixtures and a panoramic view of the lush green garden is just what honeymooners must look forward to in this beautiful property in Ooty.
The Village, Mysore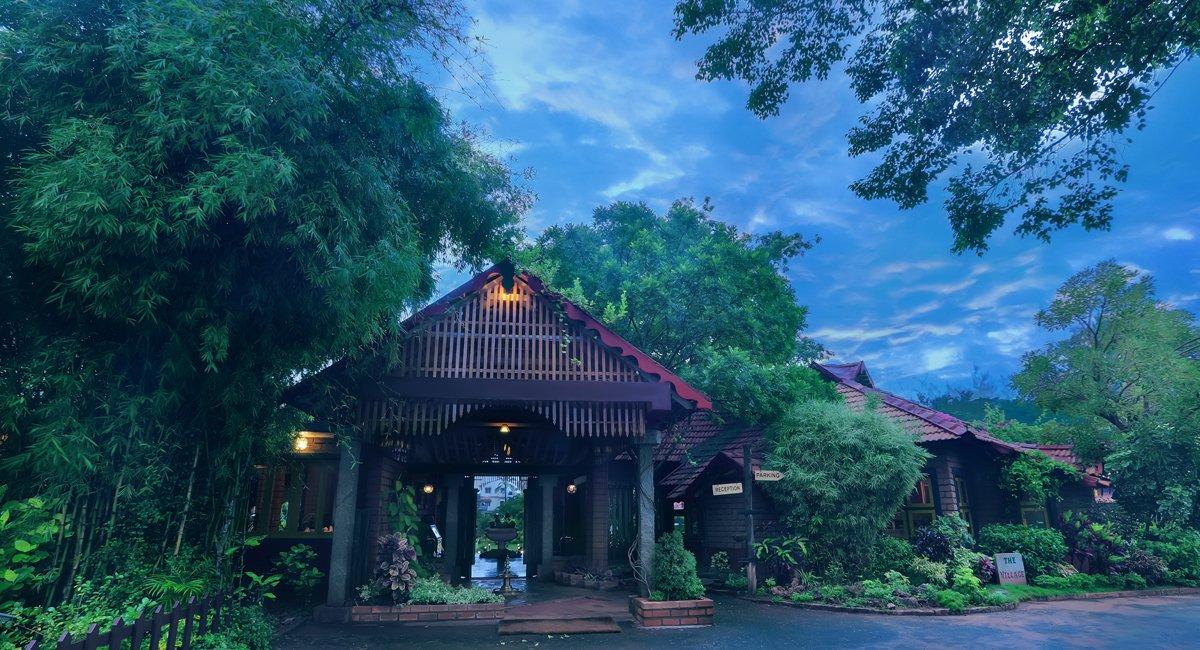 Image Courtesy: The Village, Mysore Official Website
Away from the crowd and noise of the city, the Village Resort in Mysore is for the couples that are eager to experience the goodness of nature while taking a few days off to relax on their honeymoon. Their jumbo suites are our most recommended for honeymooners for its perfect balance between the rustic rendezvous and the comforts of a modern hotel that gives them a one of a kind experience. With your own personal sitting area overlooking the lawn, you and your partner can enjoy the majestic view of Chamundi Hills while unravelling all the wedding stress.
The Serai, Chikmagalur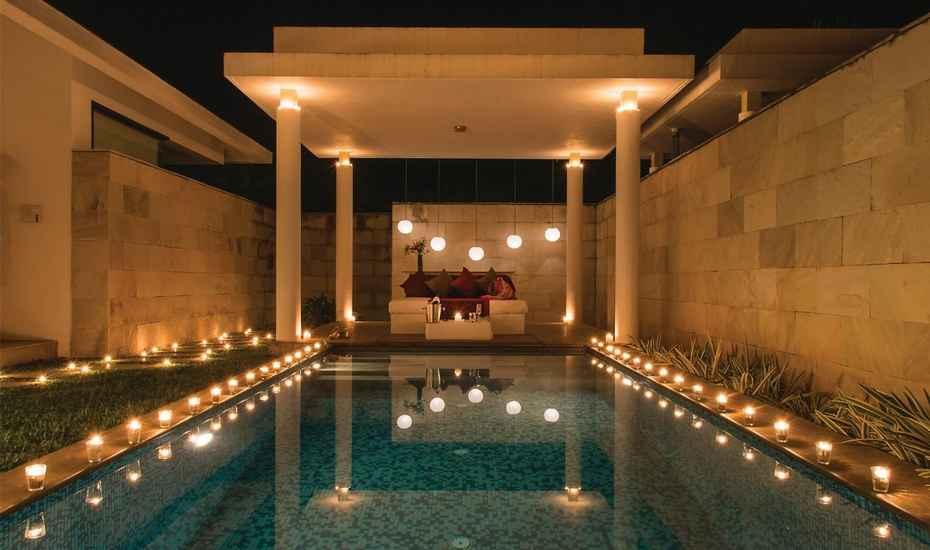 Image Courtesy: The Serai, Chikmagalur Official Website
While this place might be a surprise to our honeymooners on this list, the luxurious Serai resort in Chikmagalur perched on a hillock in the Western Ghats is the perfect honeymoon destination for budget honeymooners in India. While the city of Chikmagalur is famous for the very first coffee plantation in India, this property with private pools and Jacuzzis is the best balance between luxury and the love for nature. Therefore, couples must come here to replenish their energies and enjoy the diverse savours of coffee while spending some peaceful time with their partner.
The resorts around Bangalore on this list are all quiet and peaceful places for our budget honeymooners that do not wish to go outside India. After a hectic wedding, a relaxing retreat is what most couples look forward to, therefore what better than these surreal serene resorts around Bangalore that are just a short drive away. So pick your favourite from our list of top choices that are luxurious but still budget honeymoon ideas that'll save you a lot of money from going out of the country and yet give you the same surreal experience.
If you had to choose a pick for your honeymoon, which of these resorts around Bangalore would you be most likely to go to? Get in touch with the experts once decided!