Poola Jada as The Perfect Hair Accessory For South Indian Weddings
Wonder what the large band of flowers on a bride's bun and braid combination is all about? Get to know everything about Poola Jada, a native hair accessory of Southern India. All the details sourced locally!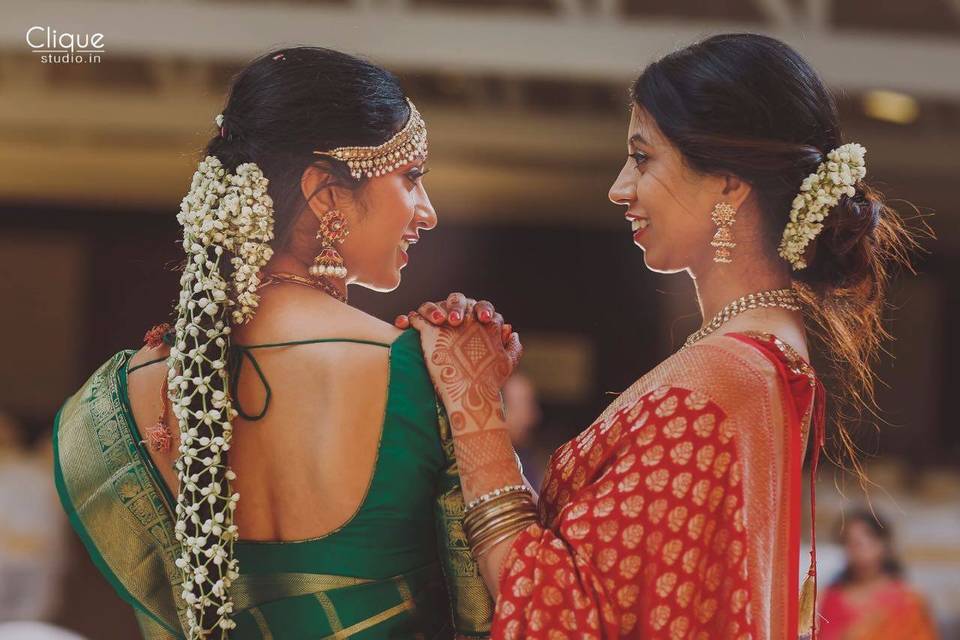 The Poola Jada is an adornment woven together to bedazzle those long tresses that South Indian women are famous for. However, if you don't follow maintaining long manes, but still would like to pass on a long braid for your bridal look, Poola Jada would still be quite accessible for you! It is considered as one of the most important accessories for brides-to-be and holds importance for special occasions and festivals for both women and children alike.
Image Credits - Vidya Hairstylist
What Is Poola Jada?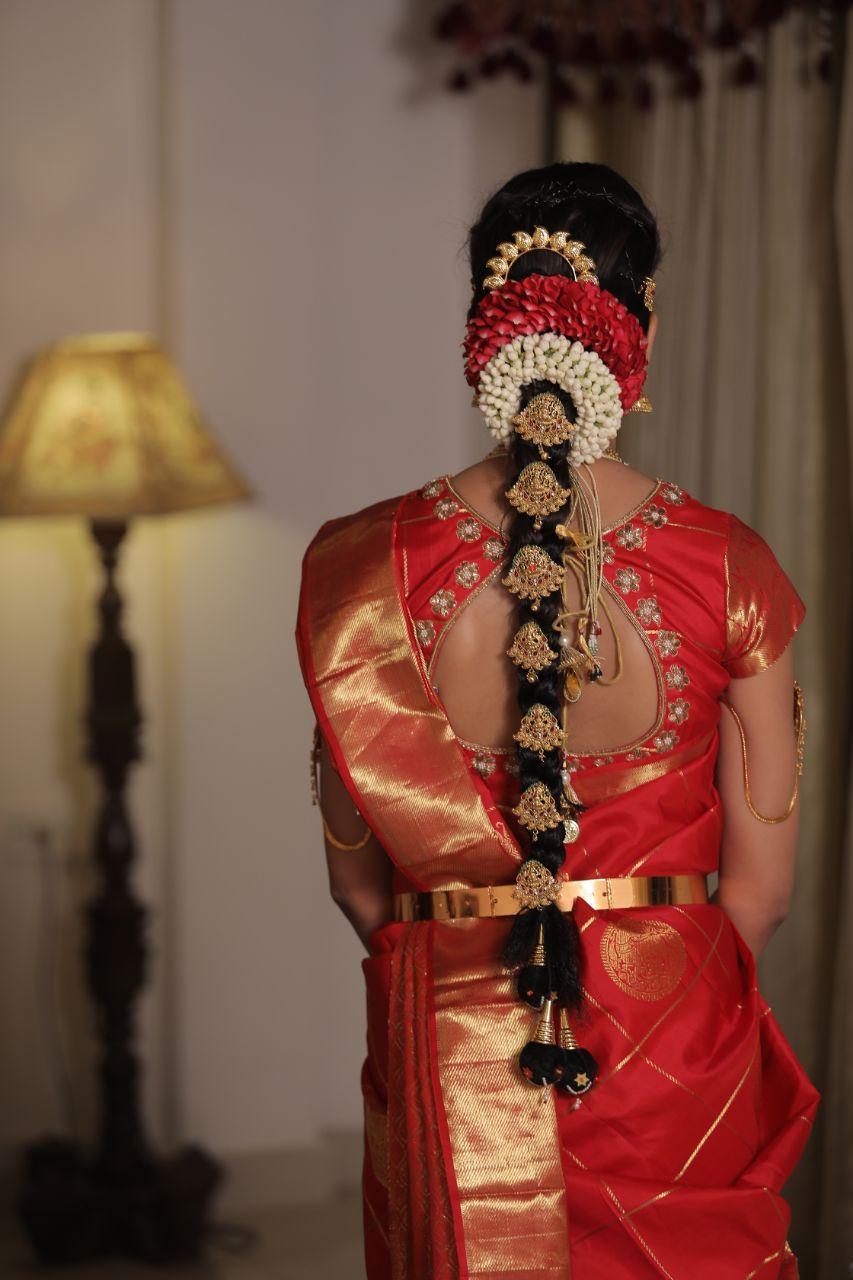 Poola means flowers and Jada means the braid. Poola Jada is a mix of flowers and metal, woven together and then embellished on the braid of a bride-to-be. Originally decorated in more of a temple style jewellery with a hint of flowers as complimenting elements, the trend has grown to a full-fledged, only-florals kind accessory among the brides of today. And not just the brides, but Poola Jada is also worn by young girls and women of all ages as an important part of their festival looks. Notably, Poola Jada is famous in the states of Andhra Pradesh, Tamil Nadu, Karnataka and Kerala. Not only does a Poola Jada add a glamour quotient to the overall look, but it is also considered as an important and sacred piece of jewellery to be worn by the bride-to-be for her wedding ceremonies
Also Read - Trending Hair Accessories for South Indian Brides
Types of Poola Jada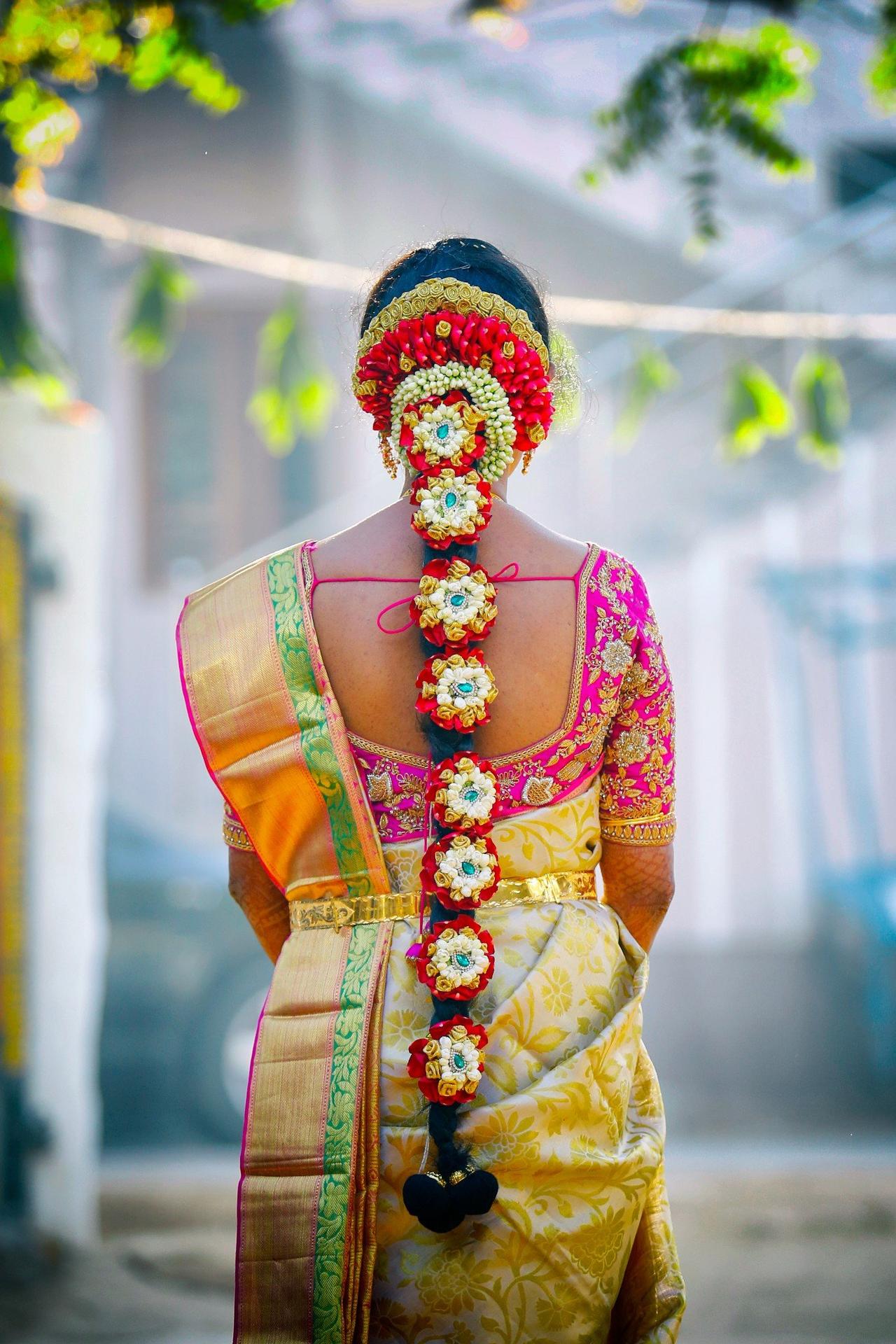 Without a Poola Jada, the bride's Solah Shringar remains incomplete. The embellished long braid also brings with it the positivity and peacefulness derived from the floral fragrance, as well as the vibrant colours, making the bride-to-be look like a goddess as well! Now let's read about types pf Poola Jaada.
Gold Poola Jada Designs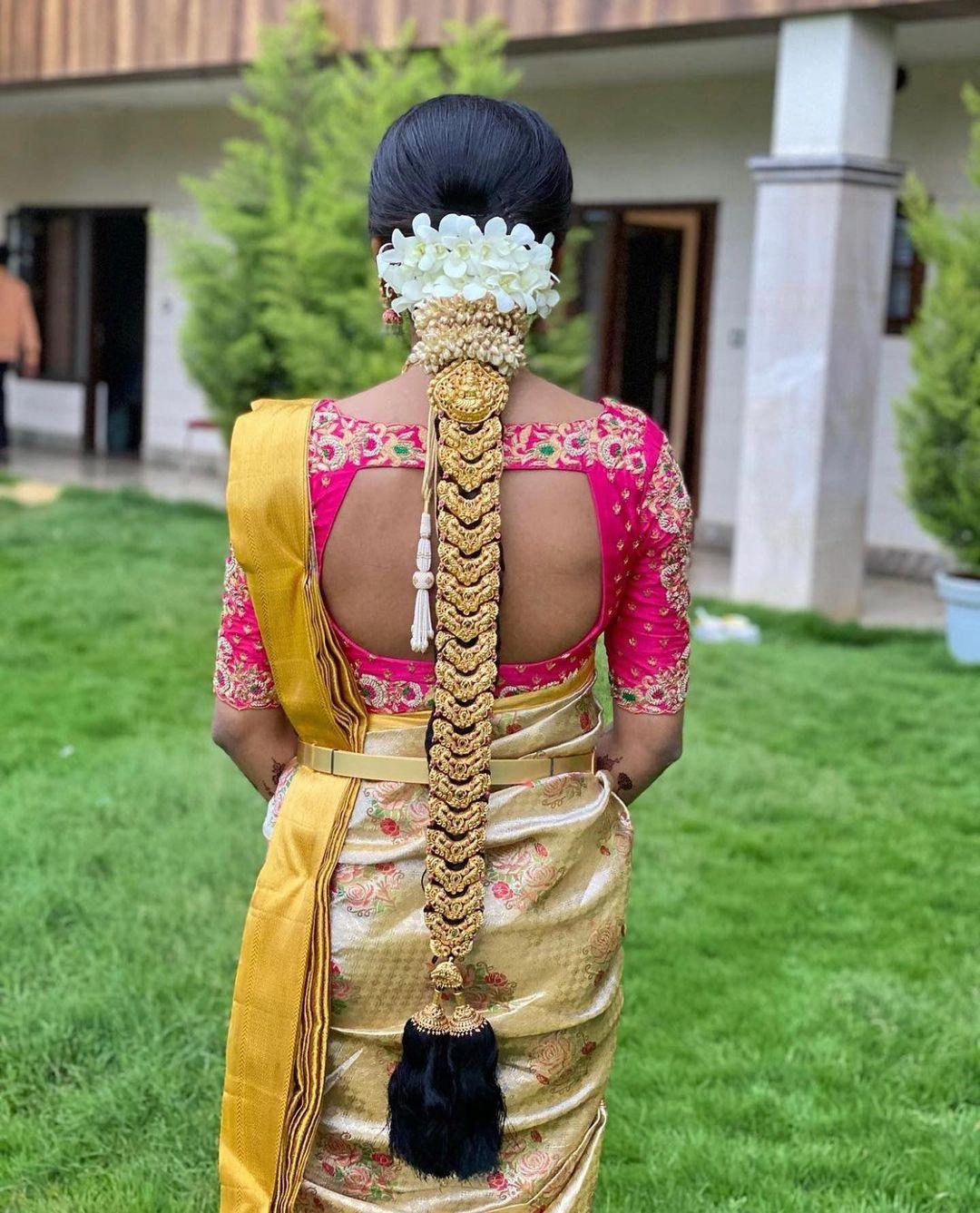 Image Credits - Neha Chinnapa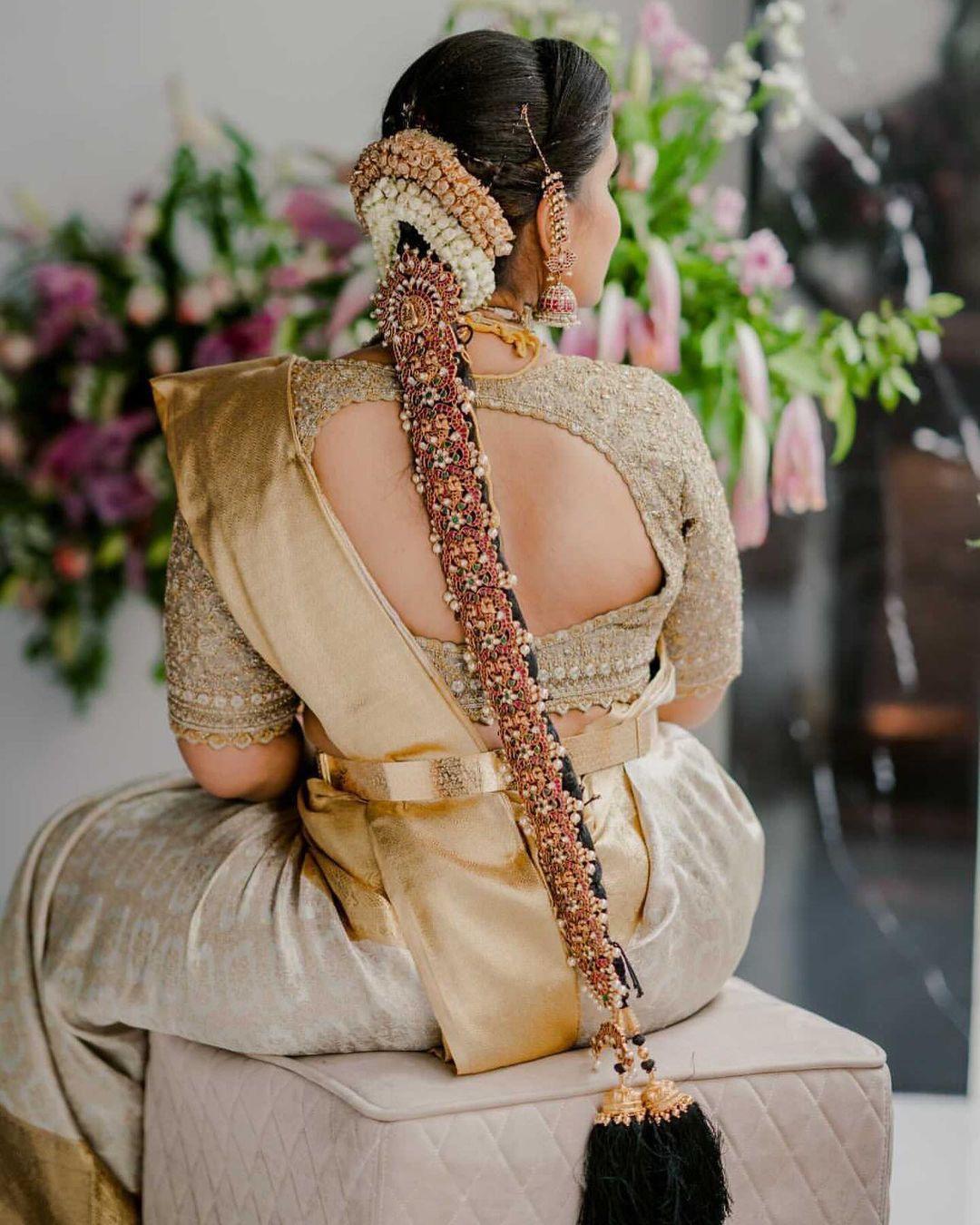 Image Credits - Deepak Vijay Photography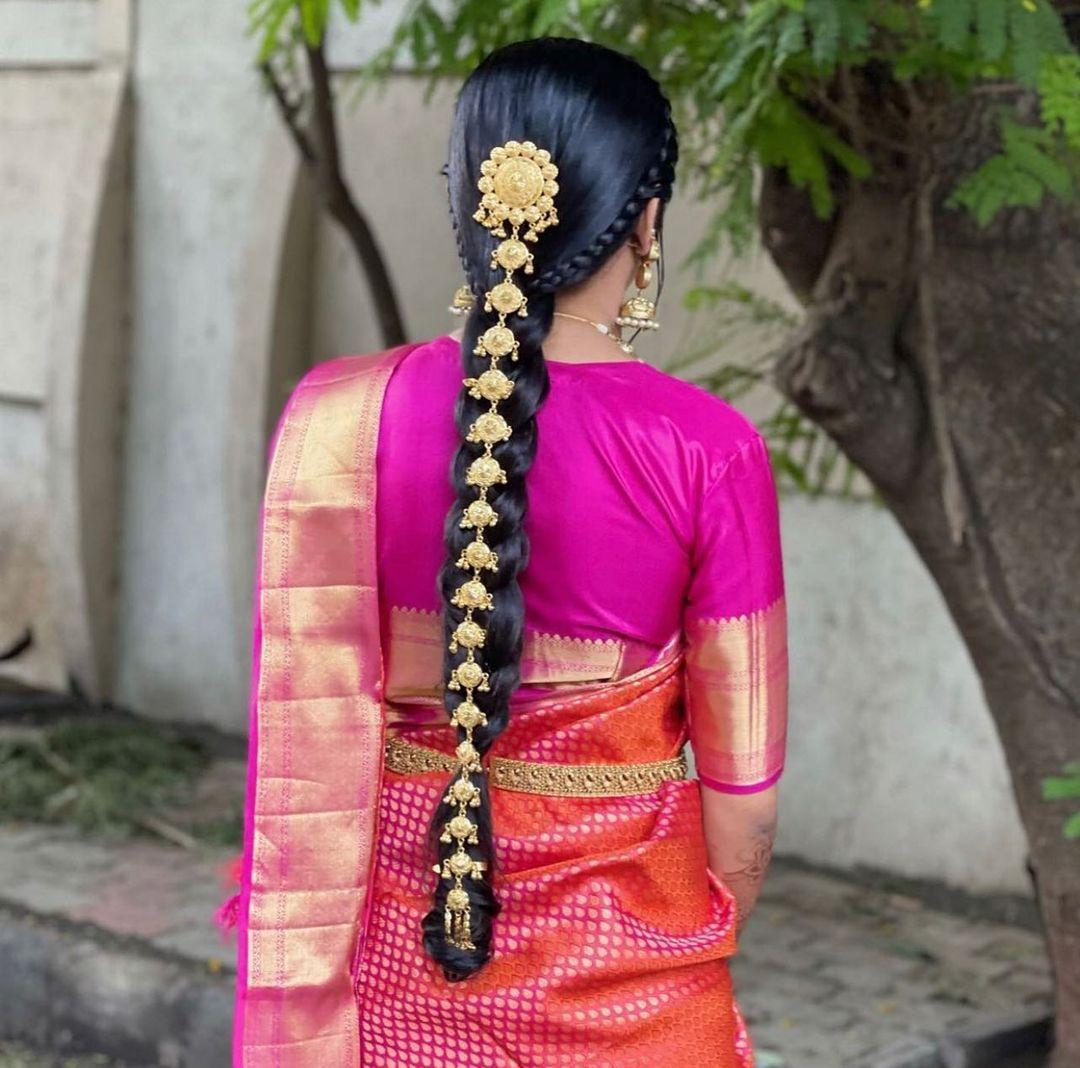 Image Credits - Sejal Savaliya
Right from conserving the traditions to making it a grand piece of accessorisation, gold poola jada will make you the star of the show. You can decide on the density of the design as well as the colour scheme of the flowers picked.
Poola Jada with Real Flowers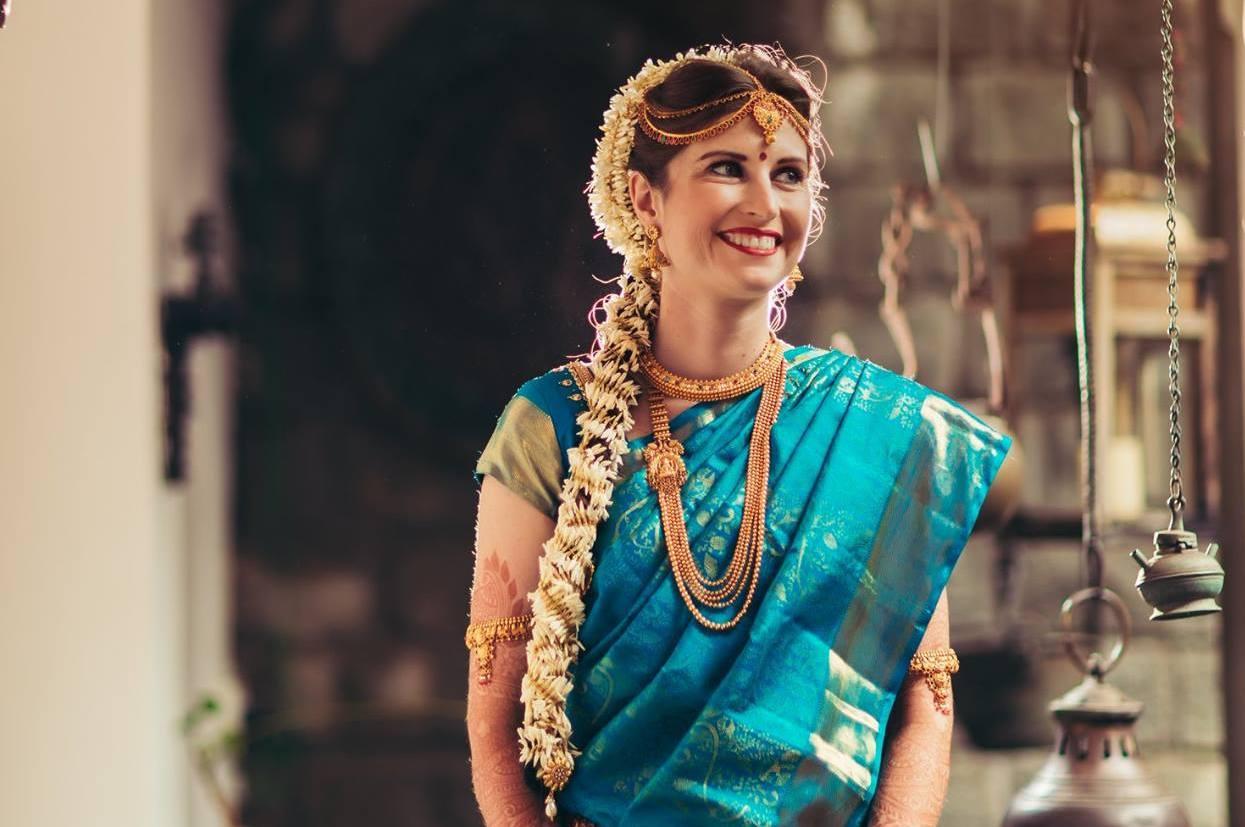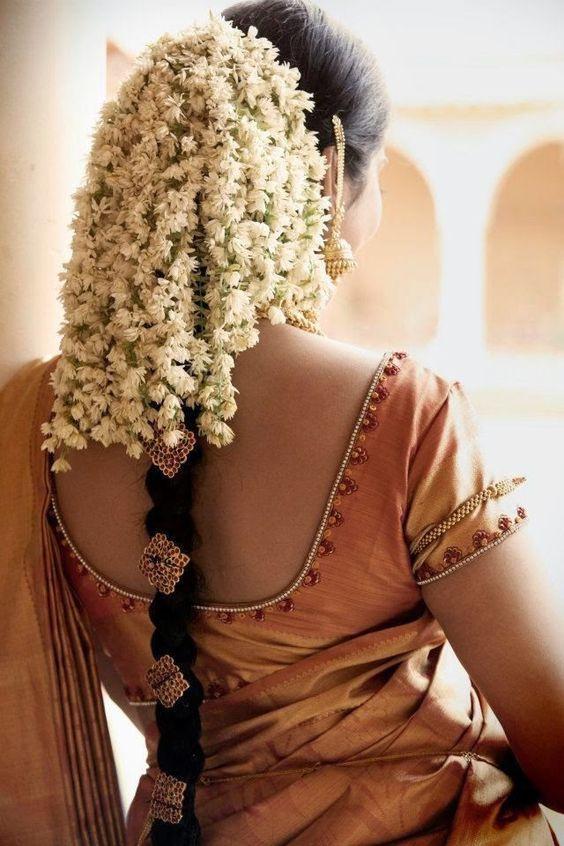 Image Credits - Pinterest
Rose, Orchid, Mogra and Jasmine flowers are among the most prominent flowers being used to make Poola Jada. These flowers are readily available in the region and are pleasant not just in their appearance, but spread around a calming fragrance as well. These flowers are also considered auspicious in Indian weddings, thus giving them a privilege of being used as hair adornments as well. We hope that you liked Poola Jada with jasmine flowers and rose petal simple poola jada here.
Bridal Poola Jada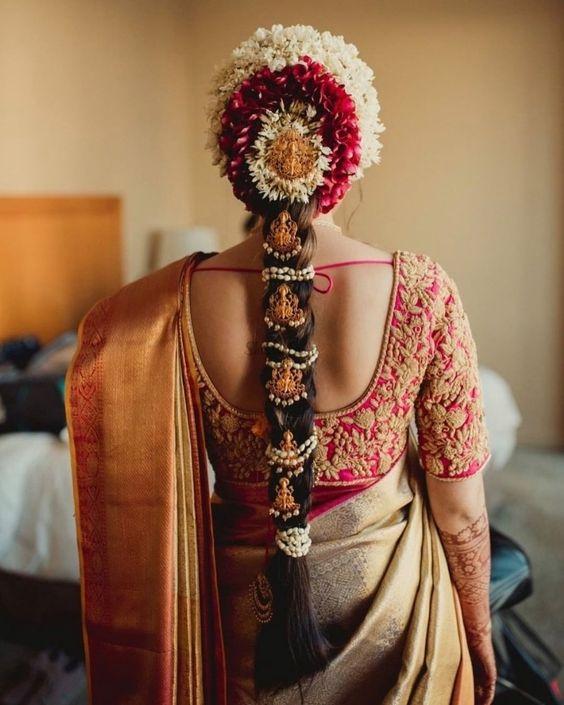 Image Credits - Pinterest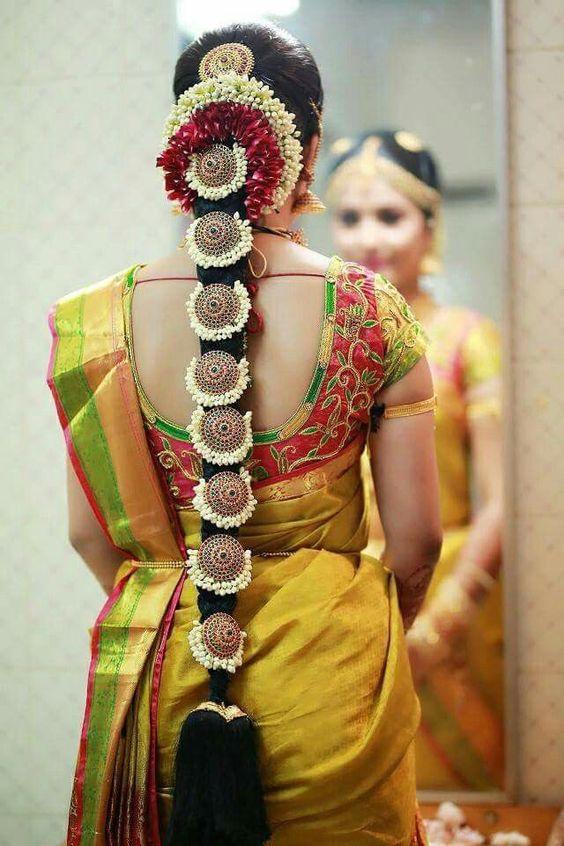 Image Credits - Pinterest
Bridal Poola Jada is a classy embellishment which needs to remain complementary to the overall look, rather than being contrasting enough to look odd. Decided on the space between each layer/set of Poola Jada images and you can also pick muted colours that leave the saree as being the star of the OOTD rather than stealing the focus away from it.
Simple Poola Jaada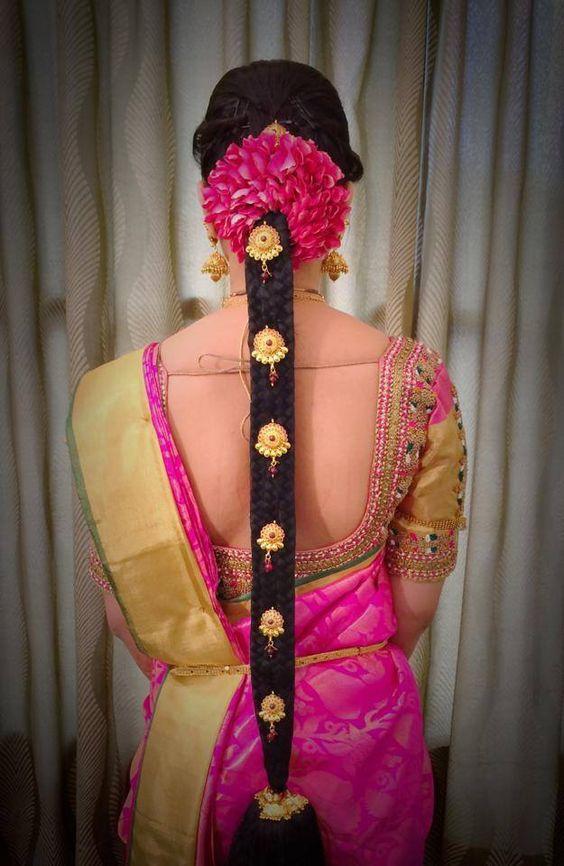 Image Credits - Pinterest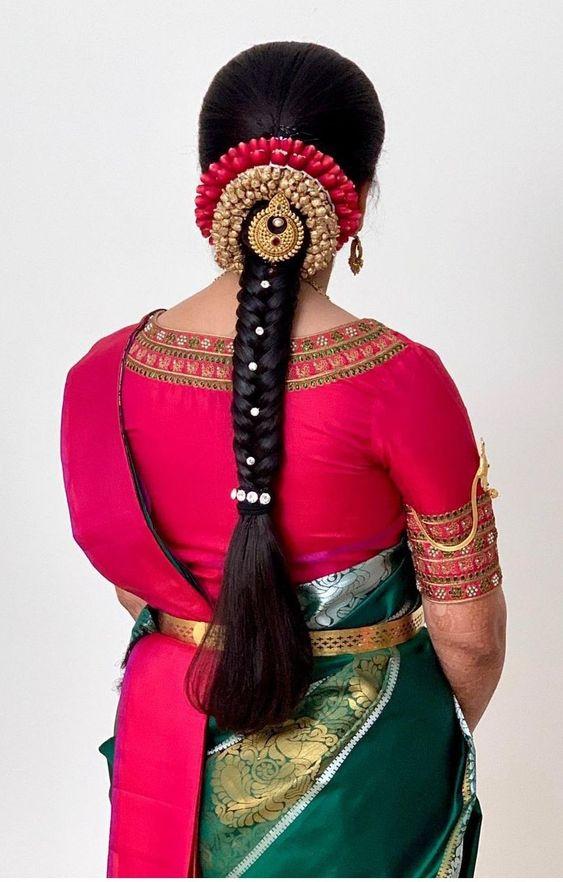 Image Credits - Pinterest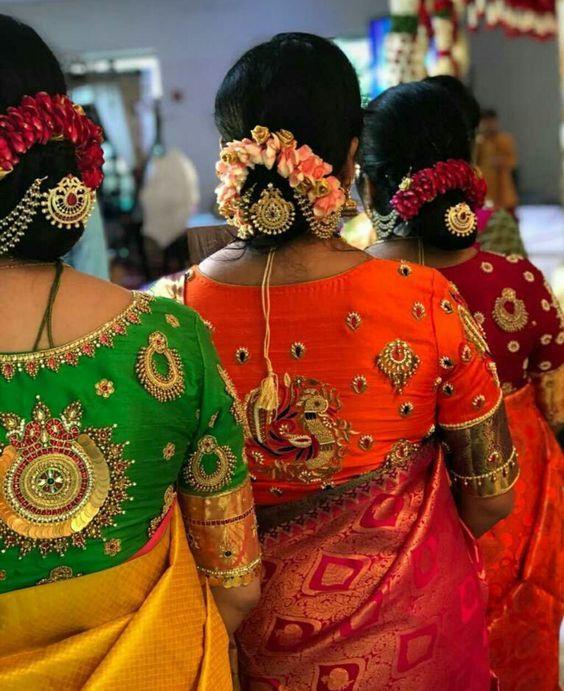 If you are a minimalistic bride then finding the right Poola Jada that matches your overall look can be as challenging as finding the perfect saree. Depending on the length of your natural hair, you will have to invest in extensions, as well as decide on the length of the Poola Jada embellished braid. Some of the most prominent factors to help decide on the perfect Poola Jada for you are the colour of your saree, the work on your saree, the design of your jewellery, the theme of your wedding decoration and the type of embellishment you seek on your Poola Jada. You can also decide on the design of the Poola Jada, as there is a huge variety of styles available in the market.
How To Pick Poola Jada
Image Credits - Pinterest
Another very important factor that holds the highest position on the check-list while deciding on the Poola Jada is when to make the purchase. Since fresh real flowers are used in making Poola Jada, you would want to make all the arrangements to store them right so that they remain fresh throughout your wedding ceremonies. If the Poola Jada vendor can deliver fresh designs on the day of your wedding, then you only need to refrigerate them for a few hours before wearing them to the wedding. But if your wedding venue happens to be far away from the vendor's delivery area, then you can decide on purchasing Poola Jada made of flowers that last longer. Generally, the Poola Jada set can last 2-3 days if refrigerated right. Once woven into your hair, the Poola Jada lasts for a good 5-6 hours, giving you ample time to pose and get clicked during your wedding function. This factor is based on your choice of flowers and the amount of those flowers being used in making the design that you picked. The price can range anything between ₹3,000/- to ₹9,000/- for a set of real flowers. In today's times, Poola Jada designs are also available in artificial flower settings that don't come with an expiry date and can be used again anytime later. Another benefit of using artificial Poola Jada is that it costs cheaper than the one made of real flowers and the price tag can range between ₹2,000/- to a maximum of ₹5,000/- only.
Adorning a Poola Jada doesn't require you to try hard to grow your hair naturally. It very well amplifies the appearance of the bride-to-be by adding a harmonious amalgamation of tradition and style. We suggest that you start looking for a Poola Jada set at least a month in advance to find the right match.
Now that you know what Poola Jada is all about, how do you plan on customising it for your own wedding? Tell us in the comments section below!
With words by Apurva Saxena