Get These 35 Photography Tips And Tricks Right For Raging, Instagram-worthy Shots From Your Wedding
Remember how many times we captioned our Instagram shots as #instagood? We certainly don't as God knows we overused it for sure! Use this list of photography essentials & find different ways to make your wedding an Instagram sensation & #weddinginspo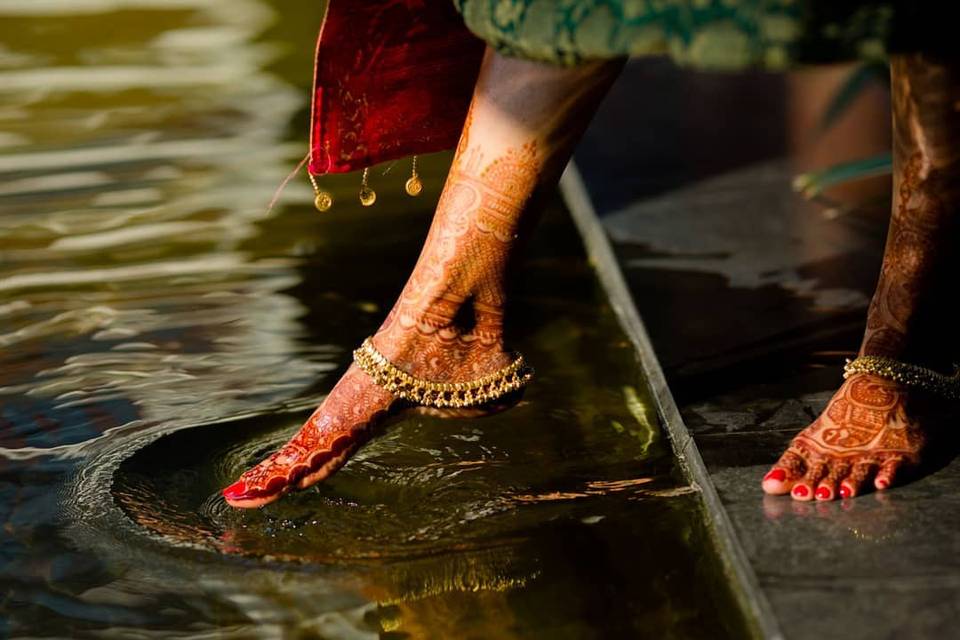 As far as weddings go, we believe in the mantra of BIGGER, BOLDER & BETTER! Life has been a carnival & we would like for it to be the same! And, with the power vested in us, we proclaim social media to be the sole reason for our over-the-top and extravagant life!
From uploading a fair share of pre-wedding photos, 'oh we met on this day pictures' to 'today we completed one month of togetherness' and the multitude of pictures with the hashtag #TBT - Instagram is as important for us as is food and water!
Social media is important and do not let anyone tell you otherwise. Read these uber cool ideas, photography tips and tricks and learn some quick gimmicks which will guarantee you a hundred million likes, a handful of re-tweets and an army of followers!
Easy to Follow Photography Tips and Tricks to Make Your Wedding Shots Instagram Friendly
From boomerangs, time lapse of your Saat Phere, twirling shots to candid first kiss shots - use these photography tips and tricks to have an Instagram worthy wedding!
1. Boomerang
They are fun, they are easy to make and they look really cool on an Instagram feed! All you need to do is download Instagram and use the Boomerang feature to seal the deal! Case in point, this creation from CoolBluez Photography.
Some action-packed video loops of you putting on your lipstick, or walking down the aisle, better yet of the Varmala ceremony - that is all the magic you need to make your #WeddingDay Instagram worthy! And then, you can swear it all to the photography tips and tricks you just happen to know!
2. Time Lapse Videos
Video courtesy: Vishal Kullarwar Photography
Were you smitten by the moving clouds in the background as a couple shared their first kiss? We sure were! Well, that is the magic of a time lapse video! Make your wedding pictures a bazillion times for fun with the feature of time lapse!
A time-lapse video of your bridal entry or groom entry, your Saat Pheras & even Vidaai ceremony - these moments will look impeccable form the eye of a time-lapse video!
3. Slow Motion Shots
Video courtesy: Ashish Lokhande Photography
We are all guilty of posting a slow-mo video of our Instagram feeds! But, this time around, entail the magic of your hair flips, exchanging the rings, exchange of floral garlands through the means of a slow-mo video!
4. Candid First Kiss Moments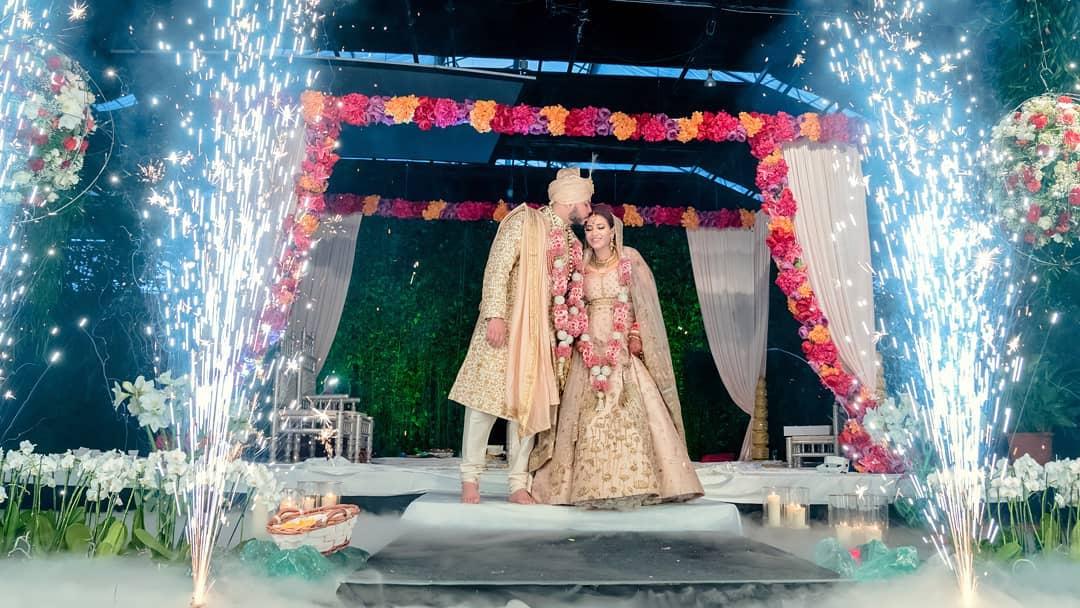 The first kiss are moments of pure joy and ecstasy! So, steal a kiss and have that moment frozen through the sands of time and forever remind yourself why you chose to be each other for life! The first kiss is the closest thing we have to magic & using these photography tips and tricks will get you there!
5. Candid Bridal Shot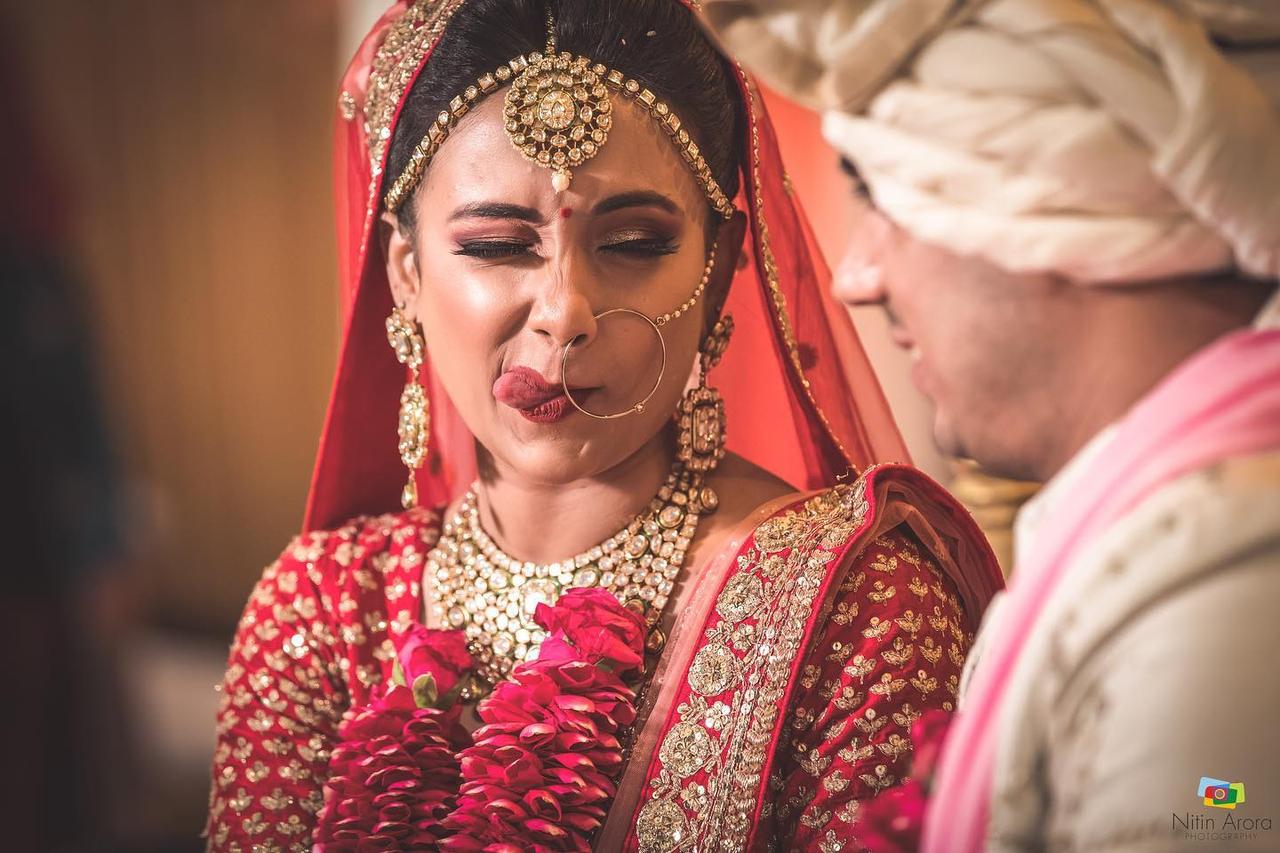 The bonus point of any candid bridal shot is the subtle art of flaunting every element that makes your bridal avatar unique! From your on-point eye makeup to your gorgeous hairdo - each deserves a candid shot of their own! Use these photography tips and tricks now!
6. Shots With Your Squad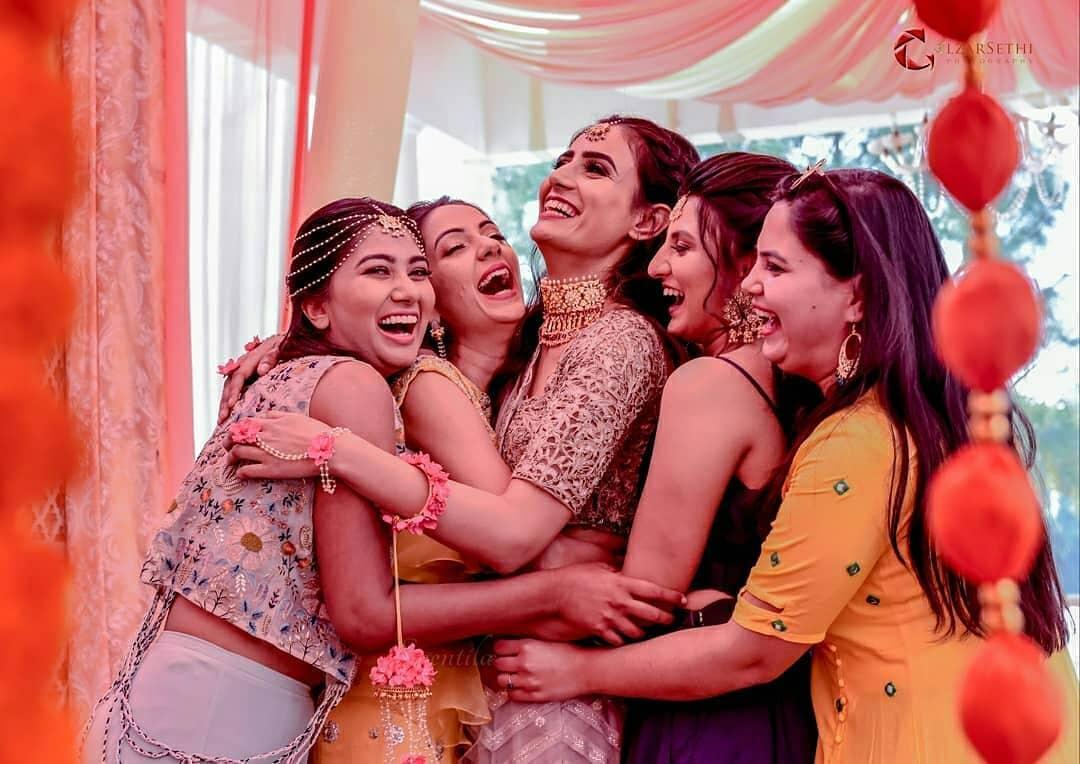 A truly joyful shot indeed! From college wing-dings to late night shenanigans, friends are the closest thing we have to magic! So, dedicate a few pictures to them and cherish your sacred bond for life!
7. Shots With Your Pooch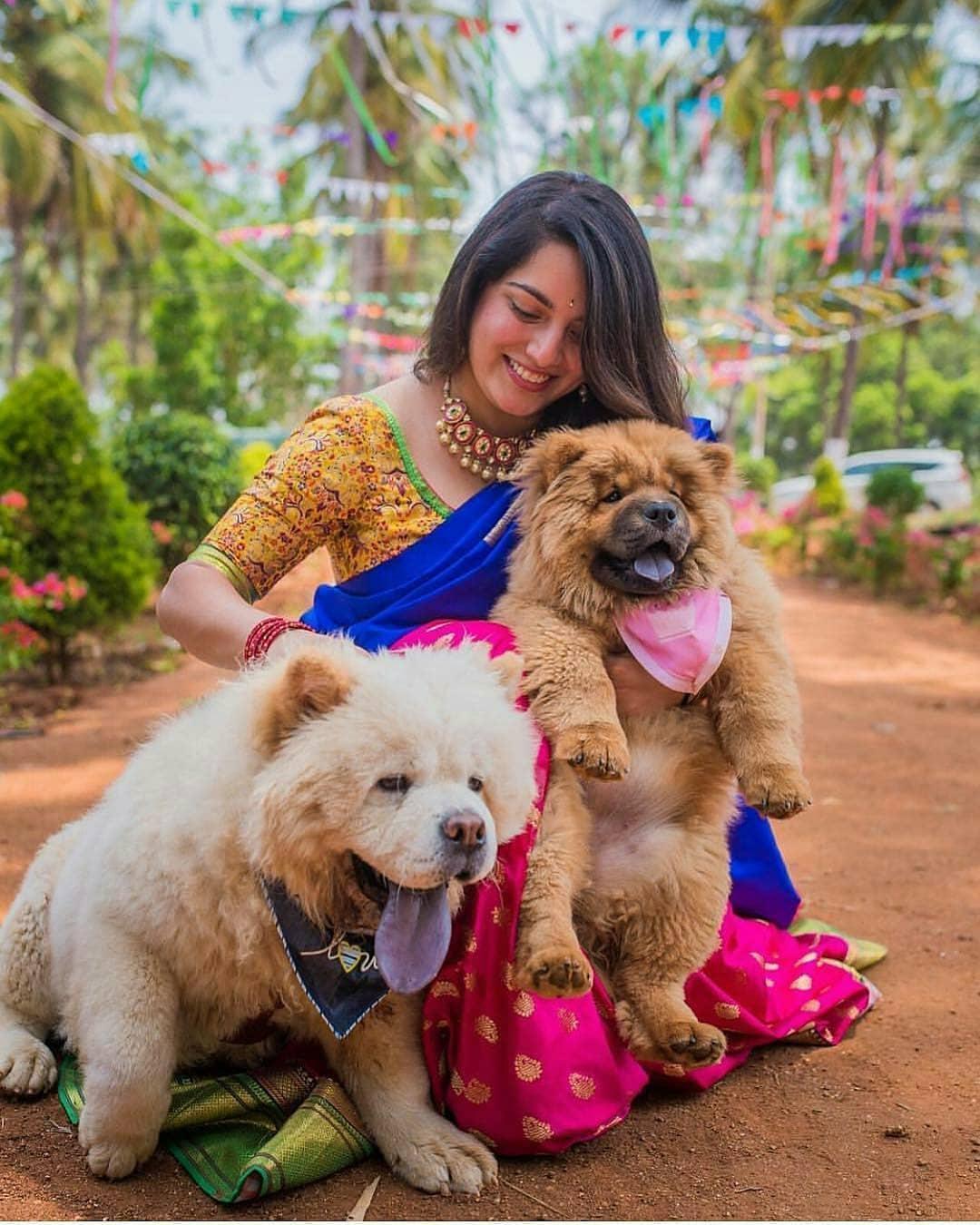 Let's face it - photos with your beloved pets are the cutest and our most favourite things in life! So, you got to get some cute gram moments with your Pooch now!
8. A Family Gram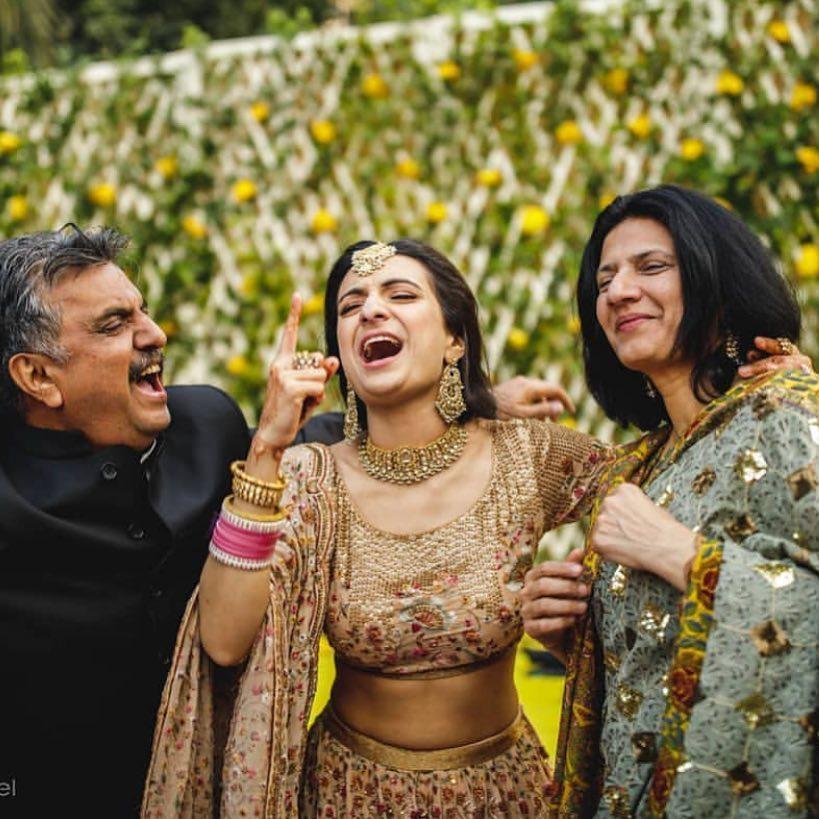 Let me paint you a picture - a big and happy family from 'Hum Saath Saath Hain' We all grew up watching it and now you must re-create this magical moment of two families becoming one! Use these photography tips and tricks and bring your Khandaan glory to the front!
9. Behind The Scene - Prep Shots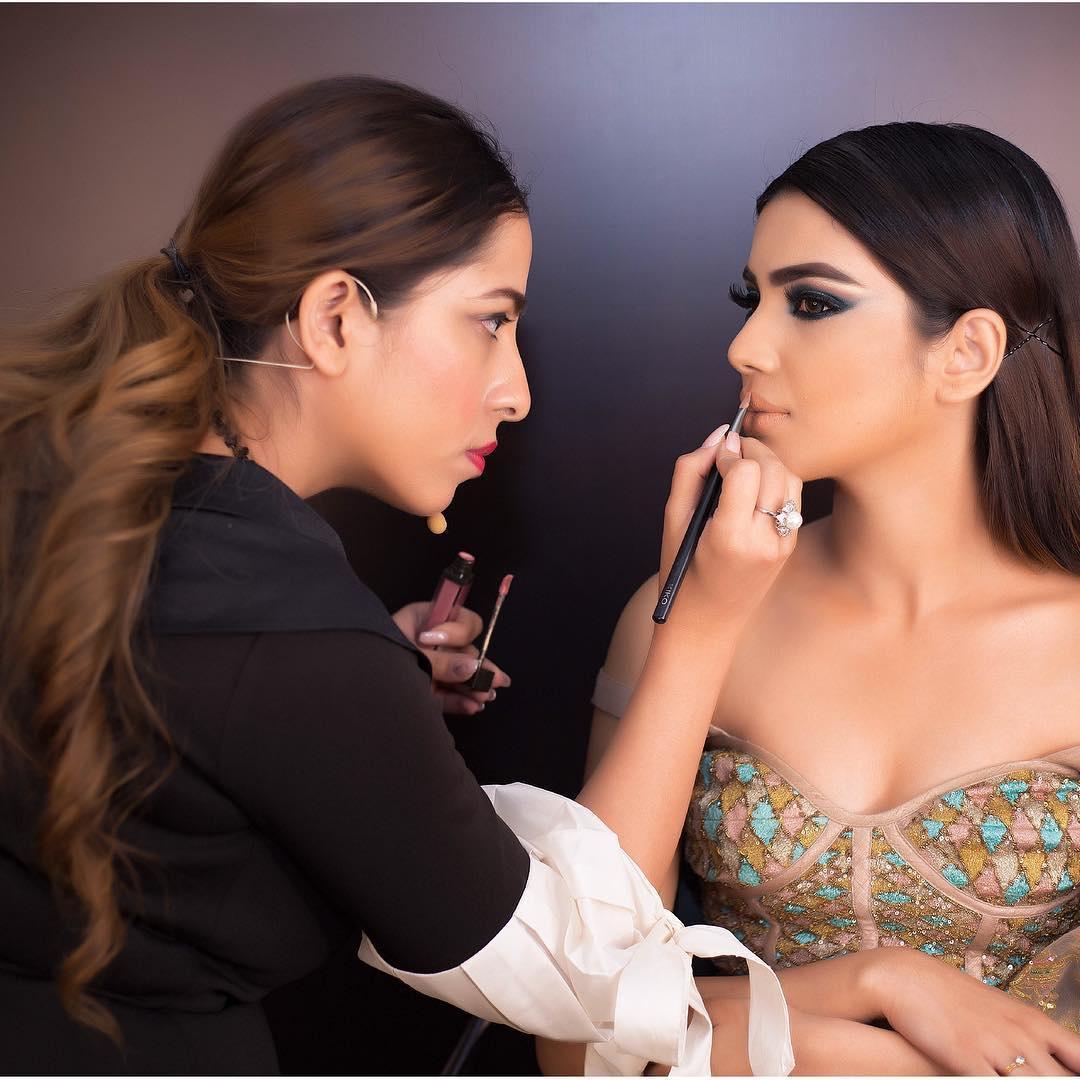 Prep shots are the best shots! some moments that are raw are best described when captured unknowingly! Besides, one must always remember that hard work that went behind the curtain to achieve your 'I am ready to serve some serious looks today look'
10. The Shot Of The Dress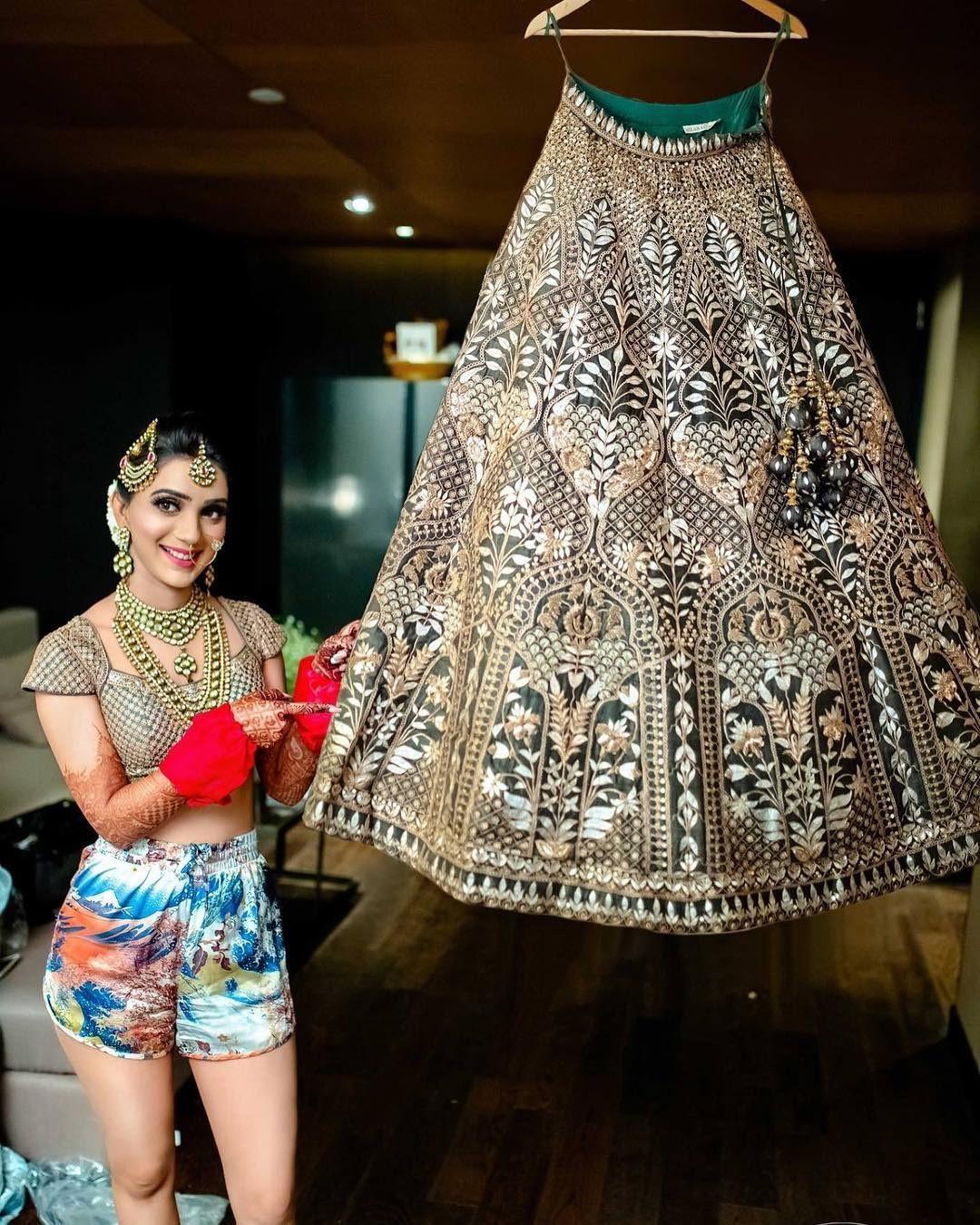 You get married only once and we know it took you countless round trips to endless designers to find that gorgeous wedding dress! If nothing more, it deserves an appreciation post for being so gorgeous in itself!
11. Bride Walking down the Aisle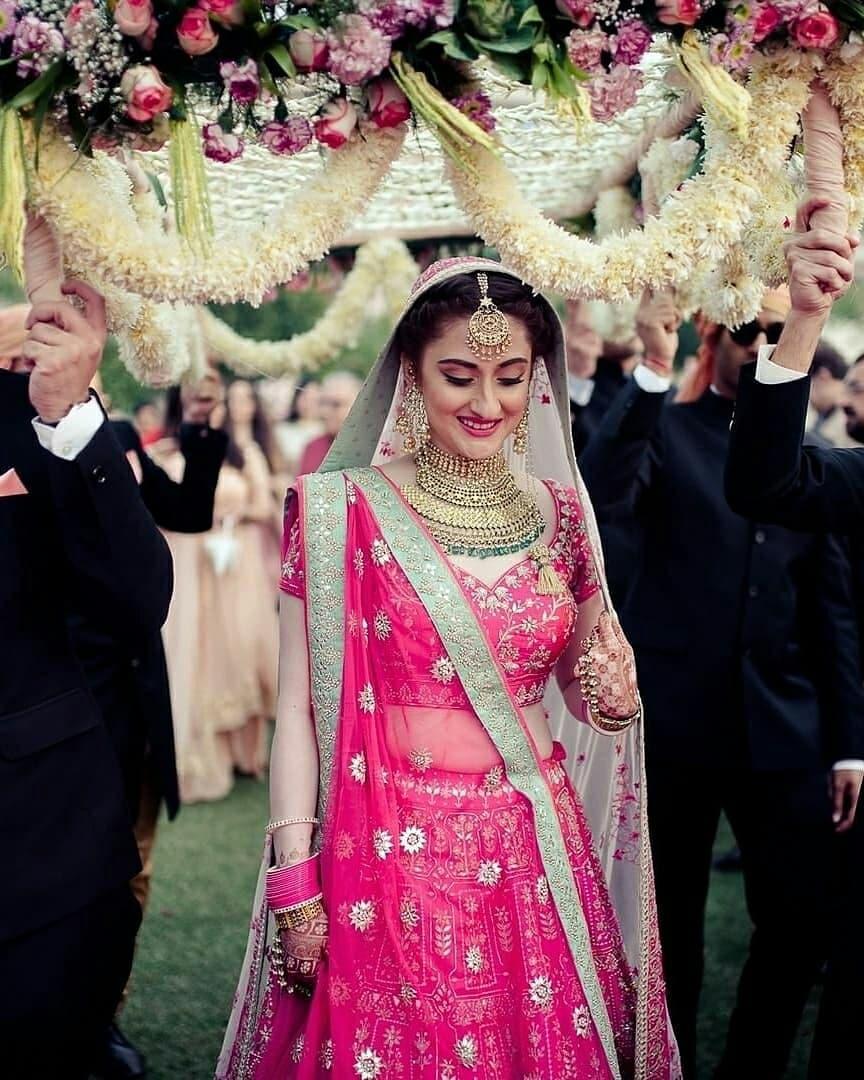 You'll be scared, you'll be thrilled! You'll be feeling a whirlwind of emotions but the moment you will lay your eyes on your chosen one - everything will feel like home! And, that is a pure moment of joy that needs to be captured on the reel!
12. Groom Waiting For The Bride's Entry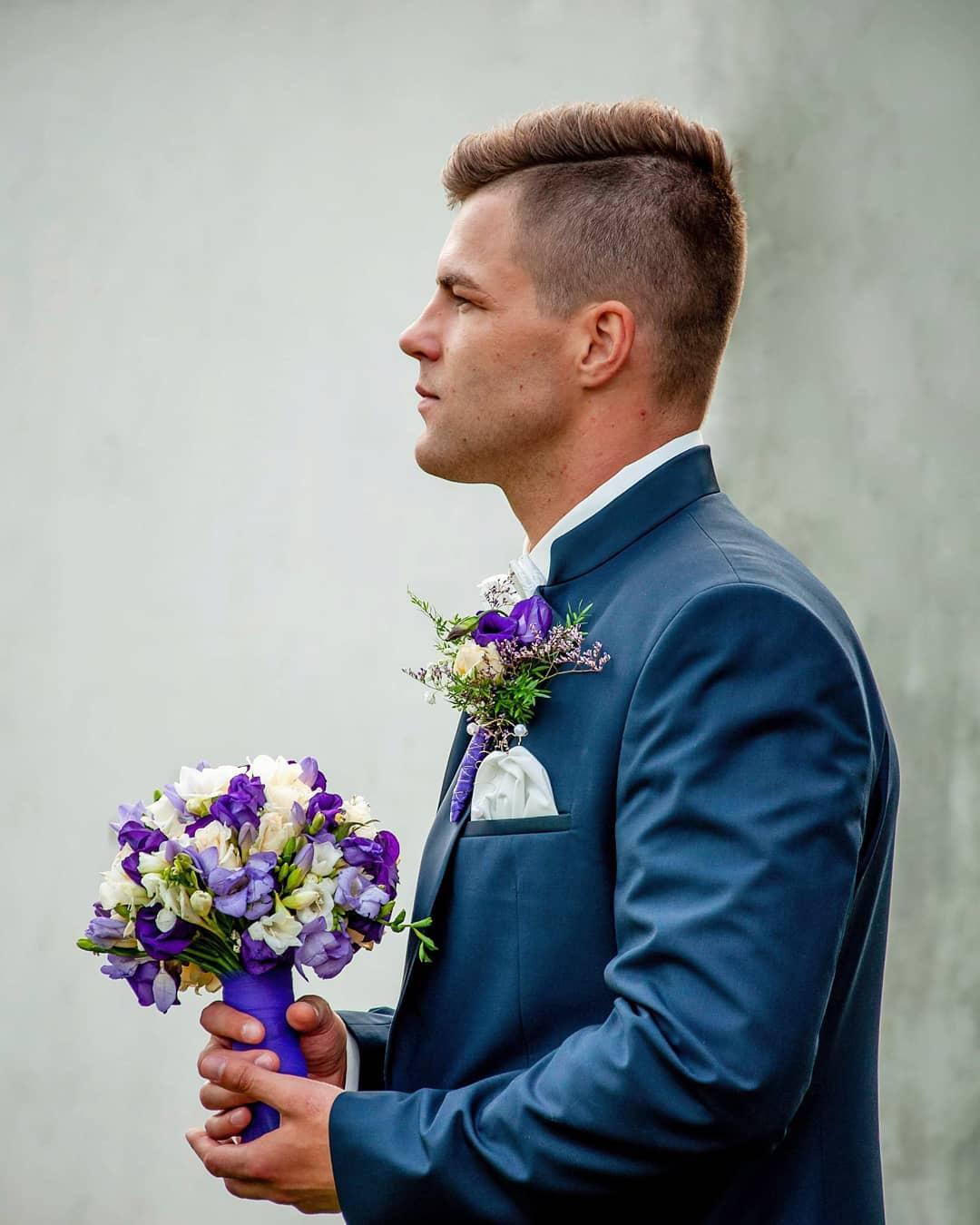 Image courtesy: Liene Minovica Photography
You'll be feeling a whirlwind of emotions but the moment you will lay your eyes on your chosen one, striding towards you - everything will feel like home! And, that is a pure moment of joy that needs to be captured on the reel!
13. The Shot On The Horse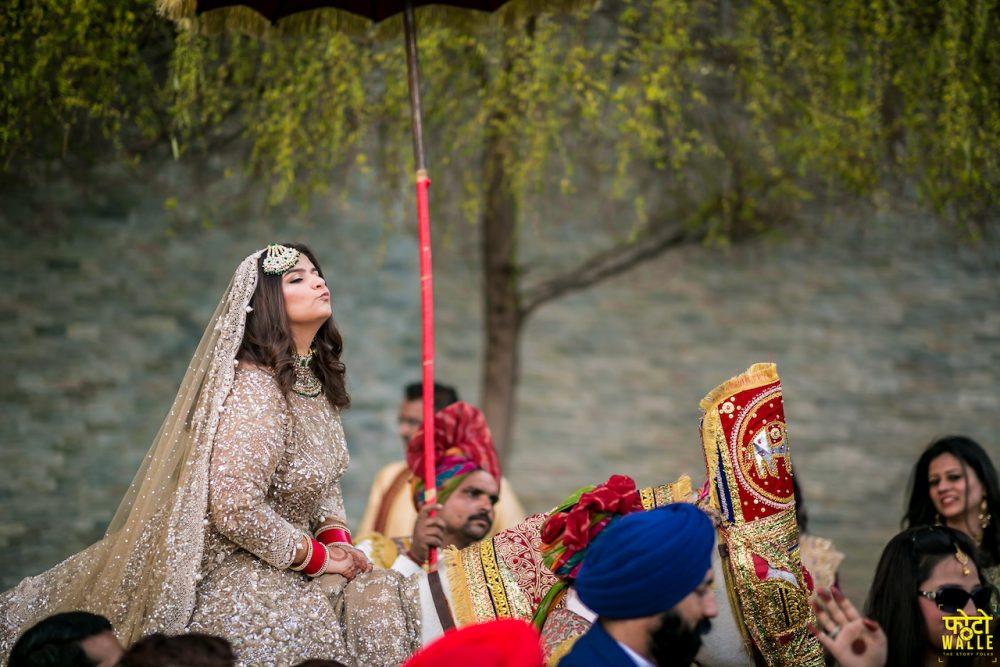 'Cuz Agar Ghodi Par Nahi Beithe Tou Kya Kia' It is not every day that you st on a horse, all decked up, so 'Ek Picture Tou Banti Hai'
14. Bride's Mom – Zipping Up The Dress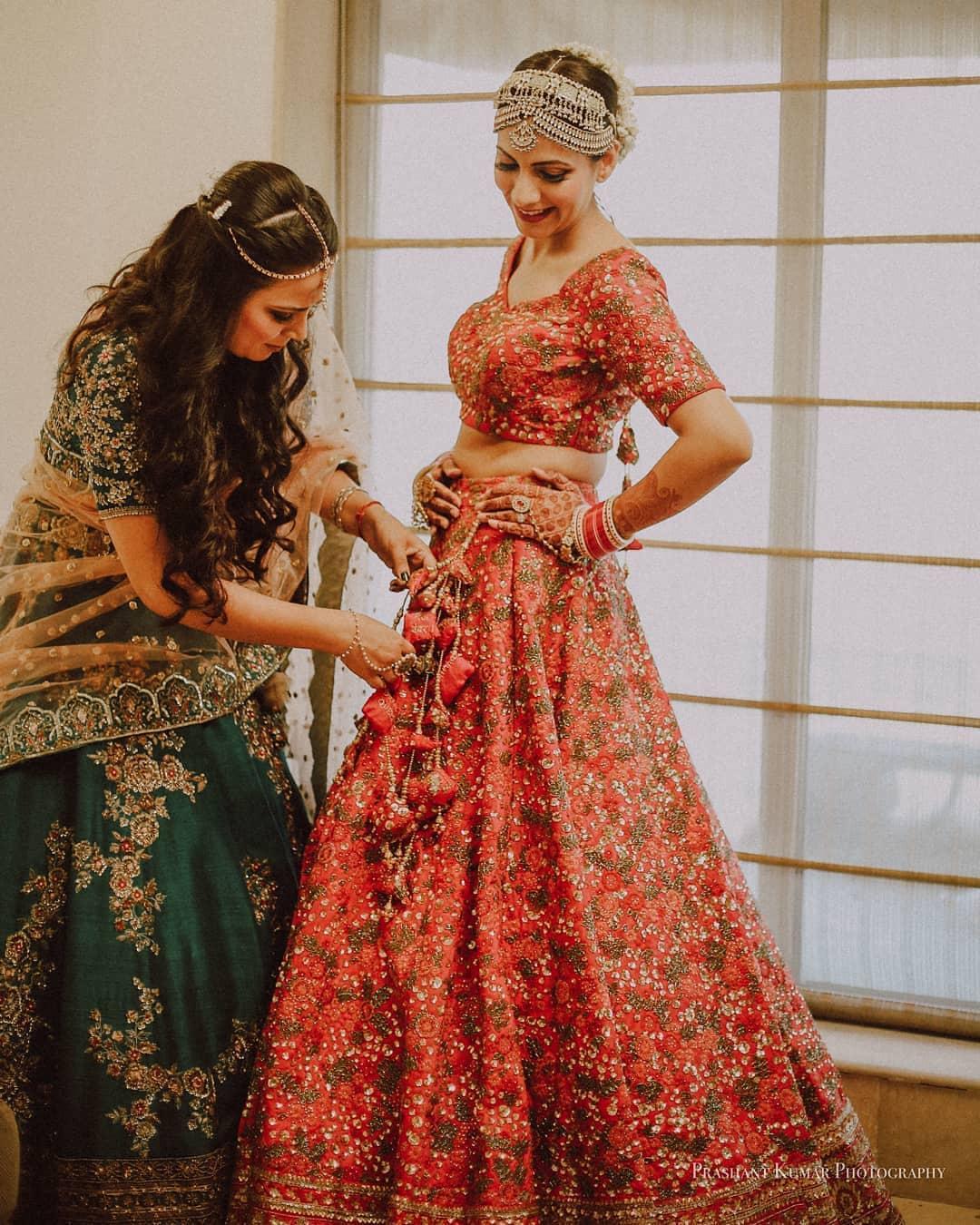 Image courtesy: Prashant Kumar Photography
Things will get emotional as your mother dresses you on this special day. So, keep this moment as a gem you will cherish for life by the means of a photograph!
15. Bride Applying Make Up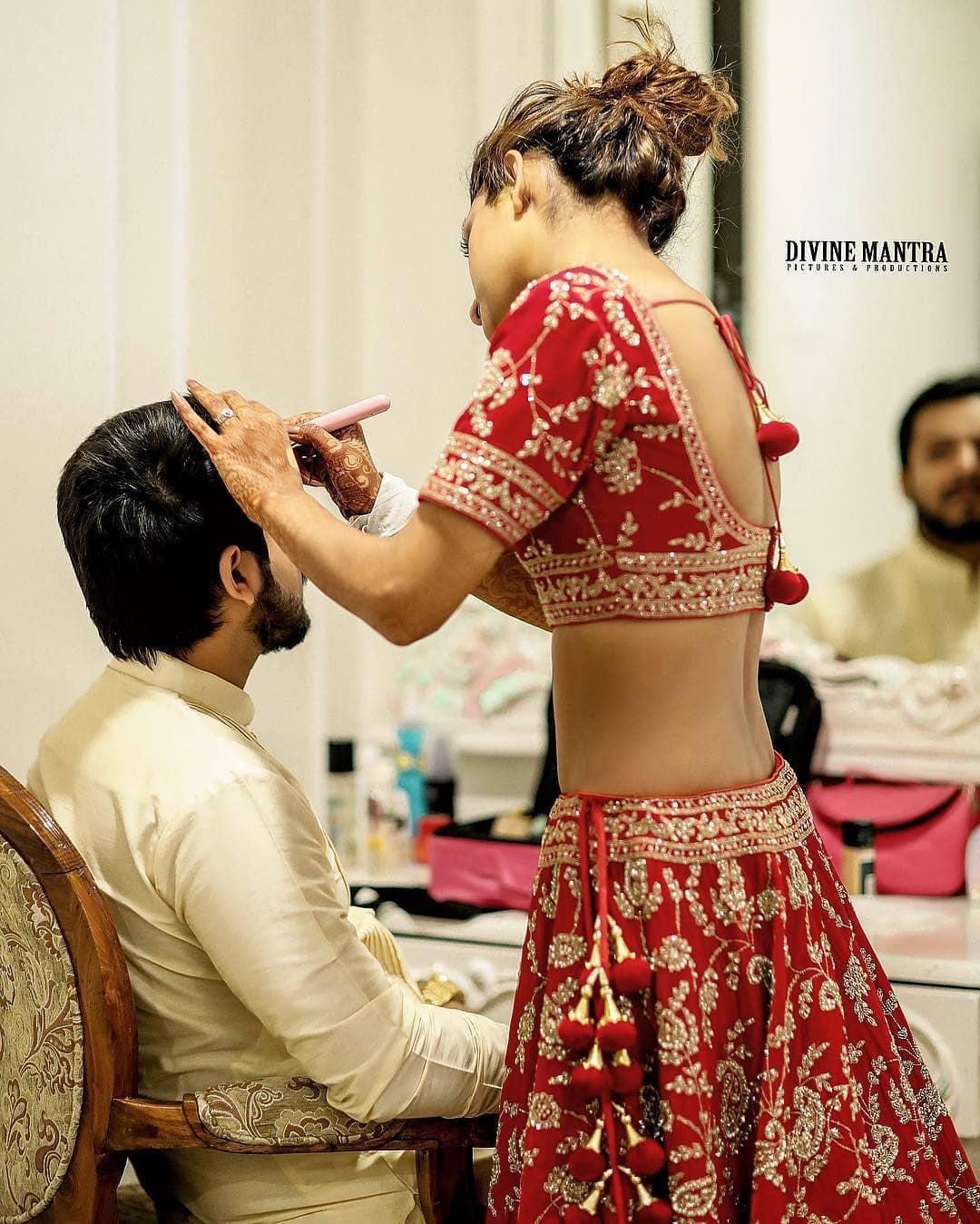 From dewy to shimmery to nude & metallics - lock down your MUA moment with a BTS makeup glam shot! Besides, there is no such thing as one too many makeup tutorials right? You can always have a #TBT moment about your glam look some months down the line.
16. Prep Up - When the groom fixes his hair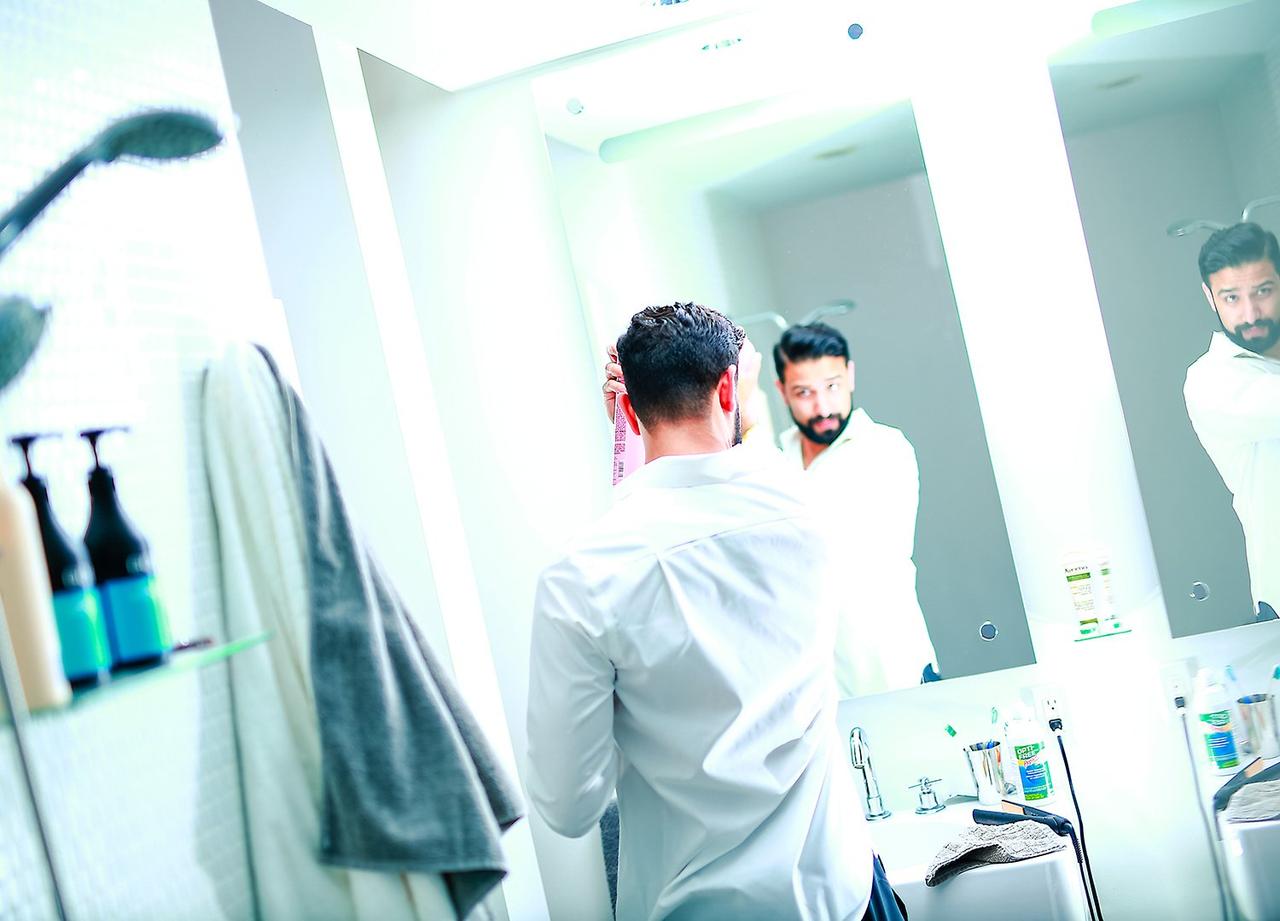 Image courtesy: AJ Gill Photography
Knock em down with your Greek God looks and enviously good-looking hair! Also, self-love is the best love, so stop at nothing while sharing your BTS moments of the gram!
17. Groom's father & best man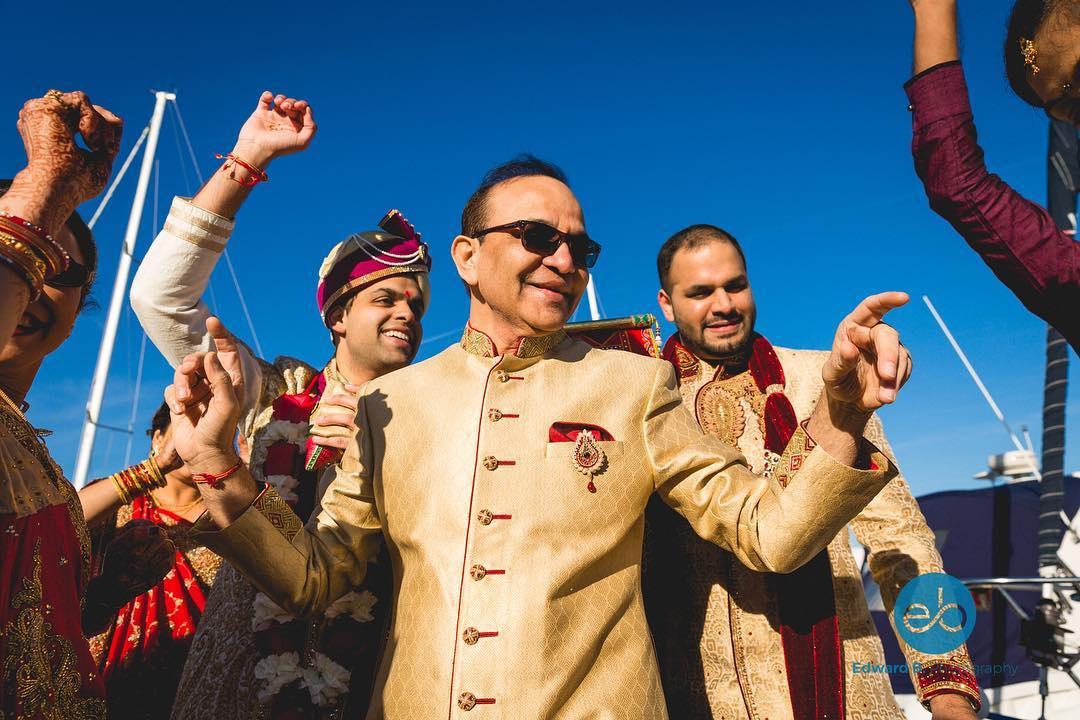 Image courtesy: Edward B Photography
The best men in our life deserve an appreciation post. And, what better way to do so than at your own wedding - with your daddy cool and macho hunks!
18. Holding hands – Bride and Groom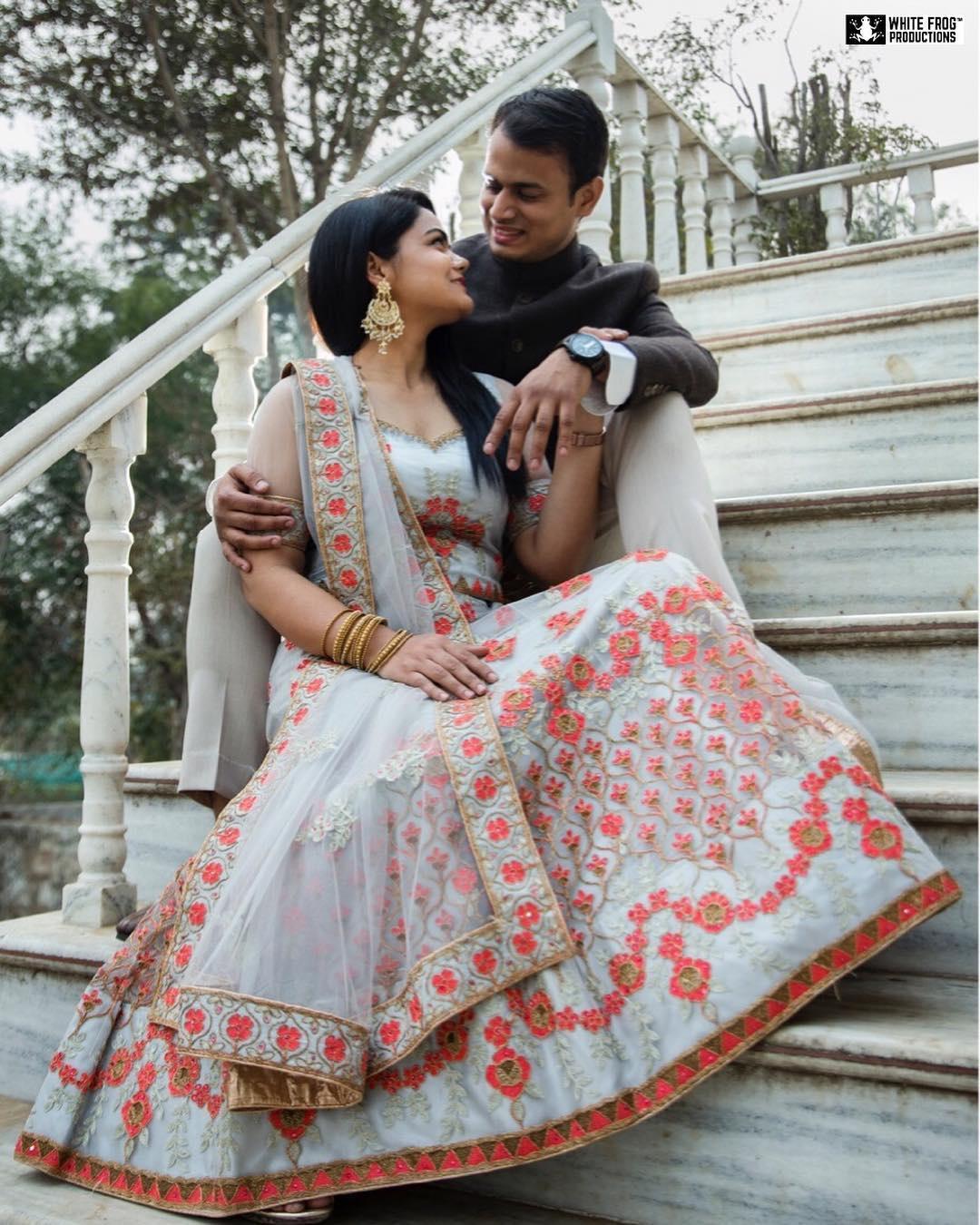 Yep, it doesn't get any cuter than this and for this very reason put out front your mushy-mushy romance!
19. The Varmala Shot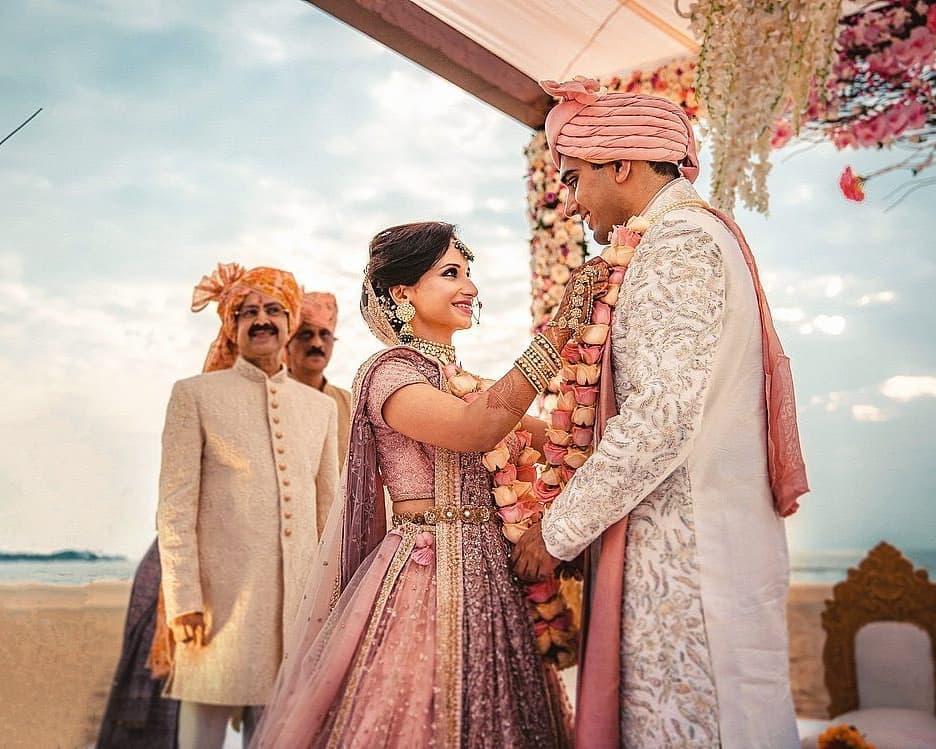 Image courtesy: Shades Photography
Well, we feel more than a simple shot - a boomerang of Varmala ceremony would be the icing on the cake. So, have your wedding photographer or your trusted passe be ready their phones and make a boomerang at the most opportune moment!
20. The Kanyadaan Shot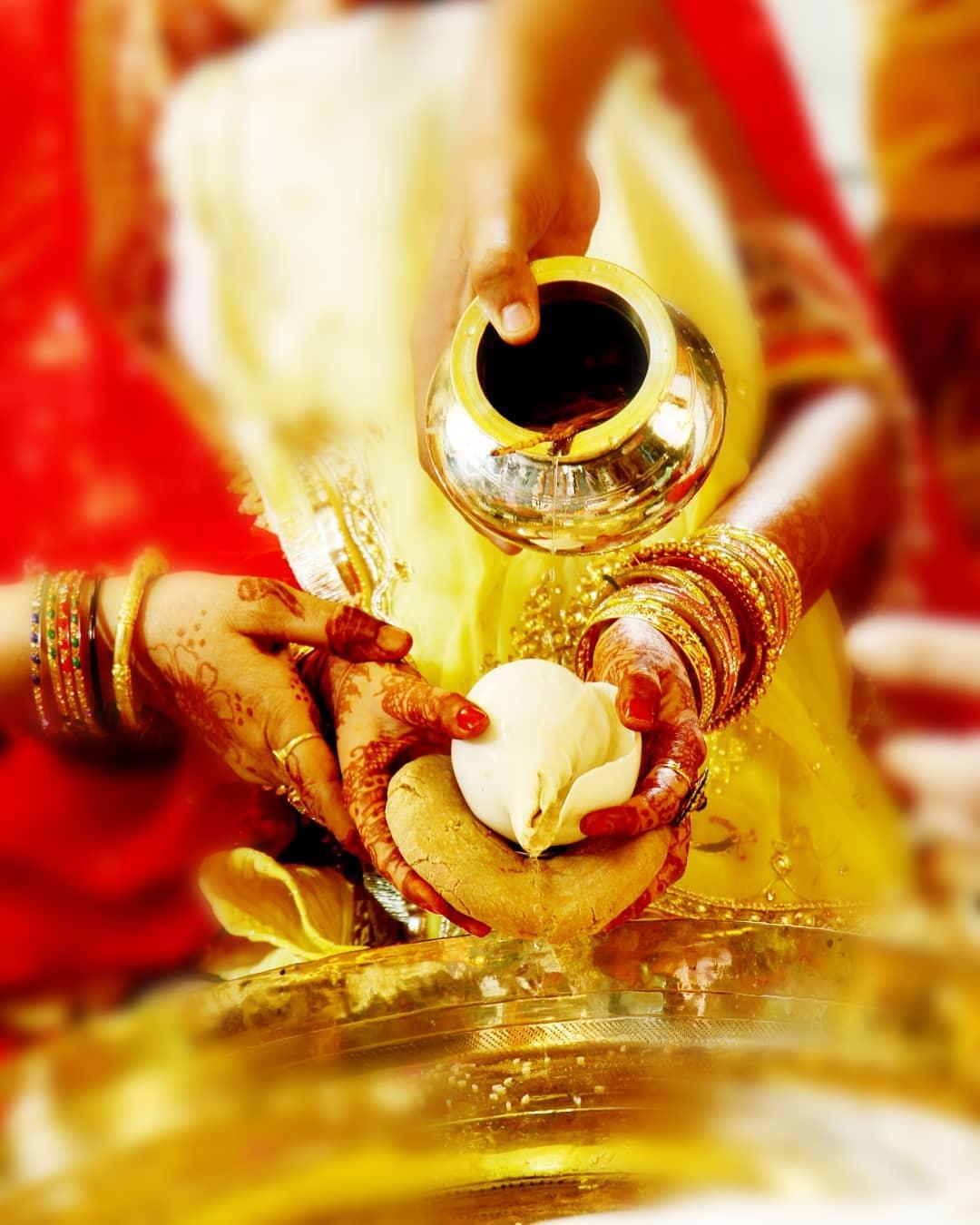 For us, this happens to be one of the most sacred rituals. The moment when your father puts your hands in that of your chosen one - our heart literally melts away! What about you?
Capture this magic by asking your wedding photographer to zoom in on the details and elements, or capture the expressions from your father or yourself. These photography tips and tricks will make it an emotional capture for the ages.
21. The Bride During Vidaai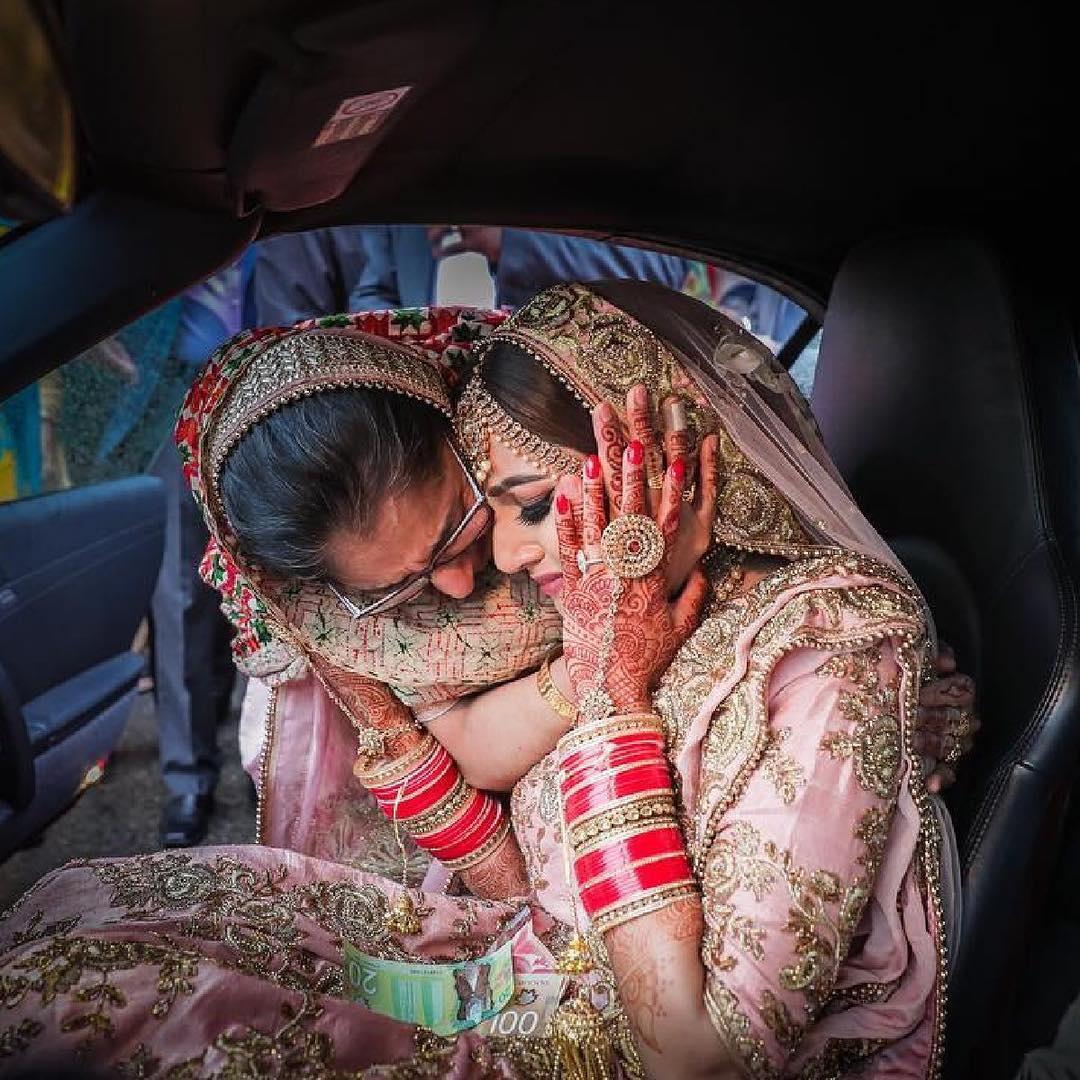 Image courtesy: Bliss Productions
A literal 'Baharon Phool Barsao Moment'! Is there anyone who can keep the tears away when a bride bids her final adieu? We guess not! It will get emotional, you will get teary eyes, therefore any moment you get to steal a hug and a kiss from your mother, father, family & friends.
And, having a dedicated photographer who captures each of them for you would be the best gift you could have ever asked for!
22. Bride & Groom Leaving The Venue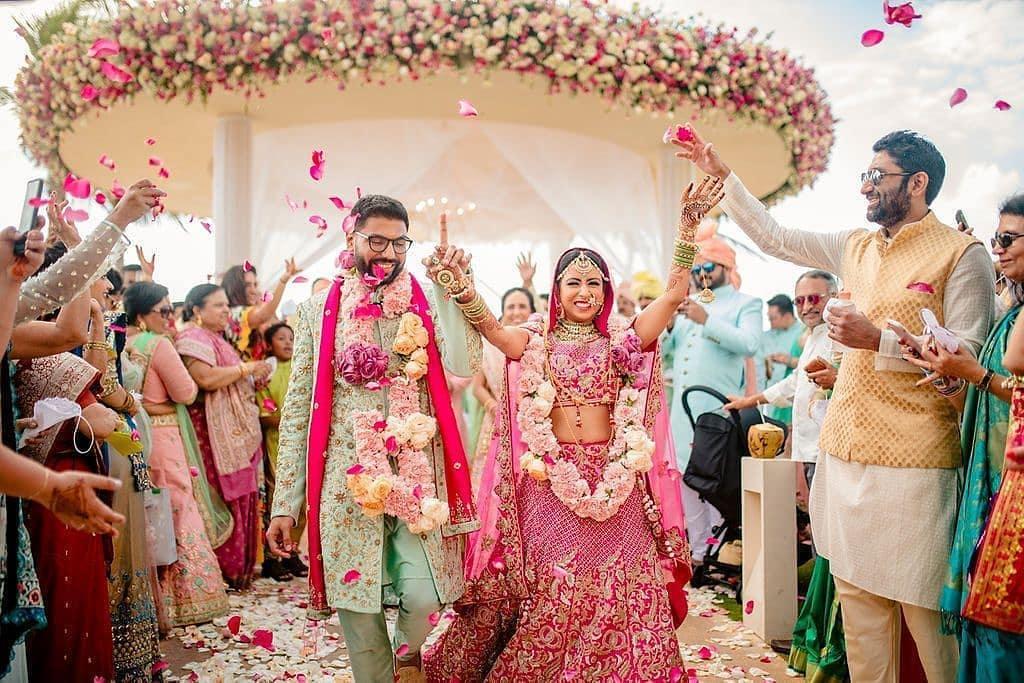 Image courtesy: North Water Star
The grand exit should be captured on the reel! It is the moment your new life begins!
23. Food Shots (Cocktail Hour, Drinks)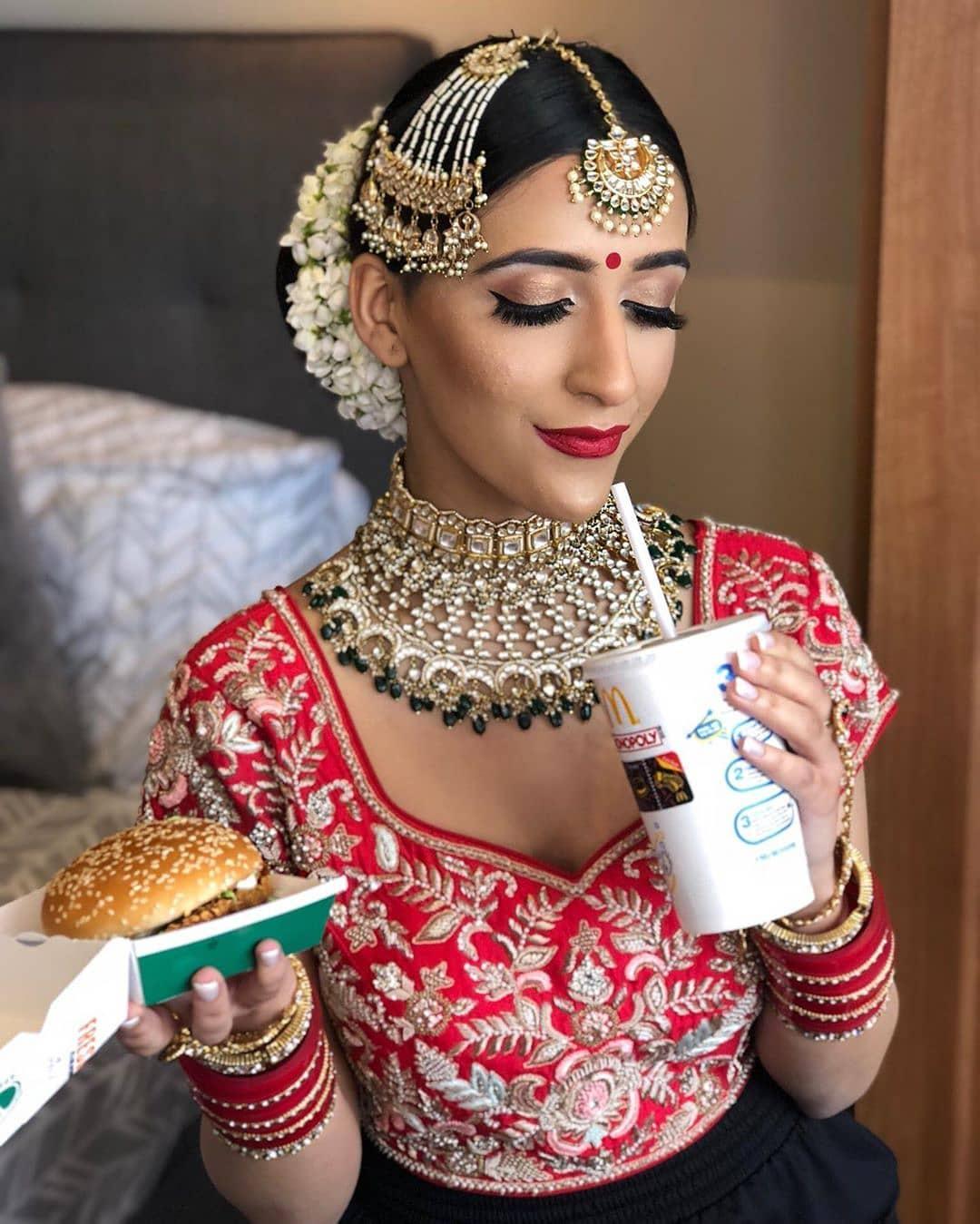 Image courtesy: Jatinder Grewal MUA
Yas, can't live without em! Also, there is a next level charm in sharing #foodofinstagramshots on your Insta feed!
24. Bride and Groom Portraits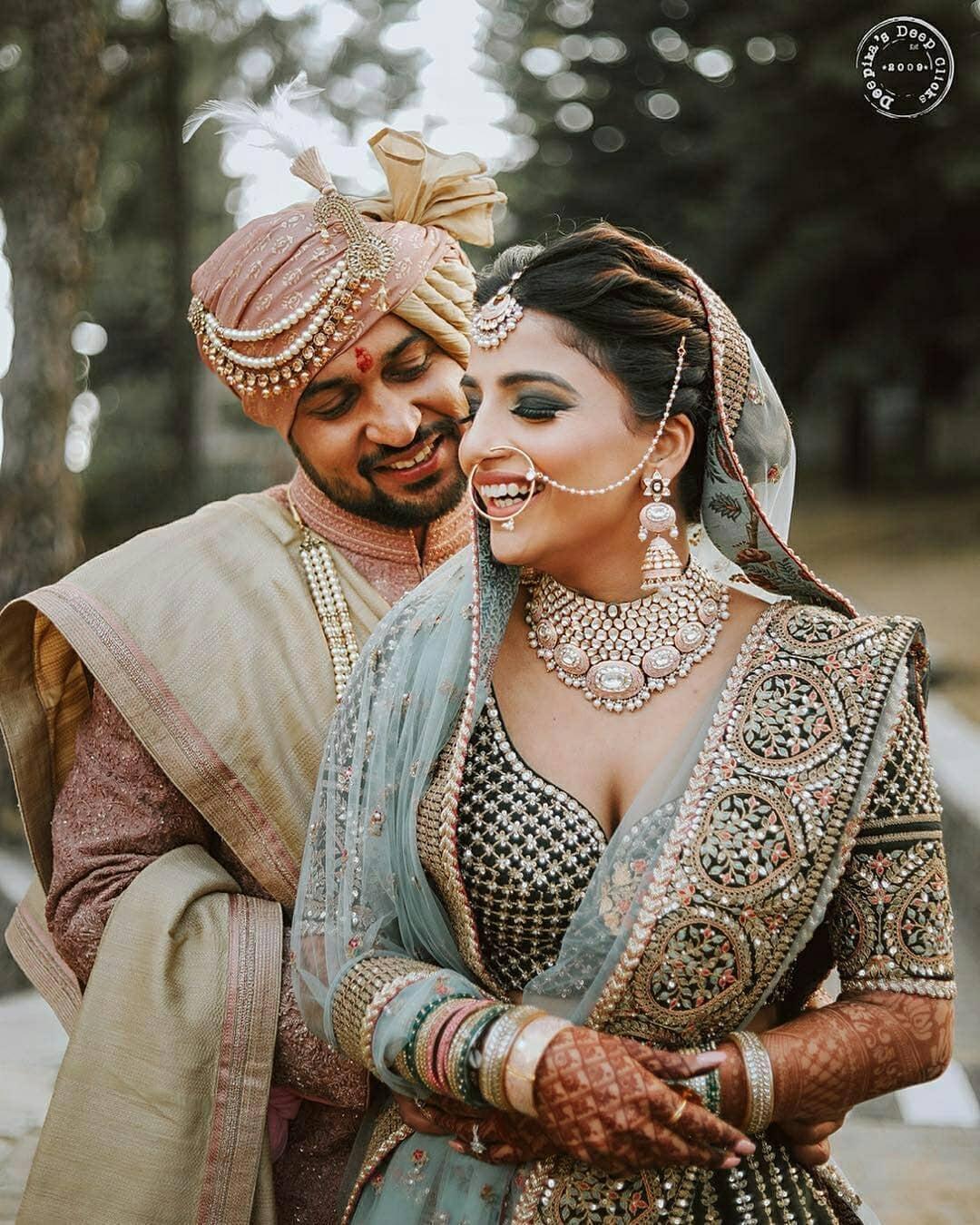 The quintessentially most important things ever!
25. Bride & Groom with Bridesmaids & Groomsmen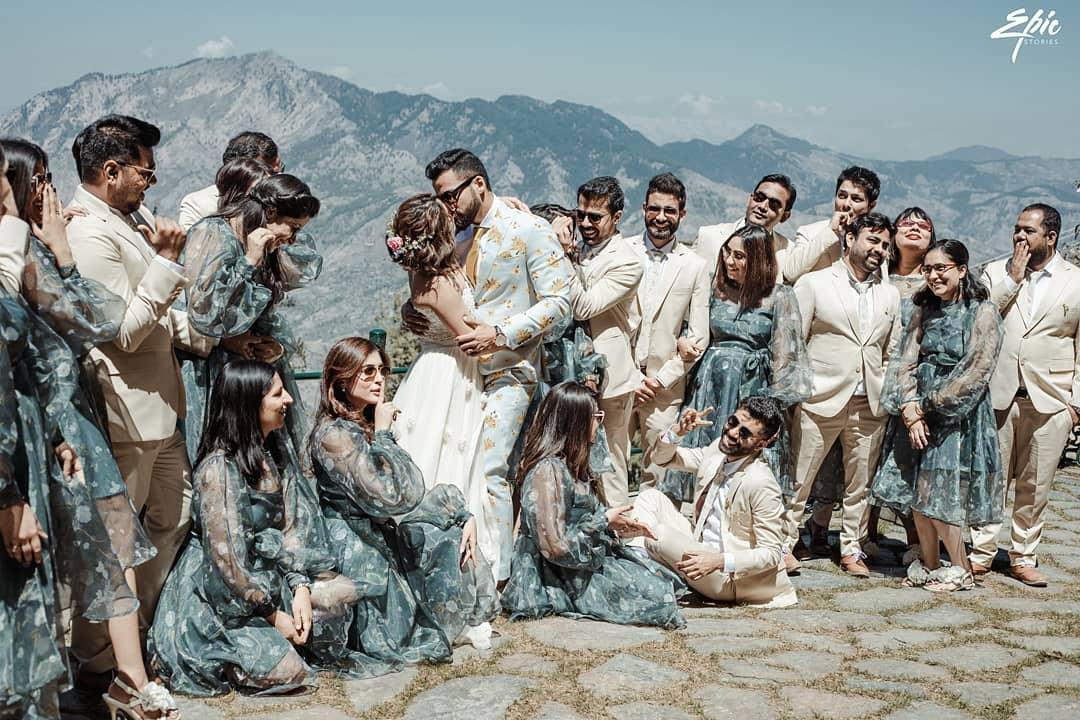 Image courtesy: Epic Stories
Yes, these are legit the people who got you through the thick and thin of life and of course the pre-jitters! They deserve all the limelight and sealing the moment with a cool group shot is one of the many ways to do it right!
26. Bride and Groom Hand & Ring Portraits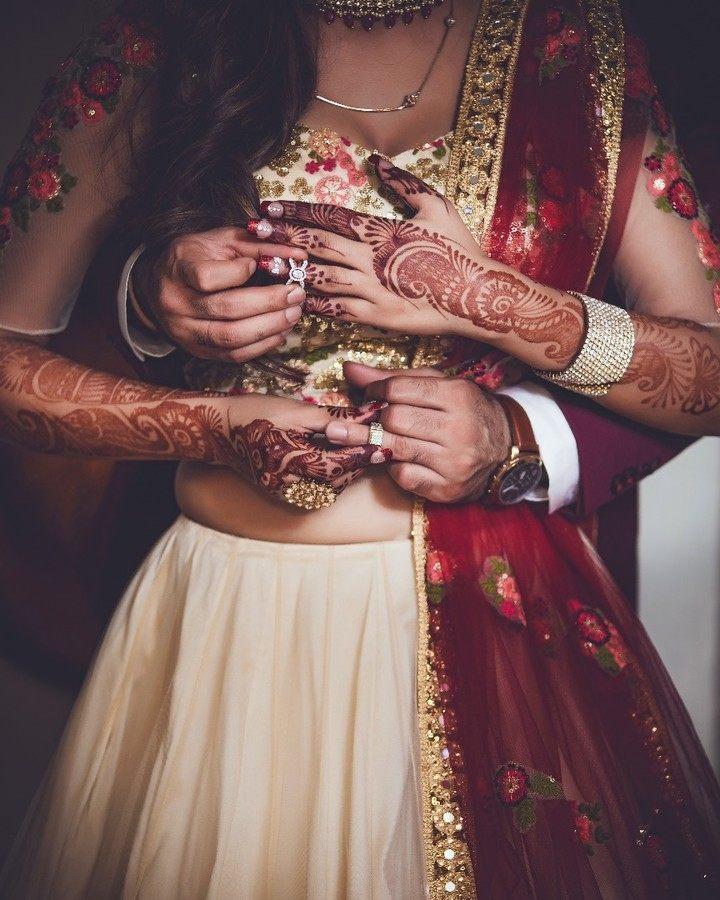 Well, the world does and we seem to like it! So, you might as well too! Besides, got a diamond? You might as well flaunt it!
27. First Dance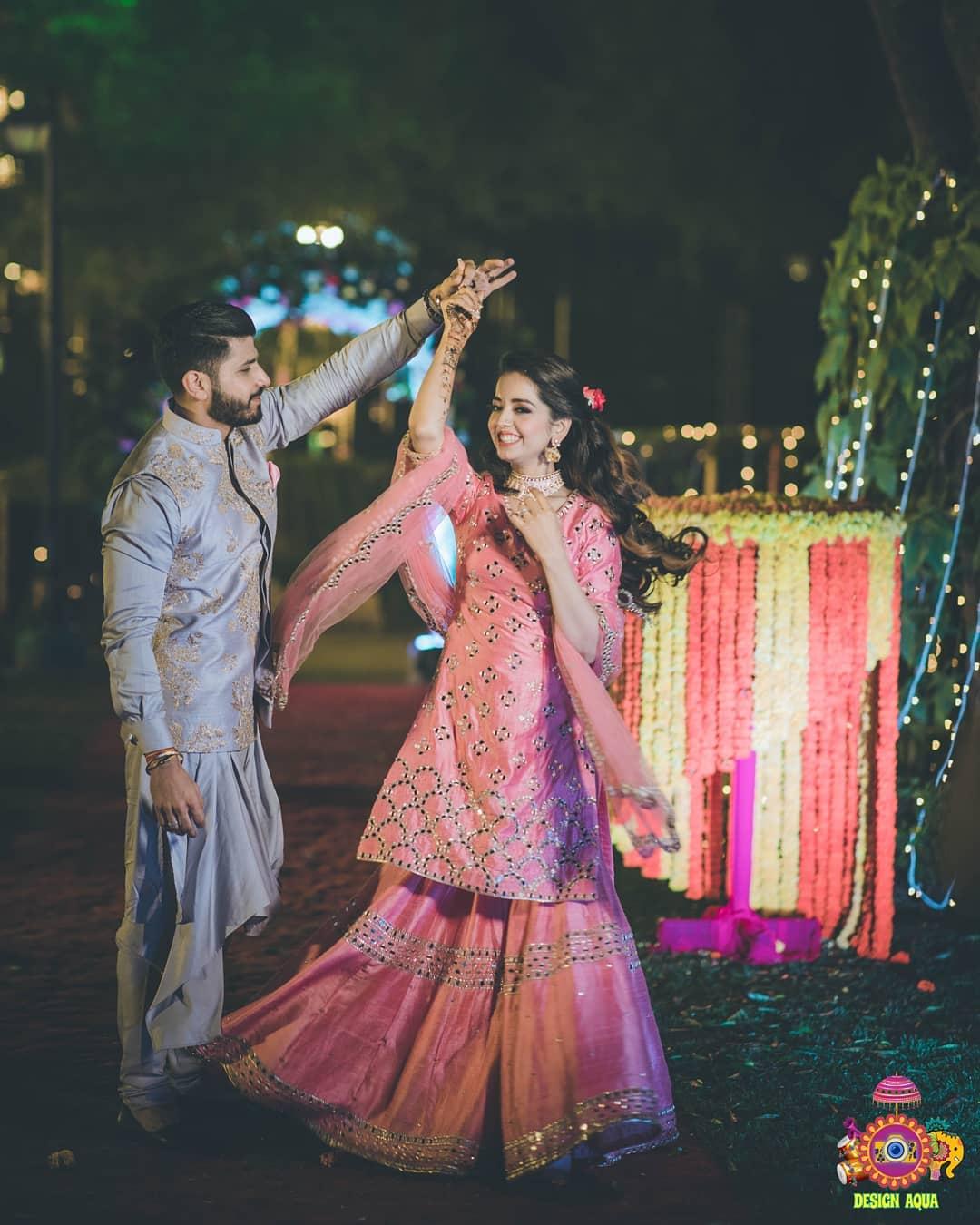 The cutest! The sweetest! The most romantic thing known to mankind!
28. Bride Tossing The Rice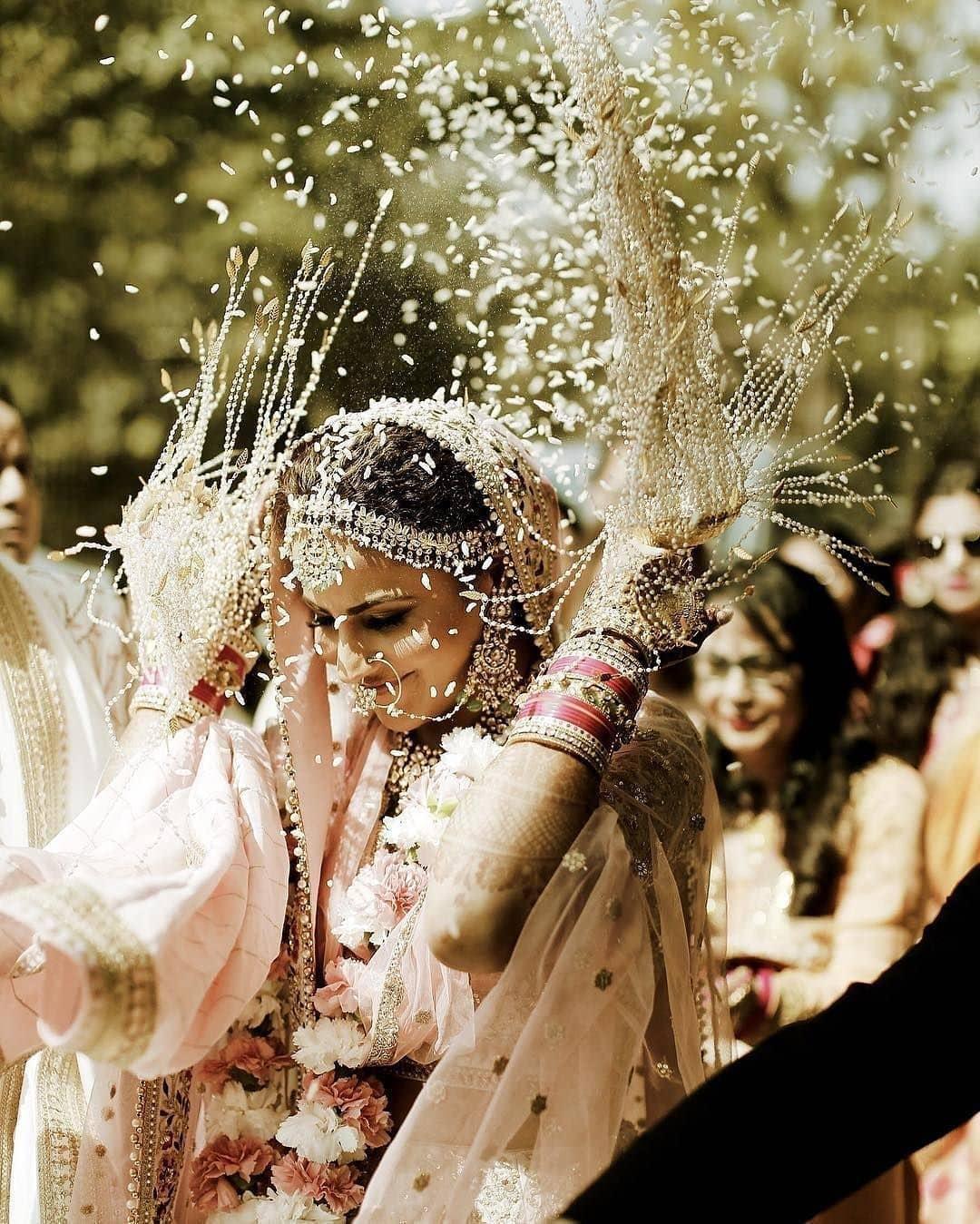 Another epic moment calling to be shot using boomerang!
29. Groom Applying The Sindoor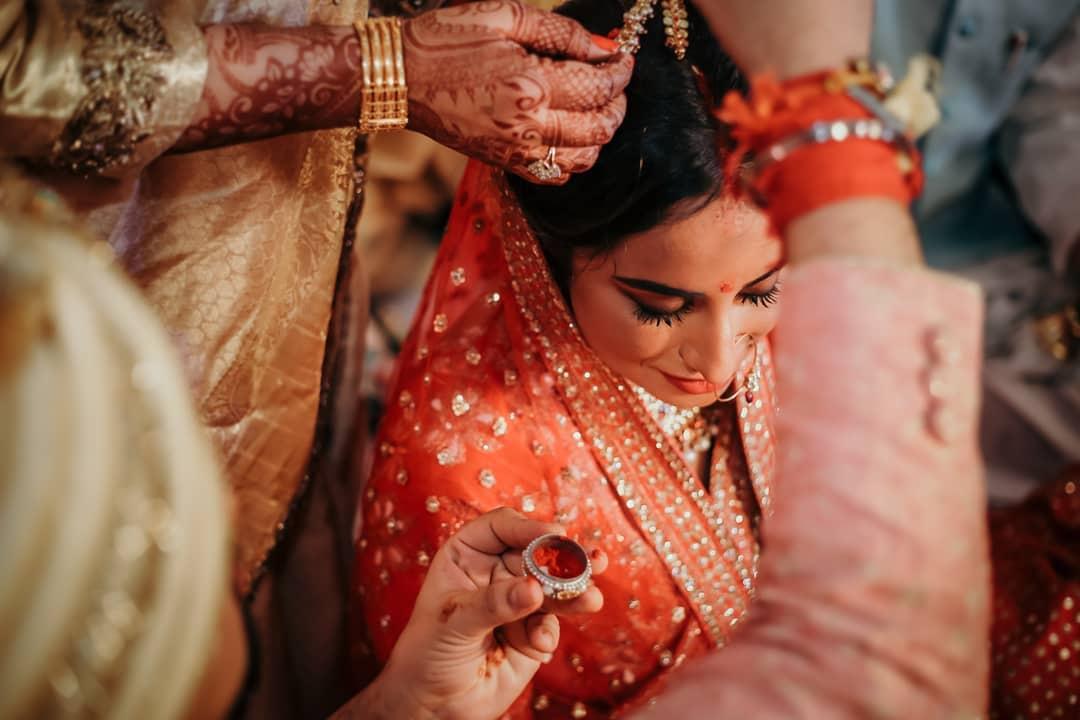 This moment on - we call you man and wife! Putting Sindoor legit stands for that - all of that!
30. Bride Wearing Her Kalire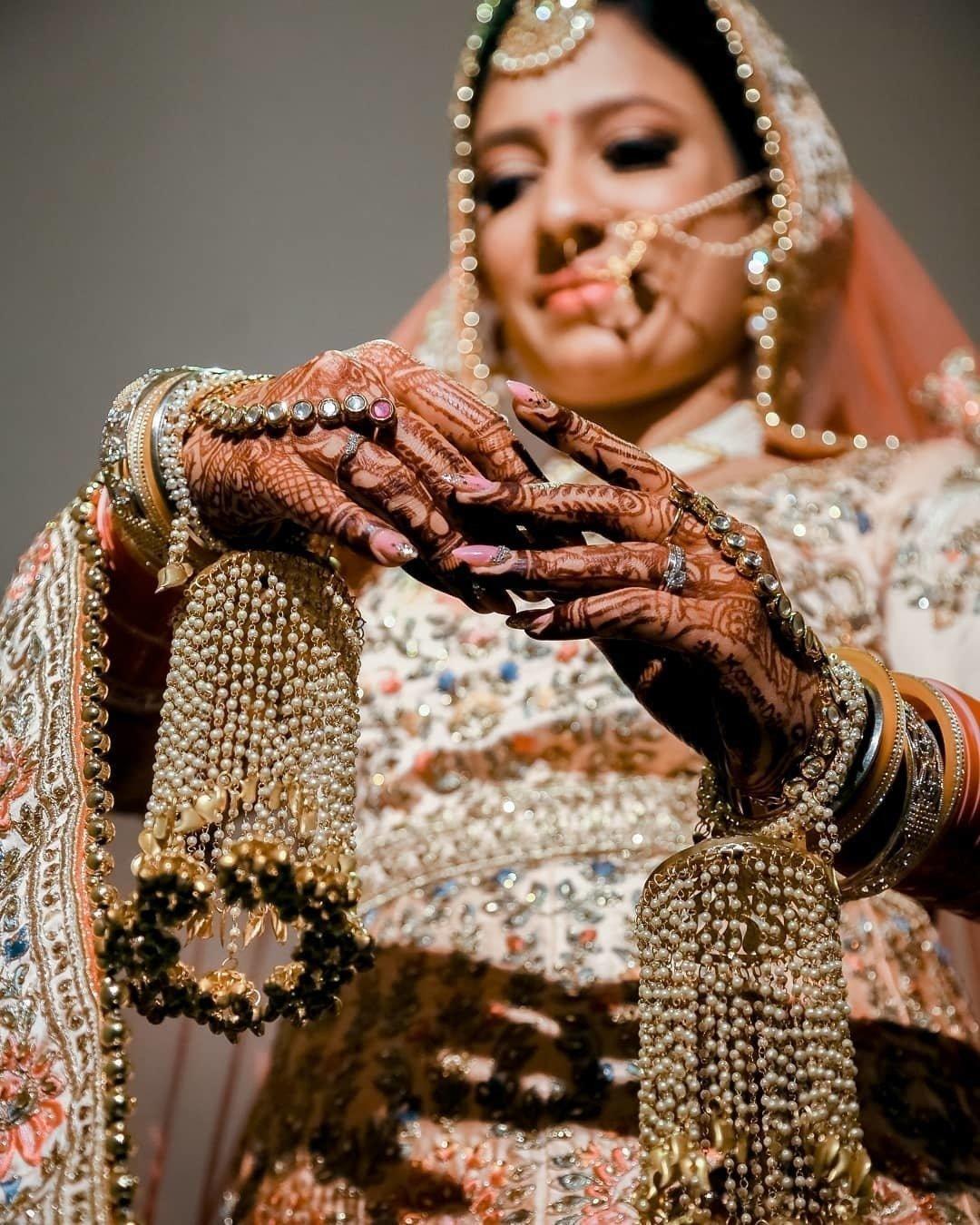 Like we said, weddings are all about emotions and we find something special about the Kalire ceremony!
31. Bride & Groom "Just Married" Vehicle – Driving Away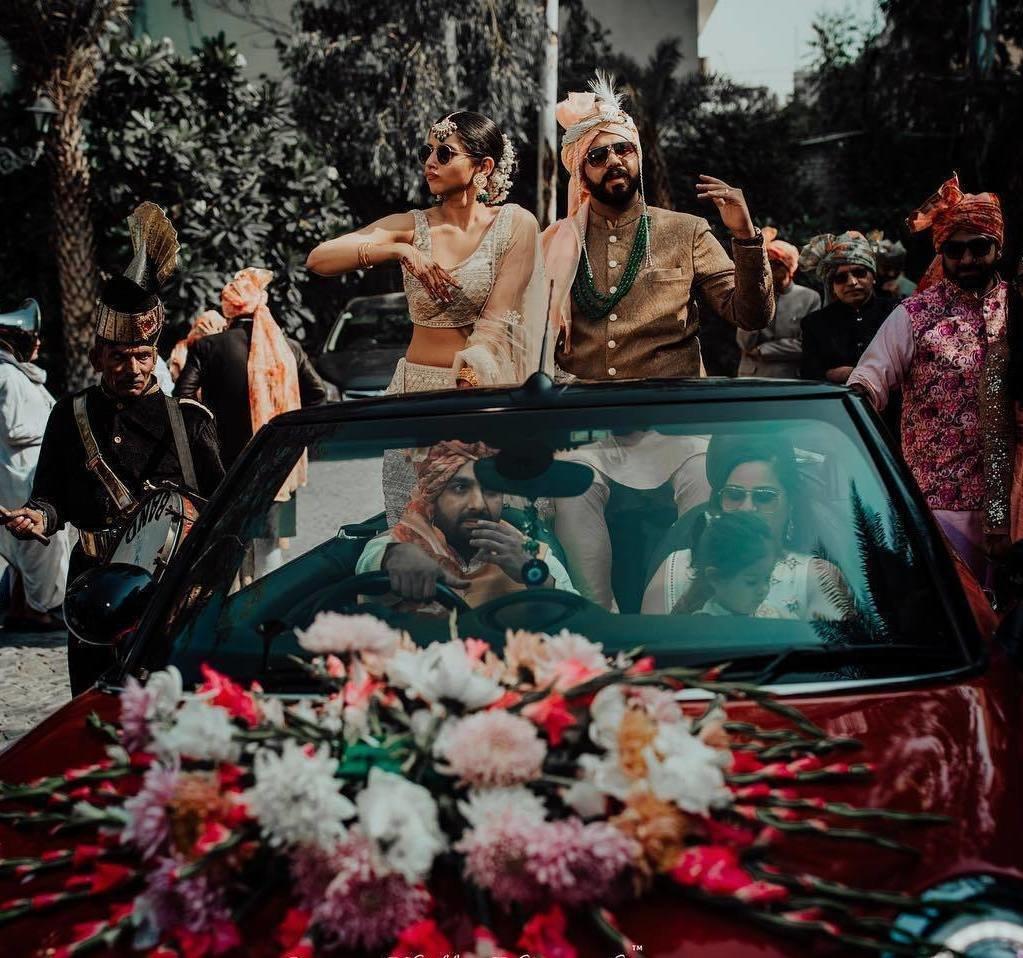 Cuz it is the cutest way to announce that now you're hitched!
32. A Shot Of Your Mehndi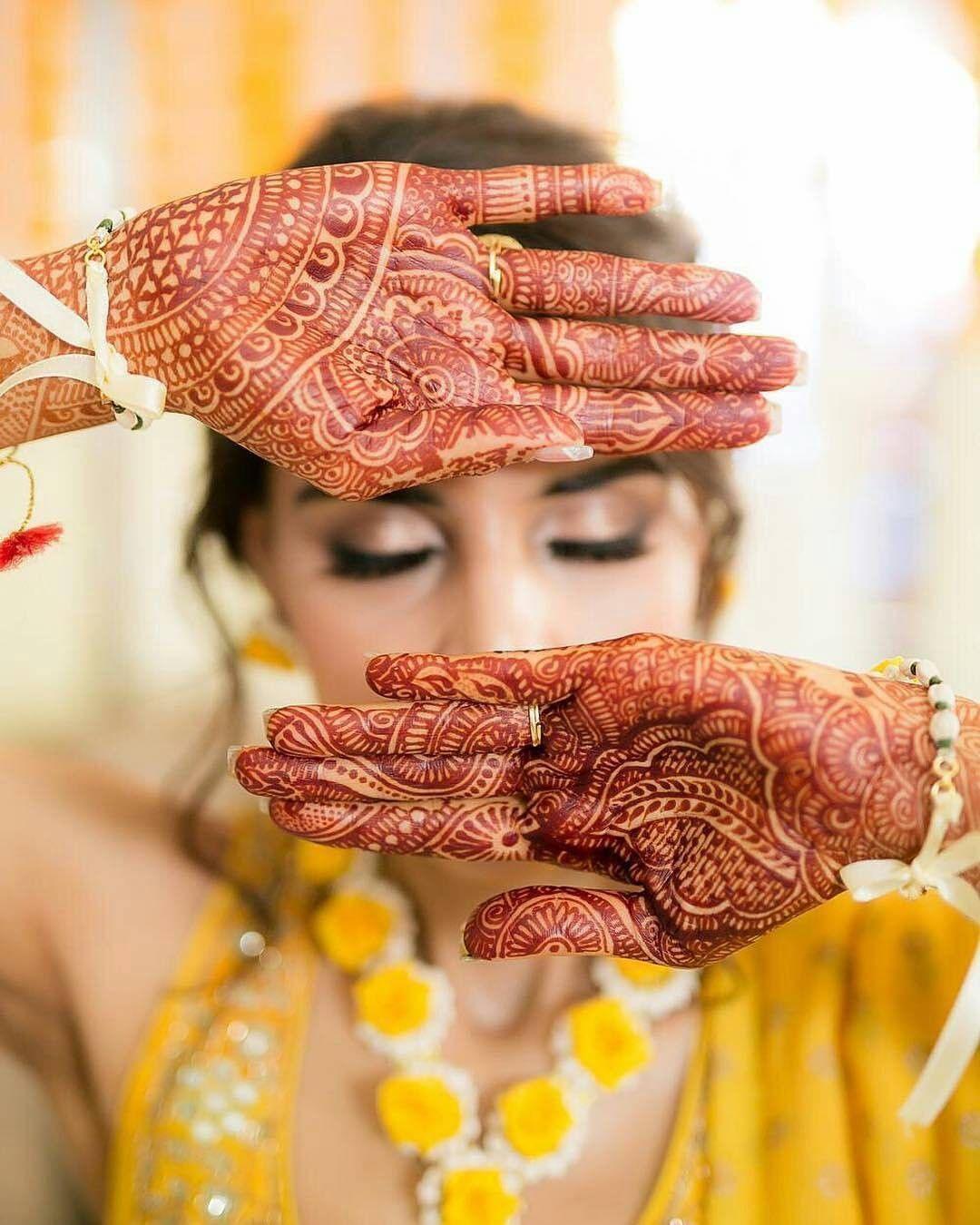 Image courtesy: Lin and Jirsa Photography
It is a must and you ought to do it too! The more aesthetically pleasing you make it - the more impactful it would be!
33. A Shot Of the Bride Sitting On The Bed With Her Lehenga Hung On The Side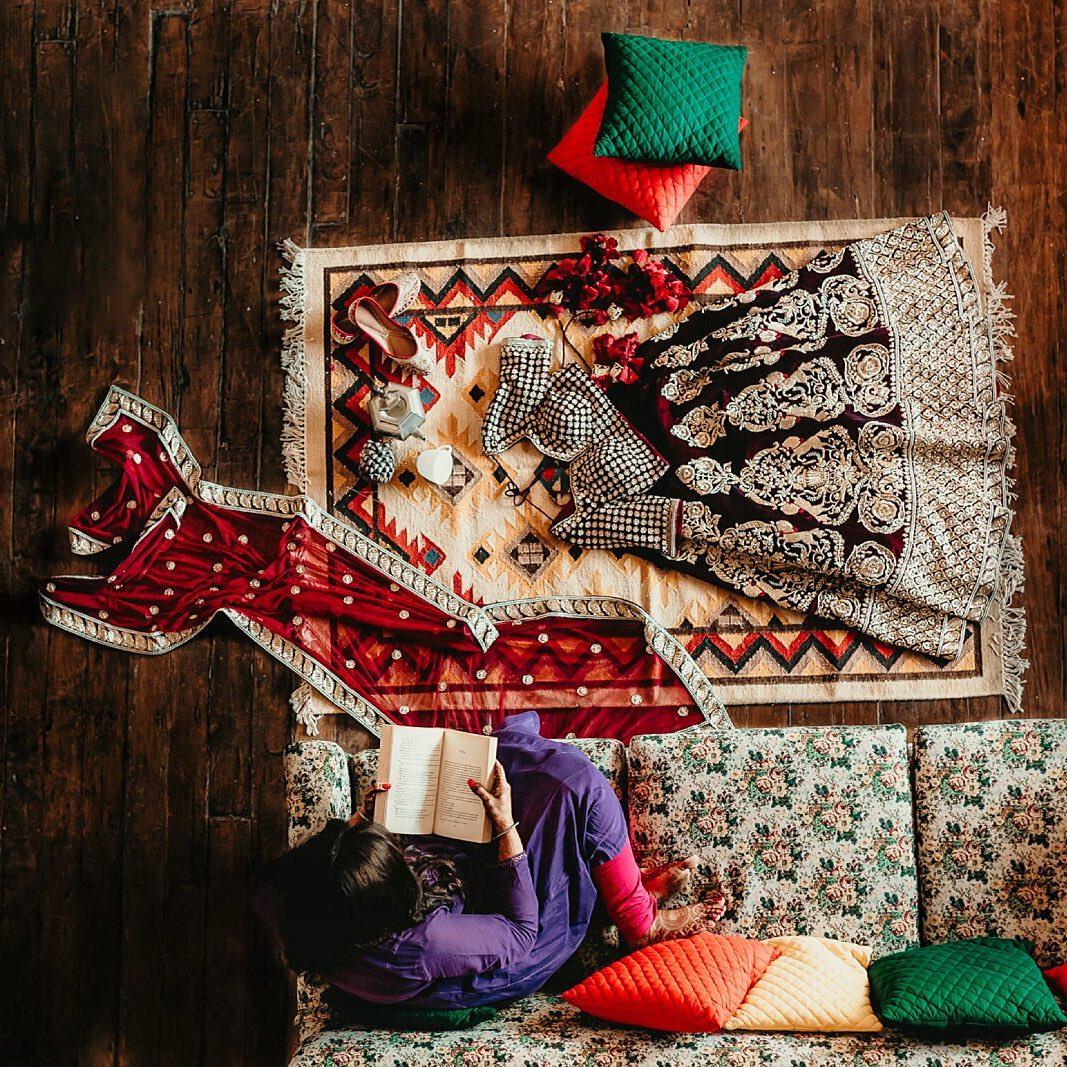 Image courtesy: Siddharth Wedding Photos
This is new, this is a raging trend and we see no reason why you shouldn't follow suit! Sit in your #bridechillamood with a beer in hand, your lehenga in your hindsight and give everyone the much-needed reasons to be a #bridechilla and not a #bridezilla!
34. The Saat Phera Moment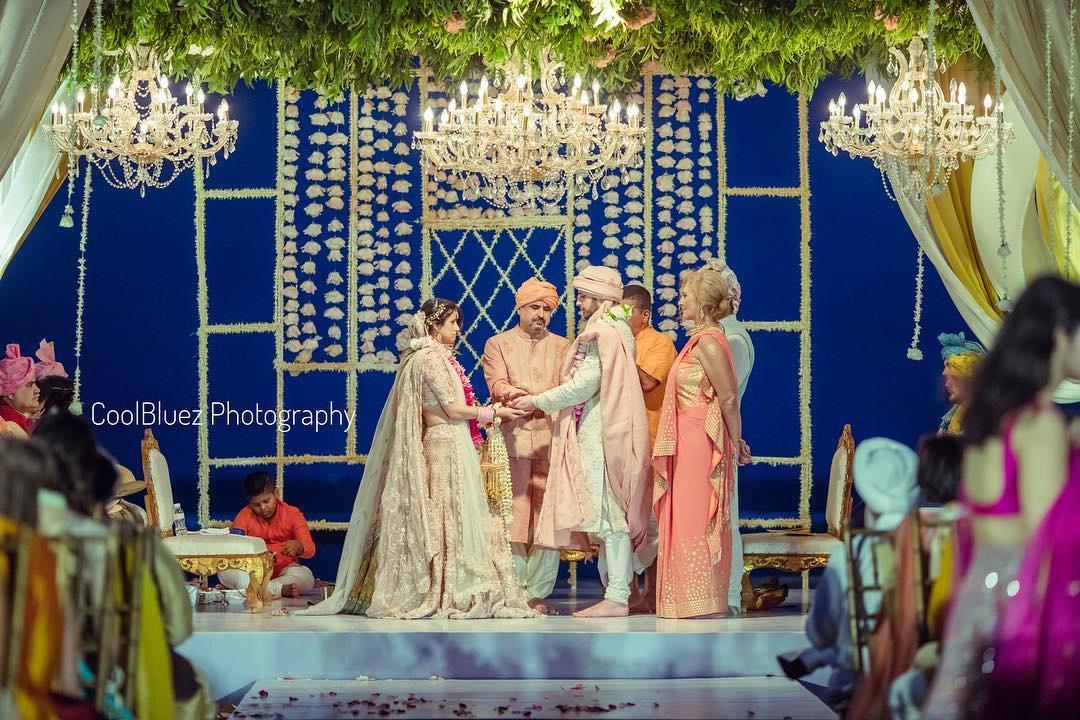 This moment deserves a time loop video of its own. It would be cool, edgy and will make your wedding moment go VIRAL!
35. Start Posting on Instagram With Save the Date Pictures of Your Wedding Cards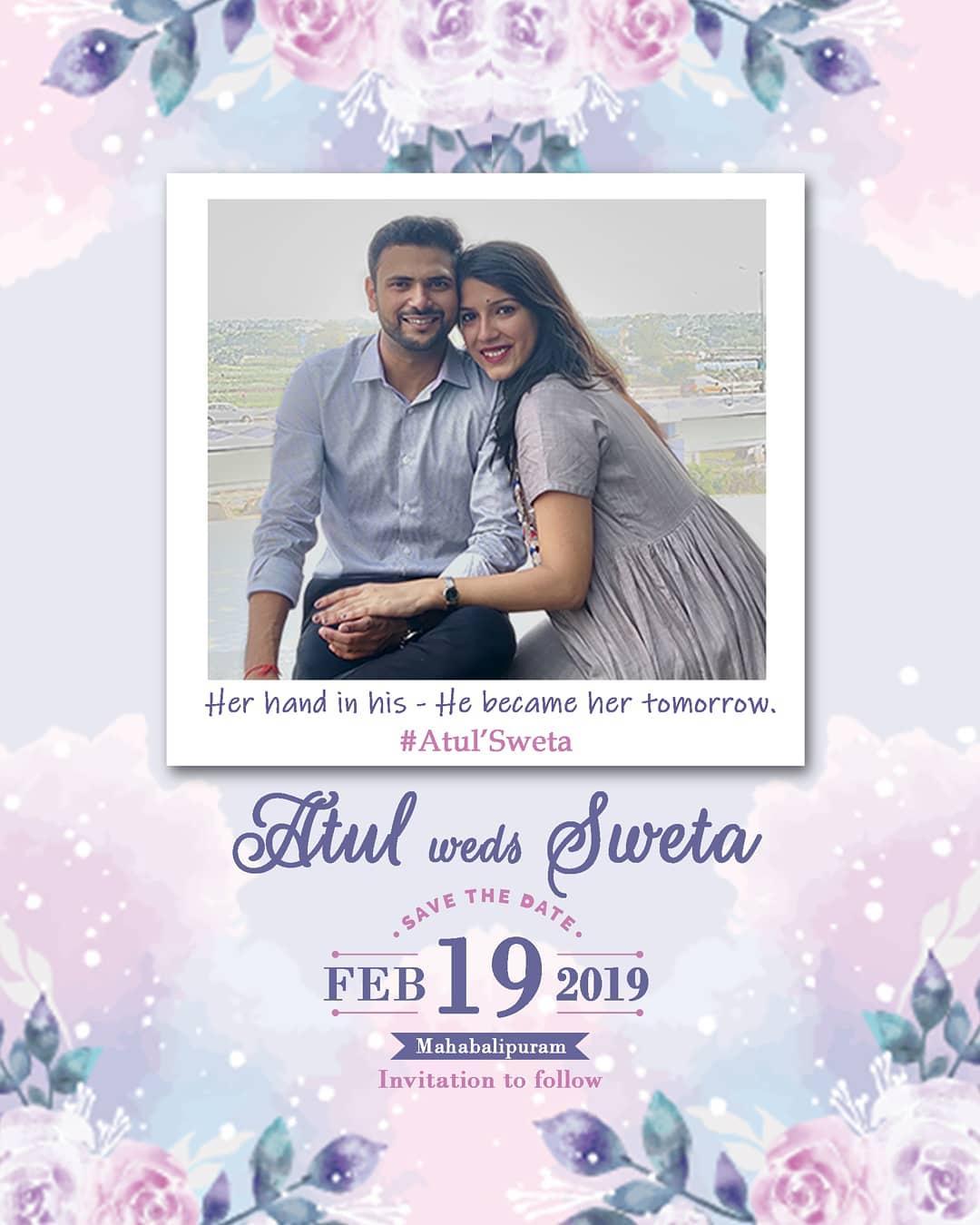 Image courtesy: Simply Sophisticated
This is new, this is a raging trend and we see no reason why you shouldn't follow suit!
These photography tips and tricks will guarantee you a hundred million likes, a handful of re-tweets and an army of followers! Besides, you just got hitched and we know you'll be in your cocoon of bumbling romance! But, sooner or later you will get back to social media and then all of these time-lapse, boomerangs and group shots will remind you of the times gone by and forever be living proof of the 'Yeh Jawaani Hai Diwaani' inspired wedding you had!
Would you follow these photography tips and tricks to make your wedding an Instagram friendly affair? We know we will!