10 Modern & Rad Party Wear Hairstyles You Need to See Today!
Take a break from the old-fashioned bun hairstyle with Gajra's and roses. It is time to embrace the millennial in you. Click here to check out these party wear hairstyle images!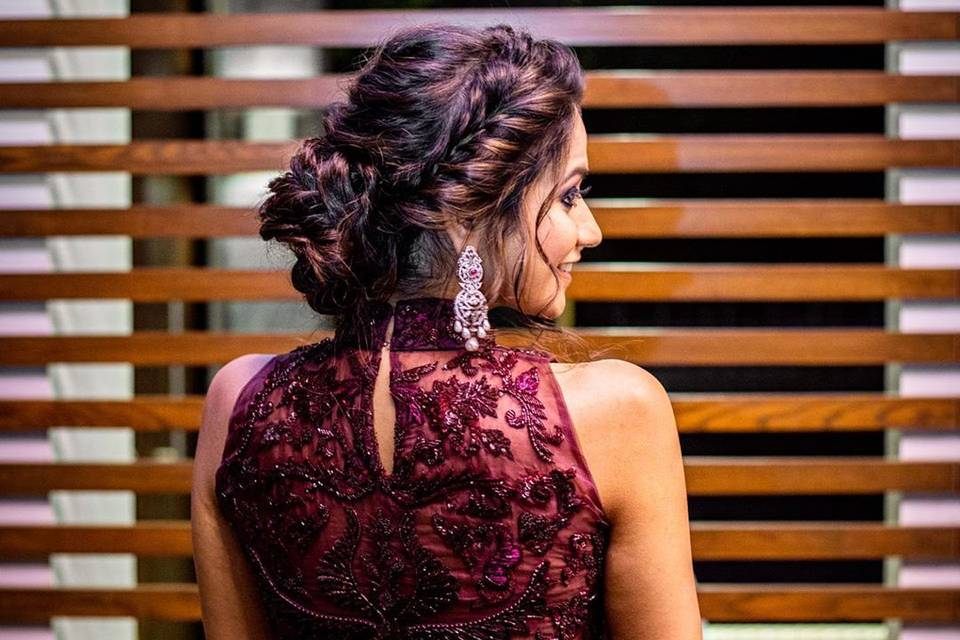 Often times, it is a task to balance out the traditional vibes of a wedding with our own style. It can get a little difficult to combine the two and get the best results. You can only hope that your experiment works.
We tend to wear traditional outfits to embrace the Desi Girl in us but we get stuck on the hairstyle. When it comes to wedding dresses, we have the option of trial and error, however, with hairstyles, we cannot sit in a salon and ask them to show what a party wear hairstyle looks like on us to judge whether it complements our outfit or not.
As we are hard-core millennials at heart, we gravitate more towards contemporary hairstyles rather than traditional ones. We think the same goes for every woman. To solve both these problems, we have found 10 gorgeous hairstyles that are modern and will look effortless with western as well as traditional silhouettes. Check out these party wear hairstyle images and look FAB in any one of them!
Beautiful Side Curls with Hair Accessories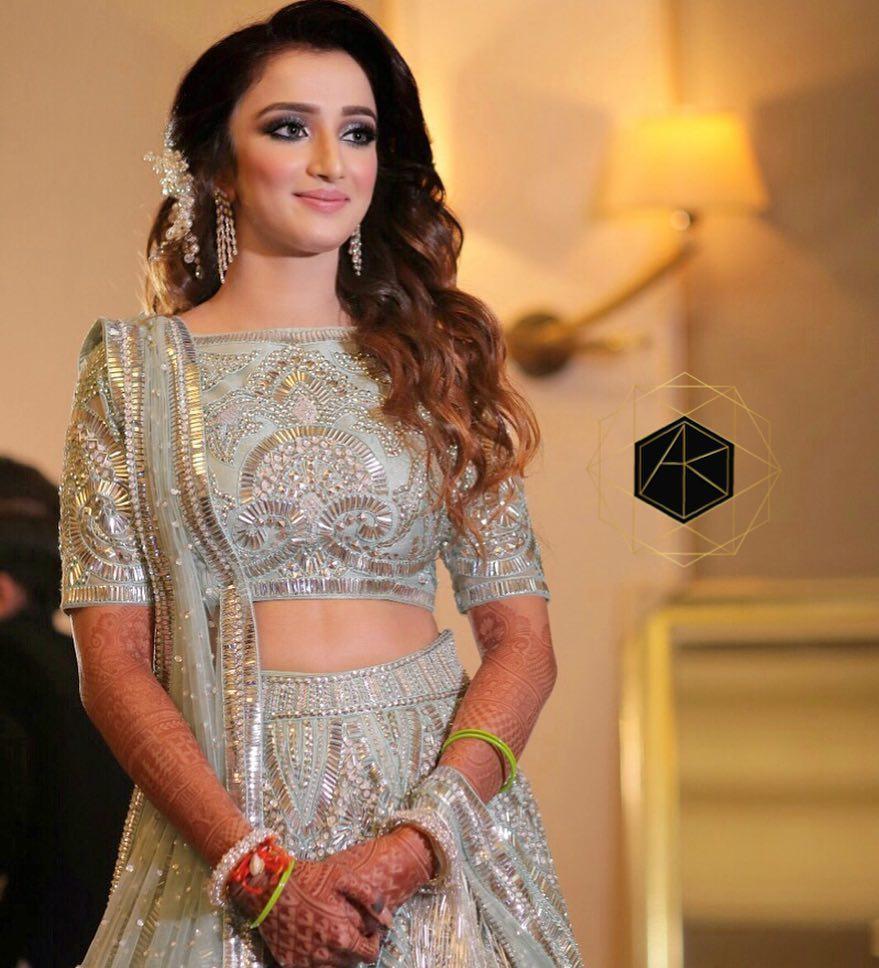 The first party wear hairstyle is a universal hairstyle that will suit the most casual outfits and look great with the dressier looks as well. You can see in the image that it looks beautiful with the lehenga. We guarantee it will look just as good with a western gown as well. The hair accessories are optional. If you want, just use any bobby pins to tuck one side in.
Simple Soft Curls with Centre Partition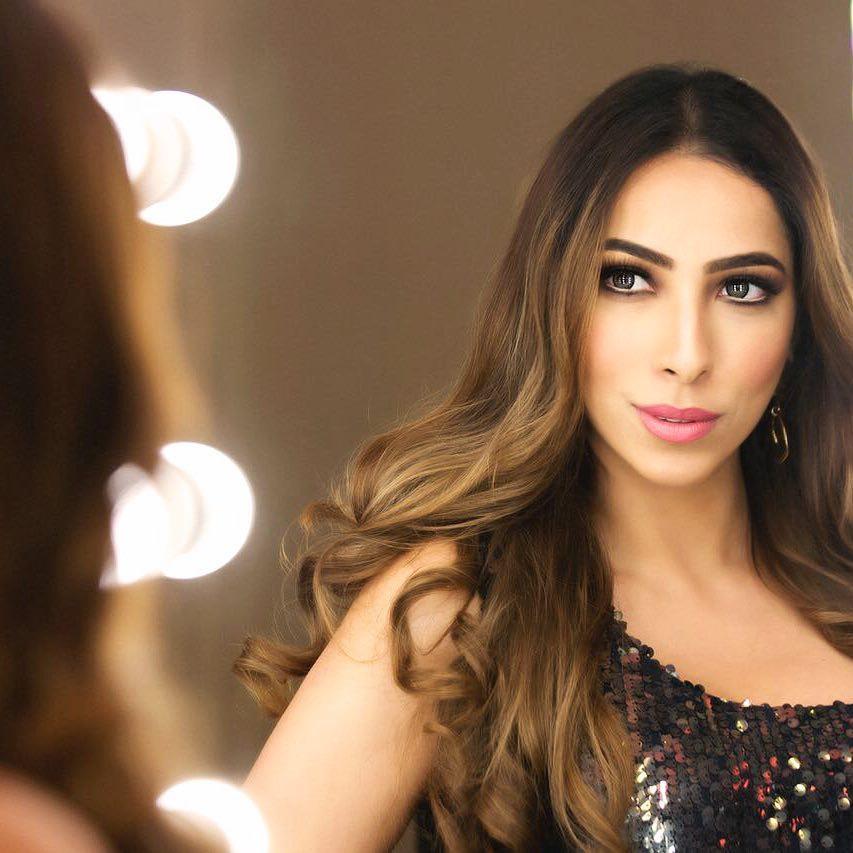 Party wear hairstyle are for not only a bride and her functions! We think every wedding guest should know these contemporary hairstyles. These soft curls are perfect for a teenager or young women attending a wedding. It has a very fresh vibe which is what most of us are looking for.
Vintage Waves Pony with Textured Braids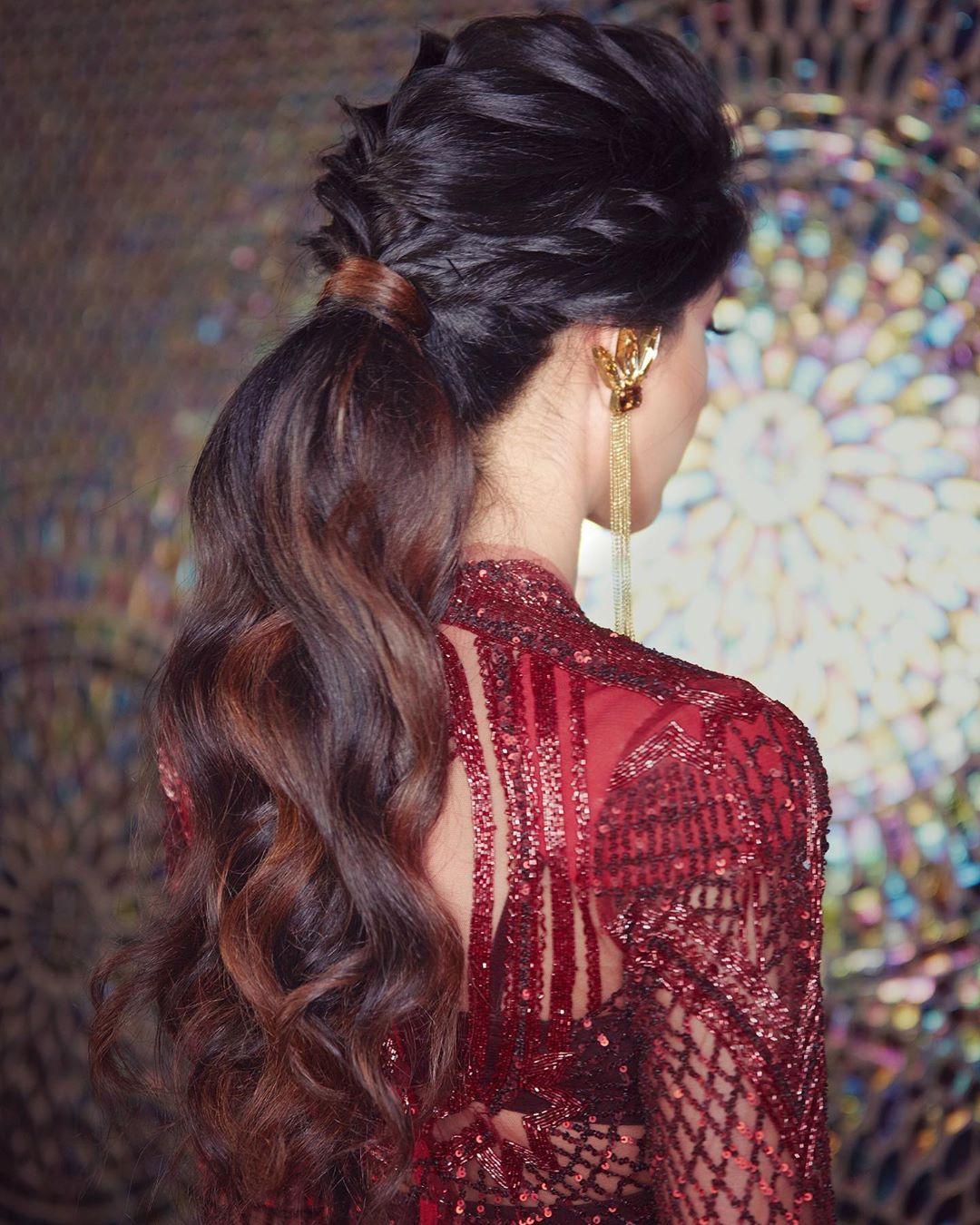 Ponytails are seriously trending now. They are amongst our favourite hairstyles for everyone, which is why you will see many ponytail hairstyles throughout this article. Let's take a look at our top picks!
The first party wear hairstyle featuring a ponytail is a vintage waves ponytail with textured braids at the crown area. Ponytails do not gel with the traditional silhouette so be sure you pair this with a gown with embellishments and not embroidery.
Silky Straight Hairstyle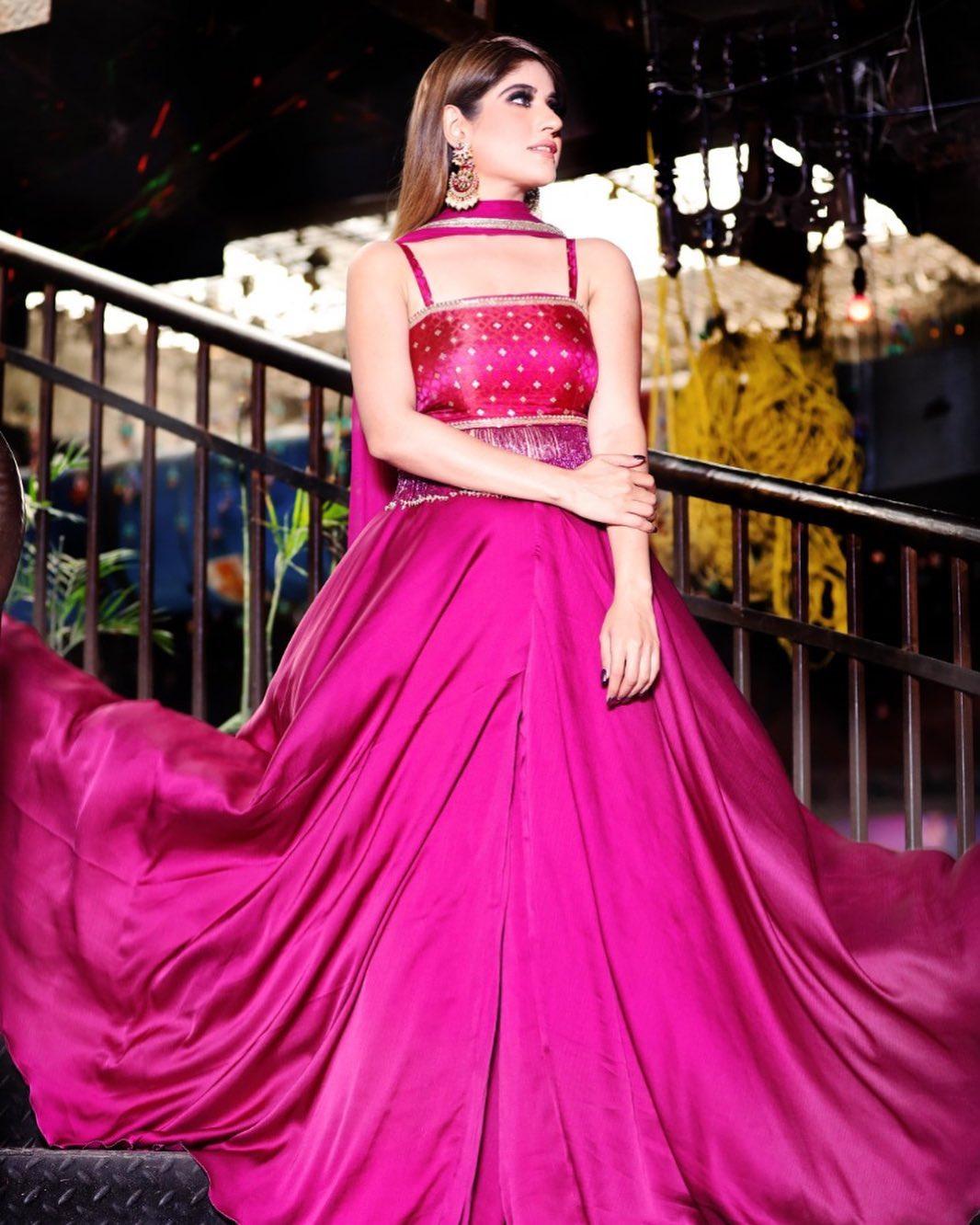 Do we even need to say anything about this beautiful party wear hairstyle? No matter what you wear, we know a straight hairstyle will work 100% and make you look young. This was the go-to hairstyle for us in our teenage days. What about you?
Curls with Infinity Braids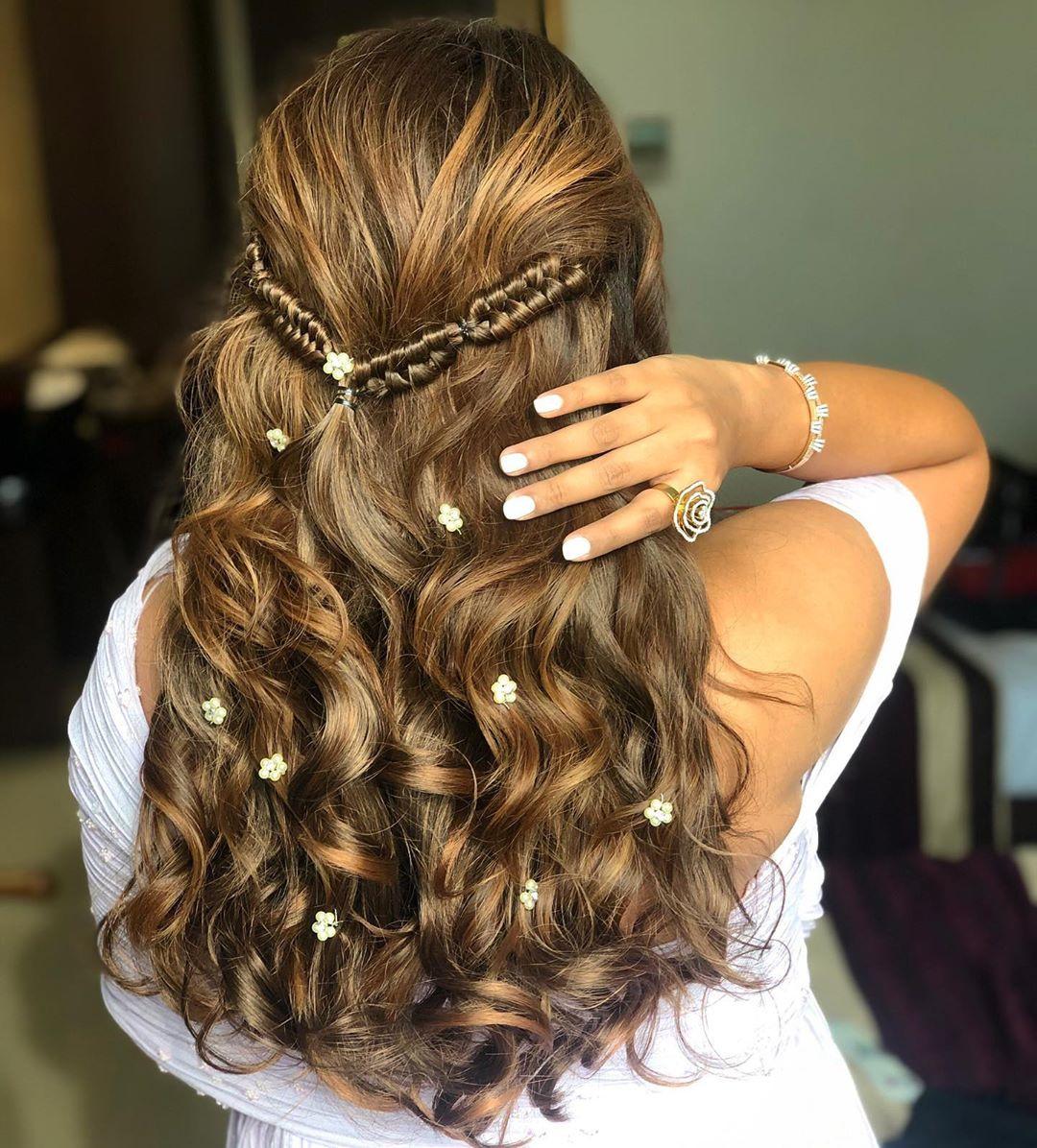 If you want to let your hair breathe and keep them open (but still tidy), we say always go for curly hairstyles with details or designs that keep them out of your face. This one is perfect. The infinity braids are a modern touch added to the old curls. Adding any microfloral hair accessories is totally up to you. We would recommend them for a Haldi or Mehndi ceremony only.
Loopy Updo Hairstyle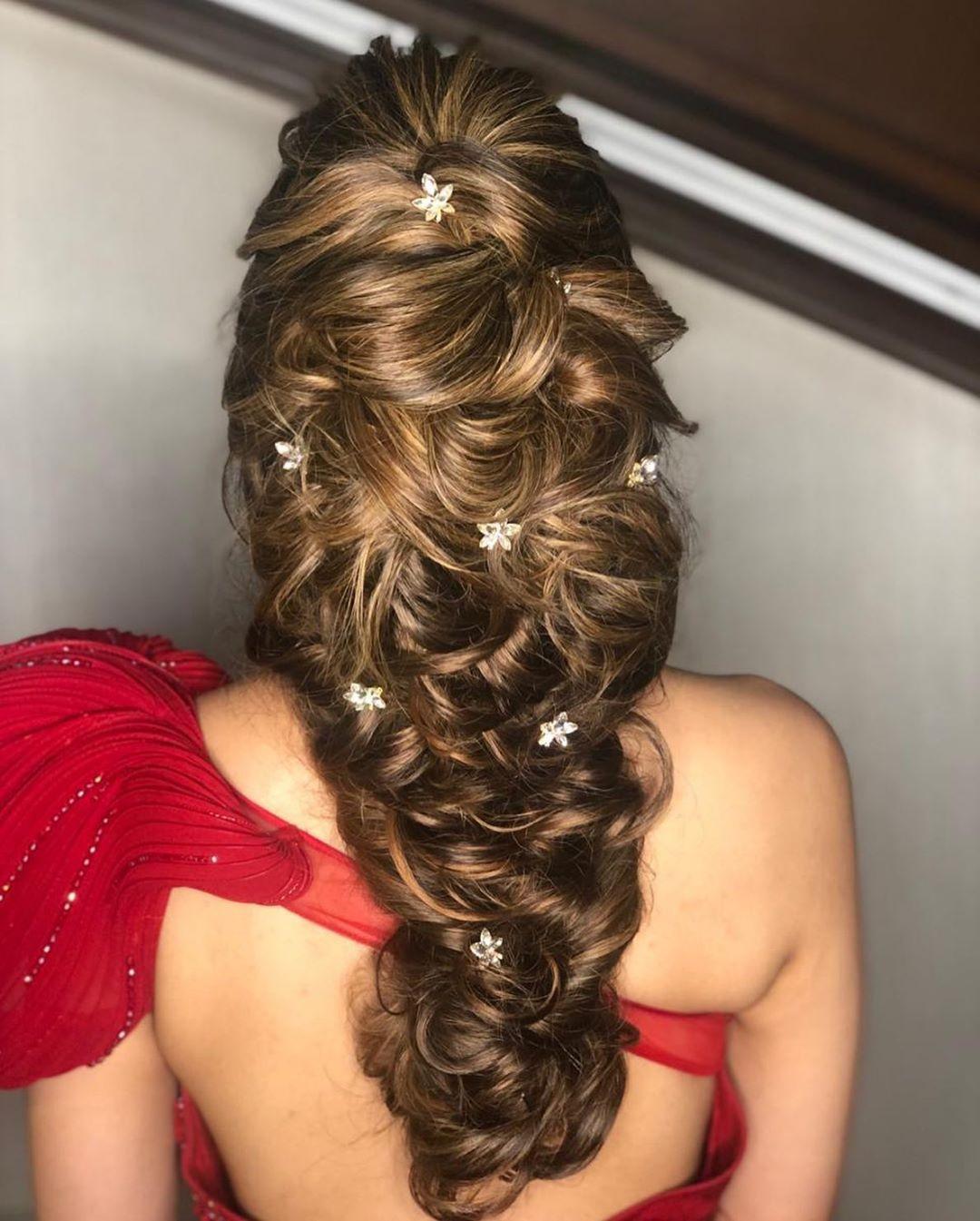 We love to get intricate hairstyles that are too complex for the naked eye. This party wear hairstyle one of them. Not a bun and not a ponytail, this loopy updo is perfect if you are wearing a sexy gown in a bold colour like red and back.
Messy Bun with Braids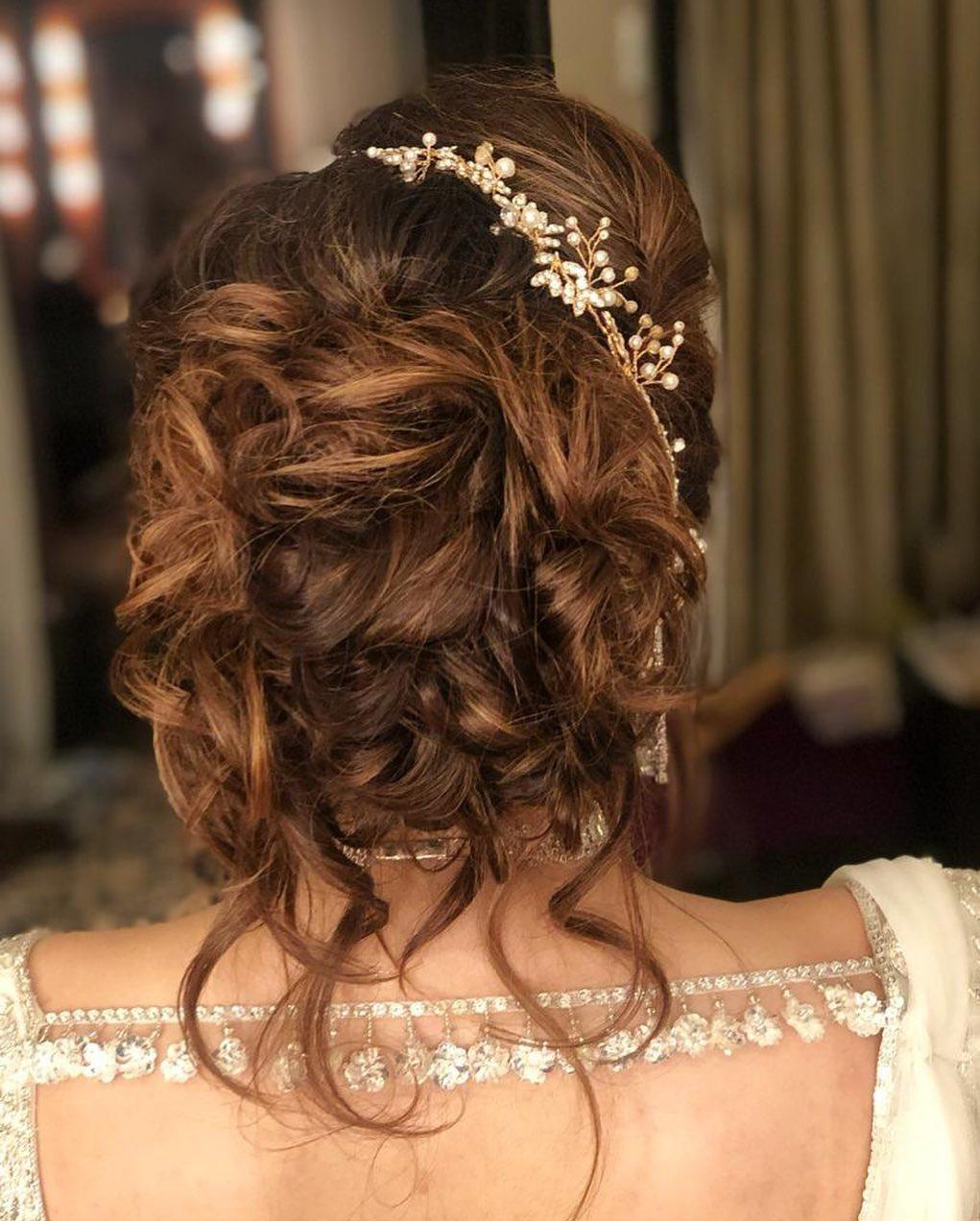 We know there are many women who prefer hair buns to open hair. If you are one of them, we say instead of a neat bun, go for a messy bun with another element like a braid to make it more interesting. You can even wear it on a traditional lehenga or a sexy low cut gown.
Voluminous Ponytail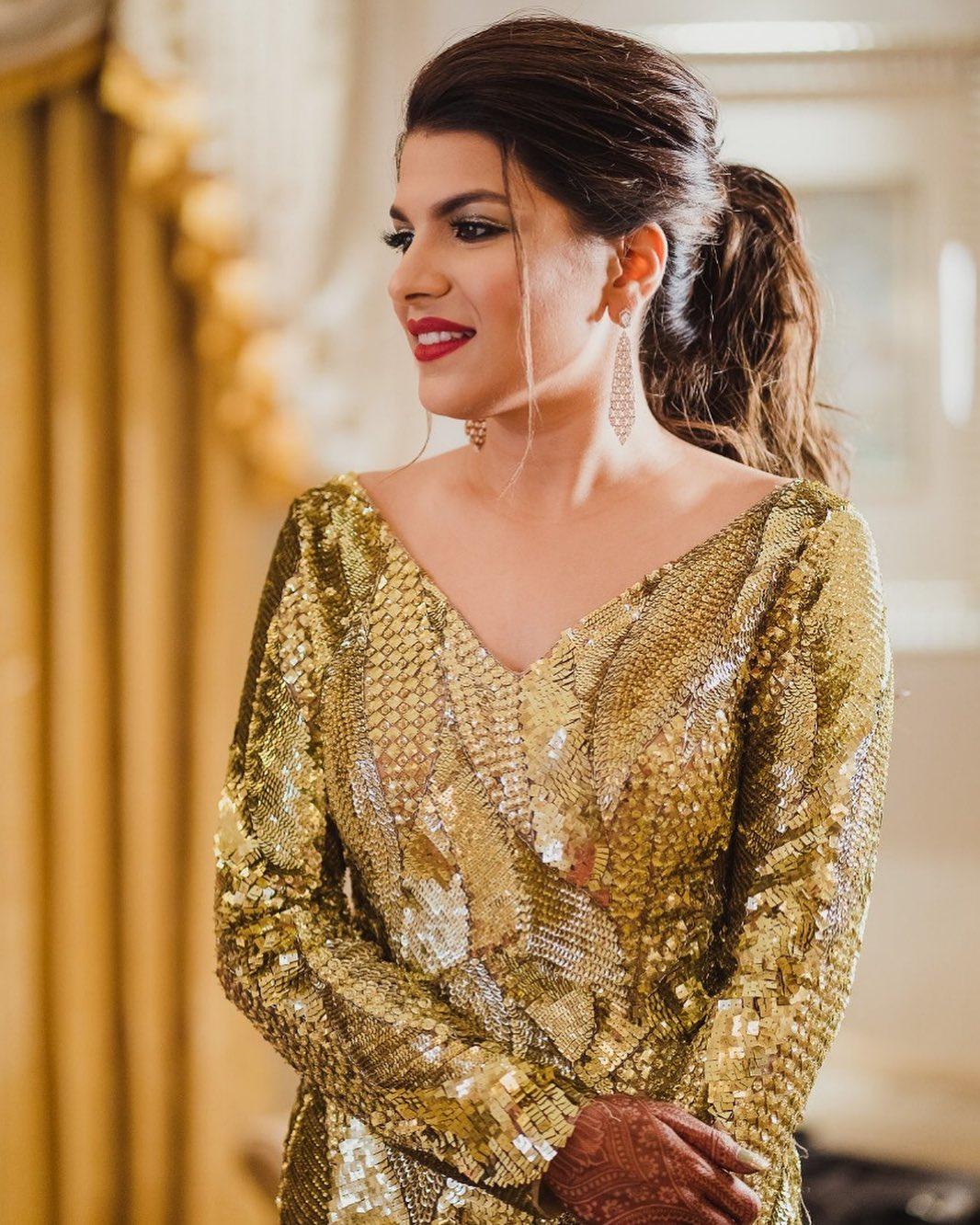 The next 3 images are all for ponytail hairstyles. This party wear hairstyle has a simple ponytail with your natural curls. If you wish for a similar voluminous style, the secret is very simple. The trick lies in a technique called backcombing and it adds height and volume to your style.
Textured Ponytail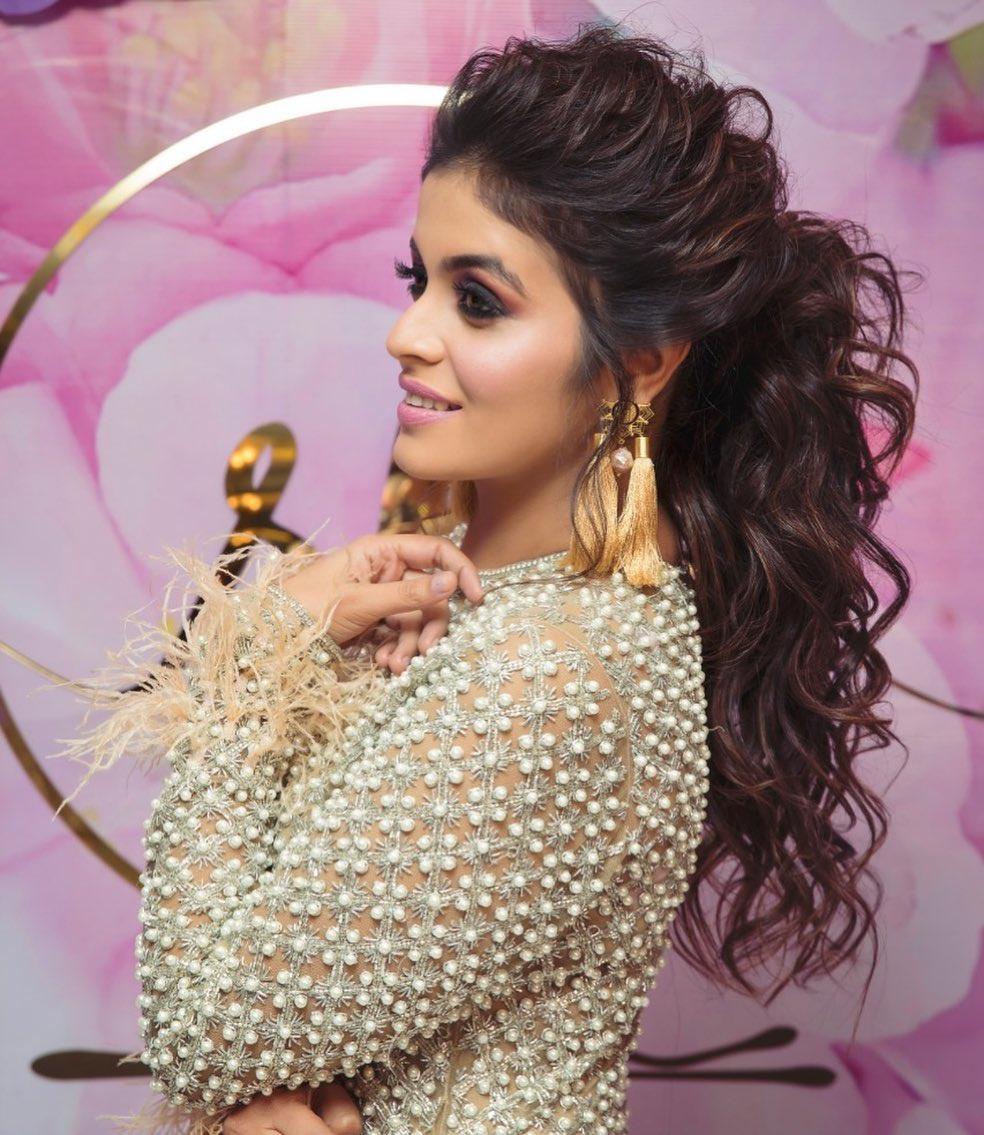 The next pony hairstyle is a textured pony with curls. We love this ponytail for high neckline gowns that have a western pattern, preferably straight silhouette as ball gowns have a princess vibe whereas this style is edgy and gothic.
Twirl Ponytail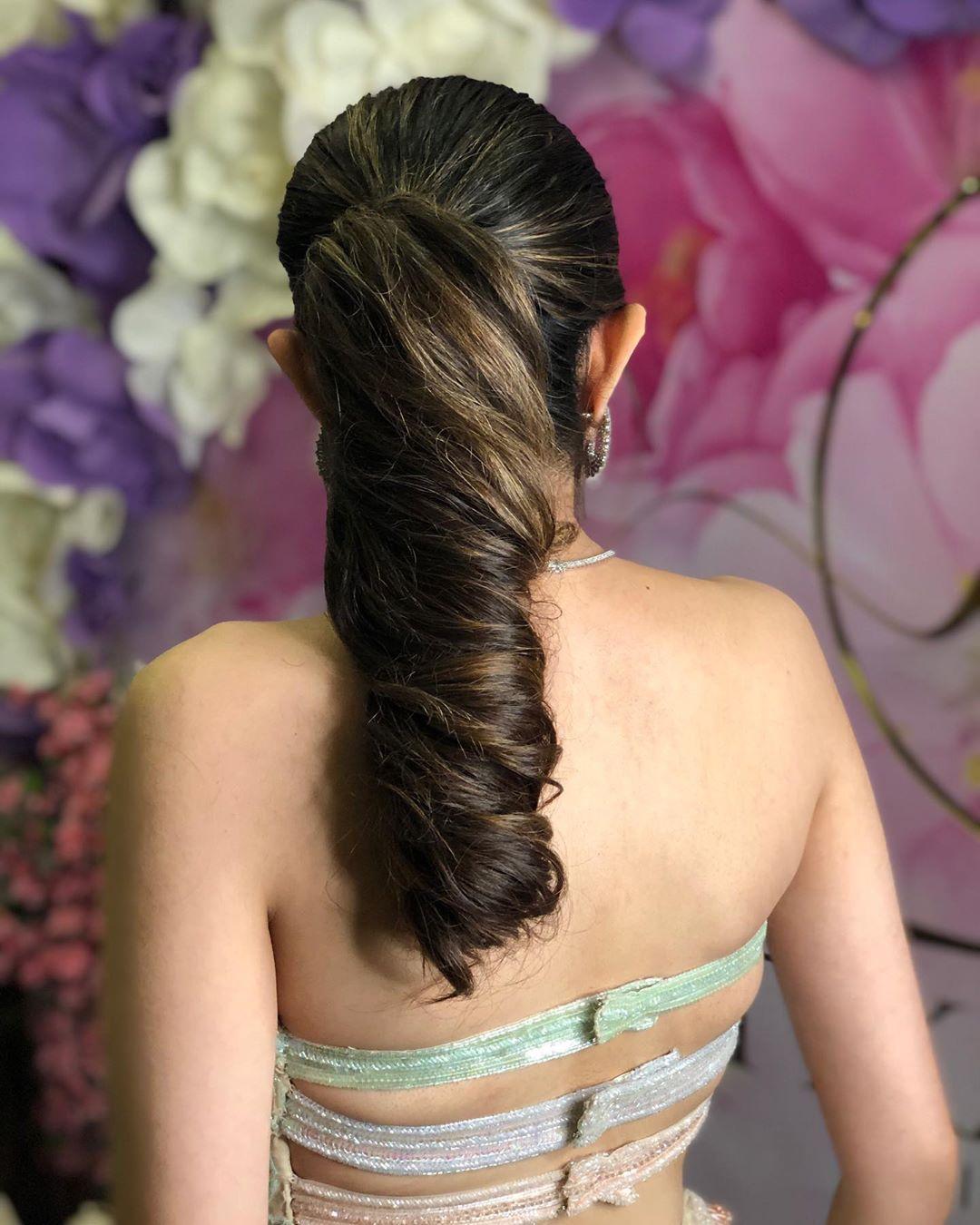 The last hairstyle in this list is a ponytail that we have never seen. We are crushing over this twirl ponytail, hard! If you are looking for something unique and stylish, this is perfect. You have to try it once and share it on Instagram with us!
We hope you like these party wear hairstyle images and use them this coming wedding season. You will get a nice break from boring and traditional hairstyles and look glamorous at the same time! Want to see more party wear hairstyles, tell us in the comments below!
Check out these makeup salons that you can go to for great hairstyles!