Bridal Necklace with Earrings That Are a Total Stunner for Your D-day
Always wondered how people get amazing pieces of a statement necklace with earrings? Check these 10 designs out and you'll be one of them too!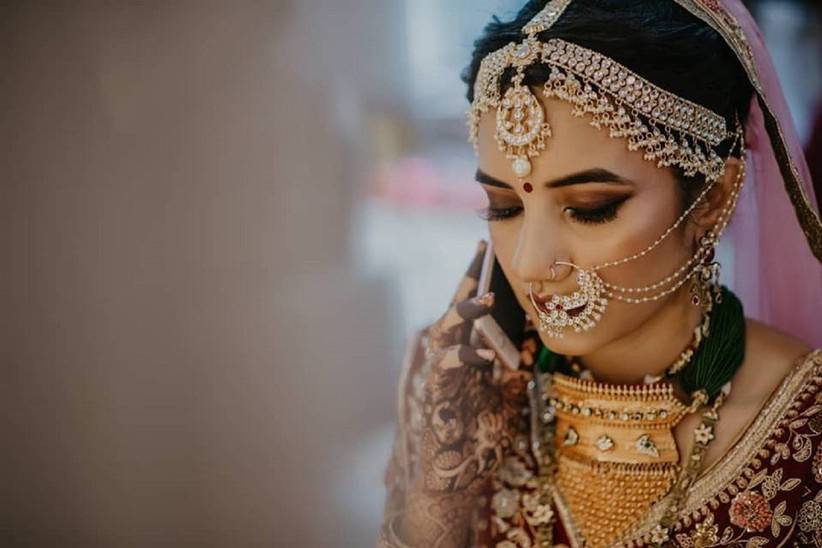 So many options everywhere, must get confusing to choose that ideal necklace and earrings set for your wedding, isn't it? How do you decide what goes well with the colour of your outfit and what doesn't? Should you wear something that's inspired from the motifs in your outfit - so if your lehenga has peacock motifs, is it okay to wear a necklace and earrings set that has peacock motifs too? Or will that look tacky?
The questions are many, but the answers can be quite confusing. So if you're a bride-to-be and you're stuck in this rut of having to choose so many things from so many options, we're here to put an end to that stress. We've curated a list of extremely versatile necklace-earrings set that go well with most kinds of a bridal outfit - from the quintessential gold to the edgy diamond, from traditional pieces to edgy ones, we've got you covered with this list. Ready? Read on!
Diamond & emerald necklace with earrings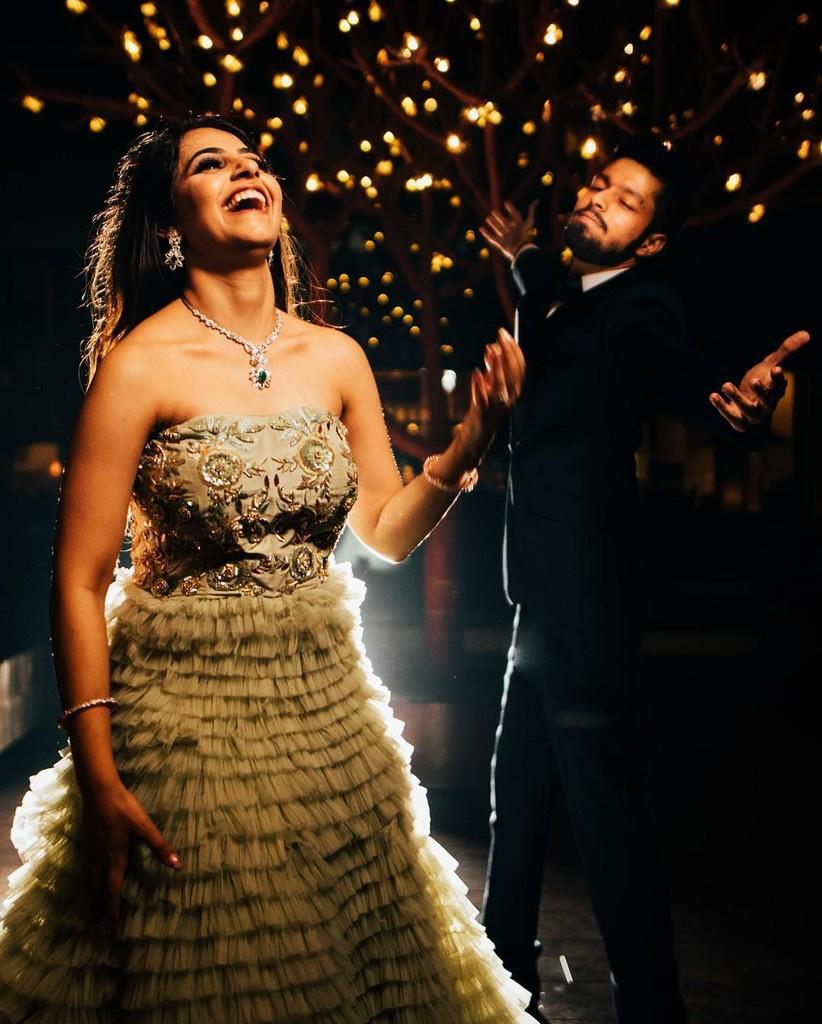 If you're looking for a classy piece of statement jewellery that'll do the talking for your sense of style, then congratulations, because you have found the right match. The emerald adds some understated colour while the whole design with diamonds makes it look extremely elegant.
Elaborate necklace with earrings in a minimal design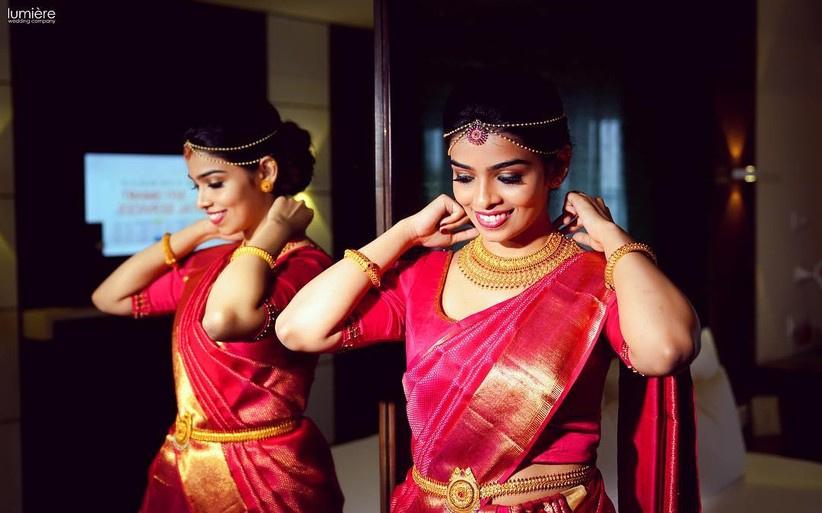 Now, here's the trick to balance out your outfit: If you're wearing a heavy necklace and don't want your jewellery to be the only thing that stands out in your look, then you need to pair it up with earrings that are definitely dainty but not heavy. Just like it's shown in this image.
Simple and sophisticated necklace with earrings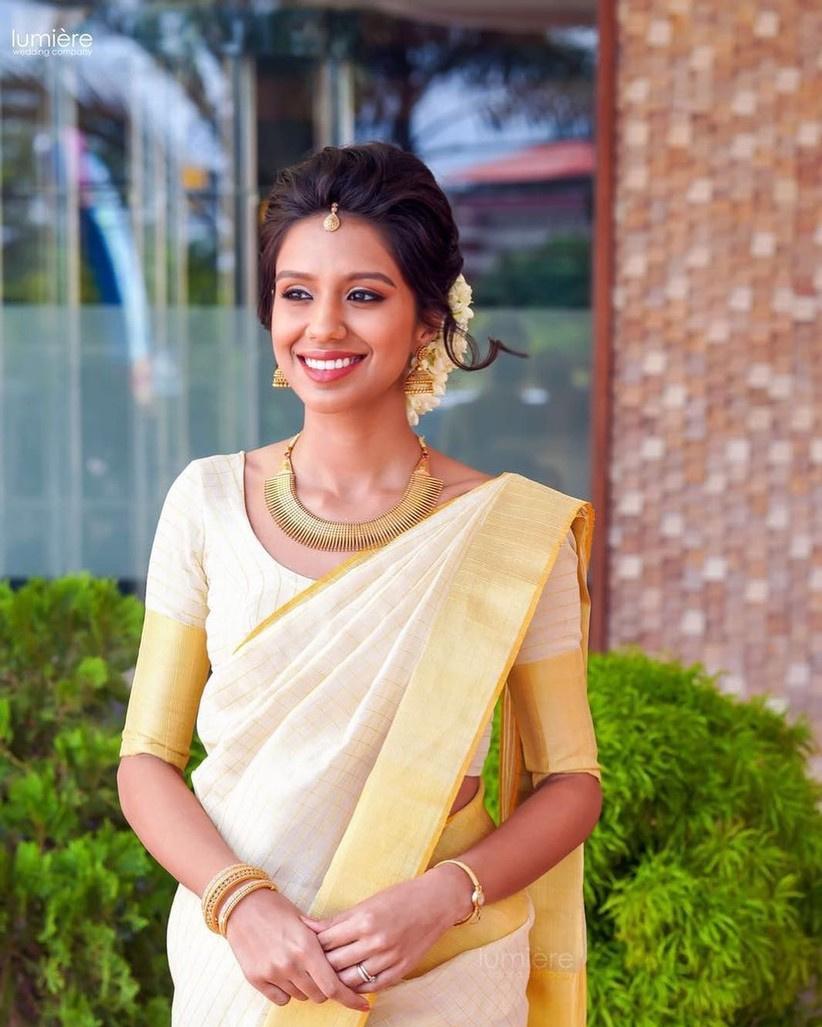 Oh this white and gold saree and oh the beauty of simplicity - if you're looking for that whole natural feel to your outfit, then this necklace with linear patterns and a rather simple Jhumka, is all you need. Ready to charm the world with your minimal taste?
A detailed temple jewellery necklace with earrings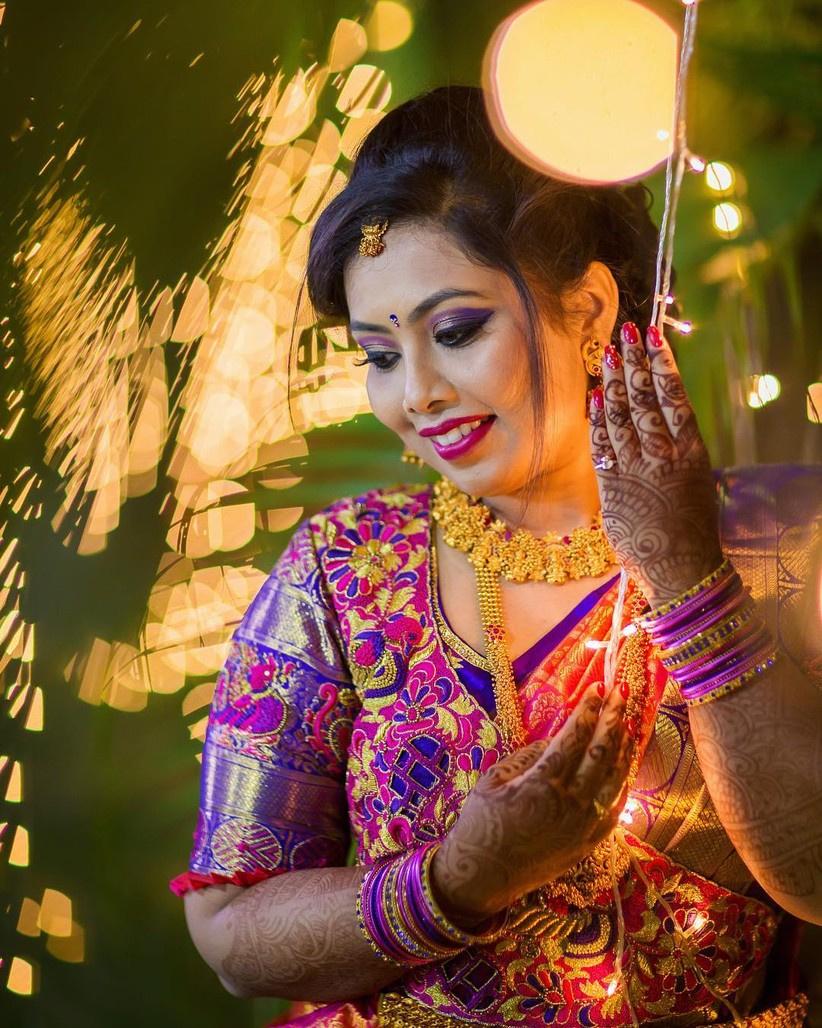 Weddings are all about traditions and it's always fun keeping up with them. This temple jewellery set is a tasteful rendition of one's culture and backgrounds and the details speak volumes about its heritage. So, if you're going for tradition over trends, you should definitely go for this one.
Exquisitely patterned necklace with earrings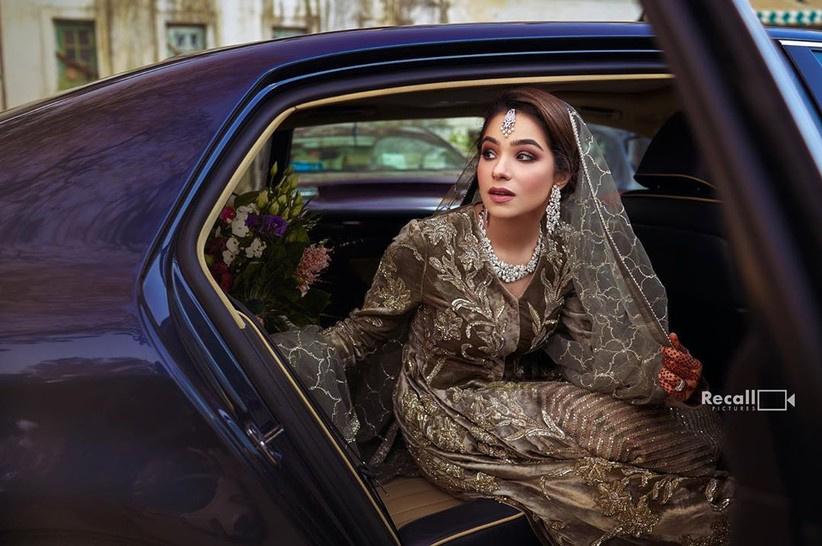 Trust us when we say this, we can't take our eyes off this one. This stunning piece of jewellery with twirly florals is the stuff that dreams are made of. And we love the face, that the necklace design in quite simple except for the exquisite patterns, while the earrings do the heavy-lifting.
Simple necklace with heavy earrings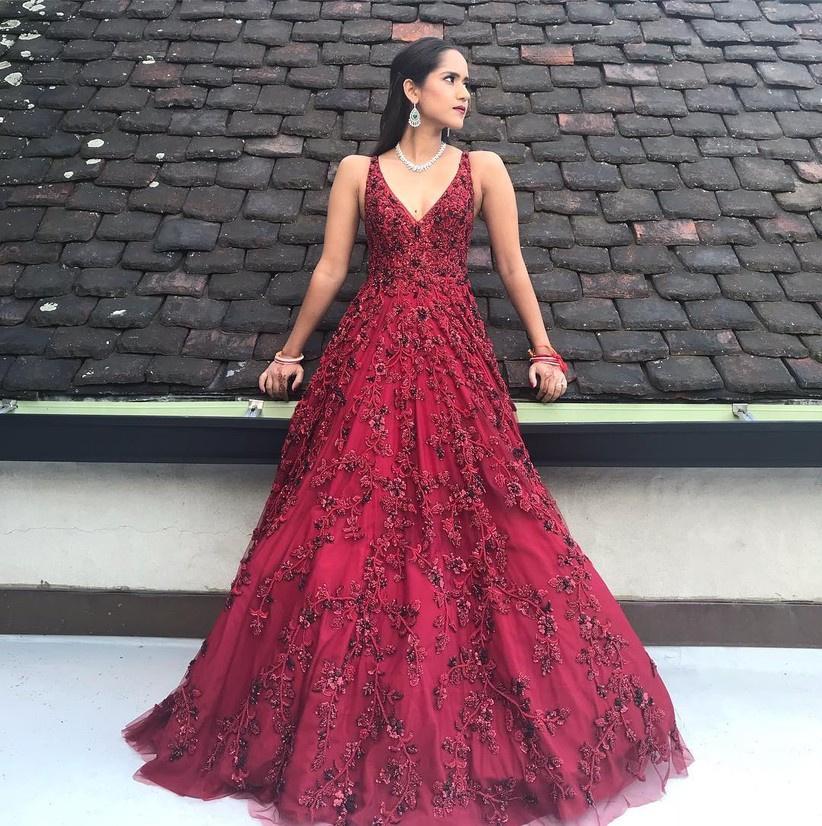 Image Courtesy: Style by Susmita
Another example of how earrings can be the hero of your jewellery game, here too the v-shaped silhouette of the necklace is simplistic and enchanting. It doesn't grab too much attention and lets the focus be on the total look. The earrings stand out and add some dazzle to the outfit.
Necklace with earrings with red and gold stones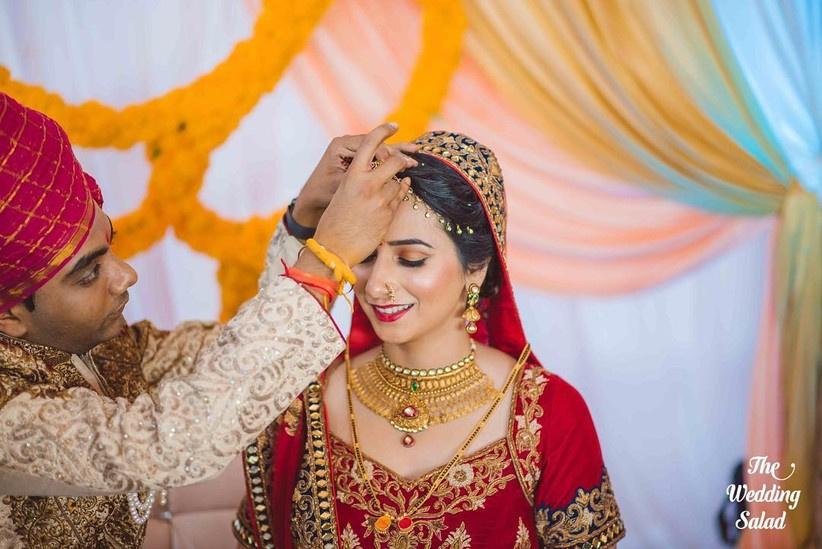 For brides who love dressing to the nines, this might just be perfect for you. The gold here is of a brighter, sparkly shade to make a bold statement and the red and gold stones add a splash of colour making the whole jewellery set a killer combination.
White and gold necklace with earrings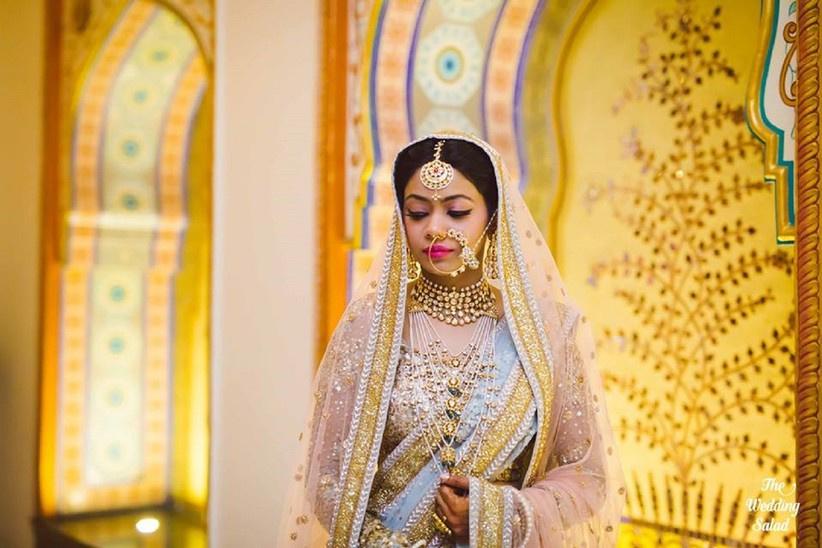 This cut stone jewellery set in a white and gold colour combination is sure to steal hearts. The best part about this is that its neutral colours makes it a great fit for all kinds of bridal outfits. The earrings take inspiration from the central flower motif of the necklace and resemble it. These subtle details are what makes this stand out.
Floral necklace with earrings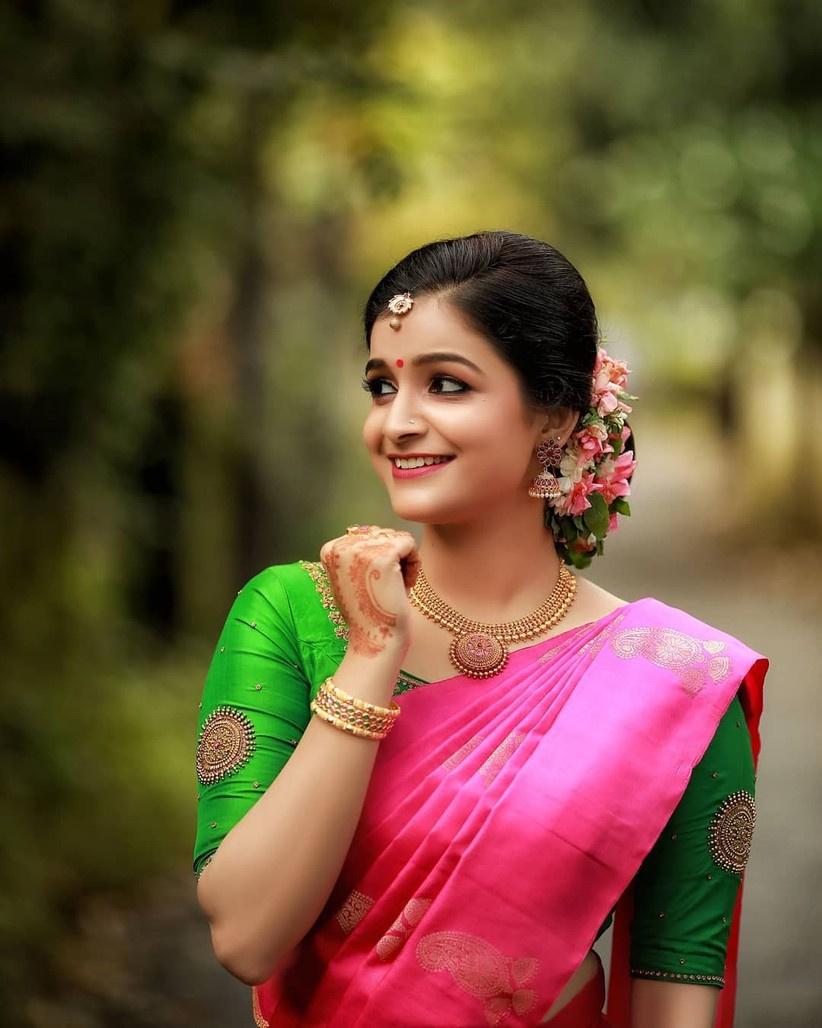 If you're flaunting a blouse or a saree, that has minimal floral motifs, then it might just be a good idea, to wear a necklace and earrings set that has these motifs too. Take a look at this set for instance, it's indeed simple but also goes well with the whole outfit.
Droplet-shaped necklace with earrings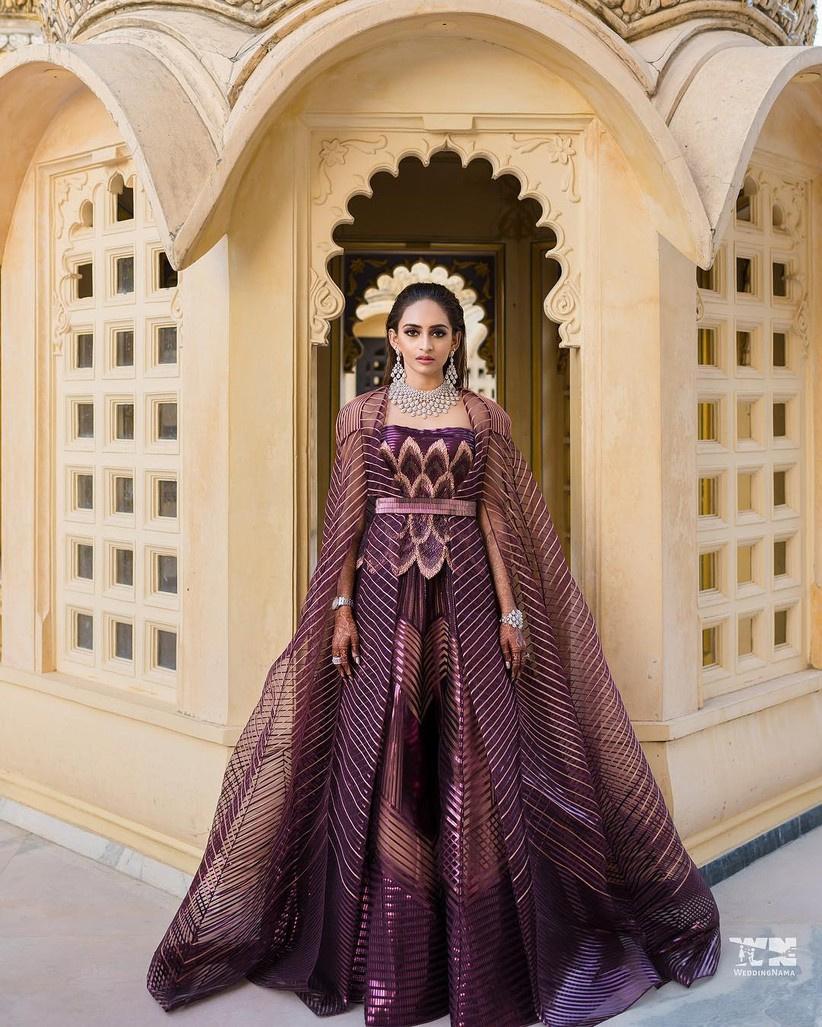 A thousand droplet motifs together form a sea of beauty - that is exactly what this earrings set is all about. We recommend wearing this with a gown because this has this whole Western vibe going on for it.
Although you'll find tons of necklace and earrings set, it is important that you pick one that goes with your wedding mood and outfit. Most of the options mentioned here are quite versatile and work wonders with most colours. So happy choosing!
Want a necklace with earrings set like this one? Get in touch with our jewellery designers right away!