Latest Men's Fashion for Indian Weddings That Will Make You the Star of the Night
Are you tired of wearing the same old outfit to weddings? If you're looking to break away from the conventions and style a little differently, here's a list of ideas for the latest men's fashion for Indian weddings accompanied with a few styling tips
Indian weddings are not just about women dressing up and becoming the best version of themselves, it's also about men grabbing attention with their dapper looks. While this is a fact that women have a lot of option when it comes to clothing, it will not be right to say that men don't. With changing times and expanding fashion, the options for men have increased. It is as much your day to shine as well and therefore you should explore all the best options to incorporate in your wedding day wardrobe.
To ensure that you are provided with an array of unique styles and combinations, a few of the best and latest men's fashion for Indian weddings are listed below. Read on to find yourself the best kind of inspiration for your wedding day and its other festivities.
Traditional Wear
1. Sherwani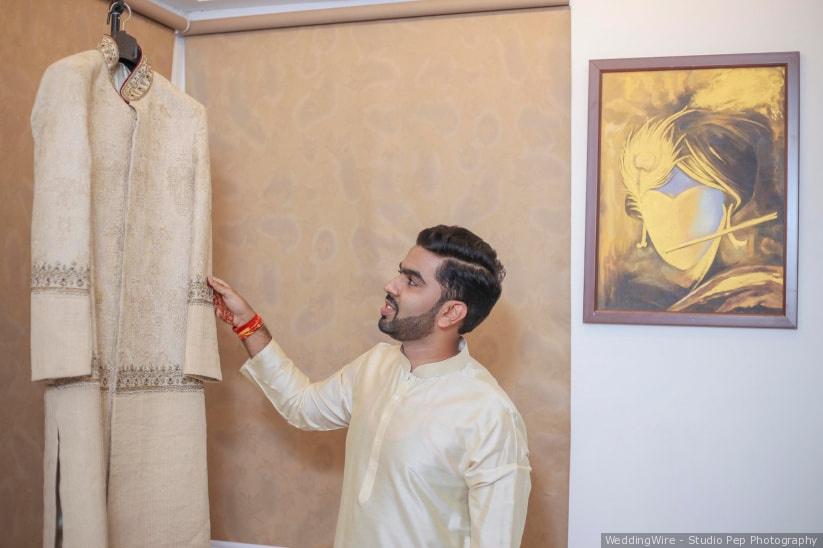 Wedding Sherwani is for men what Wedding Lehenga is for women. This easily comes under the list of most worn latest men's fashion for Indian weddings. This works best for a groom but it is an equally good option for a guest to wear to a wedding. To distinguish yourself with the groom, you can keep the embellishments and bling toned down a little bit or can wear unconventional colours. From a conventional set up to a modish one, a sherwani would work for all.
2. Dhoti Kurta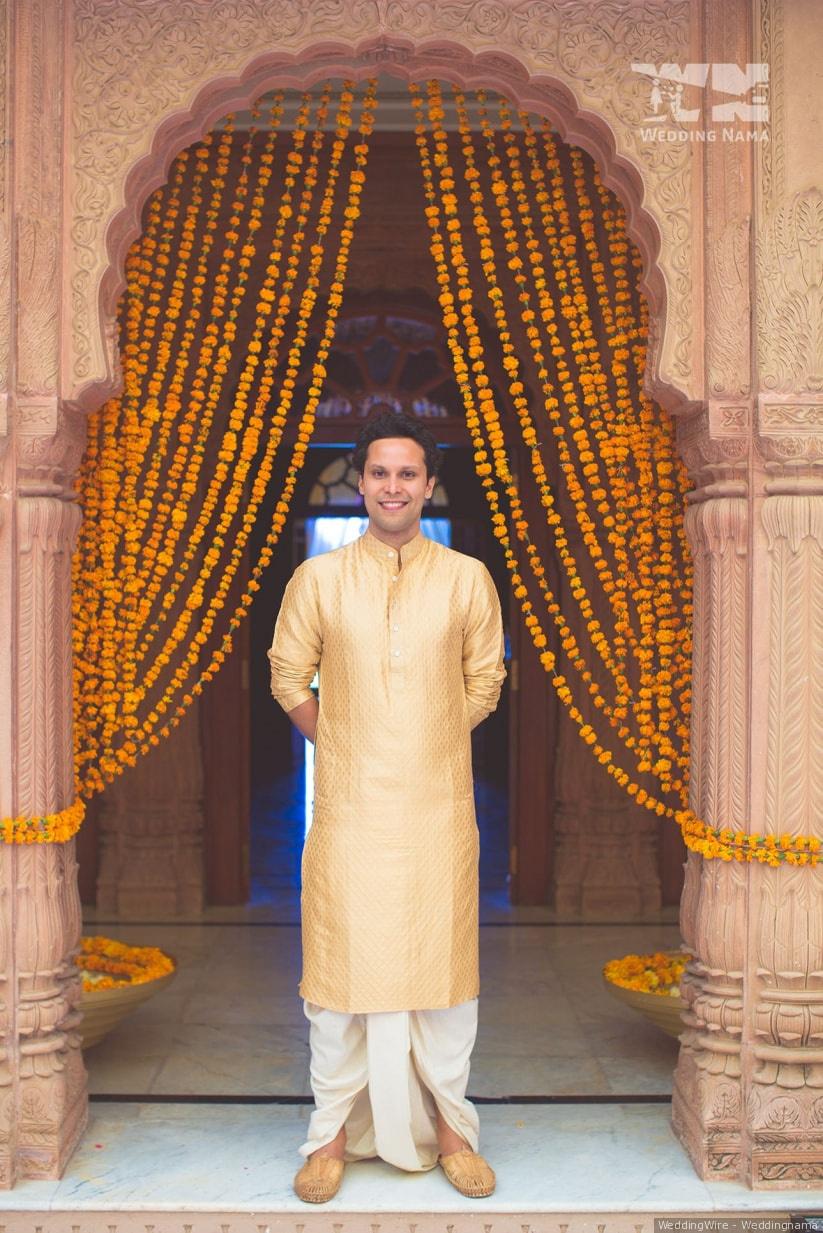 As conventional as it sounds a Dhoti kurta is a beautiful combination for an Indian wedding ceremony. We have this combination in the tradition since time immemorial, however, it never has and never will go out of fashion. This idea for the latest men's fashion for Indian weddings works best for a traditional wedding set up. In some wedding ceremonies, it is the traditional attire with is popularly worn on the wedding day.
3. Kurta Pyjama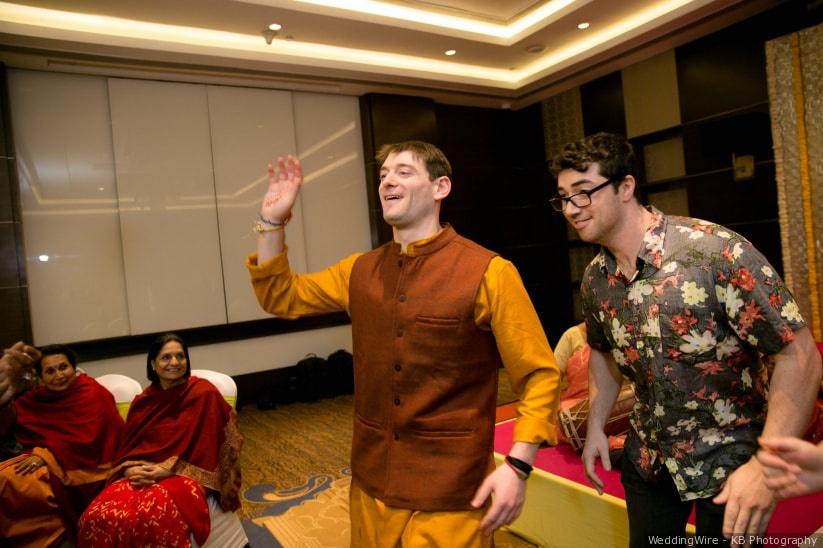 The epitome of elegance, a Kurta Pyjama is one of the most liked latest men's fashion for Indian weddings. A simple Kurta Pyjama is as widely worn in a wedding as the heavy embellished ones. If you plan to wear a simple one, you can pair them with heavy Jooti or Mojari. You can also pair your kurta with a nice simple drape or a Nehru jacket to give your look an edge. Believe us, you'll be setting some fashion statement down at the event with it.
5. Stylish Achkans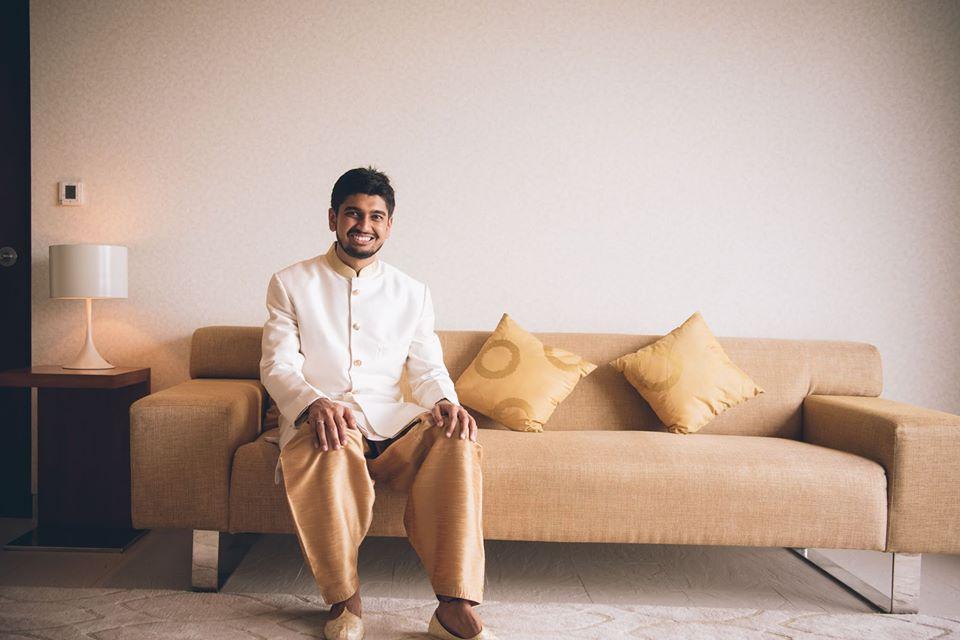 Achkan style dress has always been a popular attire which has been associated with weddings. It is a perfect combination of traditional aesthetics with modern techniques, while it provides a one of a kind attire that would be the talk of the town. Available in a variety of styles and designs, with heavy embellishments as well, you can choose to wear it on your big day or any of its other related festivities and look ever the most stylish.
6. Chic Asymmetrical Kurta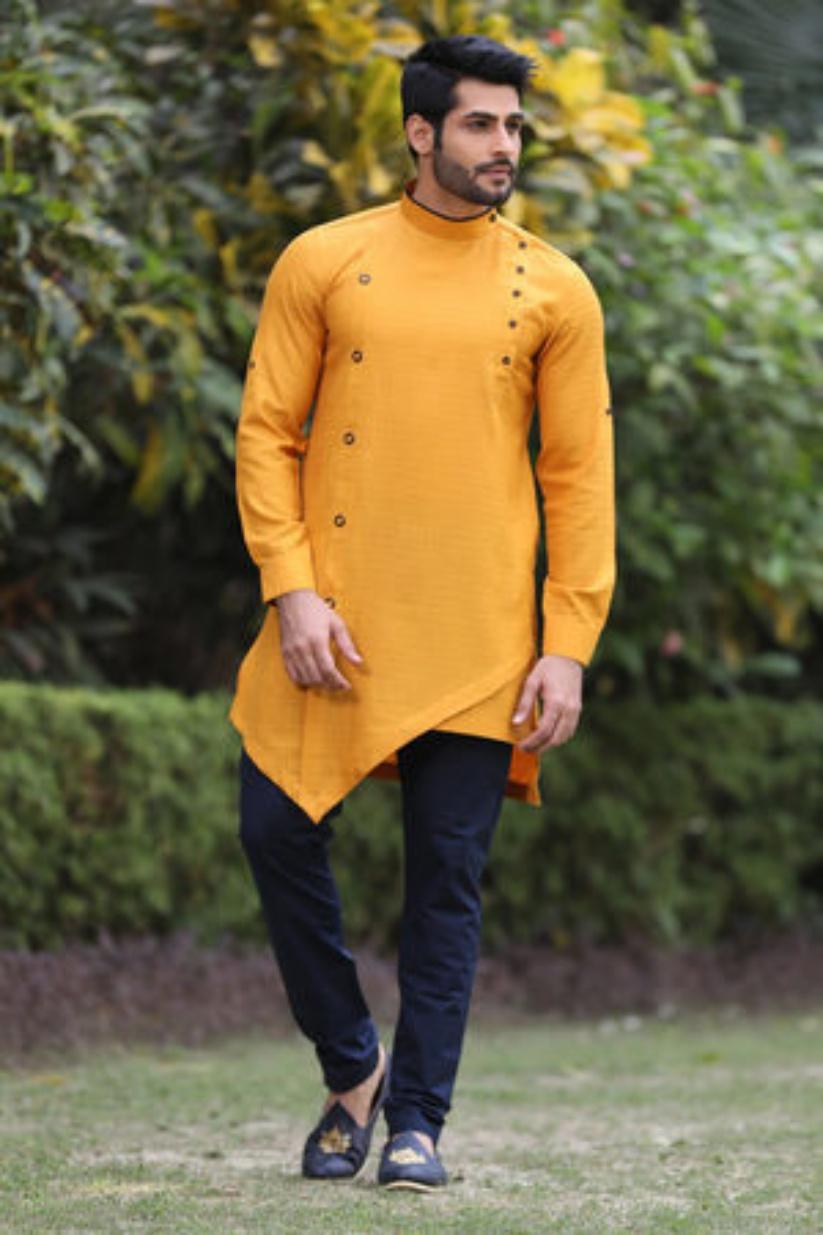 An asymmetrical kurta is a dapper version of your usual run-of-the-mill Kurta Pyjama. Every bit of stylish, it can be worn on any of your pre-wedding festivities where you surely would be creating your own runway moment. With some classy and bohemian look, you can style it just the way you would like, with jeans, cigarette pants or dhoti and be assured that you would certainly be a fashion inspiration.
Contemporary Wear
7. Classic Suit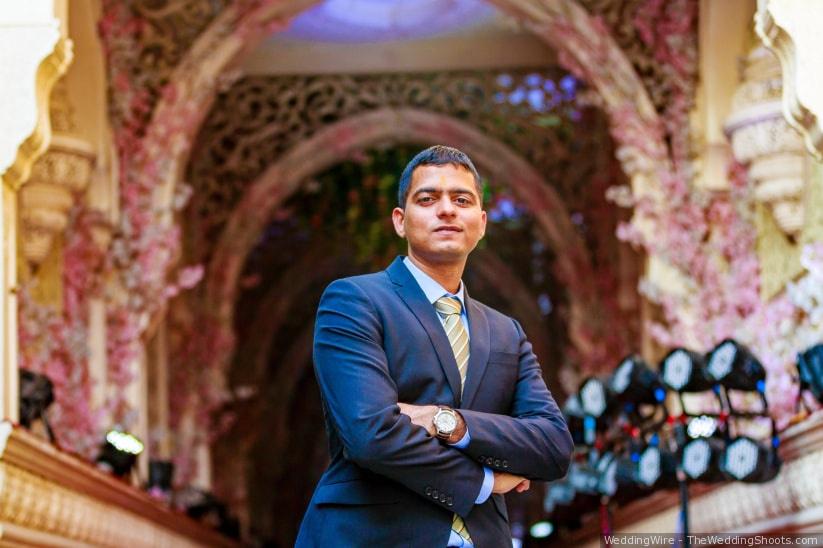 The very first thing that crosses a man's mind while thinking of dressing up for a wedding is a classic suit. Everybody has that one suit in their cupboard and wait for some wedding to come up. But if you plan to wear a suit, go unconventional this time. Break away from the cliche black or grey suit and wear more vivid colours. You can mix and match too and create a unique and personal look of your own.
8. Dhoti with Jacket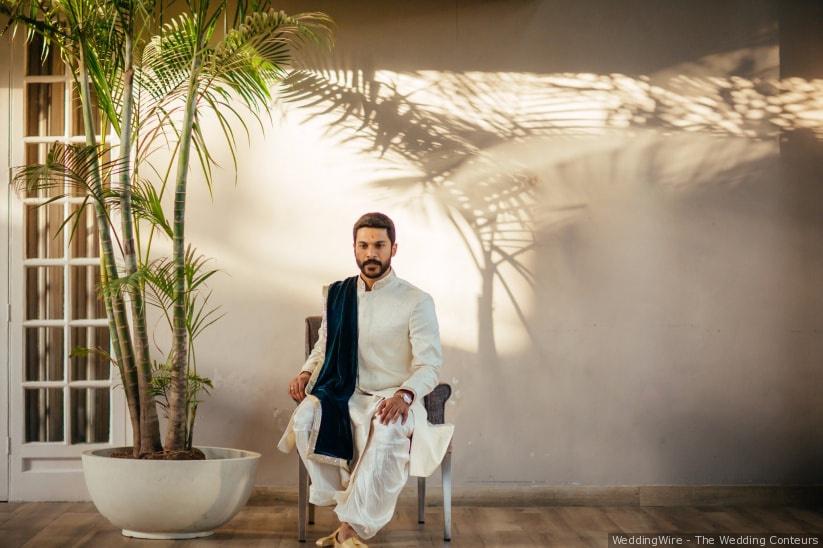 A perfect blend of traditional and modern, Dhoti and Kurta look very smart together. This latest men's fashion for Indian weddings is breaking records and there is no way this idea would disappoint you. It is also a smart idea to go for it because the jacket and the dhoti can be used separately for other events, thus fashioning a whole another outfit.
9. Waistcoat
Waistcoats are a smart option for weddings and they manage to give out really handsome results. This is most suitable for weddings during the winter time. You can wear the waistcoat alone over a shirt and a pant, or you can also pair it with a nice blazer or a coat. While being a classy part of a three-piece suit, you can wear it on a variety of occasions while even styling it for casual events. Try opting for pastel and bright colours for wedding festivities.
10. Blazer, Kurta and Churidar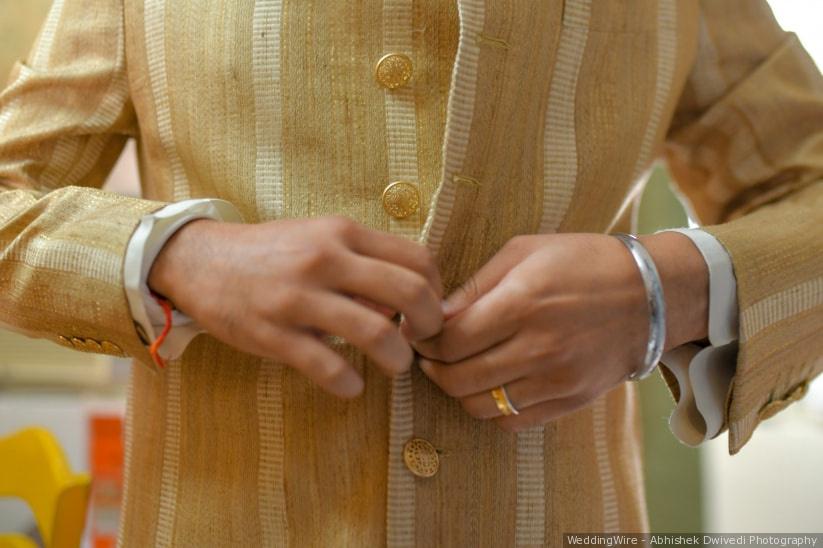 This combination very beautifully mixes the aesthetics of traditional and contemporary wear. It is the perfect way to play with some colour with an otherwise simple wedding outfit. This is one of those latest men's fashion for Indian weddings will definitely make you stand out if you choose the colours wisely and make some heads turn.
Things to keep in mind while styling your outfit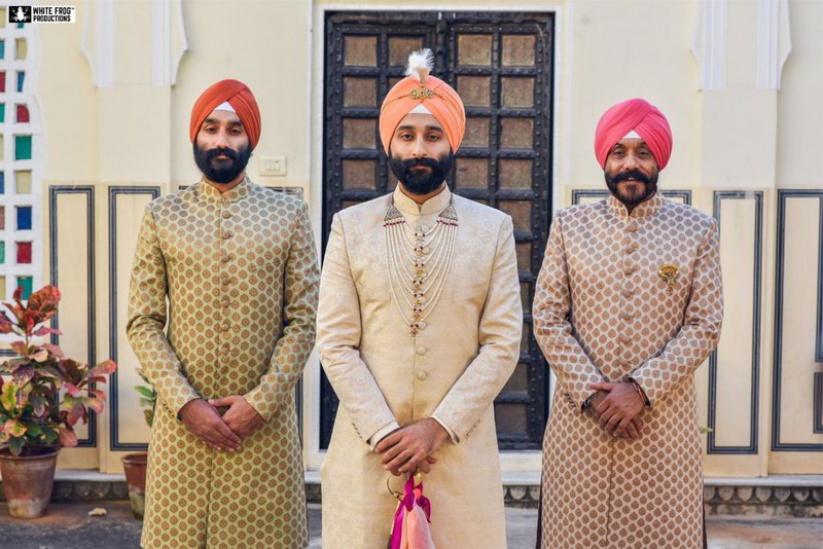 Playing around with colours.
Wear colourful outfits and break the niche.
Use trendy stoles.
Accessories like pocket square or Brooch would work wonders.
As it is your big day, you can incorporate your look with traditional jewels.
Confidence and comfort would certainly lead your way to glory.
These are some of the latest men's fashion for Indian weddings and some styling tips that will give you a hang of Indian weddings and fashion. All you need to do now is prepare your "want list" and go out on a shopping spree. Taking note of all these style and tips would ensure that you look the most dapper groom while royalty exudes from the way you would look.
Enjoyed reading these styles and tips? Share your styling process with us through comments and snapshots.