8 Latest English Songs to Jazz Up Your Reception Party!
Put on your dancing shoes and set the floor on fire on your reception party. Add these Latest English Songs to jazz up your evening!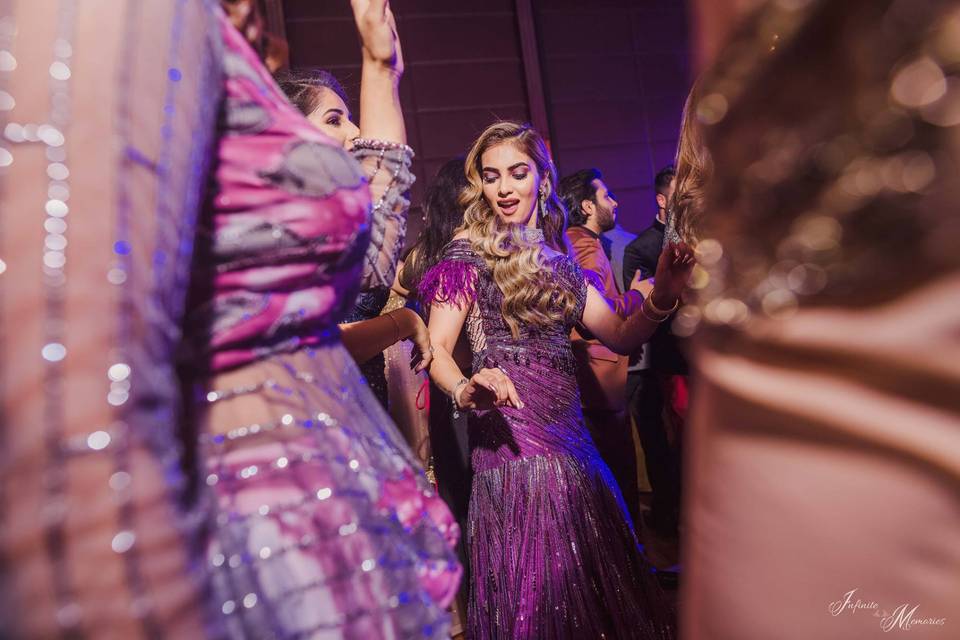 Once you're done with all the wedding formalities, rituals and traditions, it's time to let your hair down a bit. And not just the newly wed couple, but all the family members, friends and relatives need a much-awaited stress-free celebration. A reception party is the last ceremony of the whole wedding 'carnival' and it needs to be celebrated with a bang! So, get ready to groove you all! We have assembled some of the peppiest, foot-tapping and fun English songs you must consider adding to your reception playlist. Just hit play at the right time and watch the magic of music drawing everyone to the dance floor!
"Can't stop the feeling"- Justin Timberlake
Just wait until the wedding DJ hits this super rhythmic Justin Timberlake number and no one will be able to keep themselves from shaking a leg! This is one of those latest English songs that would make every wedding guest happy. The apt lyrics asking everyone to "dance dance dance dance" is a testament in itself, how to hit this dance song is going to be on your reception party!
"Me!"- Taylor Swift
Listen up all the ladies, it's time for you to get up and dance! One of the latest English songs that are going to be quite a hit among all your girlfriends and bridesmaids, this Taylor Swift song is totally lit! So buckle up girls, get to the groove and show the world some of your killer moves on this sassy number!
"Girls like you!"- Maroon 5
Now make some space for our lovey-dovey couple! "Girls like you" by Maroon 5 is one of the top most popular latest English songs that a newlywed couple could have their first dance to! The soft music, beautiful words and the magical effect of the song...it all calls for a romantic couple dance! So grab your partner and simply sway to the music together!
"Rockabye"- Clean Bandit
A perfect blend of melody and rap, this dance song will help you set the mood in the party totally upbeat. The foot-tapping beats with occasional violin parts simply touch all the right chords you need to keep things going! So, if you're looking for the latest English songs to just forget all your worries and dance till you drop, keep this one on your playlist!
"Don't wanna know"- Maroon 5
Another all-time favourite song of all the dance-loving people! Your playlist for the latest English songs couldn't be complete without this peppy Maroon 5 number. Talking about love, how it was, how it could have been...all these emotions garnished with upbeat rhythm and beats. Do you need anything more to rock the night?
"I'm on my way"- Alan Walker, Sabrina Carpenter & Farruko
Here's a challenge: Try not to sway or tap your feet to this captivating song! We bet you can't! There is something totally bewitching about this number that makes you groove from the heart! The amazing chords, the mixing and the beats actually make your heart dance! Try adding this as one of your latest English songs playlists and watch the crowd go "wow"!
"Hymn for the weekend"- Coldplay
Even if it was written a few years back, your list for the latest English songs must contain this Coldplay number. Because apart from the bride and the groom, other couples in the party need to groove to a romantic tune too! You could also ask the wedding emcee to pick up a couple name from a bowl and whoever gets picked, has to dance to this song! Make the reception function turn into a party game for extra fun points!
"Senorita"- Shawn Mendes & Camila Cabello (With Lyrics)
This is one of those latest English latest songs that everyone keeps humming long after the song is over! Senorita by Shawn Mendes and Camila Cabello is a song you must absolutely add to your wedding playlist. The simple yet catchy words are something all your wedding guests would love to sing along while they shake a leg on the floor!
Keep a few things in mind while selecting the latest English songs for your reception dance party. Make sure you personally approve of all the songs that your wedding DJ is going to play. If you have any objection against any song that your DJ has added, be vocal about your opinions. Keep your reception playlist a mixed bag of nuts including catchy songs, romantic songs, funny and popular songs. You also need to add some super soft music too to give your guests a chance to breathe and simply enjoy the music for a while.
Which is your all-time favourite English song you love dancing to? Share your thoughts with us in the comment section below!