Elegant Kurti Pattern Styles To Stay On-Trend This Wedding Season
From a wedding function to a summer soiree, we've got a Kurti pattern to suit every type of bride out there. Scroll through our edit to find the latest picks!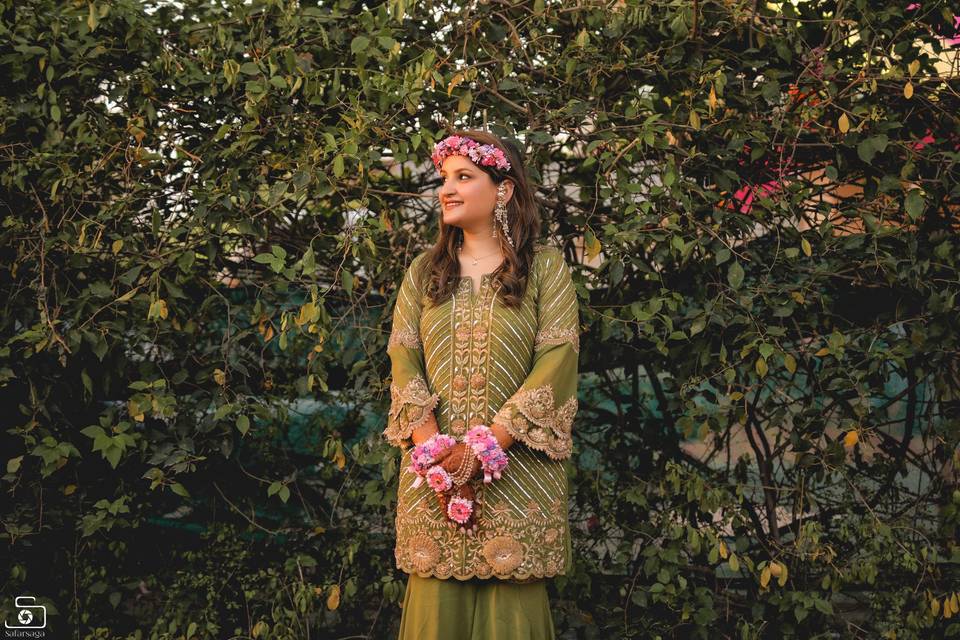 For any bride-to-be, the Kurti is an indispensable piece of clothing and a must-have in your wedding wardrobe. For many years, this closet staple has been the backbone of ethnic wear for many brides, thanks in part to the comfort and ease they provide.
The key elements of the Kurti can vary from intricate embroidery work to stonework and bright colours but a combination of these factors serves the perfect outfit for your wedding festivities. If you wish to go all out or prefer a look that's more subtle and understated, there's a Kurti pattern out there to suit your personal style. Draw some inspiration from these stunning Kurtis that can help you bring you're A-game.
White and blue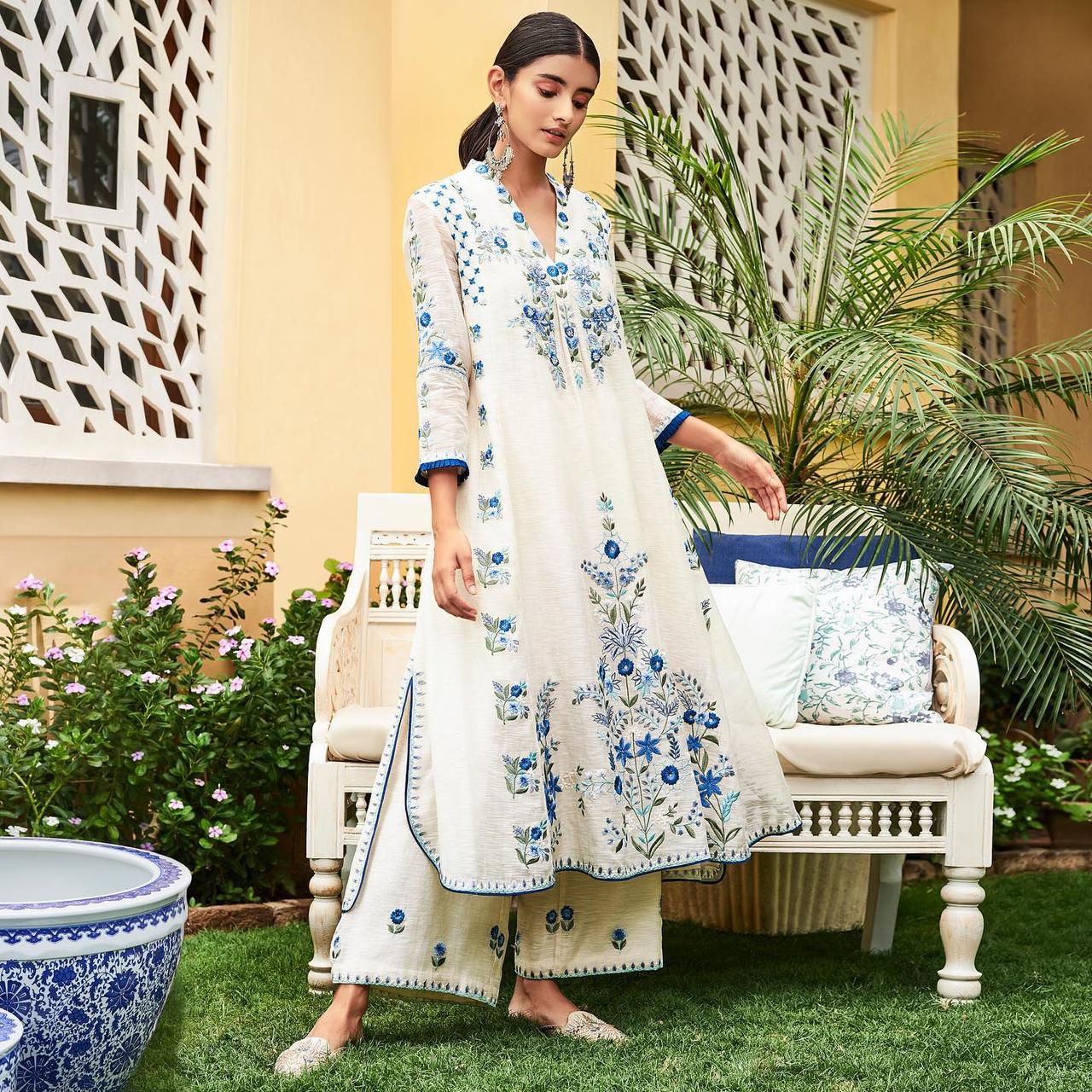 For a summertime bride, a Kurti with pretty patterns can see you through the balmy weather without breaking a sweat. If you want to curate your ethnic wardrobe without going too overboard, an easy-breezy printed Kurti is just what you need. Floral prints are a mainstay for the summer, and this Kurti pattern embodies this trend perfectly.
The white Kurti is accented with blue floral embroidery across the body and the sleeves while the lightweight material makes it the perfect choice for a summer soiree. Just add some Palazzo pants and pretty Juttis and you're good to go.
Sapphire blue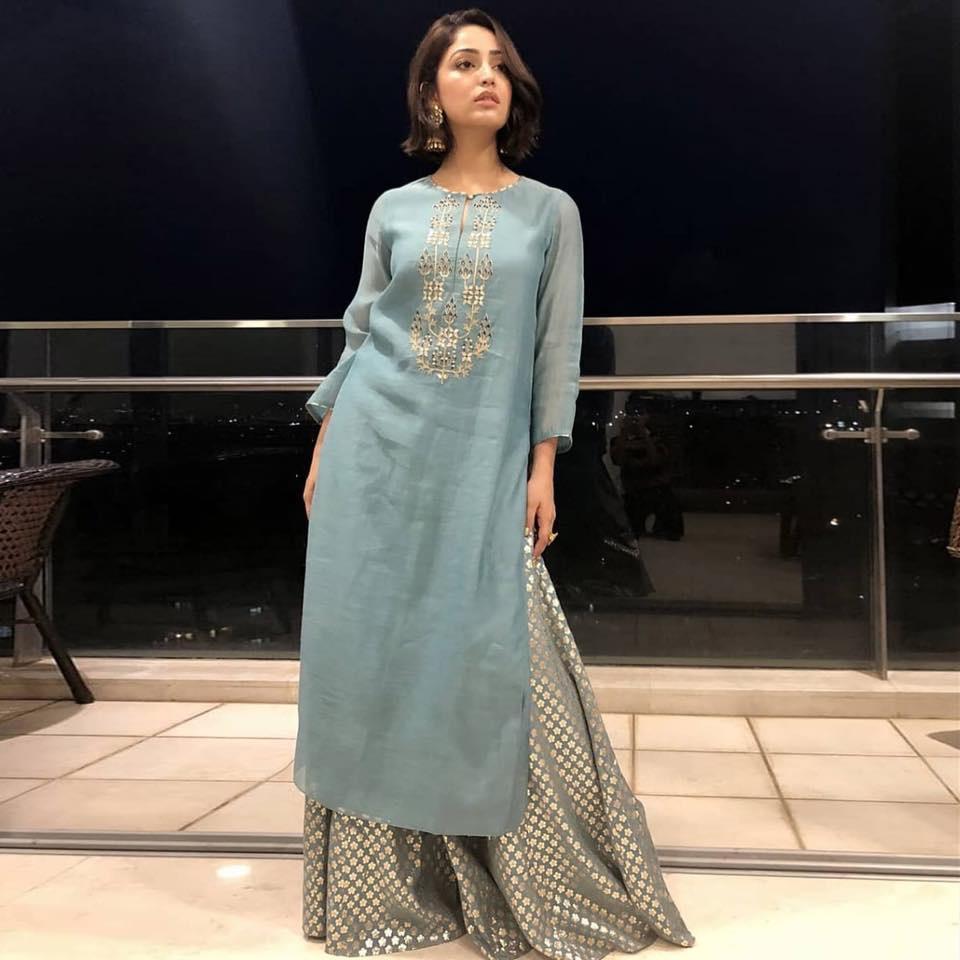 One of the best ways to beat the heat is with an embellished monotoned Kurti that can make your look au courant all summer long. One understated outfit trend is a plain Kurti paired with printed pants. This sapphire blue Kurti comes with a neck pattern that is emblazoned with unique gold embroidery and tissue sleeves.
The simple yet elegant Kurti is paired with brocade print pants that enhances the basic top design. If bright shades are not your cup of tea, you can opt for more sober shades like this one. All you need are some Jhumka earrings and bangles to complete the look.
Peachy tones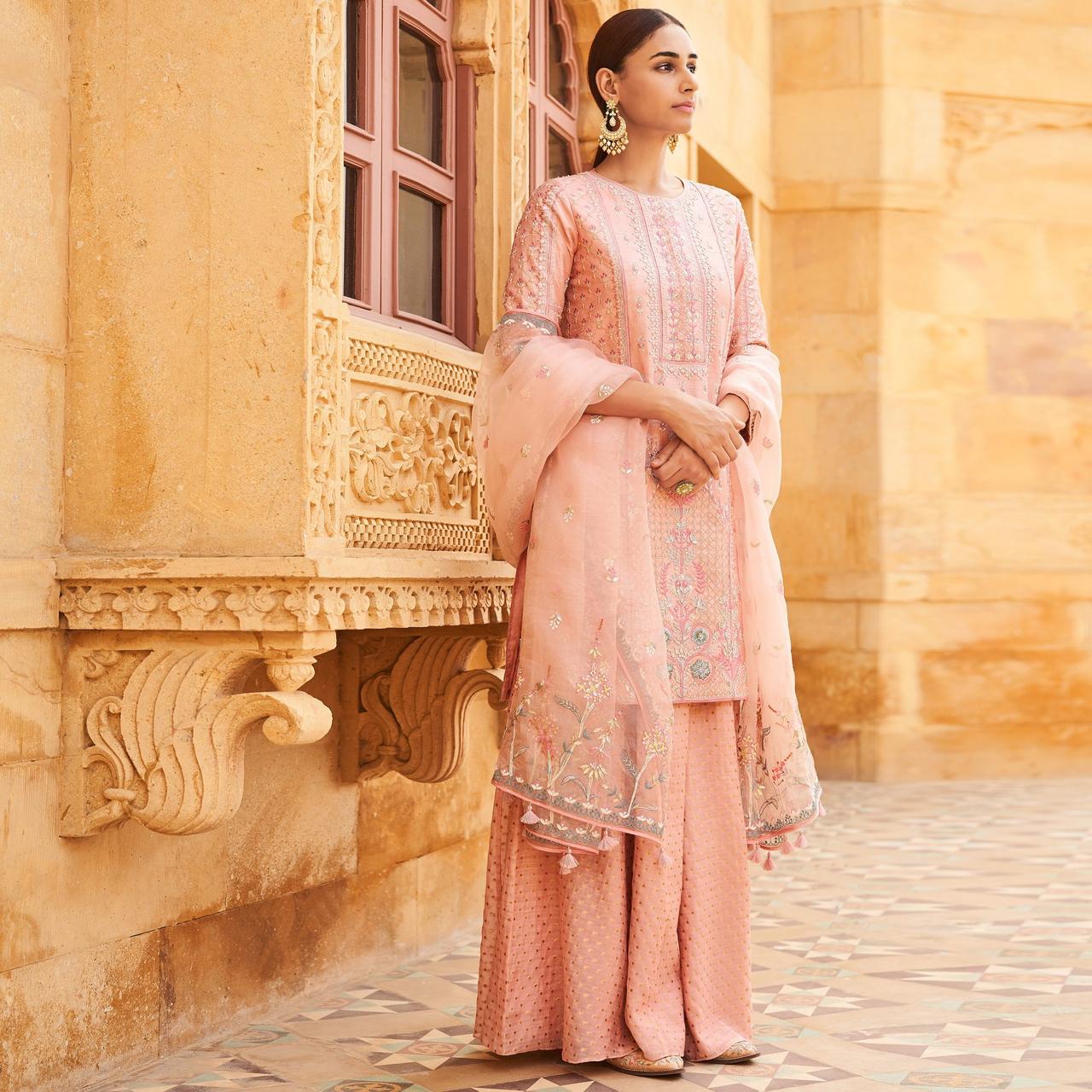 If you want to go the traditional route with your Kurti pattern, pastel shades like peach and green provide a great canvas to get creative with your designs. Handwoven fabrics have a distinctive look that embodies the rich history and culture of India.
This peach-toned Kurti pattern has floral embroidery work intricately embroidered across the outfit with detailed nuances that give the outfit its visual appeal. Paired with a Chiffon dupatta, this outfit is your go-to option for any daytime wedding functions.
Sea-green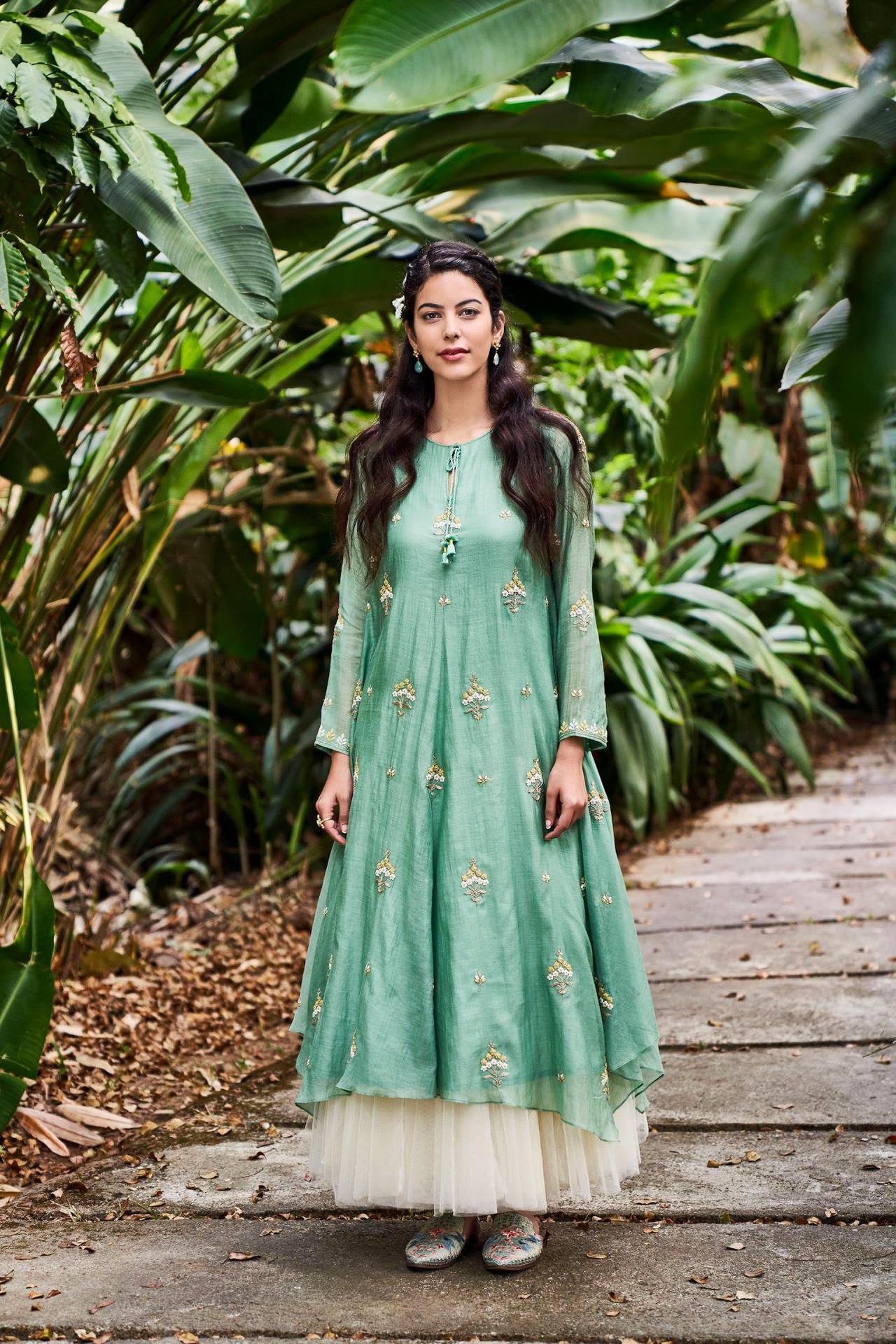 If vibrant colours are calling out your name, then this bright sea-green Kurti is the right choice. Stylish silhouettes define the modern bride and those that are toeing on the line of casual and minimalist can keep their look fresh and summer-ready with a simple Kurti pattern. This green Kurti has minimal embellishments but it's the vivid cut and style that make this look unique.
The long dress-style Kurti is accented with small yellow flowers and is paired with a tulle skirt for a contemporary vibe. This Kurti is a sure-fire way to ensure you are the trendiest bride of the season.
Mustard yellow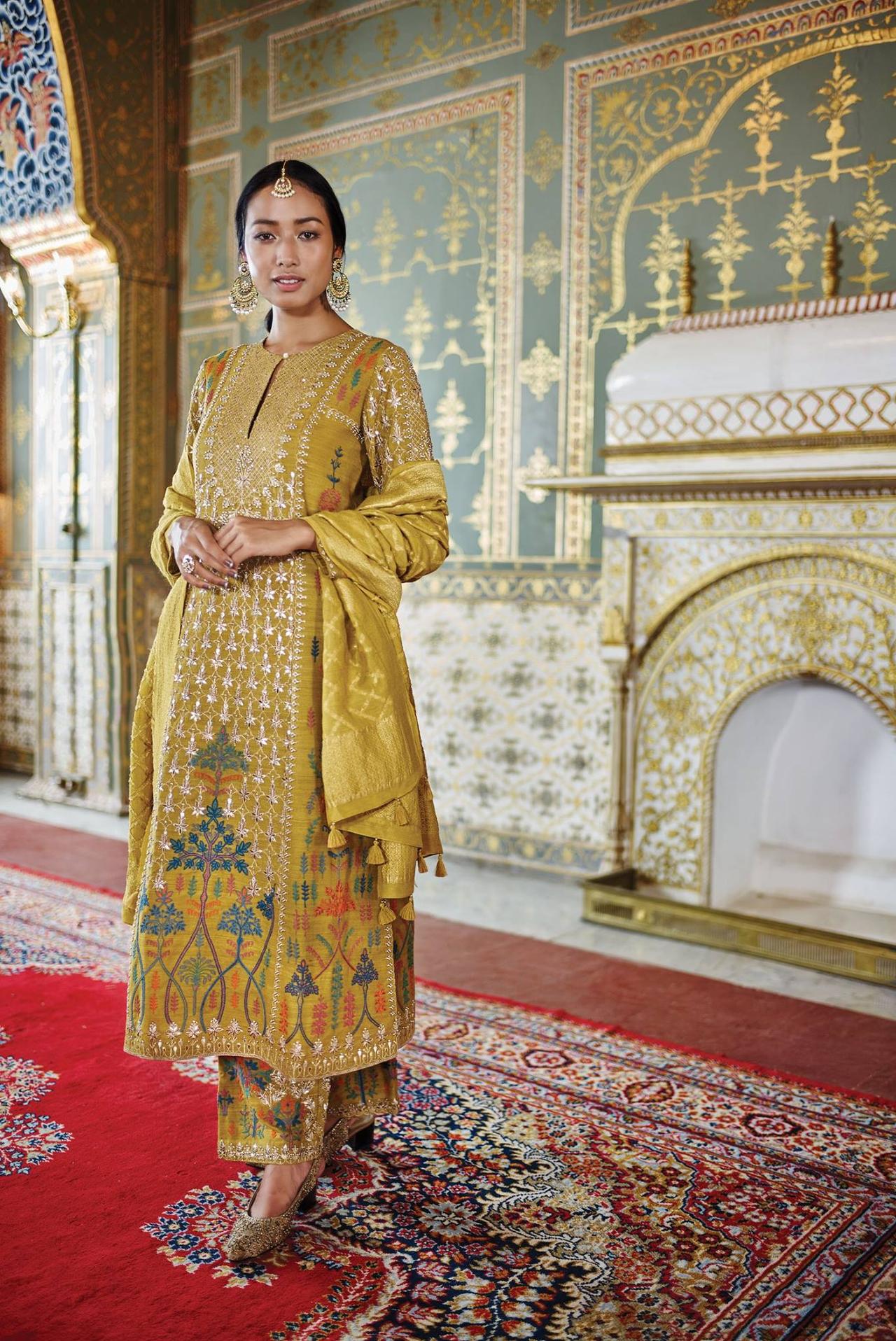 It goes without saying that embroidered Kurtis come with universally accepted class and elegance. Some designers choose to incorporate embroidery work in certain areas of the outfit while others make it the mainstay of the attire. If you are a fan of the latter, then we've got the perfect style for you. This mustard Kurti pattern by fashion maven, Anita Dongre, features a combination of different embroidery styles.
The main body of the outfit is embellished in Zardosi embroidery while colourful Phulkari patterns adorn the sides and base of the outfit. Paired with a silk dupatta, an outfit like this will wow all the guests at the party.
Vibrant red
Image Courtesy: Manish Malhotra's Facebook Page
Kurtis that come with unique motifs and designs are one of the biggest sartorial picks of the season, mostly because they allow you to get creative with the silhouette. Moreover, a modish Kurti can see you through the smaller wedding functions while providing comfort and ease. Ananya Pandey is rocking a short red Kurti with major class and elegance.
A geometrical line pattern is the mainstay of the outfit and is bordered by a zari pattern. The full sleeves come with their own floral motifs for added flamboyance. This gorgeous outfit is paired with a Gharara pant that really pulls this whole look together.
Black and gold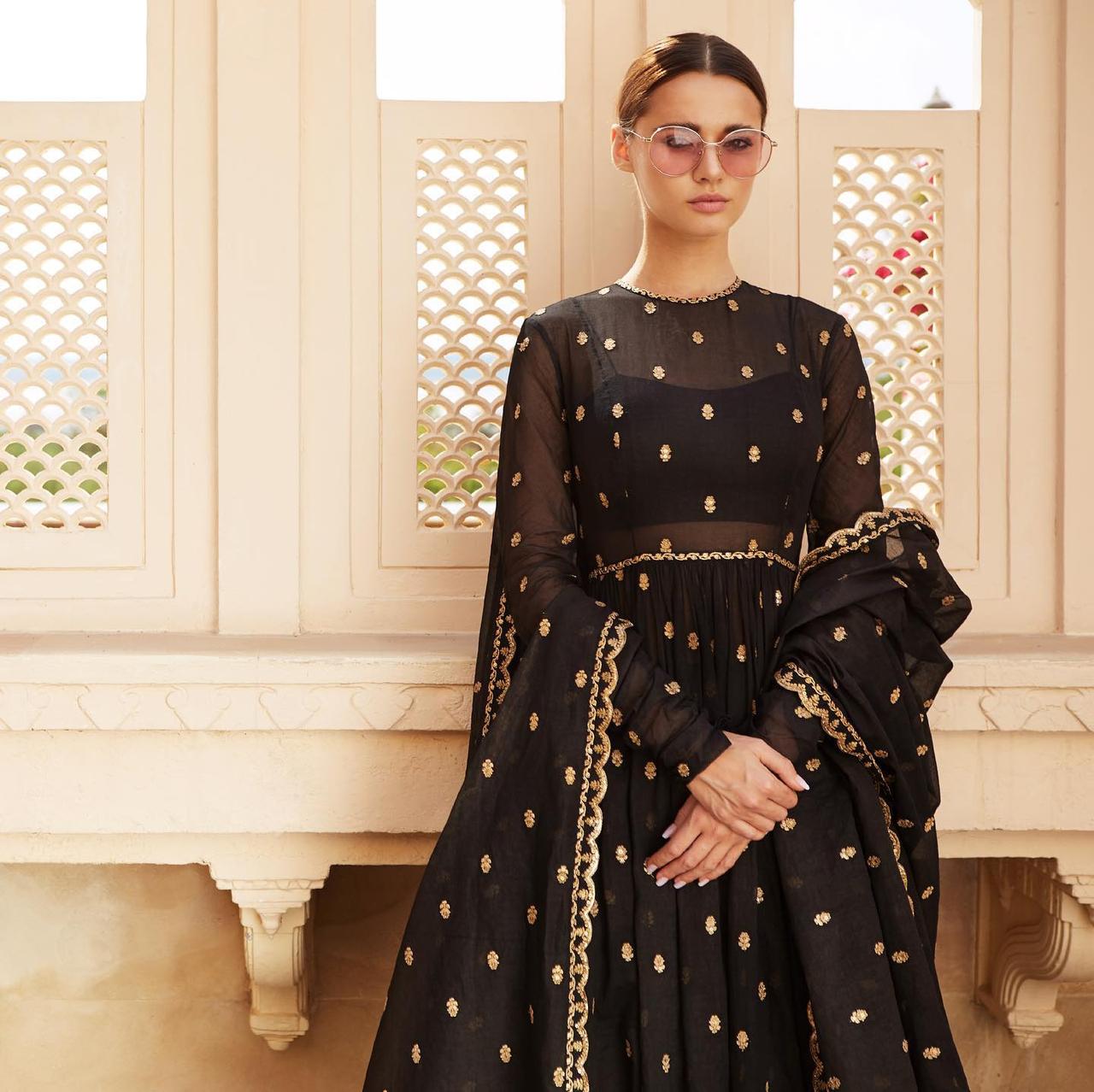 Image Courtesy: Sabyasachi's Instagram Page
The timeless Kurti pattern trend has been taken the bridal world by storm as fashion maestros like Sabyasachi and Tarun Tahiliani have put their own twist on the classic outfit. For the modern minimalist bride, this black number by Sabyasachi is a must-have in your bridal trousseau. The traditional Kurti comes in black and gold with a high-neck and full-sleeves.
Small intricately designed florals are places across the outfit to add a touch of glamour to this understated design. A slim gold border outlines the neck and the waist and is mimicked on the dupatta as well. A pair of Chandelier earrings can complete the look.
Lime green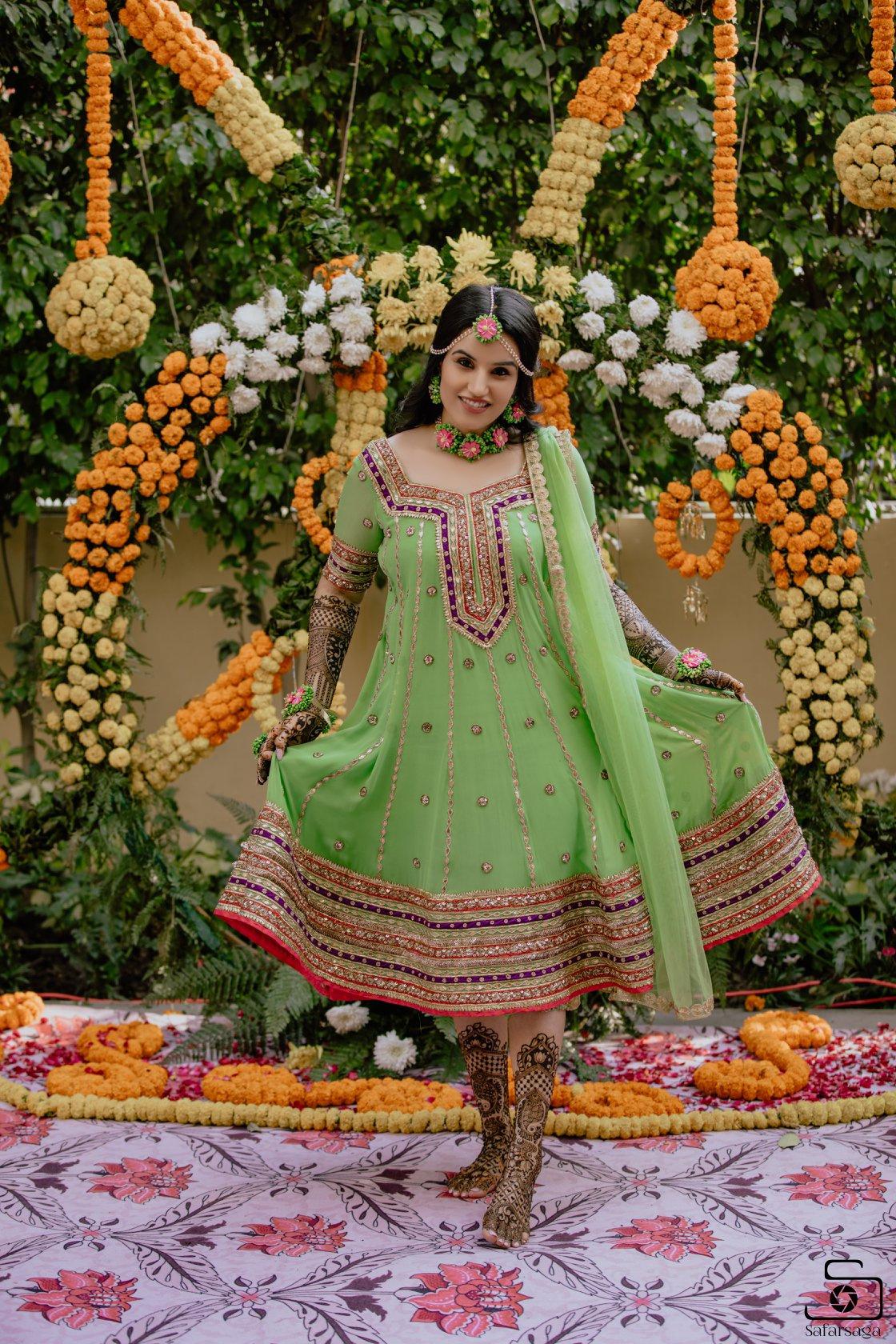 The Mehndi function is all about the bright colours so your outfit needs to stay on theme with the party. Channel the inner glamour girl in you with a vibrant colour palette for your Kurti like this lime-green outfit can add a pop of colour to your wedding wardrobe.
Rows of flower motifs make up the Kurti pattern while a multi-coloured border embellished with sequins outlines the neck and base of the outfit. A hexagonal-shaped neck adds a modern touch. Keep it stylish and classy in this vibrant number!
When it comes to summer weddings, Kurtis are a no-brainer in your wedding wardrobe. Depending on your personal style and occasion, there are numerous ways you can design your outfit. Kurtis pattern styles like embroidery and stonework are the norm when it comes to this outfit but when paired with a stylish silhouette, there is no doubt that you will be one of the best-dressed brides of the season. We hope this edit of Kurti pattern styles can help you build a trendy bridal wardrobe.
Inspired by these Kurti pattern styles? Let us know your favourites in the comments below!