Intercultural Wedding of a Kashmiri Pandit Bride & Her Pahadi Groom
Samridhi is from Kashmir & Abhishek is from Himachal. Their adorable college romance turned into a mesmerising intercultural wedding & here are the details for inspiration!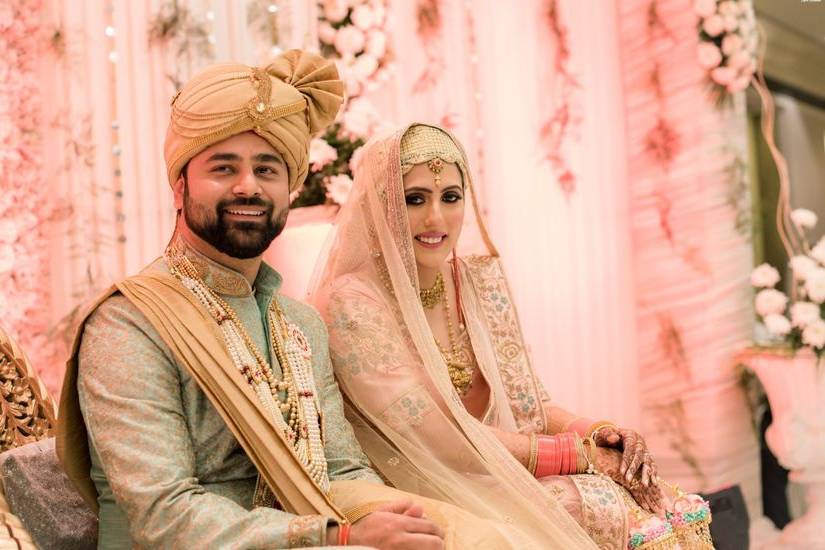 Weddings are hands down, one of the grandest cultural celebrations in India. Every culture has its own set of traditions that are deeply rooted in their historical existence. When we talk about intercultural weddings, it is a breathtaking amalgamation of two cultures brought together to celebrate the coming together of two souls who complement each other.
Indian weddings, in general, are not just the coming together of the couple, but also the coming together of the two respective families. This celebration of love is a gala but sometimes the celebrations captured on camera might just be the tip of the iceberg and there could be a lot that goes into bringing the two families on board.
Nonetheless, the fun and grandeur involved in an intercultural wedding are absolutely unfathomable and there are a million reasons to love it! One such intercultural wedding was celebrated by Abhishek Badiyala and his wife Samridhi Trisal. Abhishek hails from the gorgeous valley of Himachal and Samridhi belongs to the breathtaking "Heaven on Earth" - Jammu & Kashmir.
Their intercultural wedding is an extraordinary yet adorable celebration of the love and friendship that they carry in their heart. Here are the aww-dorable deets!
It was A College Romance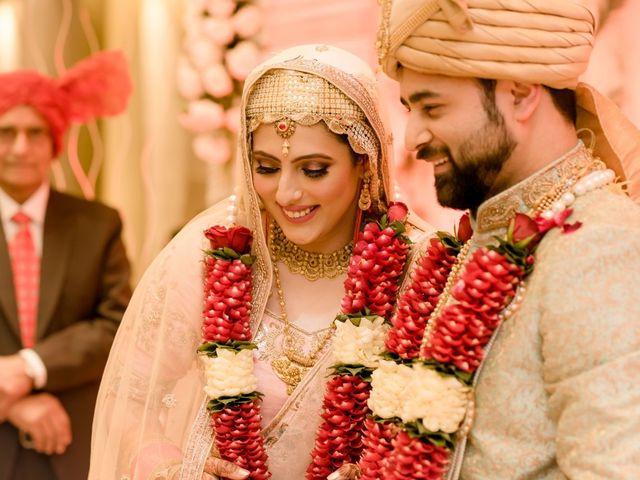 In an interview with WeddingWire India, Abhishek tells us, "It was never the regular Bollywood love story for me & Samridhi that Kuch Kuch Hota Hai and movies of the genre quintessentially spoke of. In fact, the story doesn't unfold like a normal love story for most would. I will not be able to even put my finger down to that one moment, or that one day when we decided to be with each other for the rest of our lives. There was no proposal, no popping of the ring and no yes. If you were to ask us, it's not that first meeting, or for that matter that first exchange of words which sets the tone for a relationship, it's the cliched little things and the frequent gestures which constitute a relationship."
The effortlessness of their relationship is sure to melt hearts and no wonder it worked! Abhishek adds to that saying, "We have graduated from being acquaintances to friends, to being best friends and now to life partners. Having seen each other play all these roles, having witnessed the ebb and the flow of our lives, having been through the thick and thin of each other's journey, there is little that you're unprepared for."
So it was nowhere close to the conventional, aspirational love story that people dream of and it has partly got to do with how they perceived relationships.
When Their Families Met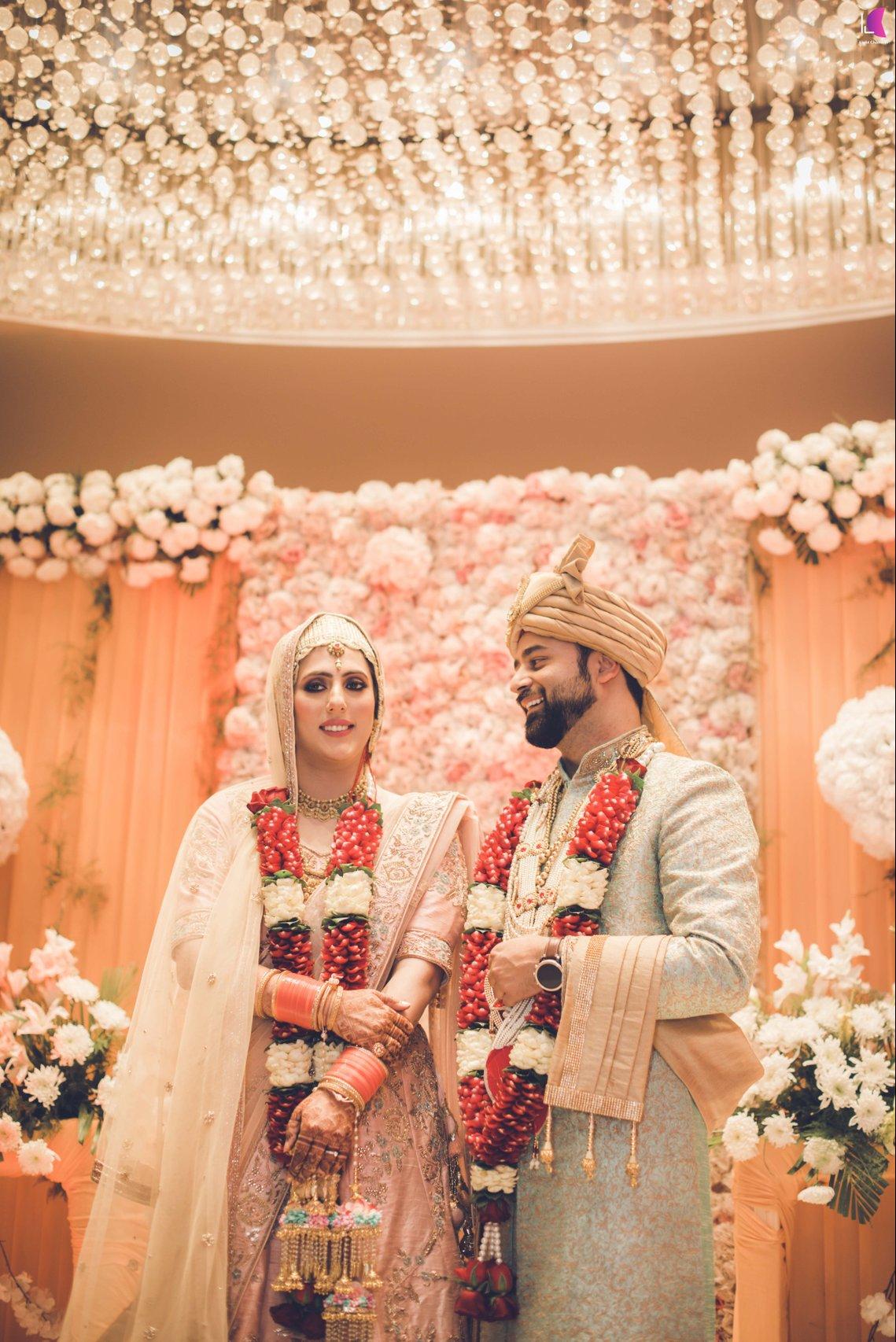 Being a part of the same college, Abhishek and Samridhi started with being acquaintances in 2014, their mothers had met initially but then their families met in 2018. They liked each other immediately and were comfortable in each other's company. When asked about the general inhibitions when it comes to bringing both families on the same page, Abhishek jokes, "There was no resistance as such. I think partly because I was approaching old age!" and cracks up soon after. He continues, "Both the families were very happy to meet each other and discuss the wedding to take this forward even if it meant adjusting to the newness of another culture. They were very supportive of us and immediately hopped onto the celebrations."
Some Separate Pre-Wedding Ceremonies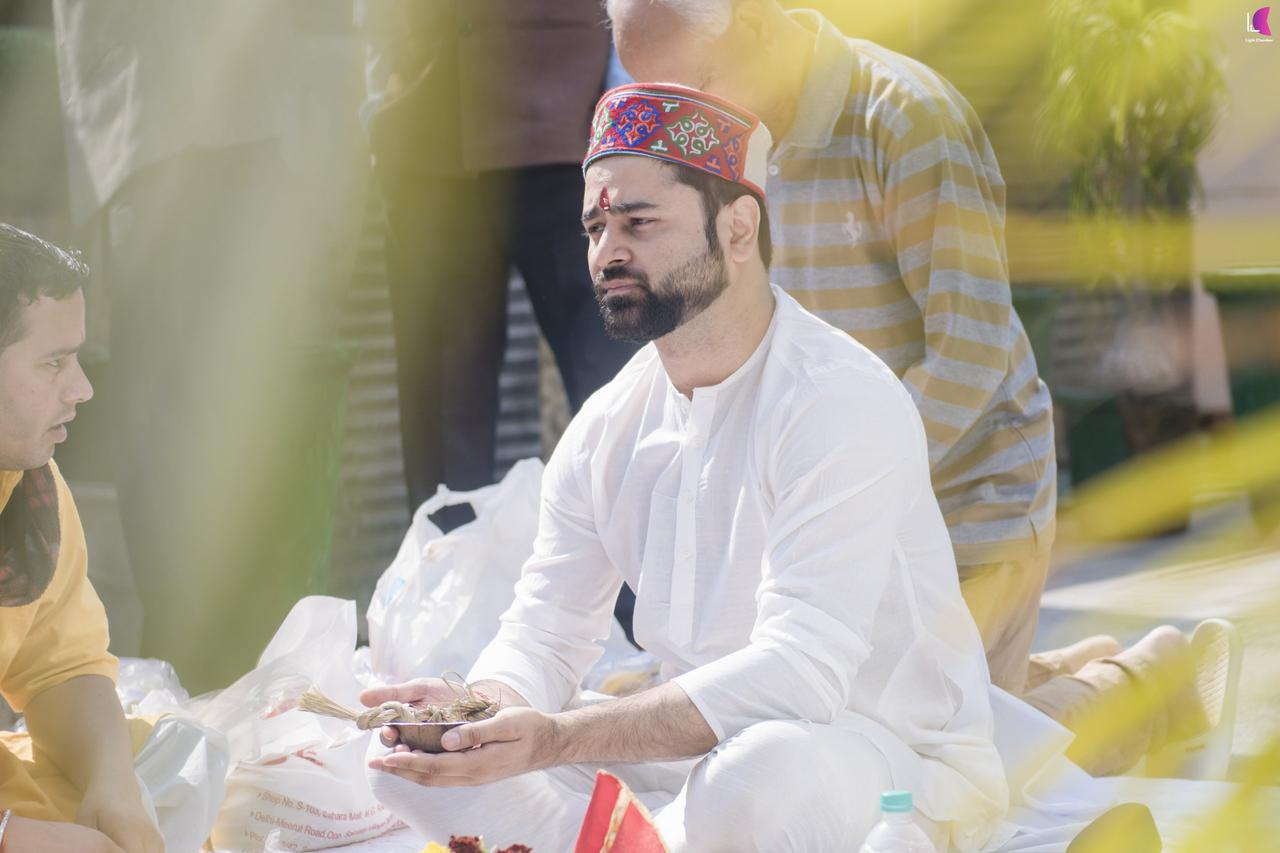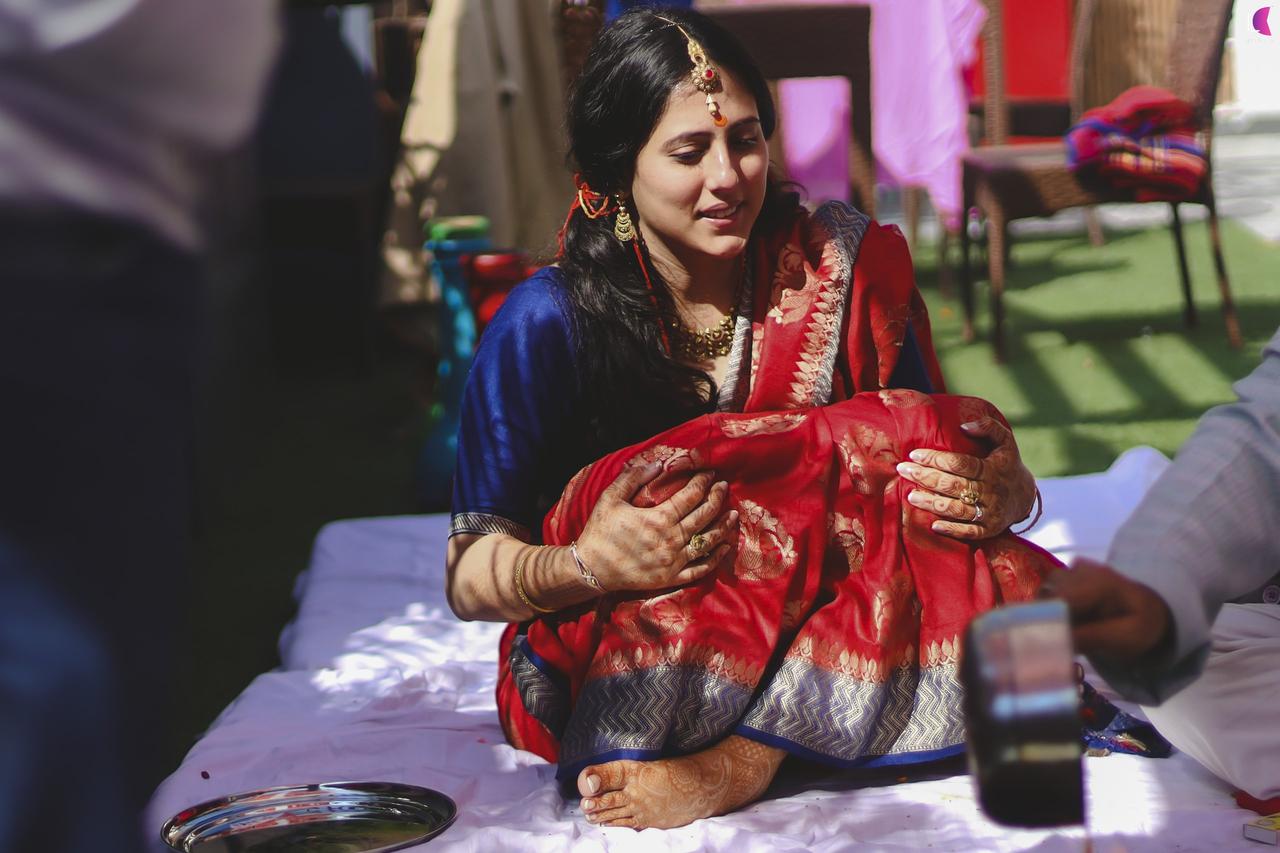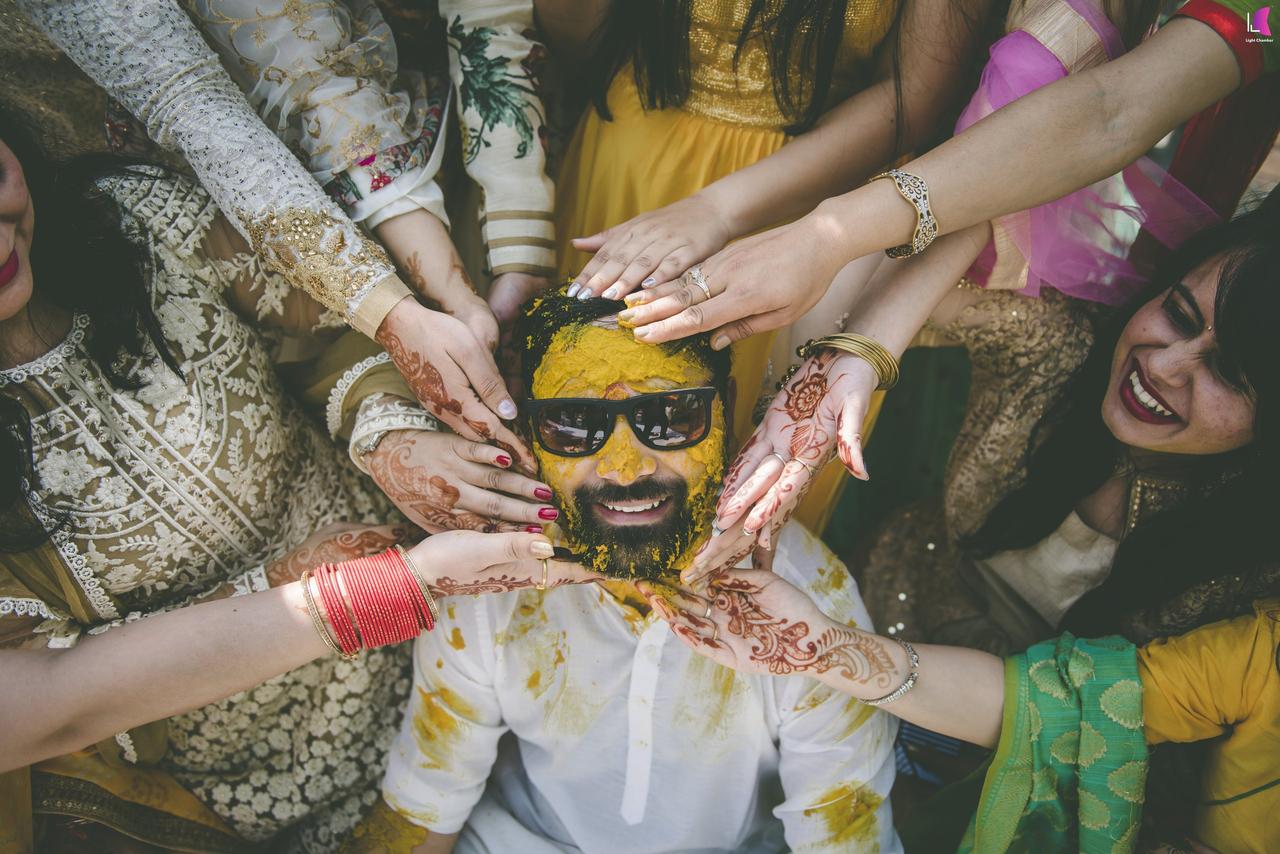 The only celebrations that were different and done in accordance with their certain cultures were the pre-wedding ceremonies. Abhishek says, "Samridhi is a Kashmiri Pandit so she celebrated the Devgun ritual, which is an important pre-wedding ceremony. I, on the other hand, celebrated the Yagyopaveet ceremony that marks the gradual end of the Brahmacharya stage to mark the beginning of Grihastha part of life. These were the only two ceremonies that were celebrated separately in our respective homes and that belonged to our respective cultures. Once these ceremonies were done, we moved on to the Haldi ceremony and then the cocktail which was again the same for both of us!"
How They Picked Their Wedding Venue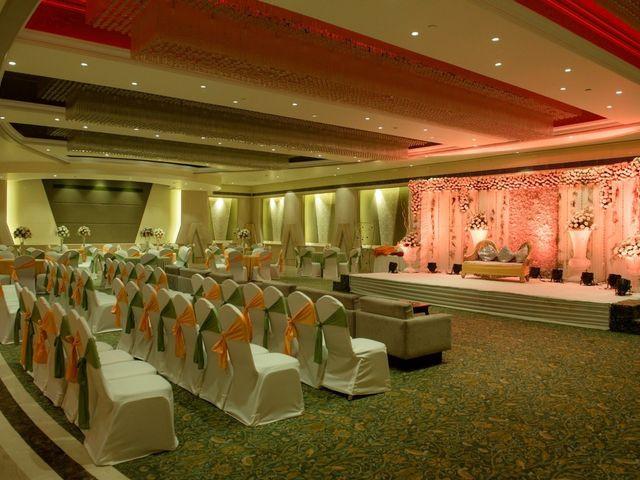 Their venue for the wedding was in Delhi, The Suryaa. Abhishek says, "My parents, of course, wanted the wedding venue to be in Himachal because most people they know are settled in Himachal itself. Since Samridhi's family has been settled in Delhi for over 30 years, they wanted to host it in Delhi. We were a little confused. However, after thinking it through, Samridhi and I realised that most of our friends and even some of my relatives were in Delhi. Hosting a wedding in Himachal only meant it would involve a lot of travelling and some people would not be comfortable. Ultimately, we decided that hosting it in Delhi sounded like a better plan. Our parents were on board with us! We also celebrated a reception separately in Himachal where my parents got to officially introduce us to everyone."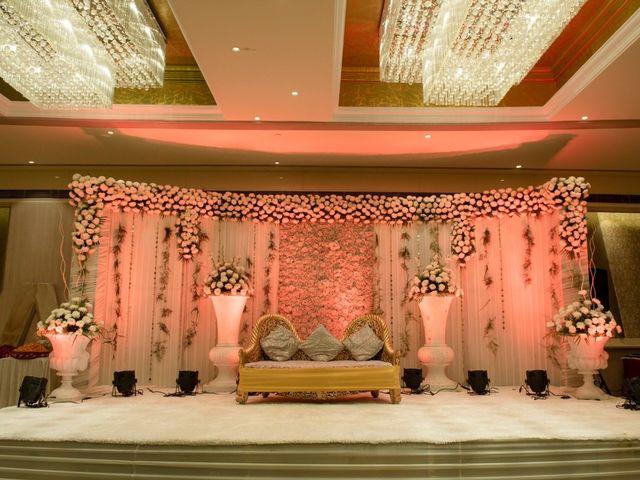 The constant support of the families in letting Abhishek and Samridhi celebrate their love the way they wanted without any friction is not only adorable but also a commendable part of the story. Having your family on board the whole time to enjoy with you is an unmatched blessing.
The Wedding Ceremony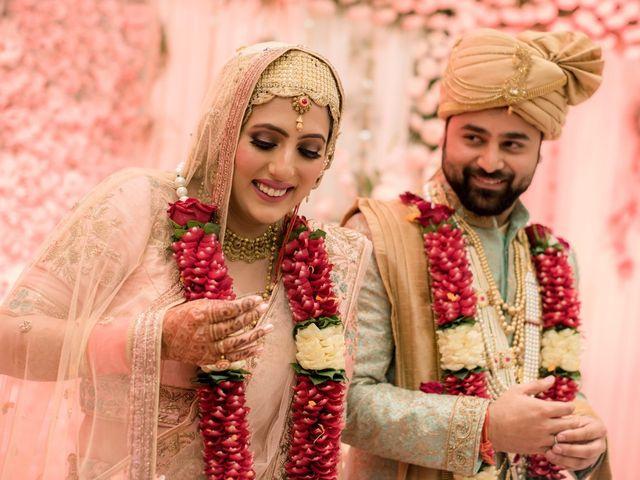 Their wedding was commemorated with a Hindu wedding ceremony, with the Jaimala and then the Saath Pheres. The entire wedding was gracefully planned and executed with no one having to give up on anything specific that they wanted. The families, as well as the couple, agreed on hosting a Hindu marriage to be able to do it all together without any separate celebration that a Kashmiri Pandit wedding or a Pahadi wedding would include.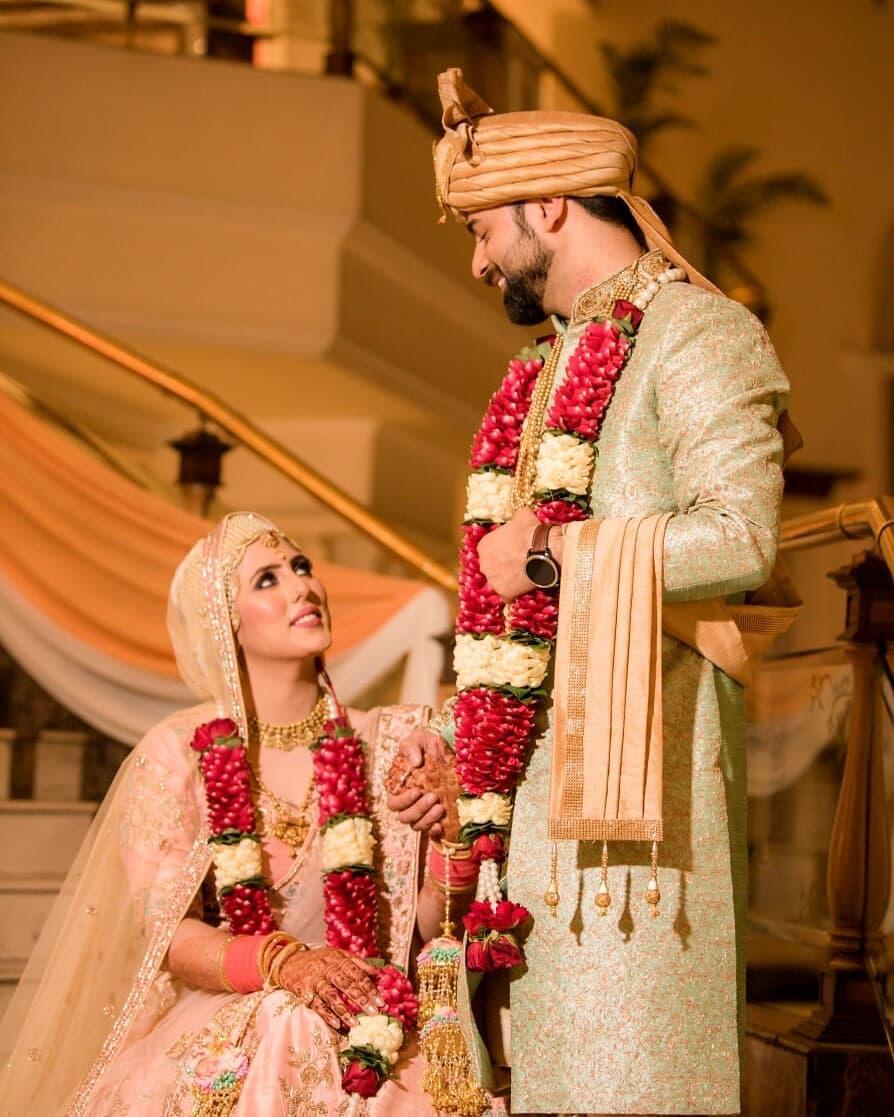 When it comes to picking the food for an intercultural wedding, a lot is at stake especially when one side is purely vegetarian and the other is non-vegetarian. To meet halfway, when things like this happen, is not a cakewalk. On being asked about the food - given that every cultural wedding has their own set of traditional foods that must be served at the wedding, Abhishek says, "Actually we just got lucky in that case. Kashmiri Pandits have a vegetarian-only meal planned for their wedding even if they are hardcore non-veg lovers otherwise. Call it fate, but my parents actually turned vegetarian about 10 years ago. So we did not have any issues picking the menu for our wedding. It had to be a vegetarian menu for both of us."
He continues, "Apart from the wedding, the menu that was picked for our cocktail was completely non-vegetarian."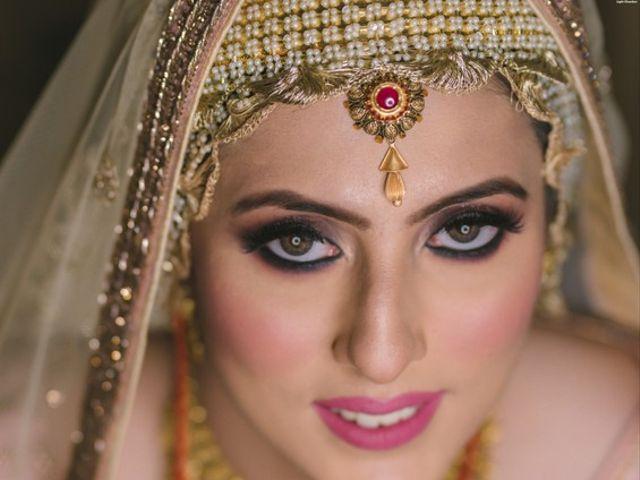 Samridhi wore the traditional headgear that is worn by a Kashmiri Pandit bride for her wedding known as the Taranga and she looked absolutely gorgeous!
The Bollywood movies, like Two States where the Punjabi wedding is merged with a South Indian wedding and Vicky Donor where a Punjabi marriage and a Bengali wedding is blended, have given us the idea that when it comes to intercultural weddings - there has got to be a lot of adventure involved. The family clashes are often hilarious when shown on the screen with ace actors adding to the laughter. In real life, however, it becomes a herculean task often not funny. It might sound funny later when you recall those moments of disagreements while planning the wedding or during the wedding ceremony even, but the real joy is when families embrace the differences and overcome them to celebrate the love. It is just epic.
Abhishek says, "I think usually the clashes happen when one side of the family gets very stubborn about some things. In our case, it wasn't even like that. Both of our parents have been equally understanding of keeping aside all the rigidity. They were happy to go ahead with what fit best for me and Samridhi. I also feel the pressure of rigidity comes from the elder generation of the family and relatives but since that wasn't a factor in our case, our parents were easy on the entire course of the wedding."
The secret to the success of wedding planning, especially when it is an intercultural one, is to keep the horizons wide. There is nothing that a good conversation cannot resolve. It is also important for the families to look beyond the differences and prioritise the celebration of their children stepping into a new chapter of their life.
Also read: 10 Things I Learned While Planning My Intercultural Wedding
Intercultural weddings are beautiful celebrations. You can take the best of both sides and in fact, these weddings educate the families about each other's rituals invoking mutual respect for each other.
Note: All photographs have been clicked by Light Chamber.
Get in touch with the best wedding planners in town to get your wedding planned flawlessly and while you laugh off the glitches make sure your photographers capture every moment of your big day in the most candid way possible!