Let the Fun Begin! Check out Some Hilarious Indian Wedding Traditions That Are Practiced for Some Fun Moments
Weddings are stressful. Especially Indian weddings are long, tedious and can take a toll on everyone. However, there are some funny Indian Wedding Traditions which are followed in different communities for some lighter moments. Read & enjoy!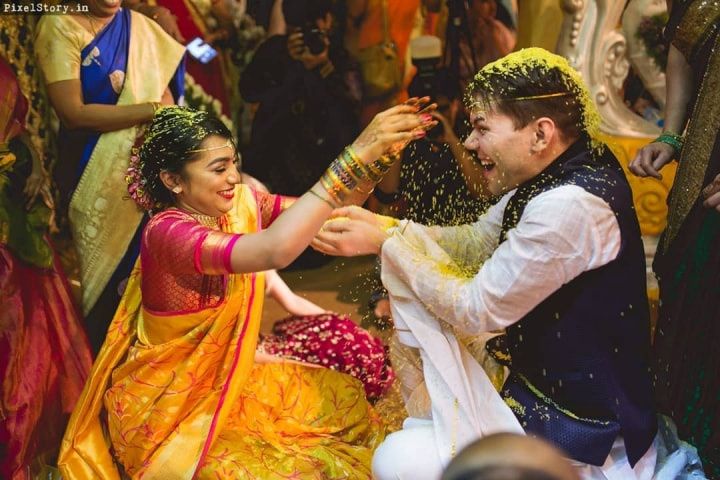 Imagine you're the groom dressed up in your new gorgeous sherwani and excited to reach the wedding mandap and begin your new journey. The moment you reach the venue, your to be mother-in-law welcomes you with Aarti and sweets but then, pulls your nose in front of all the guests. If you're going to get married to a Gujarati family soon, be ready for this ritual! There are many such funny and light-hearted Indian wedding traditions that actually work as a breather in between the long stressful trail of customs. Intrigued already? Keep reading to know some playful and amusing traditions followed in different parts of India.
1. Kaashi Yaatra- The last chance of asceticism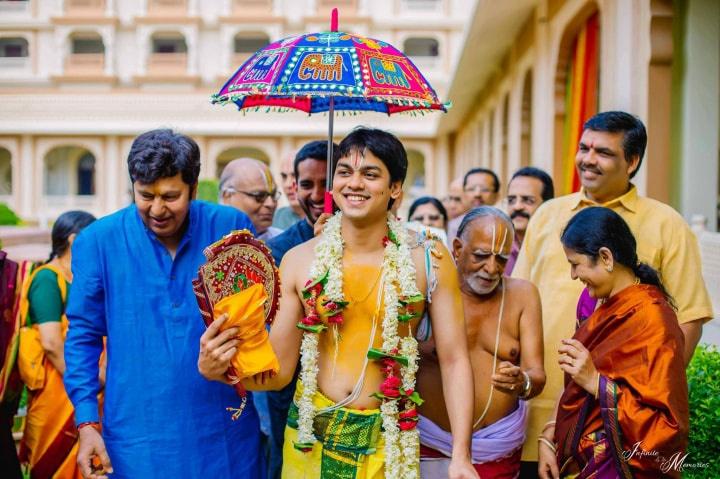 Call it a "chance" or a "threat", Kaashi Yatra is indeed one of the funniest Indian wedding traditions. Practised in south Indian weddings, especially in Telegu weddings and Tamil Brahmin weddings, this one is the groom's final scope to give up the materialistic world and leave for an ascetic life. So, he pretends to leave the mandap when the father and brother of the bride plead him not to. This ritual looks extremely funny especially when it's not an arranged marriage and the couple has known each other for long.
2. Saanth- It could get nasty!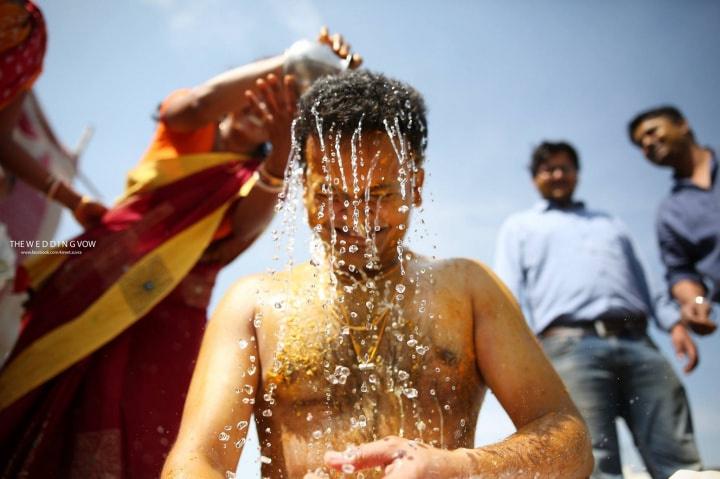 In the name of warding off evil, all the family members and relatives simply tear off clothes of the groom! Poor thing! One of the hilarious Indian wedding traditions under a Sindhi wedding, is the Saanth. Both the bride and the groom in their respective homes have to wear an anklet on their right foot and then seven married women pour oil on their heads. After this, they have to wear a new shoe on their right foot. Sounds quite alright until now, doesn't it? What follows is the deadly part! This is when the groom is literally stripped off from his clothes by everybody! Although this ritual is performed to protect against evil, the custom itself is a source of some evil laughter and giggles!
3. Kaal Ratri- The pain of sleeping apart!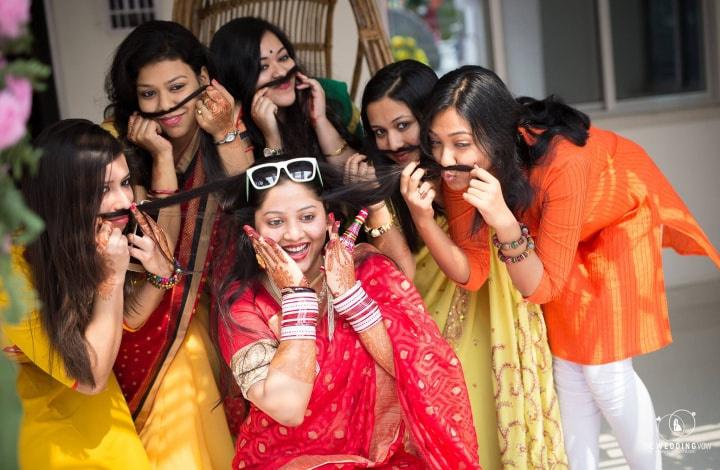 So are you all psyched to get married in a Bong family? Great! You will absolutely love all those Bengali wedding games and draping a red Banarasi saree. And then you must be eagerly waiting for your first marriage night too in your new home, right? Well, sadly for you, your waiting time isn't going to get over just yet! Kaal ratri is the first night of the newly-wed couple in their new house, but the brutal rule is: they have to sleep in different rooms for a night! This is one of those Indian wedding traditions that's really sad for the couple, but sadistically funny and entertaining for everyone else!
4. Ponkvu- The lesson of humility!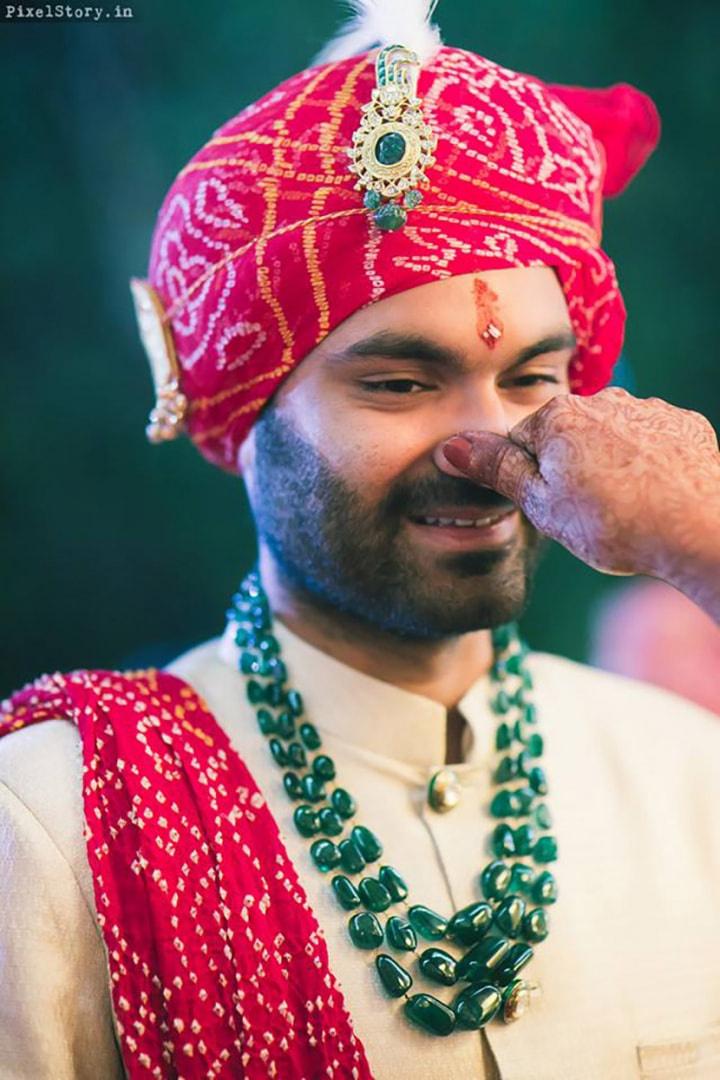 Grooms better get ready for a grand welcome at a Gujarati wedding! The mother of the bride will make you feel like a king with Aarti, Tilak and sweets. And right when you begin to enjoy the royal treatment, she pulls your nose! Ponkvu or Pankhana signifies a message to the groom that says, "You have come to our house to marry our daughter...so better be humble and nice!" Now these are the kind of Indian wedding traditions I personally love! While it's a fun ritual where everyone laughs, there is somehow a lesson of humility to be learnt.
5. A No priest Coorgi Wedding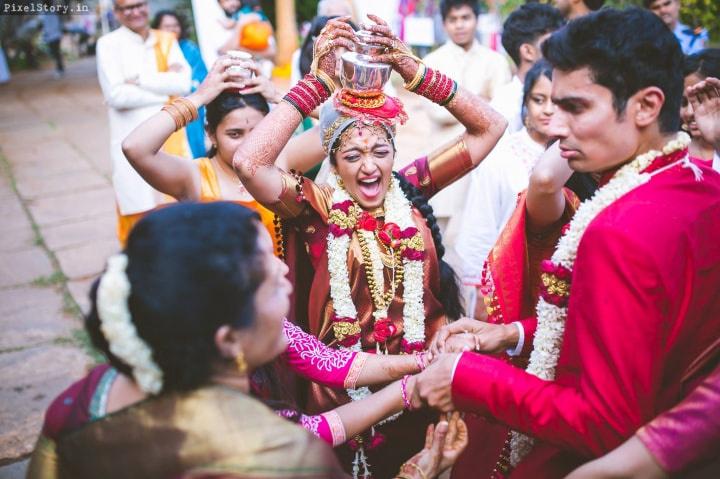 In a Coorgi wedding, there are customs, traditions, and fun rituals...but there is no priest! No chanting of mantras, Kanyadaan, Saat phere or putting stuff in the fire. The couple dresses up in their traditional outfits where the bride sports some exquisite Coorg jewellery. Both the families pray to their ancestors, the couple take blessings from elders, eat, drink and they're done! However, there are some post-wedding rituals like the bride has to break a coconut, get water from a river while the male members of her husband's family tease her. So, when we're talking about Indian wedding traditions, a Coorgi wedding majorly represents simplicity, fun and celebration.
6. Twist the groom's ear- A gentle warning!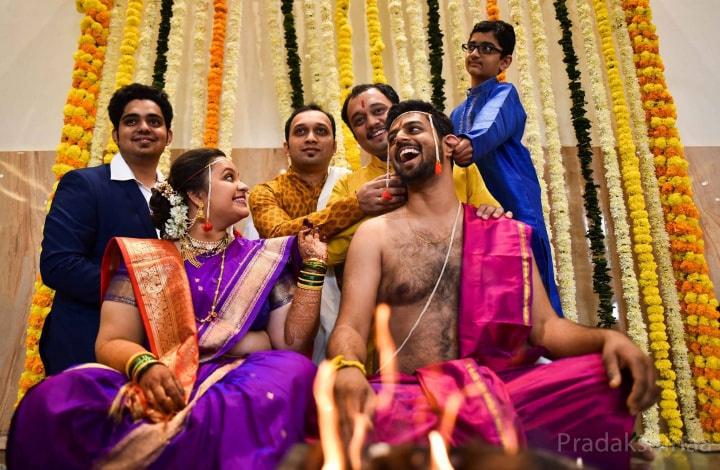 After all the rituals are over, the final custom in a Maharashtrian wedding is called the Karya Samapti where the couple performs Laxmi Pujan. After the fire puts out, that's when the brother of the bride gives the groom a gentle reminder of his marital duties and responsibility as a husband by pulling his ear! It's like a brother's way of reminding the groom, "Better take care of my sister, or else next time the punishment could be harsher!" This is one of the Indian wedding traditions that everyone awaits to watch and have a good laugh.
Whether it's a group of sisters and brothers-in-law giving the groom some hard time; or the newly-wed couple trying to find a ring in a tub of coloured water while playing post- wedding games- thank goodness for some of these Indian wedding traditions because of their vibrancy! The games and fun traditions in weddings work as ice-breaking activities between the two families. A wedding is a celebration of not just two people but the union of two families. And amidst all the serious rituals and intense customs, everyone needs some traditions that are funny, quirky and help to take the load off. After all, families who laugh together, stay together!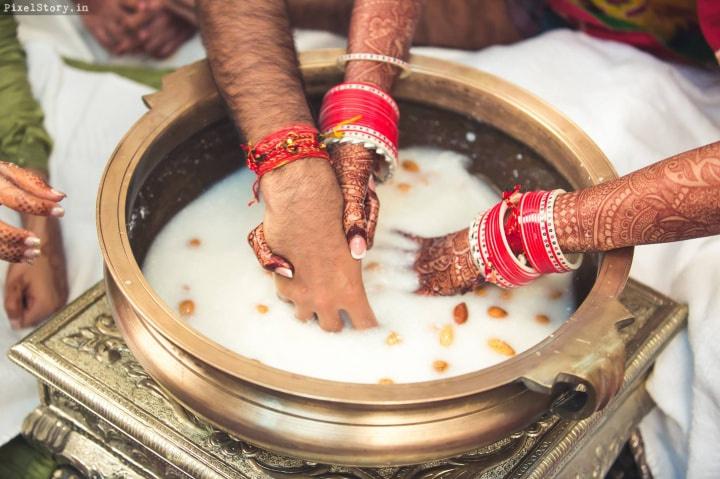 So which one of these funny traditions is your favourite? Let us know in the comment section below.