5 Indian Theme Based Wedding Invitations That Let You Be Quirky!
Getting married in India is one of the most amazing feelings as you get to be surrounded by all your friends and family. Let's look at some of these Indian themed wedding invitation cards that you can use to invite them all!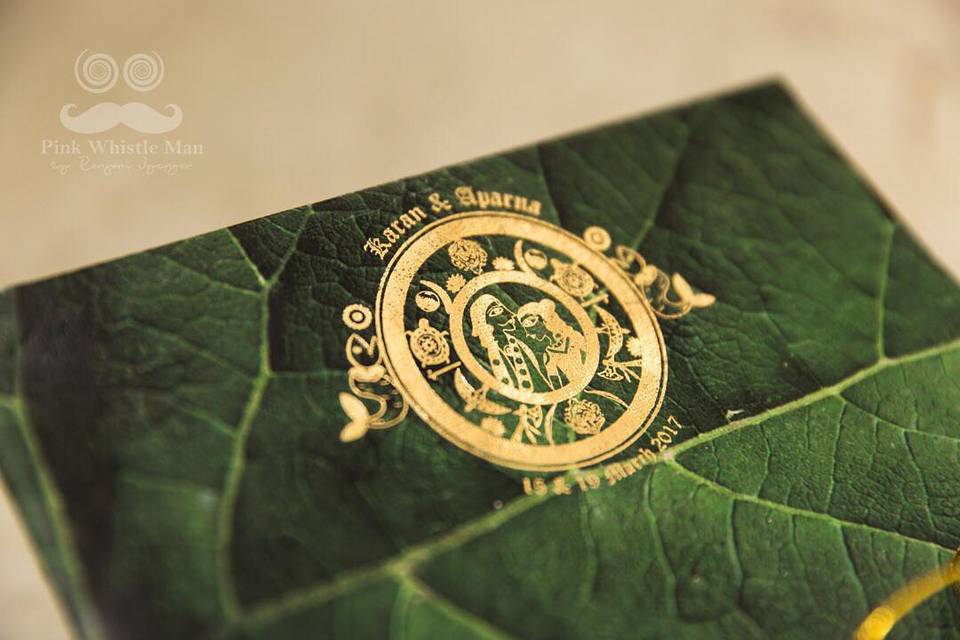 With your wedding coming up, you're probably super excited! This auspicious time means that there are going to be days of partying, celebration, sweets, ceremonies, rituals and in the end, you will be married to your love on your wedding day, with each ceremony based on an age-old Indian theme. A lot of wedding guests are invited to this special day through a wedding invitation. In order to let them all feel like they are a part of your life, your invitation must resonate with them thoroughly. This is why you should pick one with an Indian theme.
Although many people have been sending out unique wedding cards, the best way to invite someone to your wedding is by choosing an Indian theme wedding invitation card because it reflects your roots in the best possible way. If you're confused about what kind of wedding card you must choose, we are here to help you out! Check out the following ideas that can help you have a slightly quirky card while still keeping in mind a theme that is largely based on Indian aesthetics!
1. The Minimalist Invitation that lets you redefine the Indian theme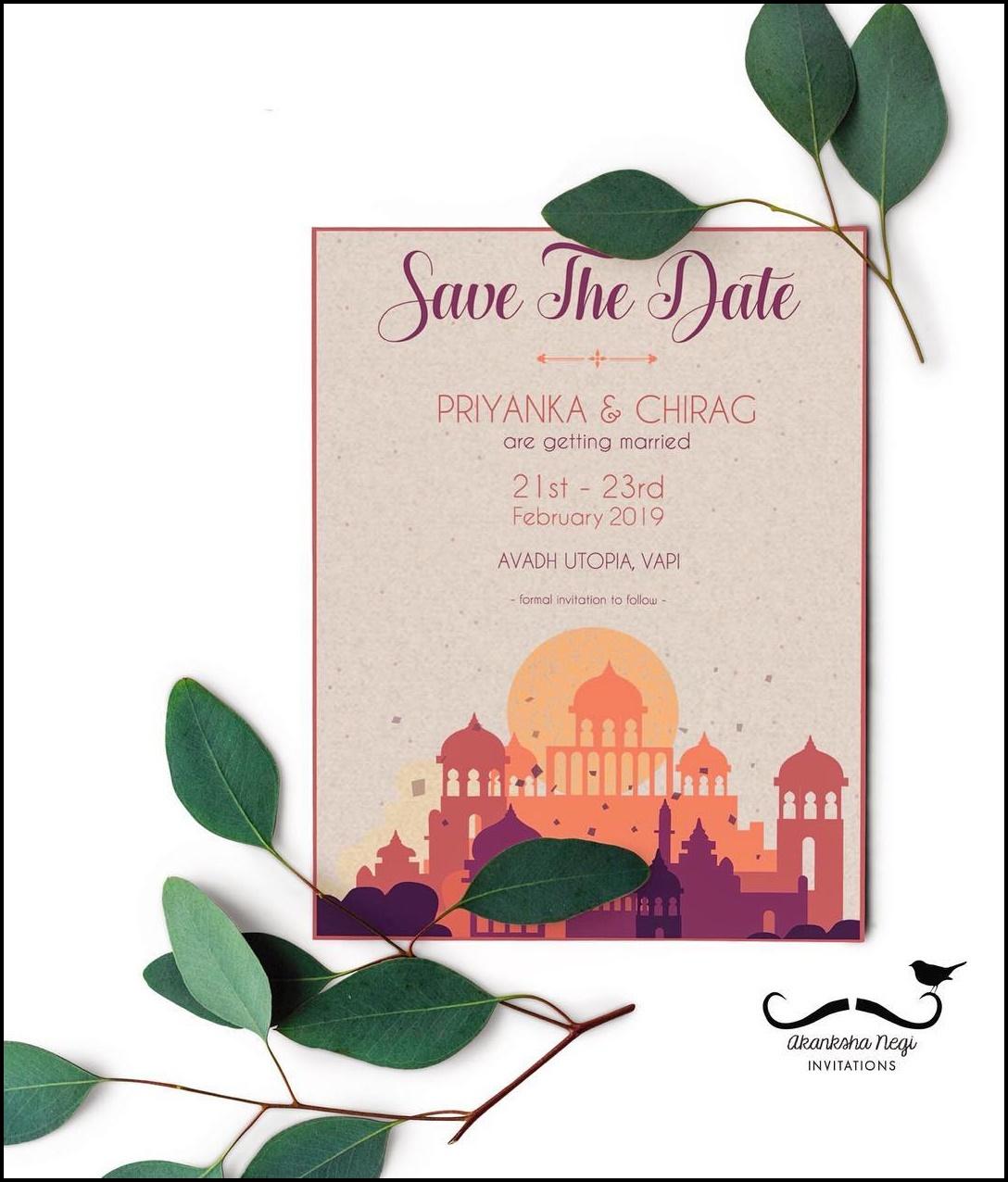 As the young generation progresses towards 'saving the date', many minimalists choose not go overboard with having their wedding invitations being designed in an old school manner. Instead of having the dark, red invitations that have all their information in golden ink, they prefer to go minimal and bright. This has been a norm for a while and marks a new way of opting for the Indian theme.
Choose from different colours, invitation wordings, bride and groom quotes, and more to personalise your wedding card. The above print of monuments symbolises that it's a big fat U.P. style Indian wedding! So cool, right?
2. Cartoon Invitations that bring a bit of joy and fun into the card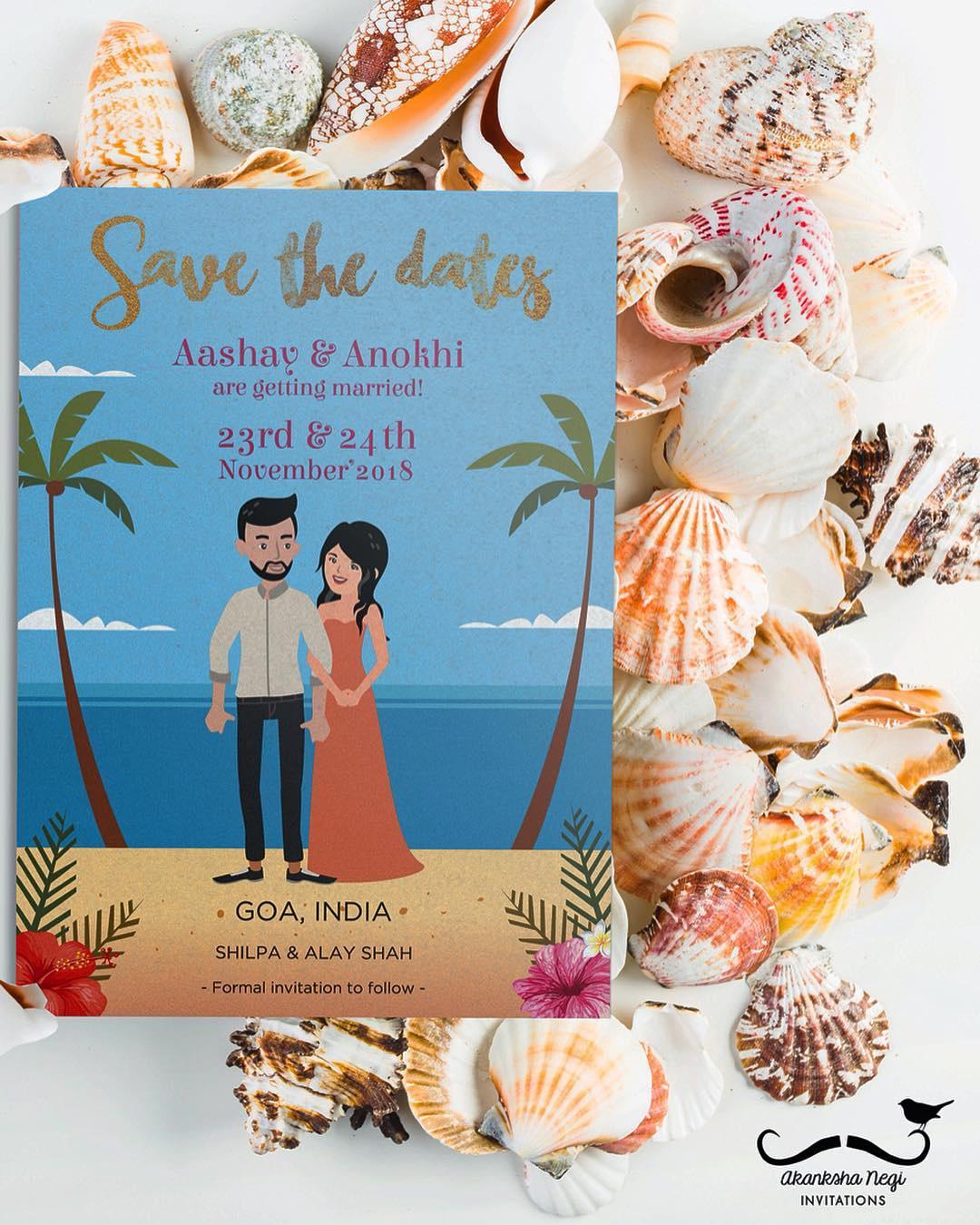 When you're going for a proper destination wedding in Goa, why wouldn't you want to splurge on the wedding invitation as well? Cartooned in an Indian theme and doodled all over your wedding invite, this cartoon invitation is a pretty cool way of declaring that you're getting married in Goa. Completely concise in its own way, the wedding invitation shows the wedding couple cutely holding each other's hand in the middle of beach, asking to save the dates, which instantly hits on the point that the couple is tying the knot in Goa. The Palm trees and flowers in the background give a romantic feeling instantly.
3. Phulkari Invitations that bring folklore and whimsical aesthetics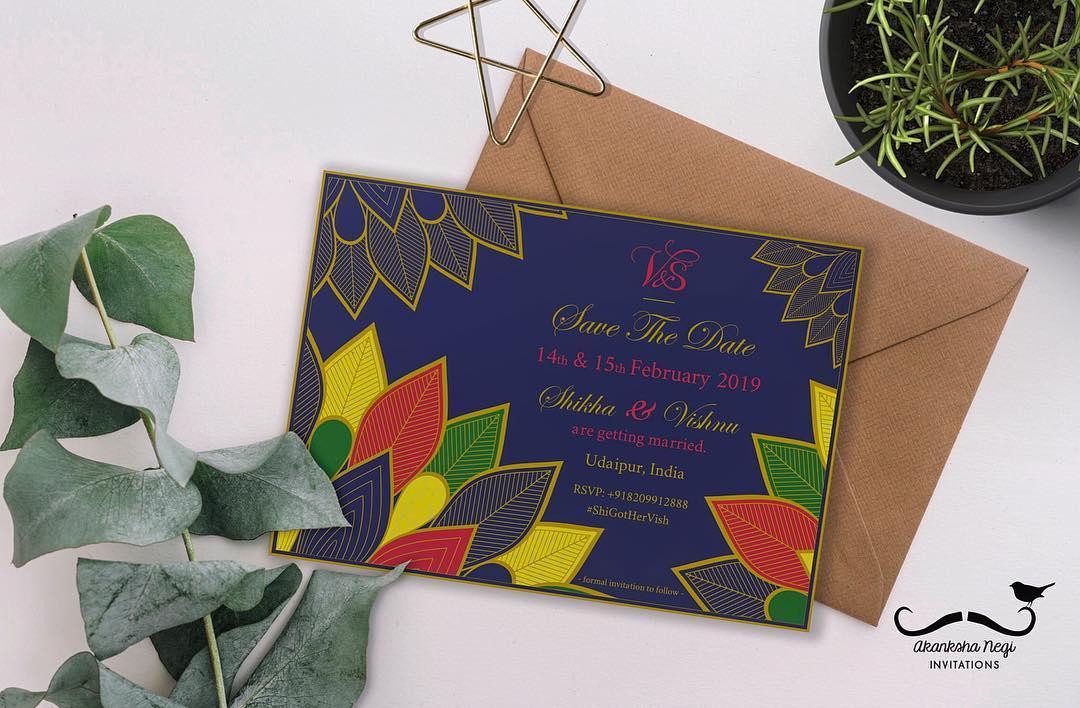 Phulkari is a type of embroidery which is done on dupattas, sarees or scarfs. It is bright and colourful and full of floral motifs and patterns. This invitation makes us recall the Phulkari embroidery with its lively leafy patterns. With its blue background and colourful inks, this wedding invitation card is a complete interpretation of an Indian theme wedding invitation.
4. Impactful Invitations that touch everyone's heart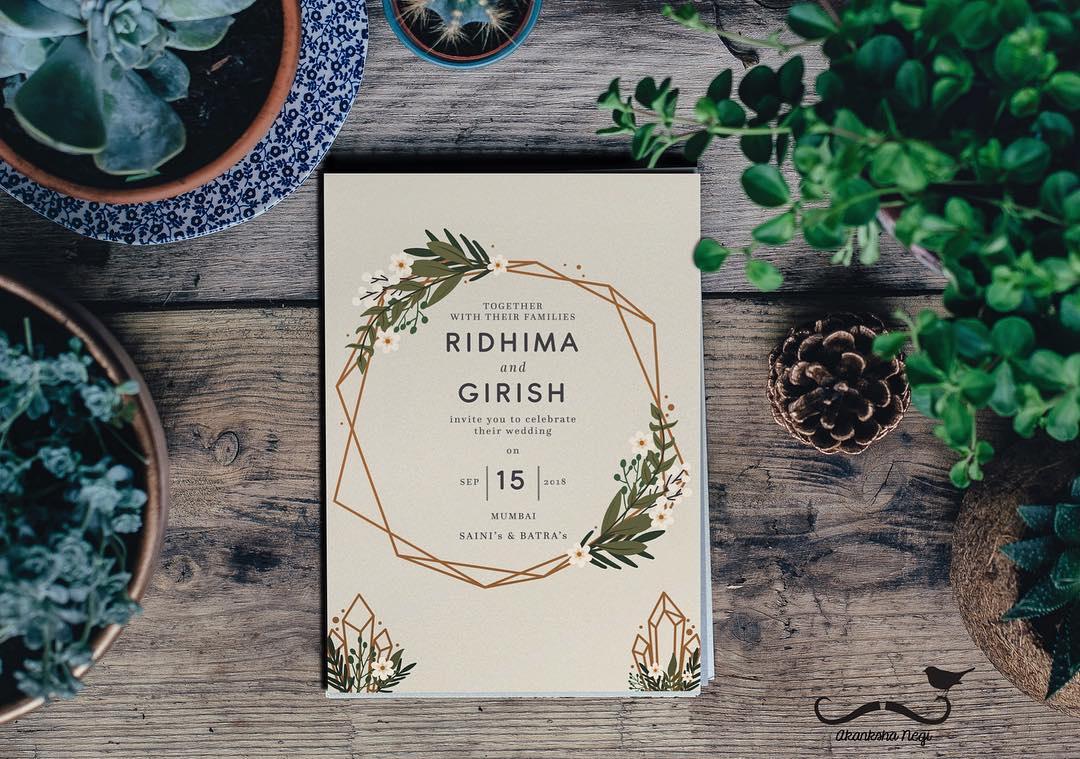 While some invitations are full of illustrations and cartoons, there are some that have no designs as such! These wedding invitations based on an Indian theme make their impact with the style that they use and the way they write. Thus, they end up being more impactful and say a lot without being too loud. This invitation does the same. It does its job without any illustrations and gives out the message. Chic and elegant, it isn't too flashy or colourful. It would definitely be a good choice if you're hosting an elite wedding.
5. White Invitations that look totally elegant and chic!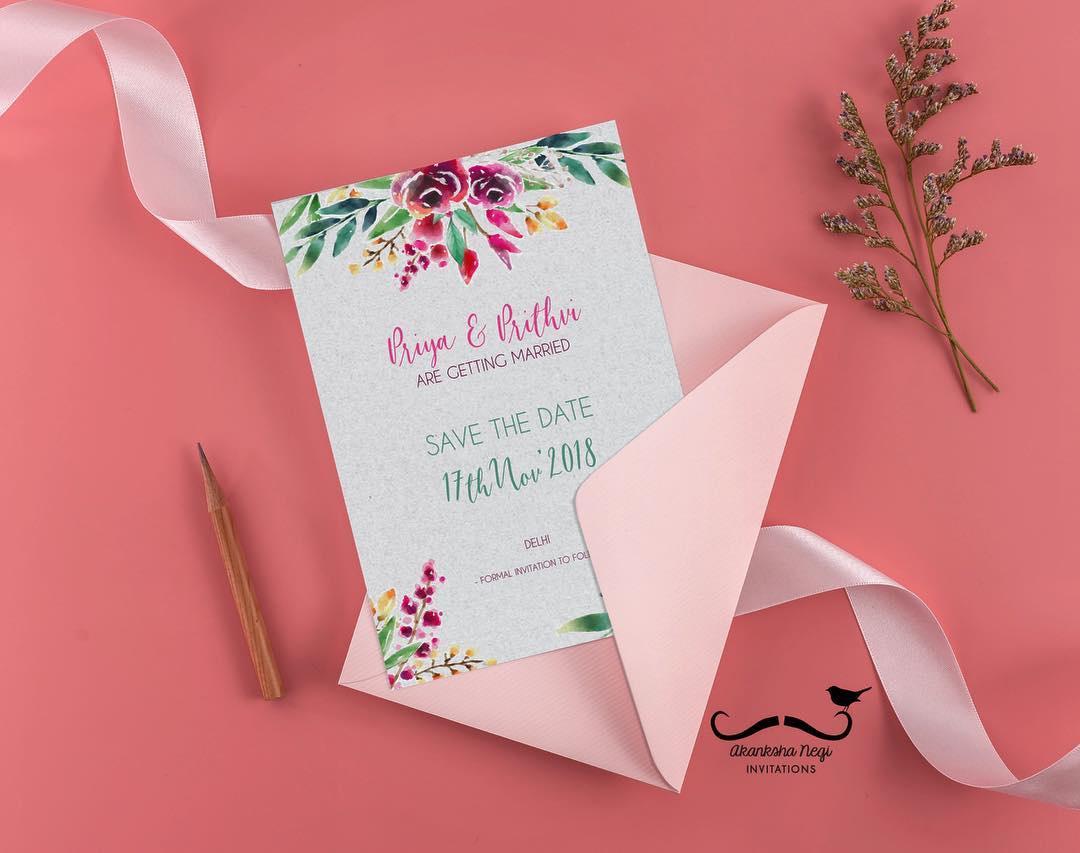 White or anything as light as white or cream has always been considered inauspicious during wedding ceremonies. Be it clothes, jewellery, wedding decorations or anything else, the white colour has always been kept afar. However, a white wedding invitation based on an Indian theme completely challenges this belief. With a completely cream background and black ink, this invitation completely breaks the norms of making the age-old red or golden invitation and starts a new tradition of Indian theme wedding invitations.
Weddings are a time of celebration and happiness where everyone's in a mood of merriment and partying. With so much work to do around the wedding and so many things to take care of, there are a lot of responsibilities that keep cropping up at this time. So, taking care of the wedding invitations is probably the best and the easiest thing to do. With so many options available in the Indian theme you must choose your invitation along with your partner. Discuss it with him and decide what kind of a wedding invitation you want. After all, you get married only once!
If you're looking for elegant and well-crafted invitations, check in touch with our wedding invitation vendors today!