3 Of The Most Refreshing Indian Mocktail Recipes For The Hottest Wedding Season Of 2019!
The shooting temperature this summer calls for the best and most refreshing Indian mocktail recipes which are known for their unmatched cooling effect. Quickly scan through your favourite recipe and add it to your wedding mocktail menu.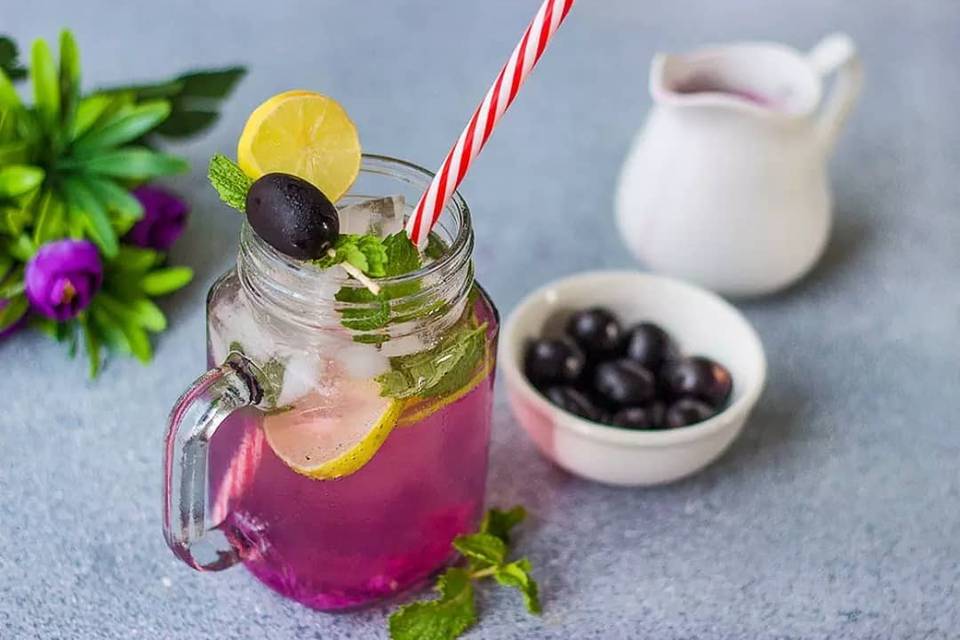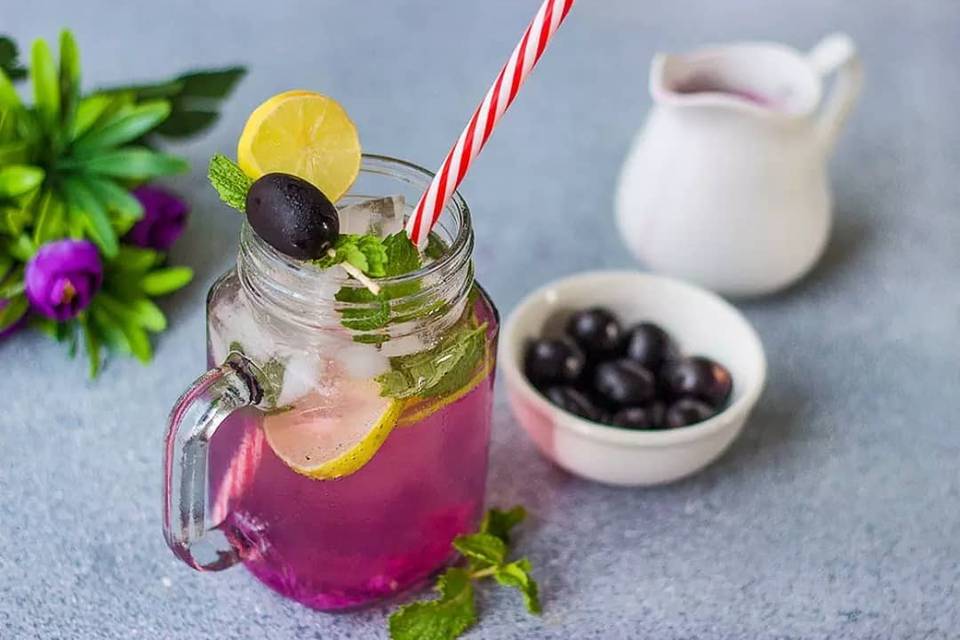 Image Courtesy: Chandrima Sarkar's Blog
Getting married in this harsh summer season? Worried how to cope up with the heat intensifying with each passing day?. Here are the best 3 Indian mocktail recipes for all my lovely readers which shall make your wedding menu absolutely unique. Indian summer coolers, known for their unmatched cooling properties have been taught to generations, as a legacy of the Indian households since the very beginning. With the cooling Bel sharbat, chilled Shikanji and the fantastic Kaanji with all your childhood memories, the mocktail menu for your summer wedding is sorted!
Choose the most instant one or the most effective one as per your and your family's taste and preference and get ready to beat the heat this harsh summer season. You may alter the given recipe as you like, for example by replacing honey with white sugar or artificial sweeteners with organic 'Bura' (powdered sugar). Get that ice tray in the freezer and sit with your tab to read the crisp Indian mocktail recipes below. Don't worry, we haven't included the common watermelon slush, Rooh Afzah or Aam Panna.
1. Bael Ka Sharbat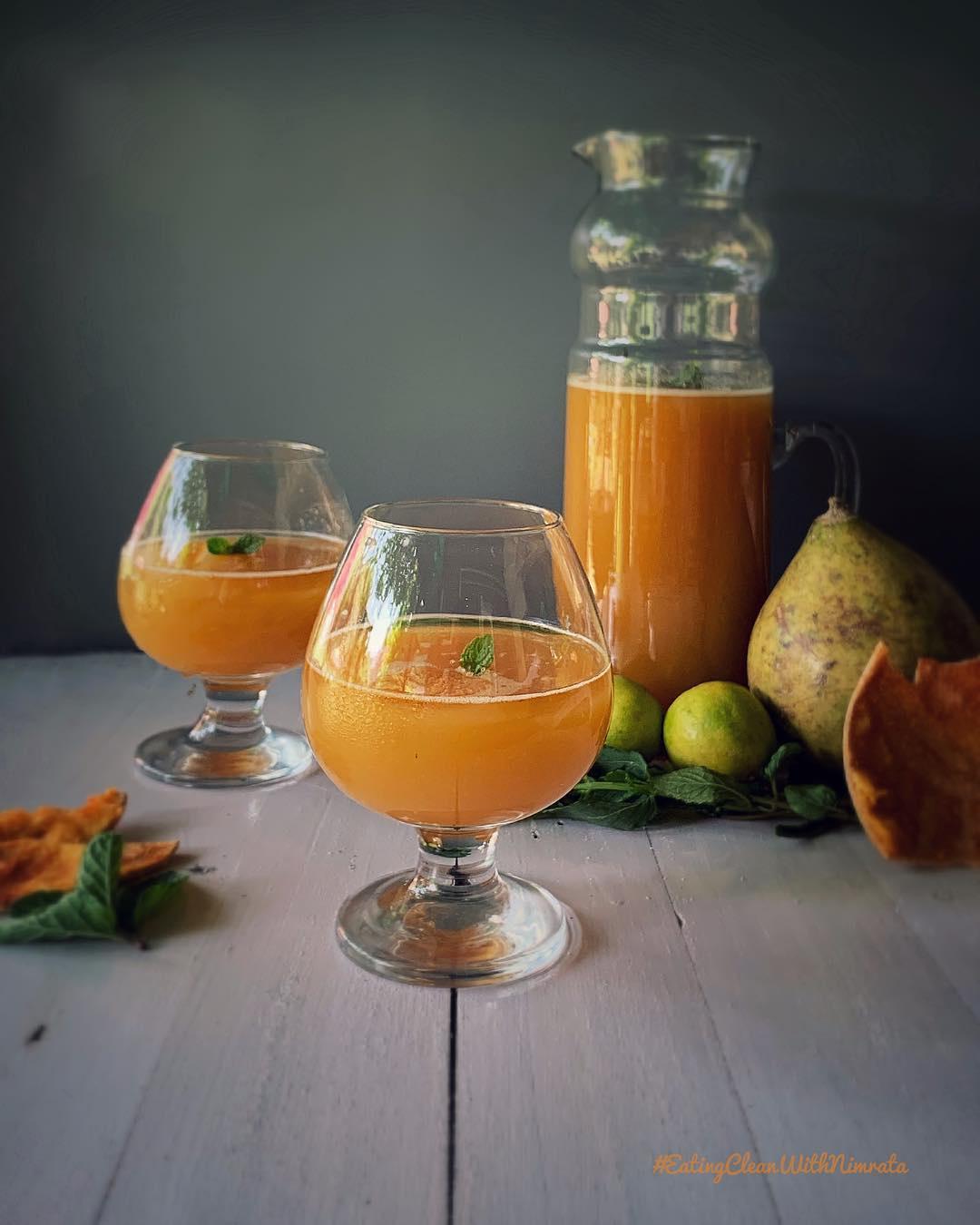 Image Courtesy: Eating Clean with Nimrata
i) About Bael
Let's start our lineup of Indian mocktail recipes with the evergreen Bael. Called as the Wood apple, stone apple, Bengal quince, GoldenApple, Bael is an Indian fruit easily available in markets. Mostly called by its local name, Bael is a very popular fruit consumed in various forms during summers. It has a hard green outer covering much like coconut and is edible from inside. The insides are soft and sweet in taste, in a lighter shade of yellow.
The tasty fruit is highly rich in fibre and has a lot of unique properties. The fruit available in bulk at a very nominal price has an extraordinarily cooling effect on your stomach, further cleansing your intestines and relieving you of constipation as well. You can enjoy the delicious fruit raw or prepare its juice using the various Indian Mocktail recipes.
ii) Total time required
15-20 minutes for extracting the pulp and simmering
5-10 minutes for straining and mixing all the ingredients Optional- 1-2 hours for cooling down the hot mix
iii) Required Ingredients
Bael pulp without seeds (1 medium sized fruit for every 100 ml of water).
Water (as per the required quantity of juice).
Squeeze lemon into the juice if required.
If you like it sweeter, add honey or sugar syrup to the mix.
Crushed mint leaves (to add a refreshing taste).
A pinch of Kala Namak (Black salt) or Sendha Namak (Rock Salt) as per taste.
iv) Instructions
Take out the Bael pulp into a pan with a thick bottom.
Add double the amount of water and let the pulp simmer on medium flame while it is constantly smashed.
Once the mixture is equally consistent, strain the juice so that the pulp is kept aside.
Add the rest of the ingredients as per the taste and quantity.
Let the juice cool down.
Enjoy the lovely Mocktail in a well-decorated glass.
v) Pro Tip
It is advised not to refrigerate the tasty Bael juice and consume it fresh. You can always add some crushed ice to transform into a refreshing cooler. This one from the Indian mocktail recipes can be a great welcoming drink for the Baraatis arriving after a great deal of dancing in sweat-drenched clothes.
The delicious, healthy and highly beneficial drink prepared with one of the easiest Indian Mocktail recipes is ready to drink and share with friends and family!
2. Desi Shikanji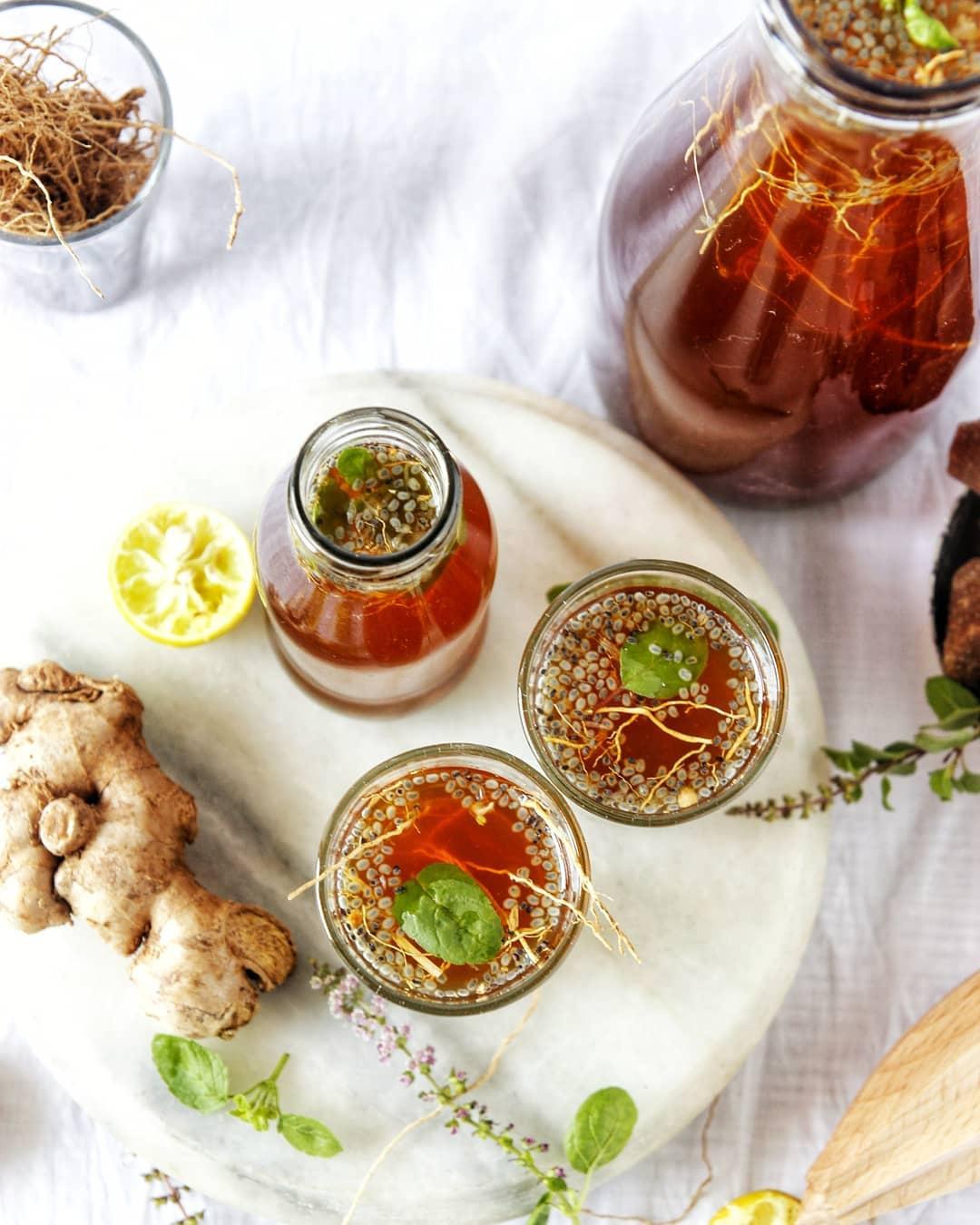 Image Courtesy: Slurpy Platter
i) About
Shikanji is one of the most popular Indian mocktail recipes prepared by almost every mother in India during the hot summer season. It is basically a good blend of the cooling and refreshing properties of water, lemon and a few secret ingredients which help you fight the dreadful loo ready to harm you in all possible ways. The best part is, that it can be enjoyed as sweet, salty or a fantastic mix of both! So those uncles with diabetes or aunties on diet are sorted. So are you ready to read with a pen and a paper reading 'Indian mocktail recipes'?
ii) Total time required
(Optional) 10 minutes for dissolving white refined sugar in water.
Max. 10 minutes for rest of the preparation
iii) Required Ingredients
A 3/4th jug of Water
3-4 lemons
Any sweetener as per taste (refined sugar, honey or any organic sweetener)
Kala Namak or Black Salt for taste
(Optional) The magic mix of Shikanji masala
(Optional) A bit of Ginger (liquid)
(Optional) Fresh mint leaves
Truckloads of ice
iv) Instructions
Take the water jug and start adding all the ingredients in whichever order you like.
Balance out the ingredients as per your likes and dislikes.
You may experiment with the optional ingredients with a half a glass or so, separately and if you like the taste, then go ahead with it for the entire jug.
Once you are satisfied with the final taste, add truckloads of crushed ice and don't forget to put a slice of lemon on the glass edge.
If you are trying the soda version, start with half water and half soda first for a glass.
It is going to be a hit at the mocktail counter at your wedding functions.
v) Pro Tip
Add all the ingredients in little amounts in the beginning. Once you get confident about which flavour or impact of which ingredient you like more, add the rest of it. Don't fall for the neverending balancing loop.
Keep all the possible variants at the mocktail counter to add variety to your Indian mocktail recipes.
The delicious, healthy and highly beneficial Indian Mocktail is ready to drink and share with friends and family!
3. Homemade Kaanji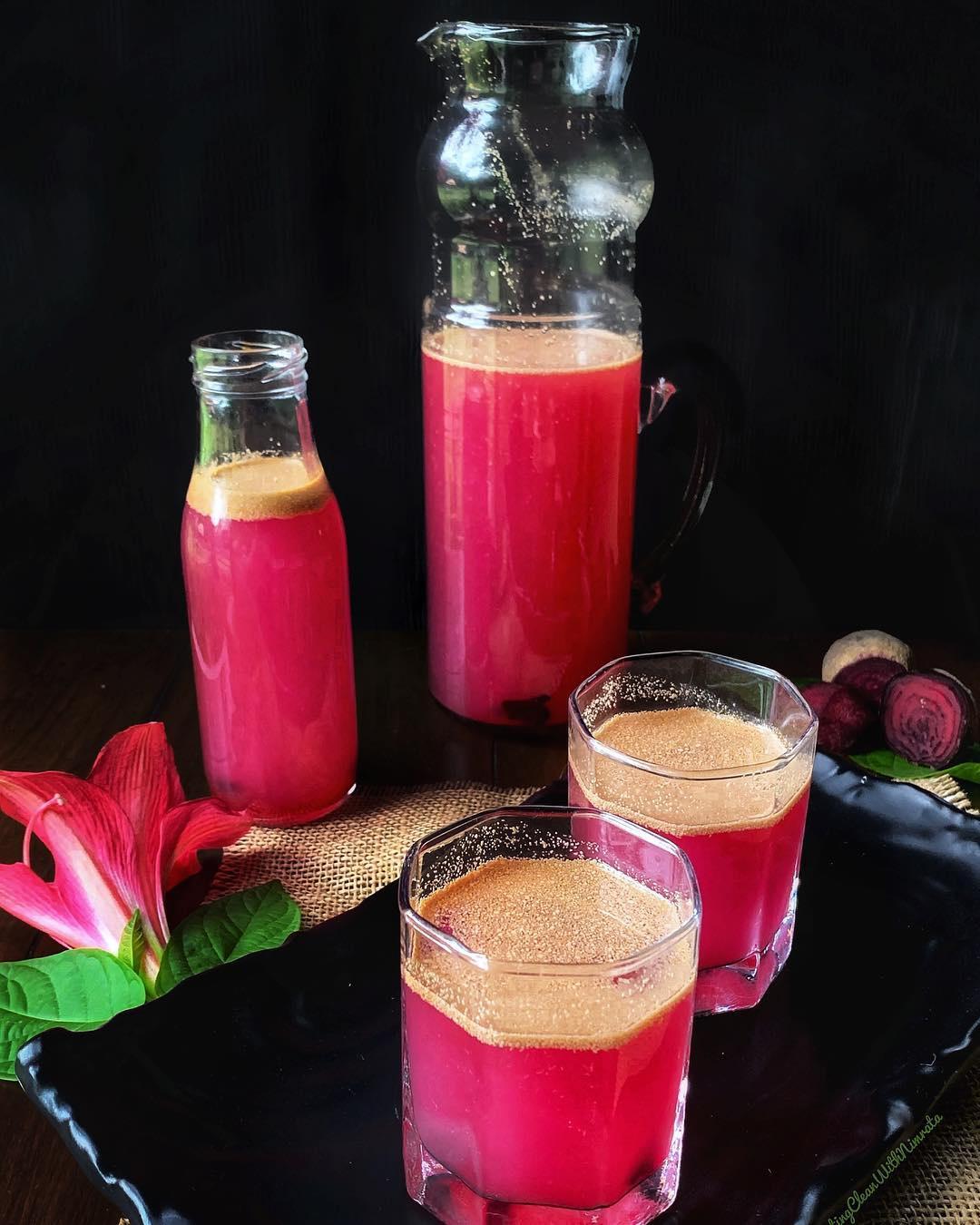 Image Courtesy: Eating Clean with Nimrata
i) About Kaanji
Kaanji mocktail is one of the oldest Indian mocktail recipes, mostly prepared by experienced grannies across Indian households. It is well known for its cooling and anti-inflammatory properties. It is primarily made with Black carrots or Kaali Gajar which helps in a lot in improving digestion and fighting the heat by keeping your stomach cool. The best part is that unlike several other Indian mocktail recipes, this one is not at all sweet. In fact, it has a unique taste which is a mix of salt and spice. So are you ready to read the fantastic recipe?
ii) Total time required
About 15-20 minutes to boil water (meanwhile, peel black carrots)
5 minutes to add all the ingredients
About 1 hour to let it cool down before you transfer it to glass bottles
About 2 days to ferment it
iii) Required Ingredients
30 grams Rai (for every 3 litres of water)
(Optional) You can replace Rai with yellow mustard seeds
5 grams of fine red chilli powder (not flakes)
3 litres of water
300 grams black carrots (100 grams/litre)
30 grams normal salt (adjust as per taste)
(Optional) You may add a beetroot if you like.
iv) Instructions
Boil water in a pan while you peel and cut carrots.
Coarsely grind Rai or yellow mustard seeds.
Once it is nicely boiled, bring the pan off the stove.
Add black carrots, salt and rai right after. The water must be boiling hot in order to extract all the colour and flavour of the ingredients.
Give it a good mix and set it aside to cool down at room temperature.
Once normal, add to big glass bottles (avoid the plastic ones).
Let the lovely drink ferment for about 2 days out under the sun.
v) Pro tip
You may refrigerate it once the perfect sour taste is achieved. It can be stored easily for a few weeks.
The delicious, healthy and highly beneficial of the Indian Mocktail recipes, Kaanji is ready to drink and share with friends and family! This can be served to your close guests visiting your home for functions with smaller gatherings. A shot of Kaanji and each guest is ready to dance in that scorching heat!
With the three most beneficial Indian mocktail recipes, you have ample time to make each one and choose the most suitable one for each function or gathering. Take a few hours a week before your marriage functions, and welcome all the lovely fam with kanji glass. Surprise the Ladkewalas with Bael sharbat shots and let the guests praise you for that ample Shikanji stall. This is our little effort to help all your guests beat the heat and are all cool and energetic to dance their heart out on your summer wedding - You are welcome!
Do not forget to share the fab Indian mocktail recipes with your friends who are planning a summer wedding.