Pick Your Indian Lehenga Design and Be the Bride of the Season!
Are you looking for the perfect Indian lehenga design that will help you ace your bridal look? Here is a list of 10 traditional lehengas for a ravishing look!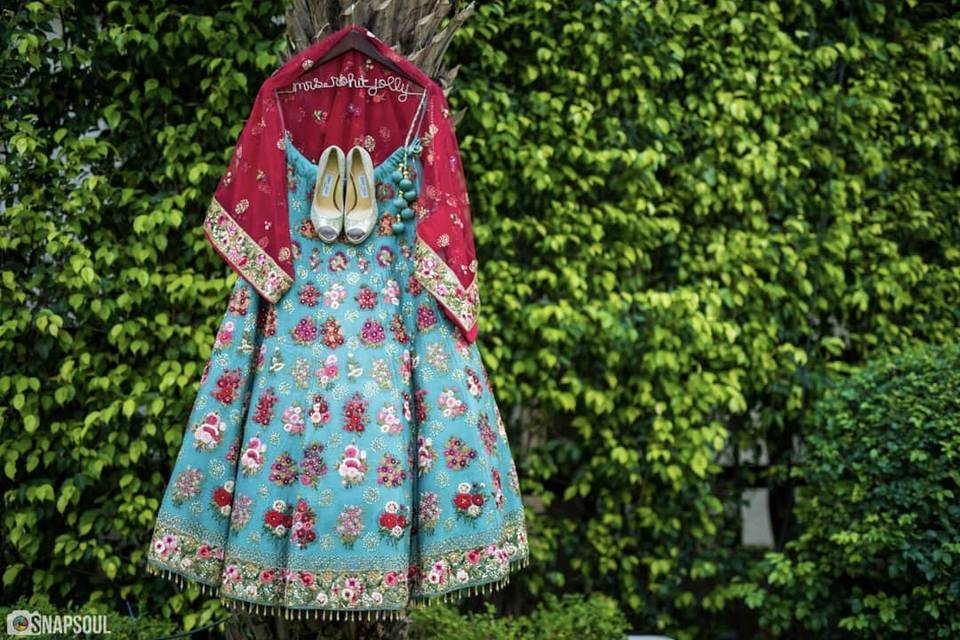 As a bride gearing up for the wedding, it's time for you to explore a few Indian lehenga design options. With so many incredible pieces on runways and gorgeous options in your local boutiques, finalising a single ensemble can be quite challenging.
For inspiration, check out these Indian lehenga design options worn by real brides!
1. Play with colours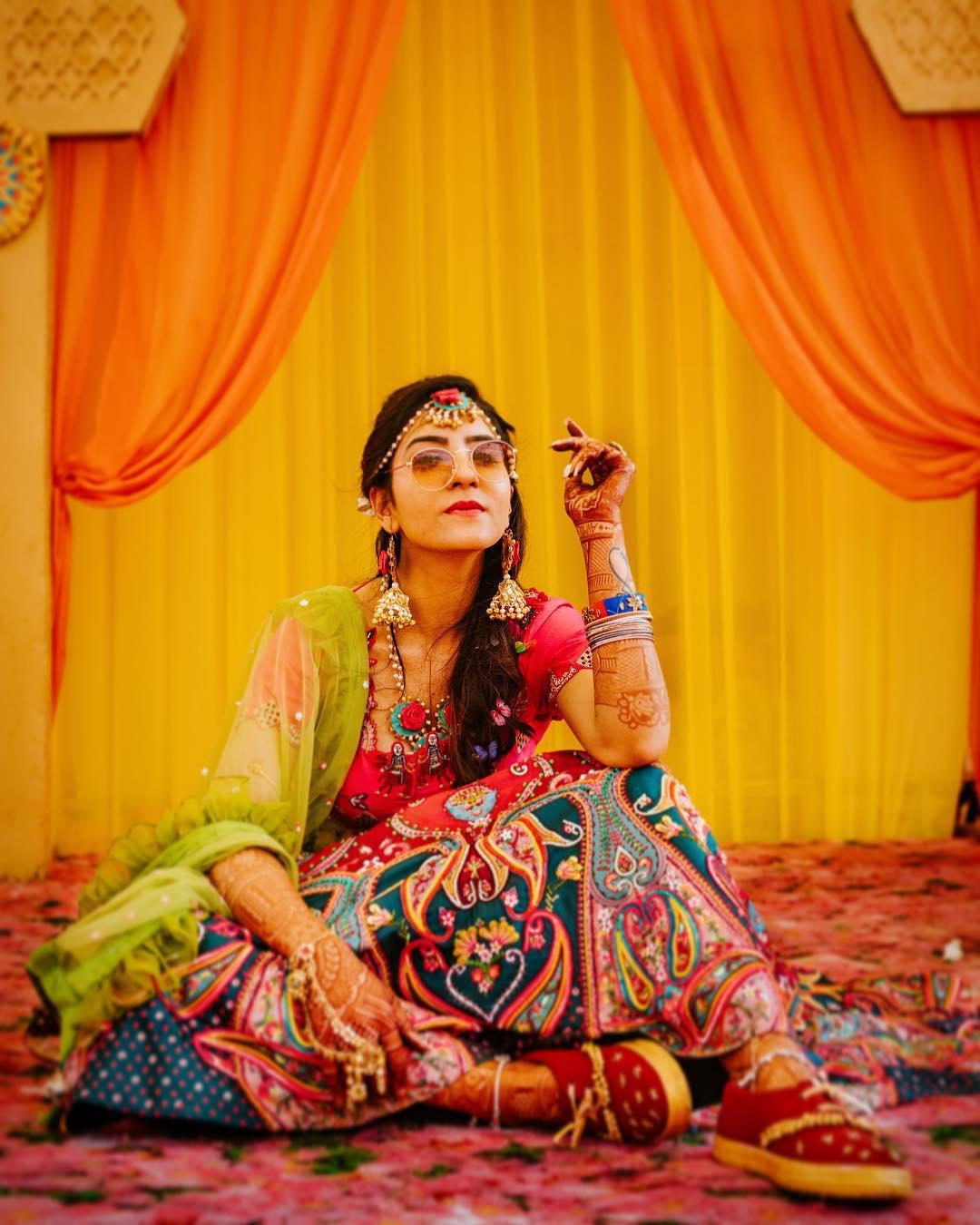 This Indian lehenga design option is a flawless blend of ethnic and boho style, which makes it a stunning piece. The colourful thread embroidery all over the lehenga-choli makes this the perfect option for a day-time Mehndi or Sangeet function.
Style tip: Pair this colourful lehenga with thread jewellery in different colours. This piece will complement every skin tone and while you're getting ready, remember that it is best to wear subtle makeup in the day time.
2. Royal lehenga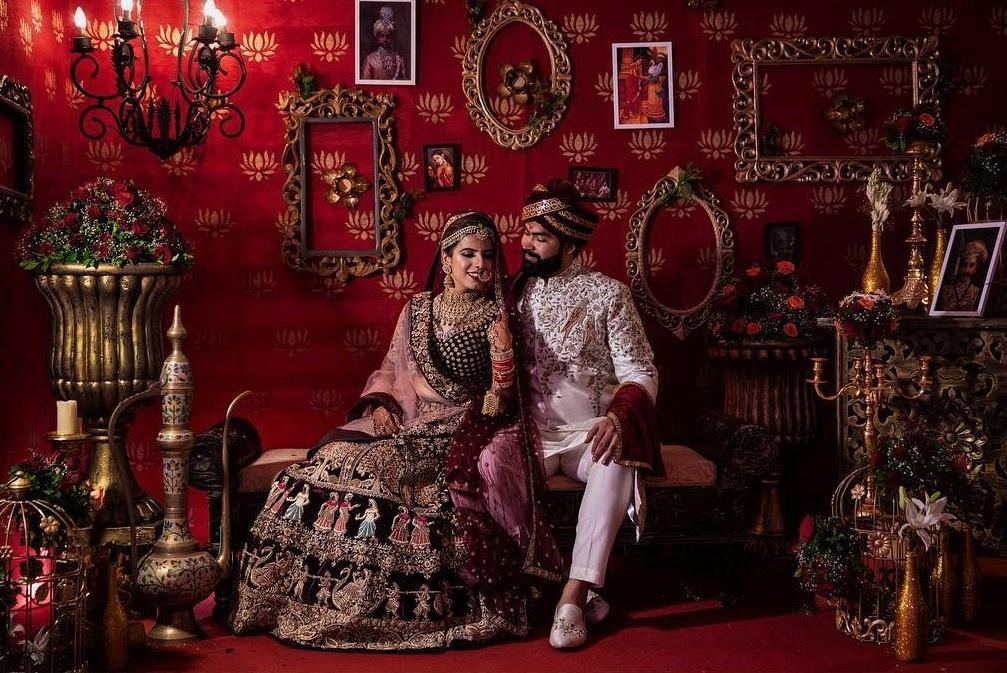 If you wish to adorn a royal look at your wedding, then this maroon Indian lehenga design with highly intricate patterns is perfect for you. The embroidery patterns of people give this a very Rajasthani vibe - what could be better for having a royal look?
Style tips: For this embellished lehenga, a contrasting dupatta works the best. Go for a double dupatta drape and wear a sheer one on your head. You can use the second, heavier dupatta to drape it in a saree style.
3. Glittery Red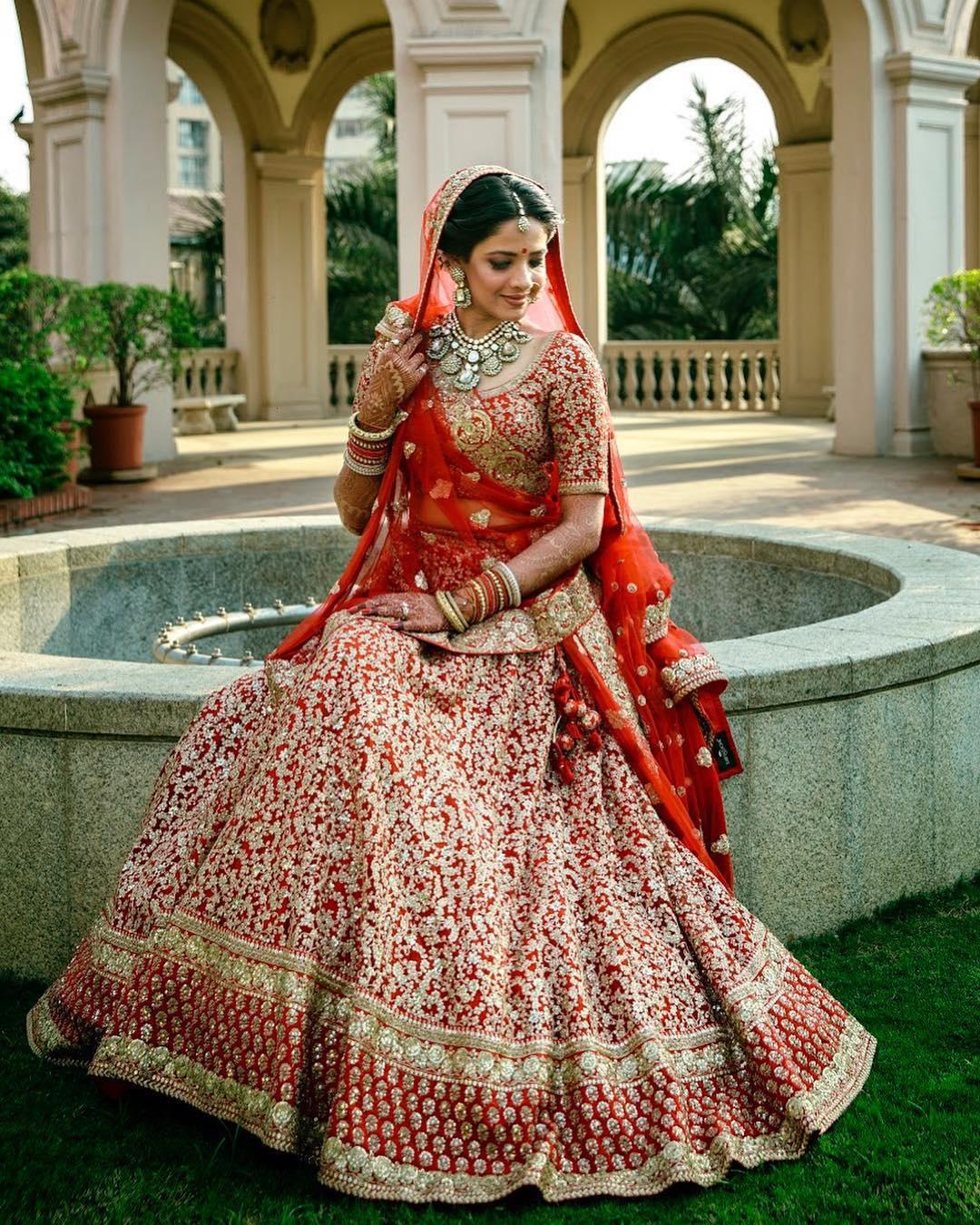 Red is every bride's favourite colour. If you are a bride that wants the traditional look, then this shimmery number is the one for you. This Indian lehenga design is a classic one, making it perfect for brides who don't want to stray too far from tradition.
Style tip: If you want to keep the look minimal, you can go for a no-jewellery look or pick a plain blouse.
4. Classic White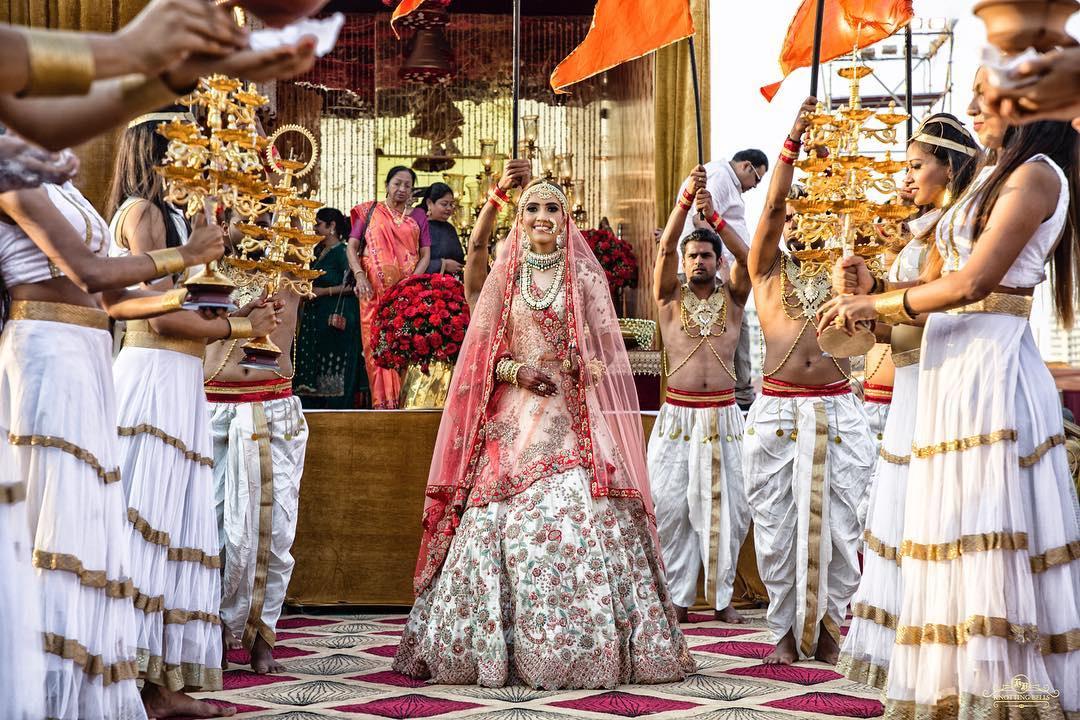 The white lehenga trend is a relatively new one in the market, and to be honest, it is a slightly polarising trend. Some brides believe that it's a great colour for the wedding look while others feel that white is too inauspicious. No matter which side of the argument resonates with you, there's no denying the fact that this Indian lehenga design is beautiful!
Style tip: A pink or red colour dupatta can help you make the look more vibrant.
5. Golden with yellow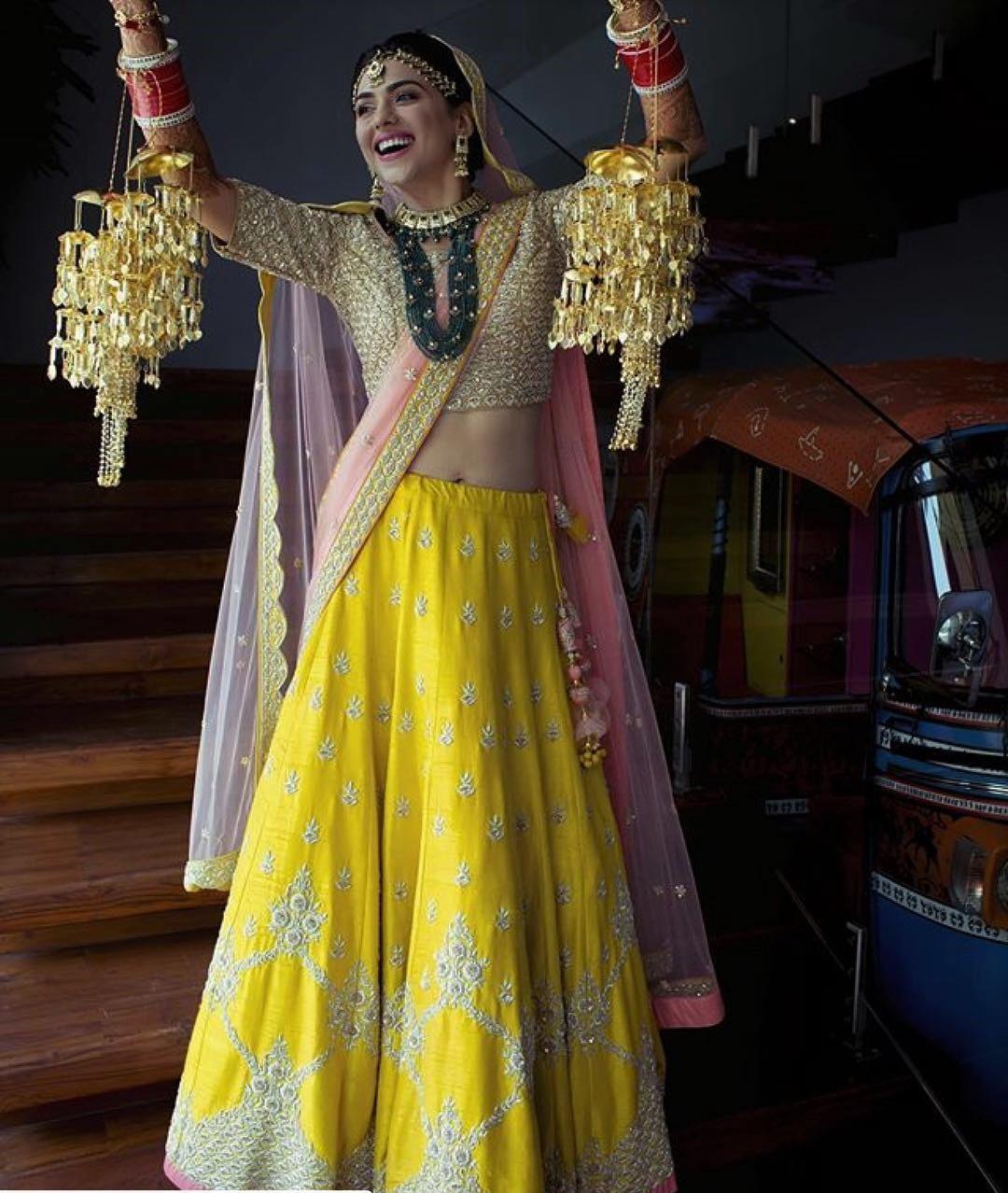 The bright yellow lehenga skirt looks really vibrant with the glittery blouse and the contrasting dupatta. Pick this look if you want a slight colour-blocking effect.
Style tip: Pair your look with contrasting jewellery pieces to enhance the colour-blocking look.
6. Powder blue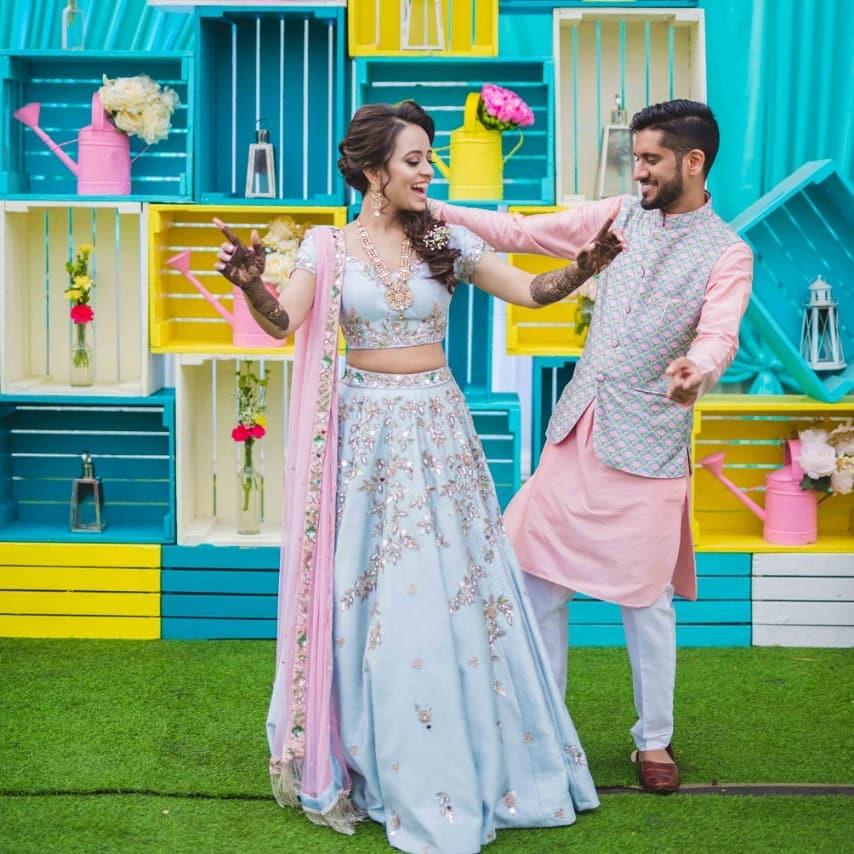 Powder blue is one of the many colours trending this season. Pick a light lehenga with a pastel dupatta and make sure you match your look with your bae! This image is the definition of #couplegoals!
Style tip: If you are planning to wear this for your Mehndi, then pair floral jewellery with the look, Baby pink and purple flowers will look great with this look!
7. Shades of blue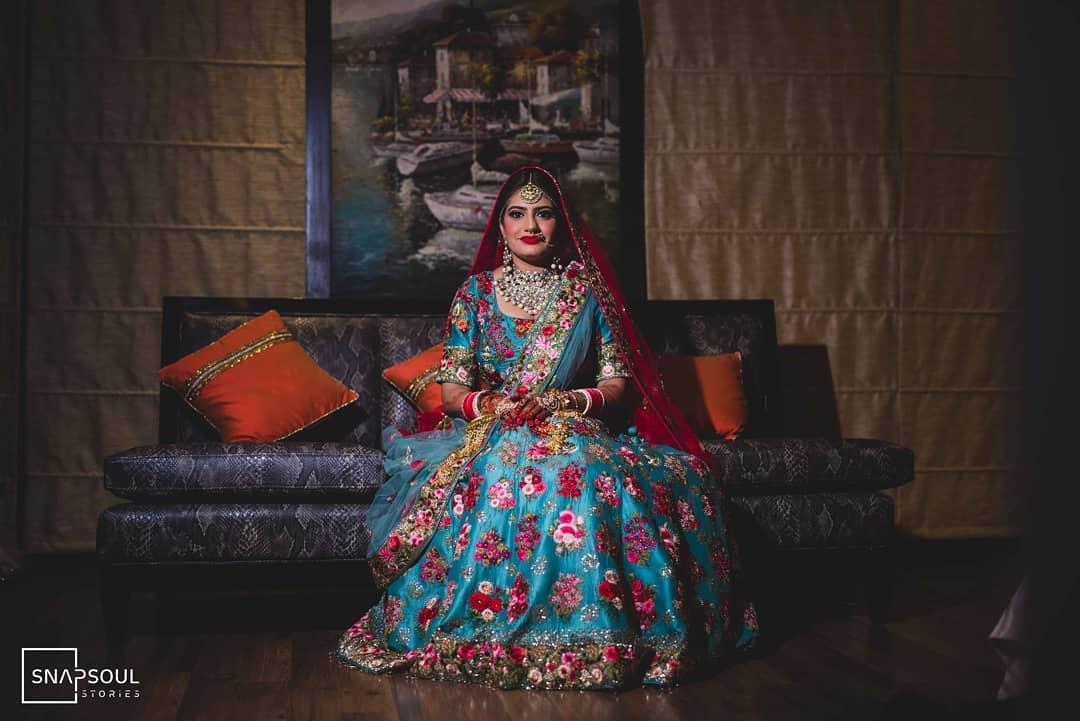 Not every bridal look must be a red one! Here's a bride showing us that you can totally rock the bridal vibe with a periwinkle blue lehenga too! This contemporary Indian lehenga design is perfect for Millennial brides. The colour combo of pink and blue is one that generally complements the Indian skin tones a lot, so do not worry about this not looking good on you.
Style tip: A gold choker will look stunning with this lehenga.
8. Vibrant lehenga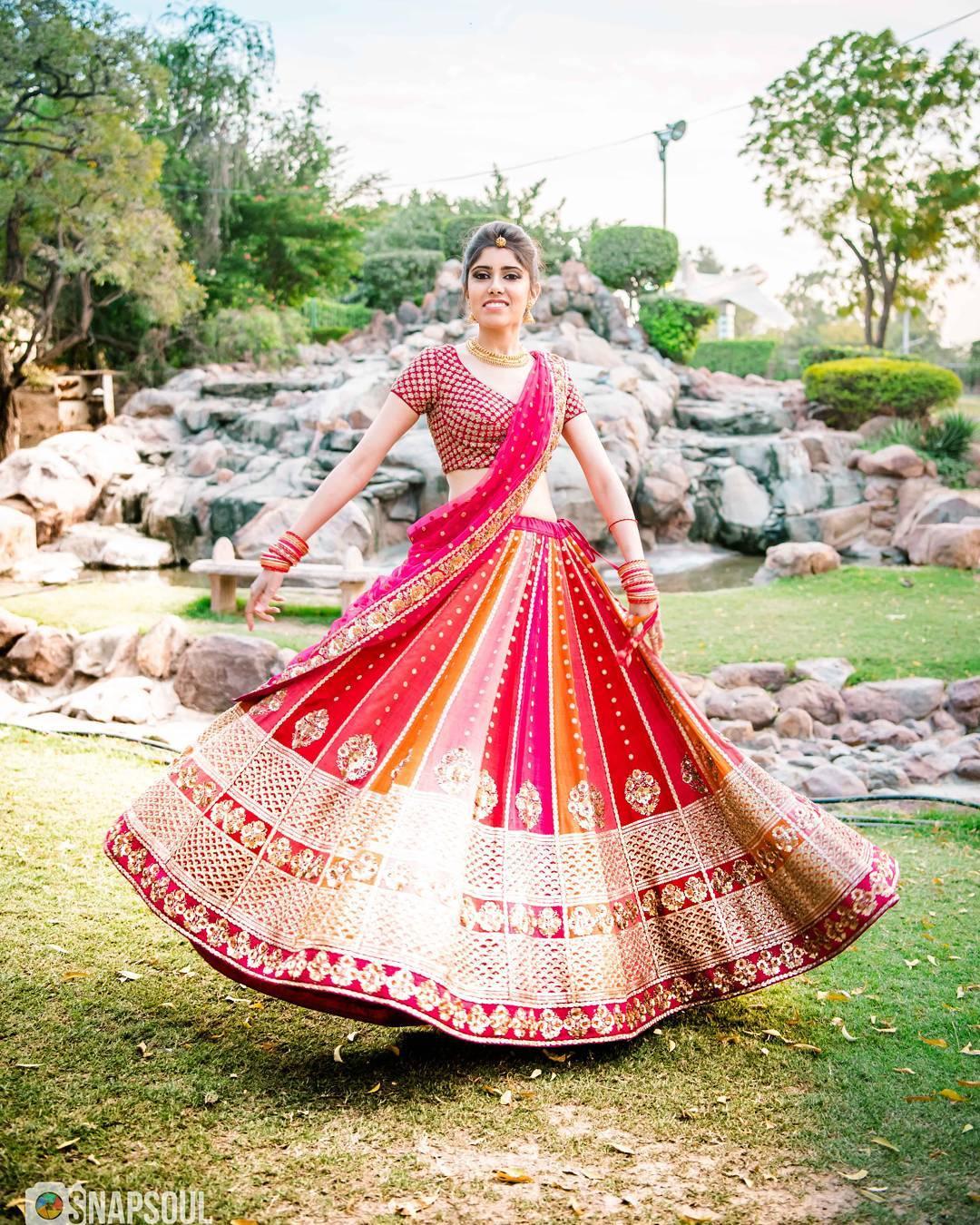 This red lehenga is a colourful one, making it ideal for brides who do not want to wear a monochromatic look. With red, pink, and mustard yellow stripes all over and intricate zari embroidery, this lehenga is a gorgeous one!
Style tip: Make sure that your dupatta matches at least one of the colours in the lehenga, otherwise the overall look can get a bit jarring.
9. Classic beige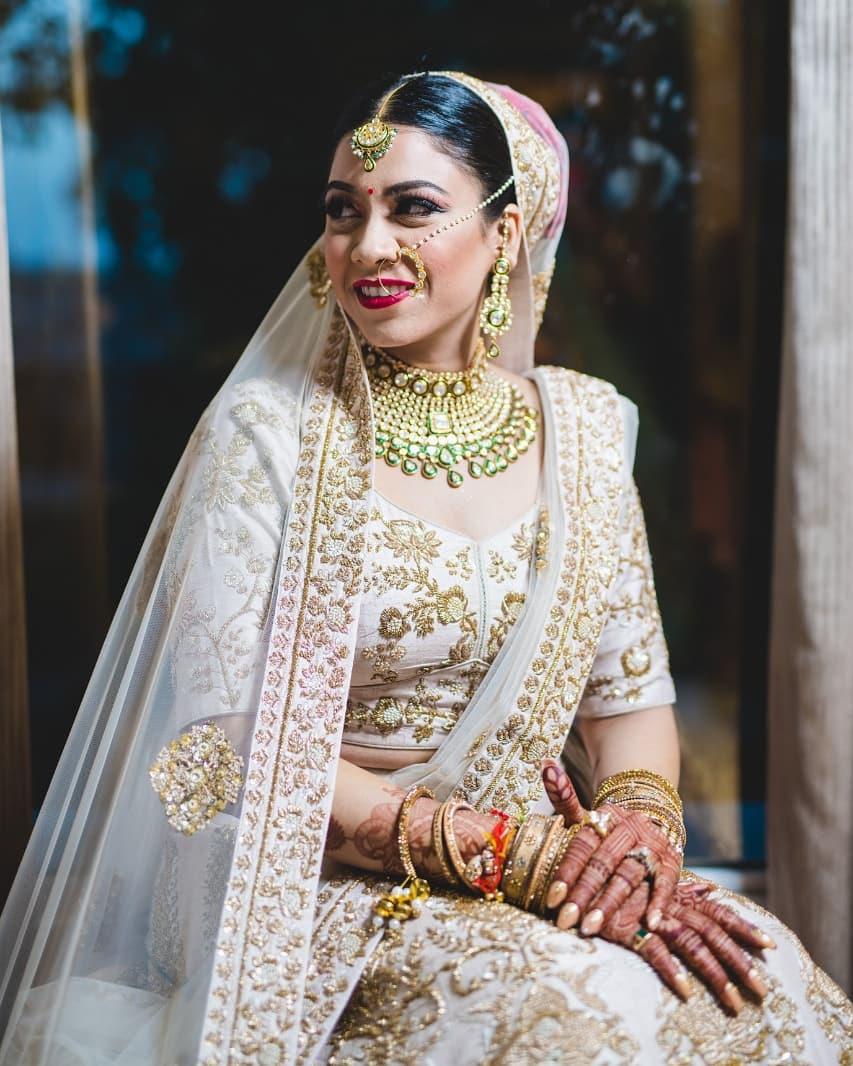 Contemporary brides want to wear a traditional lehenga with a modern spin, and if you are one such bride, then this beige garment with golden wire embroidery all over is the perfect pick. The sheer dupatta with stone patchwork embroidery makes this perfect for day and night weddings!
Style tip: The colour of the lehenga is light so you can get away with bold makeup. Kundan necklaces will look awesome!
10. Floral green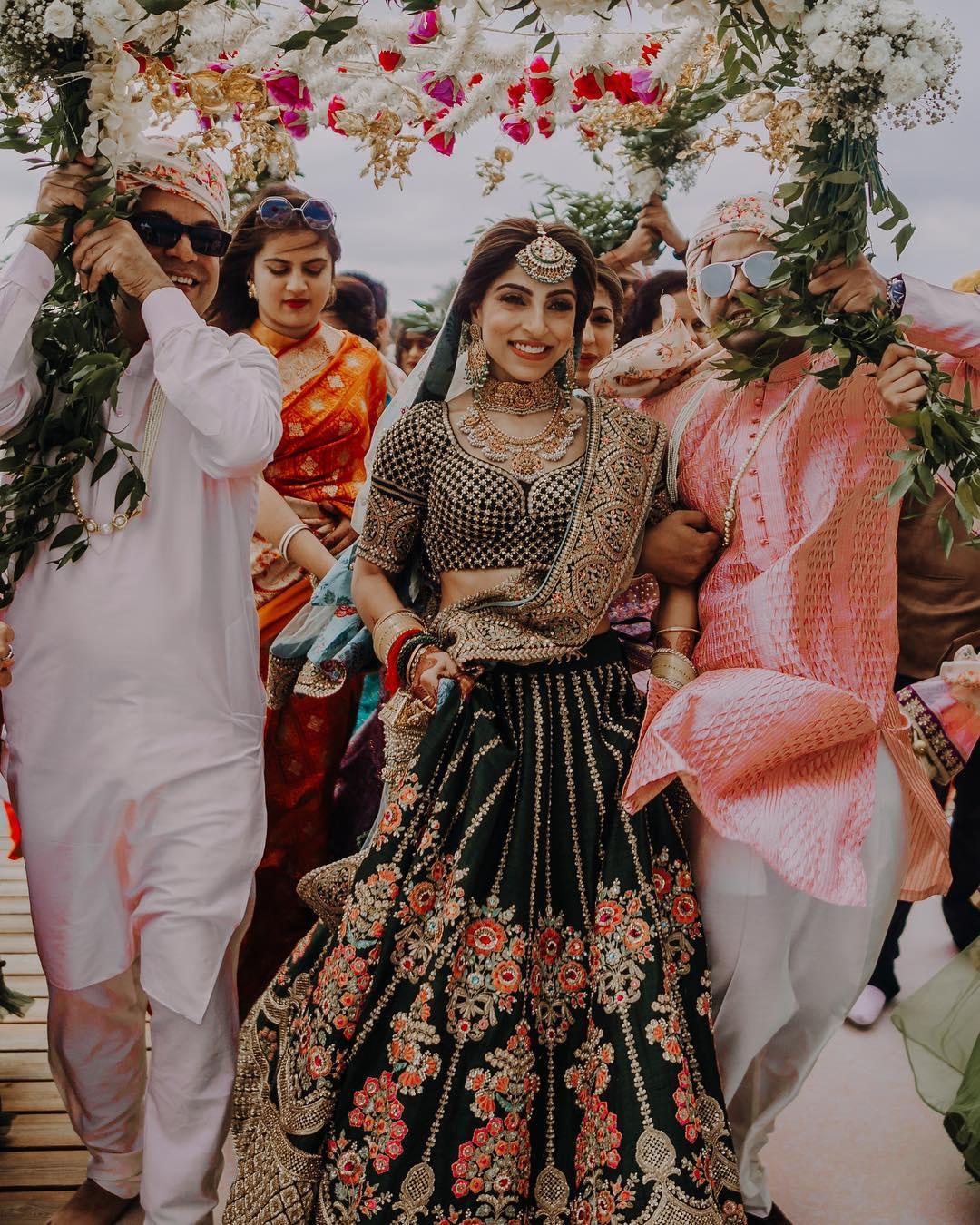 The bottle green colour is what that will make your bridal look stand out from the rest of the brides of the season. The intricate golden zari work is enthralling. The border of the lehenga and dupatta is what make makes the look so perfect.
Style tip: The lehenga will look perfect with some antique jewellery. The ensemble will look its best with simple makeup as the colour of the lehenga is loud!
These Indian lehenga design options are stunning pieces that show that these days when it comes to fashion, nothing is off limits! Whether you want to break tradition and ditch the reds, or are just looking for inspiration for colour-blocking, these Indian lehenga design options have them all.
Pair your look with the perfect jewellery. Check out these jewellery stores near you.