3 How to Make Flower Rangoli Steps To Guide You Through To A Great Decor Addition To Your Home
Want to add a touch of sheer beauty to your Shaadi Wala Ghar with all things natural? Well, all you need to do is learn how to make flower rangoli and that will take care of that. Here is a tutorial on how to flower rangoli with a few tips.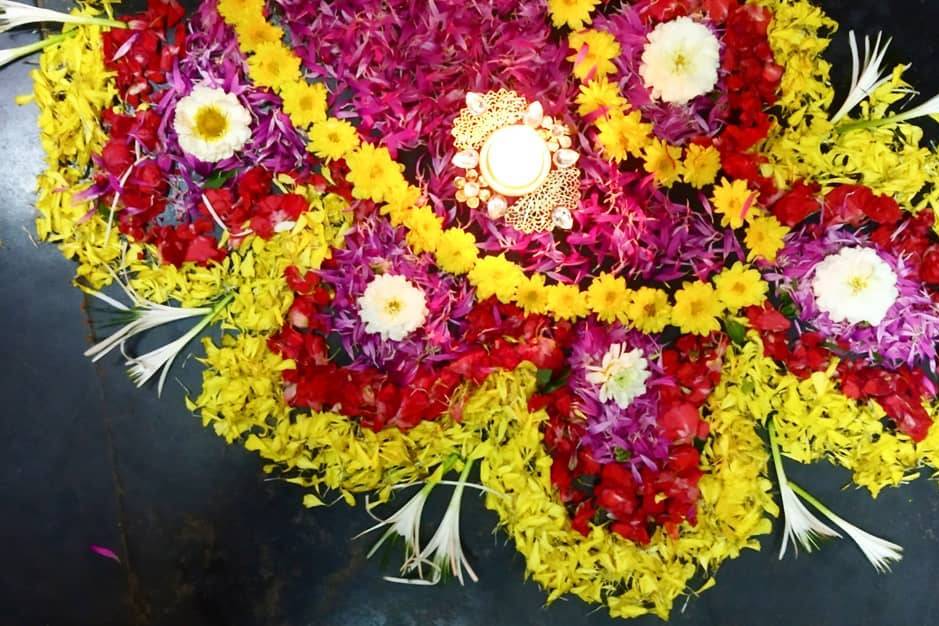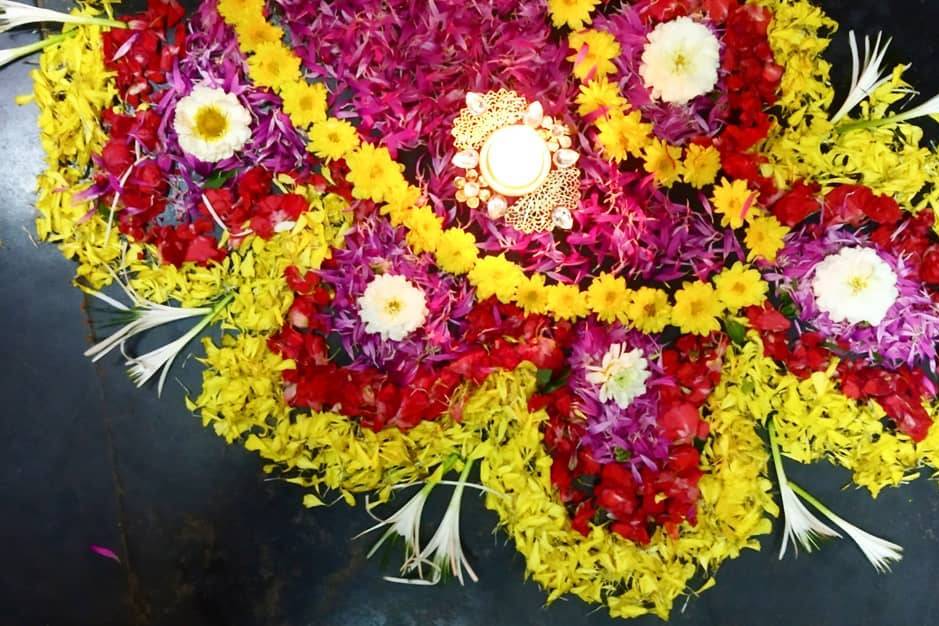 Image courtesy: Heart & Mind Creatives
A bride or groom's house before the wedding is more like a centre of festivities than anything else. If you or your sibling is getting married then you know what we are talking about. With so many people coming into the house during those days, it is understandable that you would want your house to look gorgeous, no matter what.
And yes, while wedding decorators will take care of decking up your house in the best possible way, there is a little something that you can do yourself to add that extra touch of colour and beauty - flower rangoli.
Say it with flowers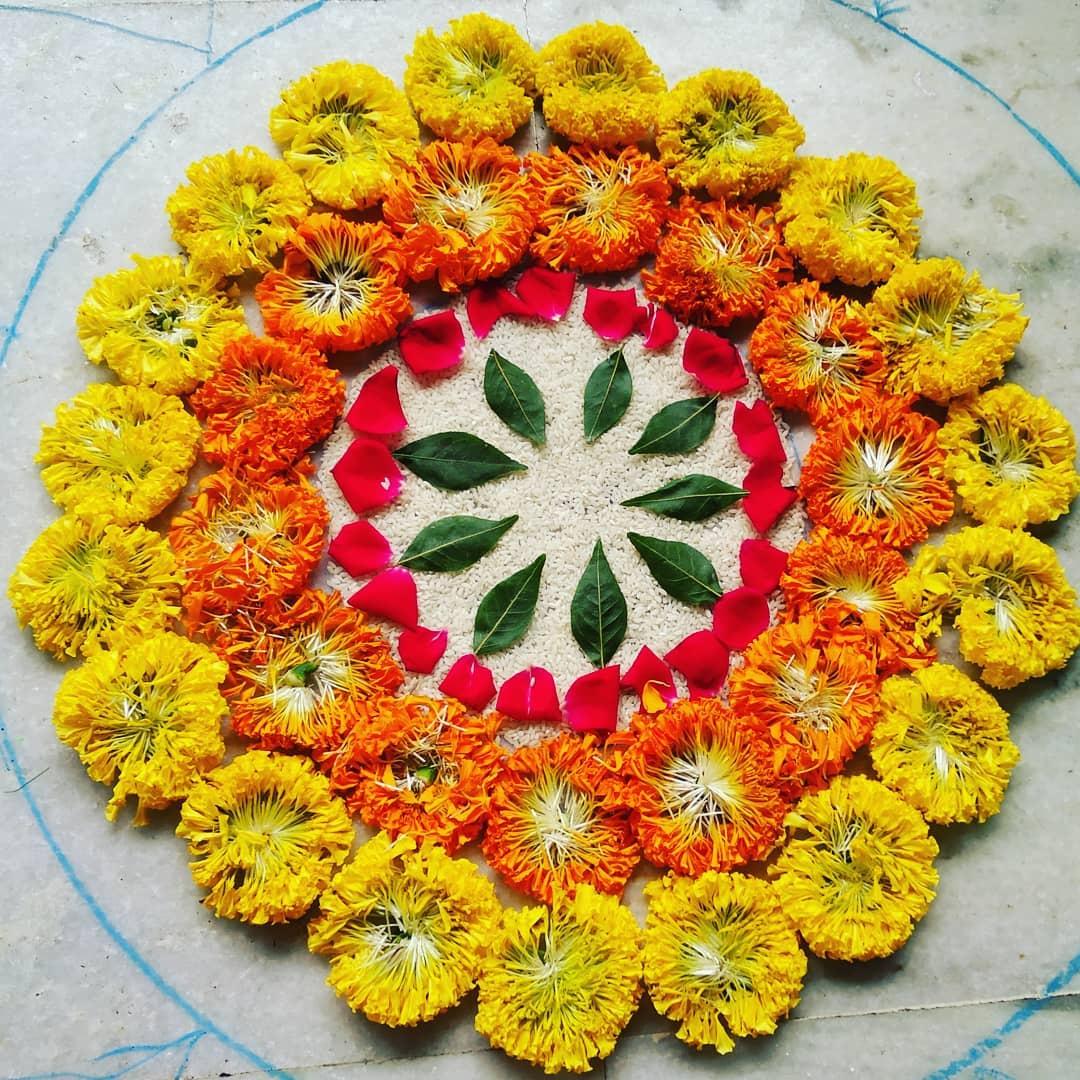 Image courtesy: Art Start on Instagram
We are sure you must have either seen or made at least one set of rangoli designs in your life and therefore you know that it looks so vibrant and pretty if done right.
There are many different kinds of rangolis. There are traditional interpretations in powdered colour or Gulal, while some people use coloured, broken rice. However, floral rangoli is by far the best one because that is the one that looks most colourful. In fact, this tutorial on how to make flower rangoli will add the power of natural goodness and floral fragrance to your doorstep, in a neat, DIY way.
Excited now and want to make a flower rangoli at your shaadi wala ghar too? We have got you covered. Here are some things you need to know about how to make flower rangoli. We have tips, tricks, types of flowers you can use, designs, all of that right here.
So what are you waiting for? Read on and brighten your house up!
Picking the right flowers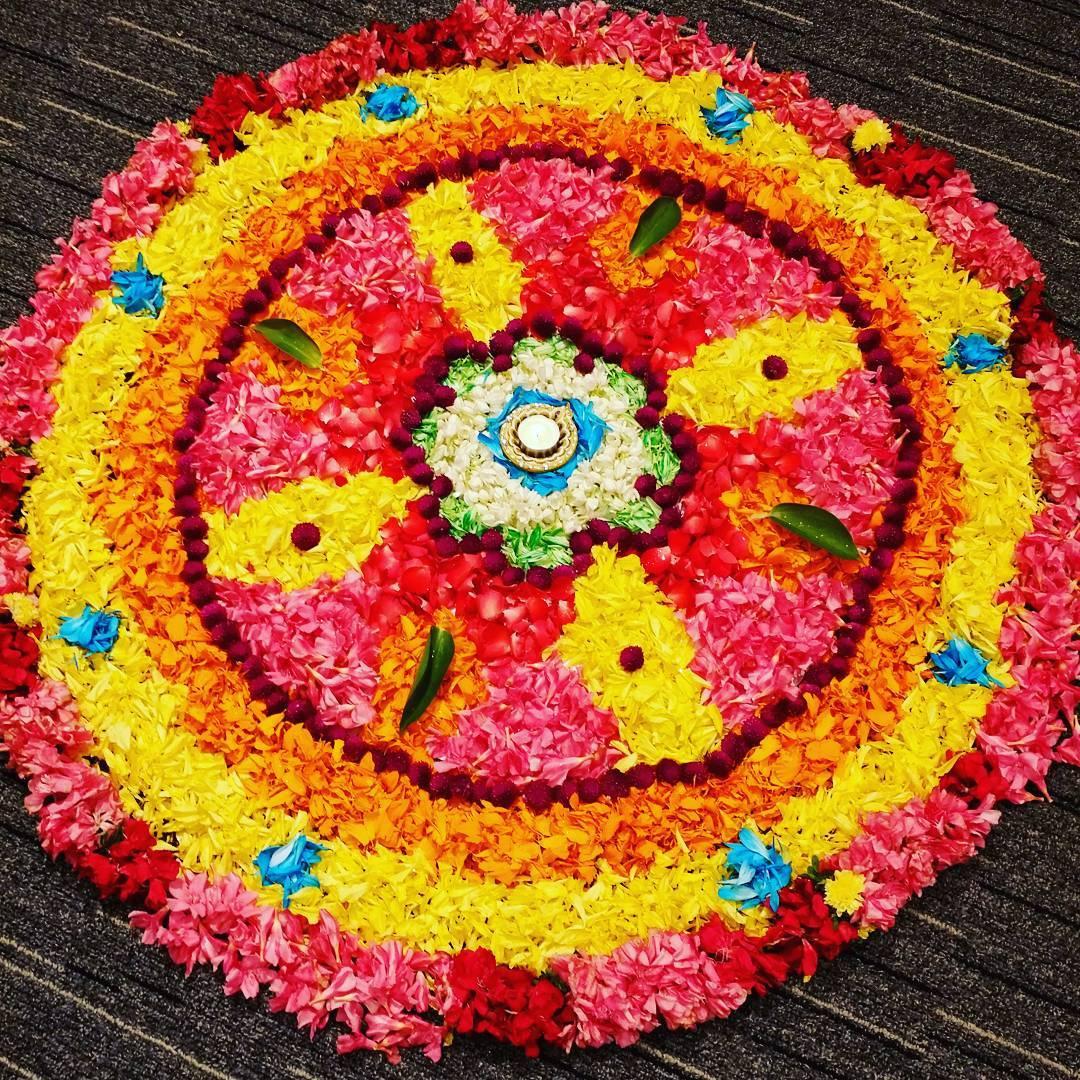 Image courtesy: NR Flower Rangoli
The first step when it comes to answering how to make flower rangoli lies in your careful choice of flowers. Not all blooms make the cut as you are looking for petals that will give you volume enough to make your designs a reality.
Choose flowers that are readily available, vibrant in colour and okay on aroma (you do not want it to be absolutely overpowering). Consider the following as they make the cut on all three conditions -
1. Marigolds - White, Yellow, Orange
2. Roses - Reds and Maroons (though you can try different shades and colours as well)
3. Jasmine, daisies - White
The rest of it depends on what all colours you would want for your rangoli, in which case you can choose the flowers based on the required colours.
Plan, design and lay it out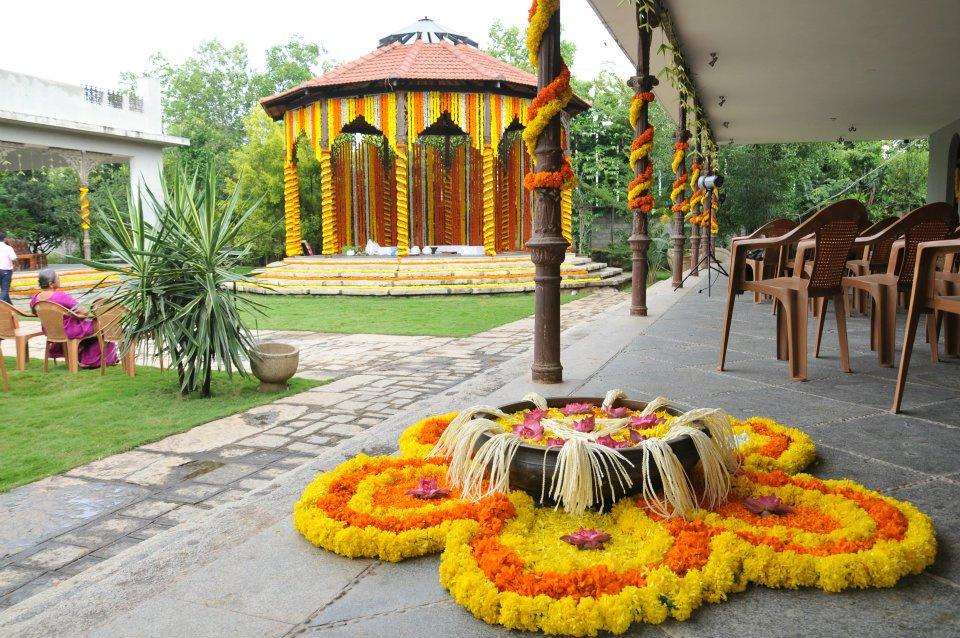 The next step in how to make a flower rangoli is all about planning it right. Here is how you can get it to your ideal decoration design.
1. Location, location, location
Start off by choosing a suitable location to set up the flower rangoli. You need to look for a spot where there is ample space, it is very visible but not a spot where your rangoli can be stepped on or be ruined by children.
2. Sketch it out
It's always advisable to come up with a rough sketch of your design before you begin laying it out with petals. Do it twice - once on a paper or a tab and the next time with a pencil or chalk at your desired location.
Do this especially if you're a newbie, Googling how to make flower rangoli with one hand and laying it out with the other.
3. Fill it in
Now, pick your plate of petals and begin to fill your design in. Cover the design with flowers and be careful with the edges.
Fill in the details at the end. Remember, floral rangoli designs will not always be exact in nature, but their rough edges will still entice hearts.
4. Be mindful of the time
This little detail is often not part of tutorials on how to make flower rangoli, but it is equally important, especially if you're a bridesmaid or even the bride-to-be.
Making a flower rangoli is very simple but it takes time. The number of hours it will take totally depends on two things - the size of the rangoli and the intricacy of the design. If it is a small-ish simple design then you might get done within an hour, but if it a big one with tiny details then you will take longer.
It still takes lesser time than a traditional rangoli design with colours or rice, as it's still rougher and flowers take up space much faster. So, plan your rangoli when you have ample time on your hands or delegate it someone who has it.
Floral rangoli design inspirations for home
Now that you know how to make flower rangoli for wedding, what flowers to use and also have an approximate idea of how much time you will have to devote, you must be wondering about the various kinds of designs that you can opt for.
The most sought after flower rangoli designs are round ones. Here are a few pictures that will help you.
1. Simple round designs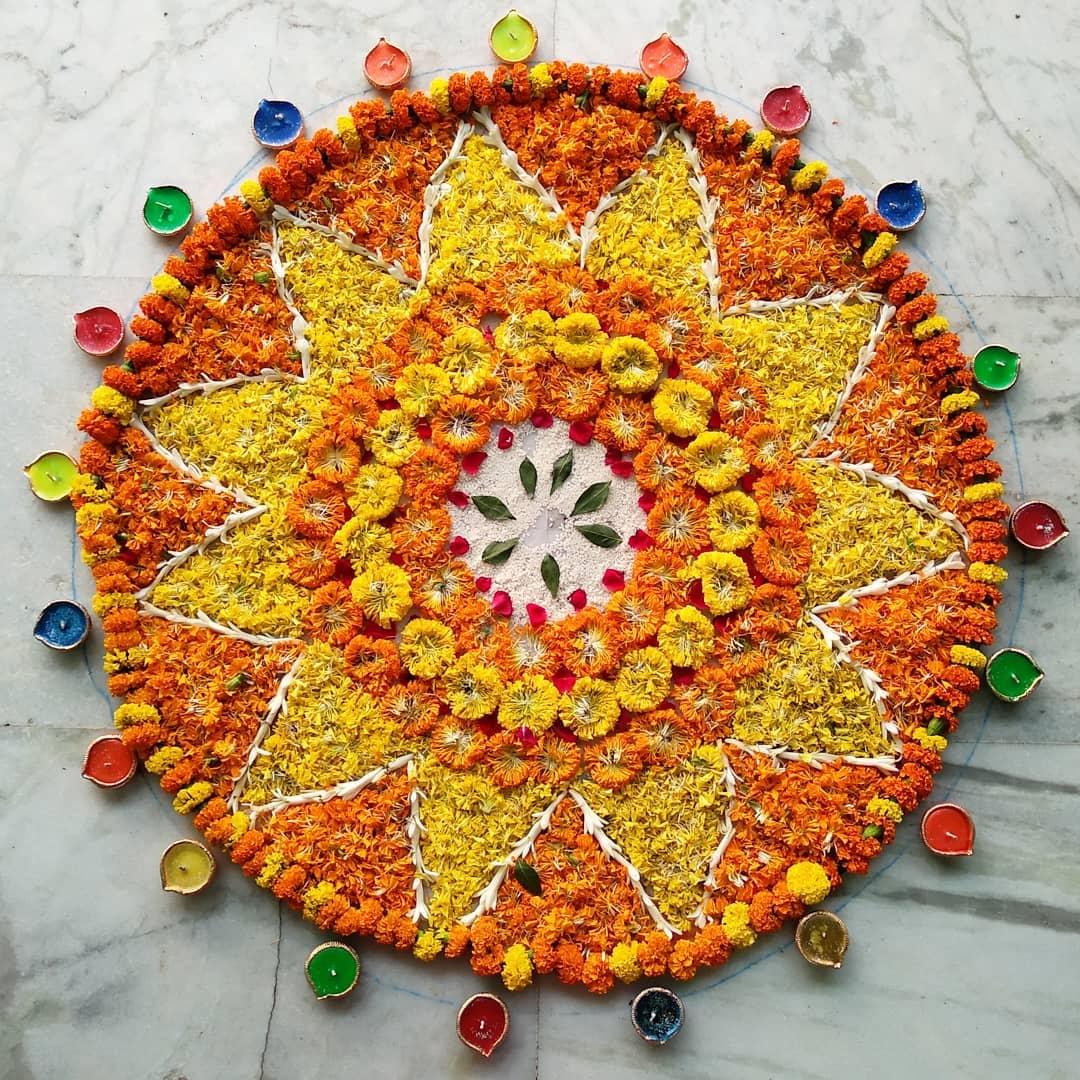 Image courtesy: Art Start on Instagram
You can opt for a simple round design with flowers arranged in an aesthetic manner. The best way to bring out the beauty of a flower rangoli is to decorate it with Diyas or gel candles.
2. Go for God images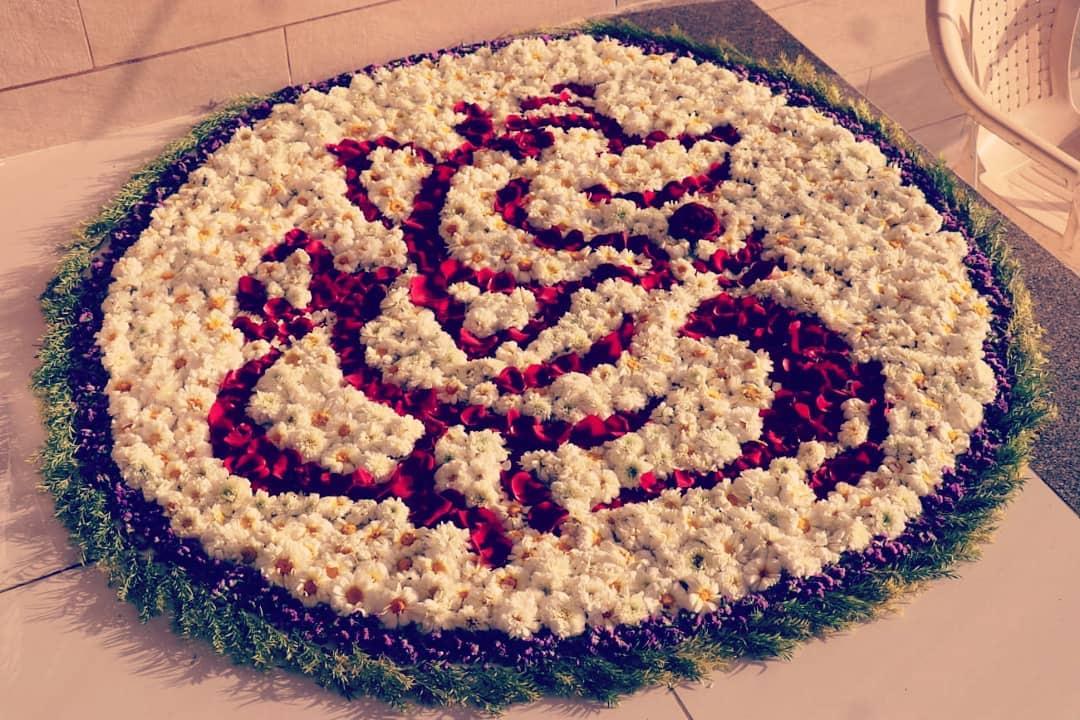 Image courtesy: Maruti florist on Instagram
You can also go for God figures, especially when making a flower rangoli for an auspicious occasion like a wedding. This one here with the outline of Lord Ganesha set amidst red roses is looking quite beautiful.
3. Contemporary, modern designs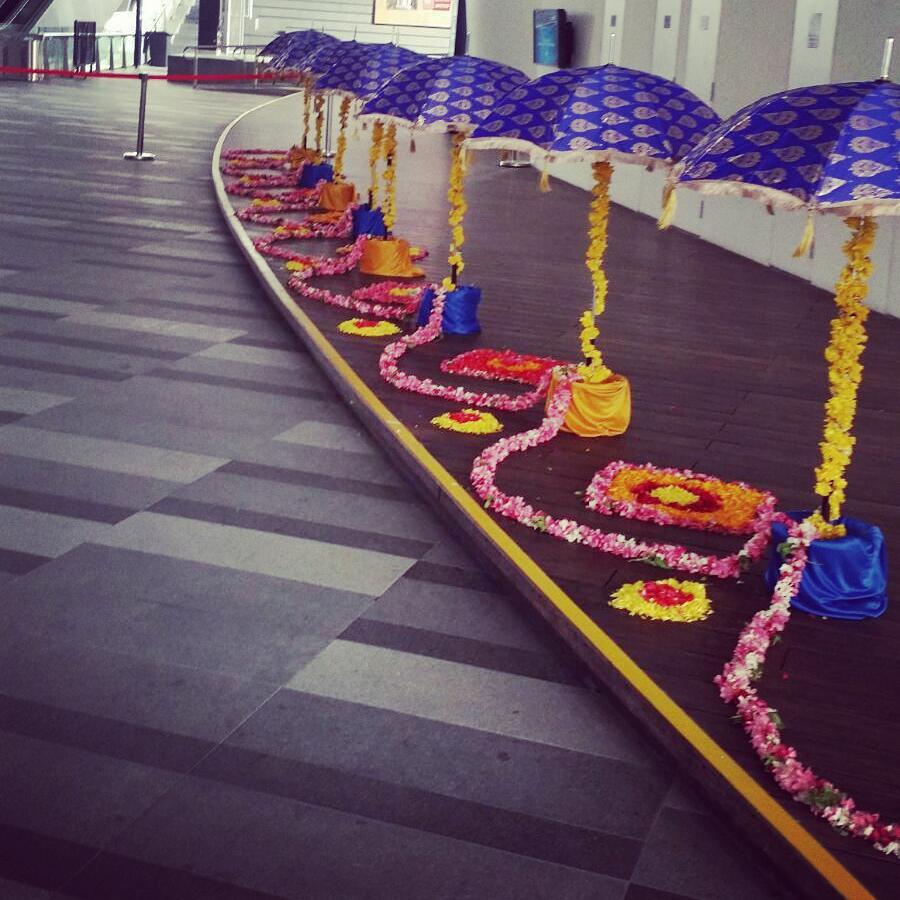 Image courtesy: NR Flower Rangoli
You can also go for a contemporary and modern design like this one. There is one huge benefit with these kinds of rangolis, they look quite pretty and minimalistic and are very easy to make.
We just loved going through all of these colourful rangoli photos to pick out these special tips for you and we really hope you liked what you saw. Now you know all the answers to how to make flower rangoli, how much time it might take and all other tips. So, are you getting down to work or what?!
If you have any more questions about how to make flower rangoli, then drop them in the comments section and we'll be happy to help.