A wedding Rangoli is an elegant and beautiful way to give colour to different corners and areas within your wedding venue. If you have been looking for wedding decoration ideas, you'll notice that while there are remarkable ways to do up the décor, the floor is hardly taken into consideration. And what's a wedding décor unless it's top to bottom wedding-worthy?
Wedding Rangoli is the perfect way to give your floor, pathways and corners the much-needed beauty element. Wedding Rangoli, traditionally, is an art form that uses loose coloured powder to create intricate designs. Another way to create stunning wedding Rangoli is using colourful flowers or petals, and finally the option to paint the wedding Rangoli pattern on the floor.
Coloured Powder Vs Floral Wedding Rangoli
Wedding Rangoli made with coloured powder undoubtedly makes for a stunning visual. It requires a lot of practice, patience and creativity to be able to make neat Rangoli patterns with the powder. That's the first reason, floral wedding Rangoli is much more popular today. It takes much lesser time to create floral wedding Rangoli patterns and it's definitely much easier to make them.
Another drawback with powder Rangoli is that it's easily spoilt. One step on it, or a strong wind blow and it's likely to get spoilt. On the other hand, floral Rangoli is resistant to winds, and can even take on a step or two.
Why not paint? You can, but cleaning up a painted wedding Rangoli is a major task if your venue allows it at all. That said, coloured powder wedding Rangoli is a traditional wedding décor and can create a look that flowers or paints can never match. You could create a powder Rangoli on a table or a raised platform for that traditional Rangoli touch to your wedding venue. Take inspiration from this Rangoli picture that displays a beautiful wedding Rangoli welcome sign:
Final Verdict: Floral Rangoli is a much better option. It's easier, does not compromise on beauty and can easily stay picture perfect all through the wedding ceremony.
How to include wedding Rangoli in your décor?
Planning the wedding Rangoli comes after you have planned the other bigger and bulkier things, like, seating, stage, tents, fabrics, colour themes and carpeting. Wedding Rangoli are the finer touches that enhance the larger details of your wedding décor. For example, once your entire décor is decided, you realise there's a corner that may look empty but does not have enough space for a large design element. You could create a wedding Rangoli there, with Diyas and lamps to make it a statement corner in itself. Get the idea?
Here are some great ways to naturally fit in a wedding Rangoli design to your wedding décor:
1. Line the Entryway
While you may have thought of a beautiful arch for the entry to the venue, the path along the entry is often left blank and dull. If it's a night-time event, you can easily line the entryway with lamps or lights, but for day wedding you can add a wedding Rangoli border to line the way in. This can be further enhanced with lights or Diyas for an evening wedding function too. Create a symmetrical wedding Rangoli border on both sides of the entry for a refreshing welcome.
2. Dress Up Corners
You will notice that every venue has some corners that are too small large design elements and too big to be left empty. This is a great place to add a wedding Rangoli with brass lamps or pots to create a delightful visual. It dresses up the corner and makes for a statement spectacle.
3. Give Colours to the Greens
If you have an open wedding venue, you'll have a hard time figuring out how to include the trees and plants into your wedding décor. One of the simplest ways is to create a wedding Rangoli pattern at the base of the trees or around the plants. The beautiful colours of the flowers look great against the natural greens.
4. Define Pathways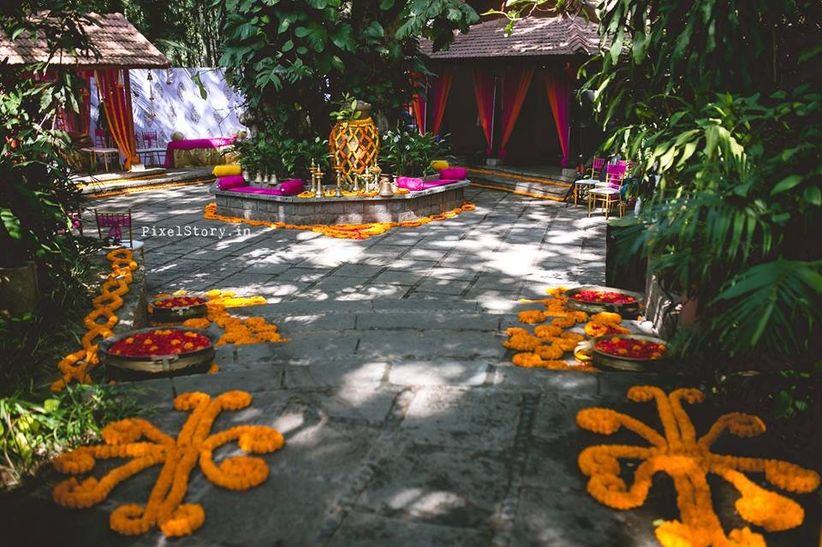 Creating a pathway to help define pathways within the venue with wedding Rangoli can add a defining character to your wedding décor. Mark the way up to the Mandap or line the pathway that leads people to the stage.
All these wedding Rangoli placements and ideas can be achieved with both flowers or coloured powder Rangoli. We've given our case, but you are the best judge for your own wedding!
Where will you include the wedding Rangoli at your venue?