Find Out How to Do Makeup Step by Step for Every Look You Can Imagine!
Need to head out for a wedding and want to look your best? Check out this how to do makeup step by step guide that covers various basic techniques!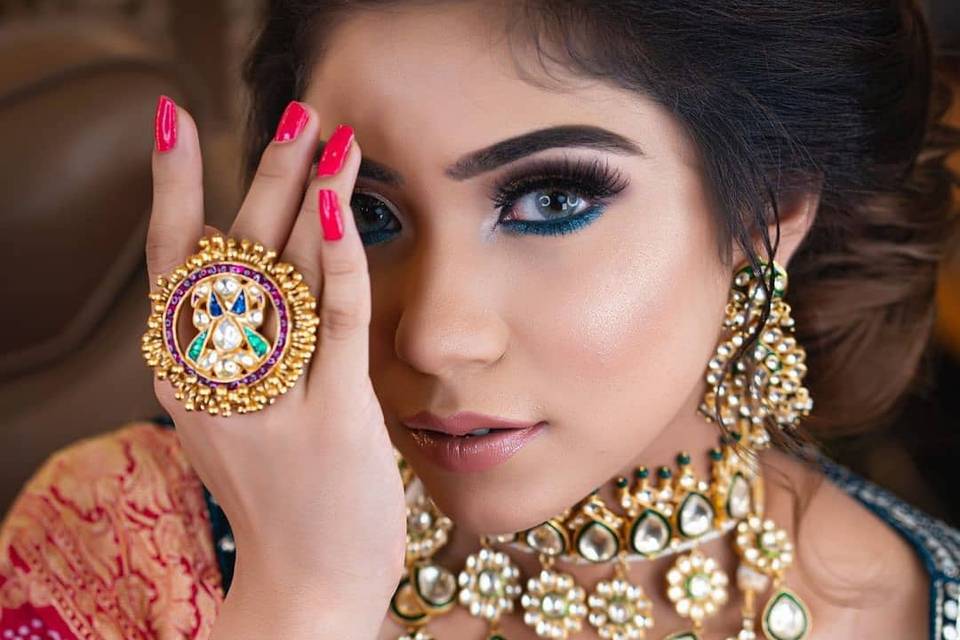 With a family wedding on the cards, you must understand how to do makeup step by step so that you can feel confident and look your best at any event! Although your favourite beauty guru may tell you otherwise, you can create a great makeup look with just a few products (and just a few steps!). Putting your makeup on really does not have to be a 2-hour event!
Our how to do makeup step by step guide is for all you women who have many things to do and cannot block out 2 hours from their schedules just to get ready for a party!
How to do makeup step by step for the natural look?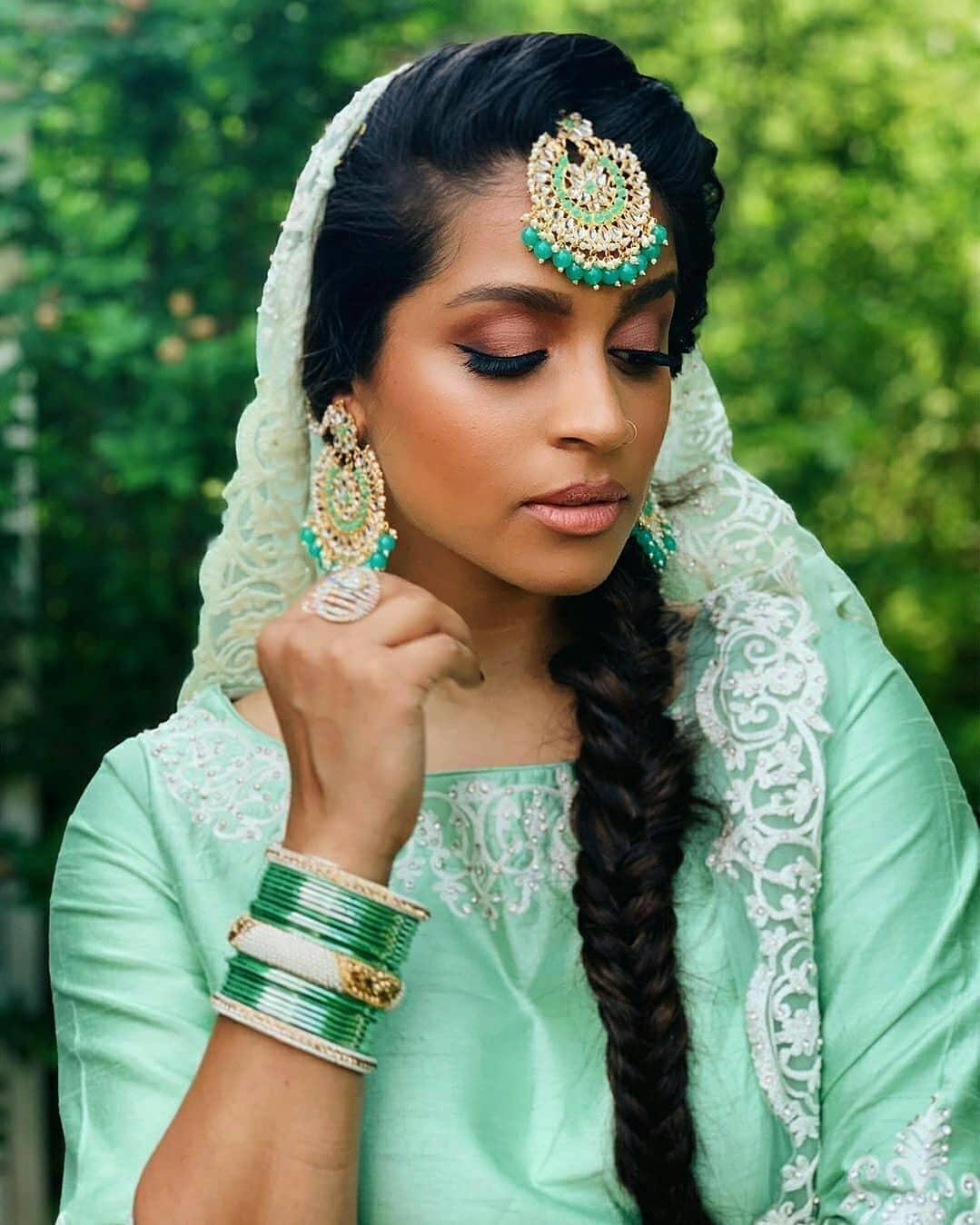 Image Courtesy: II Superman II
If you want to create a natural look, you must stick to products that are closer to your natural tone. The aim of doing such makeup is to basically look like you wake up flawless – because the media doesn't do a great enough job of making women feel inadequate, we must now all buy into the illusion of waking up flawless. Yay.
Here are the steps for the same:
Apply a sheer foundation all over your skin with the help of a thick foundation brush or a blender. If you have textured skin, you'll need a heavier foundation. It Cosmetics has a product called Your Skin But Better CC Cream and this can be a great option for this look. You can also check out NARS Velvet Matte Skin Tint SPF 30.
Now its time for the eyes. Lilly Singh's makeup artist chose a brown shade that has mild pink tones for the crease and also used the same shade at the inner and outer edges of the lid. The centre of the lid has a nude pink shade that has notes of brown (pretty much the opposite of the crease shade), and this helps make the eyes seem larger than they are. Both shades look fairly matte in the picture. If you're a glossy girl, take colourless or bronze highlighter and tap it lightly over the pink shade. You can also add the same to the inner corners of the eyes. Finish the look with a light swipe of liner and mascara.
For a natural look, don't be heavy-handed with the concealer. Apply it by dotting it under your eyes and problem areas, and then blend it into the foundation with a beauty blender.
When applying your contour, go super light for a natural look. Here, it looks as though Lilly's makeup artist has used a bronzer where one uses the dark contour shade to make it look like a natural shadow.
When going for a natural look, keep the lips nude. Here, the lips are outlined with a dark brown matte pencil, with a nude pinky shade at the centre (the effect is very similar to the eyes, which contributes to the natural look).
How to do makeup step by step for a glamorous look?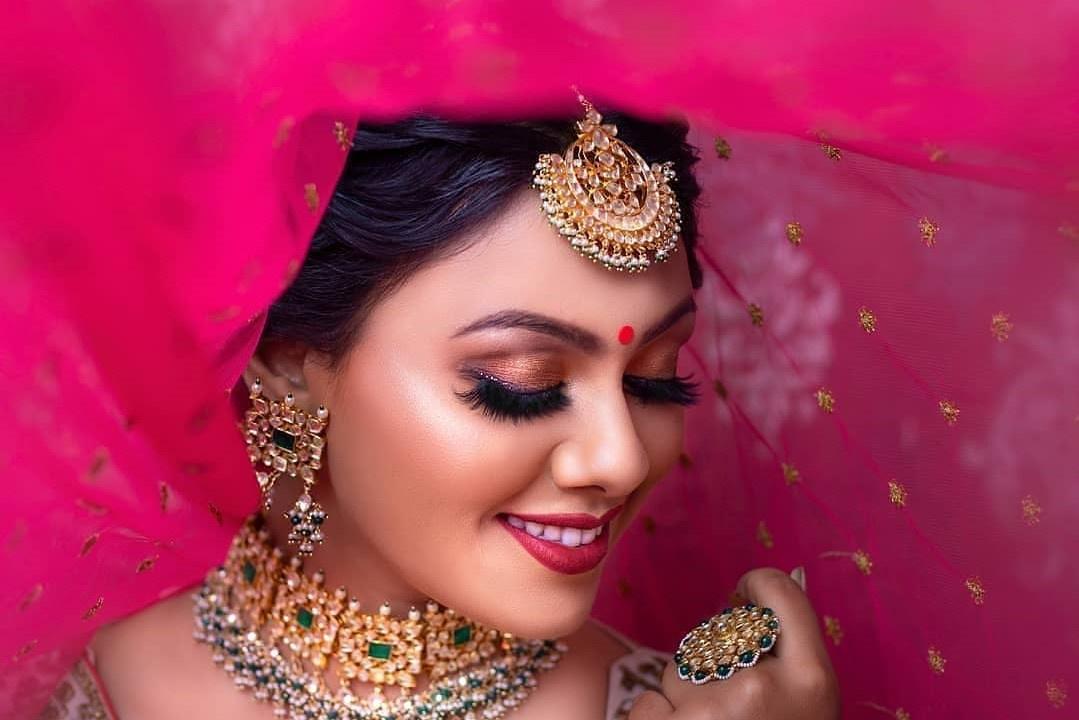 Image Courtesy: Sunny Patel
A glamorous look involves a few more steps and cares when compared to the natural look. This is something you can wear to the Sangeet or the main wedding ceremony as it is quite heavy and will complement a dressed-up look more.
If you're wondering how to do makeup step by step, follow these:
A glamorous look calls for a full coverage foundation. Urban Decay recently launched its new foundation known as Stay Naked (it comes with a concealer) and it is a great high-coverage option to try. Apply it all over your face, ears, and neck for complete coverage.
Use Mac's Paint Pot on the eyelids to prime them for what's to come! With the look in the picture, we cannot really see her eyelids, but we're assuming it's a black smokey eye. There are two ways to create a black smokey eye – the first is by going from brown to black, and the second is by going from grey to black. Judging by the pop of silver in this bride's inner corner, the makeup artist must have gone with the latter. Do to so, you need dark grey transition shade that you blend outwards with a fluffy brush. Use a slightly lighter grey shade on the lid, and end with a black shade on the outer corner. Blend the edges of all the shades together so that it looks like a smooth transition rather than blobs of colour. Pop that high-shine silver at the inner corner and you will look great.
To match the bride's ensemble, the makeup artist has applied a light line of Kajal in the eye, and then a stroke of blue pencil liner (or eyeshadow – both work), under the lashes. She then took a tight smudging brush and smoked-out the look.
Create a wing with jet-black eyeliner and pop on Huda Beauty's Farah lashes to complete the eye look.
Apply high coverage concealer under your eyes by swiping under the eyes, and pulling it down to the cheekbones. The shape you must create should look like an inverted triangle.
For this look, you must contour well. Apply dark contour shades to the sides of your nose, the tip, under the cheekbones, the hairline and the jawline. Blend them until they perfectly create shadows.
Go for a lip shade that is not too overbearing!
Now, these are only two main examples of looks that you can create with your makeup on your own. You definitely do not have to commit to either a very glamorous or a very natural look. Mix and match for a result that totally expresses who you are! This how to do makeup step by step guide only aims to show you some basic techniques that you can use and home and experiment to create great looks with.
If you are still wondering how to do makeup step by step, check out all our other articles that detail specific looks and how to create them. Also, if you are wondering about how you can get by with a very basic kit, check out our article on building your own affordable L'Oreal makeup kit!
If you are stepping out for a big event and don't have time to do all this yourself, hire a makeup artist!