5 Hindu Wedding Invitation Card Design Ideas You Must See Now
Looking for the latest modern Hindu wedding invitation card design ideas for your traditional Hindu wedding? Take a look at these prints for your wedding invite.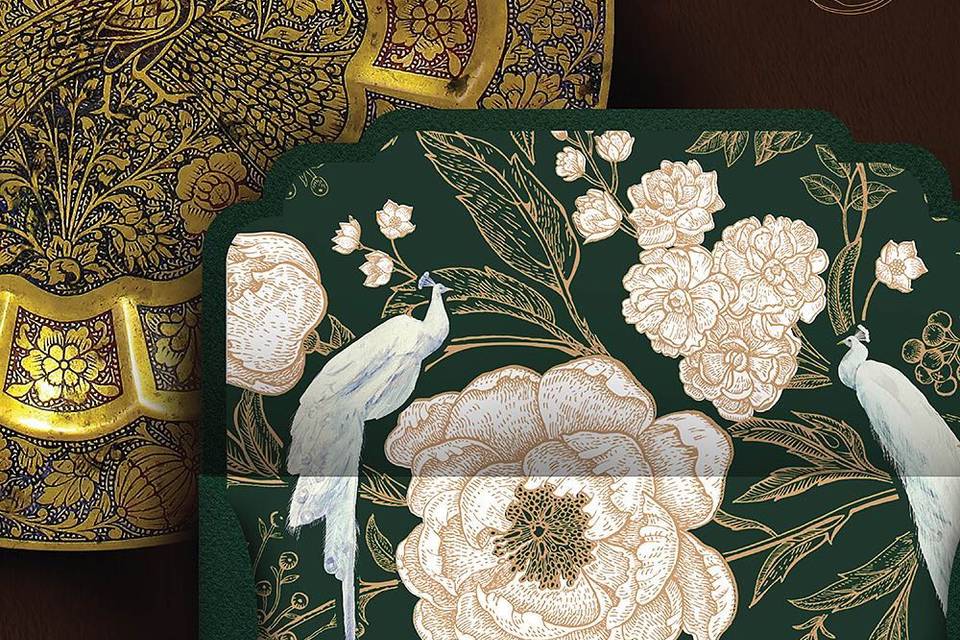 If you are right here reading this article then obviously you are looking for the perfect Hindu wedding invitation card design for your lovely Hindu wedding. Here are some of the lovely prints and designs inspired by the Hindu culture and wedding traditions. These are full of God images, abstract designs, gold prints, exotic Indian flowers mostly associated with Hindu Gods and Goddesses and what not.
All these fantastic designs work wonders when it comes to the ultimate search for the most hatke Hindu wedding invitation card design.
The Hindu Wedding Invitation Card Design Guide
You can keep all these in mind and take your favourite elements or ideas and then make something absolutely unique for your own wedding which compliments the personalities, tastes or the love story of the new couple. Doesn't it sound exciting to you? These might sound some of the basic wedding card elements to you but their projection on to the wedding invites definitely make them a modern version of the Hindu wedding invitation card design.
Whether it is the choice of colours, patterns, form of the card or the very style of the design, something or the other in each design makes it stand out from the rest. Let's get started.
1. The Abstract Ganesha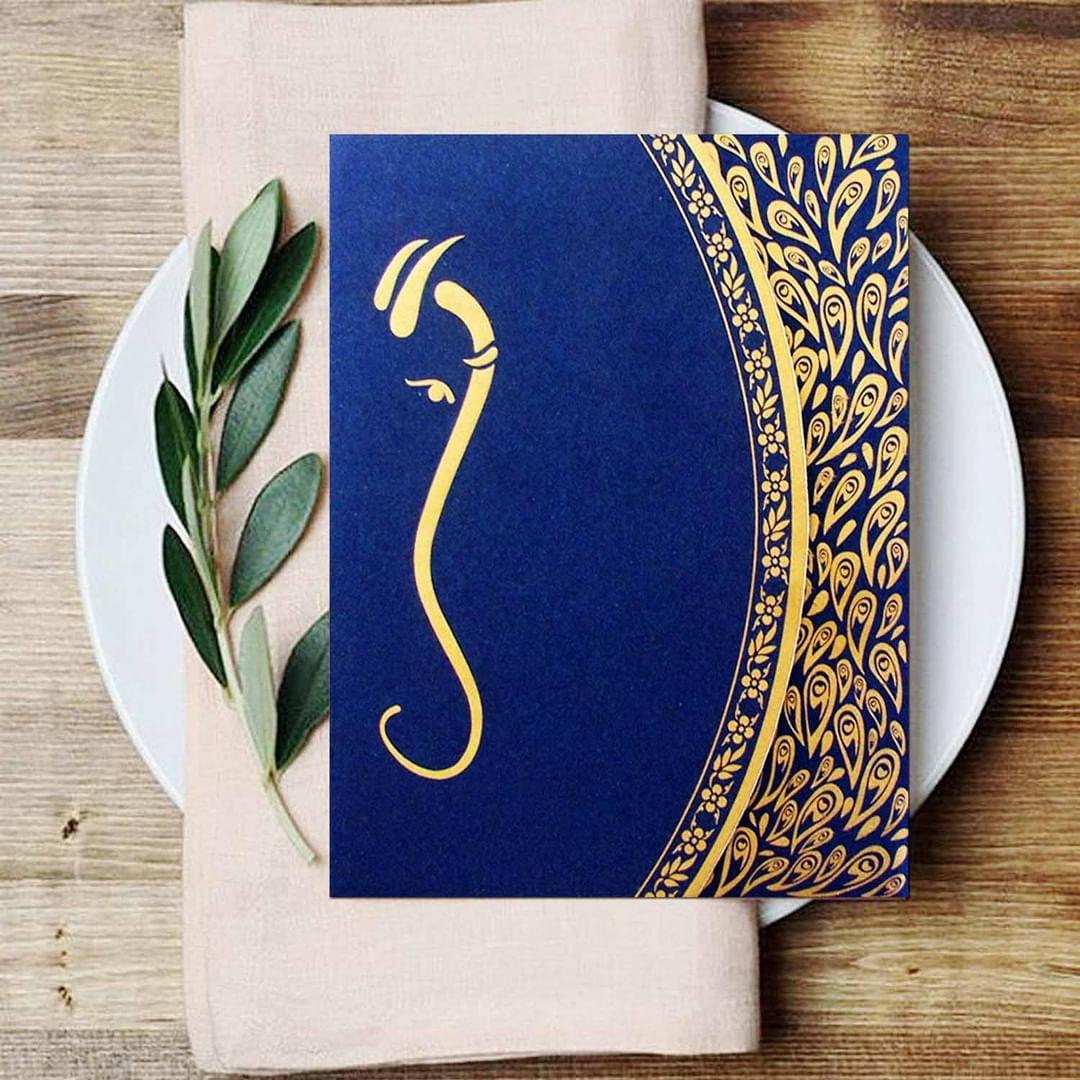 As the popular Hindu belief goes, every new beginning is an auspicious one when it starts with the lovely Lord Ganesha. Not only does your wedding requires this Hindu Lord's blessing, but we'd also recommend having Him on the cards through the lovely print too. Don't you think? Honestly, he is one of the cutest and most chubby Hindu Lords which adds to the factors influencing his fan base, agree? This Hindu wedding invitation card design is one of the million ways you can experiment with his image.
This is a nearly abstract and minimal portrayal of the Lord which make it a very unique wedding invitation design in itself. This is something that speaks a lot about the taste of the couple and the associated families which looks modern, progressive, artistic yet drawn towards their roots. The choice of gold on a darker shade of blue is again quite intelligent as it pops up because of the shine and the contrast.
You can either choose a pattern on the side or even get your names and wedding venue details printed on the side. Doesn't the card look dreamy with that neatness, shine and class?
2. A Bunch of Lotuses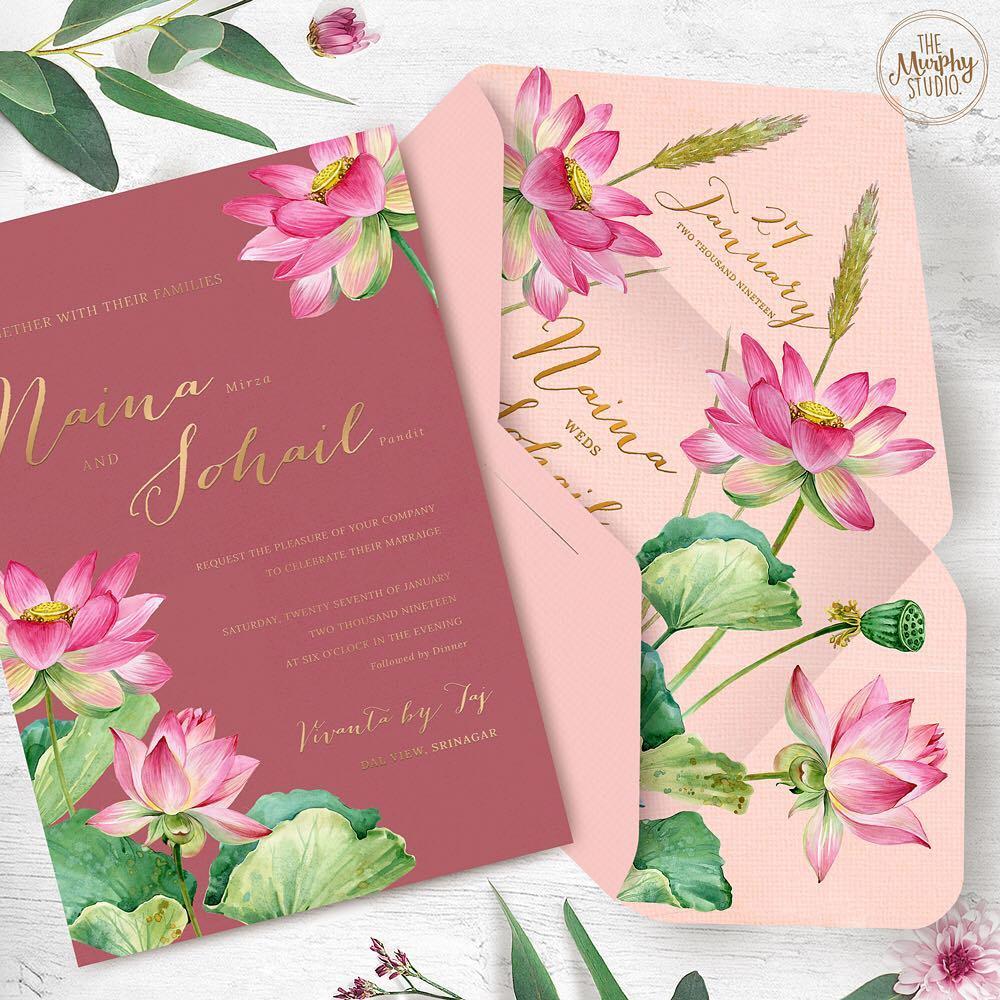 This Hindu wedding invitation card design is hands down one of the most appealing cards I have seen so far. Even though lotuses are common when it comes to flowers and drawings but lotuses on a wedding card, that too in such focused majority is rare. You must be wondering its relation to the Hindu tradition.
Hindu Goddess Laxmi, the Goddess of prosperity and fortune. Even if not wealth, fortune is something that every newlywed couple wishes for. Lord Vishnu is one of the three foundational pillars of Hinduism, one of the Holy Trinity. So here are a bunch of lotuses as a part of their blessings as both Goddess Laxmi and Lord Vishnu are imagined with two lotuses in two of their several hands (each).
Coming to the invitation card design, these lotuses definitely look handpainted. You can get a similar pattern painted by any lovely botanical artist and then get it copied on to your customised wedding invites. I know this sounds like an unattainable level of customisation but trust me it is very much possible and it is damn easy. The choice of several shades of pinks and greens without filling up the design with a solid colour or a dark background makes it look absolutely wonderful.
Pro Tip: Do not, I repeat, do not forget those line details on the insides and the border in shining gold print. This is the element which gives this Hindu wedding invitation card design a distinct richness and adds a defining edge to it.
3. Lord Vishnu on the Cover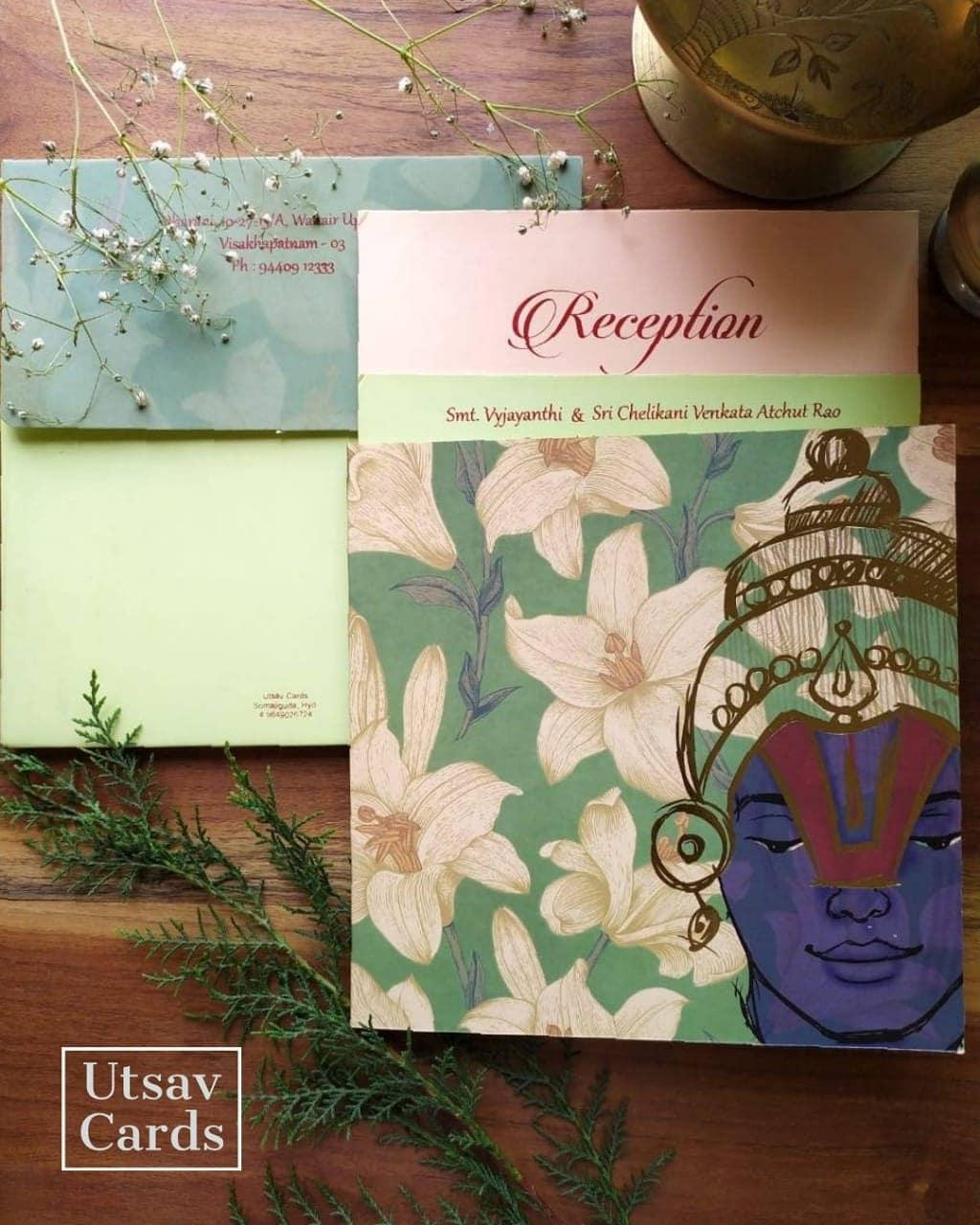 I hope this card speaks for itself when it comes to the relationship of this Hindu wedding invitation card design to the Hindu tradition. For those who missed those Hindu Mythology classes, this is one of the artistic interpretations of the Hindu Lord Vishnu. The raw sketch is converted into a durable print and is then transferred to the unique wedding card surrounded by pretty white flowers.
Like the previous one, even this Hindu wedding invitation card design has a slight golden touch to it, adding that richness to it. The contrasting blue skin of Lord Vishnu looks quite attractive, doesn't it? This is one of the most different wedding card designs you will ever come across which make it a lovely choice for a traditional Hindu wedding.
Usually, the usage of God images on prints becomes quite repetitive and restrictive. This Hindu wedding invitation card design, on the other hand, looks quite fresh and unconventional.
4. Folk Art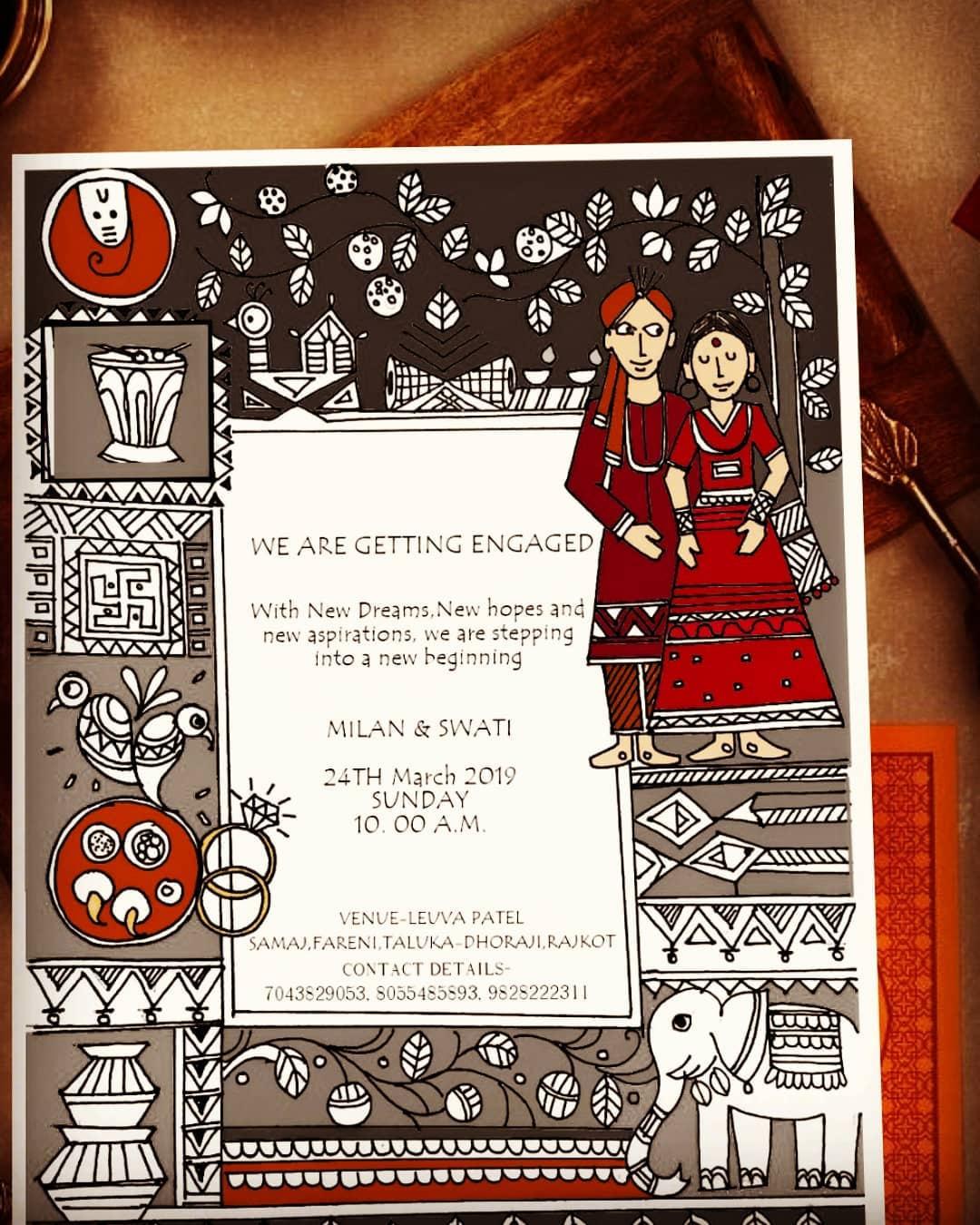 Image courtesy: Isha Tangad Palliwar
Ah! What a unique invitation card this is. One thing that I swear by as an artist, 'Whenever confused, go for folk art'. Surprisingly even you can apply it on your search for the perfect Hindu wedding invitation card design. As confusing it may sound, the idea of getting folk art prints on your wedding invite is a million dollar idea. Either choose a folk artist of your State, say Madhubani like in this design. No matter where you live, you can have Hindu wedding cards and despite the fact that the majority of your state is non-Hindu, it is still your proud state.
Remember: Don't think twice before going for the traditional art of the State even if it is not exactly a part of the Hindu culture. After all, the diversity of cultures is what Indians are known for.
After we have clearly established that is is your wedding and clearly, everything will work as per your rules, you have other options open to you as well. You can always use caricatures of Hindu couples marrying in a traditional dress, with the Varmalas, doing the pheras or sitting at the mandap. Use those traditional colours of the dress and add that unique vibrant dash of colours that you like. Make it like storytelling or make a comic out of your invitation if you like, wow that actually sounds like a mindblowing idea, doesn't it? No matter what you choose, just give all your heart to it.
With all these unique ideas for the ultimate Hindu wedding invitation card design for the perfect Hindu wedding full of rituals and traditions, you are all set to confidently make calls to the best of the best wedding invite vendors. You can share with them what you have in mind and get a highly customised wedding invite curated exclusively for your traditional Hindu wedding. I am so excited to see what you guys come up with.
How to go about it?
Just to give you a little direction, you must sit next to your partner with a pen and a notepad. List all the Hindu elements that define your wedding style, your likes dislikes when it comes to flowers, Gods, colours and every little detail. See what matches and what can you compromise with. With all that you have in hand, get an appointment fixed with your wedding invite curator and let him or her add the little professional details to the virtual design that you both have in mind.
It is important to trust your invite creators with the little suggestions or bits of advice that they have. Listen to them, please. Before you leave the table, get a rough sketch of your million dollars Hindu wedding invitation card design on paper. Keep a picture of it with you and let them keep the original. This cuts on a lot of future arguments or disagreements while giving a clear cut idea to the curator of your expectations.
Wishing you all the very best!
Do you have any bizarre Hindu wedding invitation card design idea in mind for your future wedding? Only hilarious answers allowed.