21+ DIY Gift Wrapping Ideas for Common Wedding Gifts to Make Them Look Beautiful
If you've found the perfect gifts for your to-be spouse and their family, you should make the packaging stand out too. Since there will be a lot of gifts, we have come up with a list of DIY gift wrapping ideas that look phenomenal & don't cost much.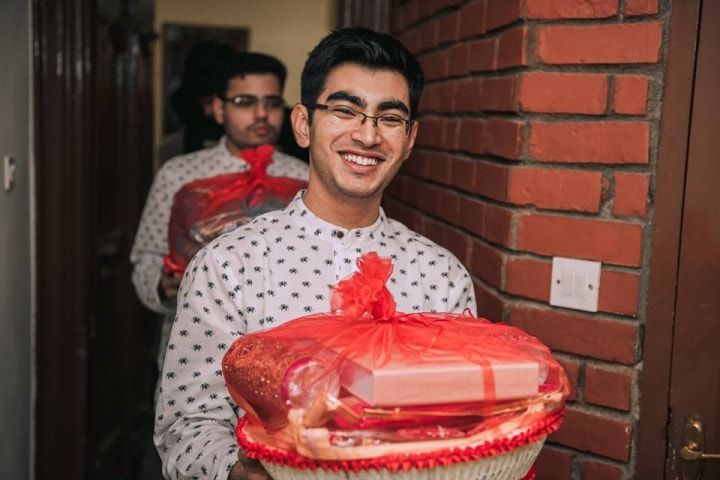 Wedding season is on and it is finally your big day when you prepare to put on your beautiful red lehenga. The festivities also include exchanging various wedding gifts that you present to your new family. So, even though, you have the perfect gift for every person in concern, the presentation also matters. Here are some pointers for beautiful gift wrapping ideas that will come in handy to impress your in-laws. So, let us delve into some trendy DIY tips to make the best of your wedding day!
1. Ideas for Packing Clothes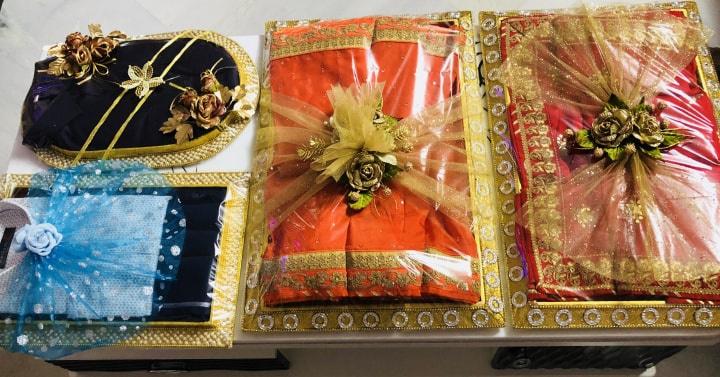 Garments are essential elements in the wedding trousseau. So, it is important to pack it in a display-worthy way. Here are some gift wrapping ideas you can choose from in order to pack saree, lehengas and suits.
1. Ribbons
Adopt an eco-friendly approach by discarding those plastic ribbons and by resorting to those colourful strips of clothes from your old Dupattas, stoles or any regular ribbons.
2. Buttons
Have discarded buttons lying somewhere in the house? Use them by sticking colourful buttons to your wedding decoration.
3. Bamboo trays
Go eco-friendly by chucking the plastic trays away and opting for bamboo trays to pack clothes, adding a classy touch to your ethnic wears.
4. Origami
Turn on your creative faculties and pack your sarees and shawls in the shape of a swan or an origami to avoid using cellophane paper.
Estimated cost: ₹500 onwards
2. Ideas for Packing Shoes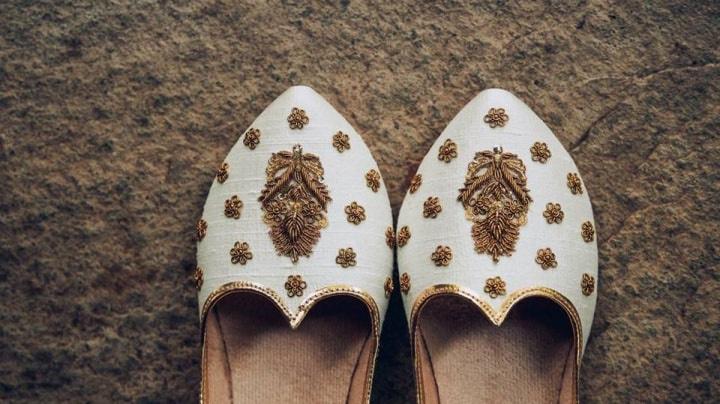 Shoes are an important dress code for not only weddings but for any situation. Thus, they deserve some special attention while packing them as gifts. Let us take some artistic gift wrapping ideas for your shoes.
1. Dupatta wraps
It is time to make those old dupattas in use by wrapping the shoes in form of knots and ties. This is also applicable in terms of sarees.
2. Woollen bags
Cute, multi-coloured sweaters and shawls in form woollen bags are an excellent way to pack your shoes while providing an aesthetic touch.
3. Bamboo baskets
Bamboo baskets are a classy way for shoe packing.
4. Jute twines and beads
Jute twines and beads are an excellent way to decorate paper boxes for the shoes.
Estimated cost: ₹300 – ₹2,000
3. Ideas for perfumes and candles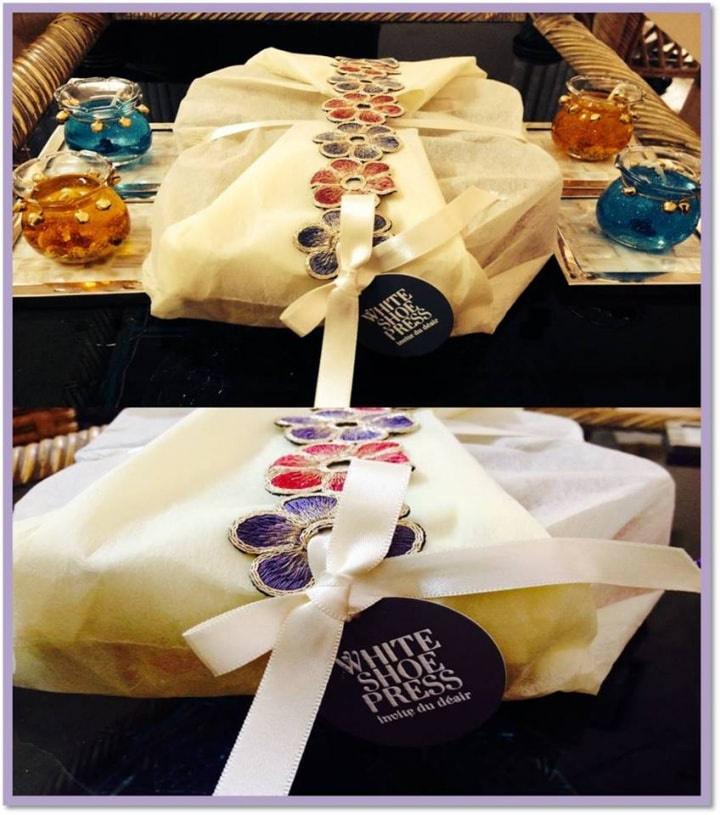 Fancy stuff like candles and perfumes play a huge role in a wedding decoration.
1. Hand painting on boxes
You can put your art skills on those cardboard boxes, earthen pots or stone boxes.
2. Leaves and twigs
Leaves and twigs are a creative way to plan your wedding decoration.
3. Pine cones and branches
Pasting pine cones, small shrubs and branches to your wrapped gifts is an excellent way to give them a fancy look.
4. Jute and cloth bags
Small jute and cloth bags serve as an excellent choice for candles and perfumes.
Estimated cost: ₹1,000 – ₹2,000
4. Ideas for sweets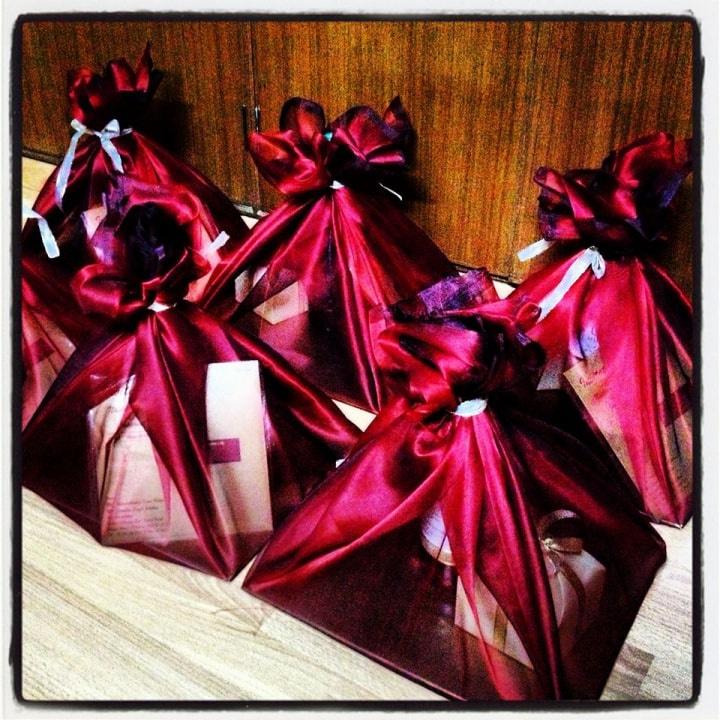 No function is complete without sweets and chocolates. Here are few tips for economical packing.
1. Wooden tray
Wooden trays are a unique way to present your food to your guests, just decorate it with some leaves and twigs!
2. Glass jars
Use reusable glass jars to contain the chocolates and candies for your wedding!
3. Boxes of bamboo and fibres
Bamboo and fibre boxes are an eco-friendly and economical way to pack those chocolates and candies.
4. Cloth wrap
Cloth wrap is a creative and unique way to wrap up the eatables by fashionable and colourful clothes — easy on eyes.
Estimated cost: ₹2,000 – ₹3,000
5. Ideas for packing fruits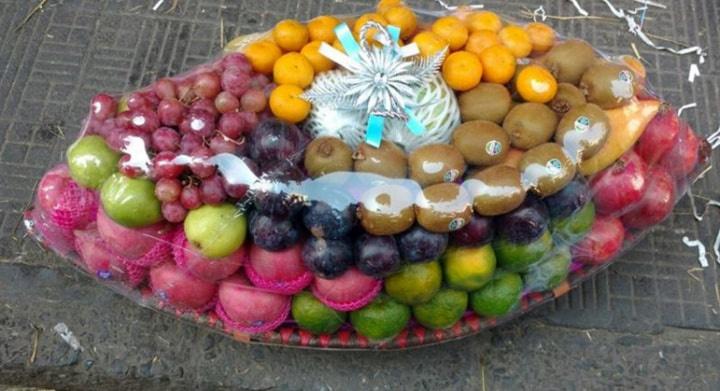 Fruits are an amazing and useful way to present as a wedding gift. Use for cheap ways to prepare packaging ideas suitable for some funky wedding pictures too.
1. Fruit basket
The most ideal way – pack up your fruit in a fruit basket!
2. Fruit platter
Use cellophane paper to cover up those baskets and trays and execute simple, yet sophisticated gift wrapping ideas for fruit packaging.
3. Vintage box
Give an aesthetic layout to your presents with vintage style boxes. A bit expensive, but it is worth it!
4. Custom-made boxes
Take a leap of your own imagination! Use cardboard to create various shapes of boxes and use them to pack your fruits!
Estimated cost: ₹400 – ₹15,000
6. Gift Hampers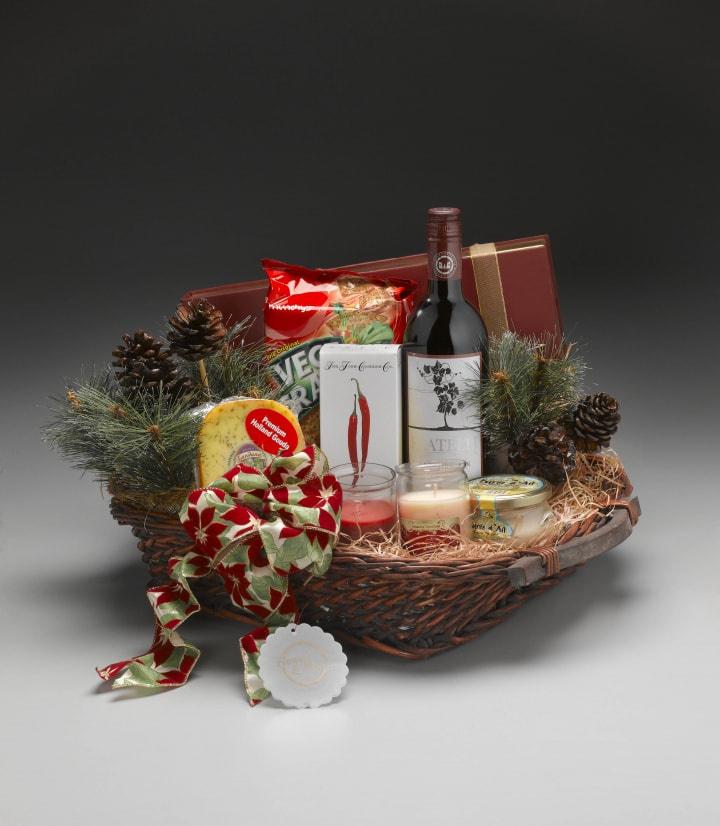 Impress your guests with fabulous gift hampers – a great way to spice up the side of wedding photography ideas.
Estimated cost: ₹500 – ₹1,500
7. Ideas for packing jewellery gifts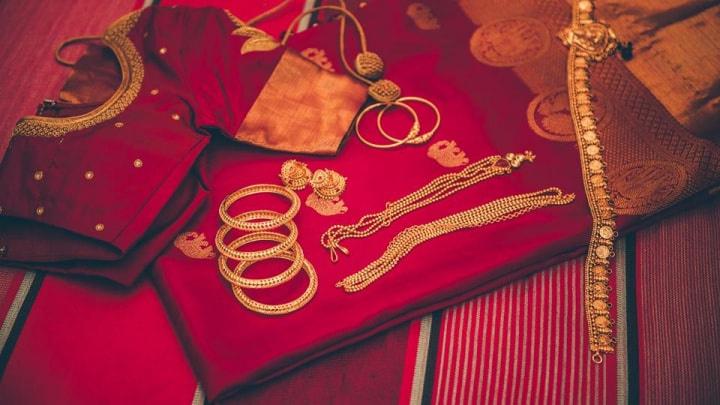 Opt for sleek jewellery boxes, vintage or otherwise for jewellery on wedding occasions – make it more personal by customising it with the person's name.
Estimated cost: ₹500 – ₹2,000
A little creativity and planning can take you a long way when it comes to economical DIY gift wrapping ideas for weddings. Delve into the planning process and take actions to create amazing packaging ideas for your wedding gifts and make your guests and family happy!
Do you have more gift wrapping ideas of your own? Share them in the comments below with us and other brides-to-be.