Creative Wedding Photography Ideas To Add an Edge To Your Wedding Album
Looking for ways to make your wedding look even more interesting? We have some insight to liven up your wedding album. Learn about unique ideas for creative wedding photography that are trendy as well as out of the box.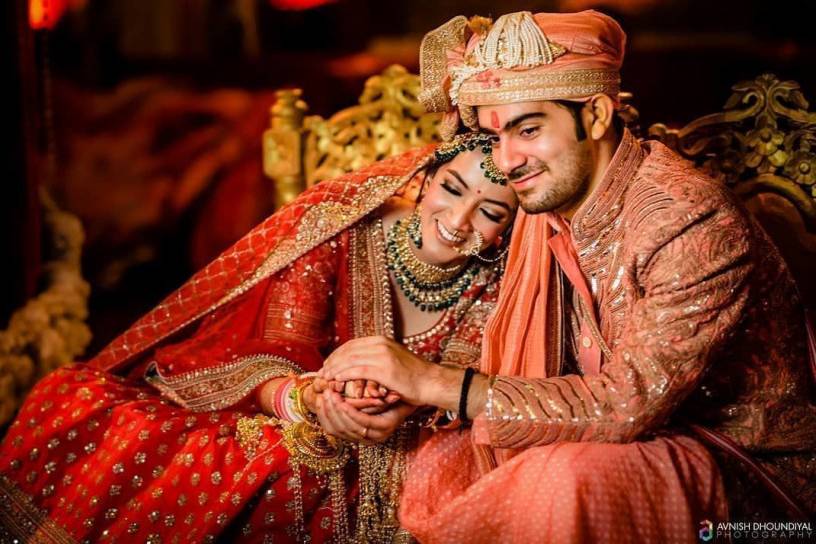 Today, wedding photography means so much more than just preserving your sweet memories. It's an art of capturing your most precious moments and creating your own wonderland in the most bizarre ways. In fact, creative wedding photography gives you a glimpse of your own wedding with a glamorous aura. Want to know how to add a dash of charisma to your own wedding album? We have decoded some hacks for just the glam-factor you're looking for. Read and learn to make your wedding photos look like a fairytale.
Here are some of the most inventive ideas for creative wedding photography which you can incorporate in your wedding album that will heighten the charm of your wedding album while having a fun story behind each and every shot:
1. Bride Chillah and Booze Shots

(Image courtesy: Deep Joshi)
Breath Bridezilla! It's time to take it cool and cool down with a chilling refresher. A perfect shot to capture an upbeat attitude, drinking shots have suddenly become all the rage - be it a simple milkshake, a cool Coke, a coffee mug/cup or even something stronger. So, pick up a bottle and swig it like no tomorrow for creative wedding photography set like no other. While also showcasing your love for a particular drink or a food item, it would make a photography shot to remember for life.
2. The Mehndi Shot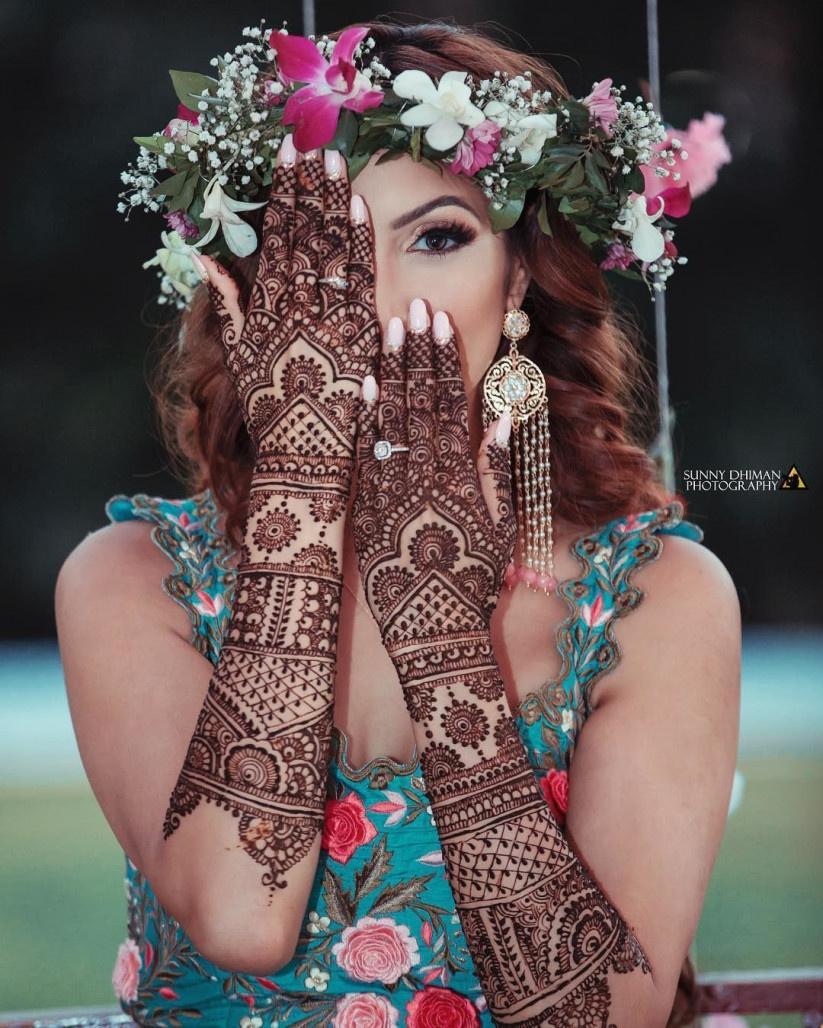 If you got it, flaunt it. Pictures showing off the goodness of Mehndi designs have gone through a reinvention by themselves, with attitude being a careful addition. Flaunt your henna designs for hands across or partially covering your face, with a popped eye for good measure. With a change in the stunning mehndi designs nowadays to choose from that range from Arabic to traditional to minimalistic, a perfect mehndi shot is a must have in your wedding album.
3. Dramatic Entries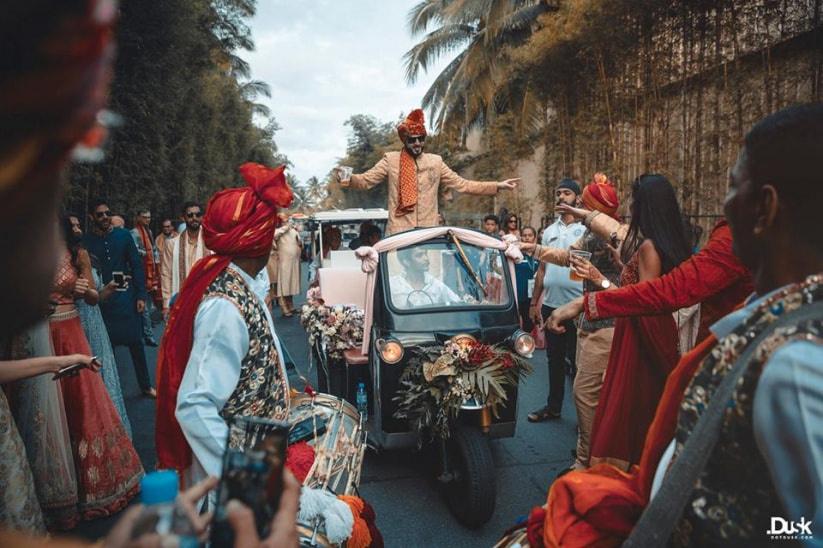 Everybody loves a grand entry! Add a pinch of drama to the groom's wedding entry to make it a memorable moment. You could add the same set of panache to a grand bridal entry too. Choose a vintage car to exude royalty or opt for a more funky way to enter your wedding venue while choosing an entry song that would leave a lasting impression on each one of your wedding guests.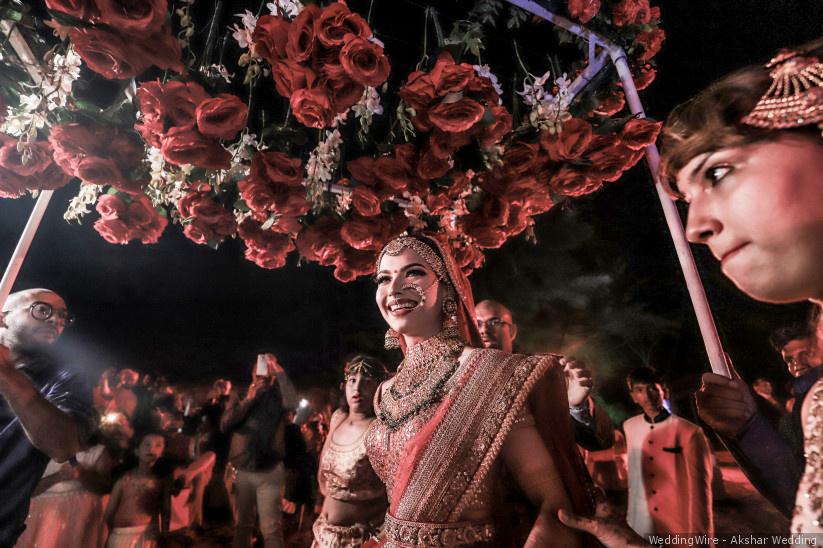 There is just a lot that you can do for a stunning bridal entry. You can choose from entering like a princess and sitting on a throne, or a traditional way of entering the venue with a floral chadar on your head. You can even bring your pets in so that you can make a lasting memory or dancing your heart out. Any way that you choose to enter your wedding venue, it would be a wonderful and creative photography shot to remember the day by.
4. Getting ready shots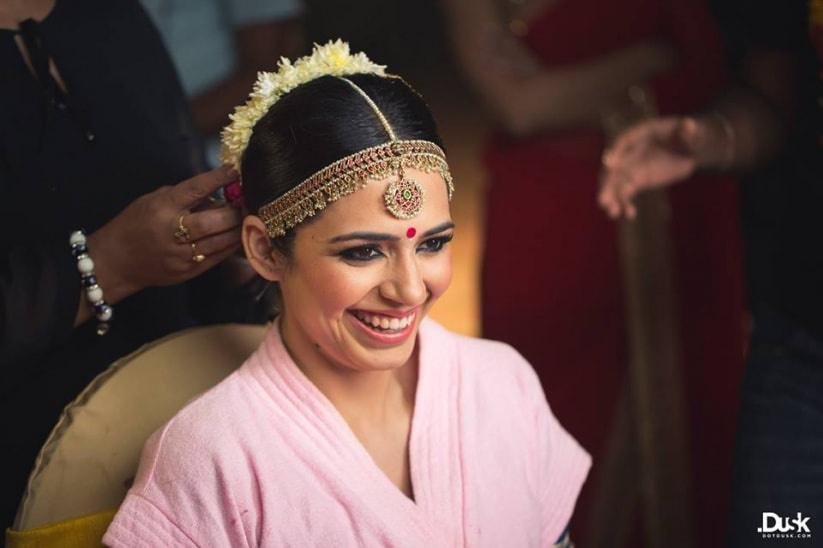 Capturing a groom's excitement before that "I do" moment, or the bride doing her last touch-ups...these are some of the most adorable shots for creative wedding photography. You can even get a whole photography series clicked of you getting ready so that you do not miss out even on a single detail.
5. Tight close-up portraits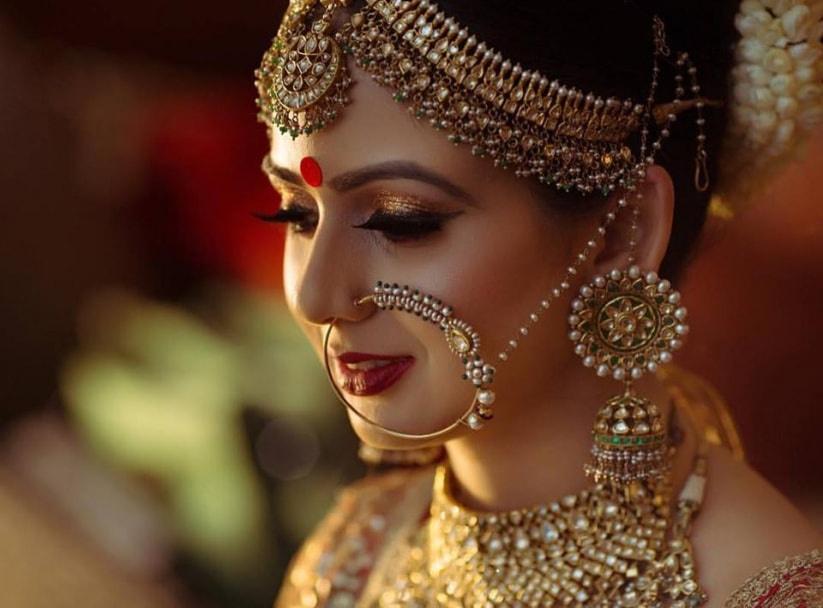 A close-up shot of the blushing bride is an absolute must for a creative wedding photography album. It's a priceless expression that has subtle nervousness mixed with enthusiasm and a feeling of adventure. From a fun expression to the one with emotional subtones to the anxious one, you can get a range of beautiful photographs clicked on your wedding day or any of your other festivities.
6. The 'share a laugh' shots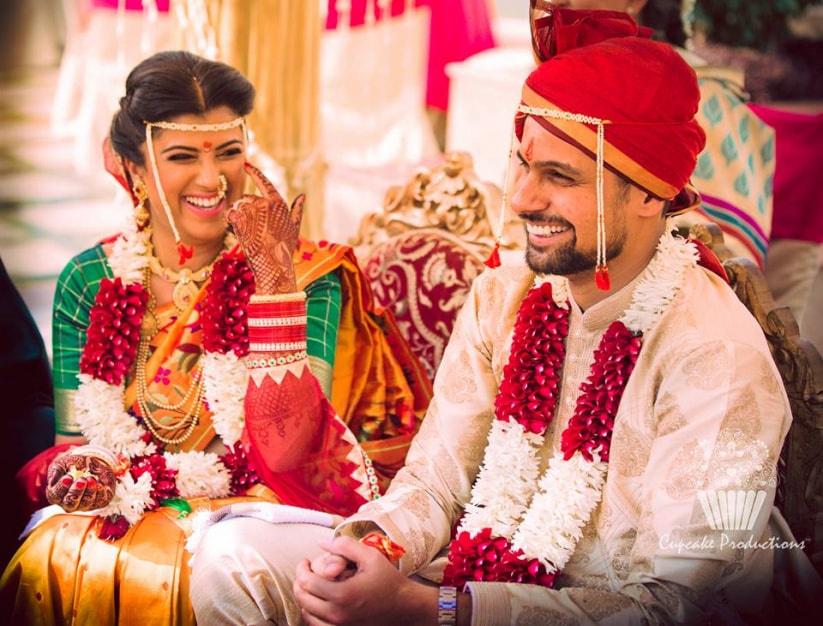 Never miss out the candid laughter between the bride and the groom! There are cute little moments amidst all the wedding ceremonies, where the couple bursts into laughter. That is simply one of the most adorable subjects in creative wedding photography.
7. Low-angle shots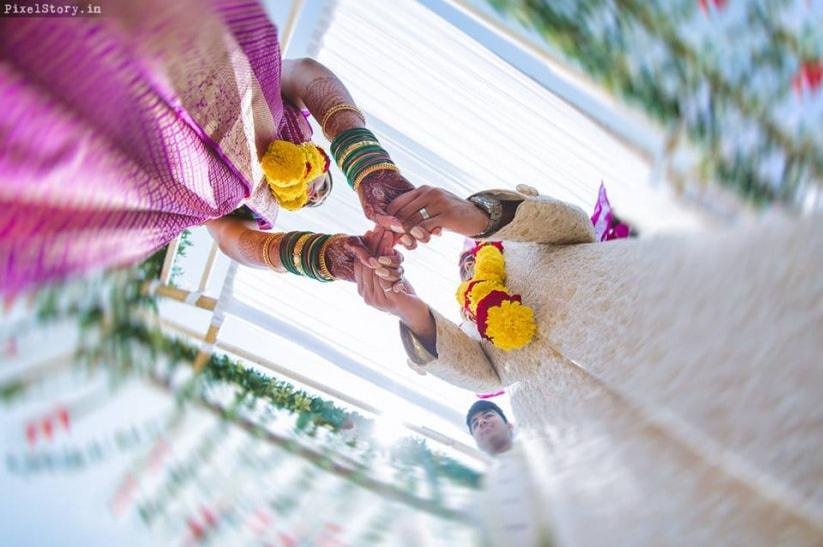 A low angle shot is usually used to make the subject look taller or larger. Wedding photographers prefer using this particular shot during a Jaimala to emphasise the frame. In creative wedding photography, low angle shots are also used for shooting dance performances on Sangeet.
8. The Goofy Groomsmen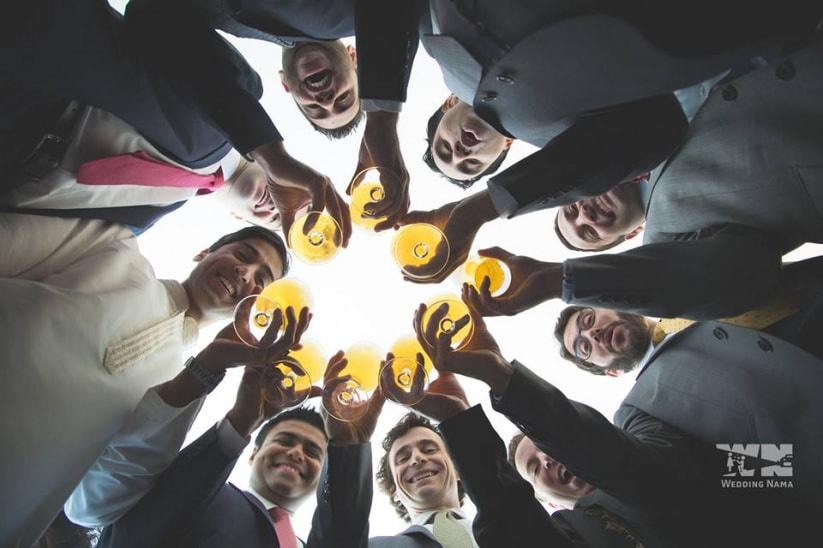 Get some quirky shots of the groomsmen in their goofy bests! These are the photos that you'll keep watching again and again for a great laugh.
9. The Mischievous Bridesmaids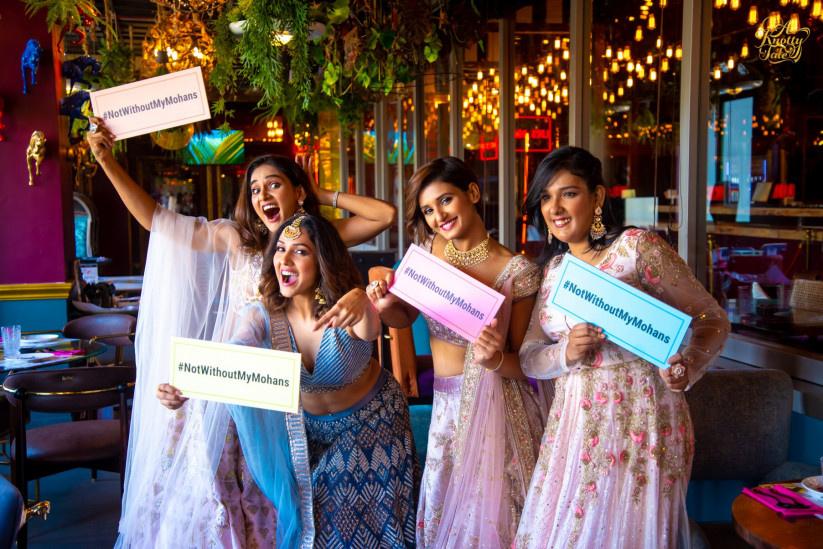 No creative wedding photography is complete without some naughty bridesmaids teasing around with the groom. Get some super fun shots of the bride and her gals to add the extra glamour to your wedding album.
10. Destination wedding specials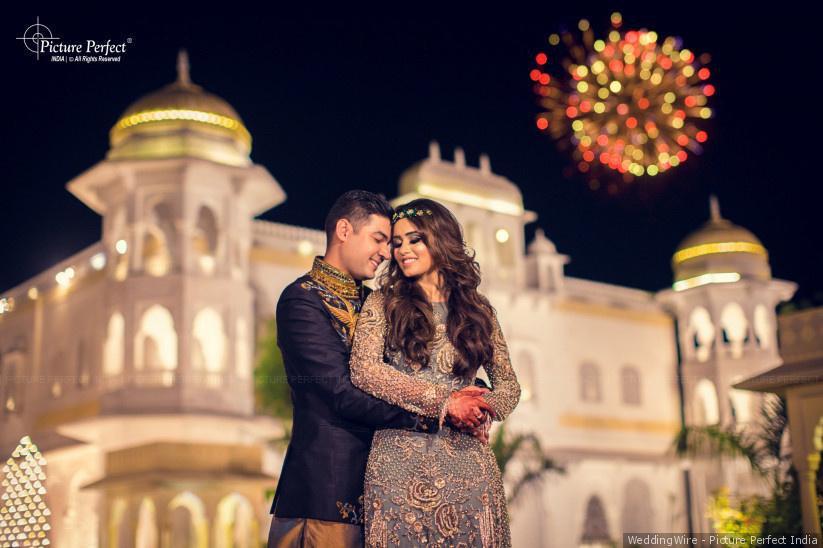 Planning a destination wedding at an exotic location? Prepare to get some excellent photo-op for creative wedding photography. Superb background, stunning outfits and all your favourite people around...nothing can go wrong with your wedding album with these three features!
11. Customs and traditions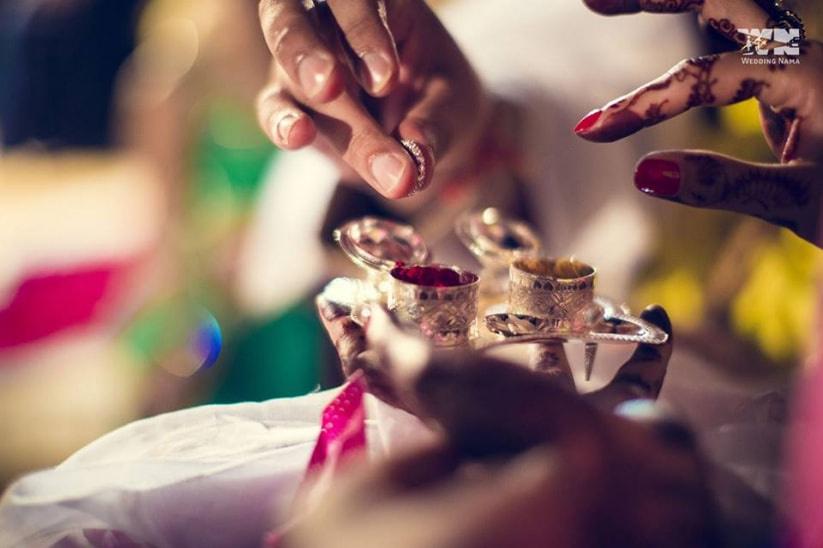 A closeup shot of Sindoor, the holy fire, wedding rings or Mangalsutra...certain rituals and traditions enhance the beauty of creative wedding photography.
12. Clothes, jewellery and more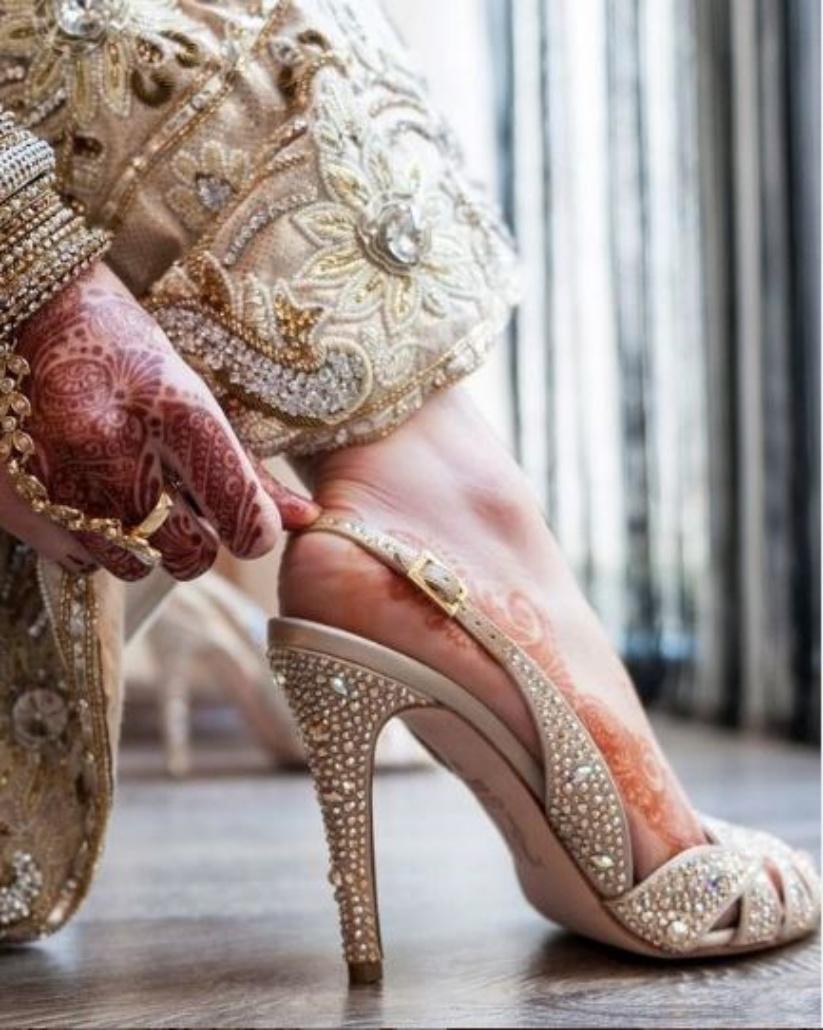 Apparently, the shot of a bride's shoes signifies her new journey that she's about to embark upon. Other than the shoes, images of bridal lehenga, bridal jewellery and the groom's sherwani are some of the popular shots in creative wedding photography.
13. The right emotions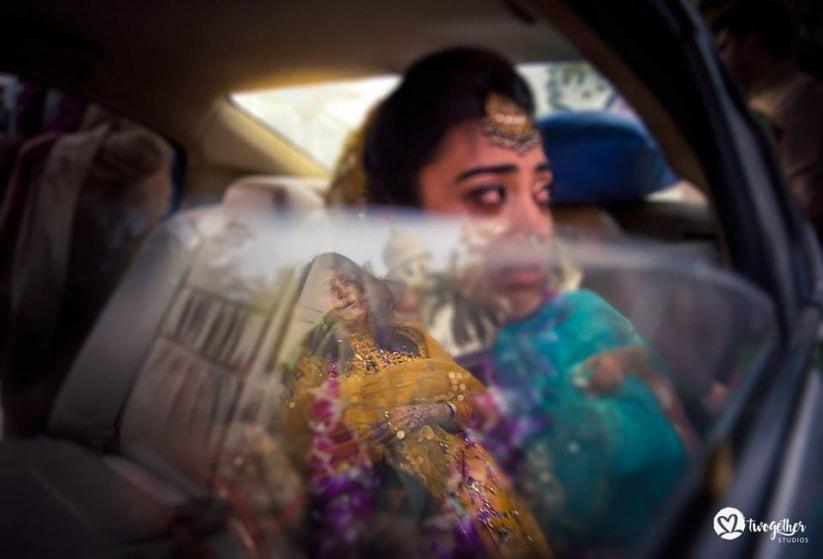 Weddings are the occasions brimming with emotions. Giggles, tears, sadness, excitement- all kinds of feelings are exploded at a wedding. Capturing such precious moments is an essential part of creative wedding photography.
14. Perspective shots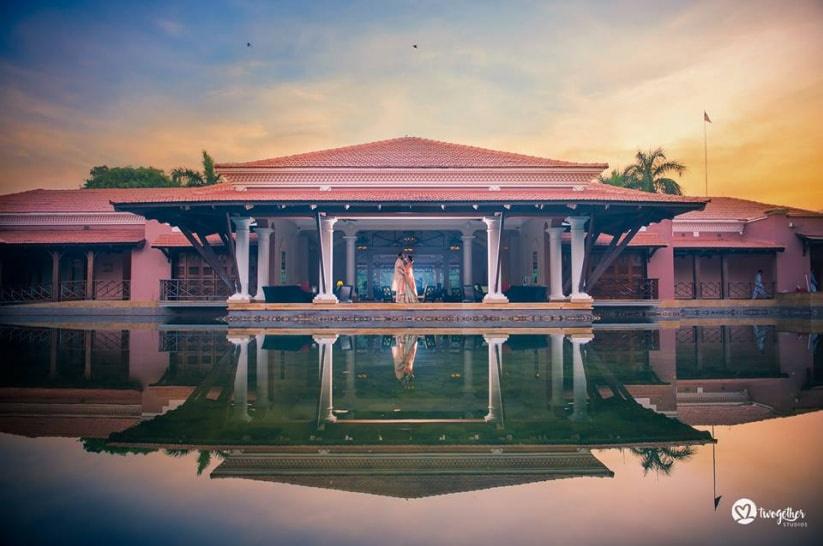 Shooting in front of large-sized objects or monuments etc. for perspective shots is yet another trend in creative wedding photography. Couples go for shooting in front of mountains, fortress or palaces to obtain such results.
15. Ceremonial shots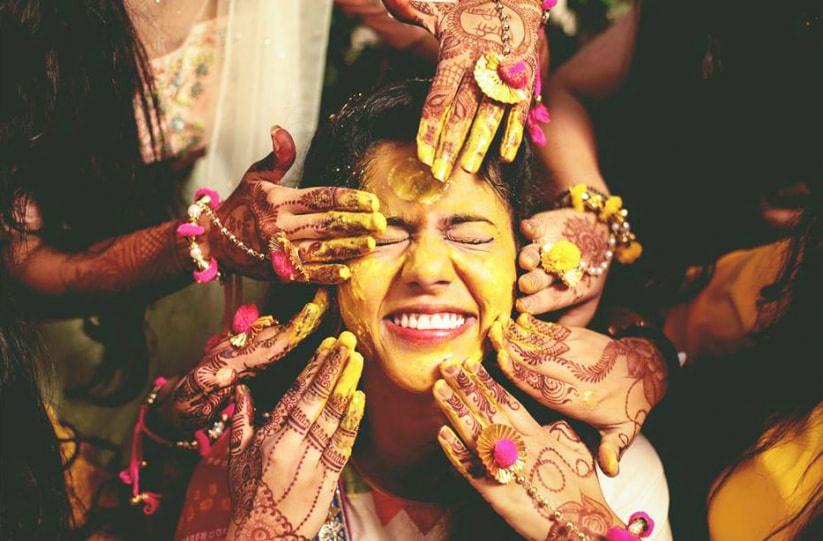 Some of the favourite shots of a creative wedding photographer are those of the Haldi, Mehndi or Bachelor parties. They're fun to shoot and delight to watch later.
16. Candid Captures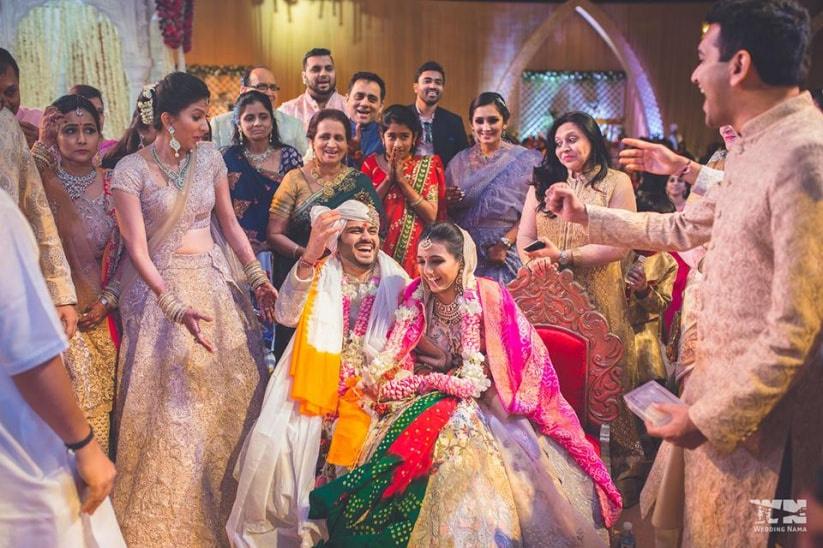 The unrehearsed, the impromptus and the getting caught-in-action shots are the real expressions that adorn your wedding album.
17. From the Top & Over the Top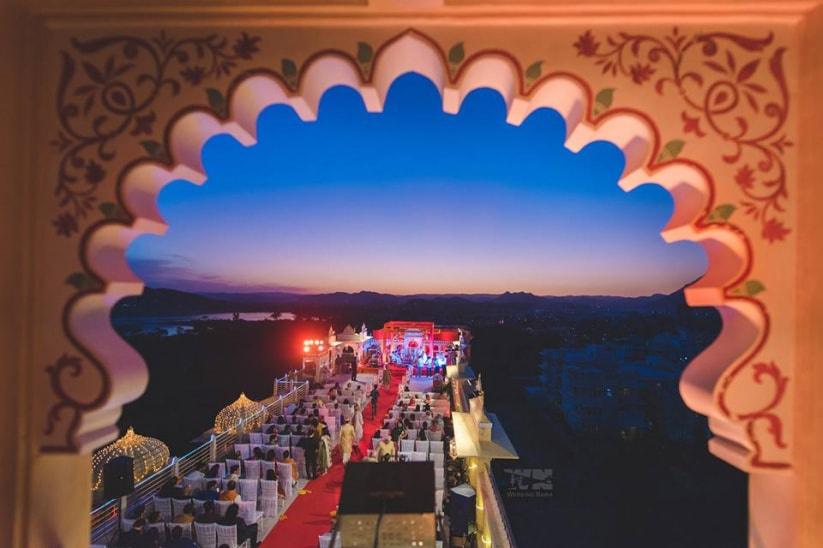 Top angle shots of weddings add a larger than life effect. Some photographers also capture real extravagant celebrations for the same effect in creative wedding photography.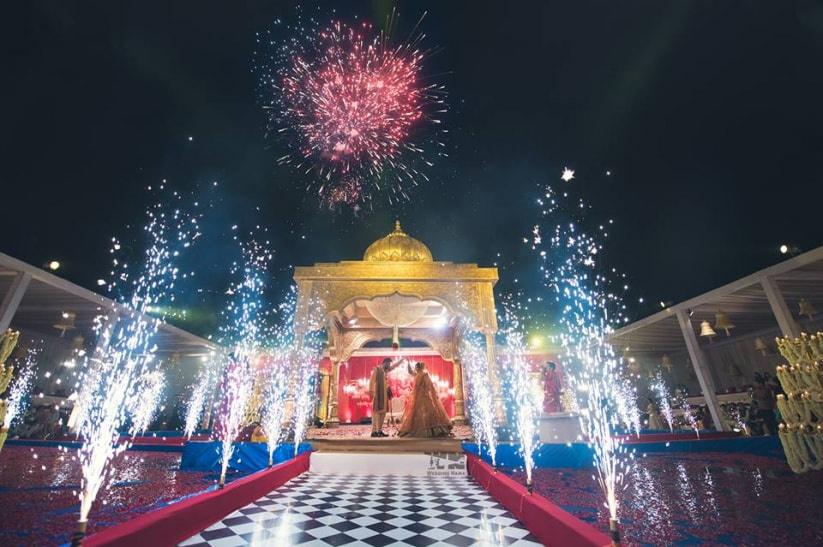 Benefits of a creative wedding photography approach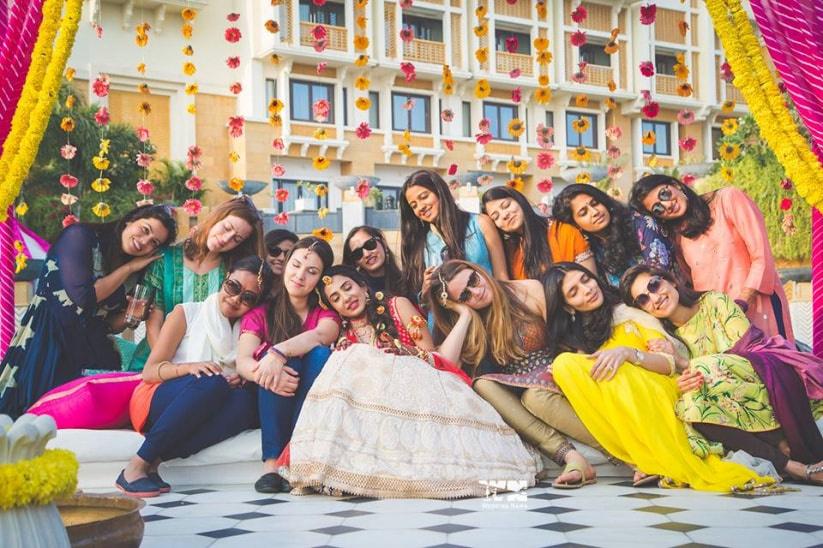 This is why you should go for a more creative and artistic approach to your wedding photos:
The simplest moments are exhibited in the most artistic ways.
Adds a little drama which is always a hit formula for a fantastic wedding album.
A wedding photo album isn't just a collection of images. It should tell a story and creative wedding photography helps to do that.
It's a great chance to exploit the picturesque locations of a destination wedding
Brings variations in the otherwise common wedding ceremonies.
Use of props/objects makes the wedding photography look more fun and alive.
Bizarre is the new beautiful!
And more importantly, your wedding album should be unique, just like your love story.
Talk to your wedding photographer for a better understanding of the possibilities of creative wedding photography. Get an idea about different Indian wedding photo styles and their importance. Every couple has a different style and it's important that your particular style reflects on your wedding photographs too. Also, make sure you remember the secret steps to choose the photographer for your wedding. And once you've picked your favourite, just relax and have fun getting clicked!
Are you browsing through our list of wedding photographers already? If you choose one, help others by leaving a review for them on their storefront pages.