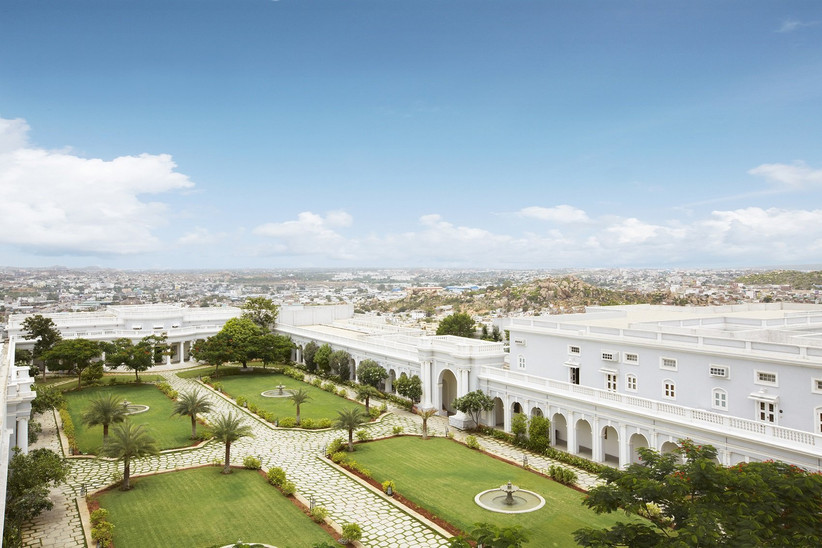 Image courtesy: Lonely Planet
The glorious Taj Falaknuma Palace Hyderabad endows a rich and immersive history when depicting a great architectural marvel of all times. The Nizams initially fell so much in love with this property that they decided to buy it. And that's the first reason why you should think about it for your own destination wedding.
Located 2,000 feet above on a picturesque hillock above Hyderabad, this palace offers a mesmerising view. Alluring meadows of green land surrounded by the pristine white palatial fort like empire around it, the interiors spell a cast on you the moment you step on the threshold of the magnificent palace.
The interiors embellished intricately with celestial motifs and architecture inspired by the Persian and Moroccan mix, celebrate your special day with a panoramic view of a plush natural bounty as you clink your wine glasses and indulge in delectable cuisine.
Here is everything you need to know about the Taj Falaknuma Palace Hyderabad to plan your destination wedding and create an everlasting treasure trove of memories.
Why Choose Falaknuma Palace Hyderabad for Destination Wedding?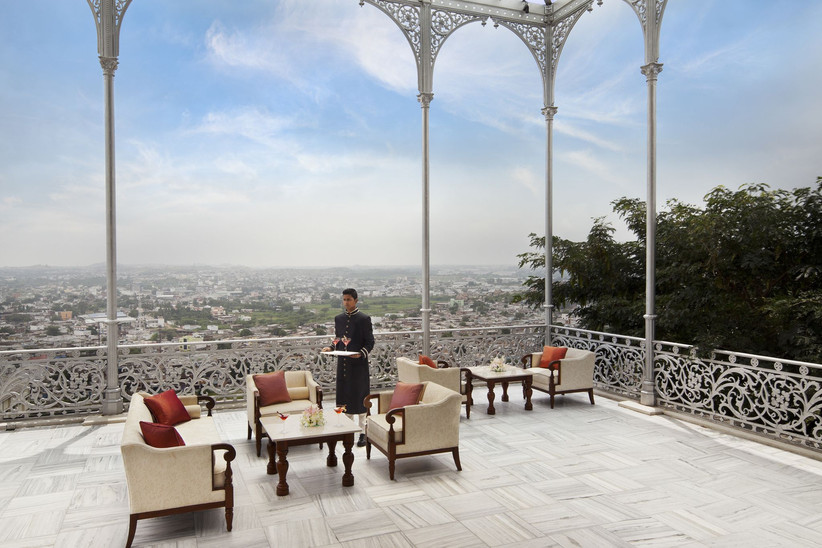 The grandiose setting of Falaknuma Palace Hyderabad highlights its state reception room where the ceiling is dressed in frescoes and the ballroom is designed impeccably considered to the one-of-kind in the world.
Further, take your guests or hold your photoshoots over one of the most breath-taking terraces, overlooking the historic Char Minar at a distance.
You can also vow them with Nizami treasures present here, including several collectables of the Nizam's artefacts like paintings, statues, furniture, manuscripts, books, the Jade collection and an extensive collection of Venetian chandeliers.
Popular function venues at Taj Falaknuma Palace Hyderabad
1. Dining halls and rooms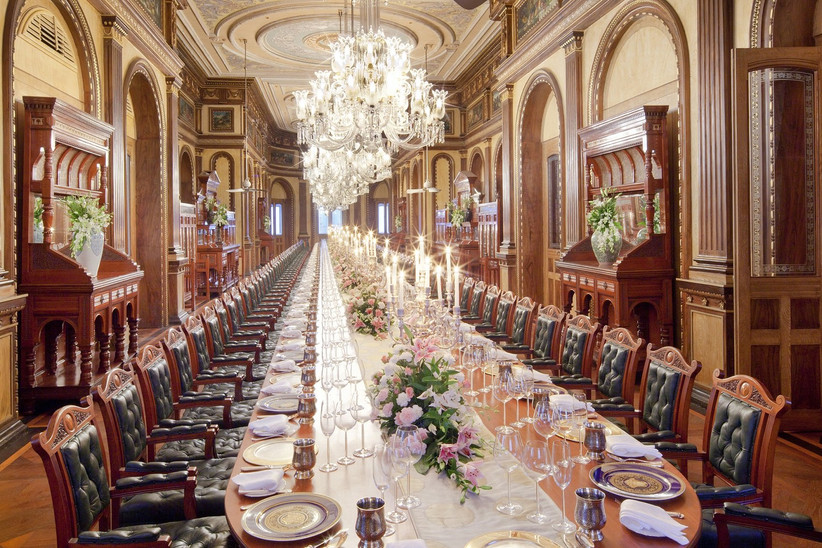 Image courtesy: Wiki Commons
First things first. How many people can you accommodate here? Well, the palace has a total of 60 rooms and 22 halls. These halls feature uniquely carved walnut roofs, with intricately crafted murals and paintings sitting pretty at every corner. The royal dining hall can entertain 101 guests at a time with chairs made out of carved rosewood decorated with green leather upholstery. Exuding an air of finery and aristocracy, the dining hall has embraced the warmth and garnered popularity amongst the HNI's and premier bureaucrats of the world.
2. Poolside patio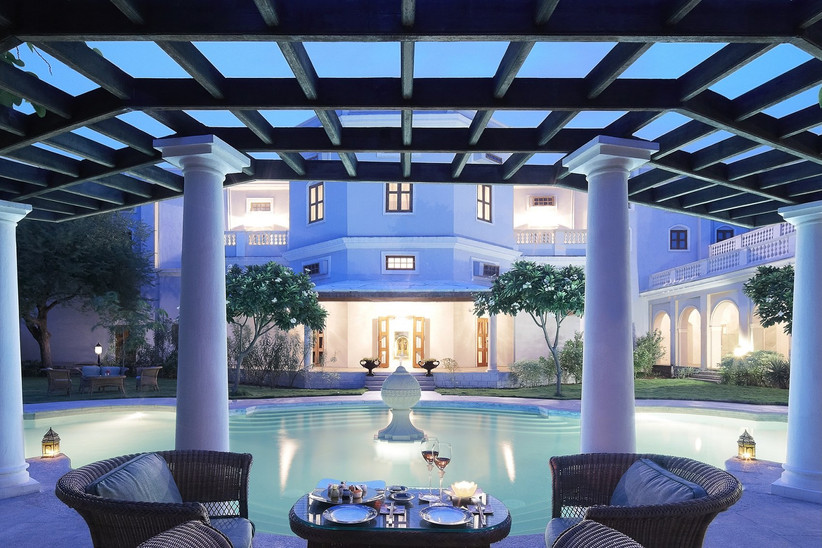 Image courtesy: Tripoto
Yet another note-worthy venue to hold an event followed by dinner for your guests during the wedding is a poolside patio. The azure poolside setting with a tint of blue reflecting on the pitch white walls of palace further gleaming in the lights, the rustic lanterns placed near the poolside and comfortable seating will instantly uplift the mood of your guests.
Gorgeous lotus stemmed ceramic laden fountain placed at the centre of the pool is in sync with the lights accompanied by jazz music to lighten up your spirits.
How much will you spend for a Taj Falaknuma Hyderabad wedding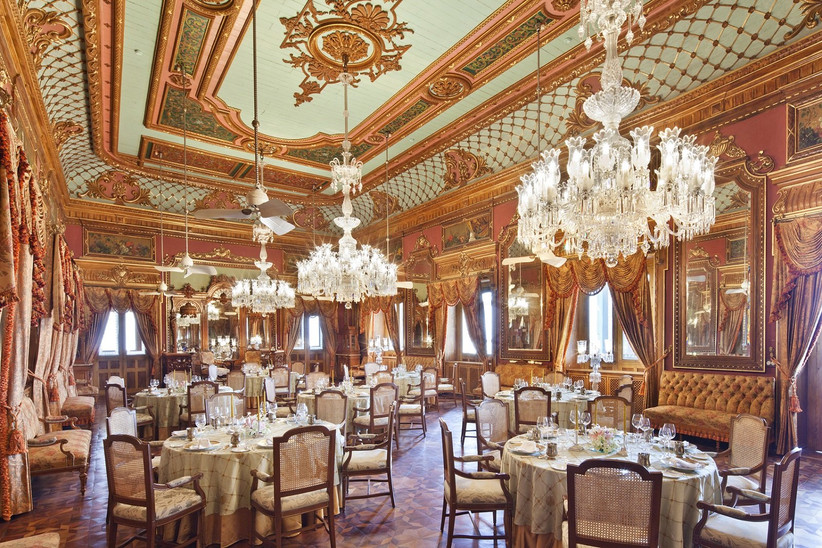 Image courtesy: Luxury Web
The budget for hosting a destination wedding at Taj Falaknuma Hyderabad for 100 in-house guests will amount to ₹ 25,00,000-30,00,000 for a period of 3 days cumulatively.
The break up of this will amount to ₹ 10,00,000 per event comprising of ₹ 9,000 per plate for Non-Vegetarian and ₹ 8000 for vegetarian per plate.
If you have any special Taj membership, you will be a privileged guest and enjoy heavy discounts and other great offers. Accommodation tariffs will be exclusive to the said budget. Add to that, you can book your wedding décor, wedding planners, show performers, artists at the venue, the cost which will not be borne by Falaknuma Palace Hyderabad.
Getting There - A Marriage Party To Taj Falaknuma Palace, Hyderabad
For outstation Indians, the best way to get your marriage party to the palatial wedding venue would be to reach Hyderabad by flight (either sponsoring the tickets or getting everyone to get their own). All the leading airway brands are connected or fly to Hyderabad.
The nearest airport is Rajiv Gandhi Airport Terminal which is about 17 km away from the Taj Falaknuma Palace Hyderabad. Plenty of cab services, public transportation is available at the airport.
Getting Inspired: Real Destination Weddings Here
Some love stories are weaved in clandestine palaces and some are vowed to be a forever. Such happy, warm and breathtaking weddings captured by talented wedding photographers make us fall for the institution of marriage all over again.
1. Ashna & Brett's Palatial Romance
One such beautiful wedding at the Falaknuma Palace Hyderabad was Ashna & Brett's wedding, captured brilliantly by Naman Verma Photography crew from Delhi. The two met during their college days in New York, worked and dated for 3 years straight, when Ashna finally said a "Yes".
Surreal, artistic, and sophisticated décor with a dash of elegance reflected in their couture and detailing, everything spelt magnificent about the wedding. White floral carnations decorating the wedding mandap and glitzy gold bridal ensemble complimenting the suave white sherwani worn by the bridegroom, it seemed like a perfect love affair.
2. Srijetha and Vishasht's Telugu wedding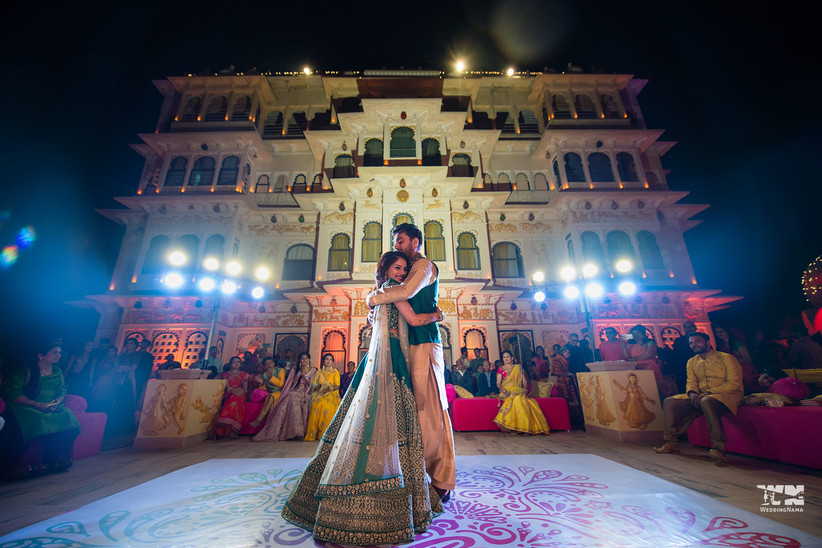 They said weddings are made in heaven and planned at Taj. An exotic blend of culture, royalty and love brewing in this saccharine love story of a Telugu couple Srijetha and Visasht. The two got married at the Taj Falaknuma Palace Hyderabad amidst much pomp and show.
Right from their arrival in a vintage Rolls Royce to grand Bollywood-theme party followed by a dreamy reception ceremony starring the love birds swaying in their own rhythm, it just can't get any better.
Are you planning a destination wedding soon? Or is your BFF tying the knot? Recommend them about this royal destination for the upcoming wedding, Taj Falaknuma Palace Hyderabad will add a cherry to your dream wedding plans.
Tell us your favourite or dream destination wedding spot in the comments is below.