8 Different Types Of Earrings To Nail Your Bridal Look
Make everyone vouch for your earrings on your special day with our options that will make you feel spoilt for choice!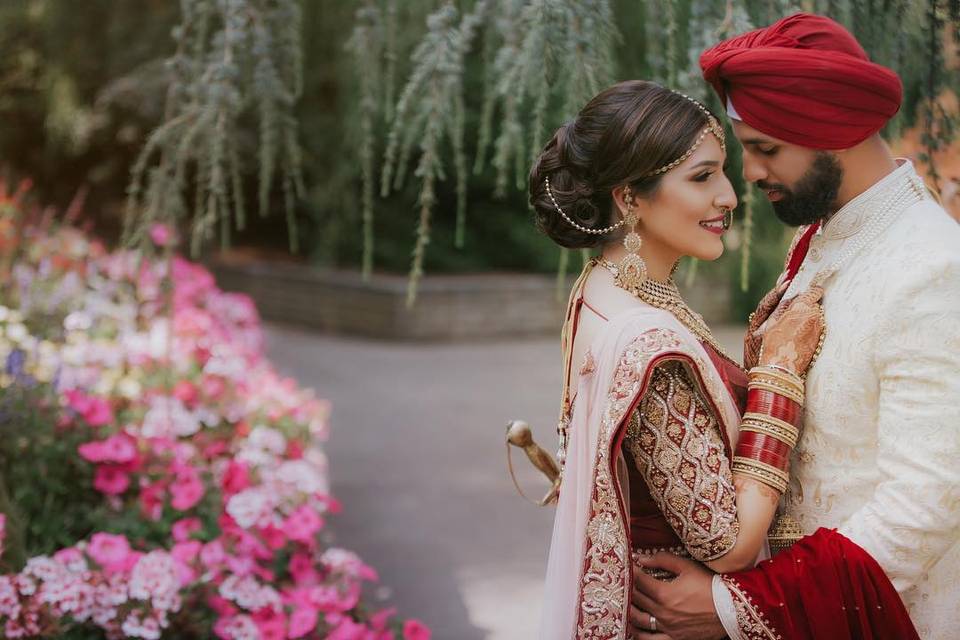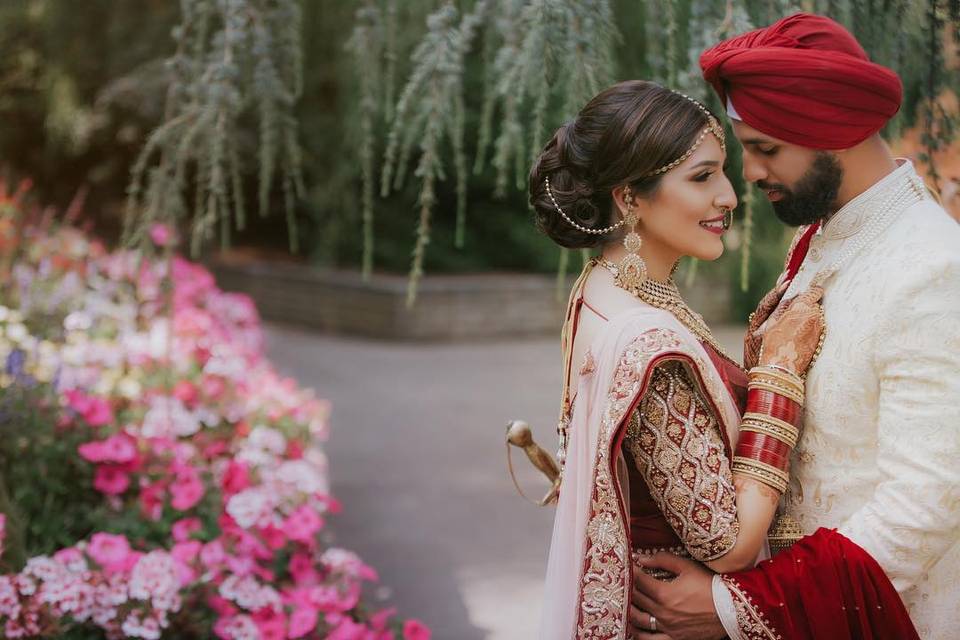 Image Courtesy: Dreambox Creations
When it comes to bridal jewellery, earrings are not just an accessory anymore. These are style statements. Your earring design must blend seamlessly with the rest of the jewellery to give an overall aesthetic appeal to your bridal look. Try a few different types of earrings from the ones we sorted for you and discover the one that suits you.
Traditional Chandbali Style Earrings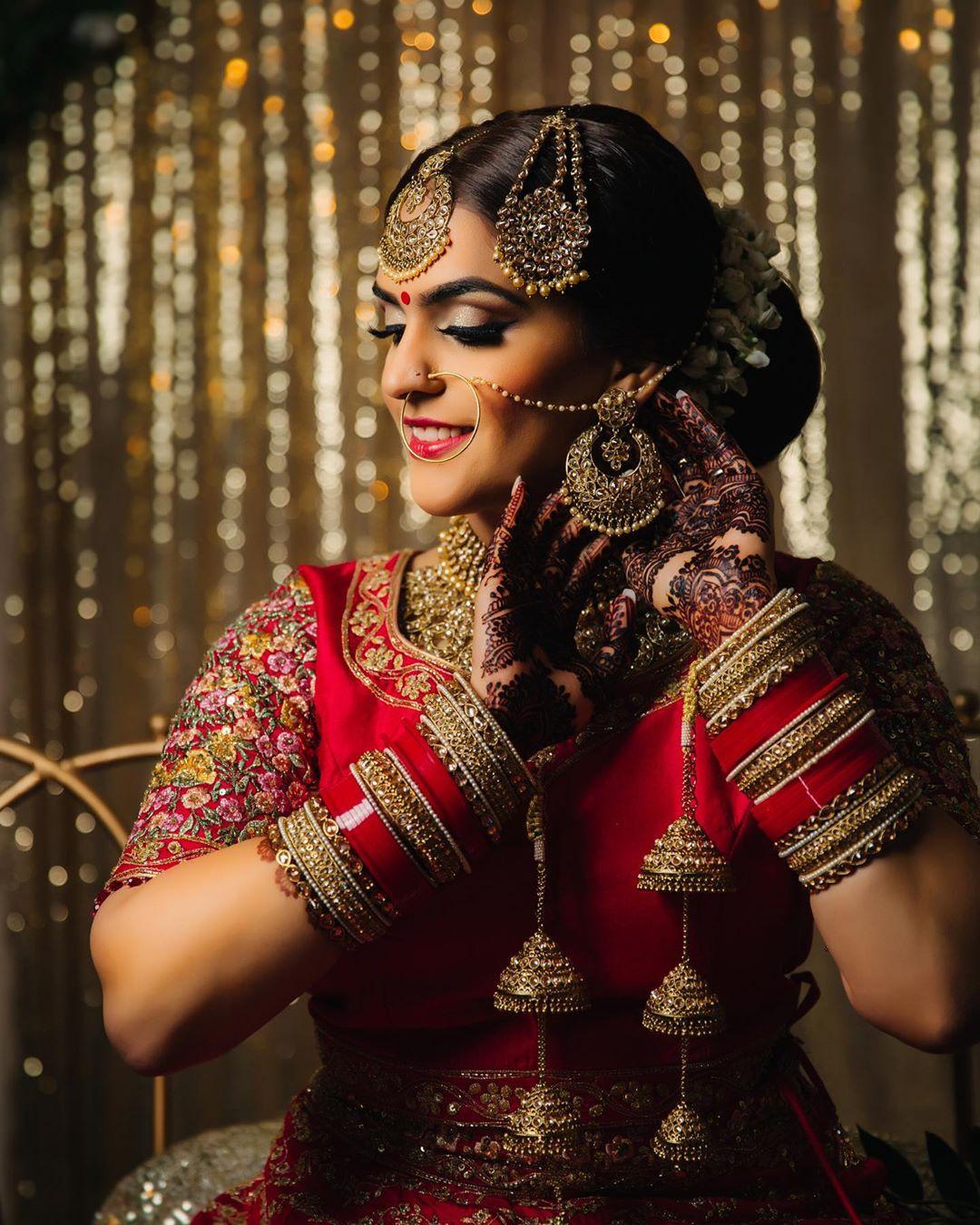 Image Courtesy: Dreambox Creations
These traditional Chandbali style earrings had to be our top pick among the different types of earrings. Popularised by the nizams of Hyderabad, they have been the royal standard for many years. And guess what, by owning them, you could be a part of the royalty too.
If you are planning on flaunting the big bold look on your wedding day, you should definitely go for them. Also, go for a heavy necklace and a heavily embroidered lehenga to get a more blended look.
Note: Avoid light necklaces that might make the earrings shine out and spoil the look.
The Evergreen Gold Earrings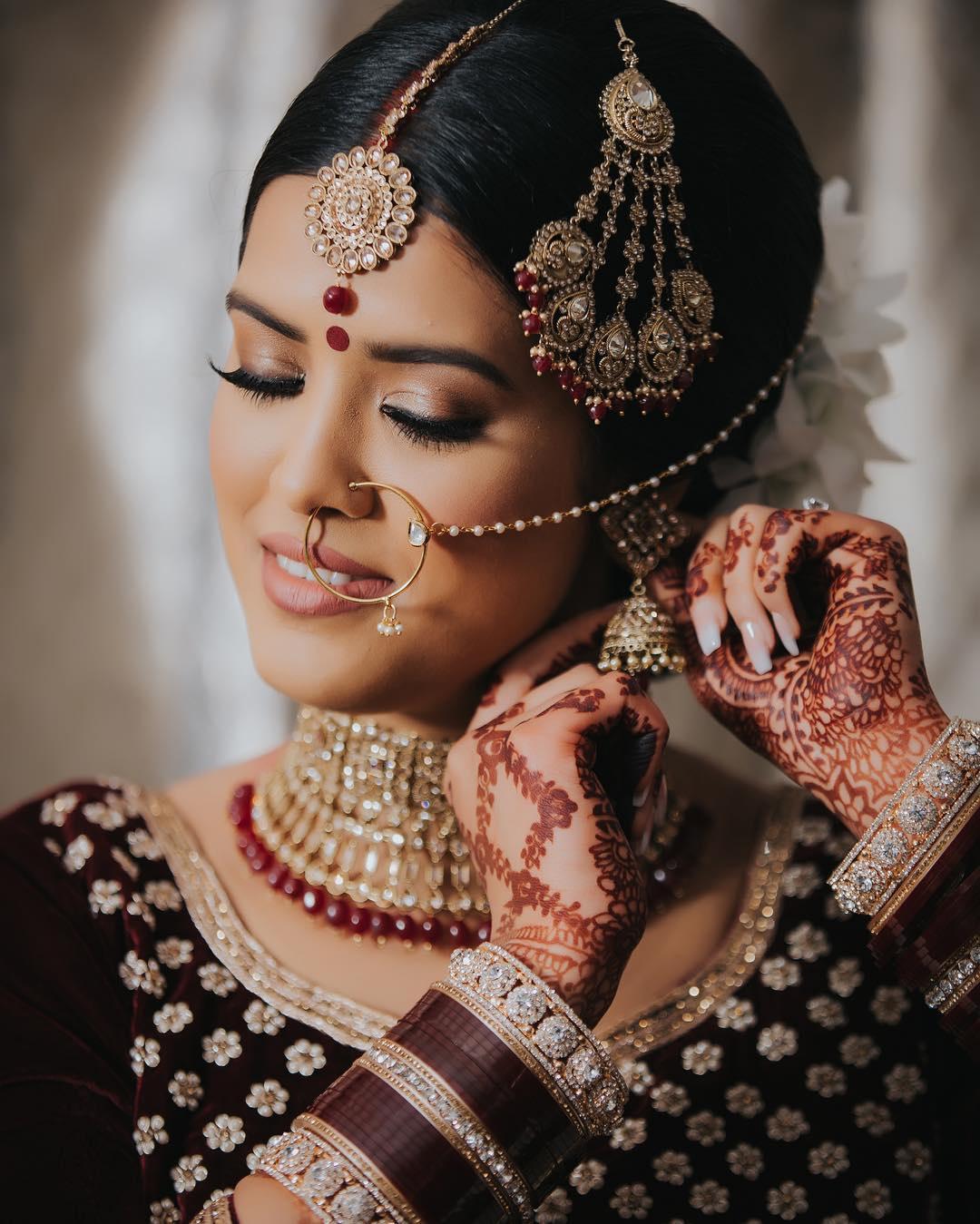 Image Courtesy: Dreambox Creations
When it comes to jewellery, gold has always been the, well, gold standard. No other material is given as much preference as gold, even while people are deciding about the different types of earrings.
Go for the evergreen gold styled Jhumka that never go out of fashion. Plus they can be accessorised with literally any dress, be it wedding lehenga, saree or salwar kameez and still make you look absolutely gorgeous on your D-day.
Shimmering Kundan Studded Earrings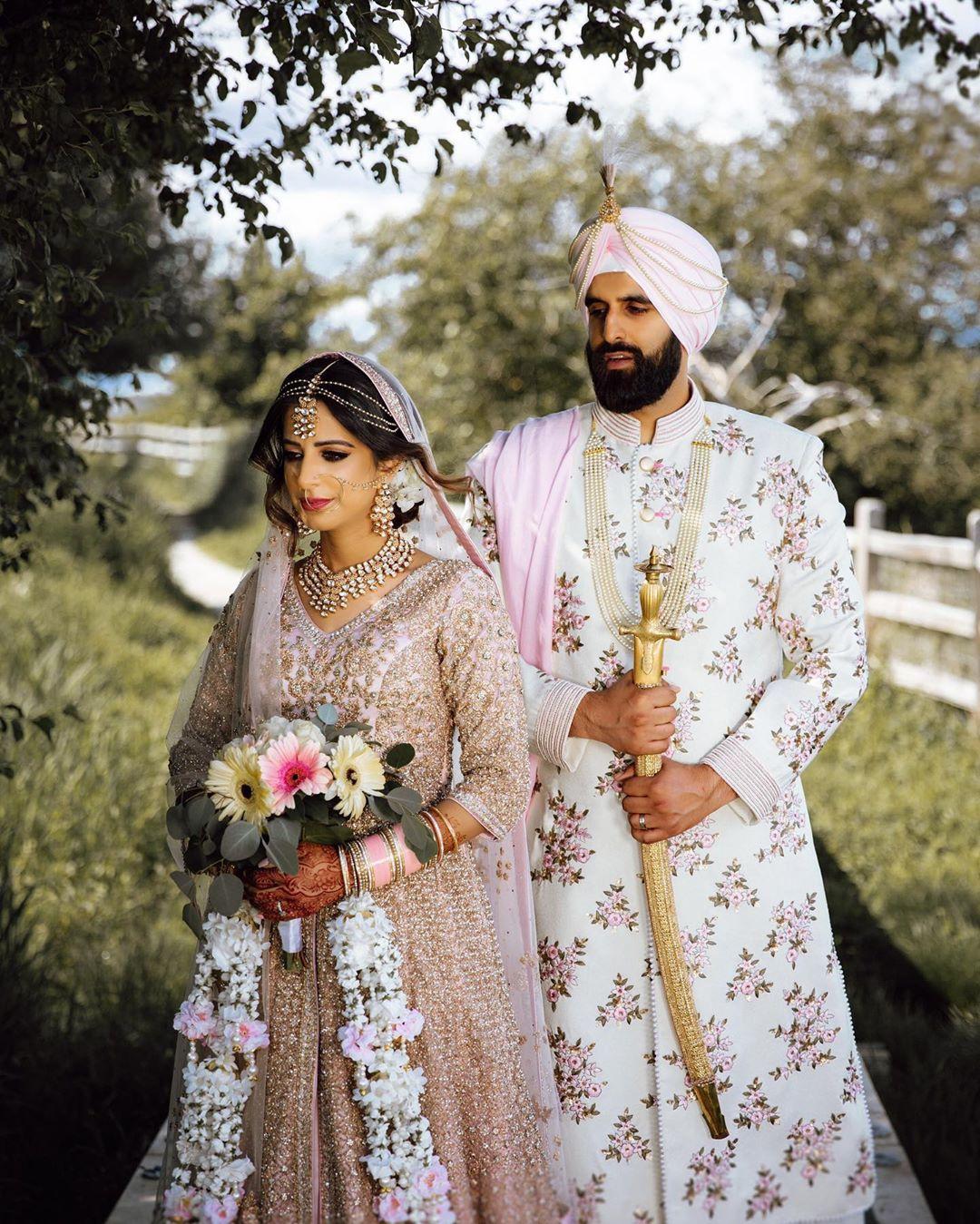 Image Courtesy: Dreambox Creations
Among all the different types of earrings, Kundan studded earrings are the ones to be envied. They are shimmering and shiny and effectively reflect and refract light to give an illuminated look. That means looking stunning on camera and lots of compliments for your wedding photos.
Plus, as Kundan stones can be arranged in various patterns, it can be an absolute treat for the eyes, especially when worn with cute baby pink or pure white coloured lehenga.
Jolly Jhumkas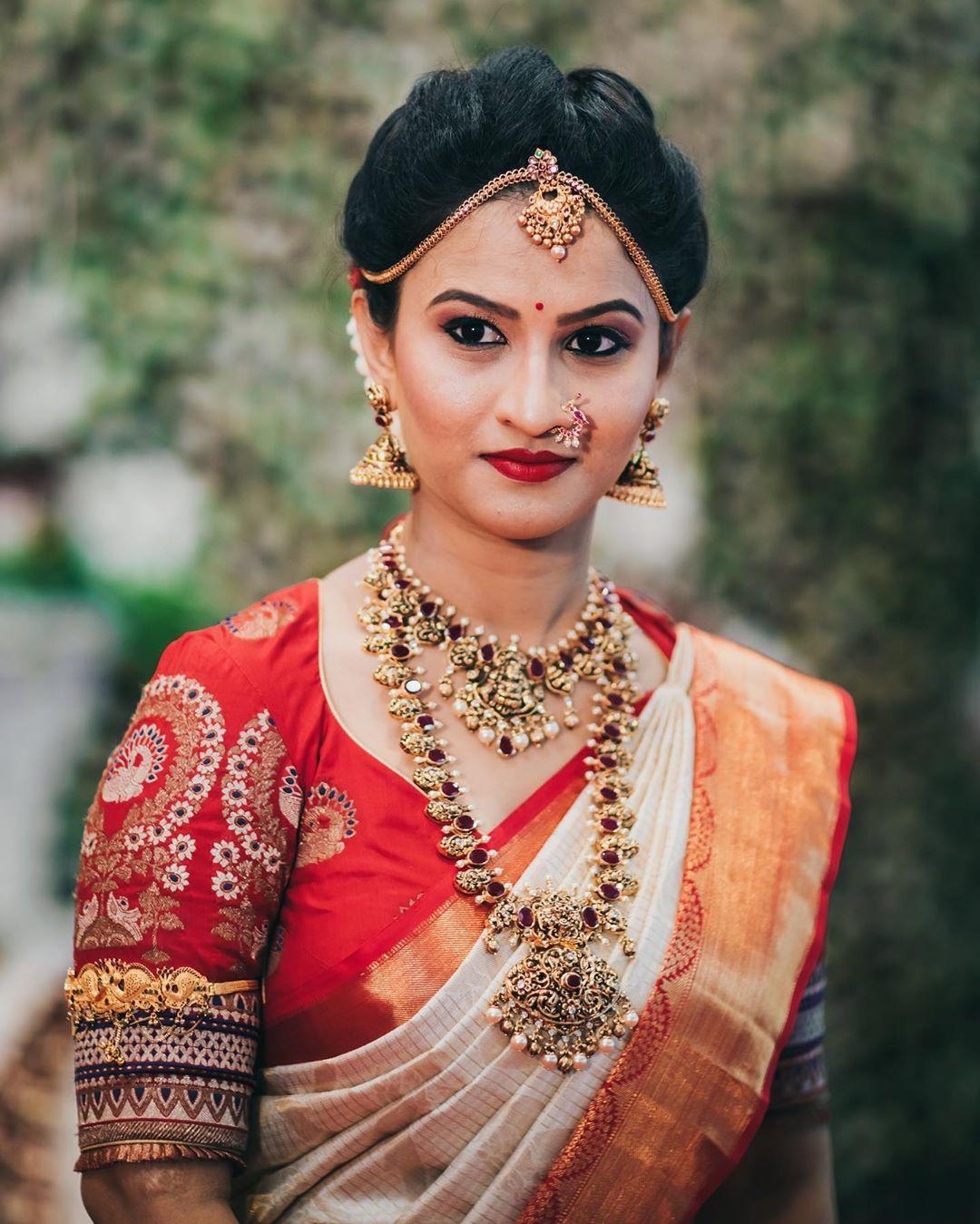 Whether it is a Bollywood dance number, a photo-shoot or a family function, Jhumkas are everywhere. They are the most popular among all the different types of earrings. A single pair can be worn on any event from Sangeet night to the main event (your D-day).
Bring out your fun side with the jolly Jhumka earrings that dangle as you do at the dance off on the Sangeet night. Or lose one somewhere among the crowd and let someone else bring it back for you (already thinking about him?).
All-In-One Earrings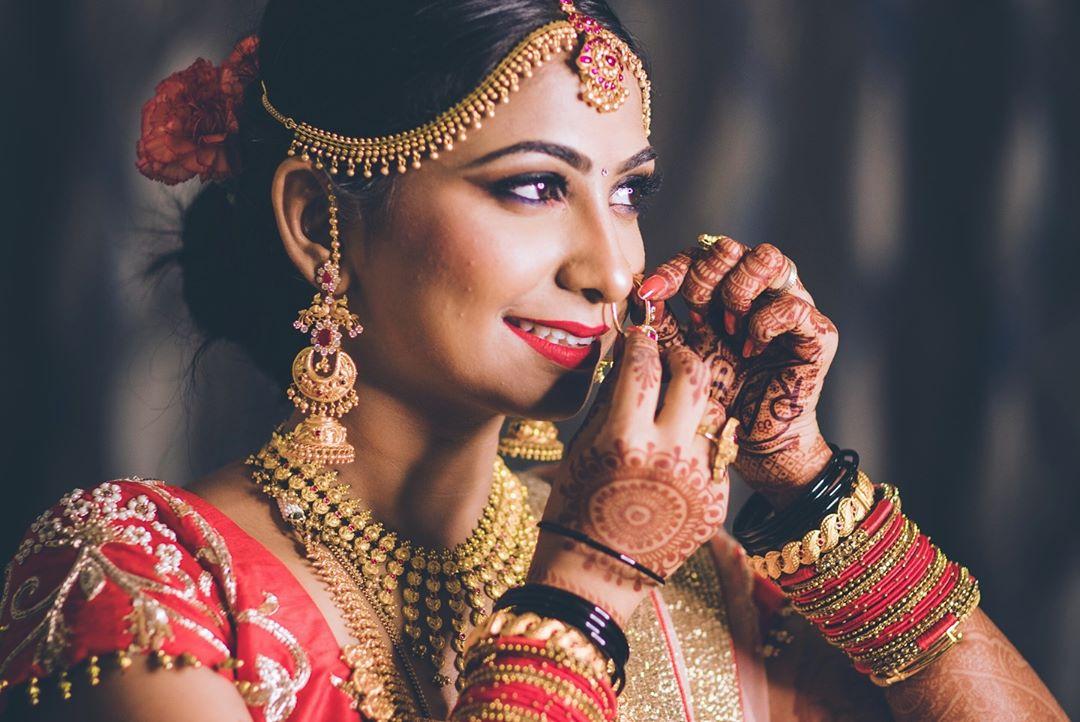 What's better than a Jhumka, a Chandbali or a threaded earring? Simple: A combination of all three. What else do you need when you can don the funky Jhumka look, the charming Chandbali look, and the beautiful threaded look all at the same time?
With multiple designs imbibed in a single earring, these are a trendy pair you need to add to your collection of earrings. That said, the threader style makes sure that the weight distribution is even and your earlobes don't hurt due to the heavy weight of the earring.
Green Pearl Drop Earrings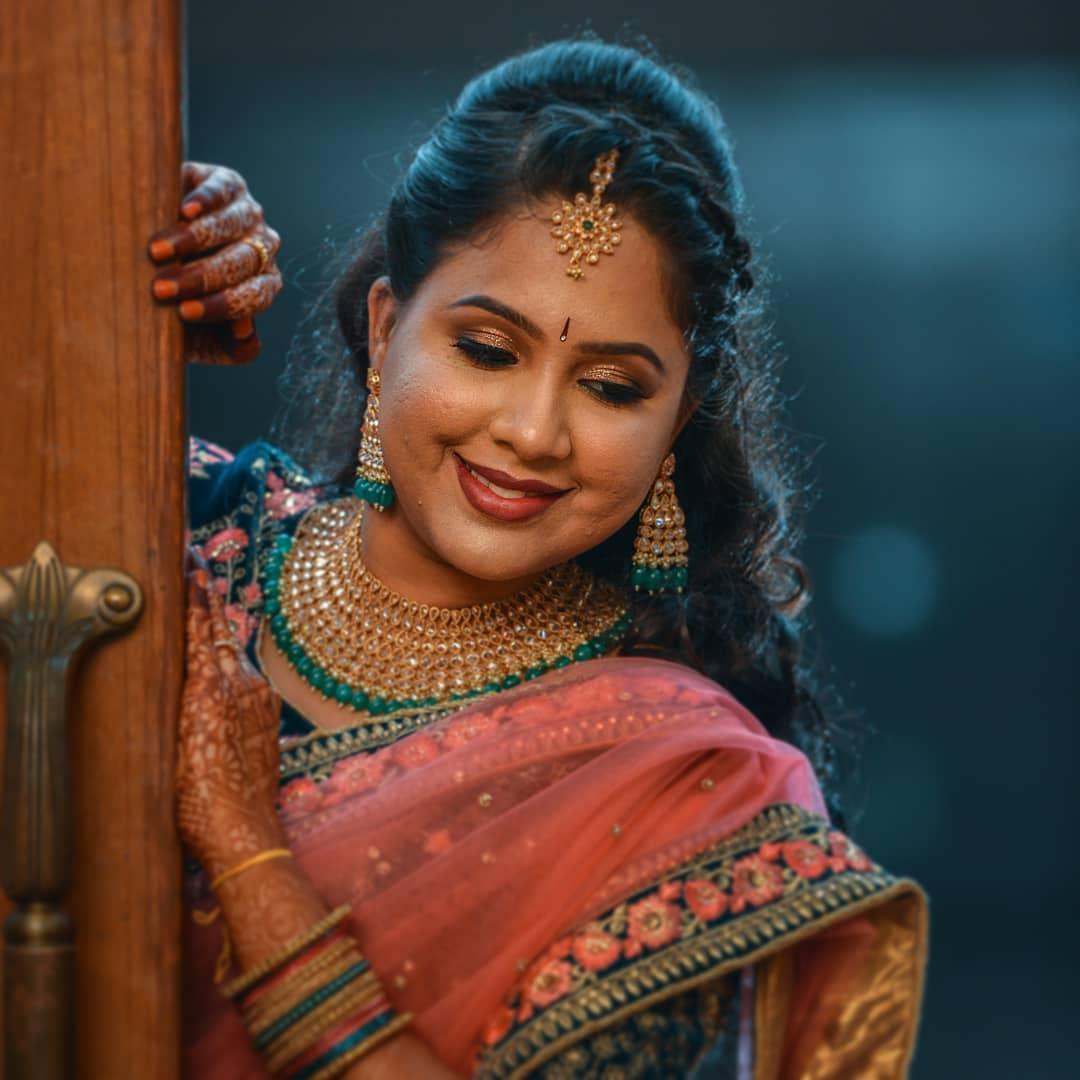 These multilayered pearl drop earrings are surely gonna be a proud possession if you decide to include them with the different types of earrings you own.
They easily go along with a multilayered necklace with a similar golden and green drop pearl design. Believe me, if you are planning on looking graceful in a pink or peacock blue saree, (especially, with a green border) the amazing green pearls dangling at the bottom are made for you.
Funky Floral Earrings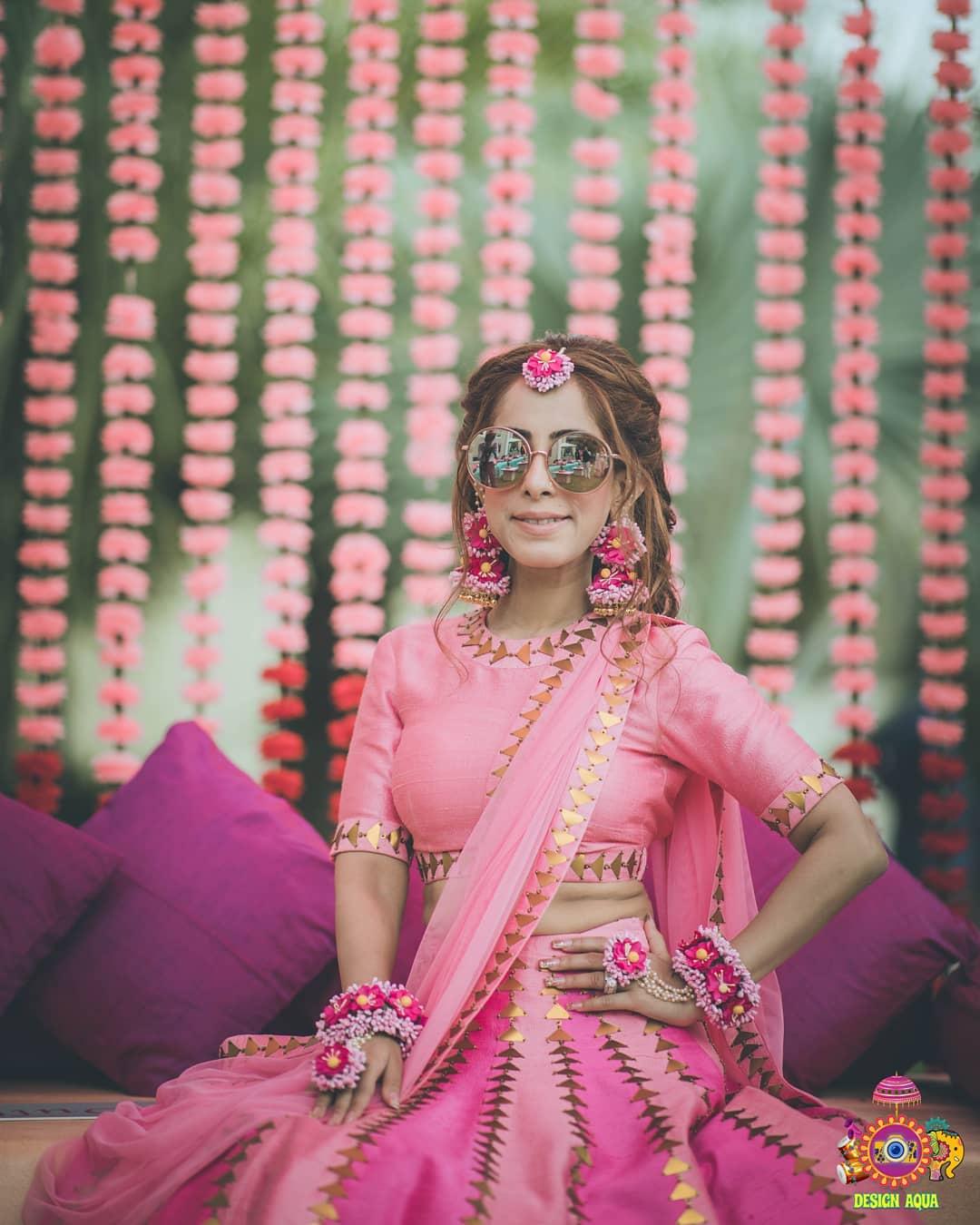 These earrings are meant for you, the modern woman: The norm breaker, the rule flouter and the one who cannot be stereotyped into a single role. Simplicity and elegance go hand-in-hand when you try these floral shaped accessories.
With their anti-traditional, non-metallic look, these are quite different types of earrings and so are you! Complement them with your suave personality and stand out from the crowd whenever you get a chance to wear them, especially if you are the sister of the bride or the next in line. Let the men know, you are queer!
Geometric Gold Earrings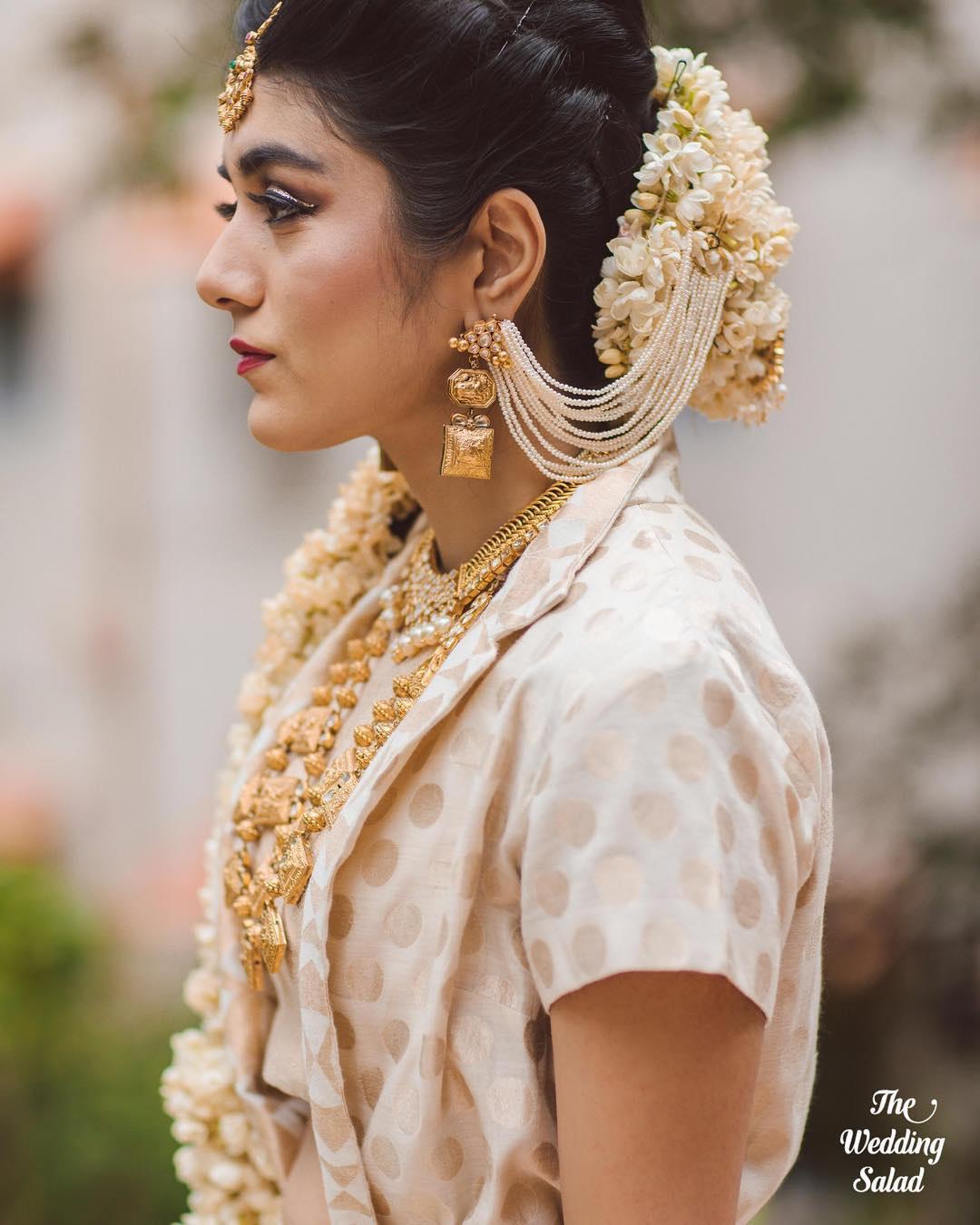 Your obsession for shapes ends with these beautiful pair of geometric earrings. Not only are these worth mentioning among the different types of earrings, but they are also absolutely amazing when worn along with a white saree at a south Indian wedding. They are meant for anyone and everyone: the bride, her sister, her mother and all the other beautiful women from different times. Made with gold, they are meant to last through the test of time, just like your relationship.
No matter what you are wearing, a nice pair of earrings always make sure you get compliments. Plus they can be accessorised in multiple ways. The different types of earrings are also known to play cupid in many Bollywood romances. Still looking for a compelling reason not to buy them? Don't. It does not exist. Indulge in your fantasy and go grab a pair.
Not sure where to find them? Take your pick amongst the designs from our vendors for that dazzling pair.