Latest Classic White Sarees With Red Border Served With a Twist! 
Classic desi styles will always have a soft corner in our hearts, these latest designer trends featuring white saree with red border have won us over!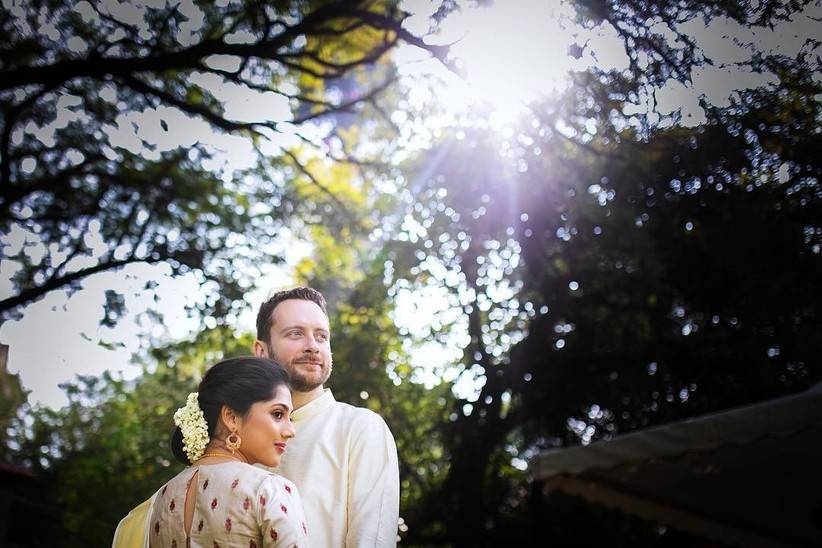 When we think of traditional Indian sarees and classic colour combinations, the first and foremost one that pops into our head has to be that of white saree with red border. This classic combo has been lauded time and again through states from Assam to Karnataka and even West Bengal by brides, guests and just as an outfit to mark festive occasions.
So, what better than taking a classic which has always done wonders for an Indian bride and give it a much-needed makeover for blending it into the modern wedding narrative.
These white saree with red border makes for a perfect outfit for everyone starting right from the bride's trousseau to the bridesmaid and the colour combination is a classic one making it work for every season of weddings, be it winter or summer. So let's get into the draping...
1. The traditional look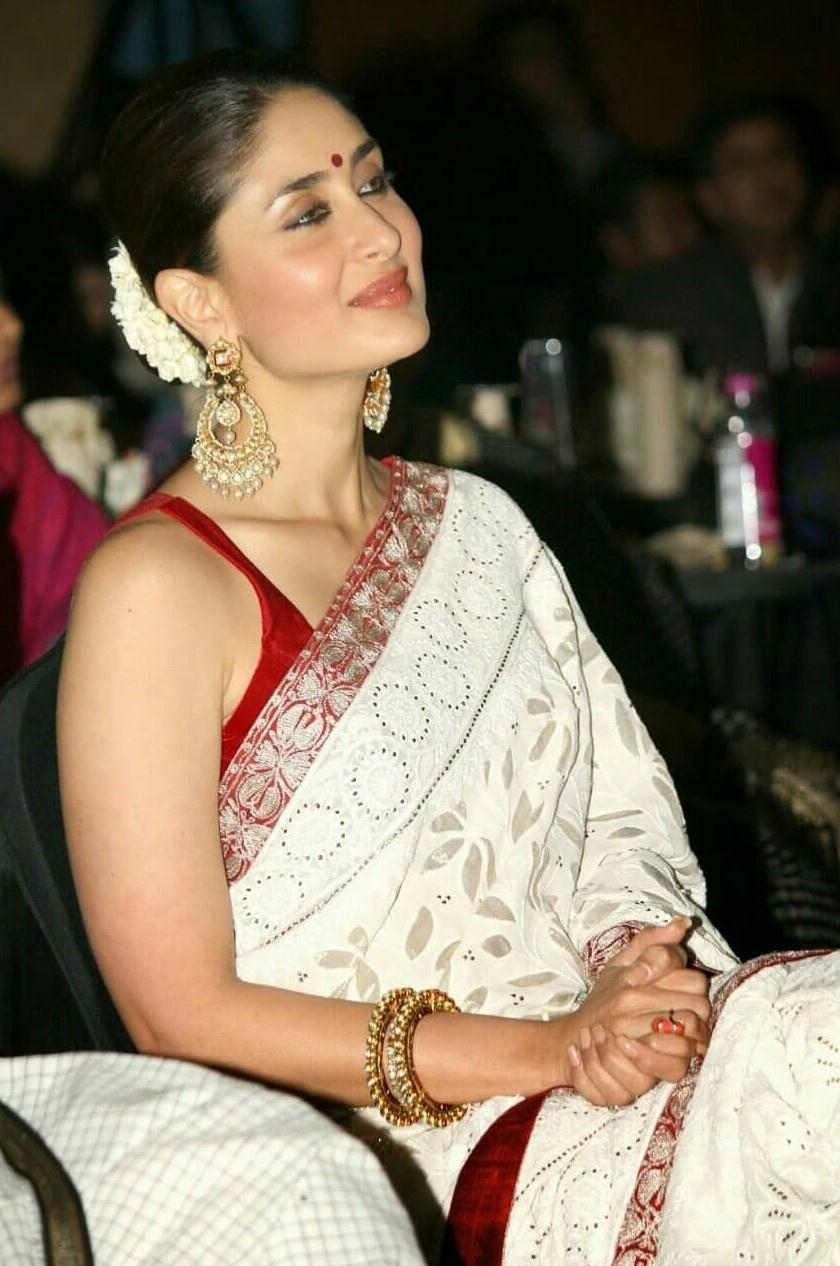 Image courtesy: Viral Bhayani Instagram
What better than taking one classic white saree with red border and giving it a new classic look? Actor Kareena Kapoor Khan looks stunning and elegant in this white Chikankari saree with an embroidered red border completed with a red velvet blouse.
Each of the elements in her looks is classic making it a versatile piece which will fare well in the test of time and ever-changing fashion trends. Much like the colour combination itself, Chikankari work is something that is eternally going to be in vogue.
This simple look can easily be recreated and designed with a quick visit to a well-stocked material store and a trusted darzi. We love how Kareena paired the white saree with red border with a dewy makeup look, fresh flowers in her hair and a gorgeous Chandbali earring.
2. All about the bling!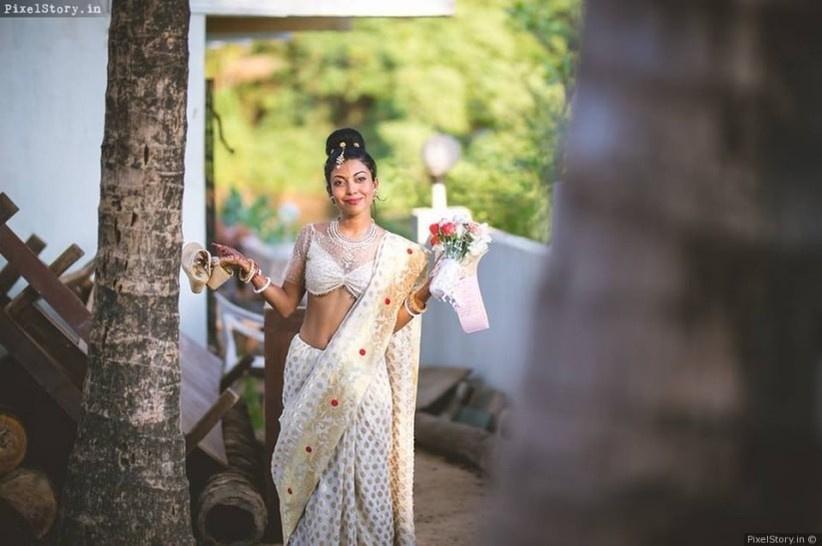 This silk white saree with red border is a statement piece and is bound to leave the guests asking you where you picked up this beautiful saree from. This fresh interpretation of the classic white saree with red border is another league of high-street fashion.
The monochrome colour theme running along the saree and blouse is beautifully broken by the thick dots of red border bringing new colour and reinforcing familiar colours! This is the perfect saree for the bridesmaids to consider for upcoming weddings.
3. Fantastic floral twist!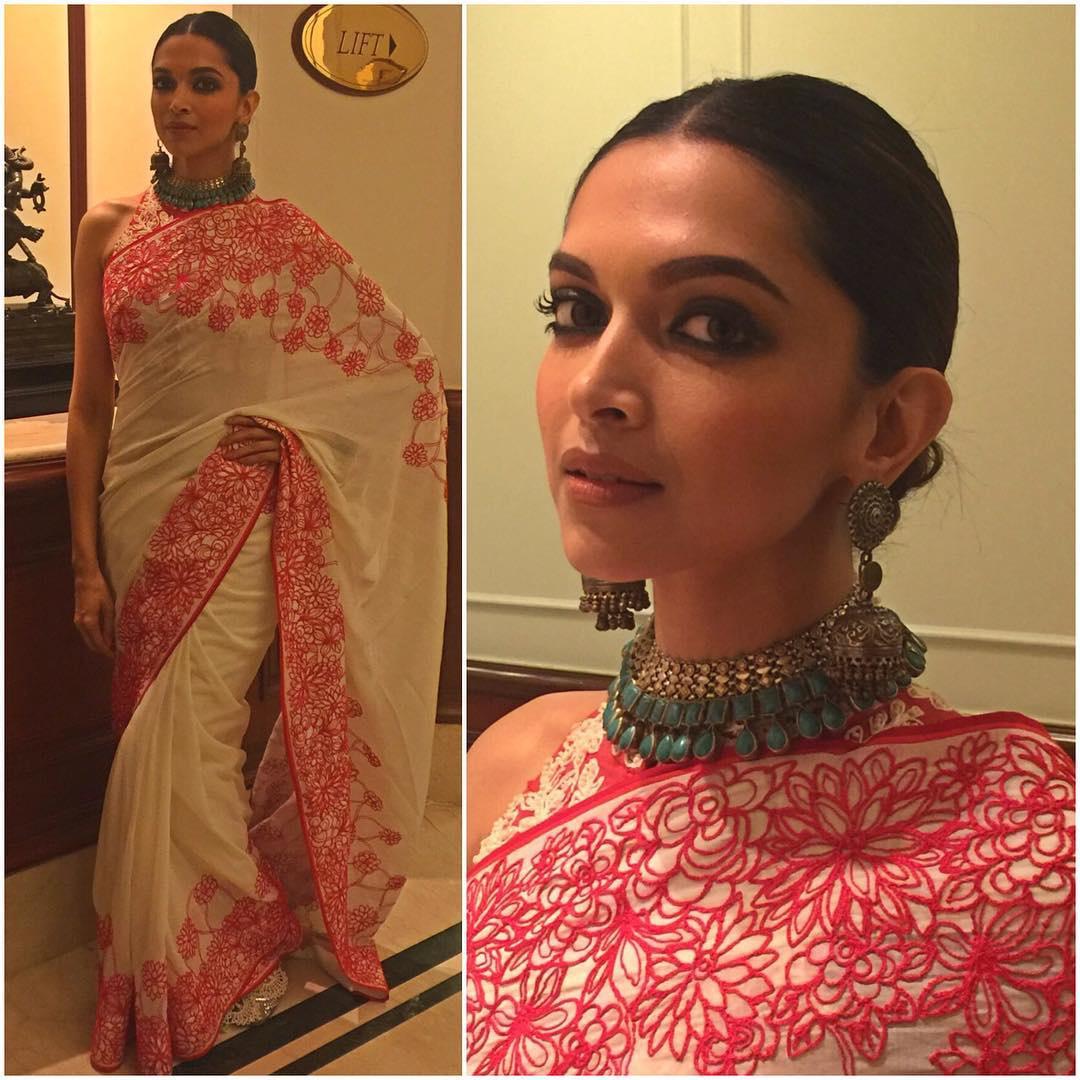 Image courtesy: Deepika Padukone's Instagram
Of all the new trends of white saree with red border, this saree gets a bonus point for the floral embroidered border in red giving the usual borders a run for its money!
For the promotions of one of her movies, actor Deepika Padukone adorned this chic white saree with a halter blouse and contrasting silver-emerald choker. While silently singing an ode to the classic white Bengali saree this saree does the colour-combination justice making it the perfect option for brides on small functions like the Roka ceremony or even a puja.
4. Embracing the modern style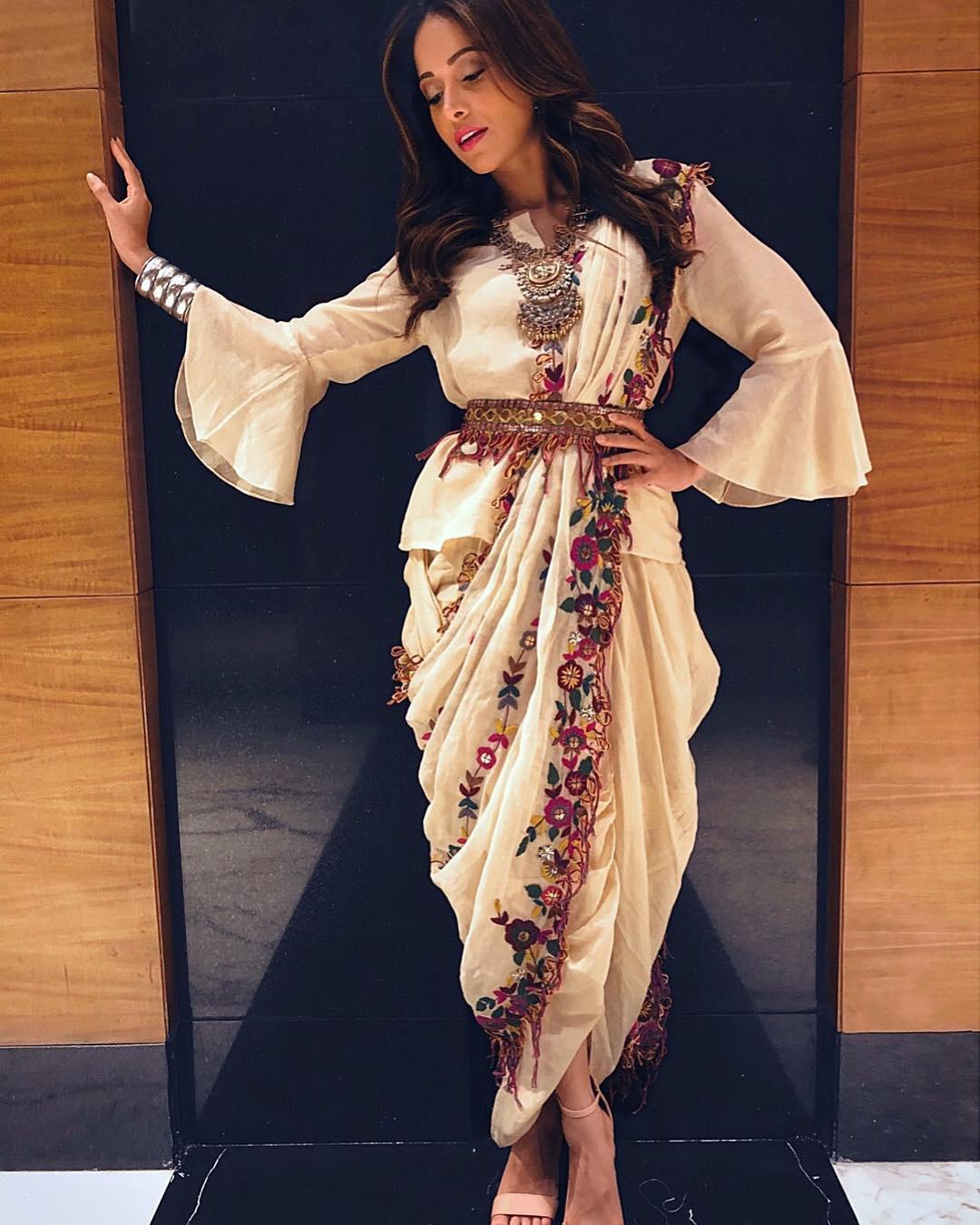 Image courtesy: Nushrat Bharucha Instagram
This re-imagined white saree with red border by Sonam Luthria looks so bohemian yet fun! Actor Nushrat Bharucha's dhoti style drape saree with a long top blouse is all sorts of fun with intricate floral embroidered border and the mirror work belt. Paired perfectly with silver jewellery, this outfit is giving us major goals for mehndi outfit. The dhoti will make it easy to get your mehndi done hassle-free and help you dance all evening comfortably! This look is ideal for day functions for brides looking for a fun trendy look.
5. Ruffle all the way!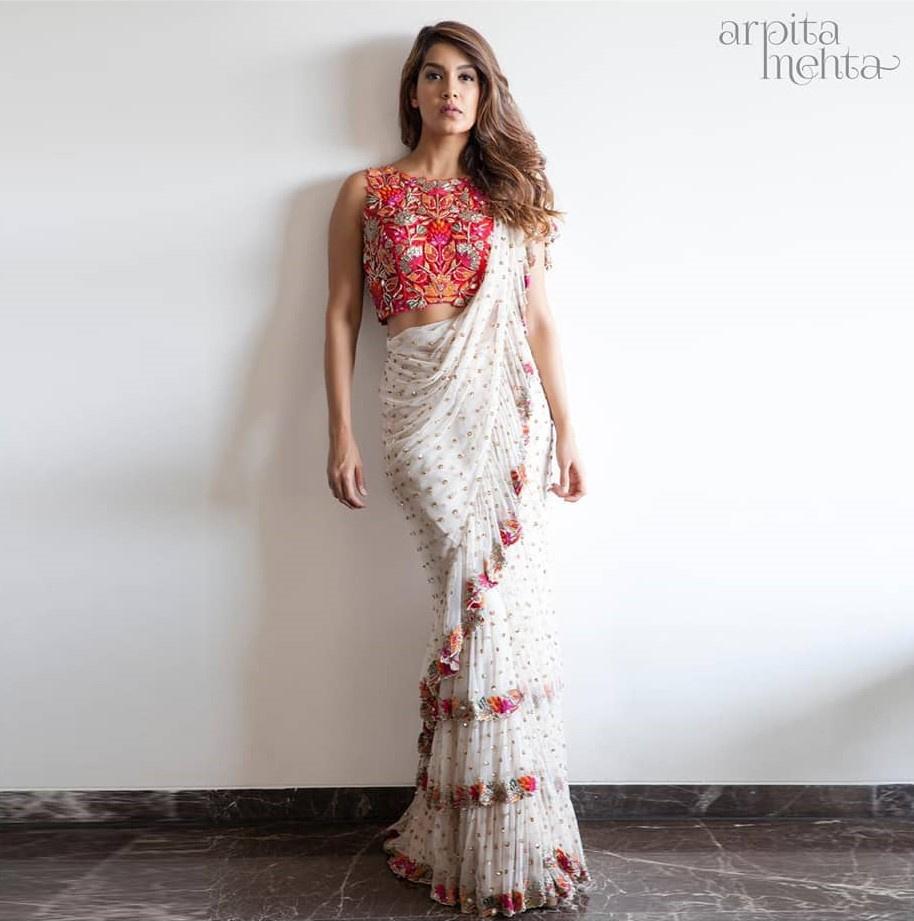 The one trend that just kicked off on a high and is still persistently ranked high on the fashion trend scale has to be the ruffle saree. Highlighted and showcased in multiple ways by designer Arpita Mehta, this embellished net white saree with red border is just so chic and fashion-forward.
The bright coloured blouse with heavy embroidery and the embellished ruffle white saree with the floral motif border is the perfect outfit for destination weddings and cocktails parties owing to its fun and flowy features.
The draped style sarees eliminate the discomfort of wearing a saree while adding some fun to the traditional designs.
These re-invented modern white saree with red border had a design for everyone. From the fans of the class style looking for a little different style to the one who liked the colour combination featured in a whole new light.
From the bride's sister to the bride, all these sarees can suit various different function depending on how you choose to style it and make it work for you!
While the classic will always be special, these new trends too, have managed to convince us to be open towards change and embrace the new trends. You could choose a designer piece or DIY a custom piece but have some fun and try a new trend this wedding season!
So, what did you think of white saree with red border designs? Would you try it? Let us know in the comments below.