6 Stores for Wedding Gowns in Chennai to Live Your Fairytale
Your search for the perfect wedding gown that you've been fantasising about is about to end. Take a virtual tour of the temple town to pick up some of the choicest wedding gowns in Chennai.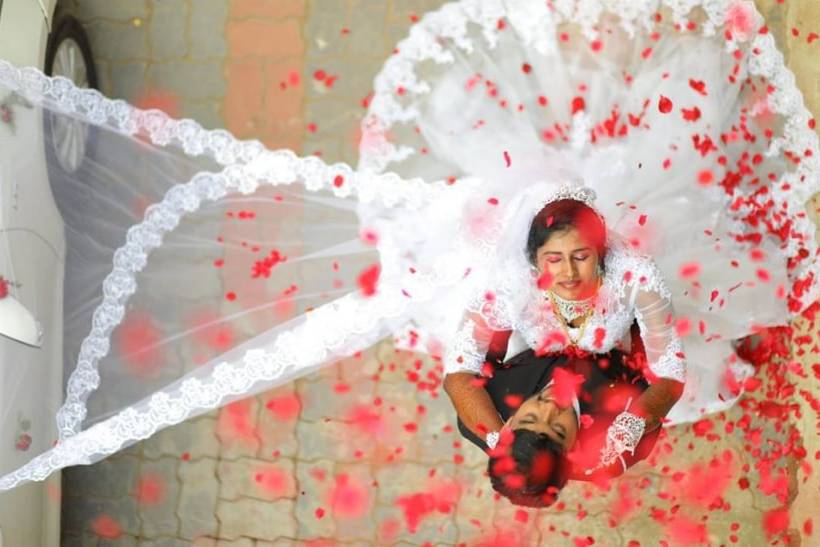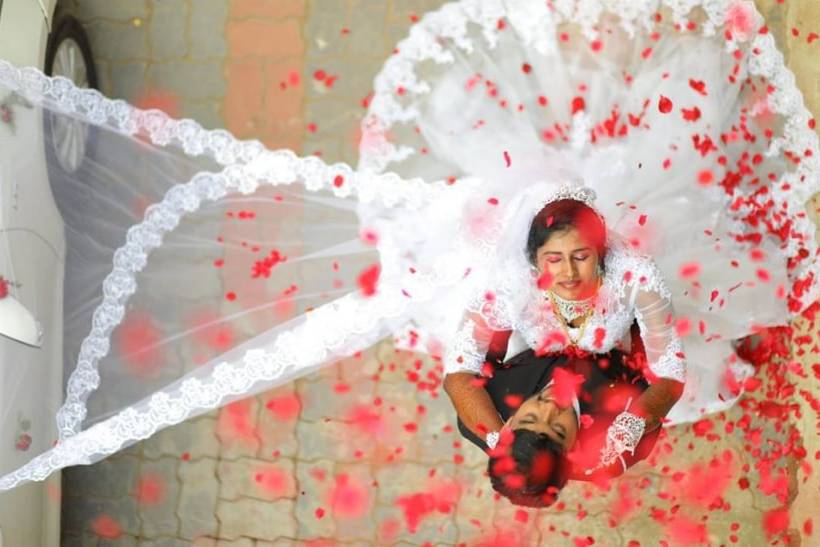 (Image courtesy: Sheers)
Haven't you always dreamed to look like a princess in a frilly snow-white wedding gown? Or are you the kind of bride who's looking for a gown that is loaded with attitude and sass? Whatever your style is, get ready for a fantastical bridal shopping adventure. We have carefully prepared a list of shops for you to pick stunning wedding gowns in Chennai.
Take a look and let the shopping spree of your wedding gowns in Chennai begin!
1. Sheers Boutique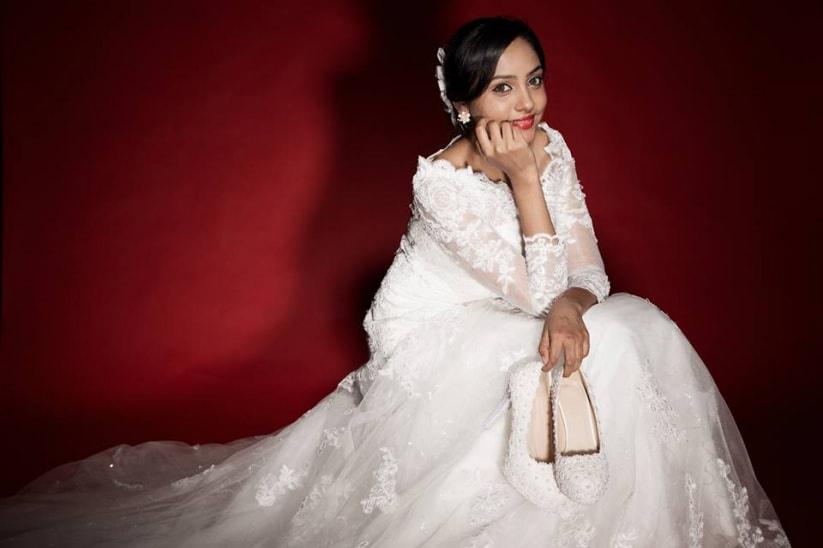 (Image courtesy: Sheers)
Sheers boutique offers a gorgeous range of ready-made wedding gowns in Chennai with fine designs. They also deliver custom-made gowns as per your requirements only within a period of 25 - 40 days. Apart from the bridal gown, you will find other bridal accessories at Sheers too. So, all you need to do now is, visit this store to select some spectacular wedding gowns in Chennai and make your wedding look the talk of the town. And, don't forget to get in touch with a spectacular hairstylist and makeup artist as well to get the bridal transformation that you truly deserve.
Location: Ram Mansion, 2-C, 2nd Floor, Pantheon Road, Egmore, Chennai.
Starting price: ₹ 18000/-
USP: Bridal gowns, bridal accessories like veil, tiaras, gloves and bouquets.
2. Daisy Bridal Pret-Couture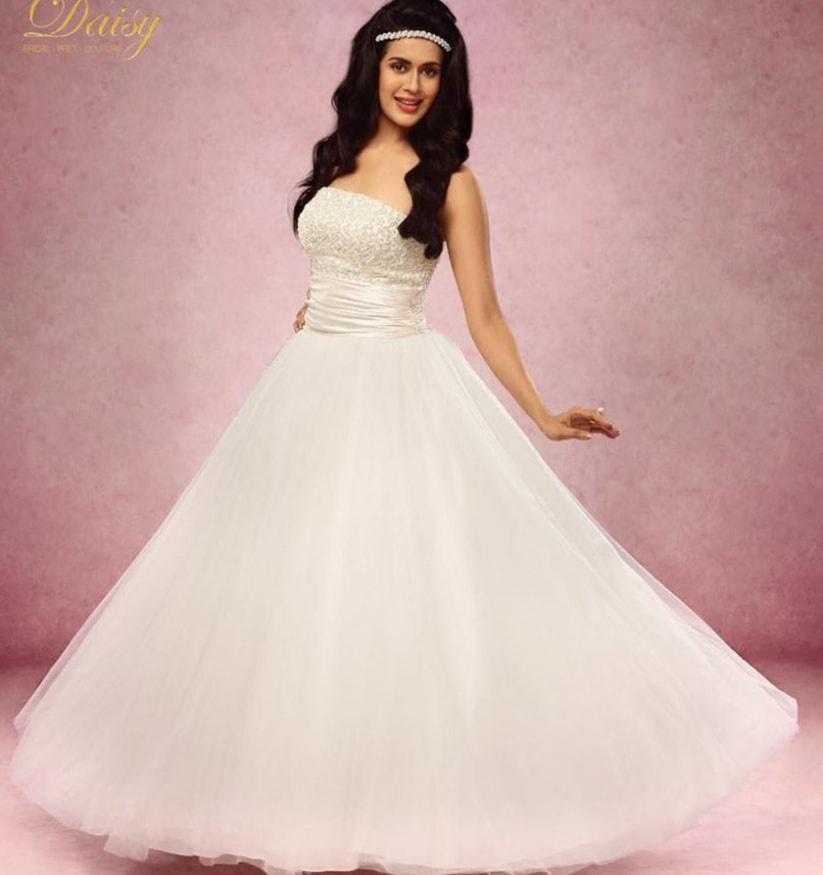 (Image courtesy: Daisy Bridal Pret-Couture)
If you are looking for a wedding gown with oodles of elegance and creativity, you just might feel this place has the best wedding gowns in Chennai. Daisy has the skill to design gowns exactly as per your desire. In fact, if you simply hand her some yards of fabric or even your mother's saree, she will turn that fabric into the most astonishing gown you'll ever see. Her gowns are especially famous for the lace, pearl and appliqué works. Just rush to this dreamy place to get a divine bridal look for yourself. If you always wanted to buy a wedding gown with lots and lots of applique work - then this is the store you must pay a visit. Their applique technique is spot on and is the only thing you need to add that oomph to your bridal avatar!
Location: 18, Cenotaph Road, Rathna Nagar, Teynampet, Chennai.
Starting price: ₹ 15000/-
USP: Contemporary wedding gowns, gowns with the lace, pearl and appliqué works, bridesmaids and flower girl dresses.
3. Fair Lady Designer (Diadem)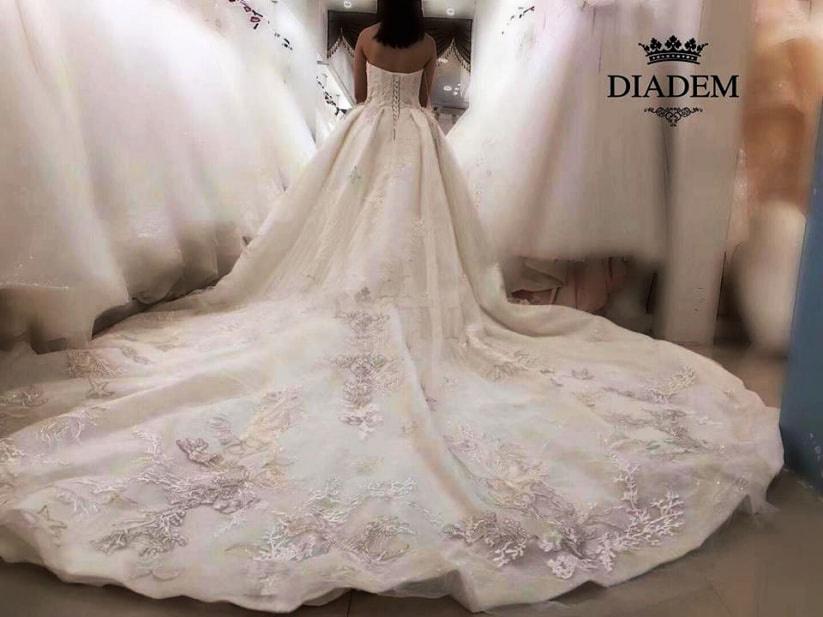 (Image courtesy: Fair Lady Designer (Diadem)
With a vast range of over 100 ready-made gowns with inspiring designs and styles, you're about to have a lot of fun shopping in here. If you're looking for wedding gowns in Chennai, you cannot afford to miss this spot. Gowns imported from around the globe, Fair Lady Designer has a lot to offer to brides with an eye for fashion!
Location: 13, 1st Church Street, 6th Avenue, Anna Nagar West, Chennai.
Starting price: ₹ 13000/-
USP: Huge variety of bridal gowns, bridesmaids and flower girl dresses, imported wedding gowns.
4. Juno Marie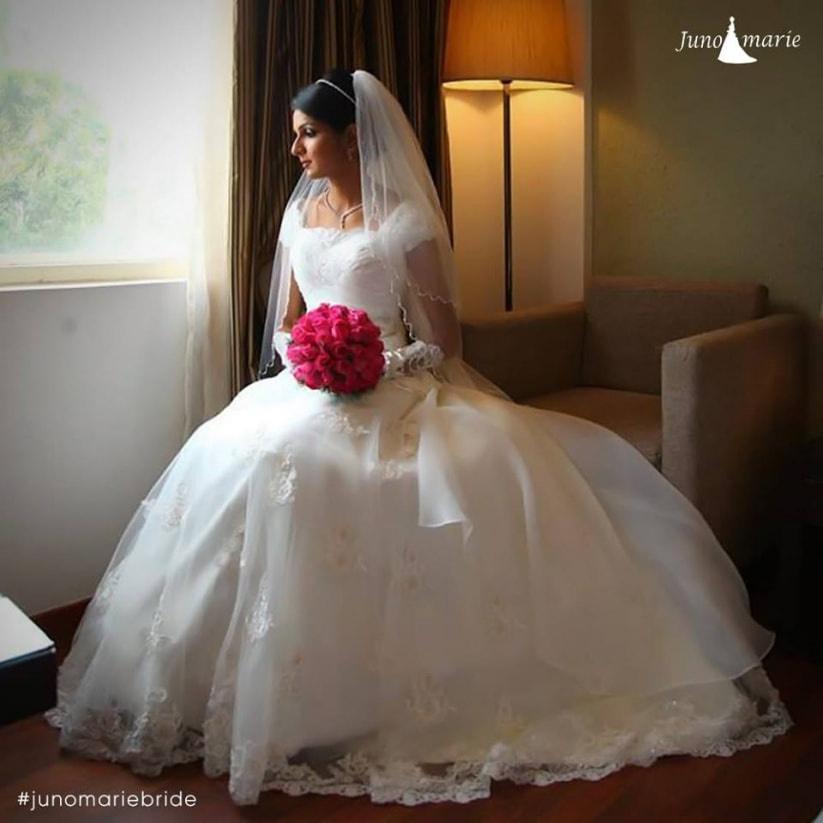 (Image courtesy: Juno Marie)
One of the best things about shopping for wedding gowns is, you get to try on different gowns and see which "The One" is. Juno Marie designs some of the finest wedding gowns in Chennai in which you can actually live your fantasy. They customise the gowns keeping each bride and her requirements in mind. You can also pick from the ready-made gowns here and mix and match with a few improvisations.
Location: 30, Block 3-A, Gandhi Mandapam Road, Opp. Apollo Clinic, Kotturpuram, Chennai.
Starting price: ₹ 11000/- for readymade gowns and ₹ 25000/- for customised gowns.
USP: Ready-made as well as customised gowns, customised gowns ready within 20 days
5. The Eva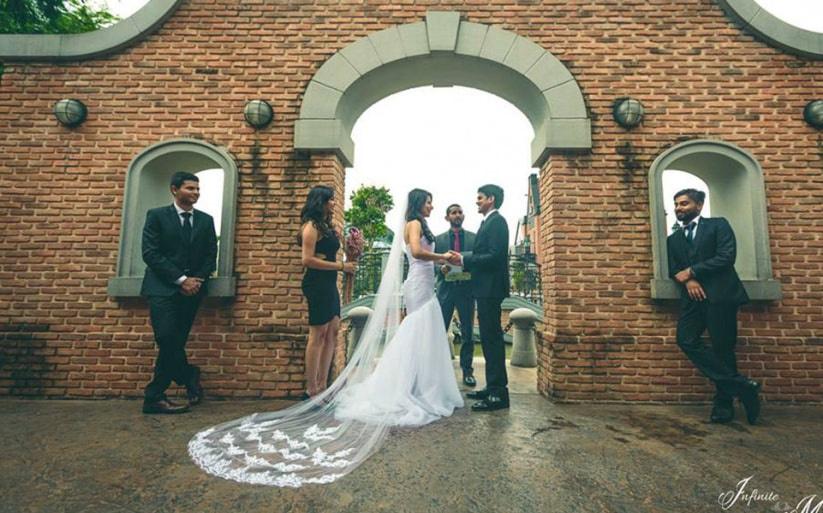 (Image courtesy: The Eva)
This store is a piece of heaven for brides-to-be who are looking for budget-friendly wedding gowns in Chennai. Apsara, the owner of the boutique takes care of every little thing that a bride needs. From customised gowns at reasonable prices to bridal makeup and hair packages, she has all the answers to bridal worries.
Location: SB Homes, Radha Avenue, 2nd Street, Near Mano House, Velan Nagar, Valasaravakkam, Chennai.
Starting price: ₹ 12500/-
USP: Great deals on ready-made wedding gowns, bridal packages.
6. Evoluzione Style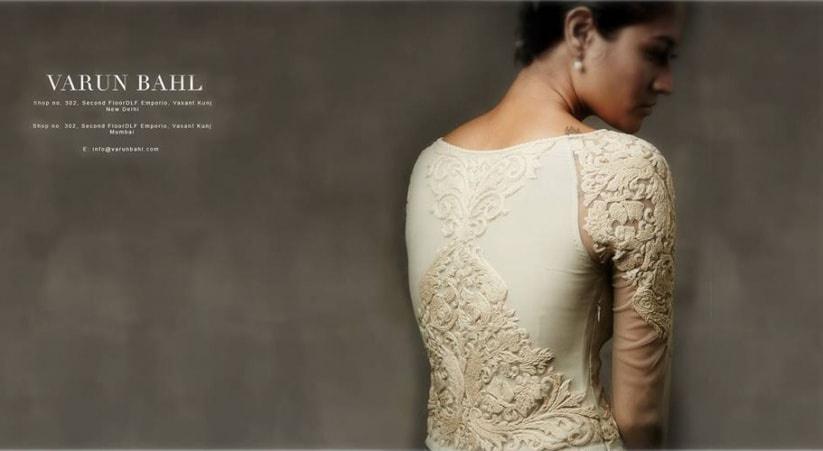 (Image courtesy: Varun Bahl)
We bet you won't be able to stop yourselves when you see the finest works of top designers in India at one store. Do pay a visit to this gem of a store founded by Tina and Atul Malhotra, if you want to get hold of some designer wedding gowns in Chennai. Reception dresses, cocktail dresses and wedding dresses designed by highly acclaimed names like Gaurav Gupta, Anamika Khanna, Rohit Bal, Varun Bahl, Sabyasachi and Manish Malhotra- need we say more?
Location: 3, Khader Nawaz Khan Rd, Srirampuram, Thousand Lights West, Thousand Lights, Chennai.
Starting price: ₹ 10000/-
USP: Designer gowns, cocktail and reception gowns, net and chiffon are used as fabric.
So now you know how to plan your day while shopping for wedding gowns in Chennai. Visit some of the most sought-after shops for bridal couture while you're in the city. Stores like Diadem (price starting from ₹ 15000) and Tamara Chennai (price starting from ₹ 3000) also have impressive online collection for out-of-town brides. Browse through some surreal bridal gown styles before you choose that special one for yourself. Every bride is a queen. And she deserves to look like one when she walks down that aisle. So call your bridesmaids and start your gown hunting together right now! These stores will make your bridal fantasies come to life and fulfil every last of your wishes pertaining to your wedding look. Also, check out some stunning heels that will go spectacularly well with your bridal gown and some hairstyles that look super sleek and stylish under a veil.
Have you started your wedding dress shopping yet? Share your gown shopping experience with us in the comment section below.