15 Very Easy Hairstyles You Can Sport This Wedding Season!
You don't just need different outfits to stand out, you need different hairdos too! Check out these 15 very easy hairstyles that you can make yourself after watching these video tutorials!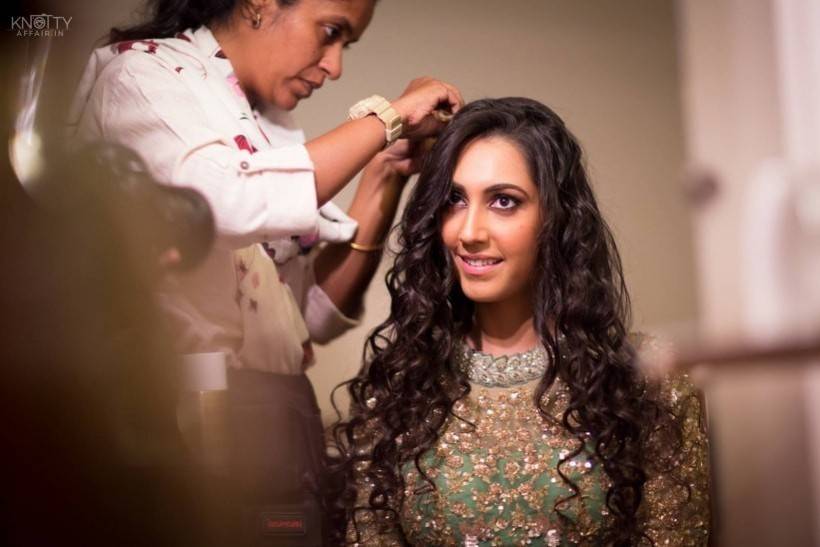 Weddings are no doubt heavy on the pockets, not just for the couple but also for the wedding guests who are close to the bride and groom. They are invited to every event and must look their best for each of them. But going to a salon every time to get ready can lead to way too much spending. You can easily save a lot of money is you just learn how to do your hair yourself. Just choose very easy hairstyles instead of intricate ones that will go with your outfit and you should be sorted!
Here is a list of 15 very easy hairstyles that you can make under 5 minutes.
Sara Ali Khan inspired braid hairstyle
To start the list of very easy hairstyles, we have a fast hairstyle that is inspired by Sara Ali Khan. It is a simple hairstyle for all the young girls who want to look great in under 5 minutes!
Very easy bun hairstyle with flowers
If you loved Anushka Sharma in her bridal avatar, you will love this bun hairstyle with pink and white roses. Go for artificial silk flower accessories as you can use them more than once!
Effortless braided ponytail
No one wears traditional outfits all the time. Some events like the bachelorette and cocktail party need a contemporary hairstyle to fit in the vibe. This braided ponytail is effortless and full of elegance!
Easy and quick rope twisted hairstyle
When it comes to events like Haldi and Mehndi, always prefer very easy hairstyles that are tied up. This hairstyle video featuring a simple rope twisted braid is very easy and quick to make!
Twist ponytail hairstyle
Being at ease and comfortable can sometimes be too much to ask for when it comes to getting ready for a wedding. Not anymore! This twisted ponytail is super easy and light. All you need is 3-4 black rubber bands to look glamorous and selfie-ready!
Messy top bun
We all need to know some very easy hairstyles that we can create in under a minute and what hairstyle is easier than a messy top bun! Be it a wedding or any small event, this hairstyle is game for every occasion!
Side French braid ponytail
School and college going girls are always tired and if they have to attend a wedding on top of keeping up with their studies, tiredness is the only thing they feel. Who would want to spend hours getting ready for weddings? That is why these very easy hairstyles are a lifesaver. They can quickly make it in 5 minutes and chillax for the rest of the time!
Romantic bun on the side inspired from Deepika Padukone
For all the women who recently got married themselves and are looking for very easy hairstyles for weddings, don't worry, we have you covered. This romantic side bun is a great option!
Half bun updo hairstyle
This is one of those very easy hairstyles that you can do carry for any event. A simple top bun and loose curls are all you need to be ready to rock the wedding!
Braided bun hairstyle with centre partition
Bun hairstyles are perfect for the summer. No one wants to sweat with open hair. That is why this braided hairstyle is one of the most trending hairstyles of 2019!
Easy bun hairstyle from 2 rope twisted braids
Just like the last hairstyle, this is also a braided bun hairstyle but the difference lies in the braid. In this hairstyle, 2 rope twisted braids are used instead of a single 3-strand braid!
Layered bun hairstyle
This is one of the best very easy hairstyles videos for those who have short hair. The layered bun will add volume to your hairstyle without any extensions!
Jennifer Winget inspired bun hairstyle
The next bun hairstyle is inspired by Jennifer Winget and her TV show Behadh. We love this hairstyle just as much as we loved her in the show!
Fishtail braid hairstyle
If you know how to make a fishtail braid, this hairstyle will be a piece of cake for you. No one will be able to tell that you made it yourself instead of a hair stylist.
Layered braid low bun hairstyle
The last is also a layered bun made with thick 3 strand braids. If you want an intricate but easy hairstyle, this is the one!
Hairstyles are quite easy to make once you learn how to handle your hair and appliances at the same time. All the above videos have very easy hairstyles that are perfect for a party. From teenage girls to the moms, these hairstyles will suit everyone!
Want a professional to help you out? Check out these salons near you!